Dear Azami,
At my local gaming store, I've noticed a trend that I'm not overly happy with. The number of Commander players is starting to dwindle for the Saturday night Commander melees. People point to PTQs and new sets causing a lack of interest. However, from observing peoples' reactions at the group pod nights, I think something else is the issue. Newer players to the format aren't having fun. I honestly believe it's a couple of regulars with "cruiser"-style decks that are the source of the discord.
I get that everyone has their interpretation of fun, but in my eyes blowing out a table on turn 5 isn't fun for anyone. Why even shuffle up at that point? The classic defense of said players is "Well, this is what I think is fun." That statement is a complete cop-out. The format was designed for EVERYONE to have fun, not just a select few.
I say all of this from the perspective of a tuned Karador deck. I took out Mike/Trike because it wasn't fun for anyone. Same with Saffi, Reveillark and Elvish Visionary. My intent was to get others to do the same. I found that removing my combos only reduced concerns from the other "cruisers" at the table. Now I find myself trying to figure out a way to help keep things balanced. I want to make sure I shut down decks like Jhoria, five-color Walkers and sweepers, Zegana (how are Prophet of Kruphix and Deadeye NOT banned yet?), mono-black turbo-Exsanguinate, and mono-blue shenanigans. I think a good Commander to take this on with is Gaddock Teeg. GW Maverick is a force in Legacy, and it's just as potent in Commander. I've been testing and tuning the following list online and I think I'm getting there. I'd appreciate any insight you can provide with my build.
Commander
Land (37)
11 Forest
10 Plains
Creatures (38)
Hushwing Gryff (Recent addition for Roon and Zegana decks)
Enchantments (4)
Instants and Sorceries (13)
Collective Voyage (I love this card. It speeds the game up without compromising game play)
Artifacts and Equipment (7)
Some notes on the deck. Yeah, it turned into a GW hate-bear build, BUT I don't mind losing to dedicated burn and aggro strategies. I REALLY like being able to slam Teeg early in a game and not having to worry about (most) sweepers. I tried Stoneforge Mystic and Birthing Pod in the deck; neither were very effective. Elesh Norn, Vorinclex, and Avacyn are all good, but not really what I feel like making other people play through - they REALLY ruin a game. Sword of Vengeance is quickly becoming one of my favorite equipment.
Thanks!
Kaz
The first thing I want to point out is that there are a couple of different approaches you can take to working on the problem you've identified - you don't have to rely on just this deck to make a change, and in fact, I don't think this deck can change the social fabric even as it changes the in-game context. After all, the only people who have to shift what they're planning to do are the ones sitting at the table with you, everyone else can be aware of what you're doing and not worry about it unless and until you get paired with them. The message of "I am going to do this until you stop doing that" is a hard one to spread, and not guaranteed to make a social change anyway.
Having a broader conversation with everyone besides the people who are cruising in with their combo decks, to build an automatic agreement to have everyone target one specific player Archenemy-style, is a better way to make the social costs of their actions more apparent to them... especially if that conversation happens at the table right there in front of them, where they cannot help but be made aware of the fact that un-fun thing X is happening specifically for reason Y. Ditto for talking to your local gaming store's staff - they'd rather retain players than shed them, and as a more-experienced player you can come to them and point out that they're near the point of losing you too to these shenanigans. Nobody wants to stick around a toxic environment, but there's a good rule of thumb that says that for every ten people that are upset, just one will speak up - and taking action is an even bigger step to take, so that one's more like one in a hundred. You're aware of the problem and experienced enough to make the diagnosis and are that one in a hundred - you want to make something change. But evoking that cultural shift within your local playgroup's social contract is not something you can do just with cards in your hand, you have to do it outside of the times when you've sat down to a game and dealt out the hands.
That said, you can build a deck to beat the bad guys, and Gaddock Teeg is an excellent catch-all answer to the problems that ail ye. It would have been easier to build a deck to beat your local metagame if you were to describe the kinds of shenanigans people use to win the game with that quickly, but barring exact decklists that's always going to be a moving target anyway, so we're going to build this version of the deck to face Generic Combo Opponents, assuming that they tend to need 2+ pieces and keep at least one artifact, enchantment, or creature in play over the course of at least one cycle of turns if they're going to win that quickly, or somehow use their graveyard to perform shenanigans. With that in mind we're going to add a few more permanents that can answer these sorts of cards, some more rule-setting cards, and otherwise aim to increase your clock so the number of turns you have to deal with a single combo deck at the table can be decreased significantly. And since you're rocking a Savannah I am going to feel that an expensive single card or two will not scare you off if they're right for the deck; if you want the more "budget" version you can cut the two most-expensive cards and have a $90 budget for changes to the deck instead. Since I think the more ideal version is the more expensive one, I'm going to suggest that and assume they're things you may have somewhere, can access, or otherwise can acquire without breaking the bank if you had to.
First we have just a few small changes to your manabase:
Out:
In:
While the abilities on the two Kamigawa lands are small ones, they're nonetheless real tangible benefits that we're adding at basically zero cost - no land coming into play tapped, minimal mana to activate, and nothing here is punishing nonbasic lands or otherwise jamming their functionality. (I did consider adding Tsabo's Web, but that's one of those cards I love that is super narrowly focused on key metagame participants, so without knowing what the opposing combo decks are really doing, I can't just go with this. Ditto for Winter Orb, which might be highly effective but also certainly trips over the same barriers Vorinclex does in the "no one is having any fun, not even me" department.)
Razorverge Thicket is a small but meaningful upgrade on your dual land, while Dust Bowl is just an upgrade on your Encroaching Wastes; you can sacrifice other lands instead if you want to, letting you get a repeating effect if that is what is desired. It may not come up often, but when it does it'll be appreciated - I've found myself needing Dust Bowl about one out of every three times I draw it, but in those few occasions I really need it to be Dust Bowl specifically, and since I sometimes play decks full of Expedition Maps, Trinket Mages, and other ways to find any of these cards, I'm not even counting the times I've needed it to be Dust Bowl and specifically tutored it up instead of drawing it naturally.
This section was pretty good, it didn't over-focus on colorless lands because you can only afford so many when you're trying to play Teeg on turn 2 every time, and while we could go a bit deeper with fetchlands to have "more perfect" mana, you're facing diminishing benefits for very real price costs, so it's not where I am going to wind up focusing here.
That would be the spells, instead:
Out:
The creature-removal options have hit the bottom of the barrel by the time we're playing Condemn and Soul Snare; I understand tuck cards are potent against commanders, but these cards themselves are not - the most-offensive commanders don't attack, commanders like Azusa, Azami, Sharuum, Jhoira, Prime Speaker Zegana... not a single one has to enter the Red Zone to cause you fits, so as good as tuck cards are, these cards are still not good. If they were, I'd be willing to consider it, but instead I find this focus on pinpoint removal is a little bit beyond where it needs to be, and you'd be better off adding more creatures back in instead.
That said, I do like the idea of being able to Tutor up the exact right creature to face the problems your specific opponents are throwing your way - Congregation at Dawn and Eladamri's Call stayed in when I cut your Sylvan Tutor, and it turns out the reason is because I don't like it as a sorcery. I expect the general tempo of the game will go something more like this: opponent plays problem permanent you need to find an answer to, you need to Tutor, you find the right creature and answer the problem (and the combo deck is shut down long enough for the table to take them out). Sylvan Tutor requires you to be proactive in knowing what the problem card that is about to come down is, and I don't think that level of specificity helps here - Worldly Tutor, however, fits the tempo just fine even if you were tapped out on your opponent's turn, you don't even need to leave the mana up if you can cast it during your upkeep and still afford the mana cost on your solution card.
In: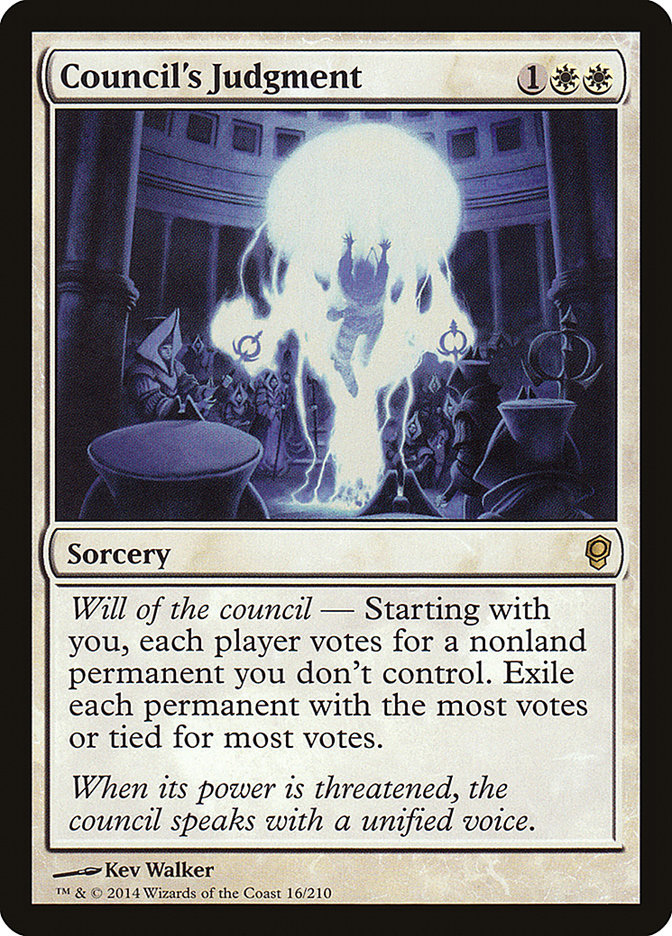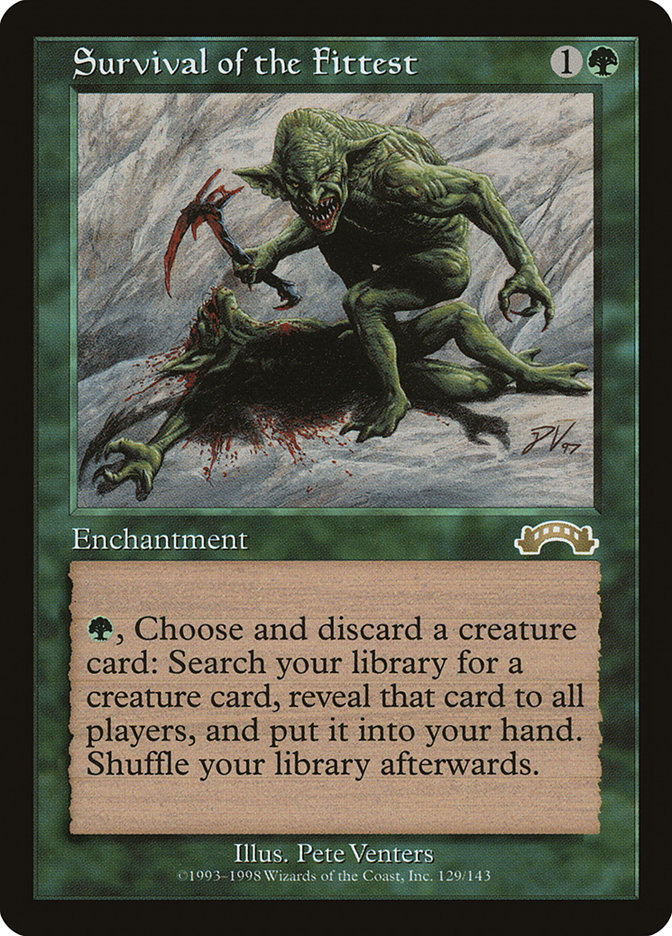 If finding the right creature to solve your problems, and being willing to go down a card to do so, is worth doing once - it'll probably be worth doing repeatedly for that same one-card investment, right? Survival of the Fittest is a bit of an expensive card, and sort of a boring one - as Jess has pointed out in recent articles, she tends to cut all tutors so we can focus on playing a more interesting game of Magic instead of touching our deck and relying too hard on a few well-worn silver bullets to control the outcome of the game, but in this deck I think the objective is too important to cede that particular ideological battleground. Are tutor-filled games less fun than tutor-free games, just in general? That depends on your perspective - some don't really care, some really like being able to make specific card-selection decisions because it lets them feel that it allows the decisions they make to lead to their winning the game (and thus make play-skill a factor), and some really hate tutors and want people to stop fiddling with things and just draw cards instead of search for them. The latter players, however, probably also hate getting combo killed over and over again by degenerates - so you're using the master's tools to dismantle the master's house, as the saying goes.
We've made nine cuts but only three additions, and after a book-keeping check (... which I noted too late was missed in my last article - that submission was 100 cards plus the Commander and so was my final version - oops!) I noted your submission was 98 cards so we have room for one more here too. That means we're adding seven creatures to the deck overall - you need to get on the board early and often if you're going to lay down the beats Maverick-style with disruptive creatures, relying on overlapping protections to give you enough time to attack for lethal. If you're the beatdown, well, let's own that role!
Out:
The mana creatures go because I'd rather drop your curve than up your mana production, it's far more likely you'll draw a smooth curve naturally than that you'll draw one of your three one-drops and play it on the first turn. I want more ones, twos, and threes overall, so that means fewer fours, fives, and sixes when they don't really fit - Mirran Crusader is just a really efficient beater, good with equipment cards but not actually that special, while Galepowder Mage is only positively interacting with a few of your cards, Solemn Simulacrum is too little creature for too much mana when it's already going to be pretty near to the top of your curve, Karametra likewise doesn't do very much for what you're actually trying to accomplish, and Darien is only good against the exact sorts of opponents you said you were willing to cede a bit of space to - the sorts of aggressive decks you're not really worried about so long as you can beat the combo decks and force a social turning point to occur. It does nothing against those sorts of opponents, and realistically it only adds a delay of "kill this first before you come after me" or even just "kill me in one fell swoop" to the aggro deck's requirements, which is not that hard to do for a six-mana 3/3.
I want to focus more on setting game rules early and beating down in the establishing turns of the game, making it so that potential combo opponents have multiple cards they need to take off the table before their combo will work... and "taking multiple creatures off the table" is itself locked down by Teeg controlling the mass-removal options. To do that, we're going to want some cheap options so we're playing on the table early and often, and if we can get any protection for Teeg while we're at it that'd be awesome.
In:
Some of these may look a little junky - who plays Diligent Farmhand? - but if having a land is what you want and getting to three mana on turn 2 was never the top priority anyway, Diligent Farmhand is more like Sakura-Tribe Elder than Llanowar Elves... and I felt Elder was good enough to keep since it provides a stable resource that doesn't care about things going wrong and the board getting swept, so more of the same was probably worthwhile. But this gives us some cheap cards we can use to protect the disruptive ones - Mom, 8.5, and Dauntless Escort - as well as a bunch more ways to disrupt different combo decks all within the creature base that you're best at tutoring for anyway (which was why Rule of Law moved over to become Ethersworn Canonist). If you're expecting to face a variety of things because the style of play - focusing on combo completion - is more important than the specific identity of the combos being completed, having more bullets is needed so you can hit all of the different combos that may float around out there.
We're also adding some more pressure to the cards that they use to complete combos in the first place - you had Aven Mindcensor already, but adding Spirit of the Labyrinth to dampen card draw and Leonin Arbiter to go alongside that Mindcensor gives us more cards so that we can naturally draw one a bit more often. We have several more cards pressuring the graveyard too, and instead of just exiling a yard at sorcery speed we now have proactive measures - Dryad Militant worked for stopping instants and sorceries, so Samurai of the Pale Curtain helps by stopping permanents from getting recurred while Scavenging Ooze isn't picky so long as you can feed it mana. Linvala is in the same vein as the Hushwing Gryff, but pressuring a different set of abilities, shutting down activated abilities so stuff like Mike & Trike no longer work regardless of whether you're holding back a removal spell. And Angel of Jubilation can cover sacrifice-for-profit stuff like the unlimited mana you get out of your average Ashnod's Altar combo while also pressuring a variety of cards on all sorts of corner-cases and pumps your team!
Seht's Tiger is there to answer all sorts of random stuff you wouldn't believe, and can even answer some more generic problems as well while you're at it - it's good against creature attacks since it's usually at least a partial Fog and good against burn spells, so it is likely doing a better job than Darien was, while also potentially interacting with opposing combos if their combo involves a non-colorless creature attacking or a spell or ability targeting you... which doesn't cover all of them, but it certainly has enough of a catch-all factor that you can find a use for it without having to be overly specific in what it needs to solve. Sometimes the problem's an Insurrection or Craterhoof Behemoth, and this can still help with that "combo" too.
And Ulvenwald Tracker is because we need more bear-punching in our lives. Actually, it's there as another creature removal spell you can add to the board proactively rather than reactively, given that it also requires a sizable enough threat to answer whatever problem ails ye, but more often you'll find it is tamping down utility creatures or keeping growing token armies in check. I like all of those sides of the card and consider it highly underrated, so I think it'll do good work for you too.
Putting it all together, we get the following:
Creatures (44)
Lands (37) As always, for participating in this week's edition of Dear Azami you'll receive a $20 coupon to the StarCityGames.com online store - which admittedly gets you less than half of that Linvala, thanks to Modern and Birthing Pod decks of varying stripes likewise relying on it to shut down opposing combo shenanigans. I'm reasonably comfortable assuming that you can get a few expensive things or otherwise make it happen despite this submission's budget coming over nearly double the unofficial and totally-arbitrary $100 budget that we tend to try and keep it under (...lest we get chided in the forums), and this is one of those problems where getting the right answer is worth doing right, price no object.
Breaking it down individually, the changes priced out as follows:
I think between having this deck to battle with and explaining why you've shifted to this deck to those battle-cruiser combo decks, you can make a dent in individuals' consciousness and help move that shift along so newer players can join without feeling like it's an un-fun waste of their time – but you'll do even better if you recruit them into making the shift happen and start playing Archenemy whenever one of those combo decks thinks they're playing Commander. You'll help retain people and maybe even inspire them to build decks that overlap in a beneficial way – a beatdown Teeg deck backed up by a blue deck with some countermagic power and maybe a third deck with some pinpoint discard will work wonderfully together to shut down anyone who's trying to treat the opposition as something they can just brush aside at their convenience, so if you widen this project into a battle for the heart of your local gaming store you'll find there are others who are willing to join you in restoring the social contract.
This fight you are embarking on is the self-regulatory mechanism Commander thrives on; you don't need to ban individual cards besides the most egregious offenders because combo decks are always going to be possible, and they're definitely going to be good – but if they're not what everyone wants to be doing with their Saturday nights, the group as a whole can agree to go a different way instead if you bring everyone on board. Maybe it'll take the store owners getting involved as well to hammer the point home – "no one's having fun because of you, and we're losing players at your expense" is a powerful statement to come down from a store's employees, especially to someone who thinks their regular patronage is supporting their LGS and their Commander community. You have set upon a specific path, and that path is better for your community than the one that has been allowed to flourish without conscientious maintenance to guide it to a more-fun place. The world you desire can be won, it exists, it is real, it is possible – it is yours.
Want to submit a deck for consideration to Dear Azami? We're always accepting deck submissions to consider for use in a future article, like Mark's Ghave, Guru of Spores deck or Robin's Jor Kadeen, the Prevailer deck. Only one deck submission will be chosen per article, but being selected for the next edition of Dear Azami includes not just deck advice but also a $20 coupon to StarCityGames.com!
Email us a deck submission using this link here!
Like what you've seen? Feel free to explore more of Dear Azami here, in the Article Archives! Feel free to follow Sean on Facebook... sometimes there are extra surprises and bonus content to be found over on his Facebook Fan Page, as well as previews of the next week's column at the end of the week!