The delve cards from Khans of Tarkir are making huge impacts in both Legacy and Modern, to such an effect that no one will be surprised if at least Treasure Cruise will be soon banned in one, if not both formats. Right now there is little reason for any deck to not be making some good use of their graveyard.
We have to adapt and we only really have two choices. Either beat 'em or join 'em.
These are the cards that graveyard decks don't want to see.
Infect does a good job of filling its graveyard up naturally so I'm inclined to hop onto the delve bandwagon. I was hesitant at first, but it seems like it doesn't take all that much work to make delve work in Legacy. All you really have to do is play Magic naturally and things will fall into place. So the question remains as to which delve cards fit Infect the best.
We see decks like U/R Delver that want brute card advantage using Treasure Cruise, while those like Sneak and Show prefer the better card selection with Dig Through Time. It basically boils down to how aggressive or combo oriented the deck is. So where does Infect fall?
Infect is a hybrid of both, as it wants to have early aggressive pressure while having a combo-kill element that your opponent always has to respect. The deal-breaker of the two is that Dig Through Time will always cost a minimum of UU, and that's not always easy to get with Infect. Given that fact, I believe that Treasure Cruise is a better fit for the deck.
So why not jam Treasure Cruise into Infect? After all, it's a deck with a fairly high number of cantrips that doesn't use it's graveyard in any way. The deck runs a reasonable number of fetchlands anyway to go along with Brainstorm and wants to play a bunch of GItaxian Probes to know when the coast is clear to move in for the kill and what key cards need to be countered with Force of Will.
Let's look at the U/G Infect decklist that Mark Stanton ran at a recent Invitational Qualifier in Cayce.
Creatures (12)
Lands (19) Mark comes to a few of the same conclusions that I did in a hypothetical build of Infect with Treasure Cruise - the need for four copies of Gitaxian Probe and Force of Will, along with a ninth fetchland. The adjustments are small and complement Treasure Cruise quite well without diluting the deck insofar that filling the graveyard becomes an overly focused priority. Now that your card draw is blue instead of green in Sylvan Library, the blue card count is higher to satisfy the full suite of Force of Wills. The best part about the change is that now with a ninth fetchland you have access to another blue mana source, which allows for more keepable hands alongside a Brainstorm.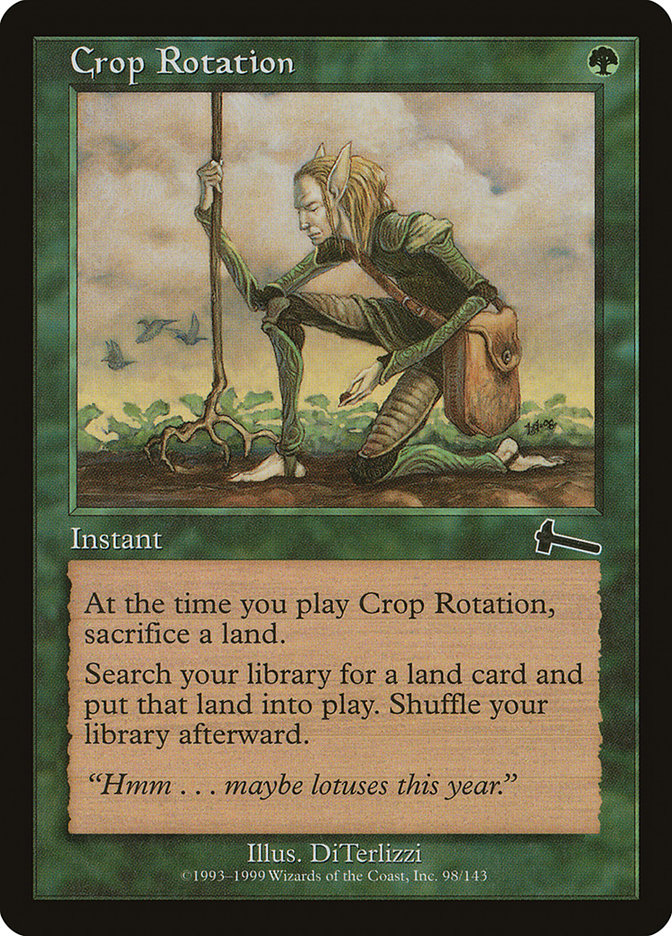 The big question is what to do about Crop Rotation. Mark opted to put them in the sideboard for the time being and to bring in a toolbox package when the time called for it. Crop Rotation is a bit of a weak card since its negative card advantage inherently, and you have to be at the right place at the right time to get a one-for-one trade when your opponent tries to kill your land with either a Wasteland or a removal spell on an active Inkmoth Nexus. However, the efficiency of Crop Rotation changes when delve cards are put into the mix so let's look at the upsides and downsides of the adaptation.
On one hand Treasure Cruise gives a lot of raw card advantage to where the quantity of your cards reduces the need to surgically sculpt an ideal boardstate with your limited resources. When you're drawing deeper into your deck, you'll naturally draw more threats, pump spells, and countermagic. That leaves Crop Rotation being a possibly unnecessary inclusion.
On the other hand, Crop Rotation is a pretty good enabler for delve as it adds two cards to the graveyard for a net loss of no mana. If you happen to Crop Rotation for a fetchland, that's three cards already. With a higher count of Crop Rotations, the manabase could be slimmed a bit. Inkmoth Nexus is a great card but doesn't actually cast anything in the deck outside of an occasional Blighted Agent. The net loss of losing a land from Crop Rotation is mitigated when you're fueling a Treasure Cruise so I'm interested in how a delve heavy version plays out.
Creatures (12)
Lands (19)
Spells (29) This is an extreme take on the idea, which I like doing at first to fully understand the other side of the possible spectrum. The reactive elements of Vines of Vastwood and soft countermagic had to be cut to fit in the delve cards, and there may be less staying power with the loss of a couple Inkmoth Nexus. The deck has a more explosive draw that involves Become Immense and Berserk winning the game as early as turn 2. However, this may be too many delve cards to reliably use, and I imagine that some opening hands will be a bit clunky. I can see an optimal list being somewhere in between the two.
What if we cut all the blue countermagic altogether and ran a more of an all-in approach?
Creatures (11)
Lands (19)
Spells (30) Since +6/+6 from Become Immense is such a huge increase, it's not unrealistic to deal huge chunks of regular damage with it, Berserk, and any other pump spell. For example, if you're attacking with just a Dryad Arbor and have Become Immense, Invigorate, and Berserk, that's 22 damage. They gain three life from Invigorate so if they've used a fetchland this game, you could be dealing lethal damage out of nowhere.
This version has a pretty reasonable toolbox land package where the long-forgotten Centaur Garden shows up as a way to turn a Crop Rotation into a Giant Growth. The build may seem like it's light on creatures, but the fact that any green fetchland can find Dryad Arbor makes it so that you'll have a target for your pump spells quite often, if not more so than in a U/G shell.
The biggest loss is that you're now vulnerable to combo with the loss of Force of Will. If the metagame moves to more of a fair and attrition based world where Treasure Cruise is the best card in people's decks, I can see a world where jamming Mono-Green Infect can be a viable strategy.
Then again, if you don't want to join the masses by adding delve cards to your deck, you could exploit the fact that everyone is trying to maximize the use of their graveyards. If you want to attack the graveyard heavy strategies, I suggest trying something that nerfs them all as a whole before the game even begins.


Creatures (5)
Lands (19)
Spells (36) Leyline of the Void outright kolds a ton of decks in the format and really hinders the development of many others. Reanimator, Dredge, and any Life from the Loam based deck will have fits trying to maneuver out from under it, and any deck with Tarmogoyf, Deathrite Shaman, or delve cards will be significantly slowed down. You also bypass any creature kill elements like Swords to Plowshares and Lightning Bolt. Abzan Enchantress may not look very powerful on the surface, but its strength comes by blanking as many cards in your opponent's hand as possible and sometimes catching an occasional free win.
The goal of the deck is to assemble the combo of Helm of Obedience + an enchantment that exiles your opponent's graveyard. You only activate the Helm for one, and since a card never hits the graveyard, the process continues until their library is empty. If that somehow doesn't work out, you can eventually draw a ton of cards with your Enchantress effects until you hardcast Emrakul, the Aeons Torn off of your Serra's Sanctum that makes a ton of mana.
The list is far from optimal and drawing a redundant copy of Leyline of the Void in the midgame will feel pretty bad. Perhaps some number of discard spells like Thoughtseize will fit nicely to disrupt the combo decks. Also I could see a build featuring Leyline of Sanctity with some Opalescence that takes a page out of the Leylines deck by having some potent auto-wins with a reasonable backup gameplan that an Enchantress build offers.
Which will it be? Will you adapt delve into your Legacy deck or fight them head-on with hate?