Last weekend was a pretty significant one for Vintage Magic. The Eternal Weekend Vintage and Legacy Championships took place in Philadelphia, PA, and the turnout was extremely impressive. More than 300 fully powered and ready to battle Vintage players signed up for the biggest sanctioned Vintage tournament in United States history!
I actually got a chance to travel out to the tournament and play some IRL paper Magic Vintage last weekend and had an absolute blast. I decided to play broken cards and basically played the most broken deck I could figure out how put together and put into double sleeves.
Creatures (2)
Planeswalkers (1)
Lands (11) I went 4-2 with the deck and decided to drop from the tournament after the sixth round (after being eliminated from Top 8 contention) to get started on my nine and a half hour drive back to Michigan. Overall, not a terrible performance but disappointing nonetheless to not make the elimination rounds.
Both of my losses were to Mishra's Workshop decks in tightly played three-game matches. The unfortunate thing is that in three of the six games, I basically got locked on the draw and never got to cast any spells! That's Mishra's Workshop for you!
I played the deck because I believed I had an excellent matchup against anything playing blue and just short of a coin flip match against Workshops (favored on the play, behind on the draw, a little behind overall) which was pretty much a great place to be going into the tournament.
Unfortunately, I lost some coin flips to Workshops and got pretty unlucky to lose a hard fought feature match against Nick Detwiler where I cast Wheel of Fortune into a board where he had no disruptive artifacts on the board, and I had extra mana up and drew no action. The downside of Wheel of Fortune is that sometimes your opponent is more fortunate than you are!
Other than that, I beat two Delver decks, an Oath deck, and a U/B Storm deck in the tournament.
Overall, I liked my deck a lot and think it is a pretty awesome little brew that is capable of extremely powerful and flexible gameplay (when it isn't locked out by a prison deck).
Maxed out on the Affinity and Metalcraft cards in my restricted card combo deck!
Having tons of way to enable affinity and metalcraft really pushes the deck into the stratosphere as far as synergy and raw power. No other deck gets to play a card that cost a single blue mana most of the time and draws two cards. It's also pretty insane that the deck gets to play four copies of Mox Opal which most of the time is simply a "better" Lotus Petal that stays in play and helps to enable those Thoughtcasts.
As you can also see, I had a really strong sideboard plan for Mishra's Workshop decks but got a little bit unlucky in a couple of games that caused me to lose some close matches. Mishra's Workshop decks are obviously a hard matchup for most decks, but all in all I think the match up is fairly close and that my matches could have gone either way.
I played the deck because of its great matchup against any other deck that is playing blue cards or trying to play fair. Even against Delvers or Mana Drainers who are bringing in more "combo" hate cards, having access to four 1cc Divination makes it really difficult for those decks to keep your draw engine in check. What ends up happening most of the time is that you are able to win a battle of attrition and then start forcing through broken spells because of Thoughtseize and Force of Wills and then things simply get out of hand.
It is also pretty awesome that the deck has no intrinsic weakness to cards like Grafdigger's Cage. That card basically just shuts off Yawgmoth's Will and nothing else.
It's also really cool that the deck gets to play two entirely different and extremely powerful victory conditions.
Every good deck has two ways to win. These are the best two.
Most combo decks have two victory conditions. However, very few get to play Tendrils and Key + Vault. Most have Tinker for Blightsteel and either Tendrils or Key + Vault. Having Tendrils, Key + Vault, and Thoughtseizes to take a look at what your opponent has in hand makes it pretty easy to execute the victory condition that they can't stop.
Oh, you have Abrupt Decay and a Counterspell? Well, then I'll take the counterspell and set up Yawgmoth's Will for Tendrils and make your Decay a brick.
I don't regret my deck choice for the event despite the result, and I had an absolute blast drawing tons of cards and doing broken things with Goblin Welder and Memory Jar.
Let's take a quick look at what ended up happening with the rest of the tournament and what it means for Vintage moving forward.
I unfortunately did not correctly pick the tournament winner in my Frontrunners for Vintage Champs article last week, although I did make a pretty accurate prediction of what would perform well. I said U/R Delver, Workshops, and Mana Drain Control were my picks, of which there were 4 U/R Delver decks and 2 Workshops in Top 8 rounding out roughly 75% of Top 8!
To be fair, the deck that won (Oath of Druids, piloted by Mark Tocco) had three copies of Mana Drain and two copies of Jace, the Mind Sculptor in the maindeck… So, its kind of a half-hit half-miss because I didn't specify "Oath of Druids," but the deck was a combo control Mana Drain deck.
Let's check out Mark's Mana Drain Oath Control deck:
Creatures (3)
Planeswalkers (2)
Lands (15) So, this deck is pretty straightforward in what it does: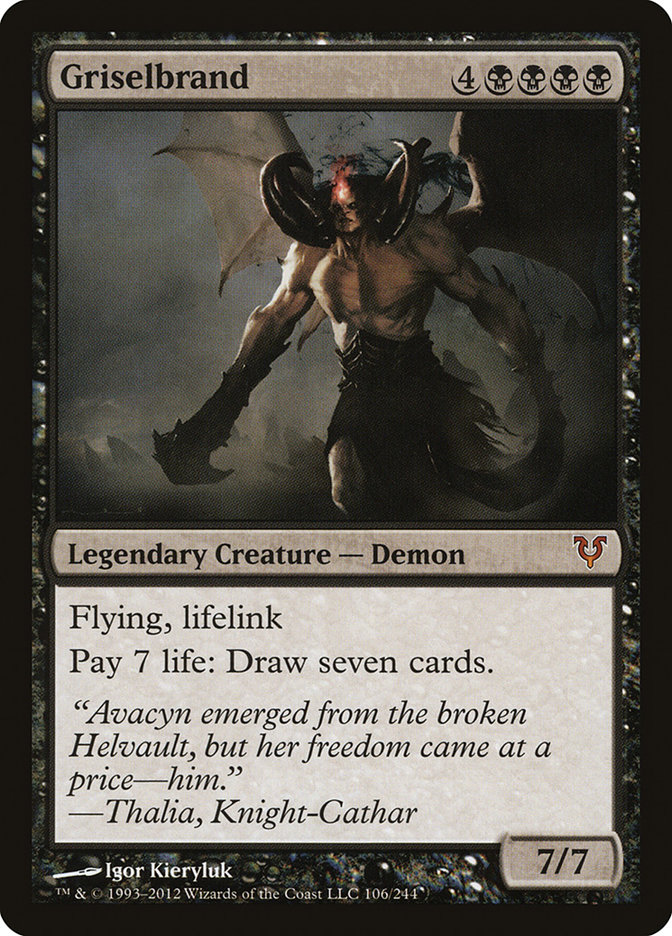 Execute Order: Griselbrand.
It puts this gigantic unbeatable monster onto the battlefield and attacks with it three times.
Oath of Druids was an excellent deck choice for this weekend because it is extremely difficult for the Delver decks to actually beat a 7/7 flying lifelink Creature. Most U/R Delver decks simply have no way to kill this guy and very few ways to actually race the gigantic life swing that occurs when Griselbrand starts dealing combat damage.
Oh, and Griselbrand also has this ability to just "Pay 7 Life: Draw 7 Cards."
The best and most innovative aspect of this deck is that it has a lot of ways to make Grafdigger's Cage a fairly inefficient and uninspiring answer to fighting the Griselbrand strategy.
Cage? Well, I've got other plans…
Abrupt Decay simply wipes the Cage of the face of Dominaria, and Show and Tell puts the legendary demon into play even with a Cage on the battlefield.
The Oath of Druids deck that ended up winning the event was for sure the level 2 deck of the event because it has a great way to punish Mishra's Workshop decks for screwing around for too long and giving an opponent an opportunity to simply cast one 2cc spell, and it is also great against decks full of one- and two-drop creatures like Delver.
So if Griselbrand was the level 2 deck for this event, let's take a look at what was level 1.
Vintage: A Creature-Friendly Format Since 2012.
The printing of Treasure Cruise in Khans of Tarkir is a really, really big deal for Eternal formats. I must admit that reading the card on the spoiler and writing my set review two weeks before the Prerelease, I had no idea what a game changer it was going to be.
However, it hasn't taken a very long time of people actually playing with the card and figuring out how to make it good for the card to be shown to be absolutely over the top powerful in Eternal formats where cards fly to the graveyard left and right.
Literally half of the Vintage top 8 (and two-thirds of the Legacy top 8!) were comprised of Delver / Treasure Cruise decks! Here is a great example of U/R Vintage Delver that placed second at Vintage Champs:
Creatures (10)
Planeswalkers (2)
Lands (15) This deck is nothing shocking to people who have been following recent Vintage results online or reading my articles going into the event. It is extremely solid, has lots of disruption/permission, tons of card draw, and presents a really fast clock.
The big question moving forward: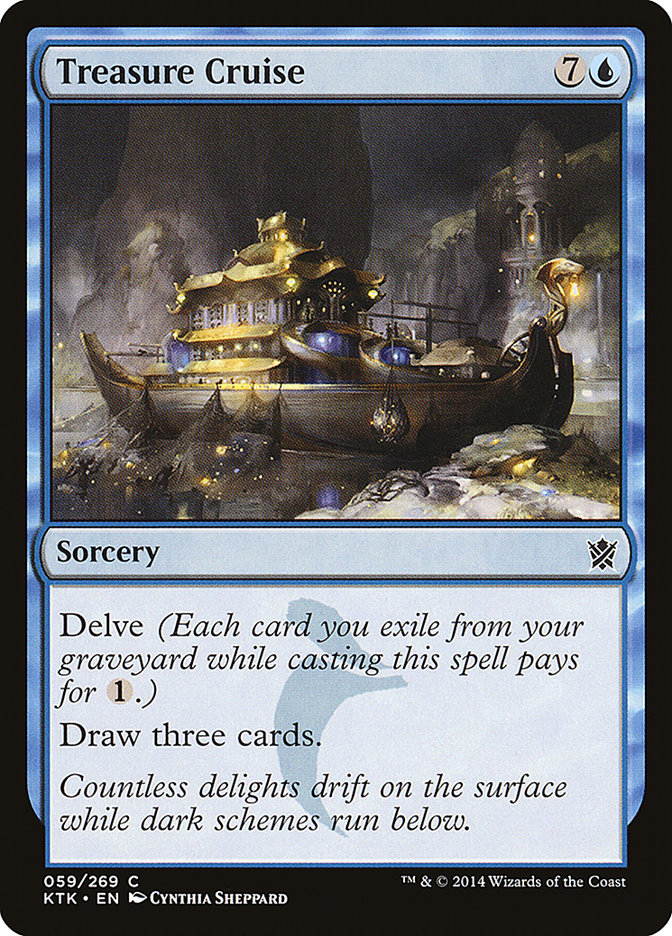 So, is this real and for how long?
Will Treasure Cruise get restricted?
Personally, yes, I think it will.
It's kind of a joke that other clearly worse cards are on the restricted list while a one-mana Ancestral Recall calmly, casually remains unrestricted. The other thing, is that I think as time goes on Treasure Cruise will probably begin to get incorporated into other decks besides just Delver strategies.
I think that it is also a nearly foregone conclusion that Treasure Cruise is likely to get banned in Legacy as well. The card is clearly just a messed up OP card in formats full of cheap cantrips, fetchlands, and other ways to quickly enable it on the second, third, and forth turns.
I like to take a "wait and see" attitude toward new cards that quickly emerge and rise to the top of Eternal formats because it is always relevant to let the other decks adapt and try to fight the new cards and decks. However, in this instance I think it is a very real and likely possibility that decks playing Treasure Cruise are likely to evolve and become even better than the decks that might be able to adapt and try to fight against them.
Obviously, wait until January to see what the DCI chooses to do about Treasure Cruise in Eternal formats and a lot can change between then and now, but my prediction is that when the time comes around the card is likely to see the axe. I could be wrong, but that is what I think and how I feel about it right now. My gut tells me that a card that is easy to enable and says, "U: Draw three cards" is too powerful.
The other possibility, at least for Vintage, is that other cards could potentially come off the restricted list in order to create a more level playing field. Off the top of my head, Gifts Ungiven being restricted when cards like Treasure Cruise and Lodestone Golem are unrestricted is a pretty clear folly. Thirst for Knowledge is another interesting card, because I think it is probably worse than Treasure Cruise, but having Thirst and Treasure Cruise in the same deck seems kind of outrageous.
Oath of Druids is another messed up Magic card that I could reasonably see getting restricted in Vintage due to the clear upgrade in Oath targets (Griselbrand, Blightsteel Colossus, and Emrakul, the Eons Torn) that have been printed in the past five years or so. Oath was fine and good back when I won a Vintage SCG P9 tournament ten years ago by putting Akroma, Angel of Wrath and Ancient Hydra into play.
Seriously, I won an SCG by Oathing up these Lame-os."
Mishra's Workshop decks also seem extremely powerful in the format. I played a lot of tough games against Workshop decks at the tournament and felt very close to defeating the Iron Menace but fell short. However, after the tournament I realized that 3/6 of my games (=50%) I was dead on the draw on the first turn… So, my opponents in two matches only really needed to win one of four close games to cause me to lose two rounds.
I don't actually know if that is good or bad for a format or not. I'm going to reserve judgment on the matter for a time when I didn't just get crushed twice by the deck the day previous.
The last thing I'd like to note is that I did actually have a blast playing Vintage this weekend and that maybe the format is just fine with Treasure Cruise in it. If the worst case scenario is that Delver of Secrets is the "best deck" in the format, maybe that is actually okay for a while? Delver has clearly dominated Legacy for a long time, but it has never really been "The Deck" in Vintage before.
There may also be a correlation between this year's Vintage Championship being the most attended one in Magic history and a familiar ported Legacy archetype being actively great. I think it does make a difference that the decks look familiar and that such a scenario makes a format like Vintage look attractive to Legacy fans who can either afford some power or borrow them from a friend.
In contrast, the deck that I played was so extremely unreasonably difficult to play that I feel like Paul Mastriano (former Vintage Champion, and one of the best Vintage players of-all time who also played my identical 75), told me in between rounds multiple times:
"I messed up and it cost me the round. I did X, Y, Z and then A, B, C, and then this other thing, but if I would have done X, Y, A, and then B, Z, C I could have tutored for E with a mana floating and done this other thing, which would have allowed me to play around this thing that he actually had when I was trying to play around this other thing that he didn't have."
I'm not sure that a deck like that is uber attractive to players who are looking to learn a new format as opposed to "I play a Delver, draw cards, counter your spells, and then reload with Treasure Cruise."
I'm pretty excited to see what is going to happen with the Vintage restricted list moving forward. At this point, I wouldn't feel cheated or irritated if they decided to change nothing, but I have a strong feeling like it is getting close to a point where they might have to do something, especially if the trends that are emerging continue moving forward.
All in all, I had a blast getting to play some good old Vintage Magic: the Gathering at Eternal Weekend. The event was gigantic, fantastic, and aptly run. The fact that so many players came out to play paper Vintage in this event really shows that Vintage is a relevant format and that its popularity has really picked up since the release of Power 9 online. Hopefully, the trend continues and there will be more opportunities for players to enjoy the format here in the United States!