The best and brightest of the game have fine-tuned each three-color clan into a lean, efficient machine, each dependent on the strategy of the deckbuilder's choice; every clan has the potential to be aggressive, midrange-oriented, or controlling. The strongest spells have come to light, and the weaker chaff has been blown away. Games have become fairly technical affairs; negotiating the interaction of a Siege Rhino and a Butcher of the Horde, or the timing of your Thoughtseize and planeswalkers have become essential parts in playing Magic. The color fixing is good, the power level is high, and Standard is just peachy.
Right?
Sure, this kind of environment creates careful combats, backbreaking reversals, and huge swings from turn to turn. You're on the edge of your seat watching game 3 of a top 8 match. But playing is only half the fun.
If you're anything like me, you're probably tired of seeing Insertwedgehere midrange. There's no doubting the power of format staples like Hero's Downfall and Sarkhan, the Dragonspeaker, but I'm a little weary of seeing the same 50 cards slotting in for one another based on the manabase-of-the-day. Converting an Abzan deck into a Mardu deck is pretty simple; Siege Rhino, Courser of Kruphix, and Nissa, Worldwaker tag out for Magma Jet, Goblin Rabblemaster, and Stormbreath Dragon, et voila! New deck! Well, sort of.
All I'm suggesting is that an environment like this is great for Standard, both for spectators and for players, but it leaves a brewer a little bit parched. With so much focus on improving and perfecting the three-color game, are we compelled to join them?
Let's leave those clans at the altar.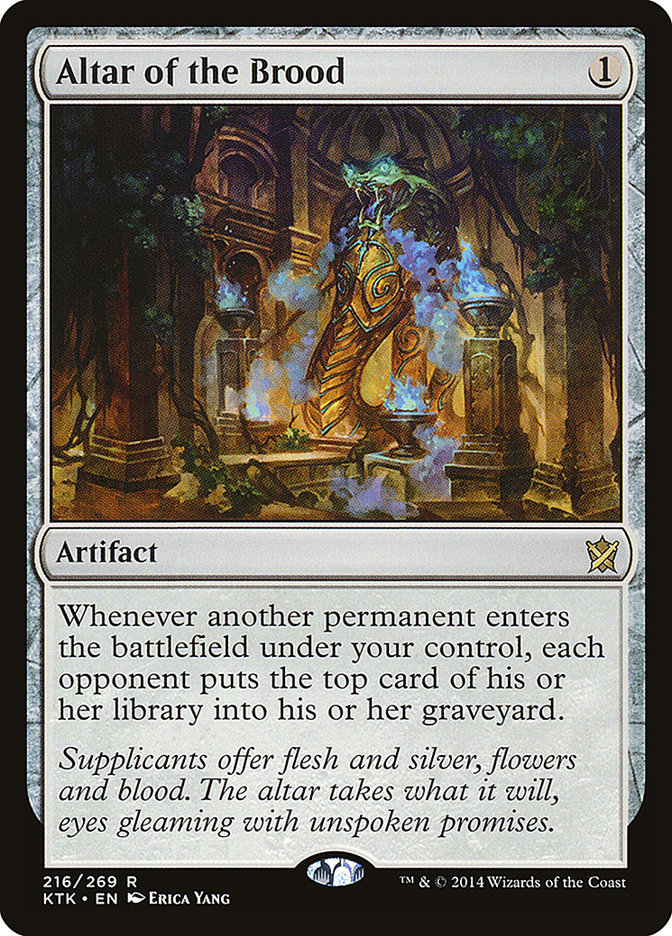 Literally an hour after this card was first spoiled, I had a preliminary list. The whole time I was furiously crafting up the draft, I went back to make sure that yes, it just says "permanent." Blue came to mind as the potential first choice for this possibly prismatic artifact, as it's built to mill inherently. That being said, my first impetus wasn't actually a mill card.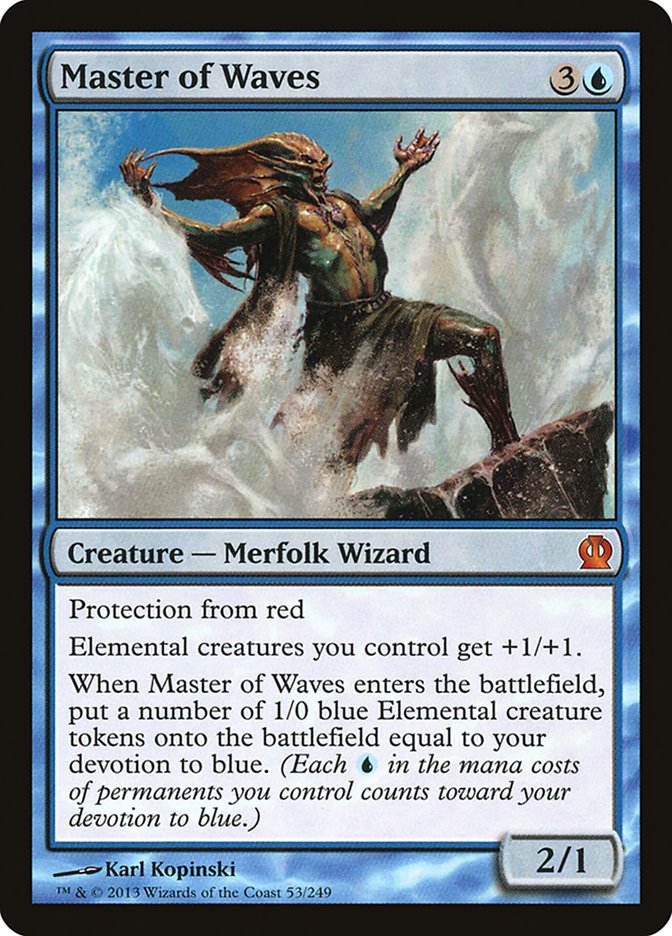 Fresh off the success of Nightveil Specter-fueled mayhem, Master of Waves was set to lose value after the rotation of all its heavy-blue friends. Despite this presumed setback, Master of Waves might be a perfect way to trigger Altar of the Brood.
Just hours after the card was spoiled, I had already proxied up my first draft.
Creatures (18)
Planeswalkers (3)
Lands (22)
Spells (17) As you might guess, the idea is to play as many creatures, enchantments, and permanents spells as I could, bounce them all, buying myself time to recast them again, milling more cards.
Creatures
Ornithopter might be the wackiest one, but I foresaw a lot of Whelming Waves followed up by free Ornithopters and free mill. Dakra Mystic, also a decidedly cheap choice, provided extra card advantage and, in a way, another way to mill. Even if they drew the card, that's one less card for me to hit. Yeah, that logic checks out. Master of Waves, for perhaps the first time, is mainly a defensive creature, giving you multiple Altar of the Brood triggers while providing an army-in-a-box, forcing your opponent to wade through a new wave of defenders.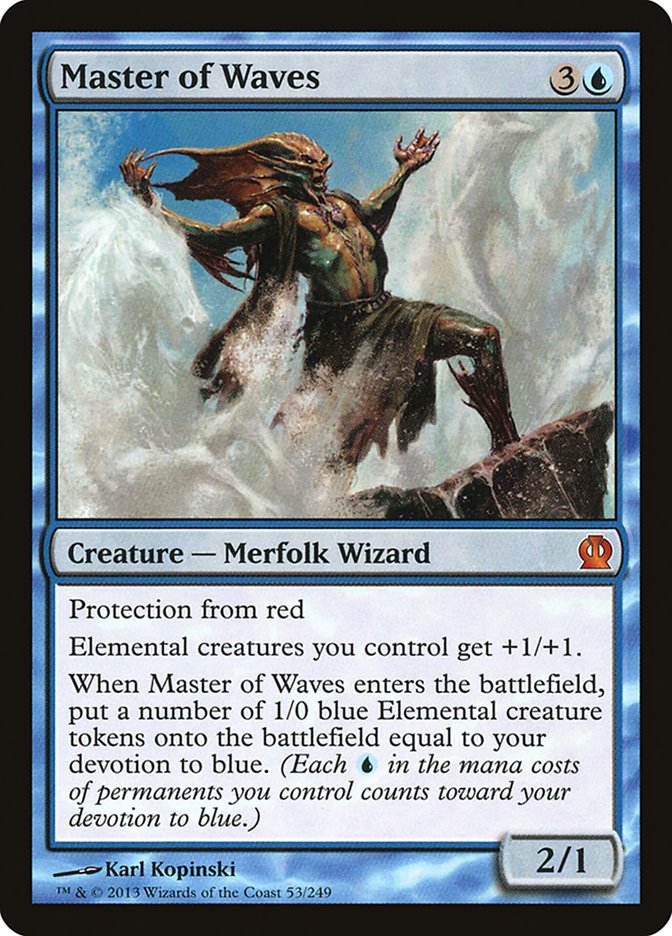 Two water jokes at once!
Clever Impersonator, a card I had huge hopes for, acted as additional copies of the critical Altar, or it could double as another Master of the Waves, or their Elspeth, Sun's Champion, or a Banishing Light, or a God--anything you want! Disciple of Deceit, fresh alongside the obligatory Springleaf Drum, filters your hand into the perfect, on-time solution. It blocks well too, and durdly decks like this one have to be able to play the blocking game. One each of Thassa, God of the Sea, and Phenax, God of Deception make their way in as well. Thassa might seem hilariously out of place and, well, she kind of is. The scry effect was nice, and a 5/5 indestructible blocker ain't too shabby. Hey, Phenax lets you mill with her for five! Phenax is a great finisher, turning your army of horse Elementals into milling machines, sloughing off the last few cards.
The spells are also proactively mill-oriented. I wish I could play more Altars; their effect in congress is downright intimidating for a slow grind. Next is the intriguing and often misunderstood Dictate of Kruphix. In my mind, this is by far the best Dictate, but I've still not found the perfect shell for it. The ability to let your opponent draw cards generally spells disaster, especially in a cute deck. You'll draw funny little conditional cards while they draw game-enders like massive creatures or bonecrushing planeswalkers. However, one of my favorite cards from the "feel" of it is Forced Fruition. Drawing cards is good, right? "Wait, that's a lot of...no wait, stop. No, I don't want anymore! I'm just going to have to discard...aghh!" Especially on the back of Whelming Wave, extra cards will often provide the opponent with no actual benefit. I mean, what are you going to do with three Sorins if you don't have anything for them to interact with? Ashiok, Nightmare Weaver, is still one of my favorite planeswalkers in recent years. It puts an effective clock on a control or midrange opponent, and you can still snag a creature from exile and still mill them a card or two. Springleaf Drum lets your Ornithopters push the plan as quickly as possible and gives a convenient and beneficial way to tap down Disciple of Deceit. A single Murderous Cut marks the only hard removal spell in this draft; my mass bounce provided by Whelming Wave and Aetherspouts would handle the rest. Speaking of which, Aetherspouts seems like a nonbo as it adds cards back to the deck. However, a well-timed mill can make them toss them anyway or, if they expect that, make it a one-sided instant Terminus.
Eight fetchlands help keep the Altar flowing and, to a smaller degree, keep the deck slim, though the extra triggers are really where it's at. Otherwise, it's pretty standard blue/black manabase.
The sideboard featured Profane Memento with what I perceived to be the coolest way to handle aggro. Don't give up the mill plan, just mill Goblin Rabblemasters and Savage Knuckleblades and undo the aggro deck's work! Against the perceived dominance of decks like Sultai, this could provide passive value too. Even Staff of the Mind Magus tried to get in on the game.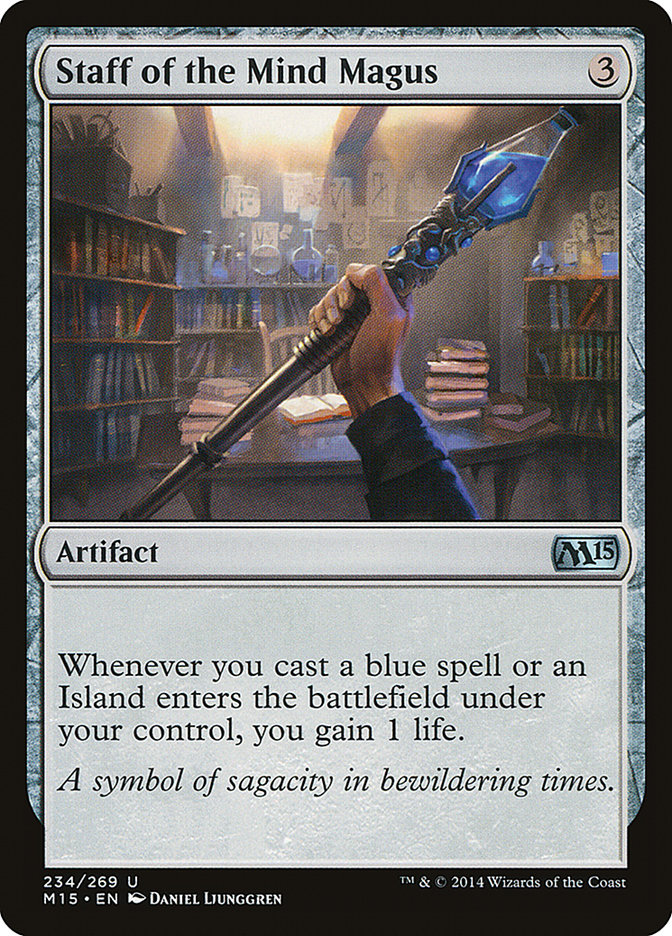 Look, a blue Courser of Kruphix!
Tormod's Crypt was not only free, but it kept graveyard shenanigans at bay, maybe for the aforementioned Sultai deck. Gainsay seemed like a smart choice against a control match, despite the fact I'm already on a pretty good plan for it. An extra Ashiok and Aetherspouts round out the list.
So how'd it do on that first weekday back in early September? Actually, not too bad.
No, seriously.
My first match was against a mono-black aggro deck which, although time would prove was a fairly poor strategy, this deck undid with no problem. Master of Waves created a huge headache in the absence of much removal. I followed it up against a green monsters list, where this put up a positive record. It even undid a proto-Jeskai deck without a problem.
There were a lot of cards that proved to do more harm than good. Among them, Clever Impersonator was probably the biggest disappointment. It almost always copies Master of the Waves and copied the deck's trademark artifact exactly zero times. It just didn't feel right to spend four mana to copy a one-drop. I was never so ahead on resources where that was a reasonable play. Subsequently, the list got trimmed and tailored.
Creatures (17)
Planeswalkers (4)
Lands (22)
Spells (17) This version emerged shortly after Khans of Tarkir became legal and I revisited it on a whim. Frost Lynx, which benefited greatly from a bounce effect, seemed like a solid, on-curve replacement that would buy me a critical turn and a well-timed blocker. I upped the numbers of Dictates to coincide with the full crew of Master of Waves, and the last Ashiok came in as most decks seemed to be oriented to cast and kill planeswalkers. Murderous Cut as a removal spell proved itself well, and I always had enough fluff in the graveyard to make it easy on the checkbook. Springleaf Drum survived, mostly because I couldn't think of what else to cut. Whelming Wave, intriguingly, tagged out for a full set of Aetherspouts.
In testing, this version proved to be a bit worse. The card power level was really low, and it never felt right to draw almost any card in the list with one distinct exception: Frost Lynx was exactly what the doctor ordered. It felt surprisingly powerful to cast, and I was always happy to draw one. By then, deckbuilders had gotten their feet wet, figured out what worked, and were on the warpath to clobber any brewing stragglers. The list didn't stand a chance.
The deck sat on the shelf for about a month, and I totally forgot about it. Then, as I looked over our contest winner's list, I dusted it off and rethought the plan. Master of Waves has enough power, alongside the manabase and incidental permanents, to mill my opponent by itself. Even besides that, its watery stable could just attack out of nowhere and put my opponent in life jeopardy. Ashiok was very powerful against decks with a low creature count.
After one final iteration, we might have finally found the right build.
Creatures (8)
Planeswalkers (4)
Lands (24)
Spells (24) The final list represents a significant, but necessary departure from the original plan. With only eight creatures and eleven other non-permanent spells, the plan now relies on playing better spells and letting the more powerful permanent producers do the heavy milling. Singing Bell Strike has been great in testing in other decks, so it seemed like a fun permanent-based removal spell to keep on theme. Murderous Cut, which could be cast once early or always late, became a full set. Dissolve became necessary as decks have become slower and more reliant on big spells to control the game. Empty the Pits, another repurposed token maker, can close the game whichever way you're closest. You can untap them and smash them for a million, or you can pour every drop into it and mill them to zero. Feel pretty silly boarding out that Bile Blight, dontcha?
Even the sideboard got a facelift. Embodiment of Spring is a great early blocker that, as an Elemental, gets a little boost from the Master. Wall of Frost also follows suit, and alongside the pair of Phenax, represent a post-sideboard shift against aggro. Board all ten cards in, take out all the counterspells, Ashioks, and the two singletons, and you've got a strong anti-red plan. Alternatively, side in three more Disdainful Strokes and Agent of Erebos to knock down their biggest spells and keep them down. The deck's got eight maindeck enchantments to sweep the yard each time they enter play.
I've tested this one only a little bit, but it feels much more like a real deck. The spells in my hand are real. The abilities I trigger are real. The milling is final. Judge all you like, but this deck's a blast to play now.
As a one-drop artifact, the potential for Altar of the Brood is vast. Where have you worked it into your own lists?