With the new Commander 2014 decks just about to come out, Jess and I decided to take a look at the five decks and how we'd upgrade them on a tight budget. Breaking into Commander often feels like it's hard to do, but these products are designed to give everyone a solid entry point - at $34.99 each, they're definitely affordable, and they're chock-full of high-power Commander cards that can be readily customized to match whatever strategy catches your fancy. The most intriguing part of it all, of course, is that there are five Planeswalkers you can pick as your Commander in addition to five kick-ass mono-colored legendary creatures - so this week and next week we're going to focus on tuning the five Commander 2014 decks on a $50 budget to explore these Planeswalkers' strengths at the helm.
There are of course some challenges to this, as some of the decks are more linearly focused than others and thus harder to customize - but if we wanted this to be easy, it wouldn't be as fun. This week we'll be looking at the Abzan Commander decks, modifying three separate decks to work with these three Planeswalker-Commanders: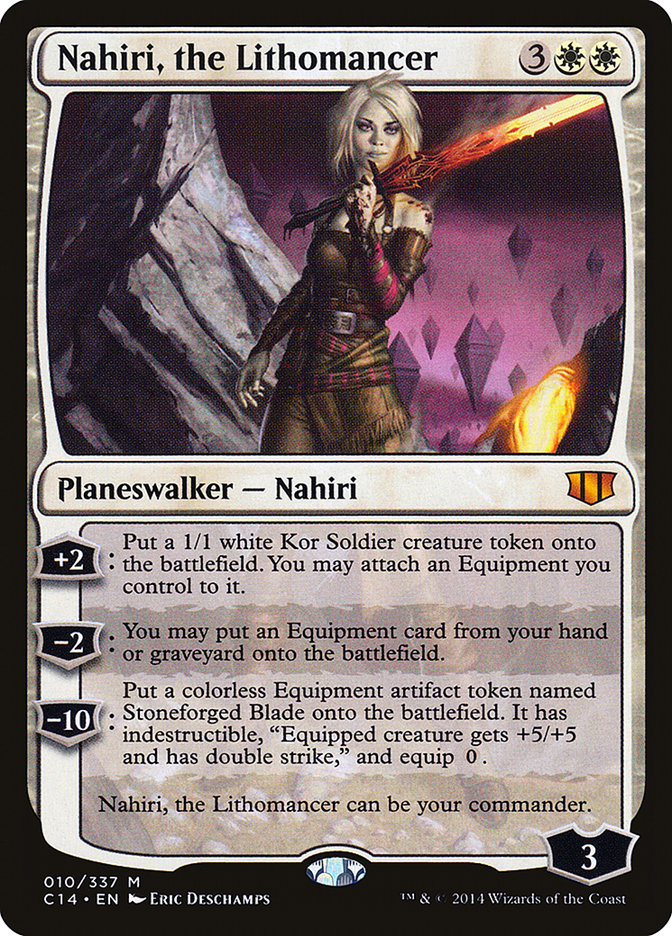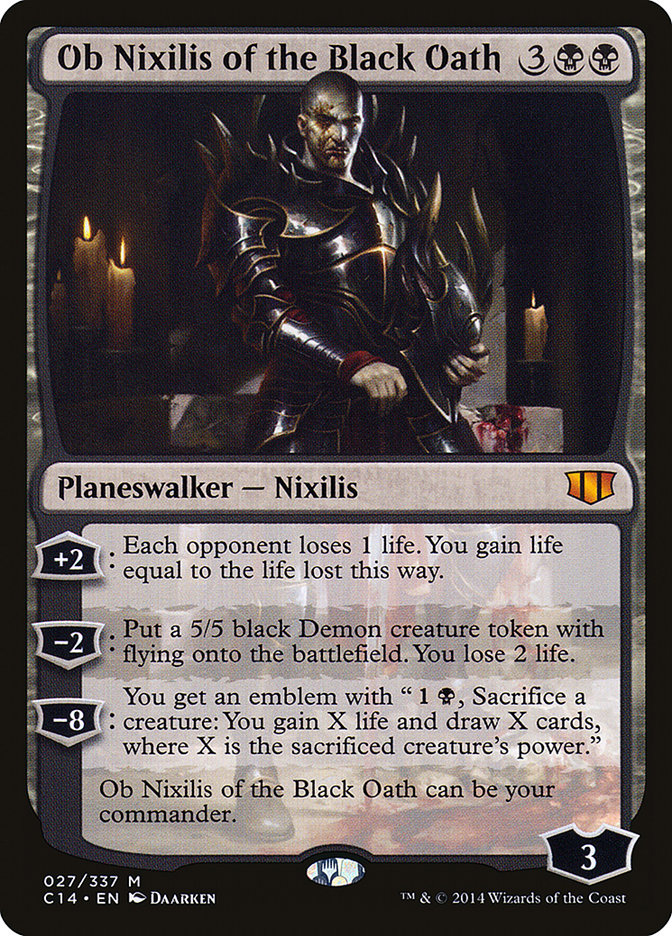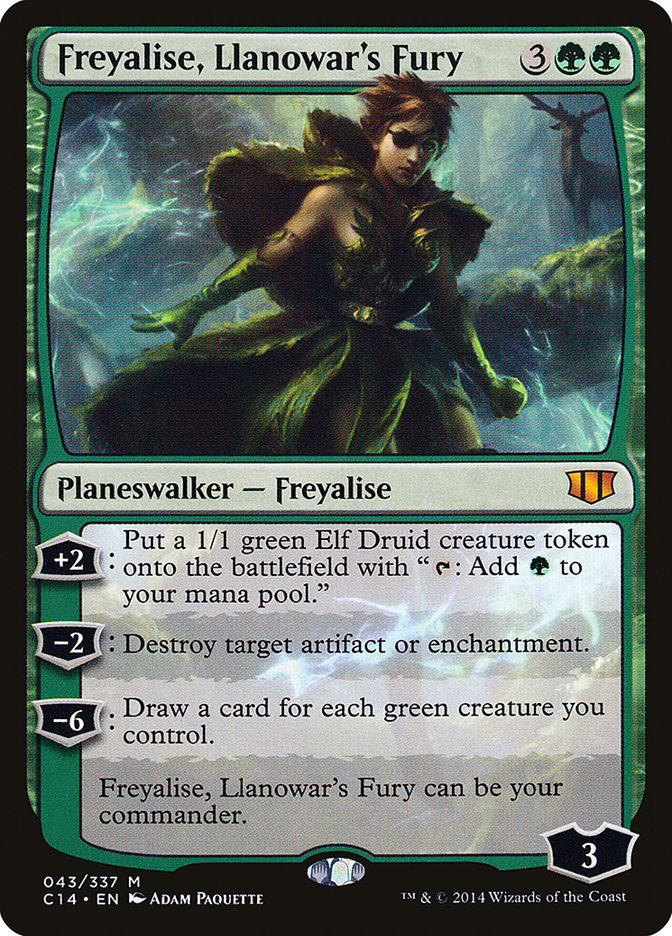 The Stone-Forged Mystic
We'll start today with the white deck, Forged In Stone, with Nahari, the Lithomancer at the helm. Nahari is a bit of an odd one for a Commander – her plus-loyalty ability is reminiscent of Elspeth, Knight-Errant, with a dash of Kor Outfitter thrown in for good measure. There, however, is where the similarities end – Nahari's minus-loyalty ability reminds us that she really is the planeswalker version of Stoneforge Mystic, able to put an equipment from your hand directly into play, with the added bonus that she can return a destroyed equipment from the graveyard to the battlefield as well. (No luck searching one out of the deck though – if you want to do that, you still need to command Godo.) Her Ultimate ability brings an awesome Equipment token to play, granting a huge bonus and double strike with no mana cost to equip, though this ultimate does tend to remind me that there are real costs to having a Planeswalker as your commander because Nahari can never, ever attack for 21 Commander damage (barring one of a very limited number of card interactions - turning her into an artifact and then into a creature, or into a forest and then into a creature – none of which white can do on its own).
Here's what we have to start with:
Creatures (21)
Planeswalkers (1)
Lands (39) The deck's basic strengths come from the strong token theme intersecting nicely with solid Equipment, both of which Nahari works very well with, so this deck isn't so much about trying to re-shape it as it is to strengthen its basic elements and upgrade it. While some of the reprints we see in these decks are well-loved, others are here just to provide cards to the Commander card-pool that are somewhat niche but otherwise hard-to-acquire, like the cycle of Diamonds and Medallions. These cards aren't going to be right for every deck, so our job will be to find the things that aren't really suited to this one and replacing them with better fits. We begin with the lands and artifacts, which we'll take together because they clearly overlap in function here and our improvements are going to relate to that fact.
Out:
In:
This deck comes well-designed to exploit Emeria, the Sky Ruin, so we want to maximize that potential wherever possible – Expedition Map helps us find it, and Thawing Glaciers helps to turn it on (as well as just serving as a free land every other turn, which is pretty awesome too). This deck has sweepers instead of spot removal, so Arcane Lighthouse's defense against untargetable creatures is not very important but new-Commander-staple Myriad Landscape gives the amazing power of Krosan Verge to any mono-colored deck and we would very much like to add it here since there are several cards with a "Plains Matter" theme, not just Emeria.
Working with the spells next, half of the artifacts are going to count here as well – I want to cut two of the equipment cards and we're going to end up adding an artifact overall, so we might as well recombine the other half of the artifacts section with the more general spell-base. Cutting the weaker links, we switch out the following:
Out:
In:
Here's where things get really intriguing: people really like Swiftfoot Boots in Commander, but I think they are far less relevant when you don't have an actual creature-Commander for it to protect. Haste is good, sure, but not as relevant here overall – the real value of the Boots is the protection from targeted removal at a cheap cost, and that is only really valuable when there is a key creature to protect. We swap which "Sword Of" card we're playing, sadly not upgrading to a more-powerful Sword like Sword of Feast and Famine or Sword of Fire and Ice despite either being a potent upgrade – a $50 budget doesn't really let us spend half of it on just one card, after all. Sword of the Paruns is an oft-forgotten gem that excels at passing a lot of power out to a token army, as unlike the Sword of Vengeance it grants that +2/+0 bonus to every tapped creature, letting a token swarm swing for tons of damage pretty easily.
But the big changes are coming from the removal suite, which lets us upgrade our pinpoint removal and add a few more mass-sweepers that nonetheless work with our overall game-plan – Austere Command can hit multiple card types, as can Unexpectedly Absent, or either can work on creature-patrol just as a matter of course. Austere Command leaves our tokens while taking out the big problems, while Phyrexian Rebirth takes out everything and leaves a giant threat at the same time. Tower of Fortunes is here to give us some raw draw power – if we're going to pay a lot of mana to draw cards, I'd rather just commit to that fact rather than see how much mana Loreseeker's Stone will actually cost to use, so let's accept that the cost is going to be eight and work in some more ways to pay for that. (Thus the focus on getting a few extra lands into play on the cheap, and adding Caged Sun while we're at it.)
That leaves us just the creatures to work with, and there were only five I couldn't really see myself keeping around – this deck has a decent mix of small creatures and large ones, and it tends to stay pretty tightly focused on the apparent theme of tokens buffed by equipment cards, so we'll only make a few modifications here to support the other cards or make marginal upgrades while we're at it.
Out:
In:
Stonecloaker is a slight upgrade – it has flying and an extra power, but the real benefit comes from being able to interact with an opposing graveyard, which this deck is otherwise entirely lacking. Weathered Wayfinder helps out just in general, it's true, but it's also strong for finding both halves of the Emeria / Thawing Glaciers combo, so it's too good not to include even though it is a tad bit expensive. Stonehewer Giant is awesome for all of the obvious reasons in our equipment-centric deck, helping us make sure that we always have a worthwhile Equipment card for Nahari to work with, while Darien and the Battlesphere add some top-end token generators to an already-potent assemblage of threats. Darien even adds a bit more of a defensive character that the deck is a bit lacking in, without the usual assortment of Ghostly Prisons and Windborn Muses that tend to find their way into white Commander decks, and this protection is much more strongly in-theme: if you hit me, I'm going to hit you right back thanks to this newly-constituted token army here.
Putting it all together, we get the following deck:
Creatures (21)
Lands (39) Pricing the changes out individually, we're just sixteen cents shy of the budget... we worked this one right up to the edge, pretty much as close as you can get:
Full of Sound and Fury
Next up is the green deck, Guided By Nature, with Freyalise, Llanowar's Fury at the helm. Freyalise is probably the most powerful of the five Commanders at the helm, since she is a super-focused Elf-Ballin' card-drawing powerhouse that is super-focused on making elves and drawing cards. In fact, I think she's a little too focused in this deck here - it's the most-cohesive one right out of the box, but also the most narrowly-focused, since it just wants to beat down and doesn't do very much if that approach isn't going to work out. Opponents with massive lifegain strategies or very dedicated to creature removal will prove to be massive thorns in Freyalise's side, thanks to this singular focus, so what we need to build into the deck here is more resilience, not more power. We could power it up further, it's true, finding room for stuff like Craterhoof Behemoth, Recycle, and all of the other high-powered cards that Elf-Ball-type decks have always put to good work over the years - but much more interesting would be to build it into a deck that can hold its own even against opponents that are dedicated at beating it, because "powerful creature-based strategy" is the first thing you have to be able to stand up against in Commander if you want to win a table.
Here's what we have to start with:
Creatures (37)
Planeswalkers (1)
Lands (37) There's an interesting mix of things going on - the deck's built to work well with both Freyalise and Titania as its Commanders, and thus there are plenty of lands-matter type cards in the deck so Titania's ability to make 5/3 tokens can work well too. I'm actually incredibly curious about Titania and think she'd make a good solo Commander that doesn't overlap with green's traditional play-space, but that's (hopefully) going to be a future article instead of the focus of our build here today... at the very least I'm likely to try and see what I can do with her myself in the future. I'm going to keep the land-based subtheme even though several of the cards I'd like to add in with it are priced out for this deck - as good as they'd be in it, we can't quite afford the Doubling Season, Crucible of Worlds, Oracle of Mul Daya, or Courser of Kruphix that would otherwise be in if not for the budget requirements.
Starting with the lands, we'll substitute the following:
Out:
In:
Panoramas are really solid additions, and unlike the Evolving Wilds / Terramorphic Expanse that otherwise look a little bit off in a mono-colored deck, these can be used for mana immediately and their ability to fetch a Forest can be stored until the card that they'd work with has been found - Seer's Sundial, Titania, Protector of Argoth, or what-have-you. These all give us more good lands to work with whatever the lands-matter card we happen to draw is, so that we're much more likely to have a land to combo with it whenever we do happen to draw it. Let's look at the artifacts next:
Out:
In:
We'll have four slots left over for other sections when we get to them, to fill out the creature base that I am interested in greatly increasing - this is an Elf-focused deck, after all, so we should expect it to be very creature-heavy. Mimic Vat is great for recursive effects, thanks to the high number of creatures with enters-the-battlefield triggers that we're going to end up with, while Slate of Ancestry is just incredibly powerful in an Elf-Ball-style deck and is much better than the Collective Unconscious-type cards since it both costs less and can provide a repeating effect. Both will help keep the deck moving against people who are ready to try and stop us, adding considerably to its overall resilience.
Next up we have the spells:
Out:
In:
Life from the Loam obviously works with the lands-matter theme, and can use the existing manabase to help build up stable resources that don't really care how often your opponents play sweeper spells because they don't wrath your pile of basic lands. Kodama's Reach, Cultivate and Explore all help put more lands into play, adding additional ramp to an already ramp-centric deck while providing card advantage (or at least card parity, in Explore's case) that, again, are stable acceleration even in the face of a sweeper spell. I'd rather cast Kodama's Reach than Emerald Medallion any day, that sort of artifact-based acceleration is least relevant to a green deck thanks to the color's already-plentiful access to mana accelerators. And I'd definitely rather Kodama's Reach than Harrow, unless and until Titania is actually at the helm of the deck.
Beast Within gives us another control-type spell that can kill any key permanent, no questions asked; we're not really focusing on being able to remove opposing threats, but sometimes there are things you need to take out of play, and we're going to aim to play all of the good ones so long as they're in the right balance. We don't need to play Indrik Stomphowlers, Acidic Slime et al. thanks to the Disenchant ability on Freyalise, but green cards can't usually kill creatures so we're happy to play this alongside the Desert Twister the deck comes with. And the last three additions are all card-advantage spells that can have a massive impact, especially if they're cast far earlier than their mana costs would suggest - Genesis Wave is done to death, it's true, but it's excellent in a deck just like this one, while both of the Garruks we're playing can put a large number of cards back into our hand and keep the snowball effect snowballin' on.
We now have five slots left unfilled and nothing left but creatures to work on, so the deck's already-plentiful thirty-seven creature slots will end up at 42 by the time we're done here. Let's see who gets left behind on the cutting-room floor:
Out:
It should come as little surprise that I cut the lifegain-type creatures, but I'm also cutting some of the B-team Elves since building individual size up doesn't matter - thus Drove of Elves and Titania's Chosen aren't particularly interesting - while non-Elf creatures really need to impress me in order to make the cut and smaller Elves need to do something worthwhile to keep them on the table. Stuff like Thornweald Archers, that 'just' attacks and blocks, is not the kind of two-drop I tend to keep around. And this deck has a bit of an unusual focus on killing flying creatures - not just Thornweald Archer as flier defense but also Elvish Skysweeper and Whirlwind are super-narrow even in the context of the other four Commander decks, since flying is present in a few of them but still not so prevalent that these become high-power cards in that limited context. Since they don't keep the snowball effect building up into a larger Elf-Ball Avalanche, they're cut from the team in favor of cards that actively advance that goal.
In:
If you're going to be the Elf deck, be the Elf deck - play all the one-drop mana accelerating Elves you are allowed to play. Our Commander's plus-loyalty ability is to put a token into play that's basically a one-drop mana elf, so we might as well embrace that this is a thing we want to do and make sure that we do it each and every single game we play.
Are we an "Elves Matter" deck or aren't we? It seems an awful lot like we are, so we might as well embrace that fact and play some more of the tribal cards that will reward us for it. We can get a bit of card advantage and a couple more bonus Overrun effects if we embrace the tribal side here, all of which are more interesting than the boring old Overrun I cut to get these slots open in the first place. Instant-speed Overruns can actually change combat math after blocking has been announced, and we're able to add two of them (albeit one that is kind of weird since it's based off of casting a morph first, and thus at least somewhat limited to sorcery-speed effects still). Sylvan Messenger doesn't see a lot of play, but when it does, it means we're serious about what we're trying to do - ditto for Bloodline Shaman, though that's something you can do more generally if your deck can look at the top card pretty easily, such as with the ubiquitous Sensei's Divining Top or the Oracle/Courser team we couldn't afford to add here.
Here we get a bit more mana, a dash of card draw or even card selection, an Anthem effect (apparently Kaysa's officially joined the tribe since she was printed!) and another card to help us keep a board presence after Wrath effects thanks to the oft-forgotten Caller of the Claw. None of these changes are going to be groundbreaking, but all of them are going to be good, and will help keep things moving and building towards big haymaker-filled turns that come much earlier than normal in Commander thanks to our commitment to acceleration and our newly-streamlined purpose. Putting it all together, it looks like this:
Creatures (42)
Planeswalkers (2)
Lands (37)
Spells (18) Pricing the changes out individually, we're again just sixteen cents shy of the budget... which is going to be really creepy if all of our decks somehow hit that super-razor-thin margin, because in both cases I wasn't consciously trying to sneak up to that line, overshot it by $25 or more, then cut back down by removing the two or three most expensive toys (Sword of Feast and Famine in the white deck, Doubling Season in the green deck) only to find myself exactly where we ended up.
Speaking the Black Oath
And finally, we have Sworn To Darkness, helmed by Ob Nixilis of the Black Oath. Ob Nixilis and I have had some good times together - he was my go-to Commander for several years, actually - so I'm really hoping that his Planeswalker-as-Commander form turns out to be good, as my propensity for disappointment here is very high. The plus-loyalty ability is a minor life-drain and life-gain ability, so we're clearly just using it to power up the two minus abilities; the minus-loyalty ability is quite strong, spending two loyalty and two life to put a 5/5 flier into play, while the Ultimate grants you an emblem that basically says "go crazy!" by letting your black deck do all of those black-deck things that black decks love to do - creature-sacrificing for fun and profit to put cards into your hand. Oh, and you gain some life too while you're at it - sure, why not? Dealing damage would've been more my cup of tea, but I can understand why that wasn't going to be on the list of things we were going to be able to do here.
I'm hopeful that this can turn into something awesome, but we're really going to need to try and assemble the ultimate to do it. We've got this to start with:
Creatures (28)
Planeswalkers (1)
Lands (40) There is of course one big change to be made with the lands, and it's an expensive one - but a base-black deck with this many swamps and a love for big-mana spells needs to have a Cabal Coffers in there somewhere, and that's going to eat a quarter of our budget right there. Fortunately, this is the deck where we can make some big changes with very small price tags attached to it, so we can build a solid control shell with the rest and be quite content - and since black is the tutoring color, just a single addition like that one Cabal Coffers can come up much more readily.
Out:
In:
Utility lands are strong in a control deck, and we're going to want to have a few additional sacrifice outlets lying around for a few of our cards, so the High Market will do good work even though it, too, is a pricey addition. I even feel like I'm cheating here - you can get the FtV: Lands foil version for $5 or the regular for $6, and I hate playing foils, but paying "full price" would tip us over that $50 budget by just a hair. It's not as "cheating" as looking through the oddities section to find a cheaper version in a foreign language or more heavily-played condition just to hit the budget would be, even if buying the foil is not a thing I would ever do, so I'll just resign myself to this thing that feels odd and be happy to power up the lands in this deck to improve its defensive power. I greatly approve of Mystifying Maze in control-oriented decks, and finally we hit a build where it felt right to add.
Moving on to the artifacts, we're going to make some cuts that are starting to feel a wee bit repetitive...
Out:
In:
A little bit of a Proliferate engine and a few things to Proliferate (...besides our Commander, that is). Altar of Shadows is a card I keep wanting to find room for but cutting for more expensive cards, so without the unlimited budget that tends to see this cut as the 110th card, it gets to make the cut today - and if left to its own devices (or even actively Proliferated) it can pay not just for its own future activations, it can even start providing a huge mana boost besides! We're one card heavy, which will get sorted out at the end as we end up one creature short, so let's move on to the spells in order to build a strong budget-conscious control deck!
Out:
Some of these clearly just don't fit - there are no tokens here and not a lot of creatures besides, so Bad Moon just feels off - and I feel like the reanimation suite is a little too much here. Some of the new cards are powerful, sure, but they don't all fit the deck - Spoils of Blood is potentially quite the impressive rate, mana-to-power-wise, but that doesn't mean it's actually what this deck wants to be doing with its pieces of cardboard. Ultimately, in Commander it is the sheer card count that limits you or lets you go crazy - and that one-mana cost disguises all of the work that is actually involved in getting a good deal on it. I'm glad to see some of these made more accessible by reprinting them here, like Aether Snap, but the deck we're ending up with isn't going to fit all of them as we hone in on a controlling strategy.
In:
A strong removal suite, with some cheap sweepers and extra-potent removal that, while not "pinpoint" removal, will nonetheless tend to do a lot of work for a very low cost and can potentially answer problems that are otherwise very hard to solve.
Some cheap tutor-power and another thing worth Proliferating at the same time; Liliana Vess' ultimate is quite strong if you can pull it off, and this deck is going to be quite good at defending its planeswalkers so it can actually be built to, not just manipulated with Proliferate. Increasing Ambition is almost always going to get Cabal Coffers if for no other reason than that this line of play allows you to flash back the Ambition and get your best two cards instead and set you up for the mana to cast them as well... and Grim Harvest is the sneaky card that could, I had found over several years of playing with Ob Nixilis in legendary-creature form that this was the best card in the deck, as it lets you recur powerful creatures over and over again and is basically immune to any efforts to contain it. Countermagic, discard, and graveyard removal all can be dodged thanks to Recover, it takes a special answer indeed to catch this spell and take it out of play.
We'll be using it with a whole host of awesome creatures, so let's get on to them next:
Out:
The problem with all of these is ultimately their consistency - sure, most of them are powerful, but are they the right card for what we're trying to do? Lord of the Pit-type things don't fit no matter how powerful they are, and Gray Merchant's life-drain is already well-covered by Ob Nixilis himself, so it's "just" an attractive rate on the card, not necessarily an effect we actually desire. We don't actually want less-consistent versions of a card we have plenty of, such as Morkrut Banshee when we already have Shriekmaw, Nekretaal, and now Overseer of the Damned as well - and Raving Dead may attack for a pile of damage, but that's not what we're trying to do, I'd want a huge-toughness deathtouch creature to stay on defense, not be forced to attack at random Ruhan of the Fomori-style.
Adding back in, we have seven slots to fill, thanks to having traded one off to the artifacts section already:
In:
The top row of creatures all excel at keeping other creatures at bay, especially when combined with recursion effects, and Thrashing Wumpus can be used to play Wrath as-needed, can pressure Planeswalkers if you use it correctly, and will usually spend most of its time keeping the board free of growing token hordes thanks to the fact that it can Pestilence for two without killing itself turn after turn. The bottom row is there to pull off shenanigans - Solemn Simulacrum is better in a deck that can recur it, after all, and exceptionally solid in a deck with Cabal Coffers - while Nezumi Graverobber pressures opposing graveyards and opponents themselves if you manage to flip it. Ashling is just a solid creature that keeps your opponents honest - if they aren't properly defending themselves, you can take down their best threat for free with a successful attack. She'd be a better addition with a Shizo, Death's Storehouse or some Equipment to attach to her, but those all fall outside of our budget and we'll have to settle for just having her as a solid threat that changes how people have to play rather than usually changes the board state.
Putting it all together, we get the following:
Creatures (27)
Planeswalkers (1)
Lands (40) Pricing the changes out individually, we're close to the threshold but not hitting the exact same number again, which was already creepy done twice and the third time would've just been uncanny. There are some things I wish I had a bit more budget for - I'd prefer to upgrade the High Market to a copy of Miren, the Moaning Well, I'd like a little bit more to afford a Nevinyrral's Disk, and Shizo, Death's Storehouse would likewise be a good addition to go with the couple of legendary creatures in the deck. Corpse Dance would also be excellent in this deck, but we had to make tough calls and adding that Solemn Simulacrum trumped all of those concerns, but it's pretty awesome to see that if I'd kept going I'd have still hit a pretty-natural ceiling of $75 or $100 with this deck and happily stopped, content to call it a strong deck. Usually I can keep making big changes as the price thresholds go up, but here I can recreate most of the parts I really liked about a deck I already know to be quite strong and put this new version of Ob Nixilis at its helm to see what happens…
To Be Continued
Next week, Jess will be taking on blue and red to complete our cycle of rebuilds, but after that we're hoping to work on the five legendary creatures from this set of decks – and we need your help to do it! All five of the possible (non-Planeswalker) Commanders in these decks are strong enough to build interesting and evocative decks with, and we'd like to see your take on them – if one (or more!) has caught your fancy, feel free to submit them to us to be picked in a future edition of Dear Azami! We'll pick the best ones over the next few weeks and see where that takes us, and I'll probably wind up building a few of them myself – Titania is asking me to build her a new and interesting green deck, and Feldon is likewise compelling despite the clear weaknesses usually found when building with mono-red. But we're here to help fix your decks, not just build our own, so please email us with your builds for these five new interesting Commanders so we can build these things together!
Want to submit a deck for consideration to Dear Azami? We're always accepting deck submissions to consider for use in a future article, like Caleb's Surrak Dragonclaw deck or Kaz's Gaddock Teeg deck. Only one deck submission will be chosen per article, but being selected for the next edition of Dear Azami includes not just deck advice but also a $20 coupon to StarCityGames.com!
Email us a deck submission using this link here!
Like what you've seen? Feel free to explore more of Dear Azami here, in the Article Archives! Feel free to follow Sean on Facebook... sometimes there are extra surprises and bonus content to be found over on his Facebook Fan Page, as well as previews of the next week's column at the end of the week!
And feel free to check Jess's own
Command of Etiquette
column on
Hipsters of the Coast
for more Commander and casual