The Standard Open in Oakland this past weekend showed us the power of a Heroic deck that's backed up with a great alternate plan of the Jeskai Ascendency combo. Murmurs were heard around the world of this being the perfect hybrid deck, reminiscent of the old hybrid deck Thepths (Dark Depths/Vampire Hexmage + Thopter Foundry/Sword of the Meek) that Gerry Thompson helped popularize. Time will tell if it's a one hit wonder or a perfect blend that ends up being incredibly hard to attack on both ends simultaneously.
The question remains if Jeskai Heroic Combo is the best Heroic deck available or if the metagame is simply soft to the archetype in general. G/B Constellation was poised to be the real breakout deck for the weekend, but Jeskai Heroic Combo stopped it in its tracks, including both the Quarterfinals and Semifinals, before defeating what's possibly regarded as the best deck in the finals, Abzan Midrange.
We'll look at the Heroic options that Standard has to offer. Let's start with the newest take and easily the deck of the week: Jeskai Heroic Combo.
Jeskai Heroic Combo
The build is still in its infancy, and there are multiple ways to build the deck. I feel like the maindeck is fairly solid, but the sideboard doesn't look particularly well-tuned. I'd like to see a better plan against hyper-aggressive decks like Boss Sligh in the form of either Ordeal of Heliod or upgrading Magma Jet to the cheaper Magma Spray.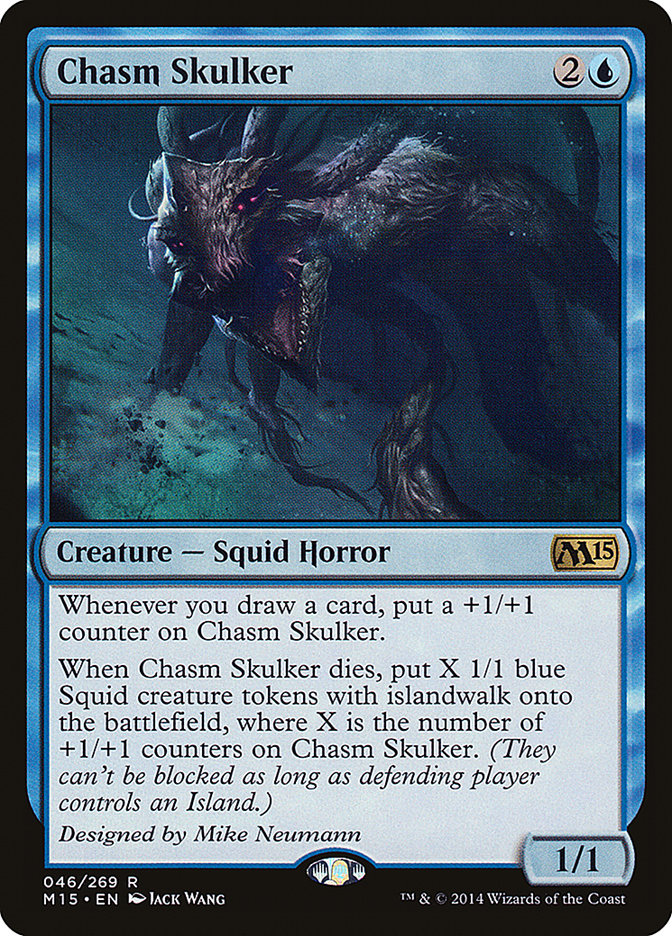 Chasm Skulker sounds cool in theory, but I imagine doesn't play out very well. It's good against the heavy green decks including the devotion flavors, but your deck is already very good against those anyway. If you want to sideboard in more creatures to fight an expected amount of post-sideboard removal, I recommend Brimaz, King of Oreskos as an all-purpose good creature. Also if you expect high numbers of cards like Lightning Strike, Bile Blight, Drown in Sorrow, and Anger of the Gods then I can see more copies of Lagonna-Band Trailblazer out of the sideboard being a good option.
I favor Stubborn Denial as a counterspell out of the sideboard, but it doesn't look like Jeskai Heroic can consistently enable the ferocious, so the split of Negates and Disdainful Stroke is okay. Three copies of Erase seems high but is pretty good in a world of Whip of Erebos and Doomwake Giant. However, the deck is highly synergistic, and there's very little room to play reactive cards such as those or countermagic. I can see shaving the Erase numbers down to two or even one.
For a great perspective on how the deck plays out check out Brian Braun-Duin's video here.
R/W Heroic
R/W Heroic featuring Obelisk of Urd and Launch the Fleet is likely the most explosive and all-in approach there is among Heroic choices. This deck hasn't gotten much attention even though Yoshihiko Ikawa has a great 10th place finish at Pro Tour Khans of Tarkir with it. It has the best possible "nut draw" while also having a fairly high chance of drawing the wrong portion of the deck, like with hands of too many lands, Obelisk of Urd, or Launch the Fleet. The deck has no card filtering or card advantage, and it's easy to see how the deck will look very anemic in the midgame once the opponent stabilizes.
I'd like to see a basic Plains in the sideboard. The options that the land gives are threefold. First, when you sideboard in four-drops like Purphoros, God of the Forge and Dawnbringer Charioteers you want to increase your land count slightly to accommodate the changes in your mana curve. Also, against decks that punish your Mana Confluences, you can stem the bleeding a bit by switching out one for the Plains. Lastly, against decks that you want to be a touch faster against you can take out a Temple of Triumph maximizing your chances of curving out quickly.
I can also see cutting down on some number of Brimaz, King of Oreskos in favor of some Fabled Heroes. You deck is very flat and your opponent will likely have to remove any early creatures which lessens the efficiency of having a different four-toughness threat. Also they can get pretty awkward in multiples. Glare of Heresy can also become some number of Erase as G/B Constellation and Jeskai Ascendancy-based decks are on the rise.
If you like to end rounds quickly, I recommend R/W Heroic as it will be clear very early in the game whether you're going to win or not.
Boss Sligh
This is the list that I won the SCG Autumn Louisiana States with, and it has proven itself to be a real contender as it has put up multiple SCG and Grand Prix top 8s with the same 75 or a few card preferences different. No longer are people ignoring Mono-Red and leaving their Drown in Sorrows at home, and I'm happy to see Boss Sligh doing well in the hands of other pilots, as for a long time the archetype was regarded as a deck that "only Tom Ross can win with."
The worst matchup for the deck is (was) the Abzan Aggro deck that featured a fast clock with Siege Rhino at the top of the curve. While one Rhino is beatable, two Rhinos are usually enough to put Boss Sligh out of the game. You want to end the game before your opponent can cast all of their spells and now that the Abzan versions are going more towards midrange, Boss Sligh may be poised to be a big player again. Also I think that Boss Sligh matches up very well against Jeskai Heroic Combo so if that deck picks up in popularity, Boss Sligh will be very well-positioned.
The fourth Eidolon of the Great Revel in the sideboard doesn't see much play off the bench and is only useful against pure control strategies like U/B Control or against regular Jeskai Ascendancy Combo. It's unclear how good they are against Jeskai Heroic Combo, but I imagine they can get clunky in multiples on the draw and that you ought to do just fine with three. I can see going up to three or even four copies of Magma Spray moving forward.
U/W Heroic
My personal favorite of the Heroic flavors right now. I played this version in the Super Sunday Series Standard tournament at Grand Prix Nashville and faced all five different Khans of Tarkir wedges in my first five rounds before playing another Jeskai in round 6. The deck felt great and was easily able to draw into the elimination rounds at 6-0-2. It's also of note that the top 4 had two undefeated players and two players with only one loss each, both which were against U/W Heroic.
Jeskai Aggro used to be the kryptonite of the deck as they could kill all of your creatures and strand you with various pump spells and auras. Ajani's Presences also matched up poorly against Jeskai Charm, and to a smaller extent Banishing Light and Abzan Charm. The additions of Feat of Resistance and Heliod's Pilgrim help against exile/bounce effects and attrition strategies, respectively.
The Treasure Cruises out of the sideboard have been great. Most decks aim to kill all of your creatures so the games end up going long post-sideboard. With four copies of Flooded Strand, Defiant Strike, and Ordeal of Thassa that tend to cycle, your graveyard ends up filling quickly. The Stubborn Denials are for when you're against any deck that is very creature-light and its ferocious gets online often enough to make it the countermagic of choice over cards like Negate or Disdainful Stroke. The rest of the sideboard is basically an extension of the maindeck to alter your creature choices and aura targets for Heliod's Pilgrim as appropriate.
My gut is telling me that while Jeskai Heroic Combo easily won SCG Oakland, that it's not 100% that the deck is completely broken and hard to attack but rather that heroic is a powerful mechanic that the metagame largely forgot about while trying to fend off decks like Abzan Midrange, Jeskai Aggro, and Green Devotion. The Jeskai Ascendancy combo makes your good matchups even better, which are ones with low interactivity to your highly synergistic deck. The cost is making poor matchups worse, which are decks that punish a manabase that's half lands that enter the battlefield tapped and three copies of Mana Confluence. Going into this weekend I like U/W Heroic as a hedge against the decks of the format.
Your choice of Heroic decks will depend on what you expect to face in your metagame. This is how I'd go about choosing a Heroic deck at an upcoming event.
Exactly as it was at SCG Oakland? Take Jeskai Heroic Combo.
A lot of Jeskai Heroic Combo? Take Boss Sligh.
Devoid of Drown in Sorrow and Anger of the Gods? Take R/W Heroic.
No metagame expectations? Take U/W Heroic.