It's finally here!
It's been talked about over and over. Hyped up that it's "The Can't-Miss Magic Event of the Year."
That's right, I'm talking about Grand Prix New Jersey!
A Legacy Grand Prix. A Brainstorm playmat, sleeves and deckbox (there's also a pretty sweet pin if you like pins, and we all know you do!). Live BBD vs CVM with some hot Legacy action (#teamcvm, of course), and John freaking Avon will be there.
I'm crazy excited for this GP for two reasons. First, the format is in the midst of being shaken up quite a bit by Treasure Cruise and Dig Through Time. This is exciting because it opens up new space for deck design, and it will reward people who figure out how to exploit these new powerful cards and what they are doing to the format. I absolutely love when this happens. Unfortunately, I came back after Deathrite Shaman already had changed the format, but previously, I had quite a bit of success in Legacy with Mental Misstep right after it was printed and the same with Snapcaster Mage.
The second reason I am super excited for this GP is because there are so many Young Pyromancers seeing play. I mean, come on! The Elemental token is awesome (and handsome if I may say so myself), and it's going to be all over SCGLive this weekend.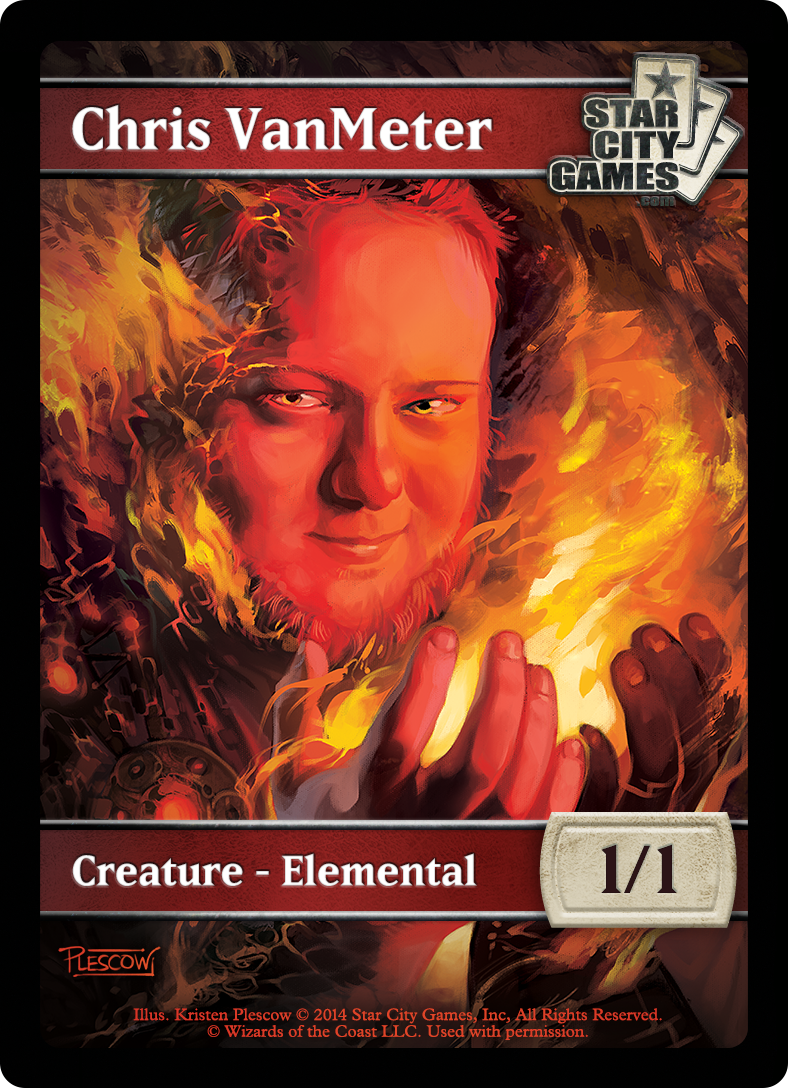 Before we jump into Legacy stuff though, I'd like to touch very quickly on Standard and Tom Ross being a genius.
I skipped the Open Series in Columbus last weekend, since my traveling partner was ill and I didn't want to go by myself, and ended up in the South Jersey/Philly area instead. I slept through the Premier IQ at the Convention Center on Saturday, but I headed to Coopersburg for the Elite IQ on Sunday. I had been planning on playing Tom's U/W Heroic deck and was pretty ecstatic to see that he had locked up a Top 8 on Saturday. I felt like the deck would be a little better known now that Tom had done so well, but didn't really think that it would make that big of a difference. Rather than reading my cards and going "Uhhh okay" my opponent read my cards and went "Uhhh okay, oh it's that deck."
I took a loss late to Jeskai Agro after getting burned out from ten the turn before I was going to gain 20 off two Ordeal of Heliod (he only had two cards in his hand when he untapped) but then rattled off enough wins to draw in the last round into the Top 8.
With the prize structure for the Elite IQs, making a Top 8 split seemed fine as opposed to trying to split in the Top 4 or Finals. This combined with the fact I was paired against my only loss in the quarterfinals, I agreed to a split. It also helped that there were quite a few people who didn't need the invite and/or didn't care about the points so that the two people who needed invites got them from the Top 4, and then I ended up getting the first place points. The gentleman that I would have faced in the finals still wanted to play a match against me, so we did, and I won two pretty quick games on the back of Aqueous Form in game 1 and tempoing him out in game 2 with a quick Battlewise Hoplite that grew to a 4/4 early and allowed me to keep it alive with a flurry of Gods Willing, Feat of Resistance, and Stubborn Denial.
All in all the deck is extremely powerful, and I look forward to working with it more. Tom really does know how to exploit a format, and Favored Hoplite into an Ordeal is just as devastating in this "no-Doom Blade" world as it was in Theros Limited.
Creatures (20)
Lands (22)
Spells (18) If you aren't going to be at the Grand Prix this weekend in New Jersey, I highly recommend this deck. It's fast, powerful, and extremely fun to play, but make sure you study up a bit on sideboarding because I definitely found that was the most difficult part.
As for the Grand Prix, I wish I could say that I knew what I wanted to play. It will probably end up being something with Treasure Cruise and/or Dig Through Time, but I would be lying if I said that I didn't get really excited about the U/B Tezzeret deck that Top 8'd the Legacy Champs at Eternal Weekend.
Creatures (4)
Planeswalkers (6)
Lands (22)
Spells (28) Back when Chris Andersen and I were championing the Tezzeret deck, it was because of the risk/reward payoff of playing Chalice of the Void. The format was revolving around one-mana spells, and having a powerful deck that could play Chalice of the Void for one early and lock most decks out was appealing. The planeswalker strategy we employed was also quite good, and there were a lot of decks that were kold to the Thopter Foundry + Sword of the Meek combo too. Sneak and Show was beginning its rise to dominance, and having Ensnaring Bridge in your deck and ways to find it in game 1 could let you just steal games away.
Now we see some of the same elements here in Zach's deck from Legacy Champs, but we have an additional angle that we can fight with.
Decks like this are all about high risk with high reward. The payoff has to be significant enough for your cards like Chalice of the Void and Thopter + Sword to shine. We are now in a format that is dominated by one-mana spells but also by graveyards. To combat this, Zach added a set of Leyline of the Void into the deck and a copy of Helm of Obedience for a straight up combo kill. It's true that the Leylines can interact negatively with your Thopter Foundry and Sword of the Meek, but once you have Leyline of the Void out you are just looking for a way to get Helm of Obedience into play.
Transmute Artifact gets to play more like Tinker in this deck than it even did in our previous incarnations, and now we even have Tezzeret the Seeker instead of Jace, the Mind Sculptor. In the previous builds of the Tezzeret deck, Jace was never outstanding, since we usually only had four fetchlands at most, but even then getting to Brainstorm every turn even without a shuffle was awesome. Joe Lossett has been a huge proponent of the five-mana Tezzeret in his lists that he would play on stream, and with the addition of the Leyline of the Void + Helm of Obedience combo, I really like it.
Going into this weekend it is looking like U/R Delver is the best/most popular deck, and I feel like a Tezzeret deck like this could be a very good choice. With the U/R Delver decks no longer playing Spell Pierce and relying on Force of Will and Daze, getting a Chalice of the Void into play set to one should be a bit easier. It is important to note that they are able to get a Young Pyromancer into play and use their one-mana spells to generate CVM tokens. Even though the spells are countered by Chalice of the Void, they still trigger the Pyromancer and will make elementals, so you still have to try and assemble Thopter/Sword or get an Ensnaring Bridge into play and empty your hand.
Cards like Trinisphere are also good in a world of Treasure Cruise, where people are trying to make their decks as lean as possible. It doesn't make you have to pay at least three actual mana for the delve spells, but it can hinder them from filling their graveyard by making all of the one-mana enabling spells cost a hard three.
I also really like how some of the disruptive cards also have "splash damage" against the other decks in the format. Leyline of the Void is also good against Dredge and Storm, in addition to being annoying against decks with Tarmogoyf, Deathrite Shaman, and Snapcaster Mage. Chalice of the Void and Trinisphere are both good against the different combo decks: Elves, Storm, Omni-Tell. Ensnaring Bridge is obviously good against Sneak and Show, but it can also buy you time against Tarmogoyf and Death and Taxes.
I think that I would like to have an Engineered Explosives or Ratchet Bomb somewhere in the maindeck, possibly over the second Ensnaring Bridge, but the rest of the deck looks real nice. I particularly like Toxic Deluge in the sideboard.
One of the downsides for this deck though, is that most of the U/R Delver decks have been playing two Null Rod in their sideboard as a way to combat Sensei's Divining Top out of Miracles and cards like Engineered Explosives, Ratchet Bomb, and Umezawa's Jitte. Null Rod can definitely be rough for us, so that is one post-board problem that we need to figure out a plan for. It might just be that we try to cast Wurmcoil Engine or Batterskull as fast as possible.
The other deck that I am considering is something along the lines of what Patrick Chapin wrote about earlier this week. This Carsten Kotter-inspired deck is a thing of beauty. Playing similar to old school U/W Control decks, you get to harness the awesome power of Dig Through Time. When we aren't just trying to cast as many one-mana spells as we can to fuel our Young Pyromancer and subsequent Treasure Cruises, we can take advantage of the absurd card selection we get from Dig Through Time.
Creatures (2)
Planeswalkers (3)
Lands (20)
Spells (35) We see that the U/R Delver decks have started playing Pyroblast in their maindeck as a way to fight opposing Treasure Cruises and to fill their graveyard since you can cast a Pyroblast on anything. Here we are doing the same thing, but it is also going to be very good for us to fight their Treasure Cruises. With Force of Will, Counterspell, Spell Pierce, Pyroblast, and Misdirection, we have twelve counterspells, which is quite a bit and I love it; especially since we actually have six delve spells to fuel.
I am a big fan of Academy Ruins in the deck. Being able to recur Batterskull and Engineered Explosives is very good, especially since the times where those cards are going to be good, they are going to be real good.
My biggest concern with a deck like this is that it's pretty weak to an opposing True-Name Nemesis if they happen to get it into play. Without Supreme Verdict or something like Council's Judgment in the main, we can likely lose to a True-Name if they are able to keep us from getting Batterskull into play.
The more I think about how awesome Dig Through Time and Treasure Cruise are, the more I wonder about what other avenues we can explore with the cards.
Imagine this Intuition pile:
Seems pretty sweet! Once we go down the Intuition route, we also have access to Punishing Fire and Life from the Loam and we can also abuse things like Crucible of Worlds and Academy Ruins. We are definitely susceptible to graveyard hate, but this definitely sounds like a GerryT deck if I ever heard one.
The last deck on my radar is the U/R Delver deck that Glenn Jones piloted to a Top 4 finish at SCG Oakland.
Creatures (12)
Lands (16)
Spells (32) There have been lots and lots of words written about just how awesome this deck is, and the truth is that they are all correct. It is fast, powerful, and quite consistent since we have so many ways to smooth our draws. If I can't figure out something that I like, you can expect me to just jam this deck. It can be a little threat light, but as long as you are maximizing your Young Pyromancers, you won't have any issues.
The bottom line for this weekend is that Treasure Cruise and Dig Through Time are public enemy #1 and if you aren't beating them, then you should probably just be joining them.