Grand Prix New Jersey is here my friends and the decision is clear.
Play Esper.
I know you're shocked at my revelation, but after the testing dust cleared, there was really only one choice. I jumped to conclusions with the release of Treasure Cruise and thought that my Legacy deck had to drastically change, which wasn't the case luckily. There are a few initial thoughts that the community and I drafted when Khans invaded Legacy, and I'll explain in detail why that truth has changed now. There is a lot of excitement around Standard as well, but with a Legacy Grand Prix at our doorstep, it's time to lock and load the old cards and get to work. Before I get to a matchup to matchup explanation, let's go over a few cards that are just as good in a world of Treasure Cruise as they were without.
Creatures (6)
Planeswalkers (2)
Lands (22)
Spells (30)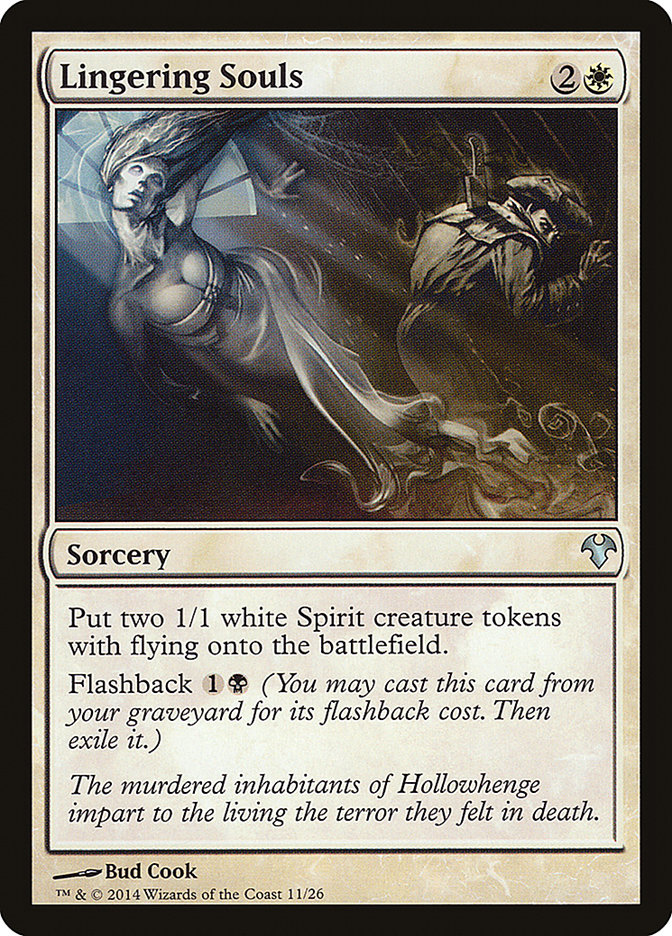 Lingering Souls is still quite powerful against the fair decks. In a world where card draw is too powerful, Lingering Souls helps keep up with the brute advantage from the other side. Lingering Souls has card advantage written all over it, providing multiple win conditions from one card and a second chance to resolve it after the first one fails. It is still better than True-Name Nemesis, which continues to lose stock with the popularity of unfair decks, Daze users, and Stoneblade pilots that have access to a Council's Judgment or two in their maindeck. Lingering Souls is strong against all of those strategies and continues to be a nail in the side of anyone trying a one-for-one battle with you. It's easy for opponents to overpower the souls when they are casting draw-three spells, but luckily you're battling with the same spell book. In the Stoneblade mirror, you'll notice that their win conditions are quite finite and yours seem to never end with the soul army. It's tough to keep equipment around, but equally tough to removal souls when used at the appropriate times. I have played against the best of the best wielding Stoneforge Mystics, and they are never on the soul plan. The outcome is the same, where Lingering Souls comes out on top time after time. The only reason why I still pack one copy of Umezawa's Jitte is to take advantage of the flying army that can be created quickly, but in a world without souls I'd cut the cheap equipment for another Batterskull. Having equipment diversity is at its peak when you have a renewable threat with evasion.
Lingering Souls is also great against Delver strategies. Against the Jeskai Delver of old through the U/R Delver of today, the souls develop the blockers and attackers necessary for victory. Forked Bolt is a pain of a card, but besides that, there isn't a fantastic answer from their camp. The black splash that remains in Esper Stoneblade is for cards that are not the greatest against Delver variants but that help against all of the other decks in the current metagame of Legacy. There are too many scenarios where Lingering Souls saves the day to discuss, but against the field of fair decks, it reigns supreme. Sleeve them up with confidence this weekend and as long as fair is popular.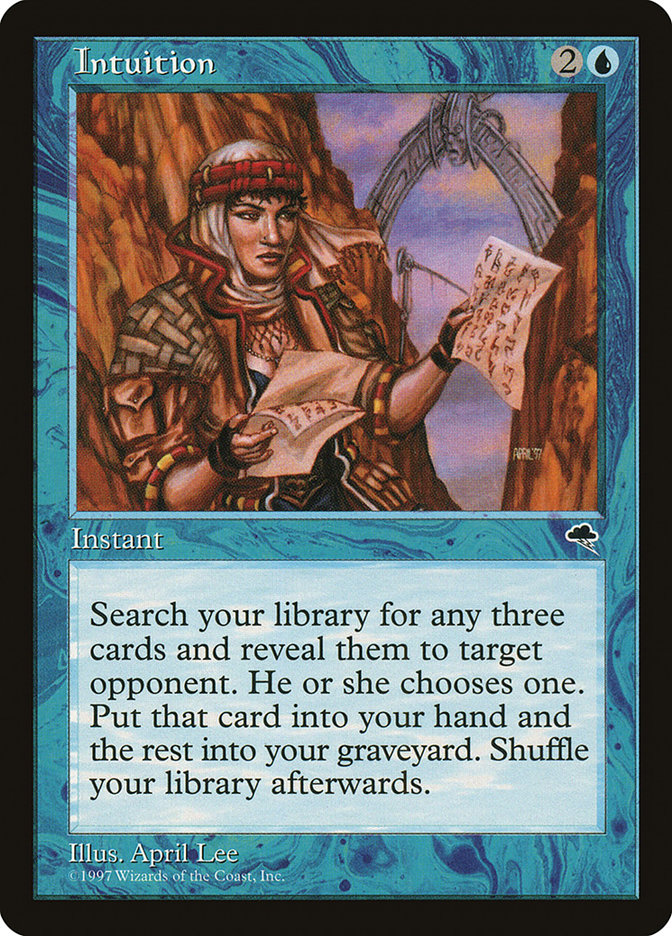 Intuition's stock has skyrocketed. This is another card that I found to be out of place with my initial synopsis of Legacy, but it has done the opposite. I didn't believe that casting Intuition to dig out three copies of Treasure Cruise would be effective, and I couldn't have been more wrong. Game after game, I'd draw a Lingering Souls prior to casting Intuition and my sadness would grow. That feeling doesn't have to hit me anymore. Later in the game, or at any point you need to find multiple spells, cast an Intuition and Ancestral Recall yourself back into relevancy. The obvious synergy Intuition has with graveyard filling shows that the card has grown in its general effectiveness in Esper Stoneblade. The sideboarding perks are also a big bonus for the singleton. Lingering Souls has to get boarded out against a flurry of combo decks, which made Intuition an awkward card to remain in the sixty. With the inclusion of Treasure Cruise, Intuition remains in the deck against all matchups. It can fetch you a Sword to Plowshares, or a Force of Will in rare occasions, but having the ability to gain advantage from Treasure Cruise or Lingering Souls is huge.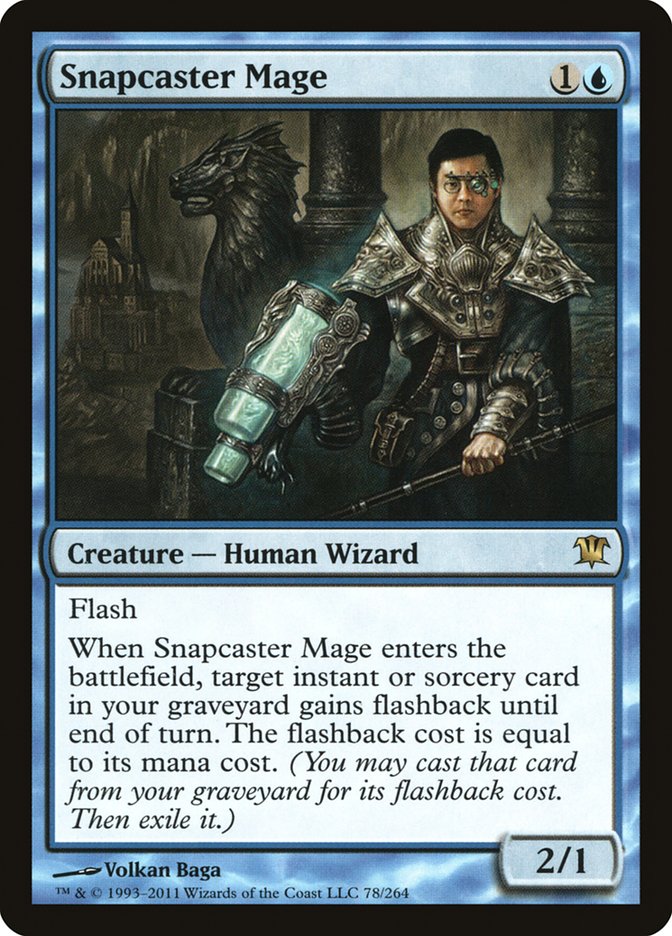 I know Snapcaster Mage doesn't improve with Treasure Cruise, but let that panic subside. Having one card exiled to flash it back doesn't muck up the operations like some thought, and having Snapcaster Mage in Esper Stoneblade is simply mandatory. Sometimes you have to continue to Sword to Plowshares creatures or Thoughtseize spells after they have already been used once. Treasure Cruise has still been a breeze to cast, even without cards like Gitaxian Probe or a full set of Ponders. I did shave off one Snapcaster Mage, Jace, the Mind Sculptor, Vendilion Clique, and the Counterspell to fit the card drawing juggernaut. This doesn't mean that these cards were weak, but they were the least essential in achieving victory in this new world. I'm not going to address the new weaknesses of the mightiest planeswalker that has ever roamed the multiverse, because he's still great. Jace, the Mind Sculptor's biggest role was card advantage, which is the reason for cutting him down to two. There is a lot of chatter that offends the team captain of blue, and I'm here to say that he's still a necessary piece to victory in Stoneblade and other fair blue decks. Keep running these powerful cards, and take full advantage of Treasure Cruise as well.
The Sideboard and Metagame
With an east coast Legacy Grand Prix approaching, a lot of focus is brought to the old format. The decks haven't changed a whole lot considering the power of Treasure Cruise, but we have to be sure that all bases are covered when crafting the perfect 75 for this weekend. Treasure Cruise has forced me to include another Polluted Delta over a Tundra, but I've left the singleton Swamp in to search for (that Swamp vexes me, and I come close to cutting it all of the time). The popularity of Wasteland is hard to gauge, but there are too many situations where you want to have the ability to summon a basic land of every color in your deck. I completely understand if you want to cut it for a Marsh Flats, but for this tournament, I'm going to keep it as is. The rest of the maindeck should be very familiar to you from prior articles I've released promoting the soul-charged Stoneblade list. The sideboard has a few tweaks with another new exciting card from the most recent Commander set.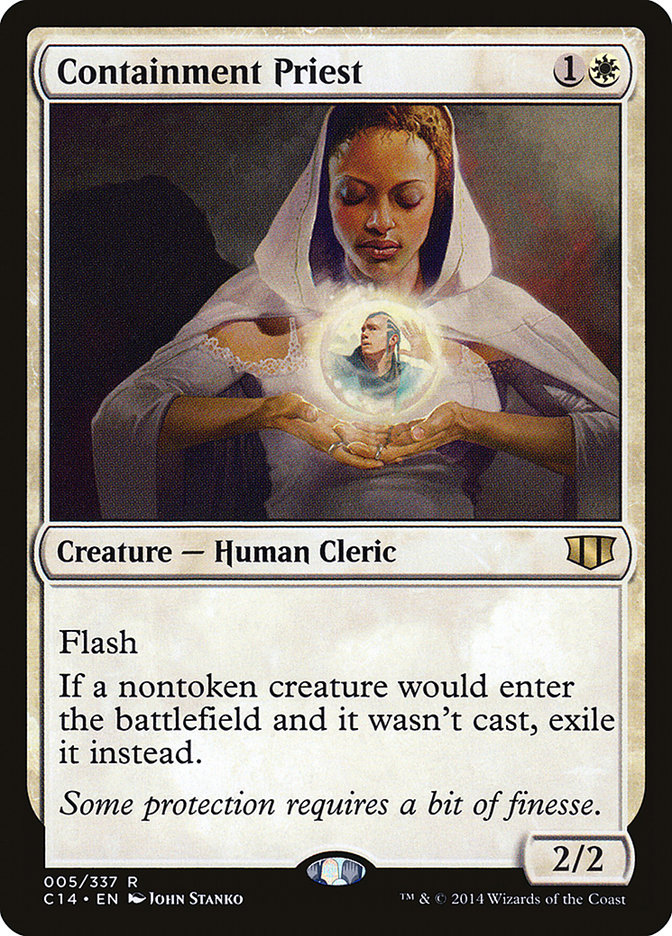 This card is absolutely ridiculous as a sideboard stud against the combo decks. Show and Tell, Elves, Dredge, Reanimator, and any deck that dares to put in a creature in any other way besides old-fashioned should be petrified of this card. Containment Priest is everything that you need her to be against these decks and fills a void that has existed for quite some time. Natural Order is the card I'm most excited about shutting down against Elves, putting in the flash priest in response, and having a creature that is bigger than most of their threats in battle. Show and Tell has an even bigger issue with this card, unable to piece together any victory against a hand that has her with a few other spells to assist disruption with. A clock also starts when she enters the battlefield and gives Esper Stoneblade a quicker route to victory. Dredge cards like Narcomoeba and Dread Return are shut off and make victory hard for them as well. This is one of the big reasons why I was more comfortable with dropping Rest in Peace and going back to Surgical Extraction and making my Treasure Cruise deck more synergistic. Containment Priest is a card that I'll be super excited to use for many years, long after the banning of Treasure Cruise and the return of normalcy for Legacy.
The remainder of the sideboard is pretty standard (for me anyway). Notion Thief is a card you're not going to be able to talk me out of using. I loved it before Treasure Cruise and now that everyone playing blue is rocking this card, I think his value more than doubles. The sorcery speed drawback of Treasure Cruise puts opponents in an awkward situation that taps them out and leaves them vulnerable for a thief to come in and rob them blind. Notion Thief is going to get better and better as people get in line to draw cards in Legacy. I shifted a few of the old maindeck cards to the sideboard in order to make room and increased the Perish count to two. I like having just one Supreme Verdict and multiple copies of Perish in the 75. Perish is better against 90% of the decks that require a sweeper. You would be hard pressed, especially in this Treasure Cruise format, to find decks that dodge Perish, but fall to Supreme Verdict. There are always some, but the majority of decks that you will struggle with run green critters. Tarmogoyf, Deathrite Shamans, all elves, Progenitus, and Nimble Mongoose (if anyone dares) present the problem solved by a board sweeper. Supreme Verdict hits the Delver of Secrets and Young Pyromancer strategies, but having multiple four-mana answers for such cheap threats is no good. The split in mass removal works quite well as it is.
There are a ton of decks out there that don't run Treasure Cruise that you may encounter at the Grand Prix. I've mentioned on multiple occasions that Legacy is far too expensive to have drastic metagame shifts on a large scale, such as a Grand Prix. If someone spends thousands and thousands on a deck, they will be hard pressed to ship even more thousands to make drastic changes or abandon their old deck completely. This logic doesn't affect pros or people that have Legacy connections; however, it does affect a large population of players that will still attend this tournament. For this reason, you'll see all kinds of decks that have existed throughout the years, which includes my "outdated" Esper Stoneblade list. I haven't made any huge changes due to the success I've wringed out of the deck, but if it were to cease being effective, I'd change it in a heartbeat. It is still good and maybe even better in the current Treasure Cruise hype. The decks you should expect should include Elves, U/R Delver, Sultai variants based around Deathrite Shaman, Jeskai Delver, U/W Stoneblade, Show and Tell (with Dig Through Time), and then the other category. The other category includes those who don't change their decks due to financial reasons, stubbornness, or a belief that their deck can still provide victory. This could be anything from Reanimator, Dredge, Oops All Spells!, Burn, Burn w/ Treasure Cruise, Imperial Painter, Lands, and on and on. I can tell you to be prepared for the obvious decks with testing, but never leave home without a plan for anything that may jump out at you. This isn't Standard, so powerful decks can have tools for more than just an average amount of matchups.
Don't hesitate to ask me about sideboarding, alterations you think should be made, or any general question you may have. But most importantly, good luck and have fun this weekend!