Last weekend marked an excellent event by StarCityGames. With a final count of just about 4,000 players, Grand Prix New Jersey was the third largest Grand Prix of all time. I was very happy to be a part of such a great event and had an awesome deck to play for it.
Last week
, I wrote about my take on Nic Fit that I've been working on for quite some time. The article got a great response which meant a lot to me, and I was excited to test the deck out further, as I planned to put on the final touches to the deck before the Grand Prix.
The next day was Veteran's Day, which is a holiday that I have off from work and decided to make the most of the time off by meeting up with Andrew Boswell and James Rynkiewicz to get some more games in. Testing didn't really go as well as I wanted it to and as a result I became less confident in the deck. One problem I noticed was that many players seemed to be straying away from Wastelands and instead were playing more basic lands. This makes Veteran Explorer a lot worse since the opponent is able to kill it at the end of our turn and use the new basic lands they searched up to drop a powerful threat like Jace, the Mind Sculptor on their own turn and be ahead.
I also became unsure how important the Trinket Mage package was since the Green Sun's Zenith package was excellent, and there wasn't room for both. James suggested I play one copy of Sylvan Safekeeper in place of the Zuran Orb as a massive land sacrifice outlet for Titania, Protector of Argoth. In addition, Sylvan Safekeeper could also be tutored for using Green Sun's Zenith and protect Titania. The playtest session also made me question whether or not the Crop Rotation package was really worth it as well. Instead, I considered whether Preordain or Ponder would better to smooth out the deck's draws.
It felt like there was a lot still up in the air, and I only had a week left before the event; a week that was already full of lesson plans and grading papers. I decided to go with something safer and ended up playing a deck that I already knew pretty well: Sultai Delver. The deck turned out to be exactly what I expected it to be as Sultai Delver is the type of deck that has reasonable matchups against the field, but no really good or bad matchups.
The Grand Prix ended up going pretty poorly, and I dropped from the event after picking up my third loss in the eighth round. I was trying to play it safe and my result may have suffered because of it. I gave up the chance to play an awesome deck that players would not have known how to play against and instead played a pretty basic Delver deck, which was a deck that most people at the event were likely very prepared for.
I was very disappointed that one playtesting session was enough to alter my thoughts, since prior to that session I had excellent results with the deck. My other flaw was that my good friend Paul Serignese had probably one of the sweetest decks of the tournament. It was a deck we talked about the week before in our testing group, but I didn't put much effort into it and dismissed it too early. Paul is probably one of the best Legacy players you never heard of. He top 8'ed the first Legacy Grand Prix back in 2005 and is an overall Legacy expert, but since Paul is a family man, he doesn't have much time for many formats and mainly focuses on the Eternal formats. Paul's decks are very well thought out and attack the metagame in a certain way, so that when he sits down to play he isn't looking for those 50/50 matchups. Instead, he is looking for those matches where his opponent has pretty much no idea what is going on as he blows them out of the water with his unique deck.
The deck he posted in our group and the deck he ended playing at the Grand Prix was none other than Angel Prison. If you guys thought my Nic Fit deck from last week was sweet, wait until you take a look at this. Paul started off the tournament with an 8-1 record and ended day 1 towards the top of the standings. However, on day 2 he stumbled a bit and finished with a 10-5 record. Definitely a solid showing, and I truly believe that I would have had a much better chance doing well at the Grand Prix if I either stuck with my guns with Nic Fit or spent time with Paul focusing on tuning his deck.
Before I get into the details of the deck and how the deck plays out, let's take a look at his list.
Creatures (9)
Lands (24)
Spells (27) Angel Prison is one of the most awesome decks in Legacy, as it gets to play a ton of cards that are excellent for the current metagame. The goal of the deck is fairly straightforward; your main plan is to tie down and disrupt the flow of your opponent's gameplan. One of the best ways to do this is with Chalice of the Void. Legacy is a format that relies heavily on having as many early plays as possible (Brainstorm, Ponder, Delver of Secrets, Lightning Bolt, Swords to Plowshares, etc). With this one card you are able to shut down decks completely as early as turn 1.
Another highly disruptive spell in the deck is Trinisphere as it slows the pace of the game down to the speed you are looking to play it at. Some decks' goal are to play as many cheap efficient spells as possible during any given turn. This deck's gameplan, however, is to play one super powerful spell a turn that will either shut down what your opponent is trying to do, or trump whatever they just did. Trinisphere is a nightmare for a majority of the popular Legacy decks and a majority of the decks that finished in the top 16 of Grand Prix New Jersey.
Finally, Sphere of Resistance is the third major piece of disruption that drastically alters how your opponent will have to plan out their game. Sphere does just what you want, and that's slowing down the game. Decks like Royce Walter's Storm deck flat out crumbles to the Sphere, while others like U/R Delver can work through it but in very difficult fashion. Regardless, the combination of Trinisphere, Sphere of Resistance, and Chalice of the Void is a nightmare for the majority of decks you are likely to face.
Looking at the threats of the deck, they are very diverse and each plays an important role. Windborn Muse acts as additional copies of Ghostly Prison, which happens to be one of your best weapons against a wide range of decks. Infect, U/R Delver, Jeskai Delver, and even something like Storm, which sometimes tries to win with Empty the Warrens, will be effected.
Next up is Stoneforge Mystic, which really doesn't need much explanation. However, I do really like the fact that you are able to and actually want to play three pieces of equipment rather than just the standard two. You might think nine creatures is low for the deck, but since it is very likely they will be protected by your artifact disruption, they will be difficult to destroy, and nine along with Batterskull is often enough.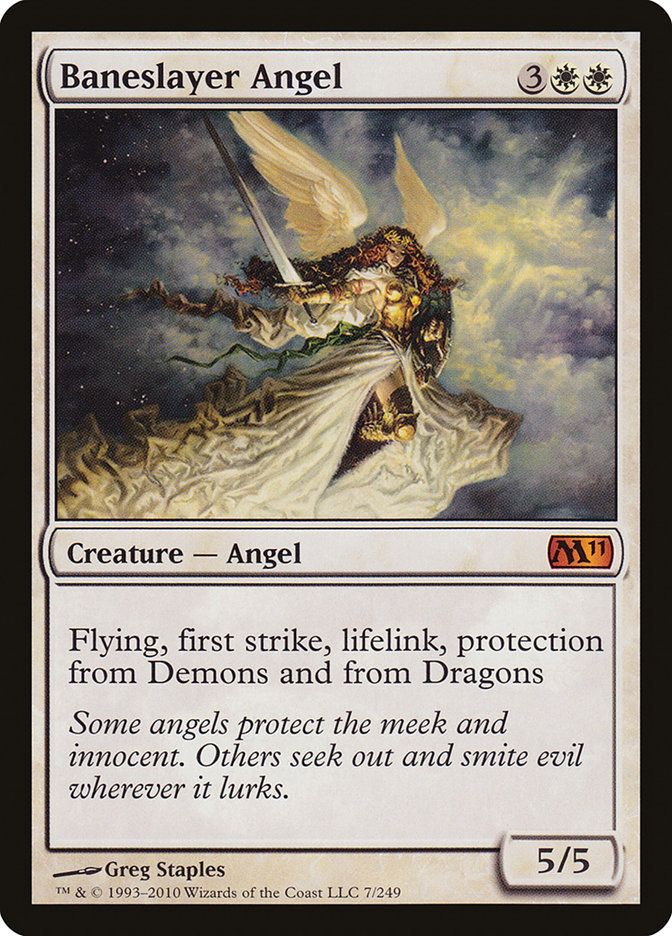 Finally, three copies of Baneslayer Angel complete the creature package. Baneslayer Angel is one of the most powerful creatures in the game and fits nicely into the shell of this deck since your goal is to play a powerful spell every turn. Even if Chalice of the Void set to one is not on the battlefield, removing a Baneslayer Angel is something that is very difficult to do for some decks. If it resolves against Sultai Delver, they will probably have only Liliana of the Veil as an out to it, and most Sultai decks only run 1-2 copies. U/R Delver will most certainly have to use two spells to deal with the flying 5/5, while other decks like Elves will have to go around it; that will be very difficult to do so with all the other disruption you have.
The other spells that I didn't mention quite yet round out the deck and also play a specific role. Banishing Light allows you to have a couple of answers to any problematic cards you may face, while Crucible of Worlds is just one of the many cards that will help lock out your opponent since it combos perfectly with Wasteland. Crucible can also provide card advantage by being able to play your lands that you discarded to Mox Diamond or rebuy your City of Traitors as you build your mana.
The mana behind the deck is important because it's built in a certain way for a reason. Ancient Tomb and City Traitors are there to help you ramp as quickly as possible so you are able to play an artifact disruption spell on the first turn. Wasteland and Ghost Quarter are there to shut down the mana development of your opponent. Two copies of Karakas make a showing here to help fight against Reanimator and Show and Tell-type decks. The one copy of The Tabernacle at Pendrell Vale is additional insurance against decks that will most likely have many creatures in play such as Elves or U/R Delver. Finally, the one copy of Flooded Strand is there so you will be able to constantly filter through your deck for a basic Plains if you happen to have a Crucible in play. There's a chance there should be two Flooded Strand and six Plains, but seven and one might be a better a split.
Sideboard
1 Humility
The two copies of Armageddon are mostly there to bring in against Jeskai control strategies whether they are miracle-based or more like the one Brian Braun-Duin won with at Grand Prix New Jersey. Regardless, any deck that tries to build up their mana to play powerful spells is a deck Armageddon is good against.
Rest in Peace is an obvious choice against Dredge but also overlaps against decks like Sultai Delver as they will have Treasure Cruise, Deathrite Shaman, and Tarmogoyf that will be affected by Rest in Peace. You will most likely want to bring it in against other Treasure Cruise decks as well, but remember that it will affect your Crucible of Worlds, so that is something to consider.
Linvala, Keeper of Silence comes in when you plan to take out Windborn Muse or when you think it will be good in a specific matchup. Linvala will shut down a lot of cards against Elves, can prevent Griselbrand from drawing seven cards, stop Stoneforge Mystic from putting a Batterskull into play, and is also very good against any MUD decks you may run into, as it prevents Metalworker and Kuldotha Forgemaster from using their activation.
Leyline of Sanctity is your key weapon against any burn deck and will likely be game over if you find one in your opening hand, as they will have to rely on just creatures and Flame Rifts to finish you off. Leyline also comes in against discard heavy strategies such as Pox and Abzan style decks that rely on Thoughtseize and Hymn to Tourach. Finally, Leyline is an all-star against combo decks such as Storm and Painter decks.
Humility and Contamination Priest are cards I combine since they both are some of your best weapons against Elves, Reanimator, and Sneak and Show. Paul originally had Contamination Priest in the maindeck, but we both agree they are better suited for the sideboard at this moment.
The singleton copy of Blind Obedience may seem a bit random, but it helps against Burn since it provides you with some lifegain, Sneak and Show since it slows them down and somewhat nullifies Sneak Attack, and Storm since it will make it so Lion's Eye Diamond and Lotus Petal become worse when trying to storm off.
Last but not least, the one copy of Wrath of God is there since Legacy is a wide open format and having a card that can be used as a catch all is something good to have.
Overall, this deck is super awesome, and I like it just as much as last week's Nic Fit deck and maybe even more. Going forward, I want to make sure I try to play either this or Nic Fit at the next Legacy Open I attend. If you're planning to attended SCG Richmond this weekend, I strongly suggest you play this deck; I think it will give you a great chance to win the whole thing.
Before I go Paul was nice enough to give a quick breakdown of how his tournament went, so let's take a look at his notebook:
Rnd 1 - Bye overall record 1-0
Rnd 2 - Death and Taxes Win 2-1, Overall record 2-0. Game 1 is a landslide with 2 Ghostly Prisons and Crucible/Ghost Quarter lock. Game 2 t2 Chalice and mana stall makes an easy win with for a Baneslayer Angel and Stoneforge Mystic.
Rnd 3 - Elves Win 2-1, Overall record 3-0. Game 1, I play a turn 1 Tabernacle and a turn 3 Chalice on 1. Game 2, a turn 3 Natural Order into Progenitus is enough to get through a Ghostly Prison. Game 3, a quick Jitte, Containment Priest, and Chalice on 1 is enough to eventually get through a scavenging ooze.
Rnd 4 - Mono G Cloudpost Win 2-1. Overall record 4-0 (Turn 1 Chalice on 1 shuts down his ability to search for 'posts, with a Stoneforge and SOFI making quick work of the game. Game 2, Trinisphere and land destruction comes up short to a Primeval Titan and then Emrakul. Game 3, a Chalice on 1 followed by a Crucible of Worlds with both Wasteland and Ghost Quarter, and then Trinisphere makes for a lock while I find a win condition.
Rnd 5 - UR Delver Win 2-0. Overall record 5-0. Dropping a t1 Chalice on 1 and Trinisphere in each game without an opposing counterspell or Delver under the artifact made each game relatively quick with the opponent casting spells for naught to get a treasure cruise online, but it was too little too late.
Rnd 6 - Merfolk Win 2-0, Overall record 6-0. Ghostly Prison and Stoneforge Mystic with SOFI was just enough to squeak out wins by shooting a lord each turn to keep the opposition small.
Rnd 7 - Mono Red Burn Win 2-1, Overall record 7-0. Game 1, a Trinisphere with a Stoneforge to find Batterskull was enough to slow down burn and then take control. Game 2 created a huge stalled state with Chalice on 1 and 2 and a Leyline, but a topdecked sulfuric vortex was enough to knock me from 1 to dead. Game 3, an early Baneslayer Angel and Chalice made things look lopsided and everything was put on hold with an Ensnaring Bridge. A few turns later, a Banishing Light cleared the way, and the game was ended in 2 turns.
Rnd 8 - Esper Deathblade Lost 0-2. Overall record 7-1. Opponent cast 2 Force of wills and a Thoughtseize in each game, which was enough to disrupt my gameplan.
Rnd 9 - MUD. Win 2-0. Overall record 8-1. Game 1 was won by drawing 3 Wastelands and a Ghost Quarter and my opponent playing t1 Chalice on 1 and wasn't able to have 2 land on board until turn 7, which was too little too late. I sided in blind obedience as it shut down his Grim Monoliths and drew an early Crucible and Wasteland and followed it up with Trinisphere to lock him out.
Rnd 10 - Jeskai Delver Stoneblade Lost 0-2. Overall record 8-2. A turn 1 Delver and 1 Force of Will with no ability to find Stoneforge, Baneslayer, or Ghostly Prison is a poor combination of locks.
Rnd 11 - Death and Taxes with Brimaz Win 2-0. Overall record 9-2. Chalice on 1 cut off Swords, Mother of Runes, and Aether Vial while Ghostly Prison slowed the attack, and a Baneslayer Angel was able to attack over the top w/ SoFI.
Rnd 12 - Jeskai Delver Stoneblade Lost 0-2, Overall record 9-3 see round 10.
Rnd 13 - Storm Lost 1-2, Overall record 9-4. Game 1, I keep a hand of Ghostly Prison and Stoneforge and don't see a Chalice or Trinisphere in time. Game 2, I cast turn 1 Trinisphere and my opponent concedes. Game 3, I play a turn 0 Leyline, and I waste his first land. On his turn 3, he casts Ad Nauseam and finds a Chain of Vapor and Tendrils for the win.
Rnd 14 - Jeskai Delver Stoneblade Lost 0-2. Overall record 9-5. My opponent plays a t1 Delver, which flips and catches me with a Force of Will and Daze, and I can't get ahead at any point. Game 2, my opponent has Force for my t1 Trinisphere and 2 actual Counterspells when I play Baneslayer 1 and 2.
Rnd 15 - Storm Win 2-1, Overall record 10-5. Game 1, Chalice on 1 and then Trinisphere meant I only had to find a win con and it was over. Game 2, a turn 2 win with me staring at a t2 Trinisphere had me wishing I was on the play that game. Game 3, a turn 1 Sphere of Resistance and turn 2 Stoneforge had me seeing the finish line until a therapy stripped the equipment. I then played a Trinisphere and waited for a death of a thousand stings to occur.
10-5 overall record for 237th place
So what do you guys think? Do you like this list? Are there any matchups you guys are concerned about? If so, let me know so we can see if we need to adjust the sideboard in any way.