The number of possible interactions between different Magic cards is far beyond the number of atoms in the universe. Planning for every possible interaction is just not realistic, and nowadays, cards are primarily balanced for Standard. When it comes to Vintage, Legacy, and Modern, WotC mostly just lets the chips fall where they may.
Times change though.
New cards getting printed changes which other cards get played in each of these formats, as well as changing what's even considered good. Enough new cards and the format starts to hardly resemble what it looked like in years gone by. One consequence of this is that bans that may have been totally justified at the time start to look a lot less necessary.
Cards that should be unbanned do generally get unbanned slower than the speed at which cards that should be banned are. This is generally because once a card is banned, the price has already been paid. Why go to all the trouble of unbanning a card that has historically caused nothing but problems? The other factor, which is a small one, is that occasionally, unbanning a card proves to be a mistake and it has to be re-banned, which of course, causes some hard feelings.
Still, keeping the banned lists as small as possible is an inherently good goal. It reduces the bookkeeping that goes along with the formats. As long as the unbanned card doesn't dominate, it can make the format more diverse. As long as the card doesn't ruin the games it's involved in, it can make the format more interesting.
Today, I'd like to take a look at the Vintage, Legacy, and Modern banned lists and look for cards that could possibly come off. Standard doesn't have a banned list at the moment and absolutely shouldn't. Standard has only needed to add cards to the banned list once in the past decade (Jace, the Mind Sculptor and Stoneforge Mystic), and I don't expect that to change any time soon. It would take a pretty serious cascade of mistakes to actually warrant Standard bans, as the format corrects itself in a year and a half anyway (which is even down from the previous two years).
Vintage
Vintage is a special animal, as it has both a banned list and a restricted list. Vintage is supposed to be the format where everything is legal, so the only cards that should be banned should be cards that just cannot be reconciled with tournament rules. Its banned list currently consists of four types of cards:
— Ante Cards
— Dexterity
— Conspiracy Cards
— Shahrazad--Divine Intervention isn't banned
Ante cards obviously do not mesh with sanctioned tournament play, and dexterity cards crossover into the Unglued space of involving things WotC doesn't want to be a part of tournament Magic.
Conspiracy cards are new additions to the banned list, but logical ones, as they were designed to be used in draft only. Their cost is how early you pick them, and without that cost, they are broken. They would also be extremely repetitive, if you got to start every game with them. In draft, this is no problem, as you don't always open them. One could consider requiring you to use a sideboard slot to play them, but many of them are just too powerful and too repetitive.
Finally, we come to Shahrazad, which was banned because of the time constraints it puts on tournaments.
Casting Shahrazad does increase the risk of draws. That said, this is miles from a problem in Vintage. First of all, the card isn't even remotely Vintage strong. Second, someone that has a Shahrazad cast against them can concede the subgame and lose half their life, rounded up. That neutralizes most of the card's ability to stall. Hell, you could require players that use Shahrazad to tell their opponent this, if you wanted.
Timed rounds are still timed!
How is Shahrazad banned, while Divine Intervention is legal?
Divine Intervention used to be banned because of time constraints for tournaments, the same reason given for Shahrazad. You know why they unbanned it? Because it doesn't actually cause problems, and neither would Shahrazad!
Shahrazad should be unbanned immediately.
Restricted List
Cards can end up on the Vintage restricted list for basically four reasons:
— Fast Mana
— Library Manipulation
— Draw 7s
— Misc Oppressive Cards
Once a card gets restricted for being fast mana, it is unlikely to ever come off. There's just so little to be gained. Here's a list of the fast mana cards currently restricted in Vintage.
Fast Mana
— Mox Jet
— Mox Ruby
— Sol Ring
— Fastbond
— Channel
— Flash
Of these, I think only Channel and Flash are ever seriously discussed as options to unrestrict, but both enable turn 1 kills. While Vintage has turn 1 kills not infrequently, WotC doesn't want any high tier Vintage decks to kill on turn 1 the majority of the time. Modern has the "Turn 4 Rule," which is to say games should generally take at least four turns. Legacy has the "Turn 3 Rule." Believe it or not, Vintage has a "Turn 2 Rule." Vintage decks break it from time to time, but if a deck ever broke it 50% of the time, something would be done to stop it. Both Flash and Channel run a serious risk of making a deck consistently break the "Turn 2 Rule."
Verdict: No safe fast mana unbans.
Library Manipulation
— Ponder
Of these, Brainstorm, Ponder, Merchant Scroll, Thirst for Knowledge, Gifts Ungiven, and Demonic Consultation are probably the only realistic considerations for unrestricting and will be added to the list to be seriously discussed below. I guess you could argue a case for Mystical Tutor or Imperial Seal, but why?
In looking at these cards, it is also important to consider that Treasure Cruise and Dig Through Time are both legal and having a massive impact on the Vintage metagame. Amusingly, there are so many busted cards in Vintage, people often only use 2-3 of broken blue delve cards. Still, there is no question that both Treasure Cruise and Dig Through Time are on the dangerous cards list and could get restricted in Vintage at any time.
Oppressive Combo Cards
— Tinker
— Windfall
While other formats would have broken combo cards here, Vintage is one giant broken combo. The only truly "broken" combo is Time Vault + Voltaic Key. This combo ends the game so completely and so fast, it was outright banned for many years.
Tinker is sort of a broken combo all by itself, finding Blightsteel Colossus, Time Vault, or Memory Jar. It's sort of fast mana and its sort of library manipulation. Regardless of classification, it is one of the five most broken cards in the entire game.
Speaking of the most broken cards in the game, Yawgmoth's Will is another. Yawgmoth's Will has declined a great deal since the many years when it was considered the most warping card in Vintage, due to the format moving towards more creatures and more interaction. That said, the card is still one of the absolute most busted cards in Vintage. Unrestricting it would be a disaster. Turn 1 kills and a totally warped format would follow.
Timetwister, Windfall, Wheel of Fortune, Memory Jar, Mind's Desire, Necropotence, and Yawgmoth's Bargain are all draw 7s that can be combined with fast mana to stitch together turn 1 kills. Not all draw 7s are created equal, however. Time Spiral and Diminishing Returns prove that not all playable draw 7s need to be restricted. Maybe one or more of these could come off?
Mind Desire is a total non-starter, as it is far less interactive than the others, being effectively uncounterable.
Necropotence would be an appealing card to unrestrict if everyone agreed to only play it in mono-black decks. Sadly, what actually happens is the Necro player spends most of their life drawing cards, then kills you next turn, fueled by several blue cards.
Yawgmoth's Bargain was once considered one of the most broken cards in the game. Of course, Mind Twist was too. Times change.
Nowadays, it is unclear if Yawgmoth's Bargain is even as powerful as Griselbrand. After all, Griselbrand is easier to cheat into play and is a victory condition. Of course, there's also an argument to be made for restricting Griselbrand.
As far as Timetwister, Windfall, Wheel of Fortune, and Memory Jar go, maybe the format could handle one or more being unrestricted, but so what? What good could that possibly do for the format? What archetype could any of them spawn, besides just increasing the chance of some turn 1 kill deck using all fast mana and card draw?
Verdict: I guess you could unrestrict Windfall or Wheel of Fortune, but it's pretty dubious what good that could do for you. I'd only do it if the Vintage community was pretty confident it wouldn't be good.
Misc Oppressive Cards
— Balance
Finally, we come to the odd balls. Do these cards need to be restricted? Of these, I think Strip Mine is the most obviously a bad idea to unrestrict. Even if the format can handle it, it makes the format a lot less fun to play.
Balance is the most powerful of these cards, but it doesn't get played all that much in Vintage. The thing is, if you are allowed to play four Balances, that has a radical impact on deckbuilding. I suspect we'd see the sudden emergence of Balance decks that try to Mind Twist/Armageddon/Wrath of God their opponent on turn 1 or 2. Maybe the format could handle it. Maybe it wouldn't even be good. I am skeptical though. I think getting Balanced on turn 1 is too close to a turn 1 kill.
Vintage players: What do you think, is there any chance unrestricting Balance is a good idea? My inclination is "Not at this time," but I could imagine arguments being made for it.
Trinisphere is a strange sort of restricted card, but in conjunction with Mishra's Workshop makes for effective turn 1 kills. I think you can make a case that it doesn't need to be restricted, but I think that format is less fun for most people to play. I would stay away from this one.
Finally, Library of Alexandria, which was once on the shortlist for best cards in the game. Nowadays, it only sees modest play and would be an exciting unban. The problem, as is the problem with so many of these possibilities, is that it doesn't promote good things. Of these four, I think Library is probably the only serious candidate, but even that is pretty unlikely.
Vintage Unban Options:
— Ponder
— Windfall
While I think Brainstorm is much stronger than Ponder, I actually think it is more likely to be unrestricted. Ponder pushes fast combo, whereas Brainstorm also helps interactive decks. Brainstorm is also just more fun. It is one of the biggest reasons Legacy has remained so popular. In my humble opinion, banning Brainstorm is one of the main reasons so many Vintage players gave up the format.
Is Brainstorm horribly broken? Definitely. But so is everything in Vintage. I would love to hear what the Vintage community as a whole thinks of Brainstorm being restricted. Maybe the format really is better without it, but I'm not at all sure. What I do know is that I used to play Vintage all of the time. I actually won the Vintage Championships back when it used to be called Type 1, and before they gave away alternate artwork power cards to the winner.
Vintage has given me so many incredible stories from over the years. Can you believe Mana Crypt was legal as a four-of for years?! Lion's Eye Diamond briefly functioned as Black Lotus 2-5, contributing to the single greatest Constructed deck ever built. The one weekend where I got to play it I didn't just go undefeated in games, I only had a couple that took more than one turn!
Gush? Well, there was once a time in which the tournament community didn't realize how powerful the card was, mocking those foolish enough to argue that the format revolved around it, and not The Deck. Even after the championship was won with it, it took nearly a year before the community realized the change that had taken place in Vintage.
The point is, I loved and still love Vintage.
I just found the format less fun after the restriction of Brainstorm.
So, I don't know, maybe I just got old and cynical. Maybe the timing was coincidental. I still play Vintage from time to time, so it's not like banning Brainstorm was a dealbreaker. I just think it might be worth having the conversation, because it sure does make Legacy more fun.
Merchant Scroll? I think finding Ancestral Recall is still too much.
Thirst for Knowledge and Gifts Ungiven? Fact or Fiction used to be restricted too, and unrestricting it hasn't actually broken anything. Neither of these cards is as good as Treasure Cruise or Dig Through Time. Should either be unrestricted, or is it just that the blue delve cards should be restricted? Maybe both?
Demonic Consultation, Windfall, Wheel of Fortune, Library of Alexandria: I am personally not super interested in seeing these unrestricted at this time, but if anyone wants to make an argument to support one, I'd love to hear it.
Legacy
There are five types of banned cards in Legacy:
— Vintage Banned Cards (Ante, Dexterity, Conspiracies, Shahrazad)
— Fast Mana
— Library Manipulation
— Oppressive Combo Cards
— Misc Oppressive Cards
The vast majority of the Legacy banned list is just the Vintage banned list and the world offenders on the Vintage restricted list. In addition to Shahrazad, Ante, Dexterity, and Conspiracy cards, Legacy also does not allow the following Vintage restricted cards:
Fast Mana
— Mox Jet
— Mox Ruby
— Sol Ring
— Fastbond
— Channel
— Flash
Library Manipulation
Oppressive Combo Cards
— Tinker
— Windfall
Misc Oppressive Cards
— Balance
It's worth noting that eight cards restricted in Vintage are legal as four-ofs in Legacy: Lotus Petal, Lion's Eye Diamond, Brainstorm, Ponder, Merchant Scroll, Thirst for Knowledge, Gifts Ungiven, and Trinisphere.
In addition to a lengthy list of Vintage banned and restricted cards, Legacy's banned list includes fourteen cards that are completely legal in Vintage.
Banned In Legacy Only
— Gush
Mishra's Workshop, Bazaar of Baghdad, and Oath of Druids are all straight up busted in half, being frankly overpowered in Vintage. However, in Vintage, they add to diversity, as they each create a deck all by themselves. All three of these decks would be far too strong in Legacy, and in fact, despite these three being banned, we still see Dredge, MUD, and Griselbrand decks.
Survival of the Fittest, Mental Misstep, and Gush have all had their turn dominating Legacy. Survival, as an archetype, dominated the way Oath of Druids would, with Vengevine and reanimation interactions pushing an already hyper-efficient card drawer and search engine over the top. Mental Misstep was nearly universally played and put massive constraints on the format the same way Strip Mine would. Gush has been overly dominate in the past, and while there could definitely be worlds in which it's an acceptable Legacy card, the world we actually live in is already way too far down the low-mana hyper-efficient blue aggro control path. Gush is like a Treasure Cruise that only draws two cards, but costs negative one mana.
I guess Skullclamp is not totally without merit to discuss, but the card is so broken it seems pretty unlikely to be experimented with. It would just be absurd in Elves, right? To say nothing of the interactions with Young Pyromancer, Stoneforge Mystic, Affinity, and possibly even Kobolds and Memnites.
Goblin Recruiter: Too big of a violator of the turn 3 rule due to the interaction with Food Chain (think lots of Goblin Ringleaders). [CEDitor's Note: Throw me a bone here, Chapin!]
Hermit Druid: Activating it wins the game on the spot, violating the turn 3 rule.
Earthcraft: Unclear if this one still needs to be banned, but it is a pretty serious violator of the turn 3 rule. If it was just the Squirrel Nest combo, I'd say unban it. However, the card has serious implications in Enchantress, Elves, and more. It also breaks with Shrieking Drake. My guess is not safe.
Worldgorger Dragon: I've seen some argue that Worldgorger Dragon should be unbanned on account of just being a worse reanimation target than Griselbrand. That's fair, though there is also the issue of draws. If Worldgorger Dragon is the only target for your Animate Dead, you can easily end up in an infinite loop with no escape. Because of this, I think it is probably undesirable to unban Worldgorger Dragon, who also sometimes runs afoul of the turn 2 rule (since animating it gives you infinite mana, which you can use at any point to Stroke of Genius your opponent to death).
Frantic Search: Frantic Search would further enable High Tide/Time Spiral decks, but it's not clear that is a dealbreaker. Those decks aren't exactly dominating, and they generally don't break the turn 3 rule. There is also the risk of it helping Reanimator decks, but is it even as good as Careful Study? I guess it also helps Enchantress, but that might be a feature, not a bug.
Legacy players, what do you think? Would you want Frantic Search back?
Mind Twist: Having already been unbanned in Vintage, we see it was totally safe. Legacy has less ways to recover from an early Mind Twist, so maybe it's not safe, but I've heard a lot of people argue it wouldn't even be as good as Hymn to Tourach. Many people that play Hymns don't even play the full four!
Now, it can be pretty brutal to get hit with a Mind Twist for four by turn 3, but that is hardly the end of the world. Besides, with cards like Daze, Spell Pierce, Thoughtseize, Inquisition of Kozilek, and Force of Will so popular, not to mention how many people have played out their hand by turn 3, I think this one is a very serious candidate and fairly safe.
What do you think? Is Mind Twist safe to unban in Legacy?
Finally, we come to the biggest joke on this list:
There is absolutely no reason why Black Vise should be banned in Legacy. Can we unban this, please? Maybe some Lava Spike deck wants it. Great! Punish the Treasure Cruise people with a million cards in hand. Maybe somebody sideboards it in their Tezzeret deck against control. Who cares? This card isn't even remotely banworthy in Legacy. It's not even clear it's playable.
Modern
To evaluate what cards could be unbanned in Modern, we need to figure out what the Modern format is we're even talking about. If nothing gets added to the Modern banned list, that's a very different format than if one or more cards are added in January.
There has been a lot of talk recently about potentially banning Treasure Cruise, Dig Through Time, and/or Jeskai Ascendancy in Modern. The delve cards are accused of potentially limiting diversity too much, being too dominant. Ascendancy is accused of being too fast. What's going to resolve this is real world data. So far, there's been a single Grand Prix, and while that tournament was won by a Treasure Cruise deck, it hardly "dominated." Much the opposite, as we saw great diversity.
While I believe time will prove Treasure Cruise too good for Modern, it is tournament results that will ultimately tell the tale. The World Championships include a Modern portion. There are several Modern Grand Prix on the horizon. There is a banned list update in January before the Modern Pro Tour, but it's only going to include Treasure Cruise if it's really broken by then.
Dig Through Time has many of the same issues as Treasure Cruise, and if one were banned, but not the other, that could cause some pretty serious ripples. I don't know that Dig needs to be banned, but it is pretty clearly near the top of the dangerous cards list.
Jeskai Ascendancy (the deck) is too fast (and better than some think), and I think there's close to zero chance of it not getting a banned list nerf. It's not the only card in the deck that could be banned to slow it down though. If Jeskai Ascendancy was dominating the format, sure, but it's not. It's just too fast.
Ban Treasure Cruise and you will have significantly slowed the deck down. Treasure Cruise is actually why the deck wins turn 3. Maybe some new Jeskai Ascendancy deck comes out of nowhere and takes over the format, requiring more action, but that's just a very hypothetical world.
I think there is a great chance that Treasure Cruise will be banned either before the next Pro Tour, or shortly after. I don't think Jeskai Ascendancy will be or should be banned, at least not unless it finds a way to do the problematic things without the blue delve cards.
This leaves us with basically two worlds:
— Treasure Cruise is banned (and possibly Dig).
— Treasure Cruise is not banned.
There are 30 cards currently on the Modern banned list. These cards fall into four categories.
— Fast Mana
— Library Manipulation
— Oppressive Combos
— Oppressive Standalone Cards
Generally, once a fast mana or library manipulation card is added to a banned list, it has a much tougher time getting off of it. It's not impossible, but it takes a pretty good reason.
Oppressive combo cards are the most likely to not need to be on the banned list at all, but often bring with them such negative play experiences, the question one must answer is, "Why is the format a better place if this card is in it?"
While the first three categories are most often violators of the turn 4 rule (High tier Modern decks should not consistently win before the fourth turn), the oppressive standalone cards are generally more likely to be guilty of stepping on diversity too much or being overly dominant strategies. These are often the best cards to consider removing from the banned list, like we saw with Wild Nacatl and Bitterblossom last year. Neither Wild Nacatl, nor Bitterblossom has been even remotely as oppressive as they were in formats gone past. Modern is a more diverse and more interesting format with both of them as options.
Let's start with the fast mana cards and see if there's anything that could potentially come off the banned list.
Fast Mana
The colored artifact lands are only sort of fast mana, but they do turn on Mox Opal faster, reduce the cost of Thoughtcast, and if they were legal, we'd see a massive increase in the number of Frogmites seeing play. The real problem with them, of course, is the cumulative effect with Arcbound Ravager and Cranial Plating.
Unbanning the artifact lands doesn't promote a new archetype at all, it just takes one of the more powerful strategies and gives it a major boost. Affinity is already only held in check because of the absurd power level of hate cards like Stony Silence and Ancient Grudge. There's no reason to push that even harder. One could argue the banned list could be made smaller by unbanning these five lands while simultaneously banning Cranial Plating. Cranial Plating really is the problem card in Affinity, power level-wise, but it's also one of the most interesting cards from a gameplay perspective. It gives the deck a distinct feel, a play pattern, and I think Modern is better for having this dimension.
Rite of Flame and Seething Song were banned because of Storm decks that win by turn 3 (sometimes turn 2). Yes, them being banned means we don't see as many types of Mono-Red Blood Moon decks, but turn 3 kill decks are just too fast for this format. While traditional Storm combo wasn't a major player in GP Madrid, it may yet make a major comeback.
It is taking a lot of splash damage from the recent changes to the format. Treasure Cruise and Dig Through Time don't help it as much as they help other people. Graveyard hate is everywhere now. People are maindecking cards like Eidolon of Rhetoric. The most popular deck is a fast aggro deck with permission. All of this adds up to a very hostile world for Storm.
Unbanning either of these rituals would only promote turn 3 kills. This is basically a non-starter.
Chrome Mox is not all about the turn 3 kills, but it would still be a violator if legal. Everyone remembers Chrome Mox in blue Trinket Mage decks or various Blood Moon decks or as a means of powering out fast Dark Confidants. If that was all people did, there wouldn't be a problem. Unfortunately, what would really happen is that Splinter Twin would play four Chrome Moxes and suddenly be a reliable turn 3 kill deck.
What if we just banned Splinter Twin?
Splinter Twin actually enables the archetype, and it adds diversity and depth to the format. Now, there's a pretty good argument to made that Splinter Twin is an obnoxious constraint in the format, as it is so reliably a turn 4 kill. However, that doesn't violate the turn 4 rule, and it can be interacted with by basically everything in the world.
— Creature removal
— Enchantment removal
— Discard
— Permission
— Lock Components (Spellskite, Torpor Orb, Night of Souls' Betrayal, Illness in the Ranks)
Even if Splinter Twin was banned, Chrome Mox threatens to turn any other turn 4 combo decks into turn 3 combo decks. Maybe it breaks Ascendancy. Maybe it breaks Storm. Maybe it breaks Infect (which is already often a turn 3 kill deck, but one that can be blocked, giving it a pass).
Cloudpost is rarely going to violate the turn 4 rule; though it does sometimes when combined with Amulet of Vigor. The real problem with Cloudpost is the interaction with Primeval Titan. The thing is, the only time Cloudpost was ever legal in Modern, Green Sun's Zenith was too.
The only major Modern tournament with Cloudpost legal saw it as one of the most popular strategies in the format; however, its win percentage was actually pretty bad. You can argue that the format was warped to beat it, but that sort of makes an argument that it can be beaten, right?
One final argument for unbanning Cloudpost is pointing at the Urza lands, which are not breaking the format. Is Cloudpost really that much stronger?
Cloudpost is at least worth considering unbanning, though I am generally quite skeptical of unbanning fast mana. We'll discuss it below with all of the other candidates.
Library Manipulation
Ponder and Preordain make the other problems in the format worse. The blue delve cards are already breaking Gitaxian Probe and Serum Visions, so giving them access to Ponder and Preordain is definitely off the table.
What if the blue delve cards were banned? Still no, I think. It's not just that they are incredibly overpowered (and they are), it's that WotC doesn't want what they promote. They make every dangerous combo that much more reliable and consistent. They exacerbate whatever other problems the format may encounter.
One could make an argument for unbanning Preordain, while banning Serum Visions. The combo decks don't benefit from this change as much as control decks, but it is non-intuitive and too risky for too unclear of a benefit.
Sensei's Divining Top is ostensibly banned for slowing down tournaments too much, but it is also ridiculously efficient at manipulating your library with fetchlands. Finally, it is extremely oppressive in conjunction with Counterbalance. I love activating a Sensei's Divining Top, but there are few cards that could make Modern less fun than unbanning this card.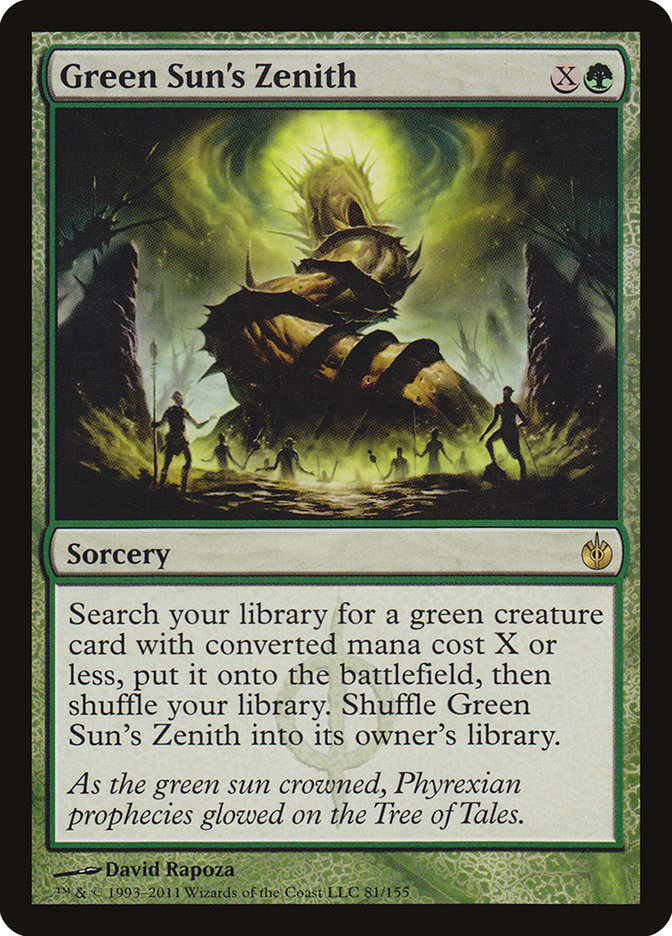 Calling Green Sun's Zenith a library manipulation card may be somewhat dubious, even though it is a tutor. The real reason it was banned was because of the abusive Dryad Arbor interaction that turns the card into undercosted fast mana. That makes it an Elvish Mystic with Kicker 2: Turn into a Tarmogoyf or Scavenging Ooze, Kicker 3: Turn into a Knight of the Reliquary.
The argument to unban Green Sun's Zenith is that it promotes another playstyle. Besides, people argue, it isn't even as abusive as Birthing Pod!
In the world where Treasure Cruise and Dig Through Time remain, I think it makes total sense to consider unbanning Green Sun's Zenith. It fights against them, not with them. It's one of the "least broken" cards on the list anyway, and if you were just committed to not banning blue delve cards, unbanning Green Sun's Zenith is likely to open things up a little.
On the other hand, if blue delve cards take a hit, the odds of safely unbanning Green Sun's Zenith drop. They don't drop to zero, however. This one is an option and will be discussed below with the other unban options.
Oppressive Combos
All of these cards contribute to turn 3 kills, with the exception of Punishing Fire and Sword of the Meek, which lead to somewhat oppressive soft locks. The notion of banning a card for an "oppressive" soft lock is a lot more dubious than banning out turn 3 kills, so let's start with the fast cards.
Blazing Shoal + Glistener Elf/Inkmoth Nexus is a turn 2 kill when combined with any red card that costs nine or more. That's way, way too fast.
Dark Depths + Vampire Hexmage/Thespian's Stage gives you a 20/20 flying, indestructible creature. Add in Urborg, Tomb of Yawgmoth and you've got it on turn 2 or 3. That the Thespian's Stage combo is completely uncounterable and immune to discard is particularly oppressive.
Dread Return takes graveyard strategies that win turn 4 or 5 and speeds them up by several full turns. If Dread Return were legal, we'd see Griselbrand and Iona on turn 2 way more often, and it only gets worse from there. I think it'd be a really bad idea to unban Dread Return.
Golgari Grave-Troll was banned as an extra jab at Dredge decks, but its reason for inclusion on the banned list is far more dubious. Yes, it dredges the hardest, but it's not like Stinkweed Imp sees much play. The sorts of decks that abused Golgari Grave-Troll relied on Dread Return, which isn't legal in Modern, and don't really resemble the kinds of graveyard decks people actually play.
What would happen if Golgari Grave-Troll was unbanned? There's a good chance almost nothing. This is definitely one of those cards that is a relic from an earlier era. There is a very good chance that it doesn't need to be banned. It just needs a compelling reason to take the chance. Well worth discussing below with the other candidates.
Glimpse of Nature is the centerpiece of one of the best combo decks in Legacy, a deck that generally wins turn 3 when it draws Glimpse, with turn 2 kills on the table. This is just too fast for Modern.
Hypergenesis is a great example of a deck that has never been too dominating or popular, but is just too fast. When combined with three-cost cascade cards, you can play Emrakul, Progenitus, Griselbrand, Ashen Rider, Terastodon or whatever else you want, effectively winning the game on the spot. Add Simian Spirit Guide and you can go off turn 2. Way too fast.
It's not clear if Second Sunrise is actually strong enough to justify a ban on its own, however, it is absolutely miserable to play with, against, or to watch, so the bar is lower. It already won a Pro Tour, so it has certainly had a chance to break in tournament conditions. It also wins turn 3 sometimes, which only bolsters the case. It's not the most unsafe possible unban, but the world would surely be a worse place.
Okay, so what about Punishing Fire and Sword of the Meek? Neither of these violates the turn 4 rule and are just banned because of powerful synergies that put harsh constraints on the format. Grove of the Burnwillows makes Punishing Fire lock out small creatures and grant inevitability. Thopter Foundry combines with Sword of the Meek to take over boards, building a growing army while quickly gaining life. While both of these interactions are extremely potent, neither is so obviously busted as to not warrant discussion, so let's add both of them to our list below.
Oppressive Standalone Cards
These eight cards are banned for being oppressively powerful in their own right, the theory being if any of them were unbanned, they might represent an oppressively large percentage of the metagame. Because formats can change so much, this makes these cards generally easier to consider unbanning than those in other categories.
Ancestral Visions is an extremely dubious member of the banned list so long as Treasure Cruise is legal. The similarities are obvious, with Treasure Cruise being far, far better. Ancestral Visions was already a somewhat questionable inclusion on the banned list, and if Treasure Cruise remains legal, it should be unbanned for sure. Even if Treasure Cruise gets banned, there is still a case to be made for unbanning Ancestral Visions, perhaps to take its place in the aggro control decks that have been created to support Treasure Cruise. At the very least, it's worth adding to our list.
Bloodbraid Elf was originally banned during an era in which Jund was depressingly popular for an extended period of time. Of course, it also had access to Deathrite Shaman, which it no longer does. Additionally, Treasure Cruise and Dig Through Time are extremely good against Bloodbraid Elf strategies. Is Bloodbraid Elf the latest Wild Nacatl? A very strong candidate to consider.
Even after Bloodbraid Elf was banned, B/G/x decks continued to dominate to an extreme degree. Deathrite Shaman was the culprit. Deathrite Shaman is one of the most dominant creatures in Legacy and Vintage, so it's not like we aren't seeing what it's capable of. B/G/x decks are already very popular in Modern right now, so it's pretty questionable to give them such a big boost.
Mental Misstep is extremely oppressive, and if legal, would be nearly omnipresent. It's too much for even Legacy, so it's definitely too much for Modern.
Jace, the Mind Sculptor, like Ancestral Visions, is completely outclassed by Treasure Cruise and Dig Through Time. If Treasure Cruise and Dig Through Time are to remain legal, does Jace really need to be banned? Would he even be good in the current format?
The case for unbanning Jace is weaker than Ancestral Visions in some respects, however. First of all, Jace, the Mind Sculptor is a hundred dollar card. That is far from a dealbreaker. Lots of cards are expensive. However, unbanning such a valuable card does make the format some amount less accessible. Additionally, if you ever determined that a re-ban was needed, people would be especially angry. If you unban Jace, I think you have to be pretty sure you won't need to re-ban it. Of course, if you were confident in such a move, you could just reprint it in TBD to help with the supply…
Skullclamp is not even close. Remember how Jace and Stoneforge were the only cards to be banned in Standard in a decade? Before that, it was a whole bunch of Affinity cards preceded by a Skullclamp ban. While the Affinity cards were banned because of the deck, Skullclamp was banned on its own merits. Whether in Affinity, Elves, Goblins, whatever, the card is just absurd.
If Skullclamp was legal in Modern, it would promote really bad things. It would be broken with Affinity, Young Pyromancer, Lingering Souls, Elves, fast aggro, Faeries, and more. This one is not even close.
Umezawa's Jitte is a much more questionable inclusion, as it has never proven "too much" for a Modern format. It is a very powerful Magic card, no question, but it doesn't kill turn 3 and it doesn't suggest a single deck will take over. If Umezawa's Jitte was legal, how popular would it be? I assume it would be popular, but oppressively popular? Of course, the other problem is that Jitte greatly discourages people from playing "fair" strategies. After all, if you play a turn 4 combo deck, Jitte is usually no good against you. Whereas, if you play a "normal" deck, Jitte is game-warping.
Verdict: Worth considering, though there are some good arguments against it.
Finally, we come to Stoneforge Mystic, which could also be classified as fast mana, library manipulation, and/or an oppressive combo card (with Batterskull). Stoneforge Mystic is the strongest creature in the history of Magic, and if it were legal, it would instantly warp the entire format around it. Not safe.
Unban Options:
Okay, this gives us nine serious candidates. Realistically, I think there's little reason to unban more than one or two cards at a time. Even if you wanted to remove more, it'd be better on the format to do it in waves.
There are two questions to answer here.
1. How safe is it to unban these cards?
2. How much does it add to the format?
Unbanning Golgari Grave-Troll looks very safe, though the benefits to the format are questionable. It would make for some interesting exploration, and I think there's a reasonable chance it'd show up in some fringe strategy that doesn't break the turn 4 rule. Even though it's a fairly safe unban, let's say it does end up breaking something. It's an easy re-ban, as the card is miles from being a chase card. People know what it's hitting for when they exploit dredge strategies. You know what you're doing is unfair. It's no surprise if it gets banned out.
What do you think? Is it safe to unban Golgari Grave-Troll? Is it worth it?
While Ancestral Visions is obviously a gimme if you don't ban Treasure Cruise, that's probably not the world we live in. The printing of the blue delve cards has propped blue decks up in a big way, and I'd hate to see those decks disappear entirely. My confidence isn't the highest that replacing Cruise with Ancestral Visions is a good idea, but I'd love to hear thoughts on the subject from Modern players.
Maybe Cruise should be banned, maybe it shouldn't. This question is specifically for if it ends up needing to be. Should Ancestral Visions be unbanned?
Jace, the Mind Sculptor is not the most dangerous card on this list, and some argue it wouldn't even be that good with the way the format actually plays out. The price tag and the baggage that goes along with how angry people would be if he were re-banned has me thinking this is one for further down the road. It would be sweet if we eventually got to that world, but I think the only way this is an option in the near future is if Jace appears in TBD, this Spring. Even if that's the case, it's probably not a good option for January.
Bloodbraid Elf is probably the unban option that would add the most to the format, if safe. Power level aside, Bloodbraid is extremely fun and would single-handedly spawn at least one new archetype that is fair and healthy (as long as it is not too popular). The risk is that if Jund became 20% of the format, Bloodbraid Elf might not last. However, would Jund really take over? She doesn't have Deathrite Shaman to help her anymore.
Personally, I think that if the blue delve cards remain legal, Bloodbraid Elf getting printed would be a great way to spice up the format. Even if Treasure Cruise is banned, however, as long as either Dig Through Time, Ancestral Visions, or Jace, the Mind Sculptor is legal, I think the format can probably take the pressure Bloodbraid Elf would put on it.
What do you think? Would you like to see Bloodbraid Elf come back?
Cloudpost and Green Sun's Zenith have to be discussed together, as unbanning one probably rules out unbanning the other. Unbanning Cloudpost is probably safer, but it's questionable how much it adds. On the other hand, unbanning Green Sun's Zenith could add some dimensions to the format, but it is risky.
Is it safe to unban Green Sun's Zenith in either world (Cruise or no Cruise)? Would unbanning Cloudpost be worth the risk?
Umezawa's Jitte is one of the least likely to be unbanned on this list, as it isn't super safe, steps on "fair" decks, and doesn't really spawn a new archetype so much as just go in existing ones. That said, it is technically an option. Anyone want to make a case for it getting unbanned this time around?
Finally, we come to Punishing Fire and Sword of the Meek. Unbanning either would prompt new archetypes. Neither violate the turn 4 rule. Would either actually be oppressively popular? Are they too frustrating to play against?

It's interesting to consider that both getting hit with splash damage from the graveyard hate that has grown so popular. It's also worth noting that Punishing Fire would be an extremely effective foil against Delver decks if they grow in popularity. This makes me find Punishing Fire a more attractive candidate than Sword of the Meek, though both cards kind of sit on "fair" strategies, much the same way Umezawa's Jitte does. This reduces the odds of an unban this time around, but they would each add at least one new deck.
What do you think? Is it safe to unban either one?