Have I mentioned how much I love Standard right now? Week in and week out, new decks keep popping up at big events. And they aren't just making brief cameos in the coverage either. These are legitimate contenders, putting up top 8 finishes and taking home trophies. Just this past weekend, in fact, the two decks that squared off in the finals of the Richmond Standard Open were both making their major tournament debut. There were even two other new decks in the Top 8. The format is anything but Standard!
Let's take a look.
Starting from the top, we have Harlen Firer's Jeskai Token Combo deck. This thing is seriously a work of art. I didn't get a chance to watch very many of his games throughout the weekend, but I did catch the finals, and the plays I saw Harlen pulling off were absolutely gross. On the final turn, he convoked a Stoke the Flames with four creatures, including two Monastery Swiftspears, and then untapped them with Jeskai Ascendancy to convoke another Stoke, untapping his creatures again to attack for what seemed like a thousand damage.
It's funny how Jeskai Ascendancy was all the rage at the Pro Tour in dedicated combo shells and failed to put up impressive results, but since we have seen multiple successful builds that marry the combo with other ways to exploit the powerful enchantment. I was similarly impressed by the hybrid Jeskai Heroic Combo deck we saw win a few weeks back in the hands of Ivan Jen, since he was able to play a very real aggressive game and incidentally win with the combo quite often.
Of the two, I think I have to give the nod to Harlen's deck as the one that seems stronger. For starters, it just has a higher density of quality cards that work reasonably well on their own. I talked at length last week about the power of Goblin Rabblemaster and Hordeling Outburst, both of which are totally reasonable cards on their own, but pair particularly well with Jeskai Ascendancy.
As Harlen's final game showed, Jeskai Ascendancy is naturally very powerful with tokens even when you're playing an honest game. Incidentally, so are Springleaf Drum and Stoke the Flames. Even when you aren't going off with Retraction Helix, all of the elements of this deck mix together quite well and form a powerful proactive plan.
Perhaps even more impressively, this deck is naturally resilient to spot removal. While a card like Magma Spray might be very effective at shutting down the heroic focused version of the deck, using so many token generators makes this deck hard to answer using the typical sideboard cards many players have available to them. You're certainly still vulnerable to things like Drown in Sorrow or Doomwake Giant, but you scoff at spot removal. That's a pretty great position to be in, considering that a huge percentage of Standard decks are loaded with cards like Hero's Downfall and Abzan Charm. When the best target you're ever presenting is Goblin Rabblemaster, three casting cost removal looks downright embarrassing.
Next up, we have a deck that could not be more obviously a Shaheen Soorani creation. Shaheen probably plays control more often than I play green, which really takes some doing. If you do a search through the StarCityGames archives for decks with him listed as the creator, you'll find something of a theme. Not just a bunch of U/W and Esper Control decks - though that is certainly the case - but more specifically planeswalker-heavy versions of those builds.
Shaheen once claimed the moniker of "Expensive Sorcery Master," and while the card type is different, he certainly seems to still like tapping out during his main phase for powerful cards. His deck from Richmond is no different, eschewing the Perilous Vault plus Pearl Lake Ancient package that has been popular in U/B Control decks for eight planeswalking friends. He protects them with a suite of discard, removal, and countermagic, along with an actual expensive sorcery - End Hostilities.
Many people have gone around claiming that control is dead without a four casting cost Wrath effect, the last of which left when Supreme Verdict rotated out. Shaheen went about proving the naysayers wrong, however, by making good use of the even more expensive sorcery that is End Hostilities. While he may have caught a few Heralds of Torment and Boon Satyrs with the "…and all permanents attached to creatures" clause, he was certainly primarily in the market for "Destroy all creatures."
The recent shift away from more aggressive decks like Jeskai Aggro and toward midrange decks like G/B Constellation, Abzan, and Mardu puts Esper Control into a much better spot. Not only is End Hostilities much more viable as a sweeper against decks with four and five casting cost creatures, but the planeswalker package lines up much better as well.
Ashiok, in particular, is a card that is extremely powerful against opponents who spend their early turns developing their mana instead of attacking. The Sultai deck that my team played in Pro Tour Journey Into Nyx was largely built around the power of Ashiok in a midrange format. It's hard for an opponent to pressure Ashiok effectively with more expensive creatures, especially when you have countermagic and removal to protect the Nightmare Weaver after coming online. Depending on what creatures you exile, both the ultimate and the minus X abilities are a real threat, and your opponent has to expend a lot of resources dealing.
And then Elspeth comes down. We saw how powerful Elspeth could be in a midrange format at Pro Tour Journey Into Nyx. The Sun's Champion hadn't seen nearly as much success since, certainly in part due to the popularity of more aggressive decks like Jeskai, against which she doesn't do very much. With the format slowing down and making a control shell like Shaheen's more viable, Elspeth is making a comeback, much to the dismay of four power creatures everywhere. Poor Savage Knuckleblade!
While Shaheen's deck really isn't my style, I certainly respect that he has found a way to build a deck that is so quintessentially his and managed to do well with it. I've run into similar decks several times recently on Magic Online, so it's clear that Mr. Soorani isn't the only one longing for the glory days of control. If the format continues to look like it has, they may get their wish, but if there's been one constant this Standard season, it's that things are constantly changing.
In fact, here's yet another new deck from Richmond!
Abzan Aggro was a deck that showed up at Pro Tour Khans of Tarkir and made the semifinals in the hands of Mike Sigrist, but Aaron's deck is very, very different. Where Mike's deck was centered around powerful two-drops, Aaron's build is even lower to the ground, packing a full eight one casting cost creatures, all with two power. He also has ten two-drops and tops off his curve with the ever-present Siege Rhino, but that's where the similarities end.
Whereas Sigrist rounded out his deck with utility and removal spells like Thoughtseize, Bile Blight, and Hero's Downfall, Aaron is all-in on the aggro plan. Every single spell in his deck, including Abzan Charm, is a combat trick capable of punching through extra damage. While Aaron doesn't have the Heralds of Torment that Mike used to fly over his opponent's creatures, he can still easily break through blockers on the ground by pumping up his team.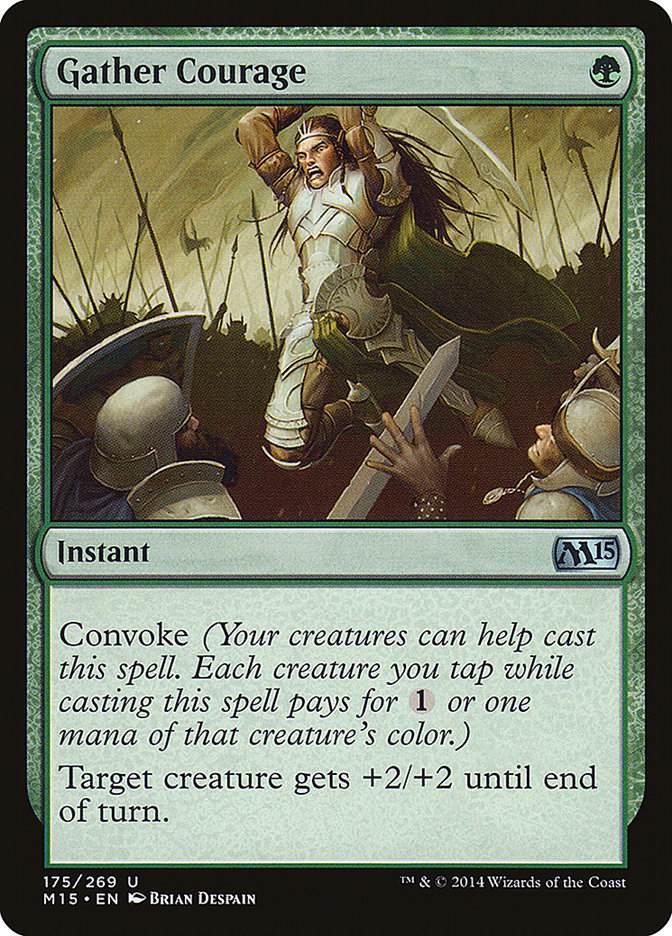 My favorite card in Aaron's deck is definitely Gather Courage, which pretty much plays the role of Mutagenic Growth here. Back in Scars of Mirrodin block, we played Mutagenic Growth in our Tempered Steel deck because the popular removal in the format was Galvanic Blast and Dismember, both of which keyed in on the size of the creature. Mutagenic Growth allowed us to protect our Heros of Bladehold from Dismember even if we were tapped out, which was generally a game-winning tempo swing.
Standard right now is much the same, at least as far as cheap removal is concerned. Yes, there are cards like Hero's Downfall and Murderous Cut, but the front lines of defense are Lightning Strike and Bile Blight. If Aaron taps out on turn 2 for a Fleecemane Lion and his opponent taps out to kill it with Lightning Strike or Bile Blight, Gather Courage is very nearly Time Walk. It effectively counters the opponent's removal spell for zero mana. It's a huge swing.
And as much as I appreciate Aaron's single-mindedness in his maindeck, his sideboard provides a lot of tools to mix things up. Nyx-Fleece Ram and Sorin are clear concessions to the pain of his manabase and the recognition that he may need some help against other aggressive decks. And while I like the absence of Thoughtseize in his maindeck - it's a card I found myself cutting from my aggressive Abzan decks while testing for the Pro Tour since I wanted all of my cards to be proactive - I like it in the sideboard as a way to deal with opposing sideboard cards that can potentially be troublesome, like Drown in Sorrow or Anger of the Gods.
Last, but certainly not least among the new decks from Richmond, is Brad Nelson's Four-Color Midrange deck.
Brad is someone who I have long respected as a deckbuilder and tuner, and I have to say that I'm a big fan of what he's done here again. If you look at many of the decks in Standard right now, it's clear that they're built around many of the cornerstone cards from the different clans. Jeskai has Mantis Rider and Jeskai Charm, while Abzan has Siege Rhino and Abzan Charm, and Mardu has Butcher of the Horde and Crackling Doom. It seems like Brad just looked at a bunch of the best cards in the format and asked - "Why not just play all of them?"
This deck is the quintessential "good stuff" deck. Just look at that removal suite! Chained to the Rocks, Crackling Doom, Lightning Strike, and Murderous Cut are the absolute all stars of the format when it comes to killing creatures. Each is pretty much the best in show when it comes to cost and flexibility, which is something you might expect to see out of a Mardu deck. And yet here Brad is pairing them with green creatures! How many people would try to pull off playing the same number of Chained to the Rocks as actual cards with the type "Mountain" in their deck?
One of the biggest weaknesses of a deck like Abzan is the inefficiency of its spells. While Courser, Caryatid, and Siege Rhino are all great, they're not very easy to cast in the same turn as Hero's Downfall or Abzan Charm. The addition of Chained to the Rocks and Lightning Strike gives Brad's deck significantly more efficient removal. Switching Bile Blight and Hero's Downfall to Lightning Strike and Crackling Doom also adds a significant amount of reach, which happens to combo quite well with the life loss from Siege Rhino - and with Brad's planeswalker suite.
Sarkhan is especially potent in Brad's deck, because he's well equipped to use all of the abilities effectively. The Dragonspeaker can help clear up the battlefield along with a removal heavy draw and can also fit right behind Siege Rhino or Butcher of the Horde in an aggressive curve thanks to Sylvan Caryatid. Elspeth provides finishing power that happens to combo especially well with Butcher, fueling the hungry demon with a stream of soldiers if need be. Butcher also provides a great use for Caryatids that may no longer be necessary in the mid to lategame, helping push through a final punch.
My favorite card in Brad's deck though - and this is probably just due to massive personal bias - is Ajani, Mentor of Heroes. Ajani is an extremely powerful card that has not seen nearly as much play as it deserves, and Brad's deck is perfect for it. Not only does he have great creatures to pump in the form of flying Butchers and trampling Siege Rhinos, but he has a significant planeswalker suite, as well as even a removal spell to dig for! The fact that Ajani can dig up Auras works exceptionally well with Chained to the Rocks, especially since the cheap removal spell can help buy you back the time you spent tapping out for Ajani. And who knows - maybe someday someone will actually ultimate Ajani for the 100 life.
Brad's deck also has a great selection of sideboard options, which really ought to come as no surprise since he's playing so many colors. I haven't quite determined the particulars of which cards he wants when, but many of his choices have awesome flexibility. I particularly like the inclusion of Xenagos, which was a powerful card last Standard season that fell out of favor thanks in large part to Mantis Rider. If control decks like Shaheen's become popular, Xenagos is one of the best possible cards against them, since it puts them under constant pressure as early as turn 3 with a mana creature.
Brad's is probably my favorite of these decks, but more than anything, I'm just happy to see so much innovation and variety in Standard. It's been months since Khans of Tarkir first came out, and still we're seeing new ideas and new decks constantly. I'm excited to dive back into Standard this weekend at Grand Prix San Antonio, and I'm intensely jealous of those of you who live within driving distance of the many Standard Opens, especially with the huge increase in prizes next year.
What do you think? Which of these new decks is your favorite, and do you think there are still stones left unturned for new Standard deck?