Surely you heard it in your head the moment you read the title.
Da-da-da-da-da-da-dadada-da...
Doesn't that take you back a decade?
Secrets abound in and around Magic, from the mystery of the opponent's just-drawn card (well, assuming there is no Courser of Kruphix on your foe's side of the battlefield) to the non-disclosure agreements that keep upcoming Magic sets under wraps (well, assuming it's not Modern Masters 2015, where the only difference between what was called within minutes of "Grand Prix To Be Determined" being announced and what actually came to pass was the "015" at the end).
What interests me the most about secrets though, is how they influence character.
What? I'm a storyline geek. That's hardly a secret.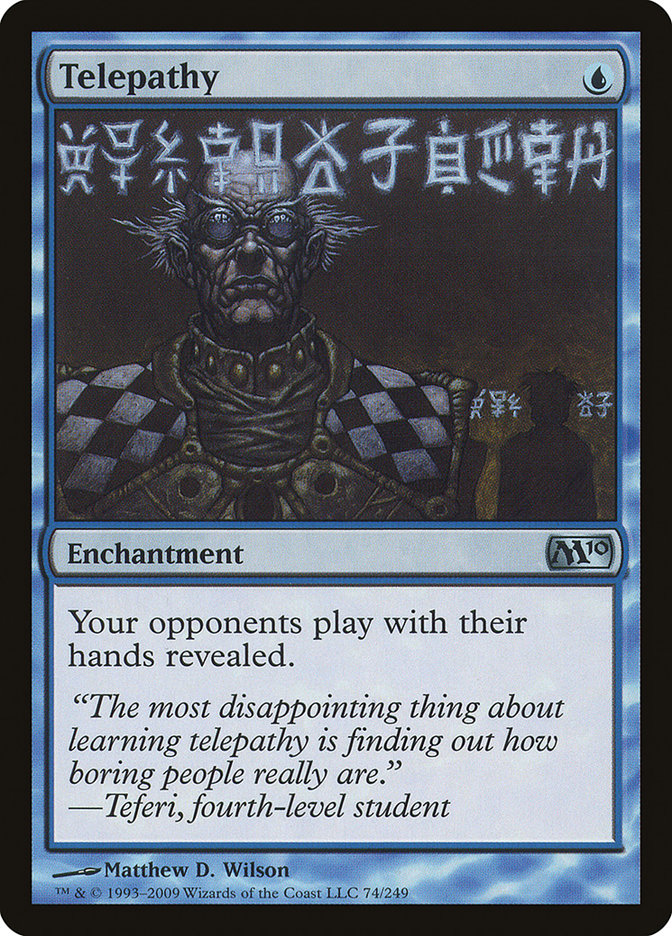 See one mind, see a surprisingly large number of them.
I've Got a Secret
It's one of my favorite game shows, but for some people, living with secrets can be existence-warping, even debilitating. One need only consider the many marriages shattered by affairs to know what can happen when secrets come to light, or the struggles of those forever changed by war. Those who follow theWorld Chess Championship and the reign of the young and talented Norwegian Magnus Carlsen might recall another top youthful player who became caught up in international intrigue, won a World Championship, self-destructed, and died a bizarre and hateful shell of his former self.
The late Bobby Fischer , receiving a trip to Moscow in the late 1950s. Needless to say, the Feds were interested...
It is possible to see hints of those struggles from a distance, but how many people truly understand what aMedal of Honor recipient has gone through, for example? It's not a long list. Now imagine something statistically even rarer than a Medal of Honor recipient, a literal one-in-a-million chance that falls without regard to goodness or skill across souls. That's the planeswalker spark, and planeswalkers themselves are even rarer than that; there's no rule that a planeswalker spark has to ignite.
And instead of talking to each other, having a wide support group, what do most planeswalkers do? They try to annihilate each other.
Conflict is the name of the Magic game, of course, and genuine friendships between current planeswalkers are rare. They also tend to get broken up extremely quickly (Venser, Koth, Elspeth, and Karn in Scars of Mirrodin; Elspeth and Ajani in Theros...basically, Elspeth and anyone, planeswalker or no, but that's another topic).
Let's go back to Jace, specifically the time between Jace, Architect of Thought and Jace, the Living Guildpact (aka the timespan represented by The Secretist). Now, I know some of you still haven't read that marvelous e-book yet, relic of a currently bygone Magic novel age, so have a Jace, the Living Guildpact before the spoilers.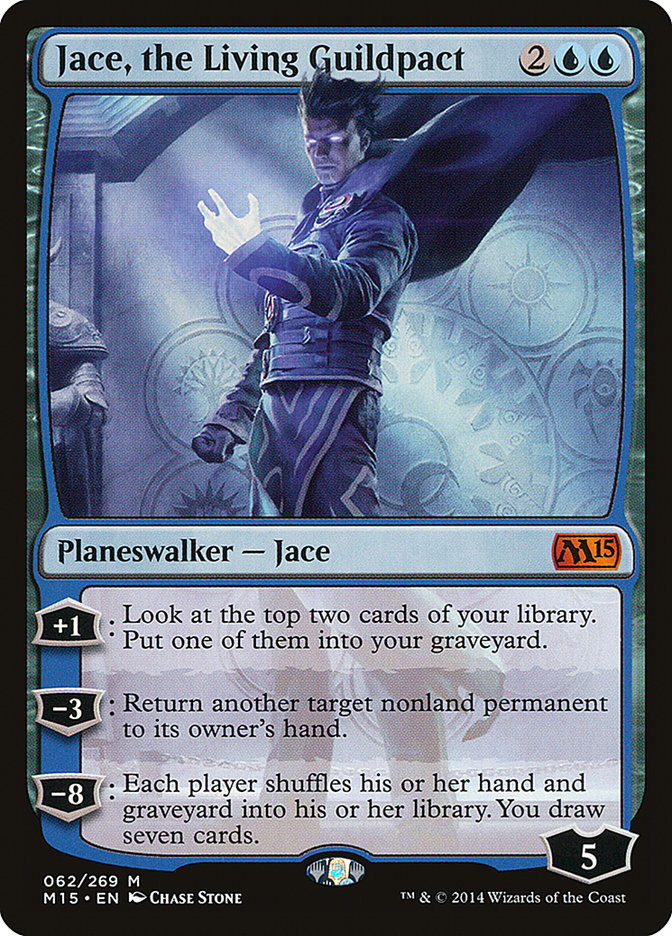 "I just read your mind. Your favorite guitarist is Sameer Bhattacharya from Flyleaf. Interesting..."
On the plane of Ravnica, Jace finds himself a love interest, Emmara Tandris of the Selesnya guild. (Yes, the 5/7 Elf Shaman of Dragon's Maze infamy. Get your Sir Mix-a-Lot jokes out of your system now. Also, the original Ravnica established human-elf romance as accepted on that plane; see Fonn Zunich.) One of the things that keeps Jace at a certain remove from Emmara is the very secret of planeswalking itself.
How could one explain something like that?
I mean, imagine your best friend walked up to you and said, "Hey, I just went on a trip. Turns out there's this other world, and it has dragons and stuff..."
After establishing that this friend a) is not talking about a book or movie or video game, b) is not under the influence of any psychoactive substances, and c) is deadly serious, what's your reaction?
Mine involves a suggestion to see a counselor, because things just got weird in Best Friend Land.
Not surprisingly, the revelation (induced by another local planeswalker, Ral Zarek the Jerky Jerkface) shocks Emmara, whose relationship with Jace hits the skids. After a bunch of weirdness and a Mind Sculpt from Jace (unlike his usual, it was consensual...probably), they get back together, for a certain value thereof, and with the uncomfortable understanding that the Living Guildpact having a Selesnya gal-pal irks the other nine guilds.
Now what of Ral Zarek, whom I dubbed Jerky Jerkface?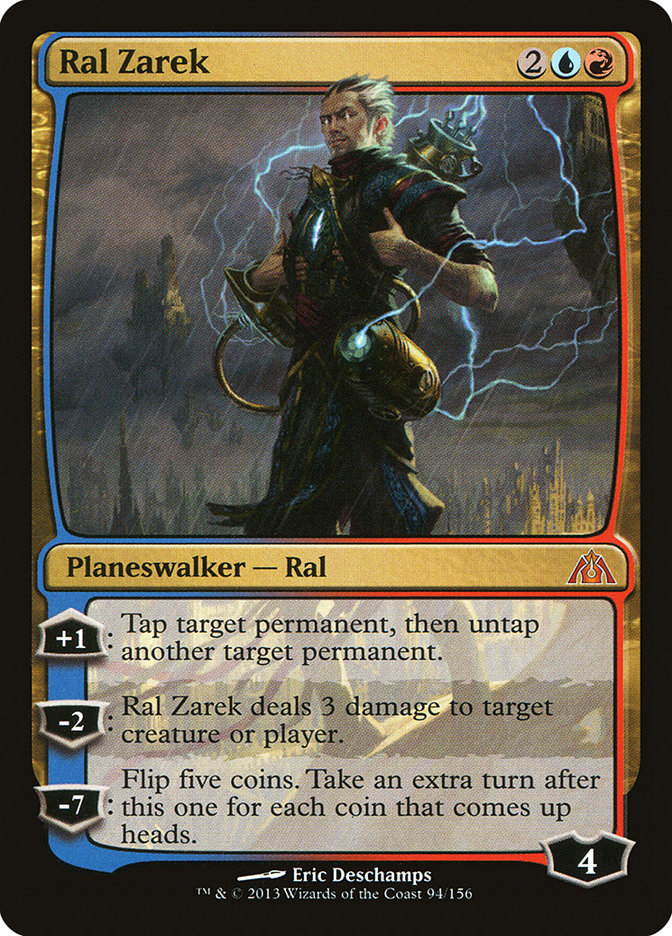 He's a genius. Just ask him.
Ral Zarek managed to keep his planeswalking secret from Niv-Mizzet, Dracogenius, a feat in itself. On the other hand, he revealed his status in front of Emmara Tandris, then a rival runner of the Dragon's Maze, in order to force a rift between another planeswalker and his "extremely close" friend. His insufferable semi-stifled genius act is the overwhelming dimension to his personality...and as planeswalkers go, his body count is surprisingly low.
Corpora Solum Icant
That's Latin (as best I can assess it) for "let the bodies hit the floor."
Nicol Bolas has a rap sheet longer than his draconic life. Sorin Markov has lived millennia himself, and even assuming a rate of one adult human a month for the bare minimum of Innistrad-vampire life-sustainment, that's a lot of nom-nom murder. Tibalt, the Fiend-Blooded is young and careless, and also a sadistic torturer loose in the Multiverse.
Even Karn, who has forsworn killing, has been forced to slay against his will.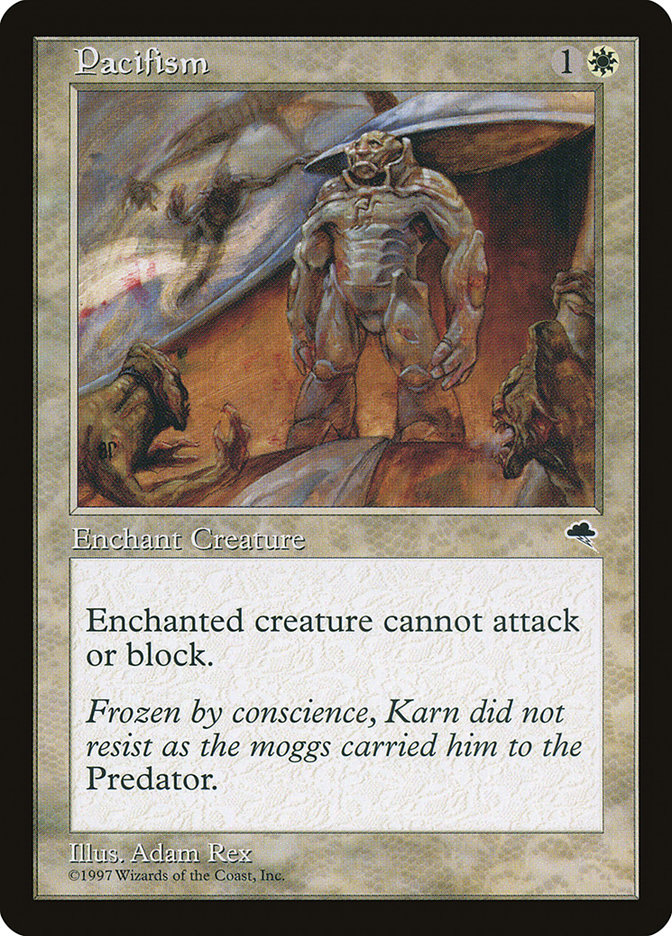 It involved the magical analog of a cement mixer and a bunch of moggs. Don't ask.
Tamiyo, the Moon Sage hasn't been confirmed as killing or hurting anyone, but details about her are so scanty, who knows what's in her past? We don't even know how she ascended. (If you do, please post in the comments! I want to know!)
I've mentioned before that I consider "sociopath" to be the baseline for any planeswalker past the initial burst of the spark igniting. (Exhibit A. Exhibit B.) I also used that approach to inform the story I wrote for Bennie Smith's The Complete Commander, though in that case I played it for laughs.
An older version of the Dungeons & Dragons Player's Handbook described the separation from others that the sorcerer class felt, and how while good sorcerers often try to prove themselves as worthy to those around them, evil sorcerers feel "apart and above" the masses and develop a sense of entitlement and control. In Magic, every planeswalker has the capacity for spellcasting, often a poorly understood capacity, and knowledge of worlds and systems beyond what they once had believed was the one and the true.
Oh yes, and this knowledge usually hits in the immediate aftermath of a massively traumatic event, like a near-death experience. Imagine a Silicon Valley techie getting hit by a bus, waking up in a monastery on a remote island, and getting told, "You can cast fireballs with your mind now. Get good in the next ten minutes. There will be a quiz. You fail, you die." That...gets close to what the first planeswalking experience is like.
Is it at all shocking that Xenagos, the Reveler would become embittered by the discovery that the gods of Theros were gods of only one of many worlds? How petty they must have seemed...and how easy to join their number!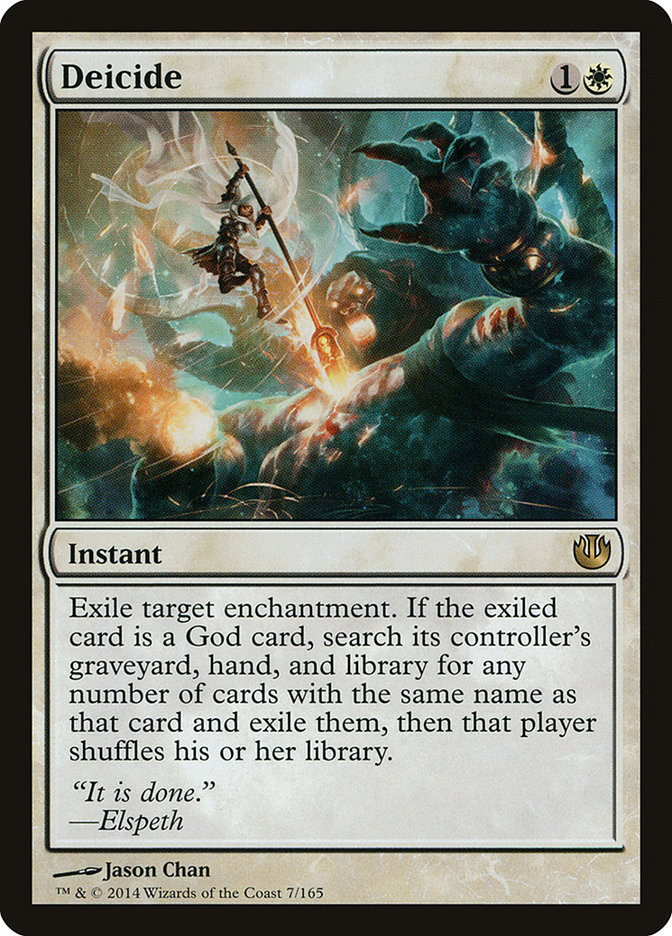 She doesn't know who's next.
Like Ozymandias from Watchmen, faced with worldwide catastrophes that they might have the power to stop, even order-aligned planeswalkers discover their philosophies and ethics challenged, and over the years several planeswalkers have chosen routes that would lead to death and destruction for some to spare a larger number. Nahiri, the Lithomancer made that choice alongside a young Sorin Markov and a (presumably old) Ugin when they sealed the Eldrazi away on the sparsely populated plane of Zendikar. It was a good deal for the rest of the Multiverse...at least, for the time the Eldrazi were locked away...but certainly a bum deal for all who live and have lived with the subsequent erratic nature of Zendikar, and of course, the tentacled monsters of doom.
Remember, these are the planeswalkers, for their time, who would have been considered on the side of "good." Now compare someone like Liliana, who openly looks out for herself and nobody else. She was willing to take a group of cathars hostage on Innistrad, condemning them to death by zombie unless Thalia, Guardian of Thraben allowed the Helvault to be destroyed. All that, just so she could get to one of the four demons with power over her: Griselbrand.
Players themselves, the "You" in "You are a Planeswalker," don't fare so well either in this analysis. The ideas behind the words "Sacrifice a Human" are inherently squicky for virtually anyone alive today, but nobody really stops to think about the Wild Cantor's opinion on getting sacrificed. (Those who do, like players of xkcd's "FPS Mod," either learn to ignore it, leave the game, or write articles about it.) Arguably the most ethical player-planeswalkers are Charbelcher players in Legacy; at least they have the potential to win a game on the first turn possible without letting any innocent creatures come to harm: Lotus Petal, Rite of Flame, Rite of Flame, Rite of Flame, Goblin Charbelcher, point and fire at opponent. Of course, Empty the Warrens puts Goblin tokens at risk, and Simian Spirit Guide...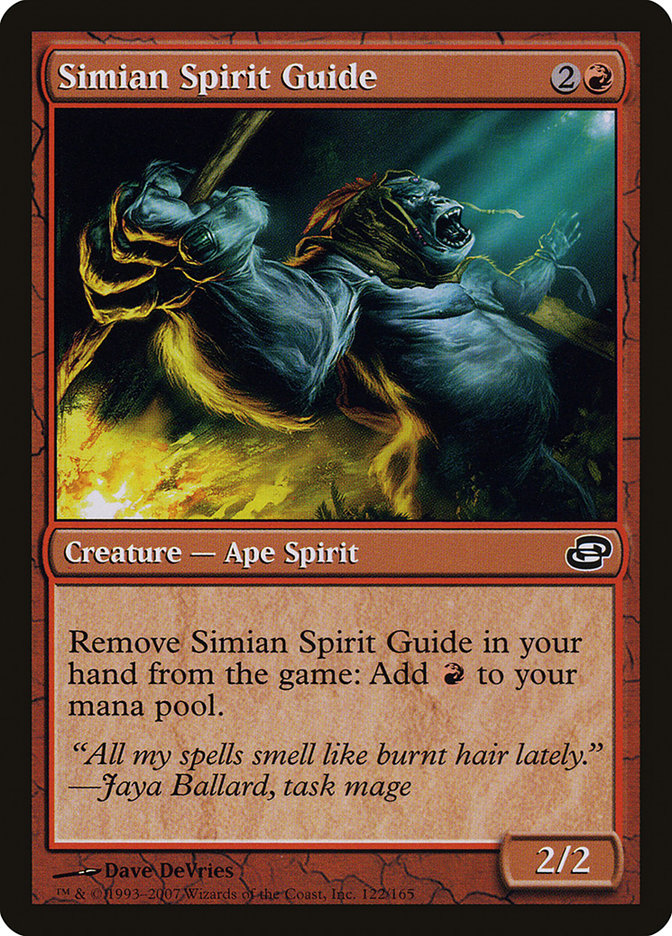 Burnt hair doesn't smell good.
Mr. Beety Goes to Washington
Washington State, that is. If you're reading this on Wednesday, tomorrow I'll be on a plane and on my way to the Invitational in Seattle/Tacoma. I hope to see you there, and if I don't see you, maybe you'll see me! The SCGLive cameras will be rolling all weekend long!