These past two weeks have been somewhat of a blur to me, but with my win at Grand Prix Baltimore and second place finish at the Players' Championship, the chaos and hard work was well worth it. It all started just about a month ago as real life stuff got in the way of attending many Open Series events and I was getting pushed to the bottom of the Season Four Leaderboard. Since I worked so hard early in the year, I made it a priority to attend a few IQs at the end of the year, and managed to pick up enough points to lock up my seat to the big show.
With my seat to the Players' Championship locked in, I turned all my attention to practicing for Grand Prix Baltimore, which was Khans of Tarkir Limited. The Monday before the event, I went to Erik Smith's house to help teach him the format. I felt I had a good grasp of the format and wanted to share my knowledge with my good friend. I told him all my thoughts on how important card advantage is in the format and forced him to value Rakshasa's Secret very highly for the weekend. Rakshasa's Secret is one of the most important cards to my delve card advantage strategy, as it does exactly what you want it to as far as enabling the strategy. At first he wasn't sure about it, but soon he was on board with drafting them highly and forcing Sultai.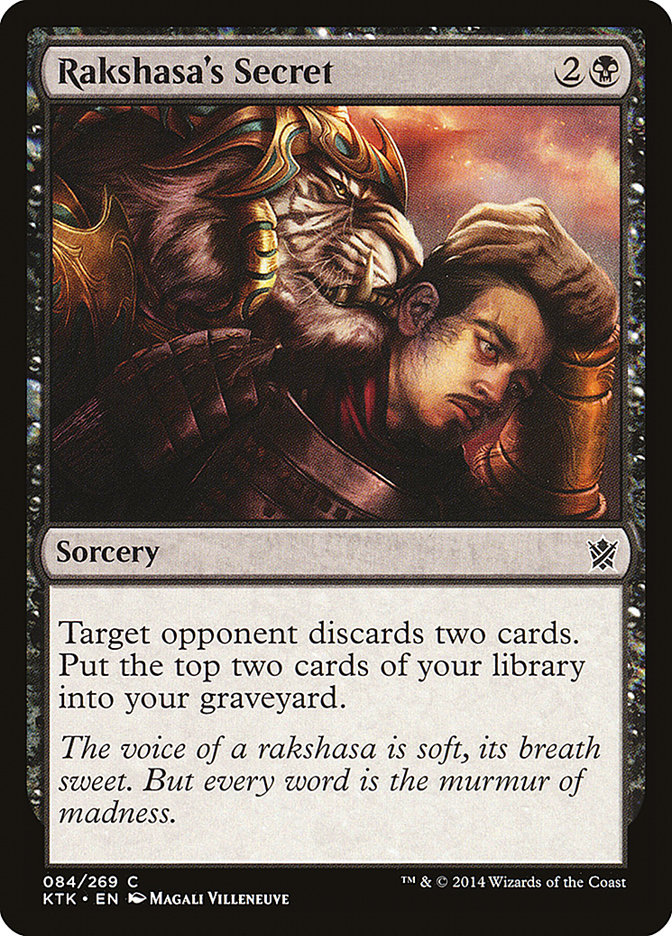 A few days later, the Grand Prix was underway. I was excited to see what Card Titan would put together, as they were running the Grand Prix, and they didn't disappoint. The venue was great, and after putting in hundreds of hours of work in the format, I received a Sealed deck I was very happy with. The deck I registered was a very solid Sultai deck that featured three rares: Rakshasa Deathdealer, Thousand Winds, and Sultai Ascendancy. I believed with my preparation and the card pool I received, that I would be able to have a good chance to make the second day of play.
However, after five rounds of competition, I found myself with a 3-2 record. Mad and upset would not even describe how I was feeling, so let's go with furious and lugubrious. I was furious that I allowed myself to have picked up two losses in my first three rounds of play and lugubrious that even after what felt like countless hours of practice, I was almost completely out of the tournament. I walked directly to the snack bar in a mindset that I did not want to talk to anyone. I ordered a burger and fries that I was ready to smash to help calm my tilt, but that wasn't enough. Before making it to the cashier, I grabbed a bag of Doritos and was really ready to stuff my face until I had calmed down. I sat down to eat alone, but quickly realized someone was to the right of me. I turned to see who it was and it turned out to former Pro Tour Champion and great guy Brock Parker.
I've known Brock for almost fifteen years, and he is a player I have a very large amount of respect for. Honest, smart, jolly, with a unique mind for Limited, and willing to listen to a good tilt story, I ranted about how my deck was really good, how I felt every time I made a judgment call I got punished, and about all the hours I put in apparently not mattering. The more I ranted, the more I realized Brock's been through it all. Brock was 7-2 going into day 2 at the last Grand Prix he won, 9-0ing the drafts, and he was at "Brock Bottom" when he won his team Pro Tour in 2003. You see, without Brock knowing it, he was actually motivating me because no matter how much I complained, it didn't matter. I knew that all I could do was play out the day and try my best.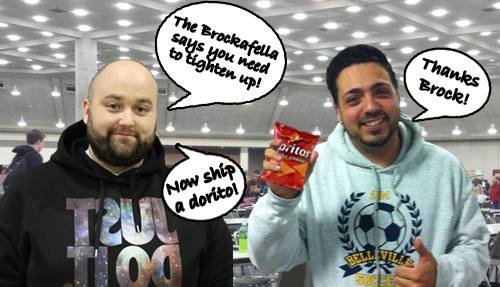 @MishrasFotoshop
The next four rounds of the day were as intense as they come, and I barely won my final round while fighting through a Death Frenzy and double Dead Drop. I was ecstatic that I was on to day 2 with a 7-2 record, especially after starting out 3-2.
Afterwards, I headed to PF Changs with my Pennsylvania buddies and spoke with my good friend Ryan Phraner about Standard, Legacy, and the Khans of Tarkir booster Draft. For Standard, he really disliked Sultai Reanimator - especially versions with Sidisi, Brood Tyrant. For Legacy, he was on board with my idea to play Abzan with maindeck Chains of Mephistopheles. And for Draft, he just told me to do what I felt confident in.
After some good chats and a super medium meal, we headed back to the hotel. The morning came quick, and I found myself at a Draft pod with some solid players and a very good one in Jamie Parke. I stuck to my plan of drafting 4-color (no red) delve and ended up with a deck I was happy with. I won my first two rounds and then was paired up against Steve Rubin for the draft win. I knew this would be a tough match, and Steve had a great deck to make it even tougher. We split the first two games, then in between games I had an idea to board in Feed the Clans.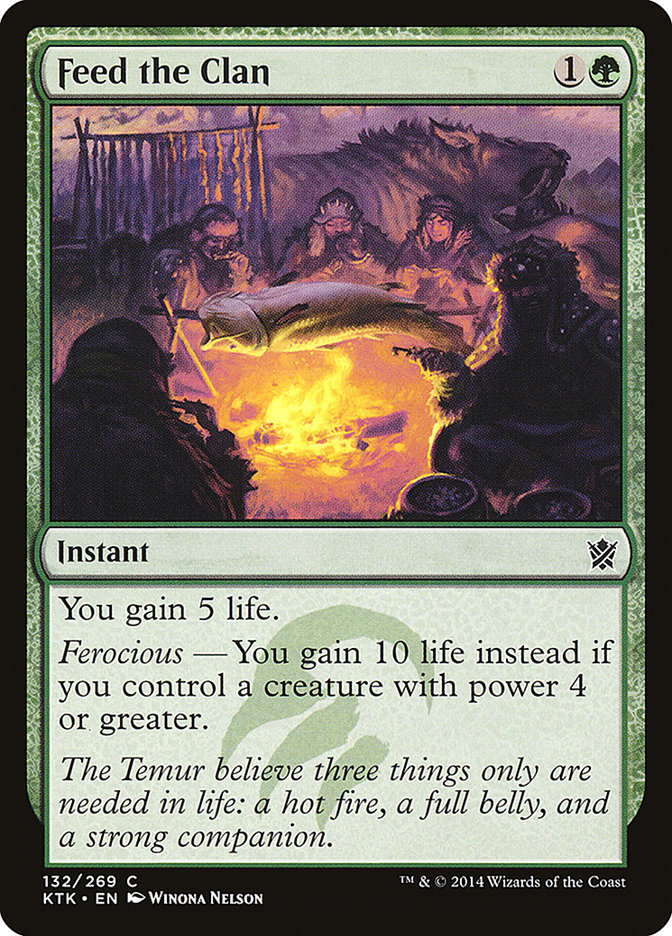 YES! Feed the Clans!
My thought process was that Steve was trying to tempo me out, and since my deck had a decent amount of card drawing I figured it would be okay to play a mediocre card that would help the game go long. On one of the final turns of the game I managed to close it out by gaining ten life, which helped me win a game I most likely would have never won without it.
I now found myself with a 10-2 record. My final pod was once again filled with a handful of solid players and a very good one in Harry Corvese. My plan was once again the same, and I managed to pull it off. After winning the first two rounds, I found out I that would be playing against Harry Corvese for top 8. At this point, I was on a nine-match winning streak, and the emotion I was feeling was somewhat indescribable. I was putting literally everything I had into this tournament, and at one point I almost felt like breaking down and crying. This was something I wanted so bad, and I was so close to making the top 8. I knew Harry would be an extremely difficult and tough opponent, but I managed to pull it off in three games. Top 8!
I felt extremely grateful and wanted to make most of my chance at winning the tournament. Fortunately, my draft was covered and can be found below for your viewing pleasure.
I was very happy with how my deck turned out and knew that my side of the bracket was very difficult. In top 8 I was able to defeat Pro Tour Dragon's Maze champion Craig Wescoe. In the top 4 I was up against Hall of Famer and Pro Tour Paris champion, Ben Stark, but was able to defeat him as well.
In the finals, I was matched against David Foster.
The finals was crazy as I won game 1 with no cards left in my library. Game 2 was looking pretty bad, and I realized I needed to find my Dead Drop to have a chance. I had a Sultai Flayer in play and figured I could take a turn off from playing a creature and instead cast Bitter Revelation. My thought process was that this would help me dig for Dead Drop while filling up my graveyard. Since I had a Sultai Flayer in play, I knew I could chump block, gain four life, and basically fog David for a turn. I ended up finding my Dead Drop and stabilizing at one life. With me now out of mana screw,and with seven spells in hand, I felt I had a real shot to make a comeback.
However, at this point a judge stopped the match because both I and my opponent missed the fact that because of David's Anafenza, the Foremost, my Sultai Flayer would never die since it would never go to the graveyard and instead be immediately exiled. Because of this, I should have not gained the four life. The judge ruled that since a couple of turns went by it would be too late to rewind the game and that the game would continue as is, with me at one life.
Now as the judge made his ruling, I also made mine.
You see, when I was growing up in Magic, I always tried to surround myself with players that I thought were not only good players but also good people. Jon Sonne, Mike Sigrist, and Jeff Magid were players I would hang out most with at events because I believed in their character. I looked up to heroes of the game like Jon Finkel, Jelger Wiegersma, and Mike Turian, players who put honesty and fair play over winning. I was now in a position to make them proud. I knew I would not want to win in any type of unfair way, and I knew that the only way to make our mistake right was to concede the game and move onto game 3, so I did just that.
I did it for the honor of the game, I did it for everyone who supported me, and I did it because I knew it was the right thing to do.
Game 3 started out rough as I took a mulligan and David started off with a turn 3 Anafenza, which was probably his best card for the matchup. David then added another creature to the board, and I was facing a lot of pressure. However, thanks to a Sultai Charm I was able to dig into my deck, fill up my graveyard, and play a Dead Drop on turn 5. After that, my card drawing kicked in, and I was able to close out the game. I was so unbelievably happy and proud of my win. Before my winner's interview I was handed both my trophy and this gigantic Sagu Mauler.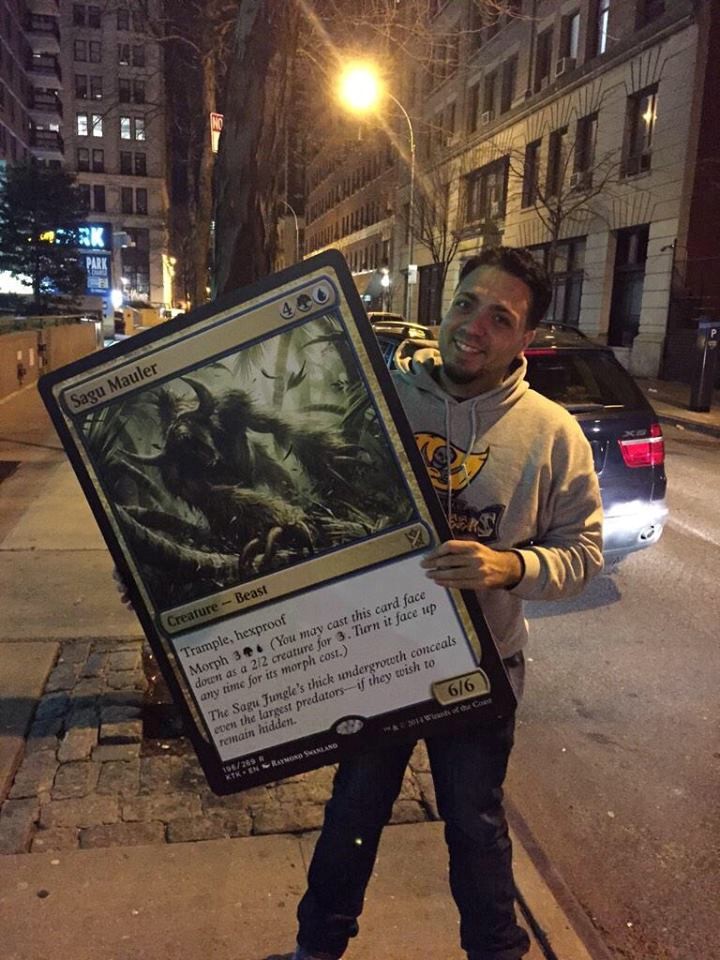 It was a great feeling to win the Grand Prix, and I'm super grateful for all the support I got from you guys. However, I knew that I had to continue to put the hard work in since the Players' Championship was right around the corner. I didn't have too much time to test, but I managed to make my way up to Sugar Loaf, New York and get some games in with Andy Boswell and Reid Duke. As I mentioned earlier, I was set on Abzan for Legacy, as I wanted to metagame against the field with Chains of Mephistopheles and Choke, but the deck wasn't playing out smoothly. Knight of the Reliquary was heavily underperforming, and Dark Confident kind of lost his touch in Legacy, as it just gets overpowered by Treasure Cruise. After a few more games, Reid and I decided to head to the local diner. While we were there, we brewed up a Sultai Control list that incorporated the Sensei's Diving Top + Counterbalance package. We figured that the deck would match up fairly well against most decks giving me just about a 50% chance against the field.
Creatures (10)
Planeswalkers (3)
Lands (20)
Spells (27) As far as Standard was concerned, I knew that I wanted to play a Sultai deck. I didn't really care if it was based around Eidolon of Blossoms, Whip of Erebos, or Sidisi, Brood Tyrant (or all three). I just knew that I wanted to play Thoughtseize, Ashiok, Nightmare Weaver, and Courser of Kruphix. Reid worked on a G/B Constellation deck for the Magic World Championships where he went 4-0 in Standard and thought adding blue would help solve any problems that the deck might have.
Creatures (23)
Lands (23)
Spells (14) Now that my decks were set, I was ready to head down to Roanoke, Virginia with Reid for the Players' Championship. I wasn't really sure what to expect, and to be honest, I wasn't even sure how the tournament worked, but it was really exciting and a lot of fun. Having fifteen of the best players from the Open Series in the same tournament was just awesome. I have to say that even though there was a lot on the line, most of the players were super friendly and fun to be around. Both Kent Ketter and Dylan Donegan really impressed me with how happy they were to be there. The respect they had for the other players and the game was remarkable. I was happy that they both made it past the first round of elimination. Unfortunately, like half the players, they both ended up barely missing the cut for the second day, but with the talent that was there, that's nothing to be ashamed of. Due to some lucky breaks, I managed to make the second day and was ready to try out my Sultai Control deck for Legacy.
The second day was set, and I was drawn into a pod of Brian Braun-Duin, Brad Nelson, and Joe Lossett. I felt that all my matchups were winnable because after sideboard, I would be able to sculpt my deck to be set up against all three decks that they brought to the tournament. After three more rounds, I found myself a lock for the top 4, as I lost to Joe, but defeated both BBD and Brad.
I can't really tell if my decision to not have Force of Will was a good or bad one. On one hand, Force of Will is a very powerful card since it allows you to combat whatever your opponent is trying to do at the cost of no mana. On the other hand, the purpose of the deck is to play a card advantage type game and Force of Will is pure card disadvantage. Given the fact that there were slightly more combo decks than I expected, maybe it would be have been better to run a couple of copies of Force of Will in the sideboard. If you're looking to play this deck at an Open Series event, I would consider adding two copies of Force of Will and a Surgical Extraction to the sideboard. I also gave some consideration to one copy of Snapcaster Mage and one copy of Maelstrom Pulse to the maindeck. I'm not quite sure what I would be cutting for these five cards, but they all seem to be good additions to the current list. One other small change would be to add another Tropical Island in favor of the second Bayou since you have a few double blue casting cards and Daze.
As the other matches played it out to see who would join Reid and I for the top 4, I decided to take my mind off serious mode for a little while and do a team Cube draft with some of the others. It was an absolute blast, and I was really happy I got to interact with the others players; whether it was during the tournament, at dinner, or in a team Cube draft. All this, plus the fact that the workers at StarCityGames made us feel super welcome and the coverage staff was beyond phenomenal made the event extra special.
As the Cube draft was coming to an end and top 4 was finalized, I was ready to see who I would be matched up against. I was paired against BBD and we played a fantastic match that you can see below.
Overall, BBD was an excellent opponent that gave me great games and was a great sport about everything. When I made a good play, he gave me credit for it, and I gained even more respect for BBD as a player, person, and ambassador for the game. Hats off to you BBD, and great matches again.
As I waited for the finals, I was pulling for Reid, but it wasn't meant to be. And as you all likely know by now, I ended up losing three lopsided games to Brad Nelson and had to settle for a runner-up finish. Overall, I really couldn't have asked for more, and I am very thankful for all the support I got from each and every one of you.
Going forward for Standard, I would only make a few small changes to the list I played. I would cut both Nykthos, Shrine to Nyx in favor of an additional Temple and another green fetchland. I would also cut the one Commune with the Gods for the fourth maindeck Thoughtseize. This will open up an additional sideboard slot, and I would most likely add an Extinguish All Hope, which Reid suggested. I also wouldn't mind another Bile Blight in the sideboard but I'm not certain what the best thing would be to cut.
I know I'm most likely playing Sultai Control or Angel Prison for the Open Series in Philadelphia, and I'm on the fence for the Open Series in Columbus, but will possibly try to make the trip out there.
Again, thanks so much to all you guys for the support! Happy Holidays!