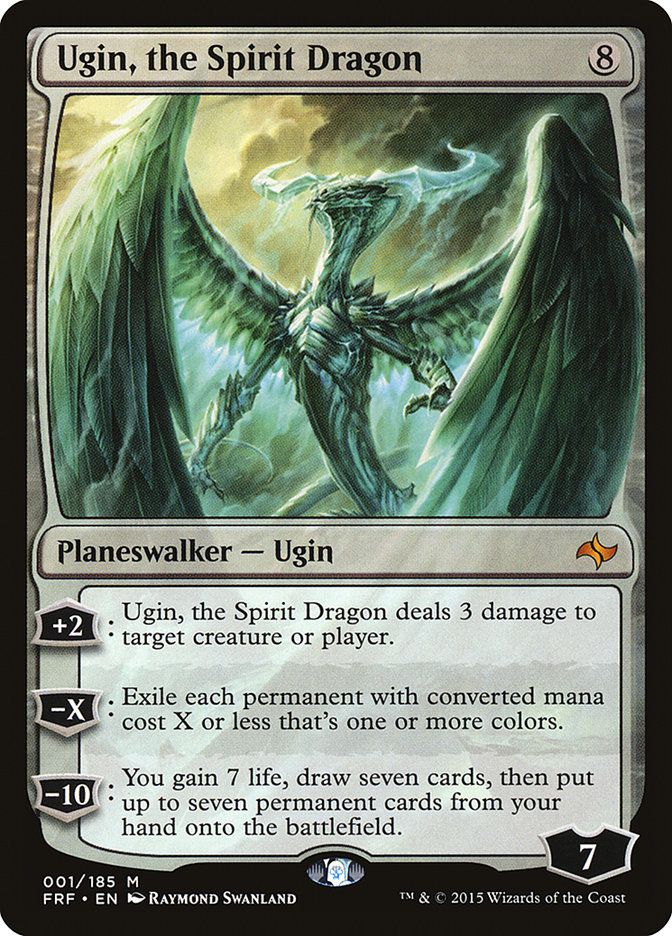 It was a given that this was coming. It was almost a given Ugin would fit the mold that he does here. A massive planeswalker with a huge effect on the board.
Patrick went over this card yesterday , but given how big a deal it is, Ugin certainly deserves multiple looks. Not just because he is a splashy mythic planeswalker, but because he is a key story player. There has been a recent push by Wizards to make sure the story-relevant legends and planeswalkers show up in tournament play to tie everything together (Elspeth, Sarkhan, Jace, etc.), and Ugin is certainly the dragon that matters from this set.
A lot of people have been drawing an immediate comparison between Ugin and the other colorless planeswalker, Karn Liberated. Both are huge threats that can be cast off the various plentiful sources of colorless mana available in Eternal formats.
The other planeswalker to compare it to is Nicol Bolas, Planeswalker. Bolas is the other eight-drop planeswalker, and you are immediately supposed to see the comparison in the mirrored ultimates.
Really, Ugin doesn't compare to either of these. Ugin is a completely unique effect in a powerful way.

On a minor level, the +2 Ghostfire ability breaks some minor new ground. Plus abilities on planeswalkers do a lot of things, but removing creatures from the battlefield isn't really common. You can temporarily lock a creature down (Kiora, the Crashing Wave, Tamiyo, the Moon Sage) or make tokens to block it (Elspeth, Knight Errant, Garruk, Primal Hunter), but actually killing it is a different thing. Only different Chandras and Sorin Markov can do that. This category is all damage-based, and three is a new threshold. Chandra Ablaze hardly counts as you are expending a red spell to deal the damage; Chandra, Pyromaster and Chandra, the Firebrand each deal one; and Sorin Markov can deal two. This isn't a huge deal, and is more of a bigger commentary on future planeswalker design if one that can kill larger creatures with a plus ability does end up existing.
The big deal with Ugin is the -X ability.
A common theme among planeswalkers is having a minus ability that takes out a permanent at a relatively large loyalty cost. This dates back to Chandra Nalaar's -X ability in Lorwyn, and a lot of high quality Constructed planeswalkers have shared this trait.
The common trend here is that they remove one permanent, which has created a lot of the general planeswalker game experience to date. Playing a planeswalker into a board where your opponent is significantly ahead is going to get you at best an expensive removal spell that gains a bit of life. Think about Jund players in Modern boarding out Liliana of the Veil against Affinity. You kill one creature, the other three still kill you.

Ugin does not have this problem. When you cast Ugin, it will rectify the board. All of their creatures will die. All of their planeswalkers will die. They will have nothing, and if they didn't have a seven cost card in play, you will still have Ugin.
Not only will their things be dead, they will be exiled. No follow up Whip of Erebos will bring back their Sidisi, Brood Tyrant for another trigger. That Monstrous'ed Fleecemane Lion or Rakshasa Deathdealer with mana up is gone as well.
Have we seen this kind of effect before? Yes, Ugin isn't the first planeswalker with sweeping power.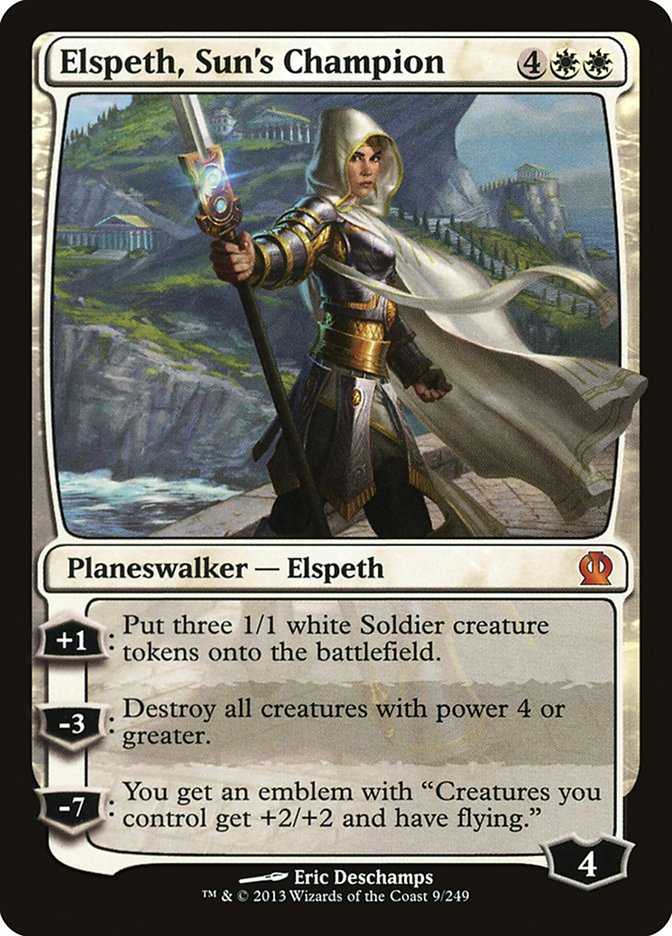 I'll admit that Ugin doesn't have quite the same post-sweep power as Elspeth generating three soldiers a turn, but think about what happens in the games where Elspeth's -3 sweeps the board. Usually things don't end very well for your opponent even if they remove the Elspeth. All of their things die, and then they have to spend a turn removing your planeswalker to rectify the board.
Looking at the two default abilities, we can tell a lot about how Ugin will see play. Neither one generates card advantage on a blank board, so Ugin won't be a progressive threat. If you cast it and activate it and they Hero's Downfall it, they have traded one for one. If they don't kill it, the game doesn't snowball out of control the way a token-generating or card-drawing planeswalker does. Sure, there's only a set amount of time until it ultimates, but any answer in that time frame is perfectly acceptable.
So Ugin isn't an anti-control threat.
+2 to Ghostfire is fine, but it isn't that powerful when you look at an eight mana threat. Most cards it will be relevantly competing against at that stage of the game won't die to the +2.
What about racing things that it doesn't kill? Ugin landing against a four-power creature (Celestial Colonnade) deals twelve damage before dying. Ugin against a three-power creature (Restoration Angel) does 21 damage, twelve if they have a Lightning Bolt. Long story short, you aren't going to beat a Siege Rhino this way.
The real ability that matters is the -X. The card Ugin most closely resembles: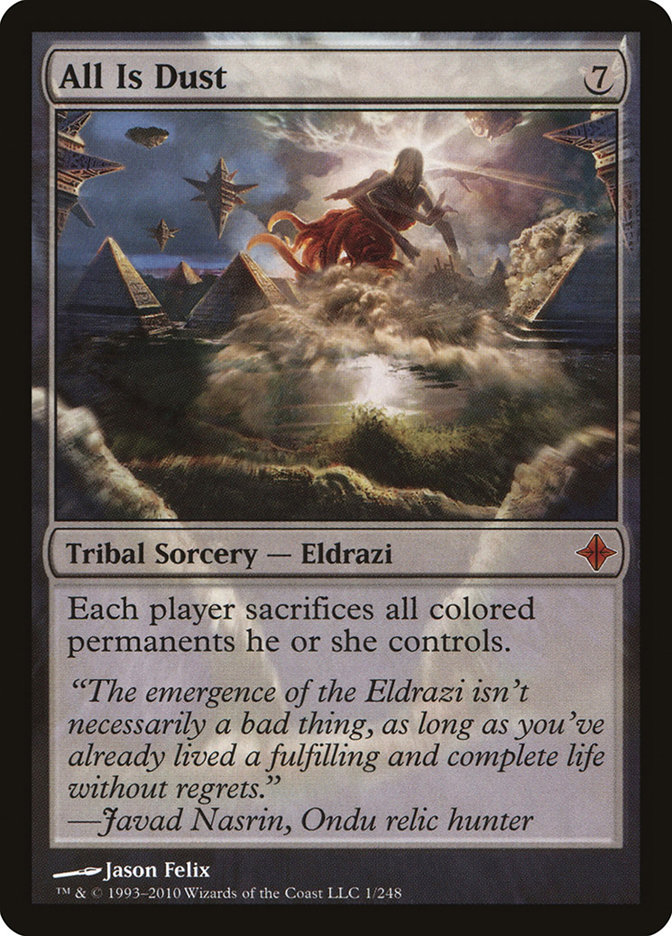 I do enjoy the irony here: the closest card to the captor of the Eldrazi is an Eldrazi spell.
Oblivion Stone and Perilous Vault are also somewhat analogous, but the whole "pay part now, part later" and "activate at instant speed" aspects of those cards changes a lot about how they function.
So, in exchange for one extra mana relative to All Is Dust, you get to keep a planeswalker in play. Seems like a good bargain.
What are the downsides?
All Is Dust has seen Modern play almost solely because Urza's Tower, Urza's Mine, and Urza's Power Plant add up to seven mana. While a typical use case of Oblivion Stone is paying eight mana to immediately clear the board, being able to cast it for three mana and activate for five later has a lot of utility if you are being denied your mana engine. The most common example of this is playing against Blood Moon, where putting five lands into play is easy and activating Oblivion Stone immediately turns your hand back on. While a lot of people have discussed Ugin in Tron, I don't expect the card to make a huge impact in that specific application for these reasons.
Ugin has the same drawback as All is Dust: it doesn't kill colorless permanents. This isn't the biggest issue, but it does mean you aren't going to be beating any Affinity players with the card soon.
Aside from Arcbound Ravager, this means Ugin runs into another familiar problem, the same problem as the other colorless sweeper in Standard. Nissa, Worldwaker is especially dominant against control decks in Standard because it is so hard to handle with a single effect. End Hostilities doesn't kill the planeswalker, and Perilous Vault doesn't kill the 4/4 lands left behind. Unfortunately for Ugin, Nissa does not grant a color to the lands she animates so not only will Ugin will not exile them with his -X, but his +2 won't kill them either.
Ugin does start at seven loyalty, so if your opponent has a card to exile that costs seven, you will lose Ugin to kill it and high cost cards are untouchable. Aside from Hornet Queen, I don't expect this to matter much, and if they don't have a five- or six-drop you need to exile (Doomwake Giant being the obvious one), you can Ugin for four or less to sweep the rest of the board, have it survive the Queen attack for two, and Ghostfire down the actual Queen.
Moving on to the ultimate, which is usually the least relevant part of a planeswalker.

Who cares about that last part? How often do you lose after Sphinx's Revelation for seven? Seems lethal enough.
It takes two turns for Ugin to go from first hitting play to ultimate. This matches Nicol Bolas, and it means that a control opponent has reasonable time to answer Ugin. Spend one turn digging for an answer, then spend a turn answering Ugin and firing back.
Odd things about this ability:
- Seven starting loyalty plus two +2s adds to eleven, which just feels odd when you -10, draw another Ugin, and put it into play replacing the one you already have. In practice, it doesn't matter whether the first one left play already or not, but it just feels odd.
- "7 life" and "seven cards." Cool insights into the Wizards style guide that Tim Aten spends his life applying.
- One final note: the 001 collector's number implies Ugin is the only non-artifact colorless spell in the set, or close to it. Maybe there's an Ugin's Wrath or something close, but there are no colorless cards that start with a letter ahead of U.
Format by Format:
In Standard, Ugin brings a decent amount to the table. There's a shortage of real trump threats, and while Ugin isn't quite on the same level as Hornet Queen, it's close. Fated Retribution was also one of the more exciting cards at points of my Pro Tour testing, and Ugin offers a lot more power and kills Whip of Erebos and Jeskai Ascendancy.
The issue is finding a home. I don't think it alone will make a ramp strategy based on current cards viable, and I think part of the issue there is that it doesn't mesh well with the other rampable threats (Elspeth, Hornet Queen) or engines (Nykthos). If you want to try a different shell, be aware of the anti-synergies Ugin represents. It doesn't add well to a board of other planeswalkers, Eidolon of Blossoms, and/or Courser of Kruphix, and it doesn't look good sitting in hand alongside an eight-drop blue instant or sorcery you are trying to fill your graveyard to cast.
I'm not quite sure what I'm looking for to fit Ugin into a deck, but it likely takes some work beyond "throw two copies into an existing shell." The most likely is that my analysis of the Dig Through Time nonbo is a bit excessive and that putting a copy to find or Liliana Vess -2 into in U/B Control is great. It's also possible that you accept the nonbo with Elspeth because that card is so good and build an Abzan deck that uses Abzan Charm and Courser to hit the required number of cards to make eight mana.
In Modern I could see one or two copies in Tron, but I'm not really sold on that. Threat density isn't an issue in that deck, where as having a more flexible sweeper is.
In Legacy, All is Dust has seen some play in 12 Post, and I expect Ugin will compete there for space as the jump from seven to eight mana is a lot less significant with Locuses than with Tron lands. There's also an interesting twist with Ugin being a permanent. The current stock lists of 12 Post play Show and Tell, and while you can't put Ugin into play with that card, Eureka isn't too far off and can cheat in the Spirit Dragon.
The other place where you see Oblivion Stone and All is Dust is in Metalworker decks, but I honestly couldn't tell you why those see play there. It really seems like that deck is just cards to cast if you have mana in some random configuration, cards that make mana, and a little prayer that you draw the right mix today. Ugin certainly seems better than a version of the same card that isn't a threat, but at the same time, your mana generation without a Metalworker in play is in chip shots of ones and twos that make it seem like the slightly cheaper effect (or significantly in the case of Oblivion Stone over two turns) is significantly better.
Overall this seems like the card will see moderate play, but it will not be drastically format-defining everywhere. For an eight-drop that isn't quite a Cruel Ultimatum, that's pretty high compliments.
Analytical Pitfalls
I could be severely underestimating the Ghostfire ability on Ugin based on how the format will shift in the future or just the cards that will surround Ugin. It's possible that the post-sweep effect it leaves behind is far more powerful, especially if Ugin comes alongside cards that efficiently answer the clunkier but more resilient threats that don't die to three damage.
I'm also assuming that the -X does kill everything. Morph really hasn't made a huge impact on Constructed and there aren't a ton of artifact creatures in Standard, but if there are enough incentives to tune the Chief Engineer deck that won a Japanese event a few months back into a real thing, Ugin might be poorly positioned.
Overall, I really like how Ugin looks to have turned out. It's an eight cost card that has reasonable applications without being effective text of "Win the game" and the planeswalker bonus of actually costing retail to cast instead of 2U (Show and Tell).
I'm not saying Ugin will dominate events any time soon, but I would not be surprised to play against the card in each format over the next year.