Our Fates as Magic players are certainly being Reforged, as it's spoiler time! Now I don't know about you, but 1,280 years ago in Tarkir's past, I think they had some sweet cards. And soon we'll be at the crux of their effect on the various formats of The Multiverse, but first let me illuminate a little conspiracy I think I've uncovered.
Meanwhile, if you want actual (don't get your hopes up) Magic content, just CTRL + F for "Wasteland."
So this set is based on Asian mythology and history, right? Can you think of what Disney movie that might relate to? It doesn't take much reflection to figure it out.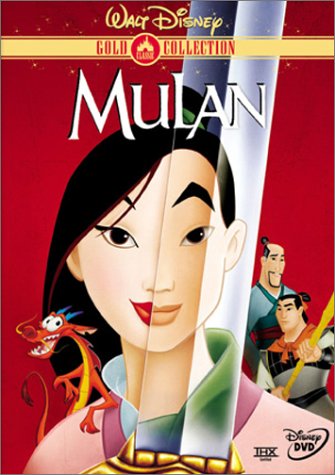 If you don't think that holds water, do you actually know what Mulan's horse is called?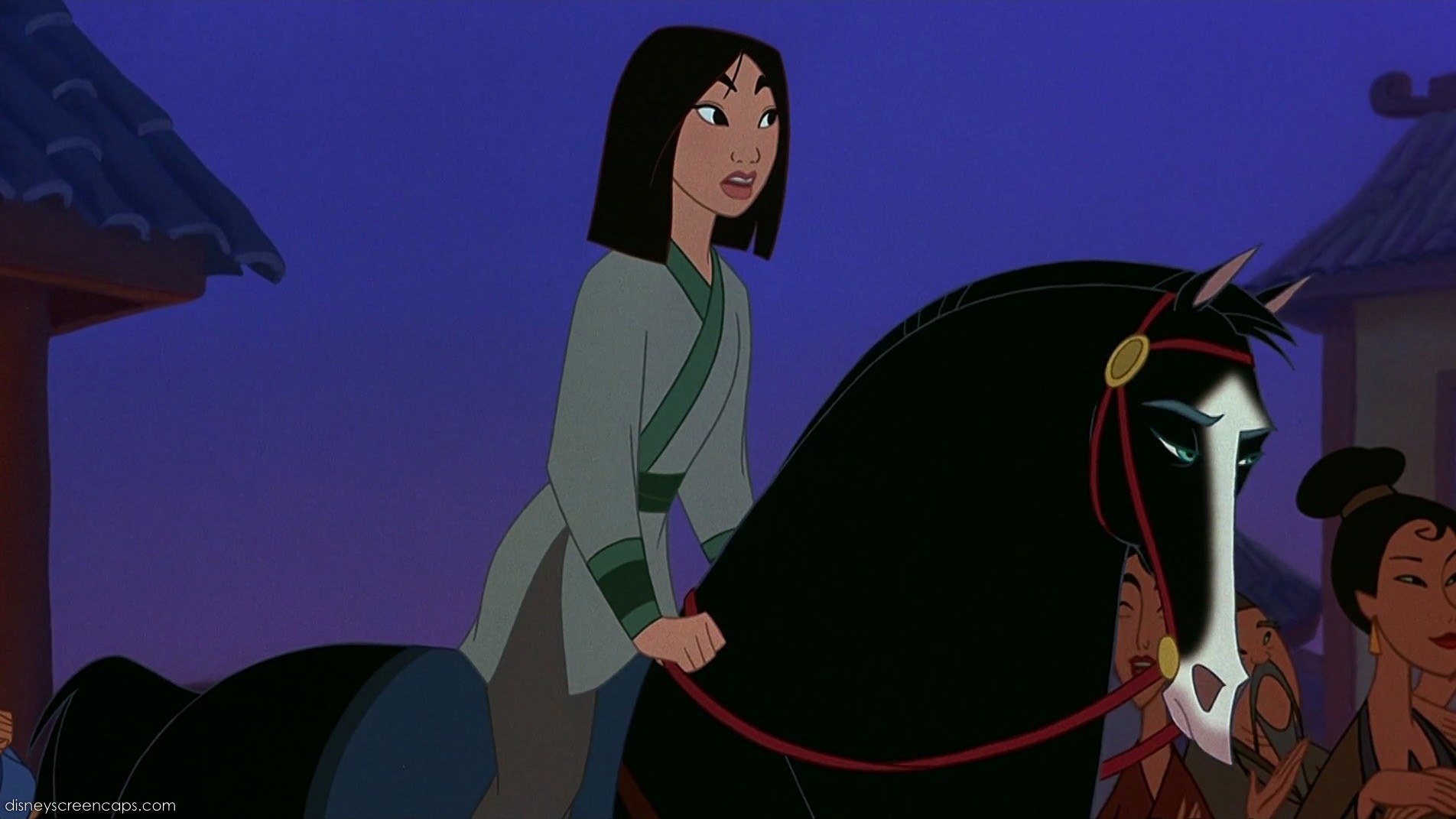 That's right. Khan. So clearly we have a connection here. But it's just one movie, right? "That's not enough data!" you might be saying as you furiously push up your glasses.
Well, we all know we just left Theros block and its Greco-Roman inspired tales. And what just might be the animated Disney movie that came out right before Mulan?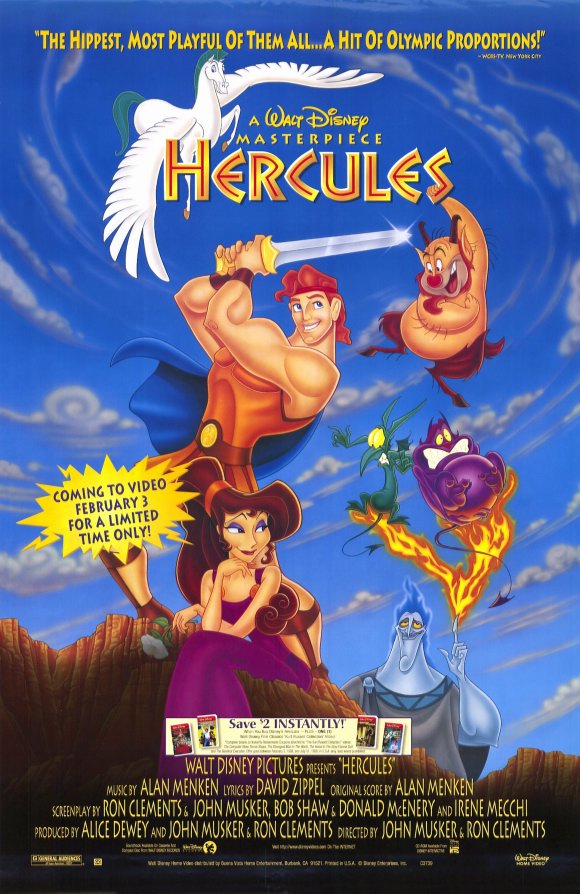 So there we have two Magic sets that are released chronologically in the same order as two Disney movies that came out near the end of the Disney Renaissance. Now that may be enough to get your head-a-scratchin' and your mind-a-reelin'. But let's not stop there. One more step backward in Magic history, we get the Return to Ravnica block and its focus on the Izzet League and how all the other guilds try to stop them from being awesome. It has a definitive European tone and focuses on the ecumenopolis of Ravnica and the people in that sprawling city. What if we go one step before Hercules in the Disney vault?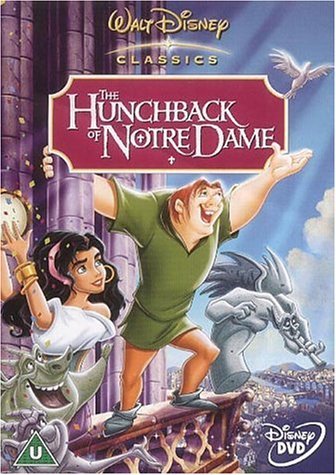 While this correlation might not be as solid as the previous two, there is a shared focus on urban city life. Judge Claude Frollo is even as Orzhov as they come! But while Ravnica is one of Magic's most loved locales, Hunchback of Notre Dame is *ahem* the black sheep of the Disney family. So most loved = most looked over, right?
Now what does this all mean for you exactly? Well let's look just one step farther than Mulan, and we can tell exactly what lies in Magic's future. So what was the movie after Mulan? Nah, you don't need to look it up, just follow my pictures!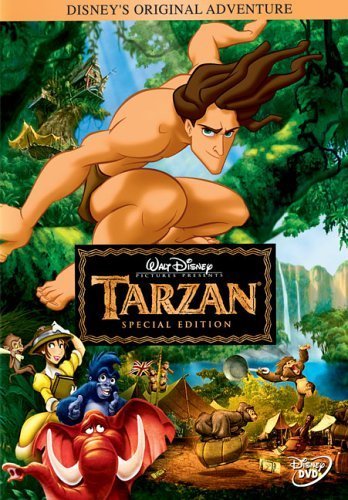 That's right! A jungle-themed world! While I doubt we'll revisit Jamuraa anytime soon, there was a recent adventure-based plane that has been brought back into the limelight, what with all the hubbub about Nahiri, the Lithomancer, her hedrons, and the Eldrazi they were supposed to contain.
I'm not saying that you need to go ahead and label your next box as "Return to the Scars of Zendikar" or anything, but when you extrapolate data as solid as this…
Even some lands in this set look like they are from Zendikar.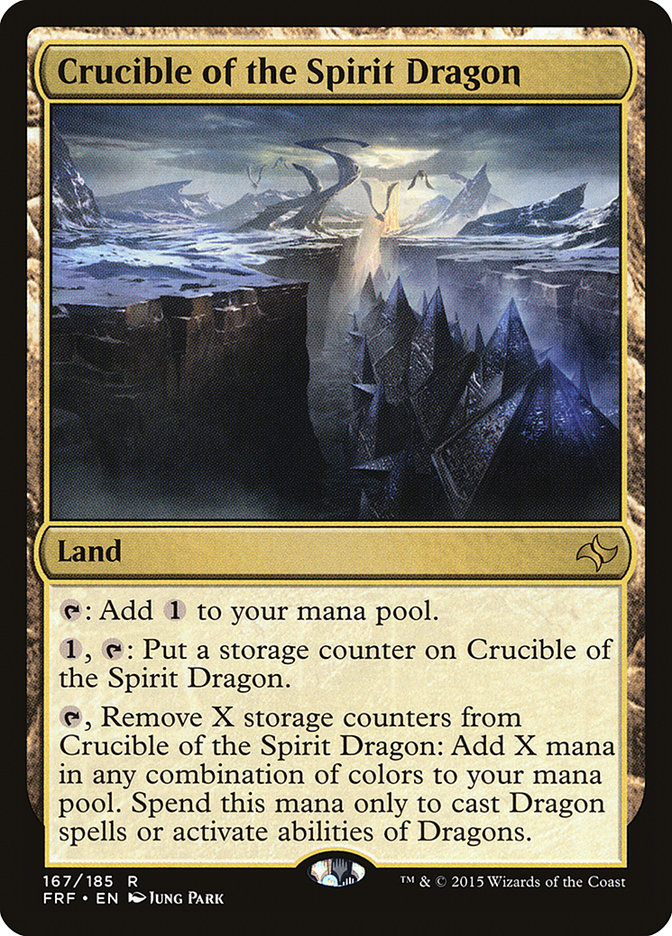 Anyway, I need to stop relating everything in my life to Disney. If you came here for actual Magic content, here's your shortcut.
Now that you're here, let's take a look at the only card I want to discuss today: Alesha, who Smiles at Death.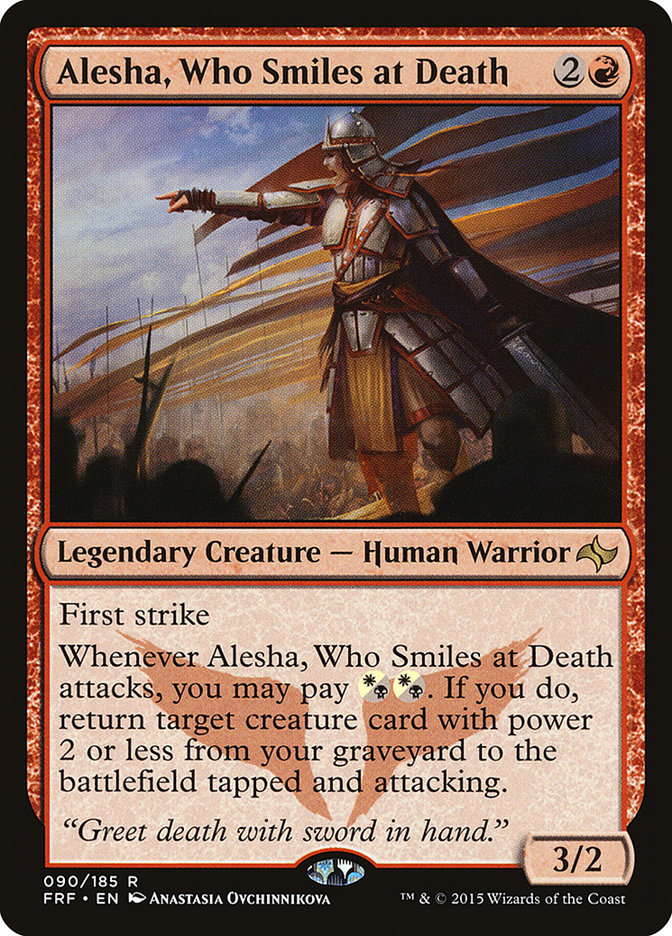 What a Khan!
Now, how does she stack up in Standard? Even though it's the only Constructed format I see her being used in, she's got some tough competition. Brimaz, King of Oreskos, Anafenza, the Foremost, and Goblin Rabblemaster all occupy the three-drop slot. And they all either don't die to Lightning Strike or Bile Blight, or singlehandedly take over the game if left unchecked. She does none of these things and doesn't even start generating value until something of yours has died, and you've attacked, and invested even more mana. But if you do, what all can she bring back?
You're only paying two mana to bring these critters back and they're attacking! Once you jump through her hoops, she sure can pay dividends. As long as these dividends have only two power or less.
Don't even get me started on what she does with Clever Impersonator.
But as exciting as that may be, I am smiling at her applications in a different format, a format you could probably have guessed from the title.
Now, being a Mardu-flavored commander means missing out on the two best colors of Commander.
If you're curious on how I rank them, in terms of power:
Green
Blue
Black
White
Red
But the order in that I enjoy them is something quite different. If you know anything about me, you can probably guess what I like.
Seeing as we don't get "actual" card draw and ramp, we need to think smaller.
Most Mardu commanders like Kaalia of the Vast and Tariel, Reckoner of Souls are focused on big things. Alesha allows us to make our curve lower than my self-esteem while watching the Olympics.
Now I'm not talking Isamaru, Hound of Konda, or Figure of Destiny low, but of course, we want to highlight creatures with low power but not necessarily low mana costs.
So, before I get to breaking down my deck like AGDQ has been breaking down video games, let me lay down the list:
Creatures (36)
Planeswalkers (1)
Lands (36) As always, you can build a deck in as many ways as there are planes in The Multiverse. I went with some of column A and some of column B, constructing a token-based voltron deck with a sacrificing theme.
Here are our major token makers. Being able to sacrifice the main body and then bring it back with Alesha allows us to break parity with our sacrificing effects. We also can just beat down with most of them. Pentavus, with enough mana, can generate as many deaths or births of tokens as needed. Geist-Honored Monk may have a "*" for its power, but characteristic-defining abilities function in all zones. So just make sure you only have two creatures in play before Alesha smiles upon her.
And here's how we use all of our tokens. Mentor of the Meek is just there because I want to draw cards at every opportunity, and his stipulation is the same as our commander's! I'll be truthful here, Purphoros is really just the best card ever for this strategy, so I'm trying as hard as I can to get him out there as soon as I can. I almost included transmute (and transfigure) cards to go and find him, but that's a bit too much not embracing the chaos for me. And have you seen what happens when Cathars' Crusade is in play?
We do have a commander, don't we? Outside of looting and discarding, this is how we find the perfect corpses for our girl to grin at.
Boy howdy do I love toolboxes. This ensure us that we are able to kill whatever we need do. And with some way to sacrifice them, we can keep on killing! Death begets death begets smiling.
Here are our actual sacrifice engines. While I only ever actually need one in play most likely, having the option of what I'm getting out of sacrificing them is a good resource to have. As you can see, black creatures are the creatures I want the most, but that's still not enough reason to run Darkest Hour. Sengir Autocrat represent!
How many of you know that's where the best six-mana planeswalker got her -3 from? Well, after you take into account our theme, both cards are well-suited as wraths for the deck that doesn't really want wraths. Our double Grave Pacts work well with our plentiful dudes and our plentiful ways to unmake them.
Yes, I like the randomness of 99 cards. I also like keeping up with the Maelstrom Wanderers and the Damia, Sage of Stones of the world. They're really all there to find Skullclamp and Purphoros. One card is banned in every format ever (yeah, +1/-1 is such the nerf from +1/+0), and the other is unkillable but kills everybody. Plus, if you're hellbent, Gamble is just another Entomb, which in this deck, I wouldn't be unhappy at all about!
And lastly, here are just some sweet cards to go in this deck. Grenzo can be all teeny tiny but still be an awesome mana sink. I don't think you could find a better deck for the rather unpopular Blind Zealot. Fun fact: she still targets creatures even if you don't sacrifice her, so bye bye Phantasmal Image! I don't think that will ever come up in any game of Magic ever, but it's still fun to know. You had fun, right? Pontiff of Blight allows me to actually kill people with Gamble, which might just be my only way of getting Gerry Thompson to play this format.
And there you have it boys and girls, the Elder Mardu Khan of Smirking. Sleeve up this graveyard attacky tokensy deck and show those silly Simic mages what it's like to cast Reassembling Skeleton. They won't soon forget it. She's even a viable commander for Tiny Leaders!
As for the fate of our beloved Khans block, I predict that the dragons and humanoids somehow come to terms and then become friends for the third block in present time where they all band together to fight the real villain: Magic Online.
Okay, so maybe the Eldrazi are the real bad guys, and maybe I'm just overlaying the plot for How to Train your Dragon onto this block, but at any rate, this set is looking to up the ante, both in terms of legendary creatures and dragons.
And who doesn't love dragons?