Hey everyone! You may remember me from my last article series that was one big primer about Miracles. Now I'm back for a different kind of article. It's a story, an article, a summary of notable occasions, and a report. The main focus will be my second Legacy GP Top 8 at Grand Prix New Jersey. This makes me the second person (as far as I know) that has made the Top 8 at two consecutive Legacy Grand Prix.
It took me nineteen days to return to Austria after I left my country for this journey on the 6th of November, heading to Prague to meet my good friend Tomas Vlcek to play some Legacy and Vintage at the Prague Eternal event. But before heading into that story, it might be a good idea to talk about how Tomas and I arrived at the list of Miracles that we played throughout the trip.
So how do you arrive at a list that propelled two players into the Top 16 (4th and 11th) of a 4000+ person tournament? The first thing that you have to focus on is to not get into any kind of tunnel vision. It would have been so easy for me to just take my beloved copy of Ponder Miracles to the GP, but from a competitive perspective, that is just a bad practice. However, I could not completely step back and consider other archetypes besides Miracles for this tournament. At that point, I had already gathered an immense amount of experience with Miracles, and playing any other deck would not feel right to me. Still, it was important to think about which version of Miracles I would be playing. Therefore, I built seven different versions of Miracles and began testing them all, quickly arriving at three candidates.
The first one looked like a direct port from the deck that I used to make the Top 8 at GP Paris. The second one had a total of zero Ponders and featured maindeck Stoneforge Mystics as well as the Thopter Foundry + Sword of the Meek combo (something Drew Levin dabbled in this week in his video). The third and final one consisted of the same 75 cards that I used throughout the trip. The Thopter Foundry version seemed promising due to an immense amount of lifegain, and its preboard win percentage was stunning. After sideboard, however, it simply crumbled under the omnipresent Red Elemental Blast and the prevalence of good artifact removal, making this choice invalid. While integrating Red Elemental Blast was way easier in a two-Ponder version, it still did not feel right to play just two copies of Ponder. As soon as I had understood that Council's Judgment was not good enough to maindeck in the New Jersey Legacy metagame anymore, it was easy to fall back on my default deck choice, Four Ponder Miracles. This whole process took longer than described here, but I think that this short description should still tell you what goes into tuning a deck for a high level tournament. Here is the list for reference:
Creatures (3)
Planeswalkers (3)
Lands (21)
Spells (33) This list is basically the next iteration of the deck that I wrote about in my August primer articles. Including Red Elemental Blast in the maindeck seemed necessary due to format's increase in speed and the omnipresence of Treasure Cruise. It also gives you a huge edge in the mirror match and anything else that can drop a Jace, the Mind Sculptor. This four Ponder build is as smooth and synergistic as it can get. Most of the 75 cards are either creatures with flash, or spells that can be re-used by Snapcaster Mage, the best creature in Legacy. Most spells reside at the lower end of casting costs, ensuring that this version of Miracles could survive into the lategame even in the blistering fast format that Legacy at that time was (and still is). Ponders are not here to find funky one-ofs but simply to increase consistency. Cantrips are so much better to have in your opening hand than any other specific card due to the vast variety of archetypes that you can encounter. While many players prefer to have a sixth win condition in the sideboard like Entreat the Angels, Batterskull, or Keranos, God of Storms, it did not seem to me that this was necessary in that particular format. It was way more important to be able to interact early than to have something to win with later. Besides, with all the card selection this build of Miracles has, you'll find one of your five win conditions to close the game in time. Playing six Elemental Blasts effects with Snapcaster Mage felt insane at times, especially against U/R/x decks that cut on their numbers of Wastelands.
Back to the trip itself. The Legacy portion of Prague Eternal did not end too well for me, as I lost my win-and-in match in R7 vs Sneak Attack on camera. I still finished in the prizes, taking 19th place out of 144 players, but this was not where I wanted to be. Not even close. The next day I piloted a deck that I built at 2am the morning before to the Top 8 of the Vintage Main Event. Just as a bonus, my list featured Plague Spitter and Negate.
They were amazing.
Even though I enjoyed playing Vintage, I was not really happy with how that weekend turned out concerning Legacy despite being confident with the list itself. So I didn't do anything on Monday in order to rest and get ready for our trip to the United States. On Tuesday, Julian Knab asked me for my flight number so we all could meet up at the JFK airport in New York with Marc Beck Konig, Felix Munch, and the rest of our crew.
So there I was, looking for my flight number. At first I couldn't really find it, but when I found it and sent it to Julian, I also felt like checking in online. So I tried to, but it said that I could only check in 24 hours prior to my flight and that my ticket number was invalid. Both could not really be the case as my flight was due to leave in about 20 hours, and I had the number printed out from the official e-mail. So I kept on trying, but it simply did not work, which lead me to look for a flight that was scheduled on Wednesday in the morning. Browsing through the list of flights had me sigh in disbelief as there appeared to be no flight to the US at that very time. So I looked again, refreshed the page, and looked again. And again, nothing. Panic set in as I saw that a flight with the identical time had left Europe exactly 24 hours prior to mine. So I thought that I had messed up and checked my ticket, but it said Wednesday. Maybe they had moved my flight?
I later found out that they had not moved my flight, but simply cancelled it without letting me know. So I checked my e-mail, but there was no notification. So what would the next step for you to be? Calling the airline, right? Funnily enough though, my phone just did not want to connect despite it allowing me to use roaming, and it was still hours from the time when Tomas would return from work. The only thing that was left to do was message many of my friends on social media and ask them whether they could do me a favor. Thankfully many of them responded and eventually Felix from Austria managed the re-scheduling. Huge thanks again to Felix and anyone else who offered their help!
As soon as Tomas returned from work, we had to change all our plans for the evening and leave Prague as soon as possible; our new flight left considerably early. We had to take a bus that left us stranded at the airport for several hours, but it was the only choice we had. So we played the Miracles mirror all night long, trying to figure out if it is better to be on the play or on the draw. We ended at an even score and still couldn't agree, but nevertheless, we were ready to board our plane to Frankfurt and then Newark a little later. All that I cared about at this point was boarding a plane that brought us over the pond, which we managed!
The rest of our journey to Edison, NJ was rather uneventful thankfully, so we made our way to the site on Friday to witness the amazing event of a 4000+ player Grand Prix with about 5000 people running around in one big hall. The site was even bigger than expected since it took you quite a while to cross even without people standing in your way. There were multiple traders near the walls and Magic was everywhere. It simply was a Magic player's paradise and everybody who did not participate missed a great event.

We didn't really do much, as Tomas and I had a bye already, and we did not feel like playing single elimination grinders. We did, however, register for the Legacy tournament that took place in the afternoon, where I soon suffered a loss from Jarvis Yu piloting Jeskai Stoneblade, which was and continues to be, a very interesting matchup. There are a lot of different Jeskai decks out there:
Jeskai Delver
Jeskai Stoneblade
Jeskai Midrange without Stoneforge Mystic
Jeskai Control
That said, as soon as your opponent plays Delver of Secrets, it becomes unbelievably easy to crush them. Even the control lists with a lot of delve card-drawing spells are not that hard to overcome as a Counterbalance pretty much shreds their gameplan, leaving them with very few outs. The problem emerges from the stuff in between that could literally be anything. It is not as simple as someone if would only play Rudy Briksza's take on Jeskai Stoneblade that he won SCG Columbus with, or Brian Braun-Duin's more midrange version that he won the GP with. While people copy decklists a lot, they also make a lot of smaller or bigger changes. I saw some of them at SCG Richmond while I was there. A couple of the players, including Ben Friedman, added Sensei's Divining Top to their Jeskai Midrange deck.
This is the point where it gets tough. First, you have to correctly identify which general direction they are going. Then, you have to decide which cards to play around and which cards you'd like to ignore (Daze, Spell Pierce, Counterbalance, Jace, the Mind Sculptor). Finally, you have to make a decision on how to sideboard. No matter how well you play or how much attention you pay, you'll end up with a boarding plan that isn't correct more often than not. I saw myself re-boarding between G2 and G3 more often versus the Jeskai decks than I normally do, and this is where the challenge in these decks lies.
Soon after Jarvis had defeated me in a very excellent manner, my migraine became tougher and tougher and I dropped, prioritizing rest and food over a couple of packs. A lot of people came up to me and asked me about Miracles, which list I was playing and what I thought of theirs. Some even asked me to sign their Ponders, which was the first time that I did that, but it turned out I'd be doing that all weekend long! It was a really cool experience!
Saturday started simple enough with a Round 1 bye, but when I made my way towards the pairing boards for Round 2, everything changed. I looked down the list of players with a second name that started with "S". I couldn't find myself at the first try so I looked again, and once again, I couldn't see my name on the list. So I closed my eyes, took a deep breath and tried again.
Nothing.
I couldn't believe what I saw, or didn't see. How could this have happened? I made my way towards the judge station and asked what could have happened to me. They looked up my name and told me that I've been dropped from the tournament. So I asked who could have dropped me. The answer was pretty amusing, as I was told that I dropped myself from the tournament that I flew over the pond for. So I kept telling her that it wasn't me who dropped and after a few clicks it became apparent that someone with a name very close to mine wanted to drop from the tournament, and I was accidentally chosen instead. Luckily enough, they were quick with re-adding me to the tournament, calling a judge to escort me to my seat to avoid any misunderstandings, and granting me a second bye.
And by a second bye, I mean pairing me against Elves.
In Round 3, I wasn't on the pairing boards again, so I went to the judge station again, where I was told that I was indeed still in the system and they had my pairing on their computer. The rest of Day 1 had me playing against things that I came prepared for: Delver and Stoneforge Mystic strategies, both good matchups all across the board. I also faced an Abzan deck which isn't the best matchup if built and tailored correctly. In the first game, I had to use six copies of Swords to Plowshares, five copies of Terminus, and three copies of Jace, the Mind Sculptor to stay alive. Then I cast Entreat the Angels for seven and still had to cast a second Entreat the Angels to win on one life. This game was a pleasure to play and a good example of Legacy's wide range of good decks. I also had to play against Storm, but he had problems developing his mana and so it was not really close.
I cannot really recall too many details about my matches against U/R Delver, Jeskai Delver, and Jeskai Stoneblade, but as those matchups are pretty good, it was not that much of a problem. But I still did not manage to escape Saturday undefeated, as I played against quite a lot of Delver, which will always result in the statistical loss. For the uninitiated, when a Delver player has the draw where they play a turn 1 Delver and follow it up with just enough pressure and unlimited permission to kill you, I call that a "statistical Delver loss."
My record of 8-1 after Day 1 was not what I was hoping for, but definitely a decent base to start Day 2 from, as 7-2 will not ensure a Top 8 even if you went undefeated throughout Day 2. The metagame seemed to be as wide open as ever, but it still had Delver and Stoneforge Mystic dominating the top tables, which is a very good thing for Miracles as the tougher implementations of Delver and Stoneforge, namely Temur Delver and Esper Stoneblade, have been replaced with new incarnations that are way easier to beat.
By the end of the day, I had signed more than just one Ponder and people kept showing up to shake my hand and ask me things about Miracles and whether or not I could sign a Ponder. It was a great feeling, so again, thanks everybody for stopping by.
Sunday started out well with my opponents playing Elves, Death and Taxes, Delver, and Stoneblade. I'm not sure whether I dropped a single game during this portion of the tournament to be honest. The next round, however, had me shiver, as it was the first time that I faced Miracles in this tournament. Why would the mirror match frighten me, you might ask? Well, back at GP Paris where I had an undefeated record on Day 1, it was Miracles that beat me twice in the swiss and knocked me out of the Top 8 in the semifinals. I lost each and every single one of those matches 0-2, so this pairing felt like a bad omen.
My opponent played a Rest in Peace very early in the game, which signals a version of Miracles that is good against a very specific metagame but is severely lacking stack interaction in the mirror matches. Nonetheless, he killed me on Turn 5 with Helm of Obedience with Force of Will backup, which led to me already thinking about ending up outside of the Top 8, so I had to refocus and concentrate on the game. The second and third game, however, went differently. I had enough Red Elemental Blasts and Counterspells to deal with his threats in the earlygame, and Snapcaster Mage was, despite Rest in Peace being in play, an important factor in keeping his Jace, the Mind Sculptor under control. I boarded a little bit different from what I normally do, as I kept both Entreat the Angels here, as winning somewhat soon is more important than it is in the 75-card mirror where Flusterstorm is actually a good card.
Beating Miracles at the Grand Prix felt like a milestone to me, especially after GP Paris. Additionally, this match win enabled me to draw with Royce Walter, a fellow member on The Source, in Round 15 to ensure myself a spot in the Top 8, making this my second consecutive Legacy GP Top 8 and earning me yet another Pro Tour Invite, coincidentally, with Miracles again.
Next up was a Miracles Philipp mirror against Philipp Braverman in the Quarterfinals. It was of incredible importance that I got to see his decklist, as it would have been hard to judge which version he was playing without any previous knowledge. His reliance on Stoneforge Mystic and Batterskull over Entreat the Angels not only changes the way I sideboard but also the way I approach the match in a more general sense. Not having to worry about Entreat the Angels in game 1 allowed me to cast and operate my cantrips in a way that is not always possible in the pre-boarded mirror-matches. Not having to think about Entreat the Angels while still having access to your own is an advantage as well. His Stoneforge Mystic package was also pretty bad game 1, as I had access to all the removal spells I wanted, also mitigating the otherwise drastic event of drawing white cards in the mirror.
When it comes to sideboarding, it was again pretty important to know that I had to combat four copies of Stoneforge Mystic and two copies of Batterskull. Contrary to my typical plans, I kept in two copies of Terminus in the place of what would otherwise be two copies of Flusterstorm, which are typically great in the 75-card mirror. I also opted to keep the second copy of Entreat the Angels, which I generally don't advise doing, but if things get rather messy on the ground, it's important to have a way to stop the assault or kill the opponent in a rather fast way.
The second game was pretty interesting, as it involved him having a lot of Stoneforge Mystics. At some point, I cast Terminus with the words "Oh look, it's still in the deck!" which was followed by few laughs here and there from the spectators. But he had more Stoneforge Mystics, and while I was able to deal with one Batterskull via Wear//Tear, his second Batterskull made it to the battlefield and began attacking. As long as he didn't misplay in a very grave manner, I only had one out and played accordingly.
Ponder. Shuffle. Activate Top. Fetchland shuffle. Four Lands. Cast Brainstorm. Find Council's Judgment. Cast. Exile Batterskull.
After both of his Batterskulls were dealt with, I felt pretty confident and cast Entreat the Angels for two Angels, attacking him four times, which ensured my advance towards the semifinals. You can watch the conclusion of our second game here:
My semifinals match against Tom Ross on Infect is covered in its entirety here, though I'll comment on a few things here and there:
There are basically two situations that I could have played differently. The first one is not countering the Gitaxian Probe. While I am generally an advocate of countering Brainstorms more often than most people would, I did not even think about countering the Probe, and I think I was wrong. Countering Gitaxian Probe is generally not worth it, considering it's been played in Delver strategies. Infect, however, is a different beast. Information is way more valuable when you have to decide between going all-in or continuing to be patient turn after turn. The more I think about it, the more certain I am that countering the Probe would have been a good move, which may have given me a shot at winning the game, as Tom couldn't have planned everything that well had he not known my hand.
The second thing that many people have asked me about was the target of my third fetchland in the second game. I got a Tundra in conjunction with another Tundra and a Volcanic Island already in play, with two Red Elemental Blasts, Terminus, and Entreat the Angels in my hand. I did not go for a second Volcanic Island, as I was planning on finding a Brainstorm that I would protect with my Red Elemental Blast. In case I did not hit a land or only an Island, I wanted to be able to cast Terminus as soon as Tom's next attack step while also being able to cast Entreat the Angels in the turns to come. The way things played out, a second Volcanic Island would have been better, but I still stand by my decision.
As you could see in the video, I was defeated in about eighteen minutes, which included a lot of shuffling and sideboarding. Sadly though, neither game was very close, but I did and still do enjoy playing against Infect, as it's one of the last remaining decks that still poses a threat to Miracles, while still providing both players with the possibility to take several actions and decisions. In short, I'd love to play against Tom again.
So my second Legacy GP Top 8 ended in the semifinals again. I wished Tom good luck while also telling him that he now has to win the finals after kicking me out. He smiled, agreed, but as we all know by now, he failed to do so. This is the second time that my semifinals opponent beat me but didn't manage to win against the other finalist, who played a deck that would have been way easier to beat for me.
There's always next time.

Tomas Vlcek
finished 11th and earned himself his first Pro Tour invite at GP New Jersey as well. As one could imagine, we were quite happy to finish that well, even though I told him that we'd meet in Top 8, with me winning the tournament. I couldn't imagine any better proof of the quality of the list we played that two people flying over from Europe and placing 4th and 11th at a GP of that size. I spent the rest of the week with seven other Europeans in New York, as we were joined by David, Niklas, and Wenzel. We had a great time there, visited a lot of different places like Ground Zero, Central Park, and Southern Manhattan while also taking opportunities when they offered themselves. For example, we were invited to the David Letterman show, and most of us knew literally nothing about it, but we did it anyways.

After our relaxing week in New York, it was time to move towards Richmond for the Open Series that we planned on winning, but we took a short break in Washington D.C. as some wanted to see a basketball game and we didn't really mind getting to take a look at the White House and several other buildings in the city. Fortunately, Tomas had a friend (named Tomas) who lived there and offered to show us around. We spent all of the day in Washington, going from one monument to another and visiting as much as we could.
We then made our way to Richmond and arrived there in the evening. As soon as we arrived, we tried making it to the site in time to watch Felix and Marc play, but as soon as we got there, they wanted to go anyways. So we left but swore to return the next day!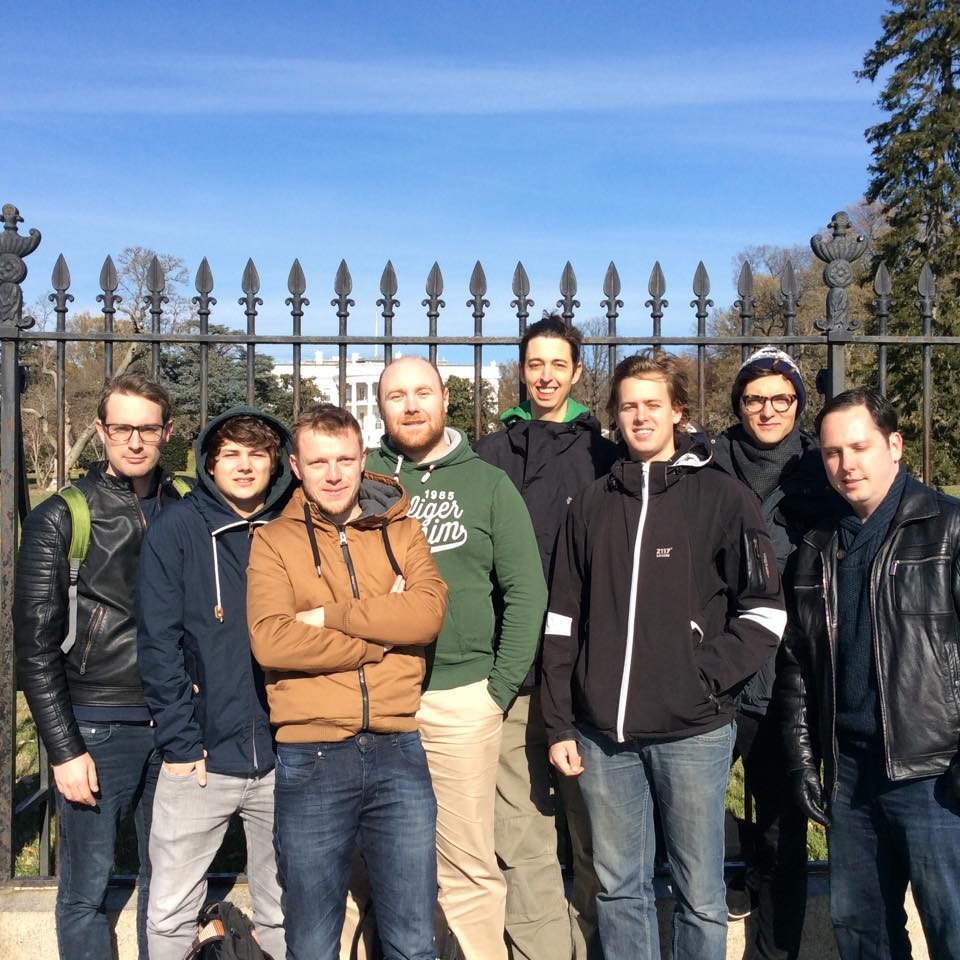 There were many people at the Open itself that congratulated me on my Top 8 in New Jersey, and nearly everybody knew what I was playing. The tournament itself started bumpy, as I lost my first round against U/R Delver simply because I made a mistake. It's been a while since I made such an obvious misplay which lead to a loss, and to be honest, it surprised me that this happened to me. I, however, ignored it for the time being as these are the things that make you stumble once you think too much about them.
The matchups following my loss were Elves, Jeskai Delver, Jund, Miracles, and Stoneblade, which I defeated. During one of my off-camera feature matches, I was playing against U/R Delver, and I cast Ponder. However, I was distracted while resolving the Ponder and then proceeded to resolve it like a Brainstorm instead, putting the three cards I was looking at into my hand. Luckily, Rudy Briksza, who was watching the match, caught the mistake and called a judge, which resulted in the obligatory game loss. I am very thankful for this, as I would not have known what to do if I or somebody else realized it later. It would have been the worst feeling ever to win a game that way, so many thanks to Rudy for pointing it out.
Round 8, however, presented me an opponent on Jeskai Midrange. While this matchup is not particularly troublesome, I managed to lose the first game and sideboarded incorrectly for the second, which I see as the main strength of this deck, as mentioned earlier. Even though I managed to win the last round against Jarvis Yu on Lands, it was not enough, putting me at 10th place. But it did not feel appropriate to be annoyed by this result, considering how well I did the weekend before and how sloppy my play was throughout the swiss rounds in Richmond. That's not the kind of condition that I want to top 8 or win an event in, but we Europeans totally crushed the tournament, as Marc won the Legacy Open, Niklas won the Modern Premier IQ, Tomas got 5th in the Legacy Open with Miracles, and Julian and I placed 10th and 11th at the Legacy Open as well. It was an outstanding tournament for all of us and an absolute blast to play in. We all stayed to watch Marc in his Top 8 and after he had beaten Joe Lossett in the finals, it was time for one last dinner, for which we were also joined by Joe Lossett. According to tradition, it was paid by everyone who had done well during the trip.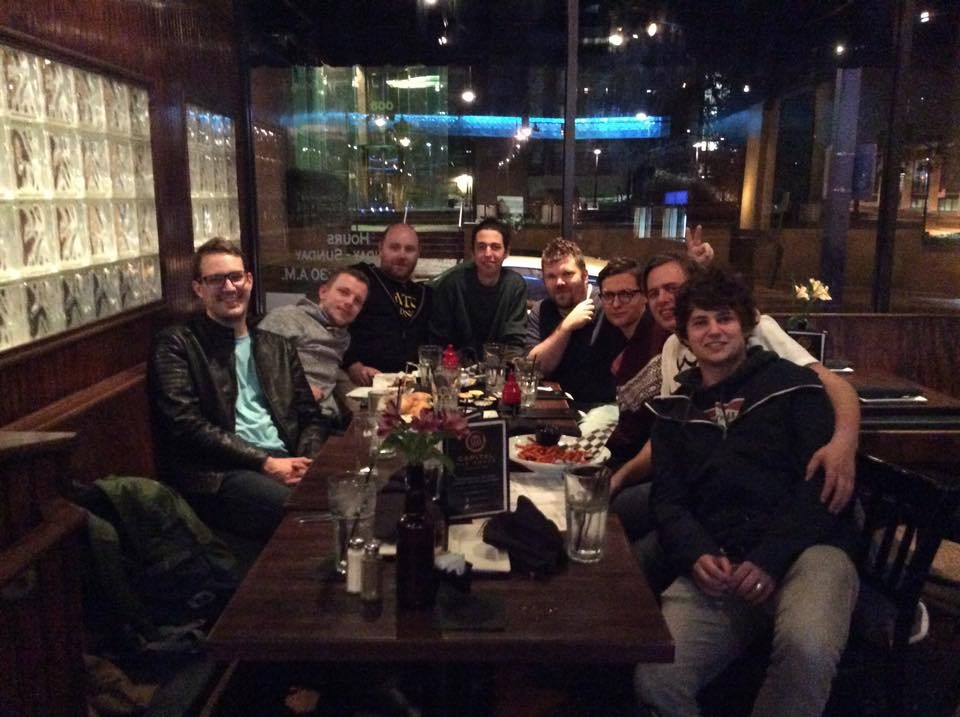 This whole trip was amazingly entertaining and a great success for everybody participating. Miracles proved once again to be technically unbeatable, and I'd play the same 75 if I'd play in a tournament tomorrow, with or without Fate Reforged.
I'm really looking forward to more success with Miracles in 2015, and hopefully I can make it stateside to do battle with it again. Thanks again to everyone who introduced themselves to me while I was in the States. Hopefully I get to keep signing more Ponders!