While I still have a few more Commander decks I want to write about using new cards from Commander 2014, with Fate Reforged fully spoiled I'm now in full-blown Standard brew mode, and I wanted to share some of the ideas I've had in the hopes we can put our collective heads together and cook up something both fun and competitive. I've had a lot of success with Villainous Wealth, and there's one card in particular that I think could help push the deck's power up a notch, but I'm going to save that for last. I want to start off talking about manifest and its implications for Standard!
I've written a few times my thoughts on morph and how I think a deck centered around that mechanic is dancing just around the edges of being competitive (see "Of Morphs and Men"). So I was naturally excited to see what new cards we'd have available to juice up that strategy. Luckily, I didn't have to wait long since we got this fairly early in the spoiler season:
I actually think this is a pretty sweet card for any green-based deck that runs a lot of creatures. There are not a whole lot of great creature options for green at five mana outside of Arbor Colossus. Now, Arbor Colossus is a fine man, and does great work when there are a lot of fliers out there to block and destroy (Wingmate Roc, Stormbreath Dragon), but three green mana can be tough to come by sometimes. Whisperwood Elemental is easier to cast, and if it survives to your end step, it gives you the same amount of power on the board as Arbor Colossus… and for each of your end steps he sticks around, he'll crank out another 2/2 face-down creature.
Where the rubber really hits the road is his sacrifice ability, which gives the rest of your team the ability to manifest a 2/2 creature off the top of your library whenever they die until the end of the turn. While this isn't something you're typically going to use in response to spot removal on one of your other creatures, it's a fantastic insurance policy against sweepers like End Hostilities.
Now even if you were just cranking out vanilla 2/2s, he would still be sweet, but these aren't just vanilla 2/2s-these are manifest creatures! A quick review of what that means:
Manifest
When you manifest a card, you put it onto the battlefield face down. While face down, it's a 2/2 colorless creature with no name, no abilities, and no creature types. Face-down creatures are creatures in every way. Any time you have priority, you can turn a manifested creature face up if it's a creature card. You do this by revealing what its mana cost is and paying that cost. This also lets your opponents see that it's a creature card. As soon as the card is face up, it has its normal characteristics. If you manifest a noncreature card, it can't be turned face up this way. If you happen to manifest a card with morph, you can turn it face up either by paying its mana cost (if it's a creature card) or by paying its morph cost .
This is where things get really exciting! First off, when you manifest, you're effectively drawing a card by getting a 2/2 creature that has the potential of flipping over into a real creature card whenever you have its casting cost in mana available. Imagine the bluff potential when you've got all your mana untapped. Sure, a 2/2 isn't particularly amazing in a world that is heavily populated by 2/4 Coursers of Kruphix… but if you need to get in some damage and turn him sideways with a bunch of open mana, is your opponent going to push their Courser in front of it and risk it dying when you flip it face up? Are they going to risk such a powerful creature hoping that it's a land, or an Abzan Charm, or an Elven Mystic…and not a Siege Rhino or Polukranos, World Eater?
So, the moral of this part of the story is… don't be surprised to see Whisperwood Elemental crop up in a fair number of my green creature decks for the next year or so.
But … that's not all! I've noodled around with a Standard morph deck since Khans of Tarkir was released, but there are a few new cards with manifest that really give a nice power boost to the concept. The morph creatures have sweet abilities that trigger when the card is turned face up, whether it's from the morph cost or the manifest cost, and in many cases, the mana cost of the creature is cheaper than the morph cost. A manifested Icefeather Aven can flip and bounce something for just GU, while Kheru Spellsnatcher can flip and snatch a spell for just 3U. The one that's got Magic finance speculators abuzz is Hooded Hydra, which flips for just GG. Whisperwood Elemental slots right into the deck, and I think so does Ethereal Ambush. Having an instant like this that works so well with the rest of the deck really adds some depth to a deck with a bunch of morph and manifest creatures, letting you hold up mana to turn cards face up, and if you don't need to do that, you can cast Ethereal Ambush instead.
In the previous version of the deck I stretched my mana to include red for Ashcloud Phoenix, but I think there are enough great cards in green and blue that we can keep the deck two colors and ease up on the mana. Here's how the deck is going to look once I add the new cards to the mix:
Creatures (27)
Lands (24)
Spells (9) Heir of the Wilds has done a lot of good work in my Villainous Wealth deck, and I like having it in this deck for many of the same reasons I've run it in that deck… but I also love having it as a way to strengthen my ability to bluff manifest creatures. If my opponent knows I'm running Heir of the Wilds and I've got a manifest creature in play and two mana open, he's got to respect the deathtouch. Imagine that I've got a manifest creature in play along with a Forest and Thornwood Falls untapped. Maybe it's an Icefeather Aven I can turn face-up and bounce a creature for GU; maybe it's an Heir of the Wilds I can turn face-up and kill something with deathtouch for 1G; maybe it's a Hooded Hydra and I'll flip it up as a 5/5 that'll make five 1/1 snakes when it dies for GG.
I'm strongly tempted to give Temur War Shaman a try since it manifests the top card of your library when it enters the battlefield and lets your creatures fight other creatures when they turn face up… but it's hard to see bumping the incredible Sagu Mauler, the scariest card in the deck. Maybe I'll stick one or two in the sideboard and bring it in against other creature decks?
Of course, Temur isn't the only clan that gets to have fun with turning cards face-up now; there's some manifest cards in black and white too! Check out these two gems:
While pondering these two cards, add this to stack: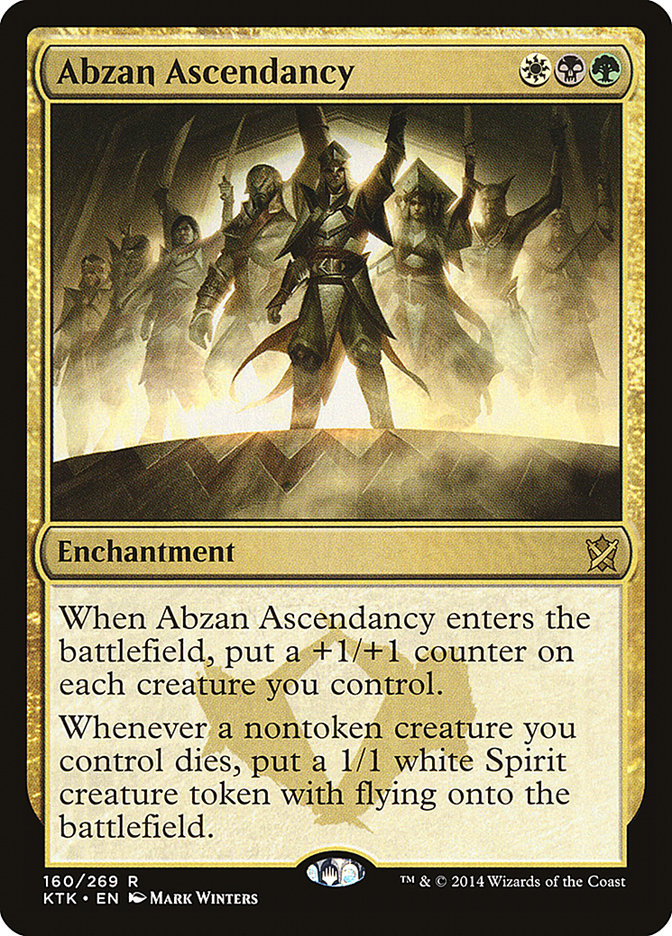 So… use Mastery of the Unseen to manifest a card from the top of your library, then sacrifice it to Qarsi High Priest to manifest another card and get a 1/1 flying Spirit token from Abzan Ascendancy. If you manifest a creature you actually want to turn face up, you can sacrifice the Spirit token to manifest another card.
One neat thing about Abzan Ascendancy in a deck with manifest is that the +1/+1 counters you put on any manifested cards remain on the card when/if you turn it face up. Here's a very raw first draft of such a deck:
Creatures (28)
Lands (24)
Spells (8) Like I mentioned above I've got Heir of the Wilds in here to give the manifest creatures more of a threat with its deathtouch ability; it also does a nice job of playing early defense while you go about setting up your manifest shenanigans.
I've got Soul of Innistrad in here because I suspect a lot of manifest creatures will just die as 2/2s, and if Soul of Innistrad ends up in the graveyard in that way, you can use its ability to return some of those creatures back to your hand so you can cast them normally. Oh, and Soul of Innistrad has deathtouch too!
There's not a ton of new technology to juice up my Villainous Wealth deck, but there's not a lot of fluff or weak cards in the deck to begin with. The main thing I'll be keeping an eye out for is how the metagame shifts with the new cards; if midrange still rules the format, my Villainous Wealth will continue to be a great choice. There is, however one card that I'm confident warrants some number of slots somewhere in the 75, the ancient Sidisi ancestor Khan Tasigur, the Golden Fang!
There's one thing my Villainous Wealth deck does well, and that's generate a bunch of mana. The eponymous spell is a great way to sink all that mana, but I've also got a bunch of other great mana sinks too-Polukranos, World Eater; Arbor Colossus, even Bow of Nylea. Yet even with a plethora of great mana sinks, there are times when I've got a bunch of mana lying around, and man does Tasigur, the Golden Fang offer a fantastic additional place to sink that mana. I love how the delve ability can clean your graveyard of cards you don't want back, but the beauty of my deck in particular is that there isn't all that much "air" in the list. Like, I might use the delve as a mana-saving device so I have more extra mana to activate his ability, and maybe I'm not super-excited to get a Sylvan Caryatid or Voyaging Satyr, but getting more mana is fine! As a bonus, resetting the top of your deck can further juice up Courser of Kruphix.
The icing on the cake is his size-as anyone looking to kill a Siege Rhino knows, a 4/5 creature is really tough to kill in this format. That size is one of the reasons why Reaper of the Wilds has done such great work in my current Villainous Wealth deck. Barring an unfortunate Abzan Charm incident, Tasigur, the Golden Fang can block Siege Rhino all day while churning out sweet, sweet card advantage. Here's where I'm going to start with Villainous Wealth in the new Fate Reforged Standard format:
Creatures (27)
Lands (25)
Spells (8) The sideboard is highly speculative given that we really don't know how the metagame will shake out, and mostly reflects what I'd want in my sideboard in today's metagame.
One More Time With Feeling
Brainstorming Qarsi High Priest and Mastery of the Unseen, I was curious how they might interact with Alesha, Who Smiles at Death in a Mardu shell. The idea is if I'm manifesting creatures from the top of my deck, some number of them will end up in the graveyard to be brought back into play later by an attacking Alesha, Who Smiles at Death. With all these creatures dying, perhaps this is finally a place for Underworld Cerberus? We can run the Heliod's Pilgrim for Chained to the Rocks as removal that doesn't put the creatures in the graveyard to break the symmetry some. Sure, while Cerberus is in play you can't use Alesha's activated ability, but your opponent can't activate his Whip of Erebos either, and Cerberus is a very commanding board presence on his own. It's possible that we should probably just run Stormbreath Dragon instead of Cerberus, but I want to give him another try. Here's an initial deck sketch:
Creatures (26)
Lands (24)
Spells (10) If Alesha, Who Smiles at Death doesn't work out, I'm pretty sure Flamewake Phoenix could slot right in.
I've got some other ideas I've been kicking around, but nothing quite as fleshed out as these. Do you have any ideas for improving these lists? What new Fate Reforged cards are you excited to crack open at the Prerelease this weekend?
New to Commander?
If you're just curious about the format, building your first deck, or trying to take your Commander deck up a notch, here are some handy links:
Commander write-ups I've done (and links to decklists):
Titania, Protector of Argoth ( Titania's Land and Elemental Exchange )
Reaper King ( All About VILLAINOUS WEALTH )
Feldon of the Third Path ( She Will Come Back to Me )
Sidisi, Brood Tyrant ( Calling Up Ghouls with Sidisi )
Zurgo Helmsmasher ( Two Times the Smashing )
Anafenza, the Foremost ( Anafenza and Your Restless Dead )
Narset, Enlightened Master ( The New Voltron Overlord )
Surrak Dragonclaw ( The Art of Punching Bears )
Avacyn, Guardian Angel; Ob Nixilis, Unshackled; Sliver Hivelord ( Commander Catchup, Part 3 )
Keranos, God of Storms; Marchesa, the Black Rose; Muzzio, Visonary Architect ( Commander Catchup, Part 2 )
Athreos, God of Passage; Kruphix, God of Horizons; Iroas, God of Victory ( Commander Catchup, Journey into Nyx Edition )
Kurkesh, Onakke Ancient ( Ghost in the Machines )
Jalira, Master Polymorphist ( JaliraPOW! )
Mishra, Artificer Prodigy (Possibility Storm Shenanigans)
Yisan, the Wanderer Bard (All-in Yisan)
Selvala, Explorer Returned (Everyone Draws Lots!)
Grenzo, Dungeon Warden (Cleaning Out the Cellar)
Doran, the Siege Tower (All My Faves in One Deck!)
Karador, Ghost Chieftain (my Magic Online deck)
Karador, Ghost Chieftain (Shadowborn Apostles & Demons)
King Macar, the Gold-Cursed (GREED!)
Niv-Mizzet, the Firemind ( Chuck's somewhat vicious deck)
Roon of the Hidden Realm (Mean Roon)
Skeleton Ship (Fun with -1/-1 counters)
Vorel of the Hull Clade (Never Trust the Simic)
Anax and Cymede (Heroic Co-Commanders)
Aurelia, the Warleader ( plus Hellkite Tyrant shenanigans)
Borborygmos Enraged (69 land deck)
Bruna, Light of Alabaster (Aura-centric Voltron)
Damia, Sage of Stone ( Ice Cauldron shenanigans)
Emmara Tandris (No Damage Tokens)
Gahiji, Honored One (Enchantment Ga-hijinks)
Geist of Saint Traft (Voltron-ish)
Ghave, Guru of Spores ( Melira Combo)
Glissa Sunseeker (death to artifacts!)
Glissa, the Traitor ( undying artifacts!)
Grimgrin, Corpse-Born (Necrotic Ooze Combo)
Jeleva, Nephalia's Scourge ( Suspension of Disbelief)
Johan (Cat Breath of the Infinite)
Jor Kadeen, the Prevailer (replacing Brion Stoutarm in Mo' Myrs)
Karona, False God (Vows of the False God)
Lord of Tresserhorn (ZOMBIES!)
Marath, Will of the Wild ( Wild About +1/+1 Counters)
Melira, Sylvok Outcast ( combo killa)
Mirko Vosk, Mind Drinker ( Outside My Comfort Zone with Milling )
Nefarox, Overlord of Grixis (evil and Spike-ish)
Nicol Bolas (Kicking it Old School)
Nylea, God of the Hunt ( Devoted to Green)
Oloro, Ageless Ascetic (Life Gain)
Oona, Queen of the Fae (by reader request)
Phage the Untouchable ( actually casting Phage from Command Zone!)
Polukranos, World Eater (Monstrous!)
Reaper King (Taking Advantage of the new Legend Rules)
Riku of Two Reflections ( steal all permanents with Deadeye Navigator + Zealous Conscripts )
Roon of the Hidden Realm ( Strolling Through Value Town)
Ruhan of the Fomori (lots of equipment and infinite attack steps)
Savra, Queen of the Golgari ( Demons)
Shattergang Brothers (Breaking Boards)
Sigarda, Host of Herons ( Equipment-centric Voltron)
Skullbriar, the Walking Grave ( how big can it get?)
Sliver Overlord (Featuring the new M14 Slivers!)
Thelon of Havenwood ( Campfire Spores)
Varolz, the Scar-Striped (scavenging goodness)
Vorosh, the Hunter ( proliferaTION)
Xenagos, God of Revels (Huge Beatings)
Yeva, Nature's Herald (living at instant speed)