The 19th of January was my birthday. And my birthday present was this B&R announcement:
Treasure Cruise: Banned.
Treasure Cruise came and now Treasure Cruise is gone. The Legacy format we are looking at now will be drastically different from what we saw at Grand Prix New Jersey, which was a very good example of a Cruise format. So, what can you expect from this article? Unlike many, I won't be talking about whether the ban of Treasure Cruise was justified, and I won't be talking about what else could have been unbanned. What I will focus on today is the metagame that Legacy will present to us next weekend at the Open Series in Indianapolis, and why you should be playing Miracles which deck you should be playing there.
As Treasure Cruise leaves the format, it will be the various forms of Delver decks turn to give up the throne of Legacy. While Delver of Secrets-based decks have been a pillar of the format ever since the namesake card entered Legacy, it was quite ridiculous as of late, as Treasure Cruise gave them access to four Ancestral Recalls. Being able to reload so efficiently after spending so many resources pushed Delver over the top, leaving them with just a couple of weak points, namely combo and to some extent, Miracles.
With the omnipresent U/R Delver leaving Legacy, it's time for more variations of Delver once again, which will lead us to the first important point of the Post-Treasure Cruise-analysis.
Wasteland is Back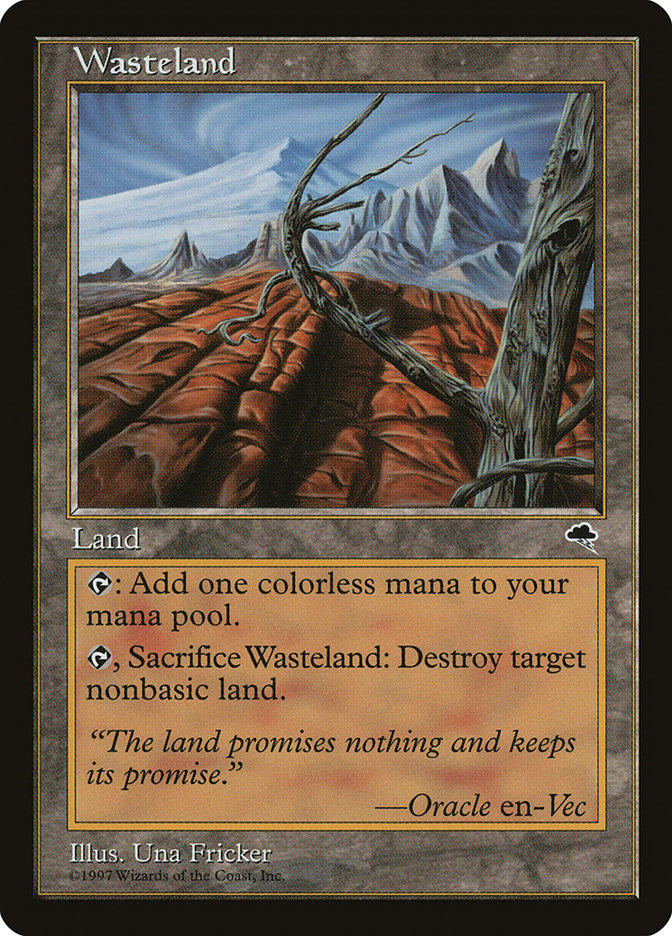 While U/R Delver couldn't really run Wasteland, it's now a mandatory land slot in each and every Delver deck, sometimes paired with Stifle, sometimes with Hymn to Tourach, or even Sinkhole from the sideboard. What that means is that your mana will be ambushed again. During the Treasure Cruise metagame, we didn't really have to worry about that, but things are set to change now.
Having to play around Stifle and Wasteland defines how you construct your deck and will influence how you play your first turn versus an unknown opponent. It also changes the way combo decks approach the format. When nobody is attacking your lands, you may very well play a slower variant of combo like Sneak and Show or Past in Flames-based Storm. With Stifle and Wasteland coming back, it'd be a good move for combo to either be faster or be able to ignore those cards, at least to some extent, which leads to faster variants of Storm based around Ad Nauseam taking over while the Show and Tell part will most likely switch to the mostly Mono-Blue variants of Omni-Tell. This deck has various upsides over any other combo deck right now. First and foremost, Treasure Cruise left, but Dig Through Time stayed, and if there's a combo deck that benefits from it, it's Omni-Tell. Additionally, there's a decreasing number of Red Elemental Blasts in maindecks, as the format won't be as blue as before, giving the Show and Tell-based menace yet another plus. Lastly, it only plays Islands and fetchlands, so the effect of Wasteland is pretty much nullified.
Generally speaking though, it's getting worse for combo, as they had free reign over the blue aggro decks like U/R Delver. They didn't really pose much of a threat, permission-wise, but I'd expect Spell Pierce, Daze, Stifle, and Wasteland to make quite the difference in the new metagame.
So the Delver decks got worse, but in exchange they're now good again against the deck that was their weakness just a little while ago. Oh Legacy, how I love your fluctuation!
The Cruise has Ended, but We Can Still Dig Through Time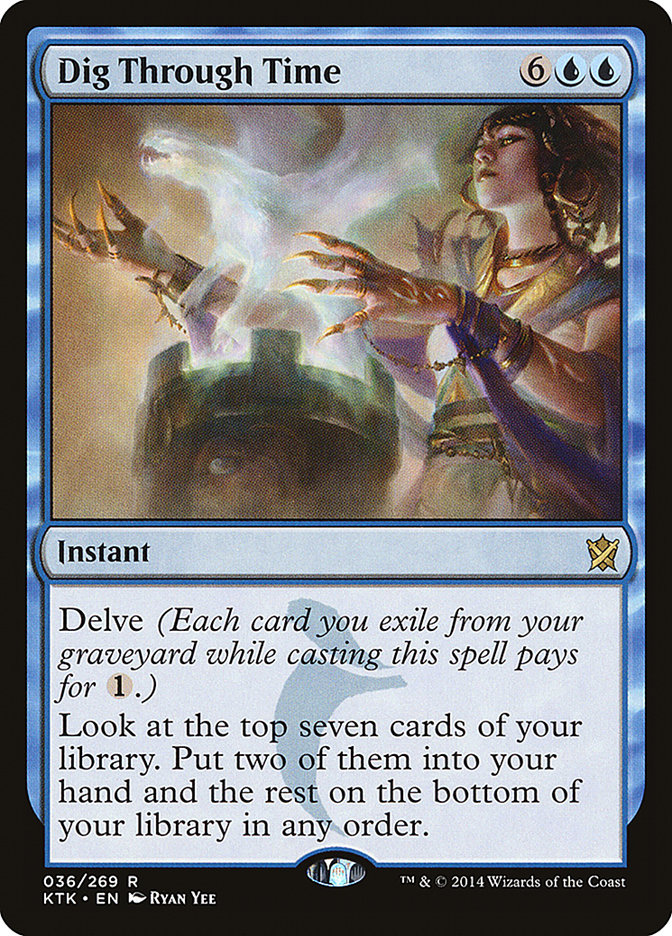 Ancestral Recall has left the format, but there is still a different delve-based draw spell. Thankfully, however, this one is balanced and requires more dedicated building to make it work.
Having to pay UU is huge, and the effect is also something that fits well in combo and control, but not really in Delver. Which decks can we expect to abuse Dig Through Time now? Well, first there is the above mentioned Omni-Tell, which uses Dig Through Time as a cantrip and also as a win-condition as soon as Omniscience has entered the battlefield.
Secondly, there are control decks, and quite a number of them too. First and foremost there is Jeskai Stoneblade. They will have to restructure their deck as Treasure Cruise and Young Pyromancer just work better together than Young Pyromancer and Dig Through Time. If, however, Jeskai kicks Young Pyromancer, it is free to (ab)use Dig Through Time quite well, leading this deck to be an indisputable contender in the metagame.
Thirdly, Shardless Sultai will be back to prey on the Tundra decks, just like it used to do. Dig Through Time is yet another good addition to the arsenal of the Sultai-colored grinding machine that is Shardless. It has weak percentages versus combo, and no, let's not fool ourselves and start feeling safe with 4 Force of Wills and a couple of discard spells, because those won't matter that much in the metagame to come, but it'll be way more important to fight off Jeskai and Delver than Storm or Elves.
There is More Than Just Blue
Yes, there's more to Legacy than blue, believe it or not. Treasure Cruise, however, led to some very awkward matches were Delver was just grinding out decks that were known for doing that simply due to Treasure Cruise. This is now part of history, and decks like Jund and Death and Taxes are now back on track with clear and working prey-schematics that worked in the past.
Jund has always been favored when it came to B/G/x pseudo-mirrors, and with the resurgence of Shardless Sultai, I could definitely see Jund making a comeback. Additionally it's pretty good against Miracles too, and if built and tailored correctly it will also hold its own rather well when facing Stoneblade. The decreased amount of combo is surely yet another factor that will make Jund a little more attractive to play.
Death and Taxes hasn't really been bad due to Treasure Cruise, but this metagame wasn't the most ideal for it simply due to the presence of Ancestral Recall and the splash damage that Young Pyromancer hate brought with him. Hate mostly targeted towards X/1 creatures also turns out to be pretty good against Death and Taxes.
With the expected disappearance of hate that was aimed towards Young Pyromancer, like Forked Bolt and Pyroclasm, it's also time again for Elves to come out and play. Slow decks like Shardless Sultai and Jeskai Stoneblade are no real challenge, but there is still Miracles looming.
Summarizing the Effects
As a last part of the generalities that aren't solely talking about Miracles, it might be a good idea to talk about what the generalized effects are, what the new metagame will look like, and which cards will be playable again.
First, there is the Deathrite Shaman, Tarmogoyf, Liliana of the Veil package having a resurgence in decks like Shardless Sultai, Sultai Delver, and Jund. They weren't really an integral part of Legacy when everybody was playing Young Pyromancer, but now they're back, slowing Legacy down and forcing you to stay for a grind. This means that simply having more lategame power than Delver is no longer sufficient, as you'll also have to consider more controlling, yet still creature-based decks out there in your deck choice/construction. Planeswalkers will become more important again, as they didn't really match up well against Young Pyromancer (tokens) but are mostly outstandingly efficient at dealing with Tarmogoyf.
Abrupt Decay is also a thing again. Previously a Counterbalance and a Sensei's Divining Top equaled victory more often than not. With the re-introduction of the uncounterable out to Counterbalance, things are set to change. The old downside of it being too slow isn't really a factor any more due to the format slowing down anyway.
Delver is bad again. Kind of. It at least has to play fair again, which is huge for decks that wanted to grind out Delver, be it Jeskai or Sultai. Things are back to normal again, the old world order has been restored, and Delver is back to where it was before: a pillar of the format, but not dominating. To illustrate how I felt about Delver at the GP in New Jersey, let me recite a very short conversation. Make of it what you will:
Buddy of mine: "Hey, how did your round go?"
Me: "Autowin." (shrug shoulders implying playing and winning against Delver)
Oddly enough, I actually felt this way and still do. I honestly don't think that Delver is that good, but this topic might be worth talking about on its own, as I understand that this statement is quite controversial.
As we've established the basics of the new metagame, let's move on towards the topic that you're most likely here for and that I've tried to avoid in the introductive part.
Why Miracles?
So which deck should you be playing next weekend in Indianapolis? Well, it's the same answer over and over again since… well at least since GP Paris - Miracles. It's time to explain why Miracles is as well-positioned as ever, how to build Miracles now, and simply how to win with it.
The first thing one would do now with Treasure Cruise gone is examine how well a deck did before this very era. When talking about Miracles, it was one of the top contenders of the metagame, and probably the best deck. Let's take a look at the list that I used to make 4th place at GP Paris with:
Creatures (4)
Planeswalkers (3)
Lands (22)
Spells (31) And now, for comparison purposes, the list that I used to make 4th at GP New Jersey:
Creatures (3)
Planeswalkers (3)
Lands (21)
Spells (33) Obviously there's quite a lot to talk about here. First and foremost, it's important to know that I wasn't as good in constructing Miracles at GP Paris as I am now. I didn't really want to include the second Ponder, but as it turned out, it was a step in the right direction. I also wouldn't register Karakas + Vendilion Clique ever again. But mistakes were made and things were learned, so let's concentrate on the real differences:
A Blast From the Past
The big thing to note is that I did not play any Red Elemental Blasts in the maindeck of Grand Prix Paris. Or to phrase it better, I did in fact play Red Elemental Blast at GP New Jersey, which was simply due to the omnipresence of Treasure Cruise and blue decks in general.
But Philipp, one might say, blue is still the most played color and your Blasts will always find a target. Well, this might be true to some extent, but the amount of blue decks won't be just as high as before and, more importantly, the key cards won't necessarily be blue again. While you can still counter a Brainstorm with your Pyroblast, it's better if your cards actually answer the threats that your opponent presents to you, and not the cantrips looking for it or the permission spells protecting it. And yes, I do count Treasure Cruise as a threat and not as a cantrip; three cards were far too many.
Yes, many key cards are still blue, be it Counterbalance or Show and Tell, but when I'm facing down Tarmogoyf or Liliana of the Veil, things tend to be get a little shaky despite the fact that I am not playing against a blue deck. Don't get me wrong, Red Elemental Blast is still insane, but it's not versatile enough to warrant an inclusion in the first 60 cards.
Additionally, with the re-introduction of Wasteland and Stifle, Red Elemental Blast is also much more of a liability than before, as running a Mountain is not an option due to it being an unbelievably useless land. When you take into consideration that discard will also rise in popularity, it doesn't seem too farfetched to doom Red Elemental Blast and make it a piece of the past, does it?
Red Elemental Blast will still be an outstandingly important sideboard card as it's invaluable in certain matchups and isn't something that I would ever consider dropping from the 75. It did, however, lose some of its importance that warranted its inclusion in the maindeck.
Angels
The next difference is one that might not have been apparent to most of you, but it's a very important one. I'm talking about the win condition in the sideboard. I did include a third Entreat the Angels back in the day, which was in no small part due to Shardless Sultai being an important factor, but this slot isn't solely reserved for Entreat the Angels. It's basically a slot that can contain any of the following cards:
Each and every single one of those cards is different, and yet they fulfill a very similar role. They are all hard to deal with threats that will end the game sooner or later. Let's go through them really quickly to make sure everybody understands which role they serve.
Entreat the Angels is just in line with my general deckbuilding philosophy, which is consistency. It's already there in the maindeck and functions as additional copies of the best card for said scenario. It's the fastest win condition but also the most expected one.
Keranos and Elspeth also do win the game at some point, but they are way slower at doing it and are basically there to prolong the game even more. Elspeth is very good against Jace, the Mind Sculptor, while Keranos is excellent in a Sultai-infested metagame.
Batterskull and Baneslayer Angel are somewhere in between. They are nowhere as fast as Entreat the Angels when it comes to their killing potential, and they are also not perfectly able to control every game, but they hold their respective middle ground pretty well, as they have one important feature that sets them apart: lifelink. That's something that Miracles has been missing since forever and that many players want.
During the Treasure Cruise era, I couldn't really play another win condition as most of the slots were used to combat the most popular decks. Winning wasn't really that much of a problem either, as Counterbalance equaled victory just as often as Entreat the Angels did. But with Abrupt Decay back, and with it, decks that also tend to be able to grind, this makes the inclusion of one win condition somewhat mandatory. I wouldn't consider Keranos, Baneslayer, or Elspeth right now, as I believe the metagame to be too diverse for them to warrant their spot, so it comes back to Entreat the Angels or Stoneforge Mystic + Batterskull.
Final Words on the Comparison
Another list to take into consideration when comparing pre- and post-Treasure Cruise-Miracles is a list that we call the Ovino list. So what is this list about? Well let me tell you a short story:
I had a Miracles list built for Italy's largest Legacy tournament last autumn, but I couldn't attend it due to university. So I gave the list to two people, Tomas Vlcek and Angelo Cadei. Angelo improved the sideboard quite a bit, and as soon as Tomas and I had agreed on the changes, we were all happy. I also wished a different buddy of mine good luck for the tournament, telling him that he wouldn't be able to win the tournament though, because Tomas and Angelo would meet in the finals. And so while I was studying, they plowed through the field and actually met in the finals where Angelo defeated Tomas. Here's that list, which will also play an important factor in constructing our new list:
Creatures (3)
Planeswalkers (3)
Lands (21)
Spells (33) That's basically the predecessor of the list that Tomas and I used at GP New Jersey and a perfect example of a coherent Miracles list, excellently built for an open metagame without any wrenches due to some metagame considerations.
This list includes the full set of Ponders, as well as the sideboarded win-condition while also having access to a Council's Judgment, which is very important when expecting Shardless Sultai; it's an ideal tool to get rid of Liliana of the Veil while still functioning perfectly versus any other threat any deck could pose to us. It was just too slow in the token-infested metagame that was the Treasure Cruise era.
Let's Build
Enough analysis of the new metagame, enough comparisons of old lists. Let's get to the new stuff, right? So what Miracle list should you be playing in order to prevent yourself from losing, like ever?
Let's summarize what we learned so for: We will not need Red Elemental Blasts in the maindeck, but we absolutely need to include them in the sideboard. An additional win-condition is a necessity for the sideboard, as we also need to react to the slower and more controlling metagame that will come with Shardless Sultai and Jeskai Stoneblade.
So we have at least two slots for the maindeck, as Red Elemental Blast will not be featured there anymore. There is also one card that I didn't really talk about yet, despite the fact that many asked me about it.
Dig Through Time in Miracles.
At first, Dig Through Time isn't something that you want to base your Miracles deck around simply due to the fact that it's yet another do-nothing in your opening hand which has to be unlocked later in the game. Its immense digging power, however, is something that is important for any control deck out there, but Miracles will also draw their namesake spells, which isn't really that great. But the fact that it's instant speed makes Dig Through Time a welcome addition to a cantrip-heavy build of Miracles, topping off the curve as the 13th cantrip, and a super-powered one at that. Seeing it as a win condition is wrong though; it has to be seen as a cantrip or draw spell.
There are more factors to Dig Through Time, however, all closely associated with what I said above, but with a meaning that may not be apparent at first. Being instant and two mana is good due to a number of reasons, the first being that it's pretty resilient to taxing counters like Daze and Spell Pierce. Being an instant is also invaluable in the mirror and the combo matches, as you don't need to use your mana in your turn and are free to do whatever you want with your mana for as long as you need to find a spot to cast Dig Through Time in. It is also a card that you have to counter in the mirror, as it is pretty good to resolve this the turn before you go for your trump, be it Counterbalance or Jace, the Mind Sculptor.
With the increase in grindy decks, it appears to be the right time to include Dig Through Time in Miracles, but there is still the question where you want to include it. But more on that in a bit when you look at how to update the maindeck.
The second card that we want (again) is Council's Judgment. Now that the Delver decks have slowed down to their three-colored variants, this card isn't mostly invalidated by the sheer existence of Delver. It is also an outstandingly important tool when it comes to dealing with Sultai strategies and planeswalkers like Liliana of the Veil in particular. Additionally, it synergizes pretty well with Dig Through Time, as it's a high-impact card that doesn't need to be played from the top of your library.
Tweaking the Numbers
Now when it comes to how to integrate these cards in the maindeck, there are a few options, each with distinct upsides in a certainly shaped metagame.
1) Slow metagame (Shardless Sultai, Stoneblade, Death and Taxes, Jund/Abzan)
When Sultai is what you expect to be prevalent at your tournament, you replace 1 Red Elemental Blast and 1 Pyroblast from my GP NJ list, with:
Having access to three Jace, the Mind Sculptor in addition to high impact cards like Council's Judgment and Dig Through Time in addition to three bombs is what you'll need to be successful in a slow and not very blue metagame.
2) Fast metagame (Delver, Jeskai, Infect, Combo)
Here you want to replace the two Red Elemental Blasts and one Jace, the Mind Sculptor with:
While this might not look like much of a difference, it kind of is. You might have to look at it from a different angle. You're replacing the Red Blasts with Council's Judgment and Counterspell while also shaving one Jace for a Dig Through Time, which has distinct advantages in matchups like Delver, Infect, or Combo. You also have a second Counterspell for the increase of combo, making sure that by turn 2 you should be having something to work with, be it a Counterbalance or a Counterspell, maybe in conjunction with a Force of Will. This variant is an option for a very special metagame. I will, however, promote the first change as the go-to list in a wide unknown metagame.
It's just one card different, but the choice is up to you and the metagame that you're engaging in. Now let's look at the sideboard that we want to have with any of these maindecks. I'll sort it into batches to ease your understanding:
1) Stack interaction
That's the trusty package that has, with one or two slots changing here or there, accompanied me ever since GP Paris. Flusterstorm has gotten better, as it's very good against Stifle-based Delver variants while also being outstandingly powerful when facing any kind of combo. And the sideboarded Counterspell is as underrated and powerful as ever.
2) Complementary gameplan
I am no fan of Vendilion Clique in the maindeck because of its susceptibility to removal and how good and/or bad it can be, depending on the matchup. In the sideboard, however, this card is excellent, as you just bring it in where you need it and where Clique really shines, be it combo or Miracles. A trump that also happens to win the game.
3) High-impact cards
These cards solve a very certain scenario or just win the game like Entreat the Angels. Due to the high digging power of 4 Ponder and 1 Dig Through Time in addition to 4 Brainstorm and 4 Sensei's Divining Top, we don't really need more of those, and there's still Snapcaster Mage to flashback some of them.
So the list that I'd suggest taking to SCG Indy would be this:
Creatures (3)
Planeswalkers (3)
Lands (21)
Spells (33) I'd expect the slower decks like Shardless Sultai and Stoneblade to be more prevalent than Delver in the time to come, so that's why I opted for the three Jace, the Mind Sculptor. This list is as well-positioned as you can get Miracles to be, with hardly any bad matchups, with the exception of fringe stuff like 12-Post and Goblins, and ready to take down any event if you treat it well. For sideboarding guides, I'd advise you to check out my Miracles primer from last year. A few cards have changed here and there, and the metagame has shifted, but you'll find enough information to sculpt yourself a valid opinion on how to board with this deck.
A Word on Design Philosophy
Allow me to drop a few words on the design decisions that went into making this deck what it is. You might have already read some of it in my older articles, but I think that repeating it is what will make you understand why this list is built that way, which differs a lot from other Miracle pilots.
Playing this immense amount of cantrips allows you to do one thing and one thing only: execute your gameplan.
Your gameplan will not be dependent on the cards in your starting seven, but dependent on your deck, as you are guaranteed to find what you put into your deck. The strength is not to be able to play a Baneslayer Angel and catch the opponent offguard. The plan is to always have enough of your basic tools at your disposal that allow you to win any game, if you play correctly. Big, game changing bombs may win you a game you didn't deserve to win, but you can also lose matches that had nothing to do with your lack of skill. It was just because the deck didn't deliver.
Such things don't really happen if you play 13 cantrips with the rest of the deck being very straightforward cards. There's no Blood Moon, no Baneslayer Angel, no Venser, no Karakas. All this deck does is the same thing over and over and over again. To what result? Victory, what else?
Additionally, I try to split up packages that can and should be split up like Engineered Explosives, Council's Judgment, and Disenchant, but prefer to keep certain packages in one piece if one card is somewhat clearly superior to the other options. An example would be Flusterstorm or Vendilion Clique. There are points to be made to diversify your hate versus combo with the inclusion of Meddling Mage or Ethersworn Canonist, but as long as Legacy is as diverse as it is, I wouldn't dare bringing cards to the battlefield that might or might not win the game. They're too risk-based for me, and I'd rather fall to the safe side of a good Counterspell and an evasive threat.
The sideboarded Counterspell and Entreat the Angels are very good examples of the basic underlying design philosophy. They're just more of what's already there. And the things that are there are good enough. So no need to play fancy cards.
Concluding Thoughts
Miracle is as strong as ever. The difficulties have changed a little bit. The last metagame presented us with Delver decks that could just win from a spot that seemed undeserved, but now they're back to being an outstandingly good matchup. On the other hand, there's Shardless Sultai, which was never a really good matchup-though it's not as good as they would want you to believe. You just have to shape your gameplan around Entreat the Angels, and you should be fine more often than not. I still think that Miracles is somewhat underplayed in the States and would love to see it being more successful over there. I hope I did contribute yet another little bit in doing that.
For the time being, I cannot see anything happening that would invalidate Miracles as the best deck in the format. Good luck on your adventures with this deck, and may the Miracle be with you.