Pre-Bans
Our group started testing early for this Pro Tour under the assumption that Modern was going to remain fairly static with a single small set being added. There was the issue of the banning, but there's a lot of information you can gain via getting reps in ahead of time. For example, last year we had Storm ahead of the Deathrite Shaman banning, and Andrew Shrout famously proclaimed "If they ban Deathrite Shaman, you will have to pry this deck from my cold dead fingers." Turns out they did, and turns out the deck was arguably the best deck at the Pro Tour.
Given the known state of the format, there was a lot of debate about whether we should even bother testing with Treasure Cruise or Dig Through Time. I was a staunch defender of spending time casting those cards, in part because I was going to Grand Prix Omaha and in part because I wasn't entirely sure a ban would occur. I also felt like testing with these decks with additional card selection was an interesting experiment to see how they could function differently if a replacement could be found post-banning. For example, Splinter Twin with Dig Through Time was a vastly different deck because the full-on Tempo Twin strategies could shave down on the combo cards and Dig into them if needed. In turn, this brought knowledge of how to construct Tempo Twin decks without Dig.
On the note of Grand Prix Omaha, we spent a lot of time talking about how to handle our deck selection for that event. If we broke it, should we hold the tech and risk losing the metagame positioning to a ban? Or just run it at the Grand Prix and risk exposing a Pro Tour-breaking deck? The end verdict was that we were good enough that even if the latter case occurred we would re-break it. Plus, if we made something that really cracked it open, we would have already tested it and known all the ins and outs of it and how to exploit the direction it would take the metagame.
One of the cards we fixated on early in testing was Become Immense.
I was excited with the default application in G/U Infect, as getting six pump out of a single card often took a full card out of the kill configuration, and with a little configuring you could build an Infect deck that was just good enough at filling its graveyard to make Become Immense very good. Not insane, not always a one-drop, but very good.
Andrew Shrout moved down the road of using Become Immense the "fair" way in Zoo. One of these early lists was recorded in Gerry's Daily Digest after Shrout 3-1'ed a Daily with it. If I remember correctly, it was derived from Logan Mize's Premier IQ winning Phyrexian mana Delver lists. The goal was simply dead them as fast as possible and fuel a delve card by casting free spells, and Become Immense was the delve card that matched the kill them part the best.
Chris Fennell went the furthest with the card, actually playing it at Grand Prix Omaha. He liked the Infect idea but was very attached to the idea of Phyrexian Crusader being basically unblockable and indestructible in the Delver-Siege Rhino format. His deck was also featured in one of Gerry's Daily Digests. Again, we didn't really care about secrecy at this point as we were just going to blow all the info at the Grand Prix. Long story short, he used Grisly Salvage to enable delve and find his best Infect creatures more often, similar to how some G/U lists play Sylvan Scrying for Inkmoth Nexus. There were also experiments with Slaughterhorn or Briarhorn so you could Salvage for a pump spell too, but they both turned out to be a bit too inefficient and constricting.
The other camp for the Grand Prix was the Five-Color Zoo deck Craig Wescoe and I played. Yet again, this was featured in Gerry's Daily Digest and a set of videos by him. As Gerry mentioned, the deck was created by Manu Sutor, one of the members of the original iteration of my Pro Tour team. The deck was just all individually good cards. No Kird Apes, Mutagenic Growths, etc. that are unimpressive to draw late. Geist of Saint Traft, Siege Rhino, and Wild Nacatl don't need any help being awesome. One of the most important parts of the deck was how well the removal spread looked across the board. Your removal was either hyper efficient burn, very flexible and able to interact with combo, or Path to Exile. Specific things to note were that you had plenty of removal that killed Birthing Pod (Bant Charm, Qasali Pridemage) and that Tribal Flames kills Siege Rhino. The mana was also really good, with the discovery of just playing Watery Grave being the huge breakthrough that let you cast any spell in the deck easily. Forest, Plains, Watery Grave, Stomping Ground casts every single card in the 75. That's two basics in play, a huge upgrade from the previously super painful Tribal Zoo manabases. That said, the deck had flood issues because you had 27 mana sources and none of them could upgrade to be worth a full card. There wasn't Treetop Village, Raging Ravine, Horizon Canopy, Gavony Township, or anything else along those lines. Noble Hierarch exalted is a nice bonus, but it doesn't make up a full card.
This deck also brought up some good theoretical discussion by Alex Majlaton about what having all of the fetchlands available in the format does. I don't feel this was truly appreciated in Legacy when the Zendikar fetches were printed because Wasteland reigned some of it in, multicolored cards weren't quite as powerful and ubiquitous as they are now, and because the original duals covered it up more than the shocklands. With just five fetches, you have to make concessions in your manabase in terms of what duals you can fetch. Most of the time this just resulted in people finding a base color and sticking to it (i.e. Misty Rainforest and Verdant Catacombs fetching Temple Garden and Overgrown Tomb in Melira Pod). If you wanted to branch out beyond that, you had to branch out from that base color or make significant sacrifices in terms of life total. With the new fetches, you have so many additional options where to spread your mana. Just looking at that Zoo manabase and assuming you want one of the two main colors, basic (Plains or Forest) in three lands that make all five colors, you have six ways to do it. You can now configure your lands to match the spells you want, then the fetches to match those lands, and so on. The concessions you make are much smaller, like "I need my extra black and blue source to each be fetchable with Windswept Heath, as that's the fetch I'm relying on for my basics," and "I can't play Hallowed Fountain because I want Geist of Saint Traft and need my three lands to cast it, hit all five land types, and include a basic so there can't be any overlap."
Basically, the cost of playing all the colors right now is really low. There isn't a huge life cost relative to three colors, and there isn't a tempo cost. If you want, you can just jam all the good cards with minor restrictions on double-colored cards. The draw to conservative manabases isn't the traditional consistency in casting your spells, but instead draw smoothing with spell lands and cards like Cryptic Command that are extremely difficult to fit in a stretched manabase. I don't know if this is a problem or something that just tilts future additions to the format, but it's worth noting that a fundamental aspect of deck design is completely changed in Modern now.
The Bans
I personally expected more unbans. This overlaps with my belief that these bannings were great at solving the upfront problem, but horrible when you started peeling back the layers.
Modern has been through several bannings since its inception. There was the first wave after Philadelphia of "Oops, we were working on that" bans. Then the post-Worlds "Maybe we missed these too" removal of Wild Nacatl and Punishing Fire. Then the format hit stability as players got a PTQ season in and people started developing all sorts of crazy ideas like Tron, Melira Pod, and so on. Up until this banning, four cards had been banned in the stable stage of Modern:
The actual two categories of bans here are fast combo and Jund (note: I'm going to use Jund to refer to all G/B Midrange decks with the base Thoughtseize-Abrupt Decay-Tarmogoyf shell, despite Abzan being the current frontrunner, due to historical significance). The Jund deck has become a huge issue in Modern because the cards are just so good at doing anything in a format that is defined by the cards being bad at that. There aren't cards comparable to Abrupt Decay and Thoughtseize the way Legacy has Counterspell and Force of Will. The really horrible part is that both bans didn't noticeably succeed. They chipped into the metagame share of the deck and briefly caused large drops in the deck's metagame share, but it was still there and kept coming back to dominance. There was this cycle of play Jund, things get inbred, someone finds a deck that exploits the current 75's lack of hate card X. This is immediately corrected and everyone beats it with Jund. The exception, of course, was Birthing Pod, which fought Jund at its own game with a definite breaker to draw to.
For the first time since Yuuya won Worlds with the deck in 2012, Treasure Cruise had done the impossible and actually pushed G/B decks out of the format.
I'm not arguing Treasure Cruise wasn't overpowered in its own right. But it did something good for the format. The lack of a playable card advantage spell in the format was one of the things that kept Jund in power for so long. They were extremely capable of one-for-one answering any card, then overpowering the leftovers. The deck struggled when it could be buried in cards in a way that didn't require you to have a million lands in play like Sphinx's Revelation.
Unlike Legacy, Cruise was also limited here by the power of the supporting cast. The interactive cards aren't universal and can easily get stuck in your hand. Unlike Force of Will and the cantrips, they don't self-combo off into the right mix of more cantrips and action. They are Gitaxian Probe and Thought Scour, not Ponder and Brainstorm. They just replace themselves with a random card and lead to flood that even with Cruise causes issues. Cruise also conflicts with playing the expensive cards in the format, and unlike Legacy, these cards are actually castable without Wasteland and Daze around to punish paying four mana for a spell.
Maybe the cards that fill in these holes that absolutely break Cruise will come one day, but I think Cruise had some more life to it without being egregiously oppressive.
The Birthing Pod ban only exacerbated things. As mentioned above, Pod was the only deck that reliably competed with Jund. Every other deck that "beat Jund" was always "linear deck that beats Jund's maindeck and hopes it doesn't show up with six sideboard cards." Pod forced Jund to fight fair and unfair games at the same time and often succeeded at making it fail to juggle both halves of the equation. Pod was also much more exploitable than Jund. Pod was slower out of the gates, had fragile creatures, and still had the same linear strategy issues in cases where creatures didn't cut it. You could build Pod to beat fair decks, but you had to sacrifice a lot of free win percentage versus all combo to do so, as you cut tutor targets that handled specific threats. It's not like Thoughtseize where you just cast the card and it solves the problem. You draw an Ethersworn Canonist game 1 against Scapeshift or an Aven Mindcensor versus Storm and you look dumb. Condensing to Sin Collector costs a lot of percentage points, and it takes a slot away from cards that are actually good to draw to beat Jund.
I don't disagree that Pod's days were numbered. It wasn't a matter of if, just when, as more and more utility creatures got printed every year. But by doubling down on axing tools against Jund, WotC undid most of what the previous two years of format regulation had tried to do.
Now, I did just say that both of these cards were probably going to leave eventually or even soon. When you put it that way it looks really dumb for me to sit here and argue for them not being banned. But knowing that you are axing these cards, there is more you can do to make sure you aren't getting into this problem. Ban something else. Unban something else. Wait until you print a card that changes the fair deck dynamic.
Moving down the "ban Jund" path, the most obvious card to ban out of Jund is Thoughtseize or Abrupt Decay. These are actually the tools it needs, as they provide the flexibility that is actually the draw to the deck. The problem is that with the current state of Modern, you need these cards for the format to not become even more of a revolving door of combo than it already is. The real thing that needs to happen is to give other colors tools like these that aren't exploitable by just adding them to Jund. Then you can have a diversity of midrange decks. Give the cards flaws in the way Abrupt Decay is flawed against four-drops or Thoughtseize is flawed versus card draw. Introduce cards that exploit those flaws if they don't exist. It's a delicate balance, but it's certainly possible.
It's also possible that new prints aren't doable in a reasonable timeframe without destroying Standard, and the banned list is where change occurs. I could spend another whole article going into the banned list, figuring out what needs to shift where, so I'm just going to end this by saying that you need a huge paradigm shift to solve the format's current state with just the banned list.
Testing
Play Abzan or beat Abzan was the obvious dilemma, and the obvious plan was to figure out how to beat it and use the knowledge of each matchup to refine Abzan as you go, so if you fail to beat it you have also optimized your deck.
Of course, that doesn't mean we don't want a full metagame picture to see how the other options will fare against each other. Certain secondary matchups breaking different ways will inform a lot of sideboard building decisions with Abzan. Over half the rounds you play will also be against non-Abzan decks just based on the fact that metagames basically never saturate past the 35% point without months of result build up (Caw-Blade just before New Phyrexia, Jund just before Rise of the Eldrazi). If you play a deck that beats Abzan, it's important to know what rises to the top of the not Abzan metagame.
We started with a gauntlet of Abzan, Splinter Twin of all kinds (Temur, Jeskai, pure Izzet, and even Grixis for Tasigur), Affinity, Burn, Jeskai fair stuff leaning towards control over Geist of Saint Traft aggro, Scapeshift, and Tron.
The first matchup I tested was Abzan versus Tron. I wanted to test to see if Ugin, the Spirit Dragon was significant in the matchup, as it seemed like hedging there would be great.
And then we found out Tron was losing, and it became immediately evident that Abzan was not messing around at this event. Abzan had better mana and didn't need its non-Golgari color for early removal. As a result, it could fit Tectonic Edge in the maindeck. Siege Rhino was also a huge problem, allowing the deck to reach through and kill Tron from low life totals despite Oblivion Stone or Wurmcoil Engine in the way. Then out of the sideboard you got Stony Silence on top of Fulminator Mage. Ugin was great if it resolved, but often, Abzan just ran Tron over.
Abzan then crushed Jeskai, as Siege Rhino not dying to Lightning Bolt changed the entire dynamic of the matchup. Then every Twin variant fairing well against Abzan was obsoleted by 4/5 Pachyderms. Jeskai Twin made it look like a match due to Celestial Colonnade and Restoration Angel being good at applying pressure with Remand backup, but that was it.
Affinity? I left that to Alex Majlaton, who came to the same conclusion that running Vault Skirges into Lingering Souls was a fool's errand, especially if everyone realized that Souls was the best card in the mirror match and started playing more and more maindeck. Siege Rhino was yet again an issue, as Abzan could just slam Rhino after a couple removal spells and easily race a bunch of random robot dorks.
Scapeshift was left to Jarvis Yu. Despite loving the deck, he came back saying anyone playing it was a moron, which seemed about right given my experience. If your opponent is trying to do the hybrid combo thing, you get to laugh and show them how it is done as you out muscle control and inbred midrange (read: Brian Kibler specials), but if your opponent goes back to level zero linears or attrition decks, you're going to fail. Also, it was way easier for Abzan to stay over eighteen life and force you to have another card because of, you guessed it:
If you didn't get the memo, Siege Rhino is above the curve on power level. If it could be pitched to Force of Will, I bet the card would be played heavily in Legacy.
So... what didn't Abzan beat?
- Tasigur, the Golden Fang control. Turns out 4/5 that doesn't die to Abrupt Decay backed by Snapcaster Mage for card advantage is a good plan. We found this early but didn't go too deep, as we expected the Pro Tour metagame to be too wide open to play a deck like this. The blue answers are just too narrow, and unlike Abzan, you don't have a real clock backing your interaction. Combo can and will just out draw you or out maneuver you.
- Tokens. Lingering Souls is the best card in the Abzan mirror, as it negates a huge advantage source inLiliana of the Veil, and if you have more cards that play a similar role, it is easier to break parity. Tokens also negate Abrupt Decay, which was one of the ways midrange could potentially get ahead of Abzan. Switching away from Jund Charm and Olivia Voldaren took away some of your breakers, and while Siege Rhino was good here, it was easier for tokens to go over the top of it.
- Remand. We never really found a deck that was great with Remand, but the card was fairly good now that the G/B deck's maxed out four-drop was a reasonable target as opposed to a cascade spell.
- Bolt you. The shift from Lightning Bolt to alternate one-mana removal that was far less optimal on turn 1 (Dismember, Path to Exile, Murderous Cut) left a hole to exploit. Little Zoo and Burn were both slight favorites against Abzan, with the bonus of shredding most of the "not Abzan" side of the format, including a lot of the random decks. Eidolon of the Great Revel was a massive addition to both decks that wasn't present the last time a Modern Pro Tour rolled around, shutting out a lot of combo strategies that tried to race these decks. Zoo was weak to a lot of the more traditional interaction and Blood Moon, while Burn had real hate cards like Kor Firewalker and Leyline of Sanctity people could access to fight it.
I kept messing around with other decks, leaving no stone unturned. Infect? Can't play that versus Lingering Souls. Amulet? Sometimes gets them, usually dies. Loam, multiple Dredgevine decks, Hexproof, and more. All terrible.
And I kept coming back to Burn with a backup of Abzan.
Meanwhile, the team did their own dance. When I arrived on Tuesday they wanted to play Soul Sisters. Then they lost to Burn and wanted to play tokens. And then something else. At some point I just gave up and stopped trying to convince people and drafted, and at some point everyone played some games and came around to casting Eidolon of the Great Revel.
All of the lists ended up a bit different. I like my maindeck the best, but I think everyone else's sideboard may have been a little better. I played Lightning Helix to hedge for Zoo and random decks I might want the effect against, but in hindsight, it should have been obvious more people would find this deck, as it literally won the last major event pre-bans.
Cards that are absolutely untouchable:
What about the other twelve cards?
3 Shard Volley, 0 Bump in the Night:
Battle of the one-drop burn spells. Jasper Johnson-Epstein, the master Burn consultant, was really high on 4 Bump in the Night, 1 Shard Volley, but I pushed back hard on that.
Adding colors is bad. You just make your deck more likely to stumble or take extra damage. Simple, lean, efficient. Burn them. If you can't do it with the most linear version, you probably shouldn't be doing it at all.
The fourth Shard Volley is not in the deck, as it is awkward on mana sequencing. You can't use three mana two turns in a row to two-drop plus Volley them or a similar comparable play.
Can't afford to draw too many blanks. The card is insane when it works, terrible when it is uncastable or you rip it without landfall. Considering it isn't the best against Abzan, it was very easy to shave numbers here.
This also isn't Searing Blood, as the format has changed from Delver of Secrets and Noble Hierarch to Wild Nacatls and random things you want to target and be sure to get in three damage on, like Tarmogoyf.
This card just straight up beats some decks. Against everything else, it's just incremental damage through blockers, which is something only Eidolon of the Great Revel can do. You are also reaching the point of creature density where you outmass their removal spells, so having extra creatures becomes good instead of a liability. Note this means actually good creatures, not burn spells you can block like Hellspark Elemental.
4 Skullcrack:
Siege Rhino is a Magic card. It is very hard to lose to Abzan when you cast this card. This comes out a lot against creature decks where it isn't hyper-efficient like Boros Charm and can't interact. Also note that this card can kill Kor Firewalker by removing the "prevent damage" part of protection from red after it has blocked.
There literally wasn't another card I wanted to play. I tried Flames of the Blood Hand, but costing three mana was terrible. This card at least gives you some push in the mirror.
And the sideboard, which is mainly focused on beating Leyline of Sanctity and Kor Firewalker:
4 Wear//Tear, 0 Smash to Smithereens:
Kills all the things. This isn't Destructive Revelry, as extra colors are bad, and isn't Smash to Smithereens as you need to condense sideboard space. It also isn't War Priest of Thune for that reason, though that card is awesome since it does something with no target, unlike this or Revelry. As such, it can be hedge boarded in.
Randomly fills in slots in matchups where your plan is "kill all the things." One of those things happens to be Kor Firewalker. This card specifically excels against Zoo where you want answers to Firewalker but need them to interact in the racing games, which this definitely does.
When this is good, it's real good. Max it out.
2 Molten Rain:
This is a hate card for Tron and Scapeshift, but you are already extremely favored against those decks. The real reason this card was included was that there are a lot of decks where hitting four mana is a big deal. Molten Rain just randomly wins a ton of games against these decks and adds a lot of percentage across the field at a low cost.
This kills Kor Firewalker and can be boarded in to do so against decks that otherwise lack creatures, like Jeskai Control, as it has an effect against an empty board.
This also kills Etched Champions. Considering your plan against Affinity is kill everything, and Etched Champion doesn't die to a lot of Magic cards, this is a big plus.
This also kills Burrenton Forge-Tender and Master of Waves, and I learned that in the later rounds. I didn't plan that one at all, so mise.
This card is for the Burn mirror but has a ton of generic applications. It can kill creatures when you go down that road, randomly help race when you don't want Searing Blood but don't want other sideboard cards, and is way better than the other anti-Burn options against Zoo.
If I could run it back, I would want to find room for a Flames of the Blood Hand in the sideboard. I hated the card maindeck, as it is really bad when you are just normally operating, but against Abzan, the additional four damage effect and additional Skullcrack effect is huge. If I could run it back with perfect metagame knowledge that Burn would be over 10% of the field, I might replace Lightning Helix with Kor Firewalker or Dragon's Claw.
General sideboarding notes:
-The twentieth land is negotiable when you are on the draw or when cards matter more than time (Abzan). Don't cut it when you are racing your opponent, as getting stuck on one land is fatal there, and don't cut it against Spreading Seas.
-Searing Blaze comes out against most Abzan decks. Too few things die to the card, and too often, you are strapped for cards due to Liliana of the Veil and can't hold lands to set it up.
-If you are guessing if you need to board in Wear//Tear or Path to Exile for hate, choose not to. If you keep ending up being wrong here, you probably shouldn't be playing Burn in the metagame.
-Against creature decks, your plan is to stick an attacker and kill their things. This often conflicts with the fact that Eidolon of the Great Revel is often a liability, as their attackers let them play better from locked out boardstates. I'm not sure what the right answer is, but between 2 and 4 Eidolons come out against Zoo, Merfolk, and Affinity with the rest of the cuts being spells that don't interact with creatures (Skullcrack, Lava Spike, Boros Charm). I usually start with the Skullcracks and split Charms and Spikes, but I'm sure there's a more optimal answer for the last part.
-Molten Rain coming in often depends on play or draw. Versus Abzan, I felt if they hit their third land, the Liliana or Timely Reinforcements that could represent was often enough to win regardless of Rhino, so I would only bring the card in if I could potentially keep them off of three mana. On the play, I would add Lightning Helixes just to race and up my density of live topdecks.
The Event
My first draft started out as this format should: first pick rare. I took Daghatar, the Adamant out of a fairly underwhelming pack and followed it up with a Soul Summons out of a pack with a common missing. When I was passed a third pick with a common and rare missing with Aven Surveyor and Honor's Reward as the options, I had a conundrum.
Aven Surveyor is by far the better card and probably the second best common in the set. Issue one is that I hated U/W-based decks. Issue two is that U/W implies two-color or Jeskai, which turns off Daghatar's unbeatable counter moving mode. Issue three is that if I abandon white, I'm looking at U/G or U/R base, and the missing commons and just some general feeling implies Andrea Mengucci on my right had picked up a Bathe in Dragonfire in his early picks and would cut me out of red. This would leave me in U/G, a pairing I absolutely hate to start on. Two-color U/G is clunky for aggro. Temur is really hit or miss, as the green in pack one is so bad, and it's so hard to tell if it is open as a result, and Sultai is better off starting in G/B or even just not caring about colors. As a result of all of this, I took the Honor's Reward. It turns out my red from Bathe in Dragonfire read on Mengucci was correct, and I moved into Abzan off a late Reach of Shadows and the lack of red signals.
In Khans, I had a couple other close picks. I took Throttle over Woolly Loxodon, with a Reach of Shadows and Kill Shot as removal mid-pack two because all of my creatures were mediocre ground attackers and the removal to keep my opponents on the back foot was more important than a finisher. Later on in mid-pack three, I took a Jungle Hollow over an Incremental Growth despite having both Tuskguard Captain and Abzan Falconer, as I was looking to be solid three-color and only had two lands for fixing. I would rather play more games of Magic with my already solid cards than take a potential blow out.
The matches were rather unexciting. I played a bunch of removal and an Abzan Guide both games versus Shouta (Yasooka), while he didn't kill any of my creatures and his High Sentinels of Arashin was immediately destroyed. His Dromoka, the Eternal and some other crazy rare kindly decided not to show up. Against Andrea Mengucci, we traded mana flood/screw games and ended up in a state game 3 where I was slightly ahead on board and things started winding down. He drew three removal spells and a flier to my random ground dork and lands.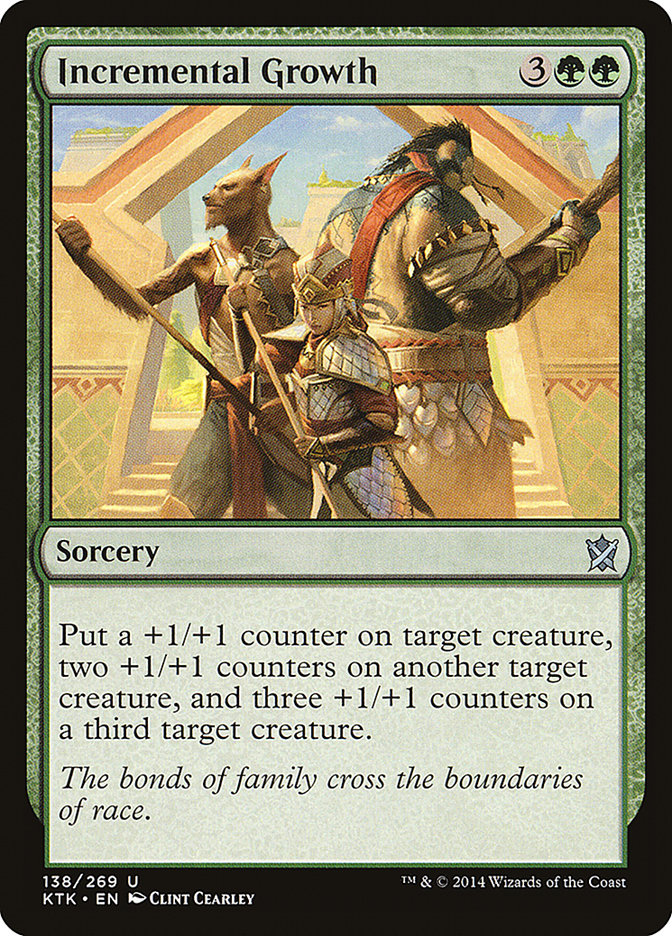 My final opponent curved out game 1 with Frost Walker, Frontier Mastodon, Longshot Squad, and Awaken the Bear. Game 2, he played Whisperwood Elemental on turn 5, while I was unable to Throttle it as I had a tapped land. Fortunately for me, he simply said "Go." I untapped, at which point he realized his error and said "make a manifest." The judge was called, he claimed he said them both in the same phrase, and he got the trigger. I was able to kill the Elemental, but the Manifest was the third creature he needed for Incremental Growth. I took about ten damage on the attack, but topdecked Daghatar to make things interesting. The second Incremental Growth brought me to three, but I kept playing creatures and leaving up Daghatar to make his attacks horrible. He added another three creatures to the board, and when he had eight attackers to my five blockers and three open mana he decided to go for it with another Incremental Growth. Of course, my last mana was spent on Honor's Reward, which put counters on Sidisi's Pet. The lifelink and gain four put me to exactly one on his attack, and I easily had enough power to win on the swing back.
Of course, game 3 he had Embodiment of Spring, sacrifice it, Longshot Squad, Whisperwod Elemental on the play. "I lost" barely begins to describe the beating here, and I was 1-2 after the Draft portion.
I started off Constructed with a timely pair of rips against Abzan, drawing any burn spell to win game 1, and specifically Skullcrack right before my opponent's lifegain spell to win game 3.
Note: You will see a lot of "I mulliganed," "I topdecked," and so on here. It's Burn. I don't know what you expected from it. There is certainly play to the deck, but in the end, a huge number of games come down to the topdeck sweat. If you can't handle it and want more control and less visible luck, play Golgari cards.
The next two rounds weren't nearly as kind.
My Affinity opponent played turn 1 Ornithopter, Darksteel Citadel, and Springleaf Drum. My hand was Eidolon of the Great Revel, Boros Charm, Lightning Bolt, Skullcrack, three lands. I opted not to Bolt the Ornithopter, as I thought my plan was to race him instead of using my only interaction up front, but that was likely wrong. Me cutting his mana off early makes my Eidolon better and likely would make up the three damage from the Bolt very quickly. Instead I didn't, and he followed up with Mox Opal, Ensoul Artifact on his Darksteel Citadel, and a Cranial Plating the next turn. I then died game 2 to twenty points of Robot burn from a mix of Galvanic Blast and Shrapnel Blasts. I killed all of his creatures, but that clearly wasn't his plan.
Then I punted against Abzan. I miscounted Eidolon damage, thought I would be short a spell, and threw away a Monastery Swiftspear chump blocking four damage. Had I kept it around, I would be at seven, cast both my burn spells, and my topdecked Goblin Guide would present an additional two power attacker that would have been exactly lethal.
And I was 2-4.
Normally, I would write this off. No longer in contention to win the event. Pro Tour down. Try again next time. Not this year. Not next year. Not again. I'm not throwing away Pro Points. I've hit a large number of lucky breaks to make this not matter and always assumed Gold was always the cap barring a large event spike.
That's just not true, and I was just lazy. I'm done with that.
I crushed a Scapeshift player playing around Electrolyze on Monastery Swiftspear and Anger of the Gods all match, as he wasn't representing lethal any time soon and I had to get him into burn range.
I played a mirror. He had Kor Firewalker in his deck. He won the die roll. I mulliganed game 1. I won that one. And game 3, I won by playing around Lightning Helix. He was actually stunned when he put everything together on Pyrite Spellbomb.
And I was 4-4 into Day Two. And it felt good. It was always a joke to make Day Two at 4-4, but honestly that's like saying it's a joke to be 0-0 at the start of the event. Pulling off a 7-1 is always a thing, and just because you lost more on Day One doesn't mean your choices are correlated to losing more Day Two. I felt very comfortable in Draft despite the 1-2, and I knew my deck was great. The team's win rate after Day One was 70%, and Team Wetdad (don't ask, the story behind the name is stupider than you can even think it is) was 68.6% with Burn as well.
I was in one of the bottom Draft pods in Day Two with only seven players. This assured I would leave the pod at 5-6, as worst case scenario the 0-2 player would get a bye. That was not the goal.
I started off with Temur Sabertooth with Monastary Siege as my rare, then took Valorous Stance with a missing rare. And then there was the Aven Surveyor pick again, except this time the rest of the pack was trash, and it was a rare and uncommon missing, giving no signal. I tried for U/R over U/W by taking Mardu Scout over Soul Summons and saw no black until a pick six Grim Contest and a pick seven Harsh Sustenance. I passed both, assuming people just wanted to remain open, but then the Grim Contest from my first pack wheeled.
I decided I had passed the point of no return and that I was locked into Jeskai. I hadn't seen much green either, but again, that could just mean the cards were so bad that I didn't register them. That was a horrible plan. It turned out Sultai was open. If I drafted optimally, it was likely I should have been Sultai splash white blockers and rares. Instead I was Jeskai, and it turns out I was the fourth U/R drafter (two Jeskai, one Temur) in a row and had just seen enough playables from deep packs to get hooked in.
I received the random round one bye in the pod and tried to console myself with games against Steve Rubin. After losing to Elite Scaleguard, Zurgo Helmsmasher, and basically every card in his deck being way better than my entire deck, I was just hoping for the 2-1.
Seriously. I wasn't control, I didn't have card draw, and only had Riverwheel Aerialist as a way to win in a stall. I wasn't aggro, as I only had two Jeskai Students on 2, no Jesaki Windscouts, and two Bloodfire Mentors to even hit the requisite number of bodies.
I played against Christian Seibold in round two of the pod. My scouting showed him as Abzan, and after killing his first four creatures, he had an Anafenza. I was able to hold her off and start making headway, at which point I learned the Duneblast I had passed second pick pack two made it to him fifth pick as he cast it to make a 7/7 Swarm of Bloodflies. My follow up was Waterwhirl to reset the Swarm and Bloodfire Mentor. Mentor found me an Abzan Battle Priest with Feat of Resistance backup, which kept me from dying to the flier. Then it found an Aven Surveyor to clog the air. Then a Riverwheel Aerialist, which received a Feat counter. The makeshift Exalted Angel took it home, with Kheru Spellsnatcher and a second Feat for backup.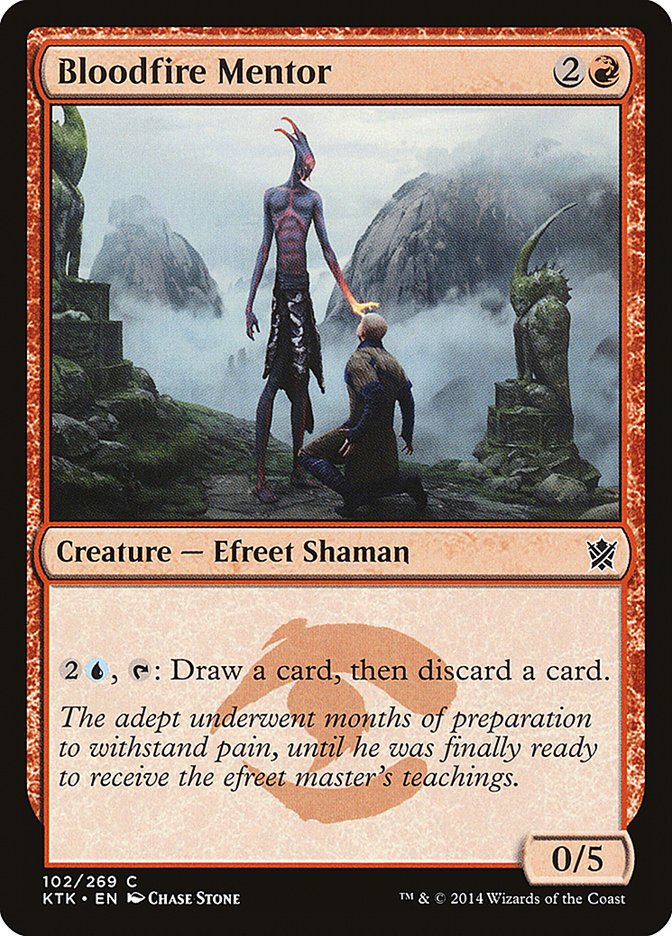 Bloodfire Mentor really is the hardest working card in the format. Duneblast? No problem, got it covered. Other achievements over the course of Khans Limited include attacking for lethal multiple times and triggering Wingmate Roc.
The second game I learned he also had Utter End, which killed my Aerialists and only hope of winning that game. Game 3, I got out an early Aerialists and went on the aggressive, as he missed land drops and colors, but he started pulling out. The end game was him on two Forest, two Swamp, Abzan Beastmaster, Archers' Parapet, and six life and no fliers to my Riverwheel Aerialists and Jeskai Charm and Feat of Resistance at the ready. I tanked on my line.
I needed to keep him off drawing white. I could Time Ebb mode Jeskai Charm on his Wall, but I couldn't move in on an attack for six next turn, as I would die to removal (Utter End or a Reach of Shadows he would likely save, as he knew about double Feat in my deck). I would have to use the Feat for the counter and prowess to get there. I could let him draw two cards, but it was painfully obvious he had Duneblast and was just waiting for a Plains.
So I went to the face with Charm, triggering prowess to bring my creature to an X/6 and prevent the Beastmaster from drawing a card. He tanked and responded with Grim Contest. I played the Feat, drew a card, and he conceded.
Top card? Plains.
Scoreboard.
Spencer Garnier played Christian in the last round and was floored. "His deck was unbeatable, how did you win?"
"I played my spells and they beat his."
The last match of the pod was brutal. Game 1, I manifested a Kheru Spellsnatcher off Write into Being early and, as always, rode a protected Riverwheel Aerialists to victory while he missed blue mana for the full Temur. Game 2 involved two Savage Punch, two Bear's Companion, a Hunt the Weak, and an Icy Blast that each hit right in time to give me a little hope of recovery before taking it away. The final game, I simply curved out. He blocked my morph with his on turn 4 and was punished with Honor's Reward, took eleven when my morph turned out to be Efreet Weaponmaster, and Jeskai Charm ended it.
Turns out all good spells and some luck was more than enough to carry middling creatures, and I was now 7-4.
I split my first four rounds back in Modern, beating two Abzan opponents when I drew well and losing one to Abzan with worse topdecks and one to Merfolk, where Ondrej Stratsky got revenge for the last PT when he flooded out game 3.
I sat across from a Merfolk opponent in the last round who was incidentally also from Boston, playing for three Pro Points that were crucial in the Player of the Year race. I assumed we were also playing for cash but didn't realize payout was only down to 75th, not 100th.
Still, I have no idea why I didn't ask for the scoop here. I wish I could say I even had some reason that somewhat makes sense. I wanted to avoid it given the Caleb Durward nonsense a couple of weeks ago. Some garbage about "honor" and "the most deserving player" winning the Player of the Year race. Even just "I assumed my opponent wouldn't get it, respond with a dumb question, and I wanted to avoid filling out the ensuing judge call and paperwork."
My reason was even worse. Some self-worth nonsense. I had to prove to myself I could pull out these matches because I had always failed in the past. I had to prove my last finish wasn't all luck and that sometimes I could win a match that counted for something.
I literally could not think of a worse reason. "I completely forgot" or "I was going to crush him anyways" was a better one.
I took down game 1 with a turn 4 kill, and my opponent started stacking up the sideboard cards. Game 2, he played Burrenton Forge-Tender and Thalia, Guardian of Thraben. I was keeping up until I drew two more lands than him, at which point the game cascaded out of reach.
I decided to tempt fate by joking, "I hope I don't mulligan game 3 like I did when I played this two rounds ago."
My seven had no lands. My six had four lands and no interaction or creatures. My five had no lands.
But my four:
I'll take it.
- Fetch a Sacred Foundry, Swiftspear, attack (19). Opponent plays Cursecatcher.
- Draw a Monastery Swiftspear. Play all of my cards, attack for three (16). Opponent fetches (15) and plays Silvergill Adept.
- Draw, attack. Opponent blocks Adept on a Swiftspear, I point my Lightning Helix off the top at his face. He takes, realizes he needs to block with Cursecatcher next turn to not get blown out, and lets it resolve, taking three plus four power in combat (8). Opponent plays Mutavault and Lord of Atlantis.
- Draw, attack. Opponent puts Cursecatcher in front of a Swiftspear, and I cast Searing Blaze. This is immediately Cursecatchered and my opponent takes 4 in combat (4). His follow-up is another Lord, an Island, and another Adept.
- Draw, Grim Lavamancer, go. Opponent tanks, plays a third Lord effect, and attacks with Mutavault and Silvergill Adept. I don't chump, assuming the hits will be for more than five in the future.
- I have two lands, an opponent at four, Grim Lavamancer getting active on my turn.
- Oh, and a Lightning Bolt on top of my library.
10-6. Six Pro Points. I missed cash on breakers, but who cares? Those three extra points mean a lot. I am two points behind Eric Froehlich and one behind Owen Turtenwald for the US National Team Captain slot, and five behind Shi Tian Lee for Player of the Year.
But keeping pace isn't winning. It's time to refocus, buckle down for Miami, and basically continue testing Standard straight through to Pro Tour Dragons of Tarkir. I don't know what the future holds in store for my team, but I expect the pattern to be more of the same.
Work hard. Try everything. Find the best thing. Win.