Even before the tournament results started pouring in, I knew that Fate Reforged had a ton of high impact cards that I was excited to build around. What I didn't expect was that apparently lots of other people were just as excited to try these new cards… and found them very playable.
The release of a new set is always the pinnacle of fun for deckbrewers. There are a ton of new possibilities to explore, and there's the chance that you stumble across something that others haven't noticed on a large scale; you can take a tournament by storm! Few things feel as good as surprising a lot of people at a big tournament with an unexpected deck. At the StarCityGames.com Open in Richmond last fall, I made a good run with my Villainous Wealth Devotion deck and was just two wins away from securing Top 8 and a bunch of attention from the Magic community. Unfortunately, I got two draws instead and tumbled down to 63rd place, which was good enough for a small payout but far off the radar of people looking for sweet new Standard tech. I also was never paired against one of the Open all-star players and so didn't have a chance to show off the deck at the feature match tables.
The deck was good-quite good-and particularly good in a format so heavily dominated by midrange decks. My build of Villainous Wealth Devotion had most of the strengths of the other midrange decks in the format while also being advantaged against the other midrange decks. Unable to grab the community's attention bummed me out, not just because I didn't get the ego-snacks of recognition, but because I wasn't able to do the deck justice. I've put in more time with that deck than any other deck I've built in years, but it was still not nearly the time needed to tune it to its best potential. The maindeck was really close, but I got the sense it was off by a few cards even as I tinkered with it week to week trying to improve it. And the sideboard was pretty much a disaster-some of the cards didn't do what I hoped they'd do, and each tournament there were easily five or more cards I never boarded in, which is not a good sign. I found myself wondering what the deck could do in the hands of a Brad Nelson or a Gerry Thompson, someone who could properly tune it and had the skills to leverage the few losses and draws it would get in my hands into wins.
So it was with some degree of excitement and jealousy when I saw the Temur Ascendancy deck explode into the Magic community's consciousness a few weeks back.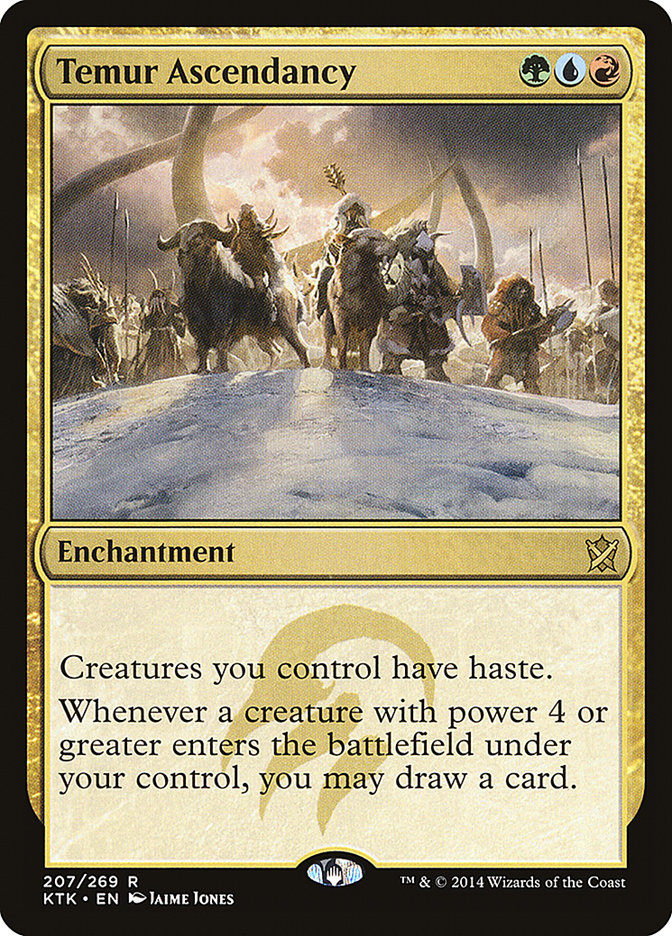 I was excited because one of the deck's pilots, Joey Page, is a friend and local Richmond player. Unfortunately for me, I don't get to see Joey much because the local game stores he plays in are typically different from the ones I frequent, so I was as surprised about the deck as much of the rest of the world. I was also excited because this was another green devotion deck fueled by Nykthos, Shrine to Nyx and had a lot of parallels to my own deck. Both of our decks could generate insane amounts of mana for a big game-winning payout. Both decks could also brawl just fine without needing to go over the top with a combo. There were a lot of the same cards in both decks, but there were a few big differences too. I was curious if I would see any new technology that could make my Villainous Wealth deck even better.
I was jealous because Joey had a great record going into the middle rounds of the tournament - much like I had - but Joey got to play in a Brad Nelson feature match that was covered on SCGLive. The commentators had his decklist and were certainly surprised at many of the cards in the list, excited about the synergies, and were amazed when Joey ended up beating Brad pretty convincingly. The victory and coverage led to a video Deck Tech, and Temur Ascendancy quickly became the buzz deck of the tournament. Even though Joey's winning streak didn't hold out for the rest of the tournament, another Temur Ascendancy deck very similar to Joey's deck cracked the Top 16 of the Open, which is a mother lode of exposure for a hot new deck. Here's the deck if you haven't seen it:
Creatures (34)
Lands (23)
Spells (3) A couple days later the deck even got featured in one of Gerry Thompson's Daily Deck Digests. You know you've made it as a brewer when your deck catches Gerry's eye!
Jealousy aside, I really liked a lot of what the deck had going on. I was already playing Nykthos and Voyaging Satyr to make big mana with devotion to green, and the idea of being able to generate infinite mana was exciting. While the Temur deck went off with Genesis Hydra, as it's an X-spell, casting Villainous Wealth to exile my opponent's deck kills nearly as well, and in my opinion, Villainous Wealth is a superior card to Genesis Hydra when you have less than infinite mana.
Could I splice together Villainous Wealth Devotion with Temur Ascendancy? I certainly tried:
Creatures (26)
Lands (24)
Spells (10) I was particularly excited about the possibility of getting infinite green mana and being able to dump it into Tasigur, the Golden Fang. I'd effectively draw my entire deck-you can activate his ability even when you've no more cards left in your library, and your opponent still has to give you a card from the graveyard. With Temur Ascendancy I could play all my creatures and attack with them, using Polukranos to clear away any blockers that might otherwise prevent it from being lethal. Worst case scenario (i.e. some Fog variant) I can use Bow of Nylea to make sure I don't deck myself.
The big breakthrough in figuring out the manabase for this four-color monstrosity was my friend Kevin Davis getting me over my initial resistance to playing seven or eight copies of the Khans of Tarkir tri-lands. I've played a full playset of one in any number of three-color decks since they appeared in Standard, but for some reason it seemed crazy to play two playsets of them in a four-color deck. I have to admit it's hard for me to willingly play too many lands that enter the battlefield tapped unless they have Scry 1 attached to them. But Kevin pointed out that playing Voyaging Satyrs made these tri-lands exceptional value, in effect making the Satyrs additional copies of Sylvan Caryatid and pretty much giving me a free pass to the land of easy mana so long as I didn't push the colored requirements of spells other than green. He worked out the math and calculated that I could get away with playing ten lands that enter the battlefield tapped, and that most of those lands should be tri-lands if I wanted to play Temur Ascendancy on time.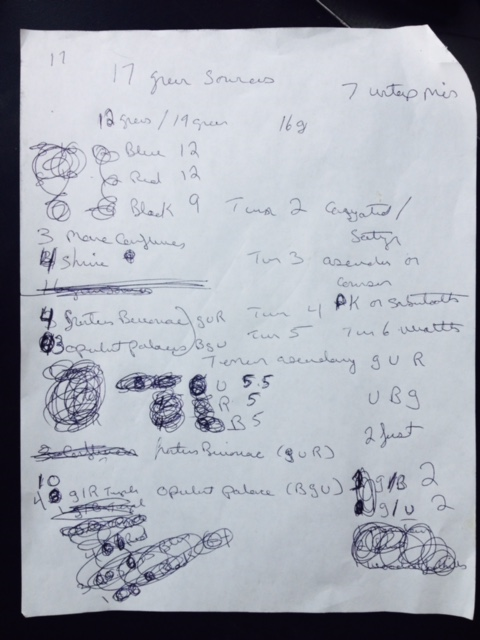 Thank god he was willing to figure that out for me-Kevin, you rock!
Unfortunately for me, my concept ended up not being nearly as rock-solid as the mana. I took the deck to a few local tournaments and put in a mediocre performance, breaking .500 only because of a bye. I thought there was enough overlap that I could fold both concepts into the same deck, but I ended up weakening both concepts instead. Each of the key spells-Temur Ascendancy and Villainous Wealth - are cards that need other cards to be powerful. Temur Ascendancy only gets good when you draw enough four power creatures to start drawing cards, and it only gets insane when you've got Temur Sabertooth and a creature you can bounce and replay that can net you mana each cycle. Villainous Wealth only gets good relative to the amount of mana you can pour into it, and "normal" mana development won't cut it-six or seven mana is usually the upper limits of what you can expect for most decks, but a Villainous Wealth for three or four is barely worth playing unless you're desperate. It's okay to play three or four of these sorts of power cards in your deck, but if you're playing seven or eight of them you run the risk of too many clunky draws that don't do anything, and Standard is punishing of any deck that passes too many turns not doing anything. As much as I love the Cedric goblin tokens, I cannot wait until Goblin Rabblemaster rotates out! Such a beating.
So the marriage of Temur Ascendancy and Villainous Wealth has been annulled amicably. They've gone their separate ways. Temur Ascendancy continues to make waves on the tournament scene after its exposure a few weeks back. It's cracked the Top 16 of six IQs and Regionals the past two weekends . As far as Villainous Wealth? Not so much.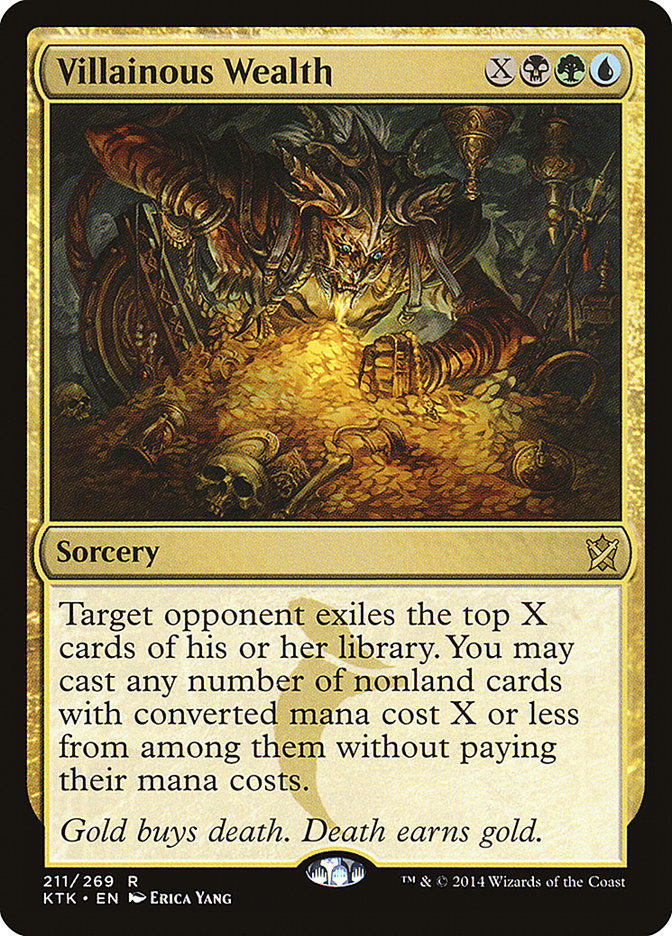 I've got another shot at significant exposure at the StarCityGames.com Invitational tournament next month right here in Richmond, Virginia. I'm privileged to have an invite to this prestigious event where I get to play against some of the best players in the game for some great prizes. Can Villainous Wealth compete in the new Standard on the big stage? I certainly hope so, and I have a month to figure it out.
After my detour down the Temur Sabertooth rabbit hole, here's where I'm at for Villainous Wealth:
Creatures (26)
Lands (25)
Spells (9) I've written a lot about how the deck works and a lot of my card choices before, but if you're new to my column or want a refresher, check out Slicing Through the Metagame With a Samurai Sword . The biggest change is making room for Tasigur, the Golden Fang. I latched onto Tasigur from the moment I saw him, knowing that he was a perfectly reasonable card at six mana, but having delve to not only cast him for cheaper but to be able to sculpt your graveyard choices too made him an amazing card in a vacuum. The rest of the world has caught on too, but I think he's particularly good in a deck like this that can potentially have a lot of extra mana lying around. One key to making a good Nykthos deck is to make sure you have plenty of good things to sink mana into-what's the point of having a ton of mana if you can't use it each turn to continuously press your advantage? In this deck, there's Villainous Wealth, monstrous activations, Reaper of the Wilds, Bow of Nylea, and now Tasigur.
Putting Tasigur in the deck made me want to add another delve card into the mix to help prevent each activation from netting me a bunch of Sylvan Caryatids, so I was pleased to squeeze in another bit of removal in Murderous Cut. I also love that Tasigur can reset the top of your deck to help Courser of Kruphix continue ripping through your cards.
I keep getting my teeth kicked in by aggressive decks with lots of tokens and have tried Nylea's Disciple to buttress my life totals while advancing devotion, but that hasn't worked, so I've gone with Bile Blights in the sideboard instead and maybe even a couple Crux of Fate as a panic button. Crux even gives me a little pinpoint removal for Stormbreath Dragon that can sometimes be a problem. I'm borrowing a page from Gerard Fabiano and tossing in a Feed the Clan too.
The Reclamation Sages are to help out against the heroic decks with lots of enchantments, along with Temur Ascendancy and Jeskai Ascendancy and any control decks that rely on Banishing Light as removal. The fourth Villainous Wealth is for other midrange decks. Whisperwood Elemental and Garruk, Apex Predator are for the control decks.
Hopefully going back home to Villainous Wealth will bring me back home to my winning records!
But wait… I said I was going to be playing in the SCG Invitational, and Standard is only half of the formats played. What about Legacy?
Glad you asked!
My Legacy Deck
At the Legacy Open in Richmond last Fall I played Maverick and was very happy with the deck even though I felt quite rusty with the format and had to drop after going 3-3 to see my kids. But the first Legacy deck to catch my eye when I was looking around last year was Nic Fit featuring one of my old favorites: Cabal Therapy! Unfortunately, I figured that the metagame had become rather hostile to Nic Fit as a strategy, with Treasure Cruise easily making Cabal Therapy look pretty anemic, and the move to more basics making Veteran Explorer look really dumb. Now that Treasure Cruise is banned, decks seem to be going back to playing few or no basic lands, so Veteran Explorer and Cabal Therapy look like they're back to being sweet cards. Veteran Explorer even gets a new friend to play with: yep, here's another deck I want to play with Tasigur, the Golden Fang! Here's what I've got sketched out:
Creatures (21)
Lands (23)
Spells (16) I'm by no means a Legacy expert, but I've played Magic for twenty years and have a lot of experience with a fair number of these cards already, and man I'm excited to give Tasigur a try here. In a way it seems to function like a Tarmogoyf with a mini Green Sun's Zenith attached that you can use each turn. Deathrite Shaman and Scavenging Ooze help you sculpt your graveyard if you need to, but honestly I don't see too many chafe cards here I wouldn't mind getting back. Gitaxian Probe may seem like delve filler, but in Legacy, how often would you not want a cantrip peek at your opponent's hand? The only circumstance I can figure is if your opponent is hellbent, but if you've got an active Tasigur on the board and your opponent is hellbent, I think you're probably in pretty good shape anyway.
My initial deck sketch was strictly black and green, but as I was pondering four flex spots that should cost between four and five mana, the choices I had seemed to pale in comparison to the mighty, mighty Siege Rhino. I mean, who wouldn't want the chance to chain Siege Rhinos with Recurring Nightmare? Being Legacy, it was pretty easy to toss white mana into the mix.
So let me know what you think of my choices for the Invitational. I especially would love some Legacy experts chime in on the Bananas Rhinopalooza Nic Fit deck!
And in case you're curious… I am indeed working on a Modern deck that features Tasigur, the Golden Fang in way no one else seems to be doing but will not surprise many of my long-time readers! I'll write more about that deck after the Invitational.
Matt's Magic Mayhem: A Memorial Marathon
Commander fans, if you're anywhere near Savannah, Georgia on Saturday, February 28th, make time to attend this Commander event in memory of Magic player and Commander fan Matthew Leasure, who passed from this world a year ago. There are prizes to be given away, and proceeds will go to the Active Heroes charity. Active Heroes is dedicated to connecting and helping America's military families through physical and mental therapy, home repairs and community outreach, financial assistance, and community reintegration to halt the triggering points and stress associated with "hard times" that lead to suicide. It's a great cause and sure to be a fun event. You canclick here to see the Facebook event page, and here's the announcement on Reddit. If you can't make it but would like to donate Magic cards for the event, check out one of the links to contact Matthew's wife, or if you want to donate to the charity directly in Matthew's name, you can do so here. The southeastern Magic community is really rallying around to make this a sweet event!
New to Commander?
If you're just curious about the format, building your first deck, or trying to take your Commander deck up a notch, here are some handy links:
Commander write-ups I've done (and links to decklists):
Titania, Protector of Argoth ( Titania's Land and Elemental Exchange )
Reaper King ( All About VILLAINOUS WEALTH )
Feldon of the Third Path ( She Will Come Back to Me )
Sidisi, Brood Tyrant ( Calling Up Ghouls with Sidisi )
Zurgo Helmsmasher ( Two Times the Smashing )
Anafenza, the Foremost ( Anafenza and Your Restless Dead )
Narset, Enlightened Master ( The New Voltron Overlord )
Surrak Dragonclaw ( The Art of Punching Bears )
Avacyn, Guardian Angel; Ob Nixilis, Unshackled; Sliver Hivelord ( Commander Catchup, Part 3 )
Keranos, God of Storms; Marchesa, the Black Rose; Muzzio, Visonary Architect ( Commander Catchup, Part 2 )
Athreos, God of Passage; Kruphix, God of Horizons; Iroas, God of Victory ( Commander Catchup, Journey into Nyx Edition )
Kurkesh, Onakke Ancient ( Ghost in the Machines )
Jalira, Master Polymorphist ( JaliraPOW! )
Mishra, Artificer Prodigy (Possibility Storm Shenanigans)
Yisan, the Wanderer Bard (All-in Yisan)
Selvala, Explorer Returned (Everyone Draws Lots!)
Grenzo, Dungeon Warden (Cleaning Out the Cellar)
Doran, the Siege Tower (All My Faves in One Deck!)
Karador, Ghost Chieftain (my Magic Online deck)
Karador, Ghost Chieftain (Shadowborn Apostles & Demons)
King Macar, the Gold-Cursed (GREED!)
Niv-Mizzet, the Firemind ( Chuck's somewhat vicious deck)
Roon of the Hidden Realm (Mean Roon)
Skeleton Ship (Fun with -1/-1 counters)
Vorel of the Hull Clade (Never Trust the Simic)
Anax and Cymede (Heroic Co-Commanders)
Aurelia, the Warleader ( plus Hellkite Tyrant shenanigans)
Borborygmos Enraged (69 land deck)
Bruna, Light of Alabaster (Aura-centric Voltron)
Damia, Sage of Stone ( Ice Cauldron shenanigans)
Emmara Tandris (No Damage Tokens)
Gahiji, Honored One (Enchantment Ga-hijinks)
Geist of Saint Traft (Voltron-ish)
Ghave, Guru of Spores ( Melira Combo)
Glissa Sunseeker (death to artifacts!)
Glissa, the Traitor ( undying artifacts!)
Grimgrin, Corpse-Born (Necrotic Ooze Combo)
Jeleva, Nephalia's Scourge ( Suspension of Disbelief)
Johan (Cat Breath of the Infinite)
Jor Kadeen, the Prevailer (replacing Brion Stoutarm in Mo' Myrs)
Karona, False God (Vows of the False God)
Lord of Tresserhorn (ZOMBIES!)
Marath, Will of the Wild ( Wild About +1/+1 Counters)
Melira, Sylvok Outcast ( combo killa)
Mirko Vosk, Mind Drinker ( Outside My Comfort Zone with Milling )
Nefarox, Overlord of Grixis (evil and Spike-ish)
Nicol Bolas (Kicking it Old School)
Nylea, God of the Hunt ( Devoted to Green)
Oloro, Ageless Ascetic (Life Gain)
Oona, Queen of the Fae (by reader request)
Phage the Untouchable ( actually casting Phage from Command Zone!)
Polukranos, World Eater (Monstrous!)
Reaper King (Taking Advantage of the new Legend Rules)
Riku of Two Reflections ( steal all permanents with Deadeye Navigator + Zealous Conscripts )
Roon of the Hidden Realm ( Strolling Through Value Town)
Ruhan of the Fomori (lots of equipment and infinite attack steps)
Savra, Queen of the Golgari ( Demons)
Shattergang Brothers (Breaking Boards)
Sigarda, Host of Herons ( Equipment-centric Voltron)
Skullbriar, the Walking Grave ( how big can it get?)
Sliver Overlord (Featuring the new M14 Slivers!)
Thelon of Havenwood ( Campfire Spores)
Varolz, the Scar-Striped (scavenging goodness)
Vorosh, the Hunter ( proliferaTION)
Xenagos, God of Revels (Huge Beatings)