Last week, I spent a lot of time working on Modern. Thinking about it. Going over decklists. I wanted to put in a good effort for the first Modern Open in Baltimore, but that was when I thought that GP Memphis was the same weekend.
Now that I know that the GP is a different weekend, and I am able to play in both, my interests have been a little split.
Thankfully, I already have a starting point for myself in Standard. A few weeks ago I made a promise to myself on stream. I wasn't going to jump around with a bunch of different Standard decks. I was going to always find the best Stormbreath Dragon deck and play that. Stormbreath Dragon is very rarely poorly-positioned, and I feel that each week there is always an optimal deck to exploit just how good it is.
As of late, I've been a firm believer that R/W Aggro was the deck. I have written about it, put in time playing it online and in real life, and even when I wasn't traveling to an event last weekend, I still put my updated list and ideas out there for everyone to see.
I saw a smattering of my ideas doing well. From moving back to Brimaz, King of Oreskos in the maindeck, to shaving on Lightning Strikes and playing more Wild Slash to be more effective in the mirror. I even saw more and more copies of Outpost Sieges being played, which is great because that card is gas, but there was another Stormbreath Dragon deck that did well last weekend.
Creatures (30)
Lands (23)
Spells (7) Matt Wey made it all the way to the semifinals of the Standard Open in Houston last weekend with a hyper-aggressive G/R Aggro deck, something similar to a deck that I tried out early in our Fate Reforged Versus videos.
At the time though, I was incorrectly off Goblin Rabblemaster and wanted to try something a little different. I was unimpressed with Flamewake Phoenix, but that's because my deck was built incorrectly, and I greatly underestimated just how powerful the card was in conjunction with the rest of the deck.
Having Mana Confluence is very important, as it goes a long way towards helping us attain GG or RR as early as possible while still allowing for a first turn Elvish Mystic. I really didn't like having Elvish Mystic alongside Flamewake Phoenix, but even casting the flyer on turn 3 after playing another three-drop on turn 2 is just good enough.
I also really like Shaman of the Great Hunt, and I think that it's being slept on currently, especially alongside Flamewake Phoenix. Efficient and aggressive is a great combination, and it lets us rebuy our Flamewake Phoenix.
With R/W and Goblin Rabblemaster in particular being so well-positioned right now, I also like having access to Lightning Strike in addition to the Crater's Claws. One of the easiest ways to lose a game in Standard right now is to just not have any interaction for a Goblin Rabblemaster for a turn or two. It's not quite the same as Pack Rat from the Standard of yesteryear, but games sure do feel helpless just the same when you don't have an answer quickly for the latest incarnation of the "army in a can."
I'm not claiming that I'm jumping off the R/W Aggro train, but I will definitely be giving G/R a whirl this week when I'm not jamming games of Modern. The biggest slight against the G/R deck is that it's pretty weak to the R/W Aggro decks but preys on the decks that prey on R/W. Outside of the mirror feeling pretty agonizing, Sultai Control, U/B Control, and the Dan Musser-inspired controlling versions of Abzan Midrange are poor matchups for the R/W Aggro deck, but I feel like this G/R deck will shine against all three of those decks.
The other interesting thing that we saw was a bit of a resurgence in Jeskai Tokens. I feel like this is a direct response to the success and popularity of the R/W Aggro deck, since the Jeskai Tokens deck plays a lot of the same game, although it is much better in the attrition matchups and is also slightly favored against the R/W Aggro deck. Jeskai Ascendancy and Treasure Cruise go a long way towards making it tough to lose against decks that are just trying to trade resources and go over the top with a planeswalker.
Siege Rhino used to be a huge thorn in the side of Jeskai Tokens, but now with access to a great utility spell like Valorous Stance, it goes a long way towards helping shore up what once was a very troublesome matchup. The other important thing about Valorous Stance in the Jeskai Tokens deck, is that it's not just a straight-up dead card against the control decks. You can use it to save a Goblin Rabblemaster, a Seeker of the Way, or a Monastery Mentor, and you can just use it as another spell to loot with once you have Jeskai Ascendancy out.
As much as I think that Jeskai Tokens could be well-positioned right now, I honestly feel like there isn't a Standard deck better than 55% or 60% against over half of the field. Knowing the role of your deck in each matchup, having a well thought out sideboard, and using tons of experience are all the key factors right now. Cards are absurdly powerful, and even the slightest edge you try to give yourself against different matchups can be negated with the right draws.
Do what you love, and play it a lot. I'm Stormbreathing people.
I won't be battling Standard this weekend, but for those of you who are playing in the Open Series in Los Angeles, here are the Standard decks that I would try to be prepared for:
- R/W Aggro
- Abzan Aggro
- Abzan Midrange
- G/R Aggro
- Green Devotion (with or without Red)
- U/B Control
- Sultai Control
Note that I don't think that Whip of Erebos decks are very popular or well-positioned right now, but people will still play them.
As for Baltimore, I am planning on playing in the first ever Modern Open Series main event, but what my current frontrunner deck is might be a bit of a shock.
I'm actually thinking about sleeving up Affinity.
Now, I technically don't have zero experience with the deck. I did play it back when you could have the artifact lands, Skullclamp, and Disciple of the Vault, and I did play it in at least one Versus Video that I can recall.
I've actually always been a fan of the deck, and I respected anyone who took the time to learn it and perfect it. Affinity might seem like an incredibly linear deck on the surface, but it is a challenge to pilot correctly and can be very rewarding when done so.
There is also this stigma that anyone can beat Affinity if they try hard enough, but my experience is that people rarely try hard enough, and that since Affinity has an extremely customizable sideboard, we can figure out how we are going to be attacked and plan accordingly.
There was a very interesting thing that happened with Affinity at Pro Tour Fate Reforged. While a lot of the usual suspects played Affinity (Frank Karsten, Paul Rietzl, and Matt Sperling), Paul and Matt came up with a unique twist on the archetype and brought Scars of Mirrodin Block Constructed powerhouse Tempered Steel back into the mix.
Creatures (25)
Lands (17)
Spells (18) Paul wrote a pretty sweet piece about his deck here, and I definitely suggest that anyone interested in this build of Affinity check it out.
I really like the angle that having Tempered Steel in your deck gives you. We already have this explosive deck that can put an insane amount of pressure on our opponents, and Tempered Steel augments this very well.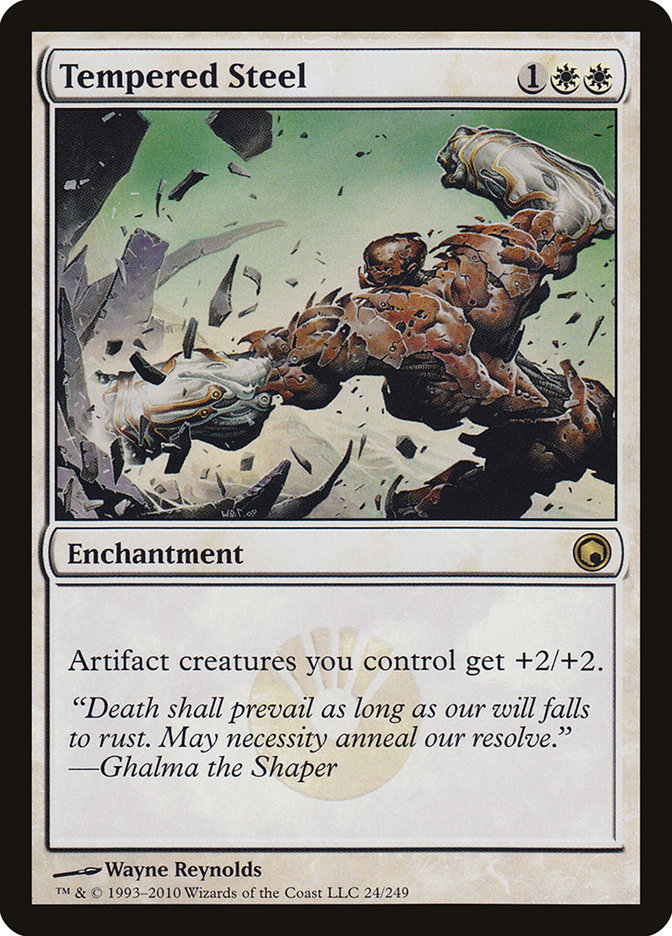 The anthem effect of Tempered Steel really makes us want to max out on the zero-cost artifact creatures, which also increases our explosive draws. Our Mox Opals and Springleaf Drums will be live on turn 1 more often. The most important angle is that our Nexus (Inkmoth and Blinkmoth) will be absurd threats once we get a Tempered Steel into play, and they handle our other creatures. Anyone who lost to an assault of multiple 3/3 Inkmoth Nexus while playing Scars Block Constructed knows just what I'm talking about.
One of my concerns is that Affinity can be generally unfavored against Splinter Twin, but even still, we have some explosive draws that can just kill them before they ever get anything going.
I'm really looking forward to trying my hand at Affinity, and hopefully I can obtain the cards on Magic Online so that I can battle with it on my stream this week. I really enjoy playing decks that are technical and reward tight mathematical play, and Affinity is definitely one of those decks.
I've had great results with aggressive decks that can shift the angle of attack through sideboarding based on what is positioned across from them, so I feel like Affinity and I will have a good fit. I also think that Affinity is a deck that rewards the faithful and diligent, and that's exactly what I'm looking to do in Modern. I'm planning on picking a deck and sticking with it. Now I just have to hope that Mox Opal doesn't get banned like Birthing Pod did. Thankfully I haven't started acquiring foil Japanese versions of cards in the Affinity deck.
Lastly, I want to talk about my weekend.
I didn't head to Houston to battle in the Open Series, or even travel to any IQs in the surrounding area.
Saturday was Valentines' Day, and while I don't really buy into the commercialism of it, it's definitely nice to have a special someone to spend it with. I don't really need a day that tells me to show someone that they are special, but I'm never going to turn down a chance to do just that.
Hopefully everyone else got to spend the weekend with someone they love, or doing something they love. After all, if you aren't loving life, then you aren't living life.
See everyone in Memphis!