This weekend is Grand Prix Memphis, and I'm working on getting ready. U/B Control has been my front-running deck for so long, but I've went on quite a losing streak with it since Fate Reforged came out.
I've long been a champion of the archetype. I was one of the people that played it at Pro Tour Khans of Tarkir in Honolulu, and I have strong opinions on what was right and not right about all of those lists. I won a PTQ with my updated take on the list. I've had several other high finishes with the deck.
Since Fate Reforged came out though, I've been doing really poorly with the list. My 2-1 performance at the Super Sunday Series was nothing to brag about. I visited a small PPTQ at Johnny Cee Cards in Wausau, WI and had a similarly mediocre finish. There's another event in there that I did poorly, but I'm trying to block it all out.
Now, I've had a lot of people asking me what my current list of Black/Blue looks like. The answer is, perhaps, not that useful: I'm still working on it. I have more Fate Reforged cards than I used to have (previously I only ran one Tasigur, the Golden Fang for Fate Reforged cards), but I'm honestly not sure, for example, if I want one Crux of Fate or four. I'm at least above zero.
So, as I said, I'm still working on it.
However, one of the things I'm always doing is working on many, many decks at once. One of the things that I found somewhat inspirational was Gerard Fabiano's recent SCG Regionals-winning deck. Here is what he played in Philadelphia:
Creatures (4)
Planeswalkers (8)
Lands (25)
Spells (23) I really love the look and feel of this deck. When I first watched him playing it on camera, my favorite thing about the deck was the feeling that Satyr Wayfinder was some sort of magical combination of Priest of Titania and Nylea's Disciple. The fuel that it supplied to Gerard was just awesome, and he had a seemingly magical amount of cards in hand at all times, with a relatively high life total.
I also really liked how it looked like the Sultai Charms were performing. At its worst mode, it was fueling further delve later in the game, and it continued to make important impacts on games at any stage.
I put together his build and ran it through some games, and I really liked it. I especially liked certain moments that kept repeating themselves though: I'd steal a Courser of Kruphix with Ashiok, Nightmare Weaver, and the game would just end. Now, I'd had a similar experience with this before, about a year ago, watching Paul Morelli playing a Temur Monsters list with Courser of Kruphix, Domri Rade, and Kiora, the Crashing Wave. I did what I could to reverse engineer the deck, and the Kiora/Courser combo just felt gross. U/B Control couldn't manage this, but stealing it in Gerard's deck made it feel especially sick.
I decided to merge the decks.
Quickly, after putting
Courser of Kruphix
in Gerard's deck, I felt like
Crux of Fate
just wasn't cutting it. I didn't want to be killing my own Courser. In addition, I'd upped the deck to three copies of Kiora in order to attempt to take advantage of the Courser/Kiora synergy, and I was finding that I wanted to get Kiora out faster. I started looking at
Sylvan Caryatid
.
It felt good, but now the Cruxes absolutely felt bad. Well, before we had Crux we had Drown.
The deck started to take shape, and I really liked some of the things that were happening; I can tell that this deck isn't finished cooking yet, but it does feel like it is real. Here is where I'm at:
Creatures (12)
Planeswalkers (6)
Lands (24)
Spells (18) I think the big thing to address, first of all, are the differences between this list and Gerard's list, aside from the specifics of land:
I don't run:
That's a pretty significant chunk of cards. Instead I have:
The primary difference in these decks is purely philosophical. Gerard's deck is more dedicated to a point-and-click break-em control philosophy. His deck is definitely a control deck, though it does lean a little towards the midrange. My variant is more dedicated to the board, and it holds a much more midrange philosophy. I'm running eight more creatures and one more planeswalker.
Losing Ashiok, Nightmare Weaver doesn't really hurt. Ashiok is a great card, and I still support it as the correct card to run in U/B Control, but it is far less good in a midrange shell than in a control shell. Ugin, similarly, makes a lot less sense if you're going to likely be blowing up all of your own cards with it.
The choice between Disdainful Stroke and Dissolve is really one that comes down to a matter of preference. I think that the deck has the time (especially with Courser helping out the life total and Caryatid helping out the mana count) to get that extra blue mana for the extra reach of Dissolve.
Losing all of the extra removal, of course, does mean that Courser, Caryatid, and Tasigur have to be putting in a fair amount of work. Drown in Sorrow does the lion's share of this work against the smaller decks. Against the bigger decks, you're just going to have to rely on a combination of Murderous Cut, Hero's Downfall, Sultai Charm, and Garruk, with help from the extra Kiora in holding things down.
Drown in Sorrow feels particularly nasty. If you've ever cast Drown in Sorrow in Abzan while you sit behind Courser of Kruphix and Sylvan Caryatid, you know how mean this feels. The extra Drowns in the sideboard are there entirely for the purpose of knocking around Goblin Rabblemaster and other tokens. Double Silumgar, the Drifting Death is there for the very same purpose.
I almost want the second Tasigur, the Golden Fang in this deck, but I have been finding that it is a much less good game 1 card than I'd like it to be. I have no problem with an undercosted 4/5, but it is painful to reveal cards to Tasigur that are just utterly dead in the matchup.
I continue, as I was in the previous iteration of U/B Control, to be a huge fan of Interpret the Signs. It is definitely much better here in a deck that is leaning on making plays rather than holding on to spells. My version includes the fabulous Liliana Vess, here able to create the "reset" chain of Liliana Vess into Interpret the Signs into something large (Garruk, Apex Predator or Dig Through Time) to ensure something that feels just as dirty as this: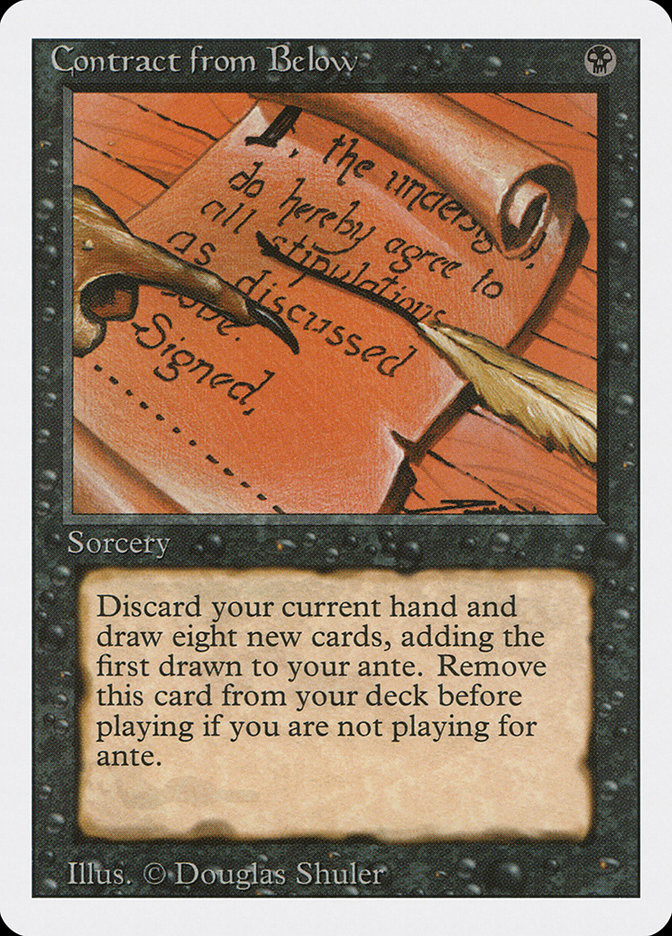 The rest of the cards in the 75 of this deck are actually just there to solve simple problems. Thoughtseize and Negate are excellent in the slower matchups. Pharika's Cure and Feed the Clan are excellent in the faster ones. Hornet Queen and Hero's Downfall do their work against decks where there are more threats to be answered, but they might be bigger.
Hornet Queen is so completely incredible, there are times where I feel like I just want to add it to the main and begin that slow drift towards Sultai Reanimator. I don't end up doing that, however, because I feel like Drown in Sorrow is just so necessary in holding the earlygame, and the two in the same deck feels like something has gone wrong. Against decks like Abzan Midrange, where Hornet Queen is just a nightmare, you have a lot of fight in game 1, and you don't need to create those 'non-bos'. Saving the Queen for the board is very powerful because they might not bring in an answer for it, and if they do, it is only good against you if you draw the Queen. This, in and of itself, sets up a nice threat-theory/answer-theory conundrum that puts this deck on the winning end.
On the other hand, versus the decks where Drown in Sorrow is important, there is basically no substitute. A Monastery Mentor can do some work to survive a Drown in Sorrow early, but it is fairly rare for it to manage to do so, and at least all of the Mentor's students bite the dust. Goblin Rabblemaster, on the other hand, fares far less well. Hornet Queen, if it were to replace Drown, comes to the party so late, everyone might have gone home already.
I still think there is work to be done to improve this list, but that work is in the fine details. Ultimately, like many hybrid lists, it might be better to simply be Gerard's Sultai Control list or a clean U/B Control list. Deck drift might take it closer towards Sultai Reanimator. The core of what makes the deck exciting to me though: Satyr Wayfinder. Fueling delve spells is something I expect to see a lot of in the coming weeks.
Who knows? Maybe it will even win GP Memphis or SCG Los Angeles.
I'm looking forward to finding out.