At the risk of sounding like a broken record blaring the opinion of countless others: This Standard format is great. If Ravnica/Theros Standard was about sticking to a deck and fine tuning your craft, this iteration is about discovery and innovation. Just look at Grand Prix Memphis; a seemingly inconspicuous choice to play Fleecemane Lion out of Abzan Midrange's sideboard can decimate opponents when they don't expect it. Stock lists are overrated.
The format is in flux, with what performs well in one tournament being sorely outdated by the next. It would seem that Fate Reforged represents a nearly endless supply of diamonds in the rough, so naturally the question is: What will prove itself this week?
I suspect that a seemingly innocuous sideboard card that is seeing some waves is going to pick up steam starting at Grand Prix Miami. Perhaps Mastery of the Unseen is even going to find its way in to some maindecks.
Although it has been feared as a nigh unbeatable Limited rare and has even started to see some sideboard play in R/W Aggro as a means to combat control strategies, Mastery of the Unseen is getting little press, which doesn't make much sense to me. Not only is it an unlimited supply of creatures that threaten Ugin, the Spirit Dragon to make a difficult choice the turn it comes into play, but it naturally snowballs by itself. Let me rephrase that: At a certain point just by virtue of casting and activating Mastery of the Unseen, your opponent can no longer reasonably hope to kill you. Period. Once you've acquired the requisite life buffer to stave off their aggression, you will only continue to put more creatures and gain increasingly more life every turn while they inevitably flood or are no longer able to attack profitably. It essentially locks them out of the game before eventually overwhelming them. Those are some powerful implications from a two-mana enchantment.
The question then becomes, what is the best shell to incorporate this card? The answer to that is a little trickier. My first foray into maindeck Mastery action was Abzan Midrange.
Creatures (15)
Planeswalkers (5)
Lands (26)
Spells (14) This list went through a variety of iterations, but this is my most recent one. As I touched on previously, Mastery naturally incentivizes you to play creatures, thus it felt logical just to start with a stock pre-boarded version of Abzan Midrange with Fleecemane Lions and Sorins. Secondly, this helped to improve the R/W Aggro matchup, as rather than trying to fight tooth and nail against their Outpost Sieges in the lategame, I could just aggressively create board position and attack them before I was buried.
Two other things worth noting are Whisperwood Elemental and End Hostilities. I won't get on another tangent singing the Elemental's praises for too long, it has clearly proven itself an excellent card, but rather I want to touch on some showcased synergy. The ability to play Whisperwood Elemental and manifest a creature enables a turn-6 casting a Mastery of the Unseen and immediately flipping a creature, and sometimes that in itself is enough to buy the time necessary to start closing out the game. Further, between already having Lion and its monstrous ability available and Whisperwood's activated ability, your End Hostilities are typically rather one-sided despite the potential aggressive nature of the deck. Even though End Hostilities is "stock" in the Sylvan Caryatid-less versions of these Abzan Midrange decks, it is not likely for your opponent to consider it a possibility when you're deploying such a high number of threats. This feels like a powerful and well-rounded strategy that deserves to be explored more, and it certainly was what I was looking for in terms of discovering if Mastery of the Unseen was a maindeck card, but I felt like it was possible to maximize the card's potential further.
However, before I dip out of Abzan colors, I want to share an Abzan Aggro version of the deck, which I admittedly have not gotten around to trying yet.
Creatures (20)
Planeswalkers (2)
Lands (26)
Spells (12) The higher creature count and more aggressive nature of this deck represents that Mastery will be taking different stances depending on the matchup. Against control, your early aggression dictating the pace of the game will make the enchantment a stranglehold that slowly chokes your opponent out of resources. Against more aggressively slanted decks, you now have the option to play a more dedicated control route, using your early creatures to trade as removal spells, with Mastery ensuring that you are favored in the lategame and have the necessary life to survive, with your higher creature density providing an adequate number of triggers.
An often criticized aspect of some Abzan Aggro decks is their incorporation of Courser of Kruphix. While I don't have the experience with this archetype to comment on the proper count when it comes to the lists we are typically used to, I will say that its interaction with Mastery is off the charts, allowing you to hit more land drops, manifest key creatures, and manipulate your draws as you see fit.
So despite the success of operation Unseen Midrange, what would the best route be to truly abuse the "lock" nature of Mastery? I turned towards Green Devotion, but I wasn't interested in trying to flounder around with my hands of cards I couldn't cast like I did last week at Grand Prix Memphis. If there is one thing I've come to appreciate through decks like Sultai Control, it's how smooth Satyr Wayfinder makes your mana. I'm just tired of getting my Voyaging Satyr's Wild Slashed. It also just so happens the centerpiece of my deck can be taken with Commune with the Gods. What was that M15 card that everyone played with a while back again?
Creatures (30)
Lands (23)
Spells (7) This deck was both a success and a failure. I succeeded in making a smooth manabase that functioned, had access to plenty of white sources, and could find Nykthos reliably without flooding on them. Further, as far as goldfishing power, this deck is unparalleled; nobody is beating you if you get to do your thing. Soul of Theros is still an incredible and likely under-utilized Magic card. Finally, I got a couple sweet screen shots out of it, and for once I was having fun on Magic Online.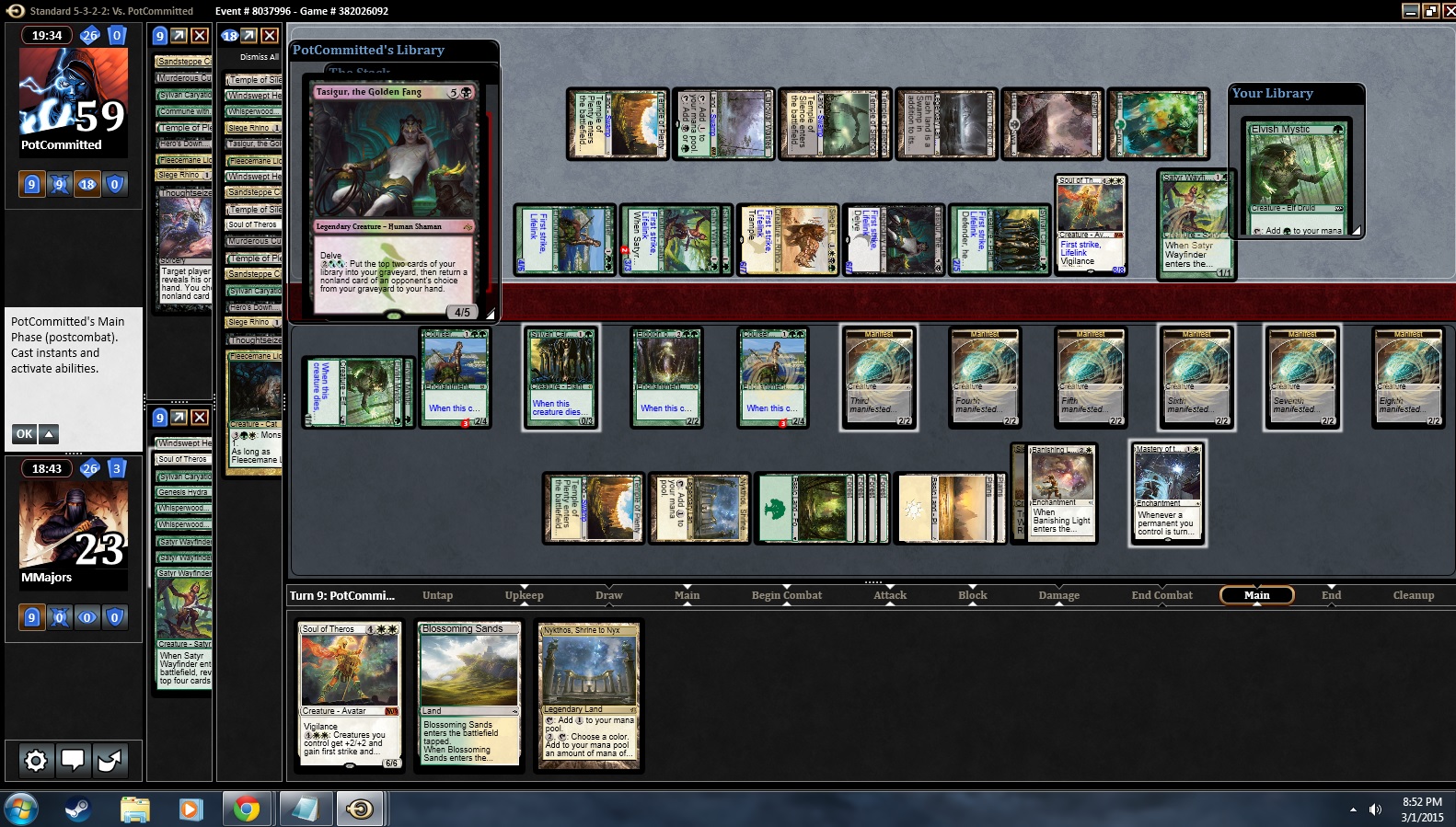 Two turns later: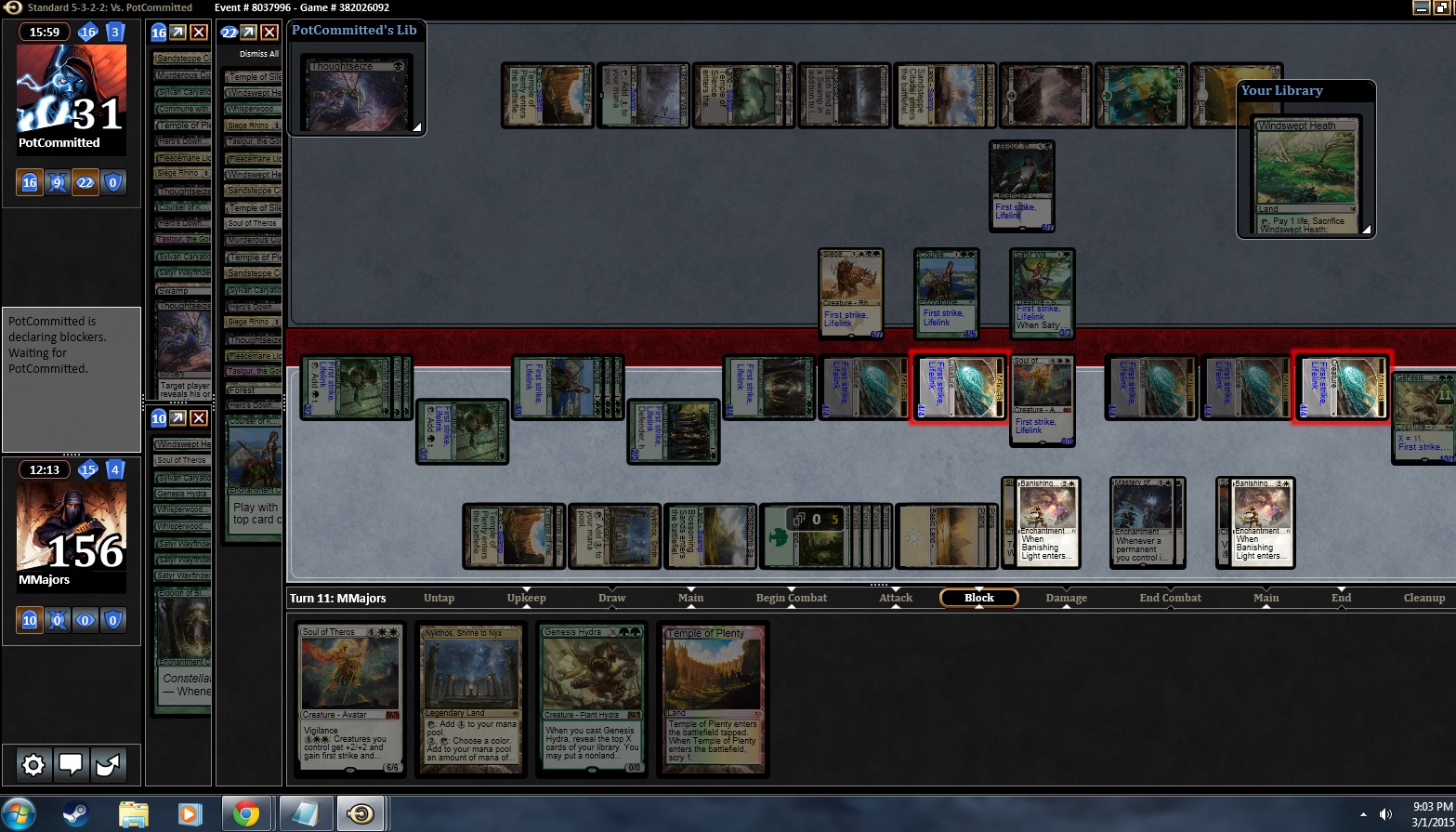 The problems were classic in nature. The deck requires a bit of set up time, and despite having more mana production and creatures than Abzan, you're still lacking its interaction. A fast clock backed up by some removal is tough to compete with. Even though Soul has some support, he is yet another card that qualifies as a big clunker when drawn, a consistent problem for these devotion decks. I liked the mini-graveyard theme, and I enjoyed what Satyr Wayfinder did for the deck, both as far as making the deck stable and providing a blocker, but it's fair to say that maybe it's too cute, and despite the increase in reliability, I may have underestimated how much I would miss the explosive nature of Voyaging Satyr with Nykthos. In addition, my sideboards were so varied along the embarrassing to plain useless scale that I'd rather not even share them. I was never able to find a sideboard plan that I liked for just about any matchup, and I consistently felt behind after board. All of that being said, there is absolutely a deck here, and Mastery of the Unseen is the centerpiece. It has the ability to invalidate all of the six + converted mana cost cards that the devotion decks inevitability have to play to get pay off from their immense mana production. The secret is finding the shell that does it correctly.
If you somehow thought that you would get an article out of me about producing endless amounts of creatures without name dropping the one true God of the Forge, you were sorely mistaken.
Creatures (14)
Planeswalkers (1)
Lands (25)
Spells (20) If it's good enough for the sideboard, why not try it main? Mardu has some specific draws to me over R/W: particularly, that its splash is extremely close to free and that Crackling Doom and Thoughtseize help alleviate a lot of the issues with having Mastery in the deck. Namely that you can actually clear out everything your opponent is doing before going late with Outpost Siege, Purphoros, and Mastery, or in post-board scenarios, use Thoughtseize to force your heavy hitters through. I'm certainly interested in fitting Butcher of the Horde in this deck, and all that really highlights is how infinitely customizable this type of strategy is. Maindecking Butcher, Ashcloud Phoenix, pushing Purphoros to the sideboard, or even going heavier on control elements like End Hostilities and additional planeswalkers all seem like valid paths to explore. The cookie cutter nature of most of the R/W lists undermine how powerful the strategy is with its access to early aggression, efficient removal, and card advantage. There are a plethora of options.
To close out this week I want to touch on some of the spoilers that have been released. As of this writing there are two main standouts to me:
Sidisi is an immensely powerful card, with some quick viable homes including her old namesake Whip deck and perhaps more relevantly, the current Sultai Control decks already utilizing Satyr Wayfinder as a mana fixer and dredge enabler. In addition, it wouldn't be difficult to implement Sylvan Caryatid as another creature that smooths out the deck and synergizes with the Vizier. The ability to tutor up Ugin, Dig Through Time, or Crux of Fate is incredibly impactful, and her body is nothing to scoff at either. Even just having access to a five-mana Diabolic Tutor is not the worst thing in the world, and the rest is pure upside.
Speaking of Ugin, the Spirit Dragon, one may be more apprehensive to play him with Dragonlord Silumgar drifting about. Sower of Temptation has created quite the mark on competitive play throughout a variety of formats, and despite being significantly more expensive at six, the Dragonlord's ability to get in combat effectively, and above all, steal planeswalkers, means that it's probably not going to be difficult to get value out of him even if he doesn't stick around very long.
I'll be starting with something like this:
Creatures (11)
Planeswalkers (7)
Lands (25)
Spells (17) Let me know what spoilers and potential breakout Standard cards excite you!