I normally don't get excited when it comes to spoiler season. This might be due to the fact that I have played this game for over a decade and have become jaded, or possibly that I've been burned by the hype, but I normally wait until the entire set has come out to do any exploring. That changed this morning as I checked out the Dragons of Tarkir spoilers. Three cards jumped out at me as absolutely broken. All three go in widely different decks, yet all of them have the potential to shake up Standard as we know it. Let's first start with Narset Transcendent!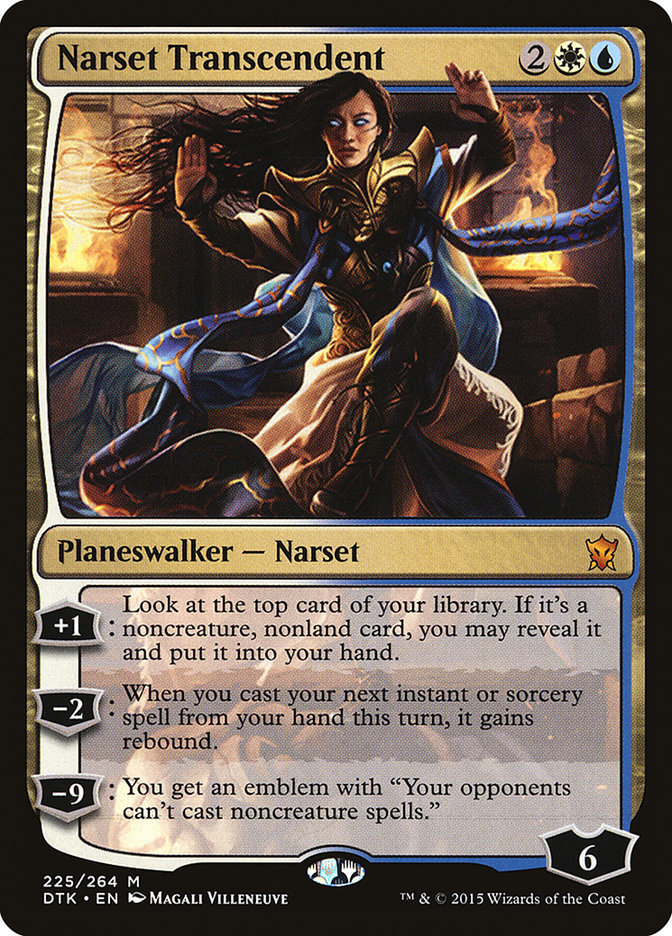 Khans of Tarkir's storyline is flush with flavor, and this was one that I thought would happen. A feeble clan leader in the initial timeline would somehow become a planeswalker in the next. It wasn't too difficult to see coming. Narset, Enlightened Master and Narset Transcendent work well together and yet are annoyed at the other's existence. Both generate amazing card advantage but never want to see the other in their piles.
We all know that Narset, Enlightened Master was a flop, and even some of us keep reinforcing that sentiment (I may have tested a Narset deck for Miami). Just because the initial Narset was a bust does not mean history is going to repeat itself. Narset Transcendent feels like the best control planeswalker to show up to Standard since Jace, Architect of Thought bid farewell and left us with his annoying cousin. So does Narset Transcendent have what it takes to fight her way into Standard? Let's break her down and see what she's made of!

Domri Rade comes to mind when I look at this planeswalker, yet all I can think is how much better this one is. Domri Rade only allowed creatures to jump from atop the deck into your hand, whereas Narset Transcendent is able to gift the power of instants, sorceries, artifacts, enchantments, and planeswalkers. I don't know if you have noticed lately, but control decks don't really play any creatures. They just win with planeswalkers and maybe a single Pearl Lake Ancient. This +1 ability is perfect for a control deck. Control decks always need ample amounts of card advantage to have a steady stream of disruption. Normally, these disruptive spells protect the player from dying, but they will do double duty any time Narset Transcendent is in play. I can already see it now. My opponent +1ing this planeswalker and revealing the Dissolve that is going to stop me from doing anything with my next turn. My head drops while my fate is sealed. On second thought, I am not excited about this card!

Tying in rebound with this card might end up looking like a mistake. Rebound spells have always been fairly mediocre due to casting a second copy on the following turn. Narset Transcendent breaks the chains bound to our imagination and brings us to a new world where we can Dig Through Time. Even giving End Hostilities or Crux of Fate Rebound for a turn could be all the breathing room a control deck needs to get further and further ahead. It seems much more powerful to rebound a Crux of Fate than to cast a Perilous Vault, which is exactly what a rebounded Crux of Fate would try to do but for half the mana.
I bet Ali Aintrazi is already writing an article about how sweet it would be to rebound Temporal Trespass!

I don't actually know the practical applications this ability will have on a game against a deck with creatures. She won't be able to protect an Elspeth, Sun's Champion, since she would already be dead if Heroes were falling down. Maybe it's just a sweet cannibalistic ability for control mirrors. It doesn't even take that long to get there since this planeswalker starts with so much loyalty. I'm guessing this third ability was put on this card purely because she shouldn't have a great ultimate when both of her other abilities are so impressive.
So what are the downsides to this card? Well for starters, she's a planeswalker that can't protect herself or guarantee any actual card advantage. Jace, Architect of Thought was so impressive because it could do both of these things. Given enough time, Narset Transcendent will almost certainly take over the game, but that is simply due to eliminating variance through time. The longer this card is in play, the stronger she will get.
Another downside to this planeswalker is that she would work best with a four-mana wrath effect like Supreme Verdict. Five mana is a lot of pay for a mass removal spell and everyone knows it. This means that the aggressor in the matchup will know that they can put enough threats on the board to clean up a Narset Transcendent being cast the next turn without fear of everything dying.
Four mana for a planeswalker is also a little awkward in current Standard thanks to Temples. Most decks in the format are designed around having turns to take off from curving out to play enters-the- battlefield tapped lands, which is why we see most control decks have almost zero four-drops while playing upwards of twelve three-casting cost spells.
I'm going to end my rant on Narset without a decklist since I know my place. We have way too many great control players on our website that will most definitely be bringing all the control "action" next week with this card. Let's talk about a card that is close to my heart and the exact opposite of one on the control player's radar.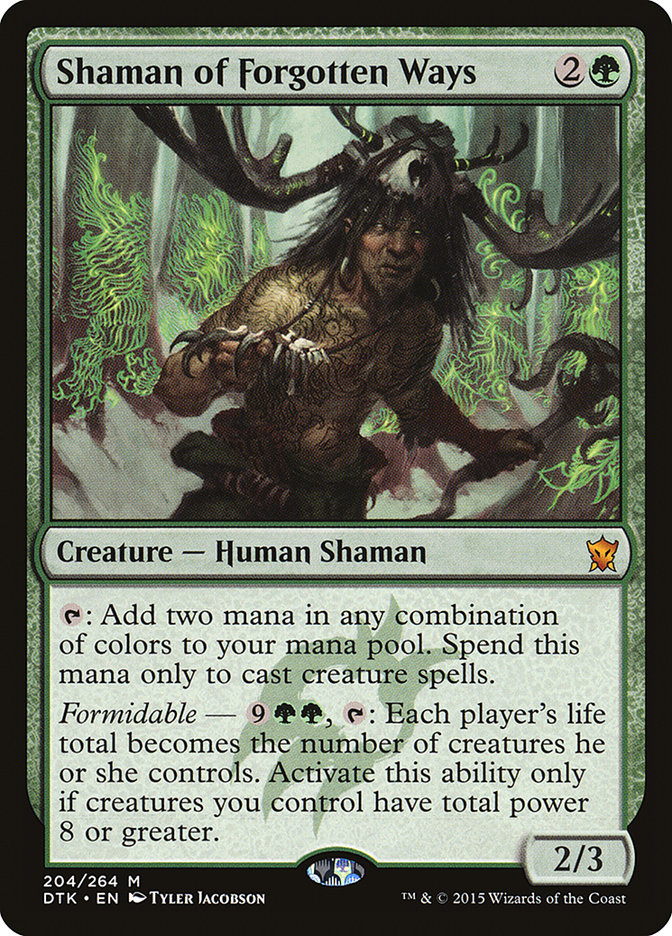 Somberwald Sage never really had many friends. She had a way with nature, but the other kids on the playground didn't care about her ability to talk to the animals. Sure, she had things to offer them, but bullies like Thragtusk and Sphinx's Revelation wouldn't give her a chance and constantly made fun of her. She started losing faith that she would ever find her purpose. One day she found isolation to be her only option and decided to retire to Bulkbinder Mountain.
On her way to the most desolate place known to man, she stumbled upon a somber bard. "Well, what are you doing all the way out here?" she yelled to him. Startled, he quickly rose to his feet. He was excited to see a new person. "I'm just looking for new friends," he said to the beautiful druid. Taken aback from his response, she didn't really know what to think of him.
He went on to tell the sage that he was a connoisseur of forgotten gems and had found the most magnificent creature on Bulkbinder Mountain. The only problem was this bard was never able to get his behemoth to leave the mountain.
You see, the creature was poised for greatness. Everyone around him growing up constantly told him that he would one day rule the world. That he would even end up on the front of Wheaties boxes. He had such a bad case of tunnel vision that once he graduated from Cardboard College he didn't realize he was being ignored by his peers. Restoration Angel had taken all his glory and left him worthless.
Being able to relate to this story, the sage wanted to meet him. After a long journey up Bulkbinder Mountain, the bard and Somberwald Sage finally stumbled upon the monstrous beast. Knowing how to talk to animals, the sage was able to build the creature's confidence enough to light the dimming fire once again. An instant connection between the two blossomed into one of the most beautiful duos known to Magic. They left Bulkbinder Mountain hand in hand, ready to take over the world. The bard was never seen again. Rumors indicate he was killed while stealing goats at a Trading Post.
It has been almost three years since I have gotten to play with my favorite deck of all time. Hoof There It Is was the most innovative deck I have ever built and one I will never forget. Martin Juza and I played the deck on opposite sides of the pond on double Standard GP weekends. While Martin won the GP with the deck after only knowing about it for a couple days, I ended up losing back-to-back win-and-ins to finish in 12th. It was a heartbreaker to say the least, but the deck was by far the most fun I have ever had playing Magic.
Shaman of Forgotten Ways feels like a strict upgrade to Somberwald Sage. I know that isn't saying much, but any card that can block Goblin Rabblemaster tokens and then go way over the top of the annoying goblin is okay in my book. The biggest concern for this card is how much it sits on top of Courser of Kruphix, but these two cards do vastly different things. My gut says that Courser of Kruphix was just warming the seat for Shaman of Forgotten Ways in all of the Green Devotion decks.
The biggest concern when building a deck with this card is that it doesn't help against control decks. Putting even more creatures on the board won't help with them simply killing everything with one card. Sure the activated ability can end a game on the spot, but eleven mana is no easy task.
One place to start looking for a card like this is not in dedicated devotion decks. It obviously looks like that will be the best home for a card like this, but it alone can easily start casting dragons as early as turn 4. I don't know where this card will end up, but I assure you that if it is good, I will be the first to know.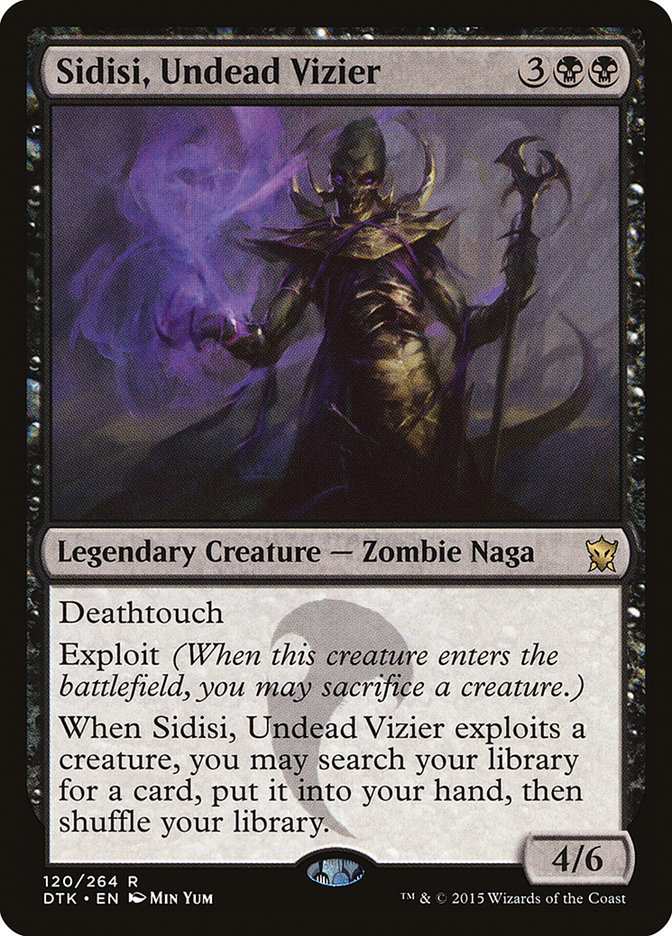 The last card on my list is also my favorite. The timeline on Tarkir has been shaken up significantly and the once Sultai soulstress has finally turned the color of her heart. What impresses me the most with the design on this card is how well it works with the alternate universe version of herself. Turn 4 Sidisi, Brood Tyrant into turn 5 Sidisi, Undead Vizier sacrificing a zombie token for any card in your deck. It's Sidisiception!
I would be shocked if this card doesn't change the way Sultai Reanimator decks are built. Toolbox midrange decks have always found a way to overperform, and this is exactly what this card is doing. This is the Gifts Ungiven of days past! Not only does this card tutor for anything you want, but it comes in the form of a Doomwake Giant. If you don't want to lose a guy, then you don't have to. This dark diva doesn't need blood on her arrival.
As I write these last words, my dryer is hard at work finishing the last load of laundry I need before I embark for Miami for another go at taking home the gold. Last time I was there, I was Duked out of the event in the top 4. Team VS Video is meeting in mere minutes to jump in my Crown Vic and begin our 1000-mile journey. This is the furthest I have ever driven for a single Magic tournament. With age creeping up on me, I am scared my knees will begin to ache as I accelerate and decelerate on the never-ending interstates. We might be in for a long journey, but the stories to be made on the other side of those roads will last for eternity.
I'm so excited for this event because this will be the first major event I get to play with my brother Corey Baumeister in three years. We were both once on the Pro Tour together, but Planeswalker Points abruptly ended his journey. The fire has finally been relit, and he is ready to take another go at it, and I couldn't be happier. I hope to see all of you out in Miami, where the possibilities are as endless as the ocean.