Time sure flies, doesn't it? It seems like just the other day that I was testing for Pro Tour Fate Reforged, and all of a sudden spoilers from Dragons of Tarkir are popping up all over the internet. I'm certainly not one to look a gift dragon in the mouth, but I haven't even had a chance to play the current Standard in a sanctioned tournament yet! With the last Pro Tour being Modern, GP Memphis conflicting with GP Vancouver, and this weekend's upcoming GP Miami conflicting with PAX East, I'm literally not going to play a single match of the current Standard outside of Magic Online. I appreciate that set releases in quick succession help keep formats from getting stale, but this seems a little fast for my taste.
Then again, maybe it's best that I just wait to play until my dragons are unleashed upon the world to take their rightful place as the rulers of Tarkir.
Patrick Sullivan has his Red Box review. Drew Levin has his Legacy review. I feel it's only right, at least for this set, that I start things off with my Dragon review. Let's take a look at some of those magnificent beings to which we will all owe our fealty in a few short weeks.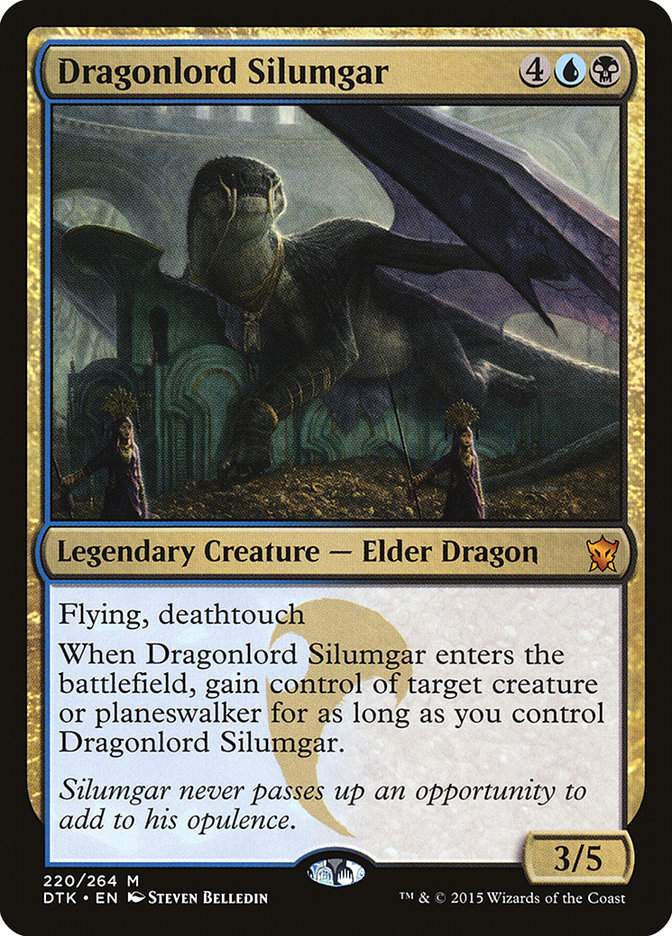 Our first dragonlord has me a little torn. On the one hand, dragons are awesome, and Silumgar is a dragon - an elder dragon, no less. On the other hand, a giant Sower of Temptation is bound to be awesome against pretty much all of the cards that I love to play, so I'm sure it's going to cause me headaches the entire time it's legal. Probably not as big of a headache as he seems to have given Tasigur though. That chain looks painful.
One of the most interesting things about Dragonlord Silumgar is that he can take control of planeswalkers and not just creatures. Stealing an opposing creature is always a powerful effect, but the immediate impact of it is generally constrained because creatures without haste can't really do much the turn they come under your control. Planeswalkers, on the other hand, can use their abilities the turn they enter the battlefield, which means that you can steal your opponent's Ugin and go to town.
The ability is reminiscent of Zealous Conscripts, which stole many a game from unsuspecting opponents who planned to ultimate a planeswalker like Tamiyo only to see all their plans turned against them. The difference here, of course, is that Silumgar lets you keep the planeswalker as long as he's on the battlefield. While savvy opponents could play around Zealous Conscripts by never quite letting their planeswalkers get up to enough loyalty to ultimate, Silumgar can just take them and use them naturally turn after turn.
Silumgar feels a bit like Olivia Voldaren to me, in that it can completely swing the game in your favor if you play it and your opponent can't remove it very quickly. Lots of aggressive decks in Innistrad Standard played removal spells specifically geared toward being able to kill Olivia, because she could totally take over the game if she was able to live for just a few turns. Silumgar doesn't have quite the same long-term impact of stealing or killing all of your opponent's creatures, but just a few turns with their best creature or planeswalker under your control will usually be enough.
Even if Silumgar doesn't find his way into maindecks right away, thanks to all of the Hero's Downfalls and Abzan Charms floating around out there, he'll definitely find a home as a sideboard card against any kind of big creature deck. If nothing else, he's a Nekrataal against a Whisperwood Elemental and has a lot of upside from there.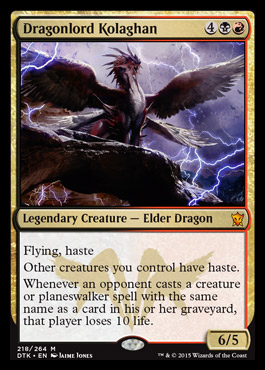 How many of you played back during Odyssey block? Do you remember Rorix Bladewing? Rorix was a 6/5 flying haste dragon for six mana - full stop - and he was one of the biggest and baddest creatures around. In fact, some Extended Reanimator decks even played Rorix as one of their fatties of choice - and look what we get now!
Dragonlord Kolaghan offers the same stats as Rorix, along with the flying and haste, for an arguably friendlier casting cost than 3RRR. Kolaghan also brings along some extra abilities, most notably haste for all of your other creatures too.
Haste is a really powerful ability to be handing out. That said, it's hard to imagine needing to hit your opponent with much else if you've already connected with Kolaghan and gotten a chance to untap. I'm sure there will be games where giving haste to the rest of your team comes in handy, but if your 6/5 flier lived to attack again, most of the time that's going to be good enough.
The second clause on Kolaghan is a bit harder to evaluate, both in terms of its impact on the card's power level and, frankly, why it's on the card. Punishing your opponent for playing creatures or planeswalkers that they've already played (or that have otherwise gone to their graveyard this game) is an odd ability on an aggressively-focused giant dragon. Perhaps it's intended as a failsafe against delve decks that fill their graveyards? In any case, it's an effect that's likely to be useful in long, drawn out games, which are exactly the kind of games that aggressive decks are generally not looking to play. On the one hand, it will often feel like wasted text in the majority of games that it does not come up, but on the other, it can provide you with the security of knowing that you will not, in fact, lose to that second topdecked Siege Rhino just before you attack for lethal.
Kolaghan is one of several cards that I've seen in Dragons of Tarkir that has me wondering if we'll see any new mana fixers in the new set. Kolaghan would fit very well as the top end of a G/R Aggro deck, but the only tri-lands that exist belong to the clan wedges from Khans. I'm not going to hold my breath to see Jund or Naya lands show up, but it would go a long way toward making each three-color combination with the new dragons playable.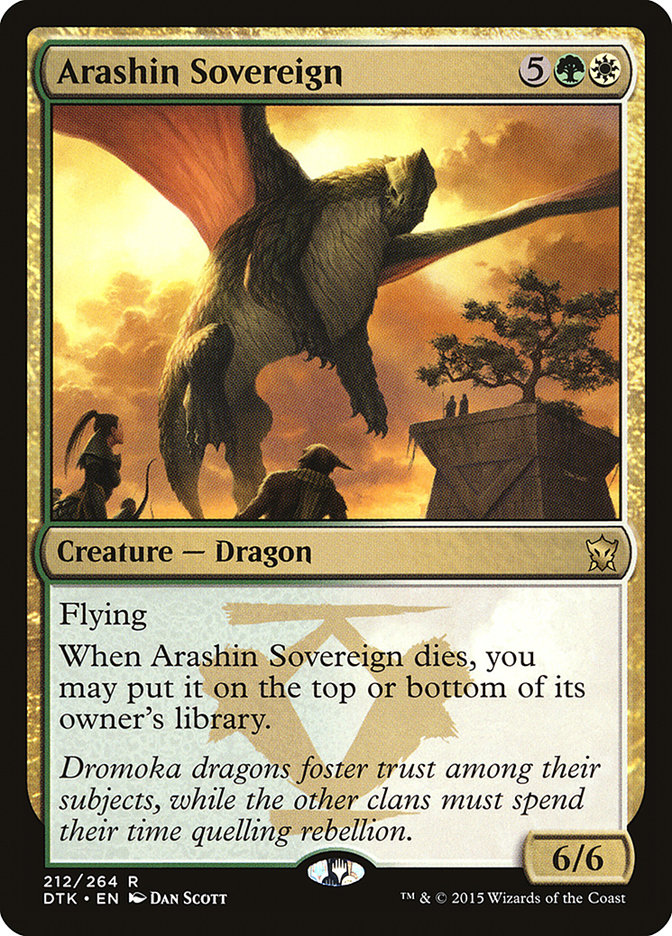 Seven is a lot of mana to pay for a 6/6 flier in Constructed. This card promises to be a Limited bomb that's nearly impossible to get rid of forever, but that doesn't quite do enough to justify its cost in Standard.
I'm a little curious why this card doesn't use the prowess keyword when its ability is clearly identical to prowess. Perhaps the design team felt like it was important to only have the actual keyword on cards from the Jeskai clan and not the cards from the alternate future where the Jeskai do not exist. Either way, this is another card that feels like it's a powerful Limited bomb that won't quite cut it in Constructed. Six mana for a 6/4 flier isn't an especially impressive deal these days when there are options like Butcher of the Horde around. While the Skywise's ability can protect it, you need to have both an instant and the mana available to cast it in order to save it from removal the turn you play it, which is unlikely to be all that easy to pull off in Standard.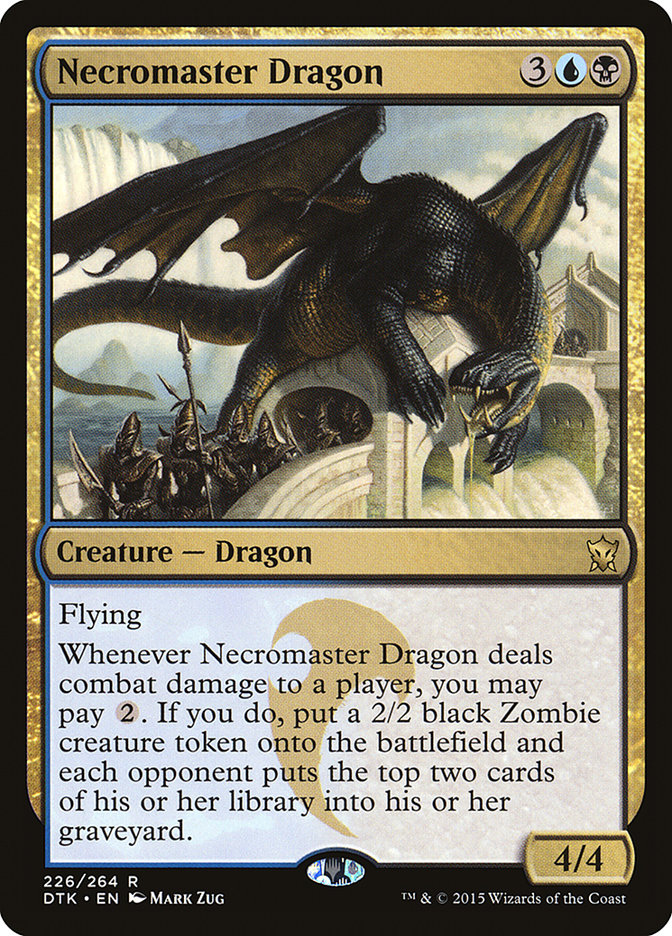 I kind of feel like a broken record here, but I have a feeling that this set is going to be full of "Limited bomb, Constructed outsider" power-level cards amongst its many dragons. Necromaster Dragon is a 4/4 flier for five mana, which isn't really the kind of stat line that shows up in Constructed without a bunch of good abilities - most notably haste, like good old Stormbreath Dragon. Necromaster Dragon's ability is pretty interesting, netting additional creatures every time it connects with your opponent's face for two mana, but I don't think it would make the cut in Standard even if the trigger was free.
With cards like Hordeling Outburst and now Dragon Fodder around, along with Brutal Hordechief, I have to imagine there is some kind of B/R token deck to be made. A +2/+0 trigger every time a creature enters the battlefield under your control might be powerful in that kind of deck, but an upfront investment of five mana into a 5/4 body with no impact on the board the turn you play it is a high price for that delayed payoff. I imagine the goblin token deck is more interested in the old Kolaghan with dash than this guy. Another Limited card.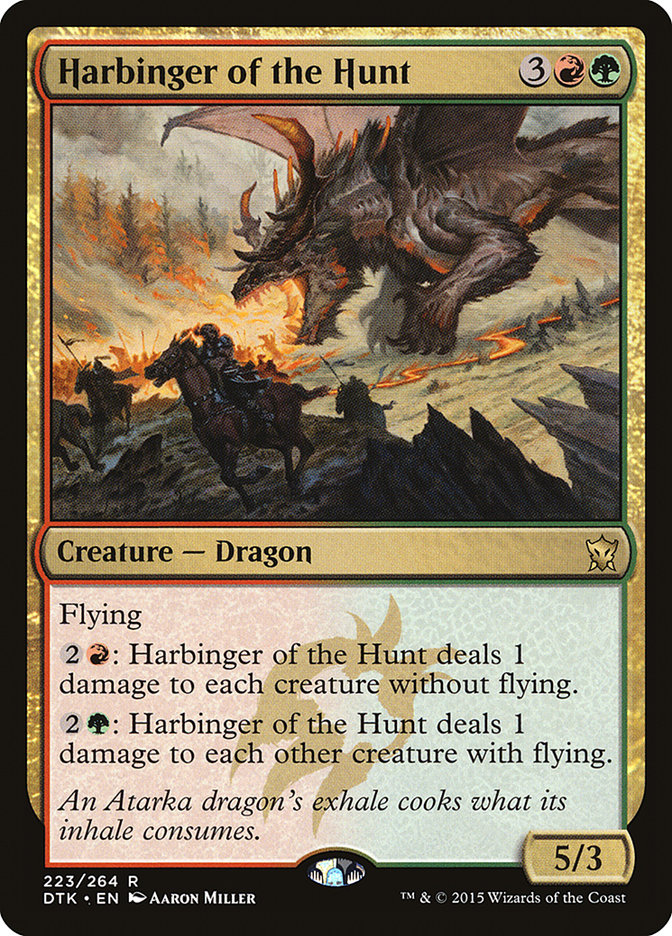 Record, broken, etc. Paying five mana for a creature that dies to Lightning Strike and doesn't have an enters the battlefield ability isn't on my list of what I want to be doing in Standard. This is certainly a creature that can dominate a game of Limited if it survives more than a turn, but it isn't going to be making it into 60-card decks any time soon.
Now this is a dragon. A 4/4 flying body for four mana is a good start, but the ability is the really exciting part. With so many removal spells flying around in Standard, it can be hard for big creatures to have an impact. Thunderbreak Regent is almost guaranteed to make its presence felt, whether by attacking your opponent for four a turn or by bolting their face when they try to kill it.
I was already a big fan of a flier-heavy G/R build in Standard with Flamewake and Ashcloud Phoenixes alongside Stormbreath Dragon, and now Thunderbreak Regent offers another option to that list. I have to wonder whether the Regent may actually be a better option than Ashcloud at four mana, especially with the number of Abzan Charms floating around out there. While Phoenix survives cards like Hero's Downfall and Murderous Cut, the Regent guarantees damage even against exile effects like the Charm and Chained to the Rocks. And in a deck chock full of haste creatures and Crater's Claws, every point adds up.
I could also see this being a key element of an aggressive Mono-Red deck that takes to the skies. A lot of Mono-Red aggro decks are based around overrunning the opponent with small ground creatures, but with all the dragons and phoenixes around, it's entirely possible to put together a very significant air force. The new Lightning Berserker isn't a dragon, so I wasn't going to touch on him in my review, but a dashing firebreather is a pretty serious incentive to play Mono-Red. You can seriously punish any opponent who lets their guard down for even just a single turn, with the threat of coming back for more. Mono-Red generally isn't my style, but beatdown is, and with so many awesome red dragons out there, it just may be the way the wind is blowing…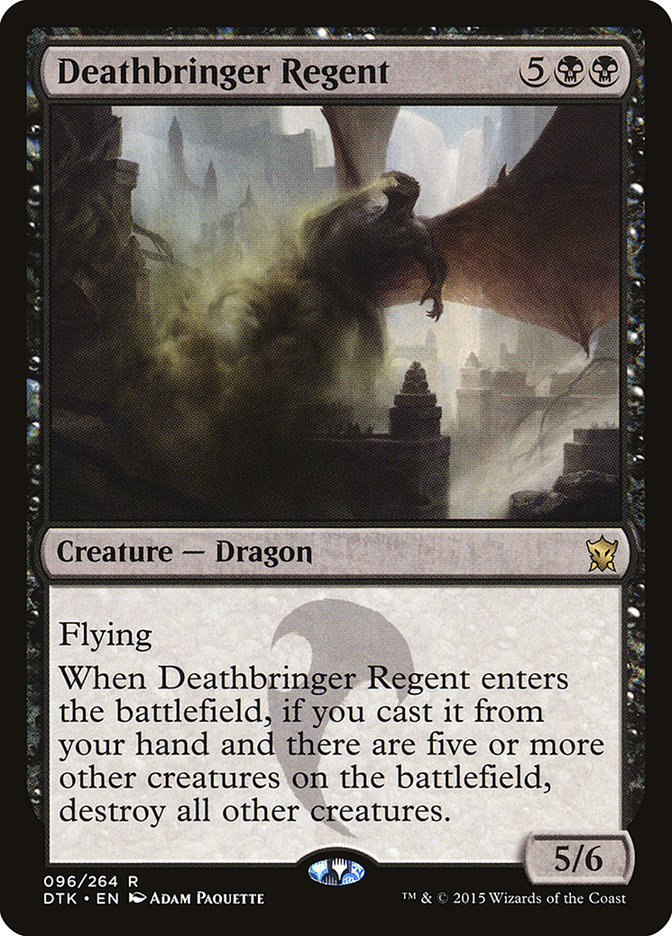 Die, Hornet Queen, die! Deathbringer Regent is a very interesting card that offers a powerful stalemate breaker for creature-heavy mirror matches. It could be a sideboard option for, say, G/B Devotion decks against other creature decks. That said, at seven mana, it might be too expensive to see serious play, especially since it will always live in the same format as Ugin, the Spirit Dragon. It seems hard to justify playing Deathbring Regent over Ugin in many situations, though the regent does have synergy with regeneration or indestructible effects, which Ugin does not. My guess is that Deathbringer Regent may see some fringe Standard play, but it will never really be a major factor in the metagame.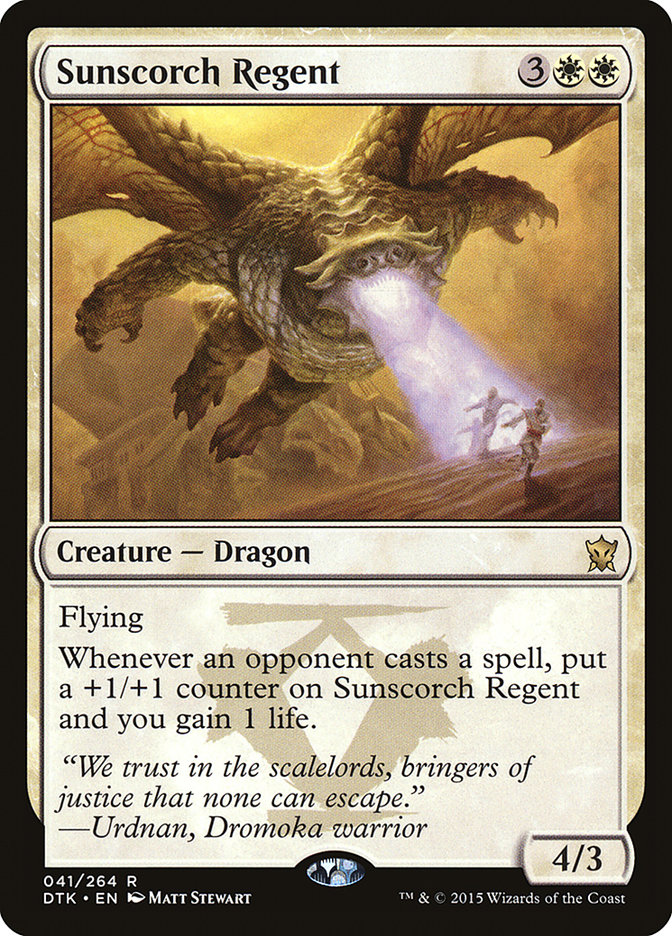 I think this is one of the few creatures in the entire game of Magic that can't be killed by either Lightning Strike or Valorous Stance - at least not right off the bat. While that's kind of cool, I don't think it's quite enough to make up for the card's otherwise unimpressive stat and ability combination. I suppose Sunscorch Regent might be decent against burn decks, but otherwise it doesn't really seem impactful enough for its cost compared to other options. Certainly another strong contender in Limited, however.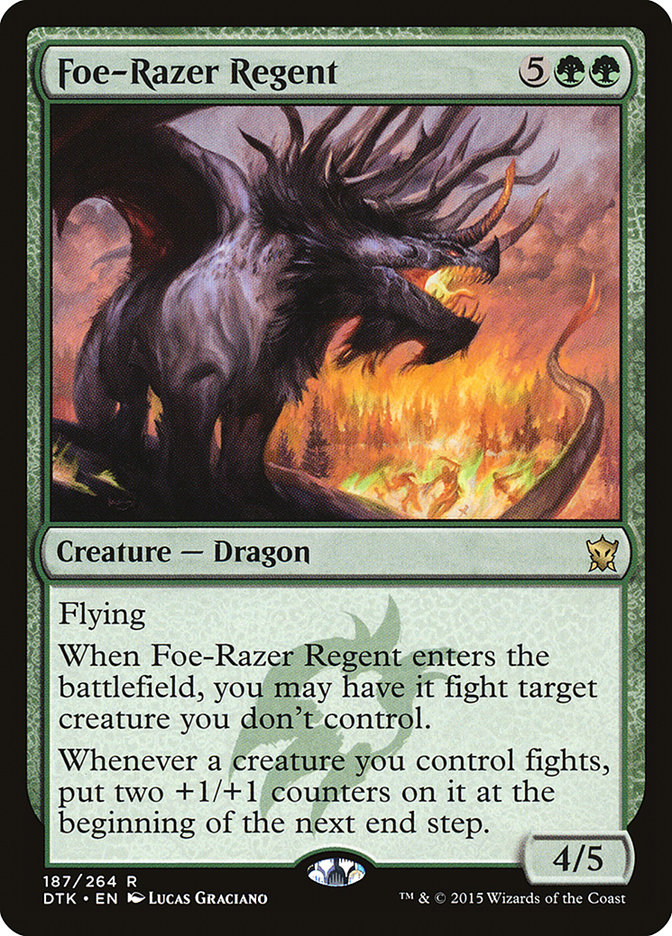 Okay, I get it. Green is about giant monsters, but does the green version of everything in every cycle have to be some overcosted big dumb idiot? For seven mana, you get a 4/5 flying creature, which can maybe kill something smaller than it when it enters the battlefield - that is, assuming your opponent doesn't have a removal spell, or bounce spell, or I don't know, anything at all.
I understand that green has mana acceleration and that magnifies the value of big creatures in the color, but that seems to mean that it consistently gets the most expensive versions of nearly every cycle. Just look at Atarka, World Render in Fate Reforged. I'm really, really hoping that the new versions of both her and Dromoka are actually sweet aggressive dragons and not huge clunky monstrosities, since we have enough of those, like Foe-Razer Regent right here.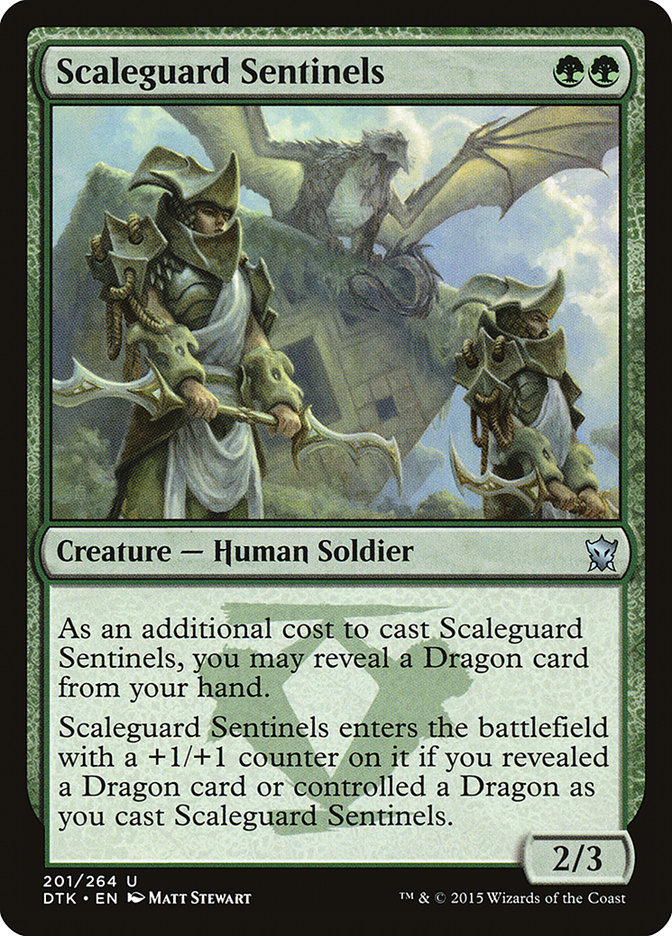 Okay, this isn't a dragon, but it's close enough. I hope this is a sign that we'll be getting the aggressive Atarka that I have been looking for, since it clearly wants to live in a green deck with a bunch of red dragons, and Atarka ought to be the headliner.
I'm a little torn on this card. While it's obviously awesome as a possible 3/4 creature for two mana, which is a spot on the curve where G/R has been a bit lacking, it's also double green, which means it may be difficult to support in a deck with all of the double red cost dragons that I'm sure to want to play alongside it.
With cards we know so far, it's already possible to build a reasonable G/R Dragon deck with Thunderbreak Regent and Stormbreath Dragon to support Scaleguard Sentinels. If the new Atarka turns out to be awesome, that's another potential buff for the Sentinels.
Here's what I imagine the deck might look like:
Creatures (31)
Lands (23)
Spells (6) One of the weaknesses of previous builds of G/R Aggro has been its reliance on drawing Elvish Mystic or Heir of the Wilds to have any way to develop the board before the third turn, and Scaleguard Sentinels offers redundancy in big cheap creatures.
It's possible that the mana constraints of running both Scaleguard and Flamewake Phoenix may be too much, but both cards seem pretty great to me, so I'd want to start with both and pare it down from there if mana proved to be an issue.
Well, that's all of the dragons revealed so far. I'm sure there are more, and I'm excited to see them. So far, this is a big step up from the last set with "dragon" in the title that contained a grand total of zero actual dragons. Yes, I'm still bitter.
But here's hoping they make up for all of that by giving me an awesome Atarka, who I can use to crush my opponents for years to come. Is that really too much to ask?