It's really that time already? Doesn't it feel like just yesterday Sarkhan went back in time to save the dragons or whatever? This weekend is already the Dragons of Tarkir Prerelease with the Season One Invitational in Richmond the week after. I barely even got to sink my teeth into the world of Fate Reforged Standard and everything is already turning upside down. I guess the silver lining is new cards, new strategies, and a boat load of dragons. Too bad I'm not going to be talking about the reincarnated today. This set has too many other goodies to discuss.
I'm guessing the question on everyone's mind is what's going to be good moving forward. Dragons of Tarkir is in fact a big set, which means 264 new cards got dropped onto our lap while we have yet to fully explore Fate Reforged. Needless to say, the next month is going to be interesting, with the cherry on top being the Pro Tour.
The initial exploration into Dragons of Tarkir has to be much different than past sets released around this time. Current Standard is one of the most complex formats, making it rather difficult to evaluate. Temples, transitional sideboards, and a snowball nature all play an important role into how decks are supposed to be built. Much like in the lore of Tarkir, we must understand its past before we can predict where it is going. Today I will be looking at some of the major role players from past Standard environments to see where they might end up once the Dragons reign supreme.
Currently the best deck in Standard is Sultai Control. The deck has won multiple Star City Games Opens along with a Grand Prix. The deck doesn't look like much on paper, and sometimes it plays out rather clunky, but it finds its way to the top despite not being one of the top played decks. The reason for this deck's dominance is Sultai Charm.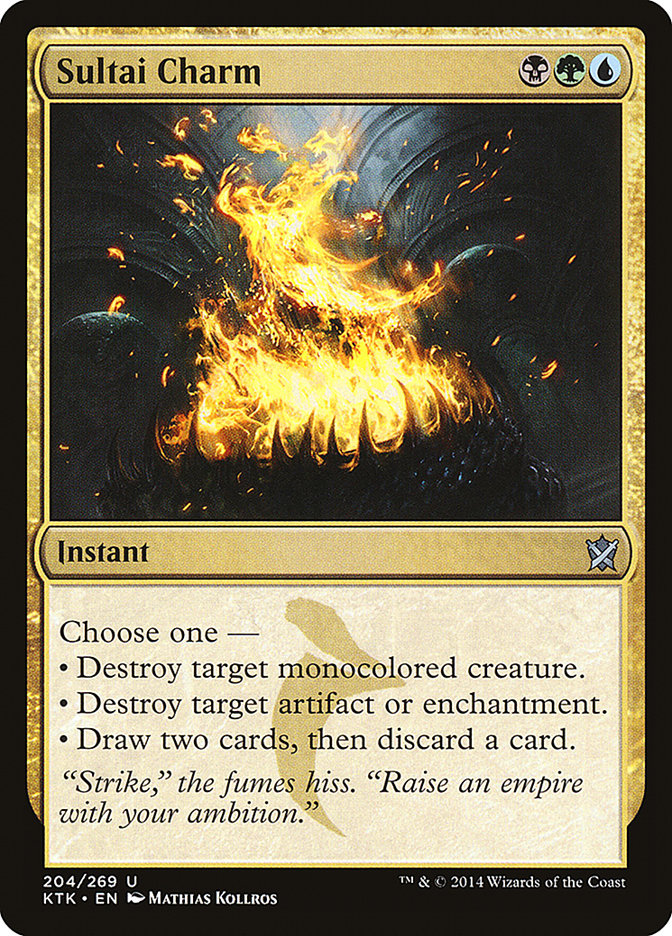 Sultai Charm is quietly the best answer to the metagame. It's even the reason why I played Sultai Reanimator at the Players' Championships and solely responsible for the rise of Sultai Control. This three-mana instant gains its power by being the only card in the format that can kill Goblin Rabblemaster and enchantments. In a pinch it can even replace itself. Sultai Charm is the perfect complement to any deck that can support it. That's why the most exciting card in my mind from Dragon's of Tarkir is Dromoka's Command.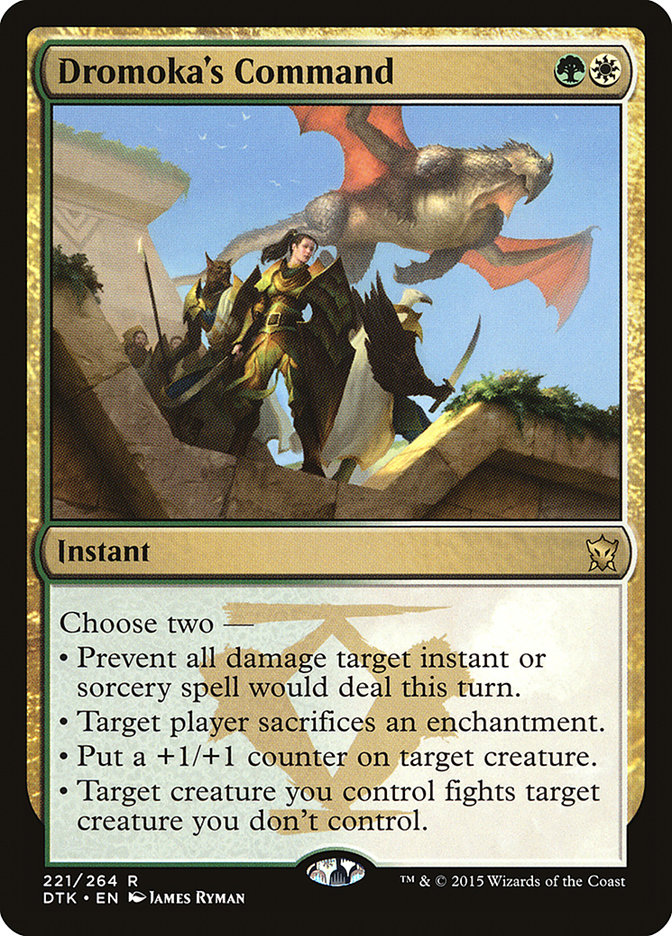 This card plays a similar role to Sultai Charm since it is a maindeck answer to the flurry of enchantments that have run amuck in Standard. Chained to the Rocks, Outpost Siege, Jeskai Ascendancy, Mastery of the Unseen, and Whip of Erebos have had their day in the sun, but it is time for them to actually be answered in game 1s. That's actually the secret behind these decks. They all have impossible to deal with enchantments in game 1. After sideboard, these spells might lose some of their power, but the decks running them are able to transition away from leaning on them anyway. This strategy has been overplayed and Dromoka's Command is here to save the day by giving more decks the ability to interact with these cards in game 1. The question is, where does this powerful card fit?
One would initially try to squeeze this card into Abzan Aggro. This deck already plays a slew of powerful creatures that would make for a perfect home for this card, but the powerful Command would end up being lackluster here. This deck actually only runs 20-25 creatures, while the rest of the deck is filled with removal spells. Dromoka's Command needs creatures in play to be able to use three of its four modes, making this a shaky home. Abzan Aggro is much better off continuing to use Hero's Downfall, Bile Blight, and Abzan Charm as its removal since those cards can be used when it has a creature-less board.
The home for Dromoka's Command has yet to be built. It will most likely become the foundation for a brand new archetype.
Creatures (26)
Planeswalkers (1)
Lands (24)
Spells (9) I know this list looks rough, and that's because it is. I wouldn't suggest taking this maindeck into battle, but I do consider it a great place to start testing. Surrak, the Hunt Caller is the type of card that Boon Satyr was waiting for. These two creatures in combination are going to give control a run for their money since they can deal a combined total of nine damage the turn after End Hostilites. Dromoka, the Eternal doesn't even sound that bad when you consider how well it combos with Surrak, the Hunt Caller.
No one has really been talking much about this guy, but I haven't been able to stop thinking about him once he was spoiled. Surrak seems like the exact thing green-based aggressive decks have been missing. Polukranos, World Eater was always decent in the non-devotion decks, but it never was more than a big body. Surrak feels like exactly what these decks have been waiting for. He matches up nicely against other creatures and acts as another Lava Axe in these backyard brawls we call games of Standard. I would be shocked if this card doesn't become the next big thing.
Finding the creature base to this deck will be the most difficult part. It might even end up that White Weenie splash green is the best way to go. Anafenza, Kin-Tree Spirit feels like it will end up in some sort of deck, and Brimaz, King of Oreskos is criminally underplayed.
Continuing our analysis of the days of the past is Chained to the Rocks.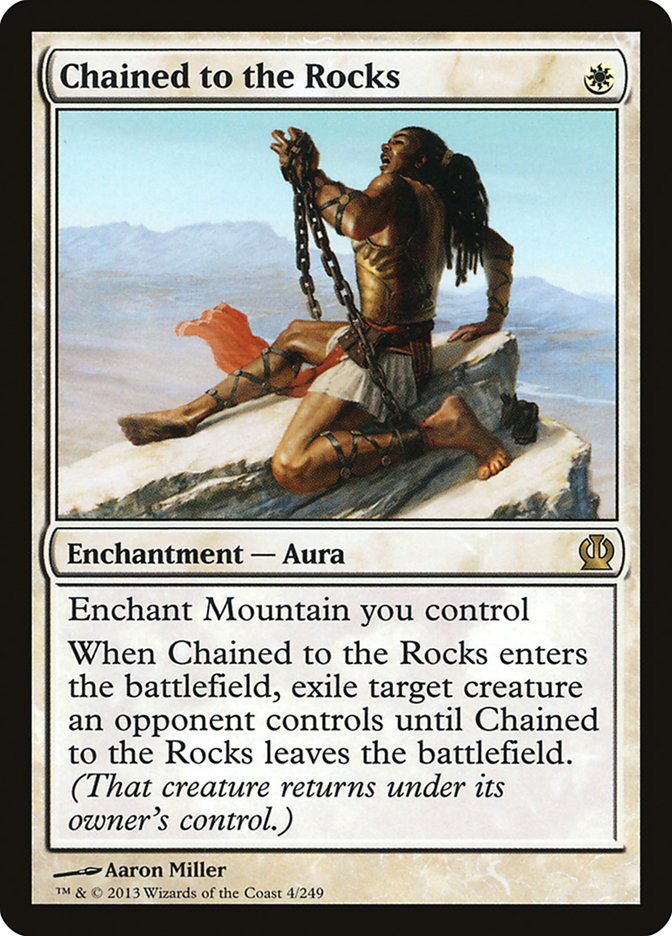 Chained to the Rocks has played a vital role in Standard. For the longest time it was the only premium removal spell two-color decks had access to. Oddly enough, it forced those decks to be red and white. Now there is a flurry of Rhino killers out there. Valorous Stance and Roast give red and white the ability to part ways and join forces with other colors. Not only that, but Dromoka's Command will put a damper on our best Prometheus reenactment.
We will see a shift in the way decks are built once they no longer need to be based in red to kill creatures. This doesn't mean R/W Aggro will no longer be a thing. Most of the best aggressive cards are in these two colors, and we have already seen how powerful the deck can be. We just might see the deck move away from ten Mountains into a more evenly distributed manabase.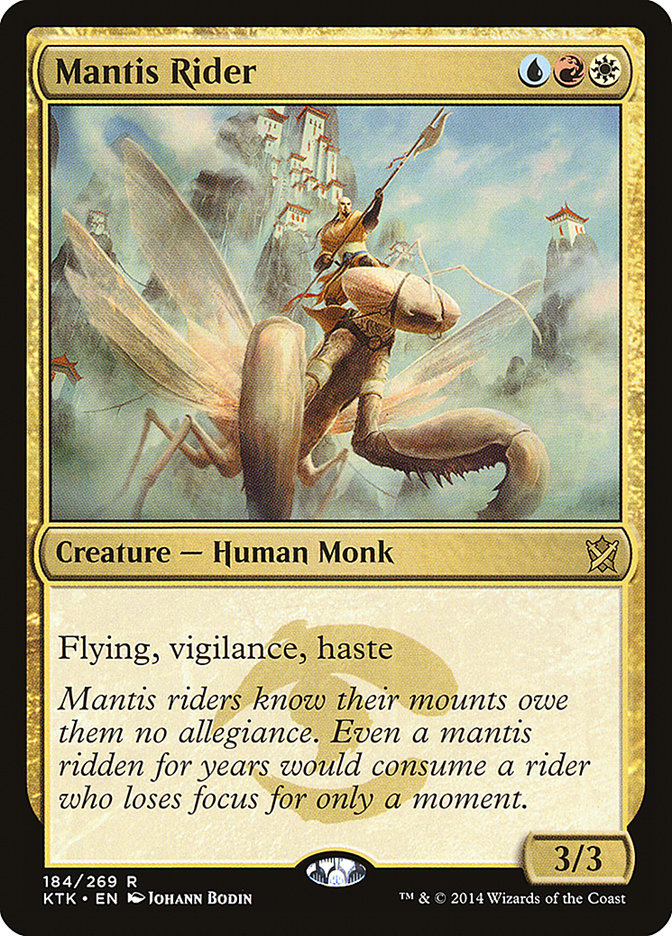 I've always considered Mantis Rider to be one of the most influential bad cards in Standard. Not to say the card in a vacuum is bad, but the decks it goes in are extremely high variance. Jeskai Aggro might have been the first powerful deck to come out of Khans of Tarkir Standard, but it also had the most comically low win percentages for how overplayed it was.
Let me explain before the torches get lit!
Jeskai Aggro is a deck that didn't have enough tools to be dominant. Mantis Rider and Stormbreath Dragon were fantastic finishers, but the rest of the deck was awkward cards just smashed together trying to make something work. The manabase didn't support the curve, which made for some awkward sequencing. Dig Through Time was the duct tape trying to keep the strategy together. It took until this past weekend to realize that the best Jeskai Aggro deck was probably just Ben Stark's version of R/W with Mantis Riders to punish the G/W decks that were starting to sprout up.
Mantis Rider's greatest strength is that it deals three damage and deserves an immediate response. Actually, that is the definition of a premium creature in Standard. The best creatures in Standard all deserve an immediate response or leave something behind when they die. Sometimes that is a creature, and other times it's a chunk of damage. Outside of that, the rest of the decks are just filled with role players. One creature from Dragons of Tarkir that sticks out like a sore thumb as a potential premium member of society is Thunderbreak Regent.
Ashcloud Phoenix did its best to be a star player in Standard, but it ended up simply being a role player. The card was decent and saw play, but at the end of the day it wasn't guaranteed damage. Thunderbreak Regent is in fact guaranteed damage and deserves an immediate response. This card has gotten a steady amount of love, but I'm figuring it will be one of the most defining cards from the set due to how well it plays with Mantis Rider and Stormbreath Dragon.
These three creatures might bring a new era of free wins. By simply casting them in ascending order it seems almost impossible for an opponent to not be in the single digits by the time the dust has settled. That doesn't take into account drawing more of them and creating an unstoppable chain of furious fliers. My starting point would look something like this:
Creatures (22)
Lands (25)
Spells (13)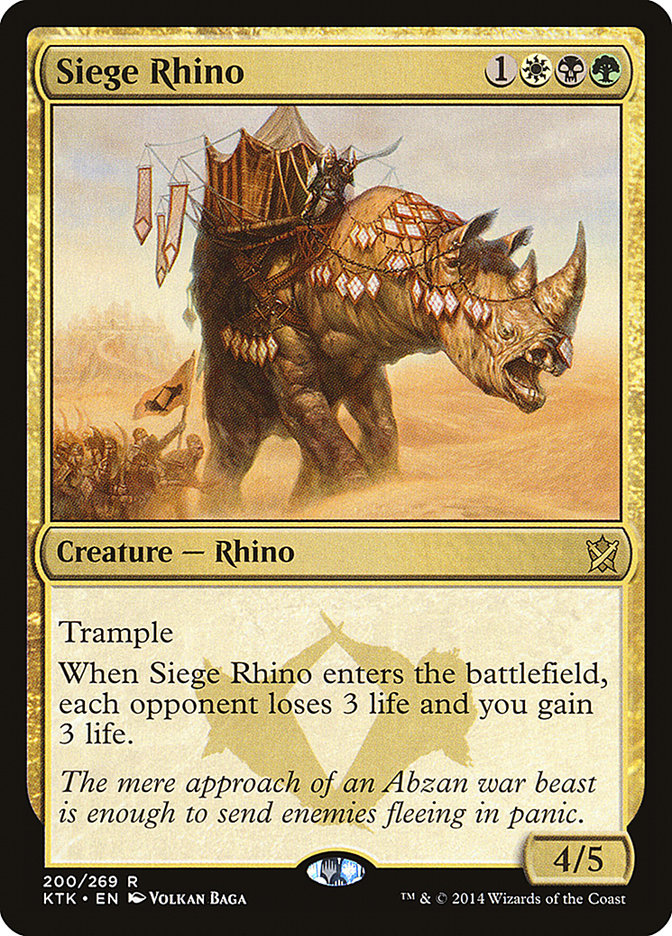 There really isn't much to say about Old Doc Rhinoceros. He has been crushing Standard for as long as we can remember and will still be an important role player in the days to come. The only thing that is important to understand is that he is no longer the road block he once was. Roast will most certainly drop the stock on this guy since red decks will no longer have to fear him and his companion Courser of Kruphix. We don't fully understand the implications of these amazing removal spells just yet, but my prediction is that decks like Abzan Midrange will shift towards Abzan Control and will become the best way to build Abzan-based decks.
Abzan Control has been a decent deck for the past couple months and will still be a decent choice in the coming weeks due to how powerful the cards in the deck are. Not only that, but the deck now has access to Duress, which will most certainly be a necessary evil for the deck to combat control decks that will be getting some serious upgrades as well.
My starting list for Abzan Control would look something like this:
Creatures (14)
Planeswalkers (2)
Lands (26)
Spells (18) Last up on my list is a special one in my eyes. This little guy showed the most potential when Khans of Tarkir first spoiled, but he never found a home outside of Jeff Hoogland's deckbox. That's right! It's finally time to shine some light on Savage Knuckleblade!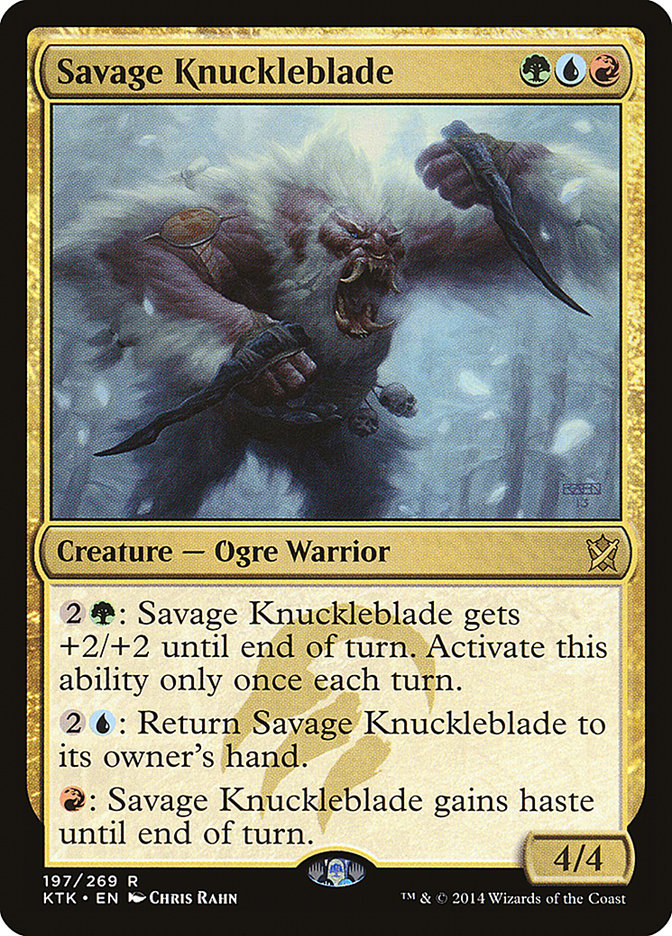 This little guy was always missing a great way to combat Siege Rhino. Crater's Claws was all the deck had, and while effective, it was always slow enough to lose any tempo advantage the Temur deck was trying to create. Well those days are gone now with the inclusion of Roast. This two mana removal spell will find many homes due to how efficient it is but none more important than in G/R shells. I would say Mono-Red wants this card the most, but I have no qualms going on record to say that deck will still suck.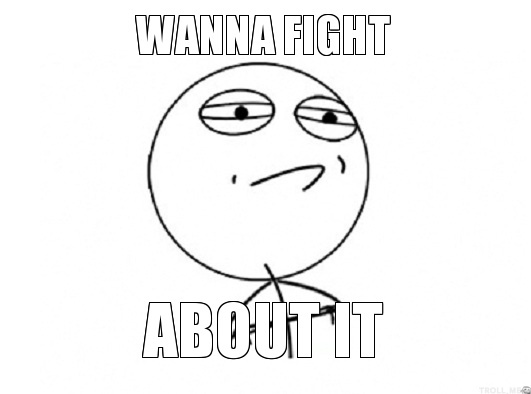 So what would a Temur deck look like now that it has a great removal spell? Well my prediction is very much like it was previously but with a little bit more removal. Does this mean that Sarkhan Unbroken will become the five-drop in the deck? We really won't know until we see how things play out, but my prediction is Stormbreath Dragon is still the trump since so very few removal spells actually deal with it. It's also been made abundantly clear how important haste is in this format. Sarkhan's card drawing ability leaves him vulnerable the following turn, and his "make a dragon" ability doesn't threaten to kill anything right away.
This is my starting point for Temur:
Creatures (28)
Lands (23)
Spells (9) It very might end up that Temur is just a weak version of G/R Aggro. If that is the case, I would strongly suggest adding this deck to your gauntlet as well.
Creatures (29)
Lands (23)
Spells (8) I'm not sure how things are going to play out moving forward, but I wanted to cement a good foundation before we dive into the vast options that Dragons of Tarkir is going to provide. Join me Thursday when we look past the days of old and start to dive deeper into exactly what Standard might start to look like.