"This Standard format is actually pretty sweet."
I'll take "Things I never thought I'd say for $1,000, Alex." I am generally not a big fan of Standard. The power level of cards being released these days is not exactly higher or lower than it was five years ago, but it is easy to tell where they are putting most of the emphasis: creatures. Big, powerful, dumb, flying, double striking, trampling, hexproof creatures.
Suck it, Doom Blade.
But in all seriousness, this Standard format is actually pretty awesome. You probably wouldn't think that based on the results of the Standard Open in Syracuse, as the format looked incredibly flat. Tons of G/R Aggro, Abzan Aggro, and other aggressive strategies seemed to flood the field, but that isn't exactly the same picture that most of us playing in the tournament saw. I had a fairly diverse range of opposing decks, though I did play against some of the same archetypes multiple times, but I think that is fairly common if a new set provides us with some key powerful cards.
But what I love about this Standard format, right now, is that it feels completely unexplored. Sure, Stormbreath Dragon is still good. Who would have thought? New Standard formats are always pretty complex if only because it is almost impossible to build the "best" control deck. You can certainly build a good control deck, but how do you have the right answers when you don't even know the question being asked?
After playing this new Standard format in two competitive tournaments over the last two weeks, I just know that there is a beast lying beneath the surface. There are too many good cards that aren't being played. There are too many powerful interactions that no one is talking about. There are too many good decks being misbuilt by ten or more cards. After Pro Tour Dragons of Tarkir, we'll have a much better picture of what the new Standard format will look like, but don't be surprised if those guys miss a few things.
"Those guys."
Yes, I'm not qualified for this Pro Tour. This is the first one I've missed in quite a while, and it stings pretty badly. It also stinks that I think I actually have two great Standard decks that I would love to battle with, when I normally have one or zero. To be fair, I haven't spent any time drafting with DTK, so I would be less than prepared for that portion of the event. But since I am not qualified for the Pro Tour, you're in for a treat.
Most people who are qualified for a Pro Tour these days work with a team. Those teams think it is a great idea to keep information a secret. But what they forget, time and time again, is that this ideology leads to inbreeding thought processes. Some pros will write articles about literally anything but what they're working on, and that usually leads to mediocre work. I know that I write my best stuff when I'm writing about the decks I've been playing over the last few days or weeks, and the content starts to slack a bit when I try to write about something else.
But I don't blame anyone for doing what they're doing. Sometimes you find a diamond in the rough, and you don't want everyone to know what you're playing, and you also don't want everyone else playing it. We saw this with Mono-Blue Devotion at Pro Tour Theros a while back, but those times are few and far between. I'm all for trial-by-fire testing, using Magic Online or playing in tournaments leading up to big events. You get to see more ideas from other players while fleshing out your own. You get to find out firsthand if your deck is good or not and what cards did well and which were weaker than you expected. Some new cards live up to the hype, and some fall short. But the important part is that you get to see how those cards perform in a live setting.
Testing decks before a tournament is like throwing two unknowns against one another. Sideboards aren't built based on other people's expectations. They're based on your own. Generally speaking, most testing is done to see if your 60 actually works, and the fifteen is just an afterthought. But the people who do well at the Pro Tour have a functional 75 that is powerful enough and flexible enough to take on all comers. It is much easier to come to a 75 when you've been playing against other people in a live tournament setting.
So that's what I've been doing with all my free time. I'm back to playing Magic Online (I couldn't quit forever) because this new Standard format is sweet, and I want to figure it out. As of last night, I am confident that Tom Ross, my current charge, and I have tuned two decks that would be great at this Pro Tour. But unfortunately, we're both stuck here in Roanoke instead of flying abroad to battle with the world's greatest wizards.
I'll let him talk about the Bant Heroic deck he played last weekend to a Top 8 finish, which you can find today as well. But today I'm talking tokens. Yes, Jeskai Tokens. Again. If you aren't familiar with my work, then you'll probably wonder why I'm writing about the same deck two weeks in a row. Well, for starters, I write what I know. And I've been playing with Jeskai Tokens a whole lot. I am slowly starting to understand the small bits with the deck, trying out different removal spells in the flex spots, but generally digging for the best 75. I've almost got it nailed down, but here is the current decklist for anyone who wants to copy/paste and move on to Tom's article.
Creatures (4)
Planeswalkers (1)
Lands (24)
Spells (31) If you read last week's article here, or even just looked at my 11th place list from the Standard Open in Syracuse, you'll notice a lot has changed.
For starters, I have cut both Seeker of the Way and Anticipate in favor of Soulfire Grand Master and more removal. Why? Well, as we talked about earlier, aggressive decks have begun to flood the Standard format. Soulfire Grand Master is better than Seeker of the Way against aggressive decks because Seeker doesn't always gain you life. Most of these aggressive decks have a bunch of cheap removal spells, which puts you into a Sulfuric Vortex once your Seekers hit the graveyard. But Soulfire Grand Master can gain you life the turn he comes down while also threatening a huge swing in card advantage as the game goes long.
Seeker isn't a bad card by any stretch of the imagination. I loved having it at the Season One Invitational and even went up to four copies at the Syracuse Open. But that was before I realized how backbreaking it can be for you to have your two-drop die without gaining any precious life points. Soulfire Grand Master and Seeker of the Way are similar enough in what they do, but I'm looking to win the long game with this version of the deck. Seeker is likely better in a version featuring Goblin Rabblemaster because you're going for the beatdowns early and often. Seeker hits harder than Soulfire Grand Master, but one can gain significantly more life when it is being targeted by a Hero's Downfall.
But the major change between this list and the one I played in Syracuse is zero copies of Anticipate. Don't get me wrong, I love some durdly card selection. Finding your Jeskai Ascendancy is important since your deck goes into overdrive when you have one in play. But the turn lost by casting Anticipate instead of a removal spell against the aggressive decks is just horrendous. In the current Standard format, you don't exactly have the luxury of spinning your wheels in the first few turns. You need to interact with your opponent before they start to overwhelm you. That's why I've added a significant number of removal spells and even token generators in place of the Anticipates.
This is a big question I get, and it's one that is pretty easy to answer. Have you ever had your opponent cast Bile Blight and kill your Hordeling Outburst tokens? Imagine losing another card of value in that same scenario because you played too many copies of Dragon Fodder instead of Raise the Alarm.
But Dragon Fodder has merit. Many draws featuring Raise the Alarm are short on red mana to convoke Stoke the Flames. That can be a gigantic tempo swing in the early game, and it's one that you need access to on occasion. But I don't want to overindulge, and I quite like the fact that Raise the Alarm is an instant.
While Raise the Alarm isn't exactly exciting, I've found that I need to get on the board quickly against a number of decks in this format. Raise the Alarm and Dragon Fodder are perfect plays for Turn 2 (and even Turn 3 with a Temple), as they help buy you time or apply pressure while threatening a significant amount of damage with a Jeskai Ascendancy. They also tend to fill up your graveyard quickly for Treasure Cruise, which I also like.
These are the weird ones, but I think you'll find them quite charming. From the list I used at Syracuse, I'm basically swapping one Secure the Wastes for one Monastery Mentor. Secure was very hit or miss in terms of how good it was when I drew it. I probably played it for X=0 just to trigger Jeskai Ascendancy or Seeker of the Way more than I cast it for X=5 or greater. But the card has merit, and it is one of your only ways to beat a resolved Ugin. It keeps people from tapping out for fear of dying, and it gives you another Treasure Cruise proxy in grindy matchups. The times where it is bad, it is really bad, but that's kind of how singletons work for the most part. There will be games where you are digging just for Secure the Wastes because of how easily it takes over the game when combined with Jeskai Ascendancy. In those scenarios, I definitely want one in my deck, but probably not two.
Monastery Mentor is also a card that is usually pretty bad in multiples. When this card first came out, people thought it was insanely good. Well, it is powerful, but you need to have a balance between it and the rest of your deck. Monastery Mentor doesn't play well with other Monastery Mentors because you're just trying to keep hitting more spells once you already have one in play. The second one is usually overkill. Again, having this as a singleton is fine because there will come a point in the game where it can dig you out of a hairy situation, and having high-impact high-variance cards as a singleton is just fine with me. The fact that Monastery Mentor can also come down pretty early and present a huge threat for the opponent is also a plus.
And last, we have Chandra, Pyromaster. She was overshadowed by Outpost Siege when it first came out, but I think that Chandra is actually better at the moment due to the heightened presence of Dromoka's Command. If you haven't had the experience of getting destroyed by that card yet, you won't exactly know what I'm talking about. But having an effect that puts pressure on the opponent via damage or drawing extra cards is huge for Jeskai Tokens. If you don't draw a Treasure Cruise, it is pretty easy to run out of gas. Having a backup card advantage engine is nice in a lot of ways.
Chandra also gives you the ability to combo-kill your opponent's creatures with burn spells. Lightning Strike and Wild Slash can look pretty mediocre when staring down bigger creatures, but Chandra's ability is pretty good at helping you get that last point of damage across to finish it off. Chandra also has a pretty high loyalty, so you can usually afford to cast it while your opponent has a creature in play and just deal them a damage. Every turn and attack they waste hitting Chandra adds virtual life points, which can be important in such an aggressive metagame.
So far, my win percentage with this deck is astronomical. That isn't to say it is a great choice for the Pro Tour, or that it will even do well at the Pro Tour. That tournament is an unknown quantity because we have the game's biggest and brightest minds at work for weeks leading up to the event. But I do have a bit of knowledge to bestow when it comes to Standard, and I hope my words reach the ears that they need to in order to help them succeed.
Here are the five best cards in Standard. If you aren't playing with one or more of them, then you should take a moment and ask yourself "why?"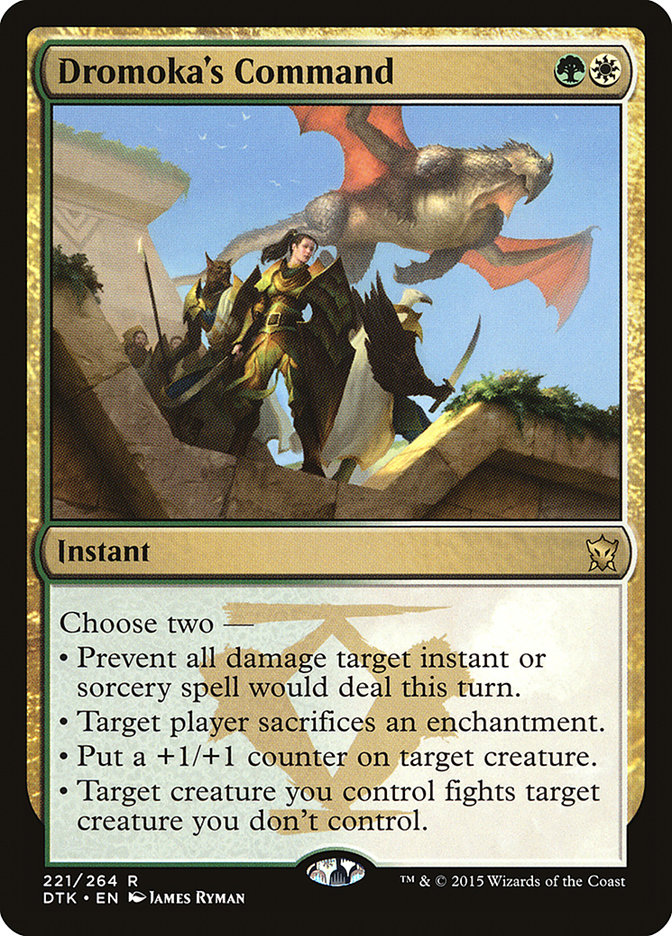 This has my vote as the best card in Standard. It has so much splash damage against cards like Courser of Kruphix, Outpost Siege, Chained to the Rocks, Mastery of the Unseen, and a number of other enchantments that people tend to play. But it is also a stellar removal spell in a deck that can abuse it.
This is a tap-out format. You don't have the luxury of leaving up mana every single turn to play around Dromoka's Command with a removal spell. And when you tap out, you can bet your bottom dollar that you're going to get smashed by this spell. Dromoka's Command is also incredibly diverse in what it can do. Tom Ross's Bant Heroic deck from Syracuse stretched its abilities to the maximum, giving his heroic creatures extra counters while doing some dirty things to his opponents.
I suspect we haven't quite grasped just how powerful this card is, but there will be more and more decks that put it to good use as the format develops. Right now, G/W Devotion and Abzan Aggro are fine homes for it, but it could even potentially spawn new archetypes entirely.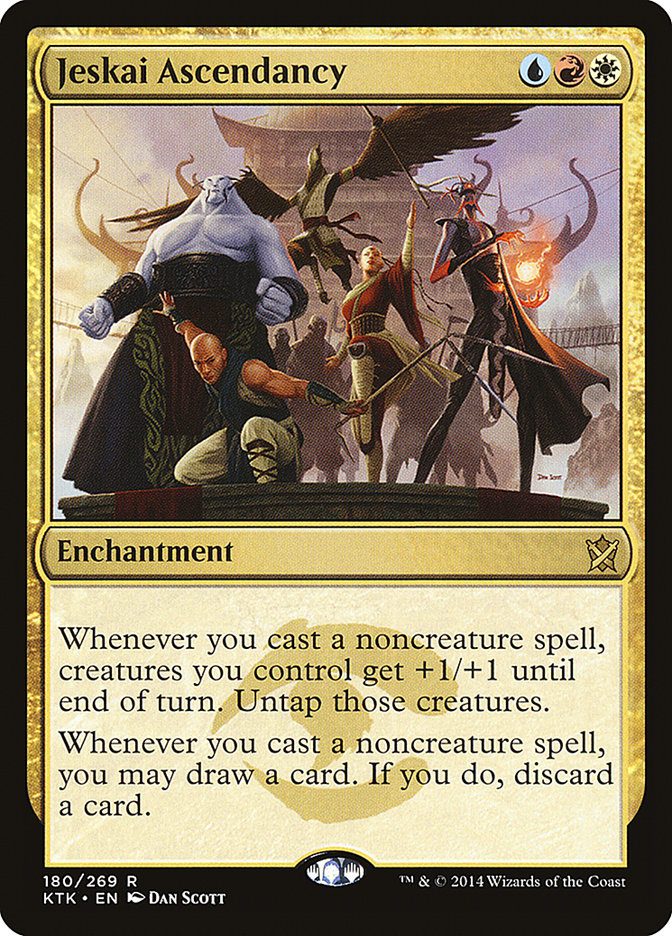 This is a tough bet, but it's one I'm willing to make. With Dromoka's Command being my pick for best card in the set, it is a bit awkward to have an enchantment be the second card on the list (though not necessarily #2 overall). That's just how good I think Jeskai Ascendancy is. If you haven't ever played with or against Jeskai Tokens, then you probably won't get the big picture to start off. Jeskai Ascendancy is a loot engine that does triple duty as a way to make your Stoke the Flames cheaper and pump all of your creatures. Hordeling Outburst is already good enough for most red decks, but give us an absurd anthem and it becomes disgusting.
Jeskai Ascendancy will dominate any game that goes more than six turns, assuming it stays in play. With that in mind, many people warp their sideboards to have stuff like Erase or Glare of Heresy to kill it, which is fine by me. I'm generally siding into Dragonlord Ojutai Control anyway. The threat of Jeskai Ascendancy is nearly as powerful as the card itself. And when you get an Ascendancy into play, your opponent is basically forced to use all of their removal to kill each token, one at a time. Otherwise, your tokens will just run them over.
And Jeskai Ascendancy is just bonkers with Treasure Cruise, which probably should be on the list, but it kind of goes hand-in-hand with Ascendancy.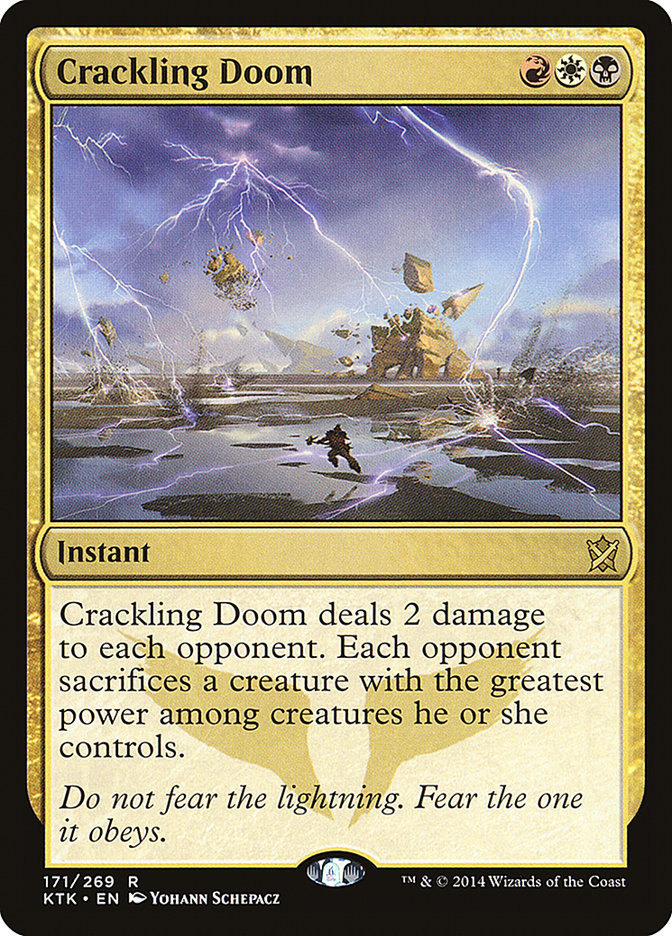 This is an odd one, for sure, but just look at the current metagame. Abzan Aggro and G/R Aggro are everywhere. Obviously there aren't a lot of decks that can play Crackling Doom due to the restrictive mana cost, but it is an absurd card at the moment. Most R/W-based decks have the capability of killing all of the smaller creatures with Wild Slash and the like, but Crackling Doom gives you an easy and aggressive way to deal with Siege Rhino, Whisperwood Elemental, and even Stormbreath Dragon. The fact that it doesn't target is also stellar against Thunderbreak Regent, the newest shining star from Dragons of Tarkir.
The trick for this Pro Tour, if you're going to play Crackling Doom, is finding the best shell for it. Outpost Siege is a liability thanks to Dromoka's Command, but I could certainly be overstating its effect on the format. Without Outpost Siege, how do we win long games? My gut tells me that Stormbreath Dragon, Thunderbreak Regent, and Ashcloud Phoenix are pretty good at doing that, considering how strong they look out of the G/R Aggro decks. The problem is that you may fall behind to the G/R Aggro decks thanks to their mana acceleration.
If someone ends up finding a way to build a Mardu control deck, I think they will be in a great position. I'm not a huge fan of Goblin Rabblemaster right now since the format is so fast, and most decks have a reasonable amount of creatures that are great at both offense and defense. With that in mind, how would you build a Mardu deck to utilize Crackling Doom?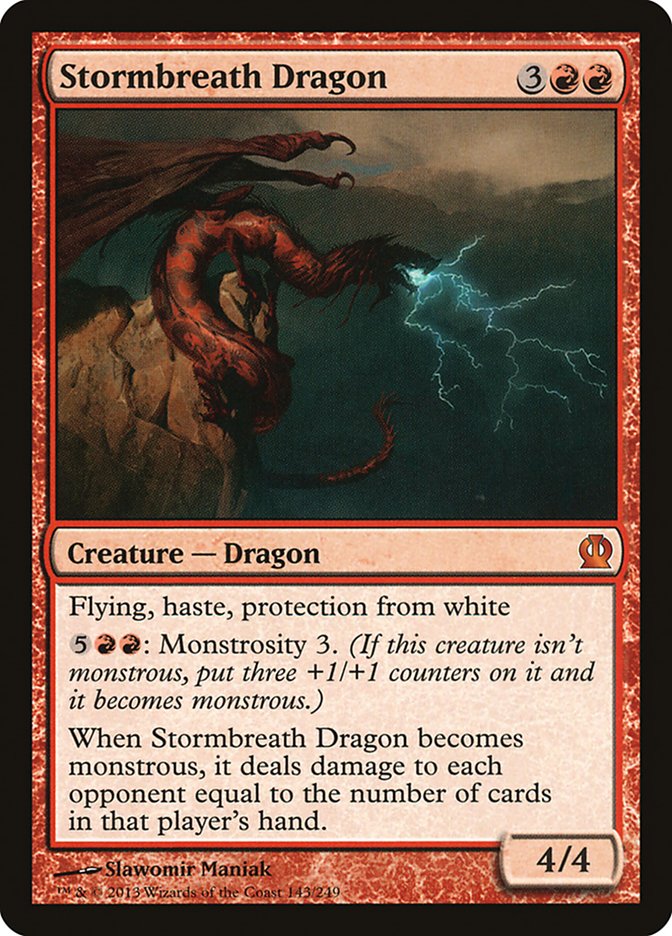 Now that we have the spells out of the way, it is time to showcase the two best creatures in the format. First up is Stormbreath Dragon. Again, big shocker. I think that we've had something similar to Stormbreath Dragon in Standard for the last three years or so, and it is almost always great. Protection from white is a big game against Abzan Charm and Utter End, but this is not something you need reiterated.
But this card got significantly better with Dragons of Tarkir because of Draconic Roar, Thunderbreak Regent, and Haven of the Spirit Dragon. We now have good reasons to fill our deck with Dragons, and we also have another threat that demands an answer from an opponent sitting on removal spells. Thunderbreak Regent is premium gasoline, and you would do well to understand that fact before this weekend.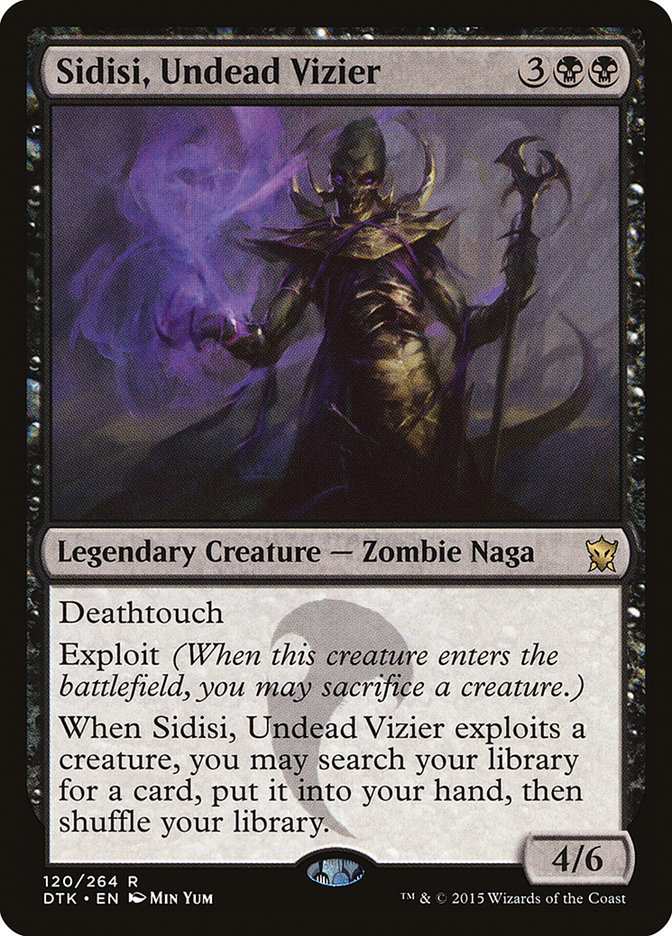 She doesn't die to Roast. She's bigger than Siege Rhino. She slices and dices (her own creatures) so that you get to find what you're looking for. The new Sidisi is spectacular, and she will probably define midrange mirrors for some time to come. I'm not certain that Sidisi has found her best home just yet, but I like how a lot of the decks are coming along. Satyr Wayfinder is an obvious choice for a deck with Sidisi, Undead Vizier, giving you a way to hit land drops and have a (mostly worthless) body to throw away. You gotta find those Whips of Erebos somehow.
While Sidisi hasn't made that much of an impact on the current format just yet, it is no surprise to me that both decks from the finals of the Season One Invitational featured the card. Demonic Tutor is a powerful effect, and it only gets better when attached to a 4/6 deathtouch creature.
...
Well that's all I've got for now. I've been playing a bit with Tom Ross's Bant Heroic deck, and I really like the changes so far. If you haven't read his article yet and you have a single heroic bone in your body, then take a peek. I think that it could potentially be the best deck in the format. If you're going to the State Championships this weekend, then I hope you give the Jeskai Token deck a spin. And if that deck isn't really your bag, then kill some people with Dromoka's Command.
Because sweet mother of all that is holy is that card ridiculous.