March 28th in Fort Worth, Texas was a special day for the Texas Magic community. The second annual Hunter Burton Memorial Magic Open attracted 157 players from all over the state. Like last year's maiden event, the format was Standard for the Swiss followed by a Modern Masters booster draft for the top 8. As for prizes? We've got prizes: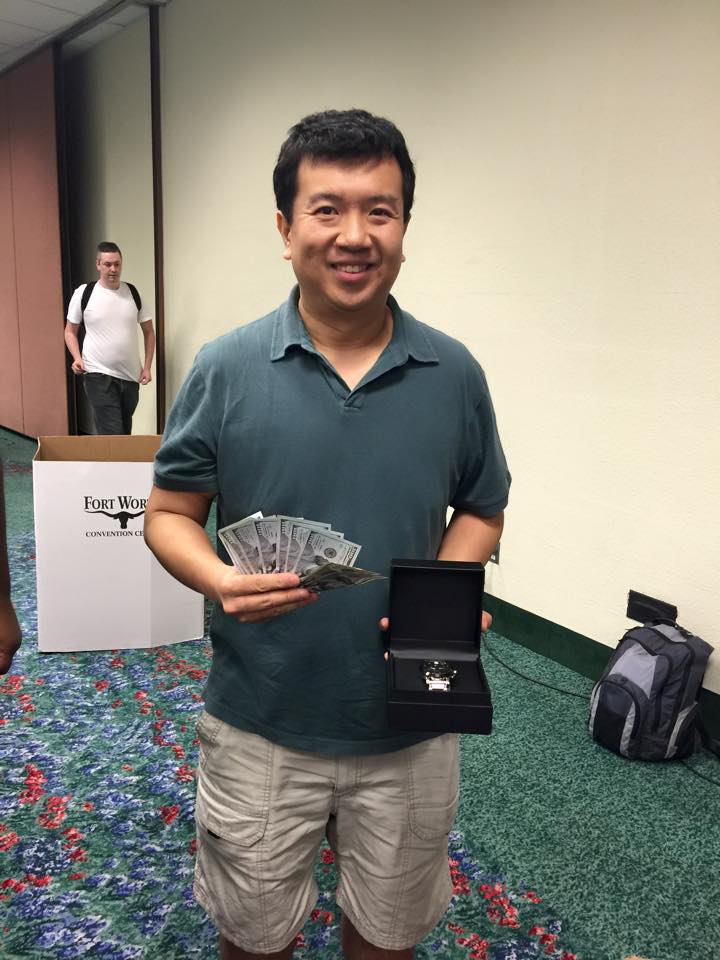 1st place - $1000 and a new Movado wristwatch worth $1200
2nd place - $800
3rd and 4th place - $700
5th and 8th place - $600
9th place - $400
10th-16th place - $100
17th-32nd place - $50
The top 8 finishers also received a Brainstorm playmat from Grand Prix New Jersey and a limited edition six-sided die created for the event. Only 28 dice were produced, in memory of Hunter Burton's 28th birthday on March 12. The top 8 finishers also had their names added to the impressively massive Hunter Burton Memorial trophy. Lastly, there was a free Modern Masters booster draft that paid one Modern Masters booster pack per win to eight players that had two or more losses after four rounds that were selected at random to play.
As you can see, the Hunter Burton Memorial Magic Open is no ordinary event. But Hunter was no ordinary person. Hunter was one of the best competitive Magic players to come from Texas. In 2009, Hunter finished fourth at Pro Tour Austin. He had a handful of other cash finishes at Pro Tours and a top 8 appearance at Grand Prix Denver in 2008. He also finished tenth at GP Seattle in 2009.
Hunter was sharp and extremely driven even though he never wanted anyone to know that he actually worked hard at the game. He was gregarious and had an ease with people that allowed him to make friends quickly. I started playing cards with Hunter when he was still a teen. I always felt that Hunter was wise beyond his years. In July 2013, under the weight of some serious personal issues, Hunter Burton took his own life. Not long after that, Hunter's parents approached me about creating an annual tournament honoring the memory of their son, and thus The Hunter Burton Memorial Magic Open was born.
The event has raised several thousand dollars for charity. This year, a portion of the proceeds were given to the American Foundation for Suicide Prevention. The t-shirts worn by the staff and attendees had the name of the event and the charity on the front with the slogan " One More Day" on the back. If you have had someone close to you commit suicide, you can't help but wish you had one more day with them. If someone you know is thinking about taking their life, you hope that person will try and stay alive one more day with the goal of making their life a little better tomorrow.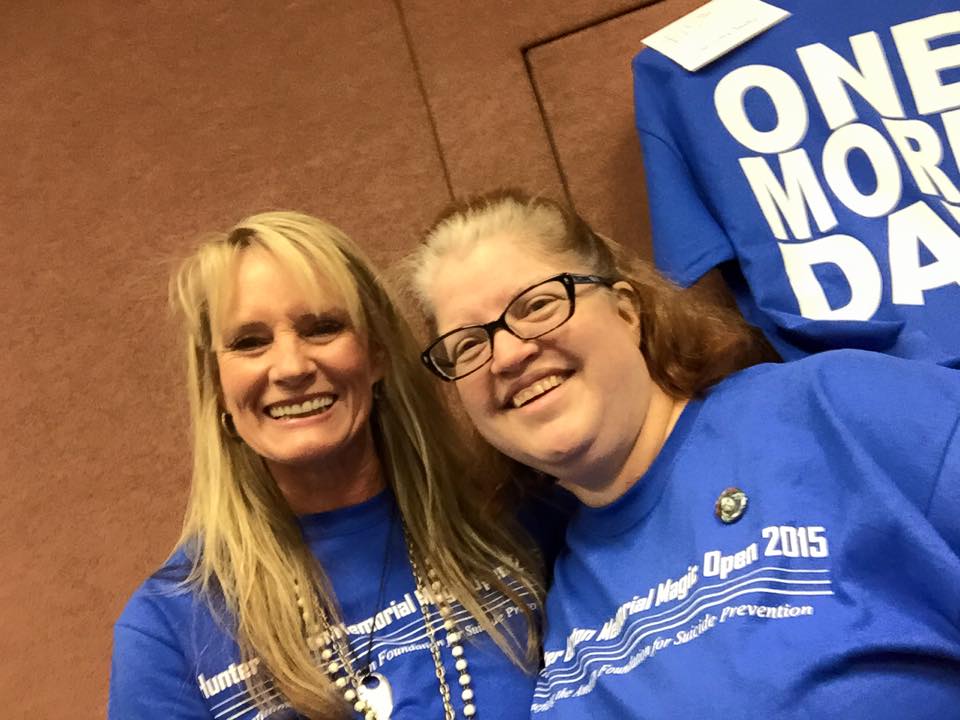 This year, same as last, Hunter's parents, Greg and Dona, as well as his sister Casey, came out to the event and stayed most of the day. Hunter's sister picked out a watch to give the winner because Hunter loved cool watches. Many of the players knew Hunter and were excited to spend a little time with Hunter's family. Many others never knew Hunter but love that this tournament is about more than entry fees, prizes, or buying and selling cards. Hunter's parents have opened up their hearts to make the Hunter Burton Memorial a truly special event for the community.
The Main Event
It was interesting to see how Dragons of Tarkir would affect the Standard decks in the tournament considering how little time players had to collect the cards. Just like at the Season One Invitational for the Open Series, if you needed four copies of a DTK rare or mythic for your deck, you really had to hustle. There were a wide variety of decks among the top 32 finishers, but remarkably, only four archetypes reached the top 8; all three well-explored decks only barely changed to accommodate Dragons of Tarkir:
7-1 with Mono-Red Aggro - Henry Vi
7-1 with Mono-Red Aggro- Michael Ferri
6-0-2 with Abzan Aggro - Scot Martin
6-0-2 with Abzan Aggro - Jasonn Tate
6-1-1 with G/W Devotion - Shawn Hughes
6-1-1 with Abzan Aggro - Aaron Tobey
6-1-1 with G/R Devotion - Haibing Hu
6-2 with G/W Devotion - Michael Ramos
Michael Ramos was the best of eleven players with a 6-2 record. He beat out James Sung and his Abzan Aggro deck by one tiebreaker percentage point. Vi and Ferri finished first and second, but it was Scot Martin and Jasonn Tate, each playing Abzan Aggro, who really led the Swiss competition by going undefeated in six rounds before intentionally drawing twice.
Scot Martin called his deck All-In Abzan. His was the best looking Abzan Aggro deck in the top 8. He said that his newly-added Dromoka's Commands were his MVPs all day long, helping him turn the tables against Green Devotion decks when he played against them in rounds one and four. He also defeated Jeskai Tokens, Mono-Red Aggro, G/R Aggro and Abzan Midrange on his way to 6-0.
Creatures (19)
Planeswalkers (3)
Lands (25)
Spells (13) I think it's interesting that Brimaz continues to be relevant. I was afraid it was too slow back in October. Two set releases later, and Brimaz continues to do work.
The two Mono-Red Aggro decks that finished first and second in Swiss were nearly identical, each going deep into one-drops, including not only Firedrinker Satyr and Monastery Swiftspear but also Foundry Street Denizen and the all-new Zurgo Bellstriker. The big question about Zurgo was whether or not he was a good choice because of his legendary status, but Henry and Mike both reported this was rarely an issue.
Creatures (20)
Lands (20)
Spells (20) The Devotion decks in the top 8 included two very similar G/W decks played by Shawn Hughes and Michael Ramos. The important difference between these two decks was that Shawn's version was properly updated with Dragons of Tarkir. Gone are Eidolon of Blossoms and Boon Satyr, even Ugin. Instead, Shawn included Den Protector and a full set of Deathmist Raptor. In the sideboard, Ainok Survivalist replaced Reclamation Sage. Apparently Shawn got tired of manifesting a Reclamation Sage off the top of his library and losing it forever. His updated list lets Ainok Survivalist flip up to destroy an artifact or enchantment, and he can get it back from the yard by flipping up Den Protector. Den Protector is an interesting update on Eternal Witness. Eternal Witness, as friends of Hunter Burton will attest, was his favorite Magic card and appeared on the playmats given away to the top 8 of last year's Hunter Burton Memorial.
Creatures (32)
Lands (24) The third Devotion deck in the top 8 belonged to Haibing Hu from Houston. He chose to stick closely to the G/R Devotion list that Austin's Robert Berni used to win the Open Series in Houston back in February. Berni, by the way, was the champion of last year's Hunter Burton Memorial. Berni went 6-2 this time with the same G/R Devotion deck and finished in sixteenth place. Haibing said the only change he seriously considered was moving in four copies of Deathmist Raptor over Eidolon of Blossoms, as he found that the Raptors were better against aggro, but the Eidolons were better against control.
Creatures (31)
Planeswalkers (2)
Lands (23)
Spells (4)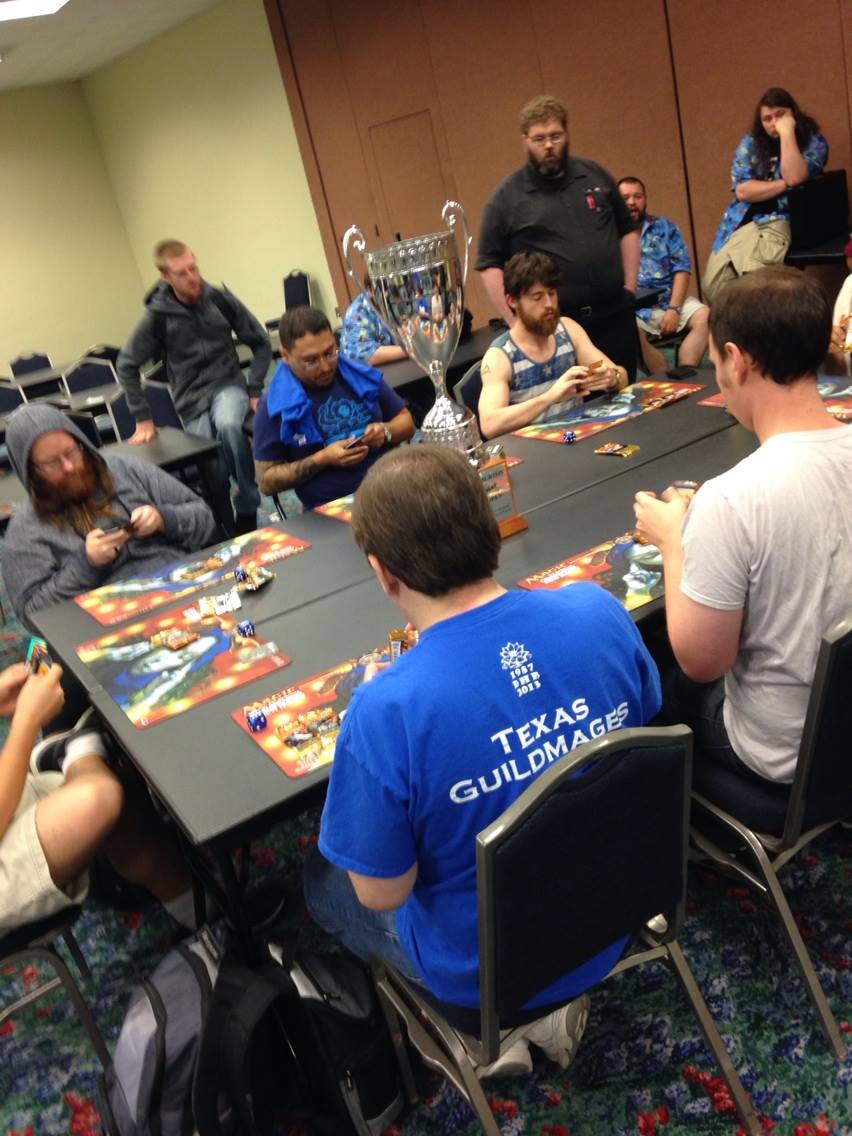 Top 8: Modern Masters Draft
The combination of a Constructed Swiss tournament with a booster draft top 8 is something Hunter would most definitely have approved of. He was a hard-bitten grinder in Constructed, but in his heart, he preferred the improvisational challenge of booster draft. Personally, I love the idea that in order to win the Hunter Burton Memorial you have to be good at both kinds of Magic. The point was raised that some competitors might choose not to play in a tournament that requires them to shift to a format that they are less proficient at in the top 8. I think that even if you don't draft as often as some others, you could think of this top 8 draft as an additional prize for making the top eight. Modern Masters packs, like Hunter, are special, and in the top 8 draft, one player cracked a Tarmogoyf. More prizes equal more fun!
The draft was seated randomly beginning with Haibing Hu and continuing counterclockwise with Scot Martin, Aaron Tobey, Henry Vi, Jasonn Tate, Shawn Hughes, Michael Ramos and Michael Ferri. The top 8 bracket was then generated such that each player's quarterfinal opponent was seated four spots away from them during the draft. Also, no player could face a player seated directly next to him until the finals. Players retained the right to choose to play or draw first based on their Swiss finishing rank. The favorites coming into the draft were Haibing Hu, Michael Ferri, and Aaron Tobey given their accomplishments in Limited.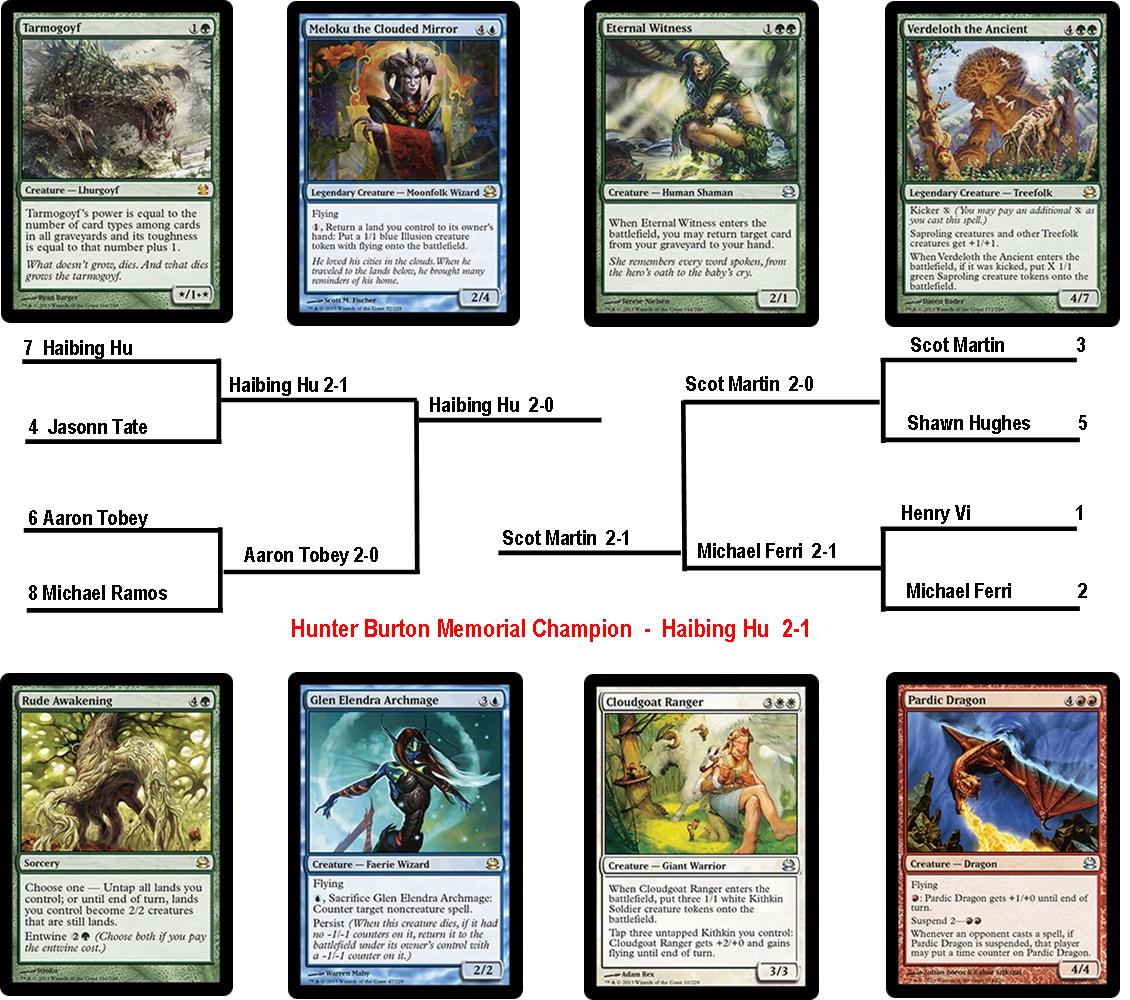 Creatures (18)
Lands (17)
Spells (5) Creatures (14)
Lands (17)
Spells (9) Creatures (14)
Lands (17)
Spells (9) Creatures (14)
Lands (17)
Spells (9) Creatures (17)
Lands (18)
Spells (5) Spells (14) Creatures (14)
Planeswalkers (1)
Lands (17)
Spells (8) Creatures (12)
Lands (17)
Spells (11) The top 8 matches were hard-fought but didn't take terribly long to play. It was no surprise at all that the three biggest Draft sharks in the room were all in the semifinals along with Scot Martin, a Magic lifer with a four-digit DCI number.
In the finals, it was Haibing Hu with his vicious U/W Artifact deck versus Scot and his hard-working Domain deck. On the play in game 1, Scot Martin quickly ramped his mana with multiple copies of Kodama's Reach and achieved domain so that he could play a fully sunbursted Skyreach Manta. Along with Imperiosaur and Woodfall Primus, Scot overwhelmed Haibing's defenses while holding removal spells in the event that Haibing mounted a comeback. He did not, and Scot took game 1.
In game 2, Scot sideboarded in Kataki, War's Wage and promptly played it on turn 2 in game 2. This could have been it for Haibing Hu's deck, as he was playing 16 artifacts, but Kataki isn't quite the shutdown card in Modern Masters Draft as it is against Modern Affinity decks that have artifact lands in play as well. Scot got a Giant Dustwasp on the board while Haibing worked to pay the costs for Kataki each turn, but eventually Haibing dug his way out of the hole while Scot drew a bunch of lands. Haibing played Faerie Mechanist, which found another Faerie Mechanist, which found another Faerie Mechanist. Soon enough, Haibing flew over for the win.
Game 3 was disappointing competitively, as Scot kept a hand with Forests and white spells, never finding a Plains or any mana fixers (Scot was playing three copies of Kodama's Reach and one Search for Tomorrow). A pair of Penumbra Spiders kept Haibing's flying artifact force at bay for a little while, but Haibing finally tapped the Spiders with Blinding Beam and swung in for the win over a couple of turns.
More Fun
This year's Hunter Burton Memorial Magic Open also promoted a rather unusual side event. It was called the Fancy Hat DC-10 Challenge. Sixteen slots were filled for this event at a cost of $15 each. At the beginning of the event, the sixteen players were randomly placed onto a single elimination bracket, and it was a blast.
In each round, each player was given a fresh booster pack and instructed to play a best two out of three games match using my house rules for DC-10. This is an old quick and dirty way to get a little play out of opening your booster packs that's been around for more than fifteen years. Each player opens their pack and removes the token/advertisement card and the basic land (if there is one) without looking at the cards in the pack. Each player shuffles his tiny fourteen or fifteen card library face down and then hands it to his opponent to shuffle or cut. The players roll a die to see who goes first. Players begin with zero cards in hand, the player who goes first is allowed to draw a card on their first turn.
These are the most basic rules. The rule that differs from group to group is what to do about mana. When the game was invented, each player was said to have an unlimited amount of mana of any color. Since then, house rules have typically limited the amount of mana available to each player to a much smaller number. A good friend of mine says that you can play any spell without paying mana at all, that an X spell can have a value for X of up to five, and that activated abilities of permanents can be used once or twice depending on the mana cost of the ability.
I find those restrictions maddening. In my time-honored house rules, each player starts each game with twenty basic land tokens in play, four of each basic type. This allows landwalk abilities to work as well as restrictions on certain spells that require a certain basic land type to be on your side. Because these are land tokens, they can be bounced or destroyed just like other kinds of tokens. With these exceptions, DC-10 is played exactly like most other Magic games. All the things that make you lose in Standard make you lose in DC-10. Of course, with such a small library, it's much easier to run out of cards and lose the game when attempting to draw a card from an empty library.
In the first round of our DC-10 side event, each player got a pack of Shards of Alara. In the quarterfinals, each player got Eventide. Mirrodin Besieged faction packs were used in the semifinals, one match used Mirran packs and the other used Phyrexian packs. The pack used for the finals? What else, Modern Masters obviously! The winner was a young man named Collin Rountree. His prize for winning the first ever DC-10 tournament that I ever heard of? He received a trophy, a limited edition Hunter Burton Memorial six-sided die, $100 cash, and a very fancy felt top hat. Hunter would have very much enjoyed a somewhat mindless side event that feels like big stakes gambling.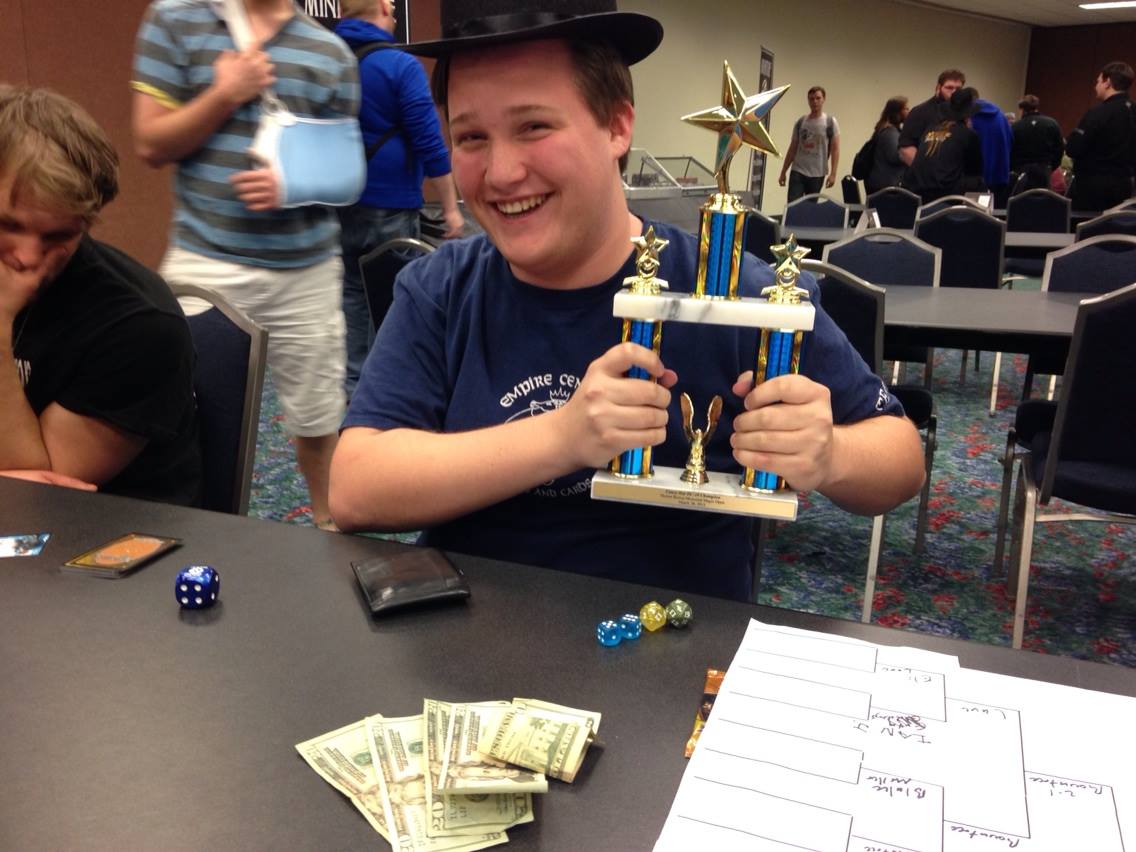 Onward and Upward
This event was a great success. I've worked at hundreds of Magic tournaments, but I've never gotten the positive responses from players that we have received at this year and last year's Hunter Burton Memorial Magic Opens. When Hunter's parents met with me two years ago to get serious about creating this event, they assured me they were committed to at least three years. I honestly hoped for a larger attendance than we received this year, but this event isn't really about making a profit, it's about making a difference for a cause all of Hunter's friends and family feel strongly about. It's about remembering Hunter Burton. We all wish that we had one more day with Hunter. In a way, that's what we are trying to do with our tournament.