One of my favorite things about writing a weekly Commander column is being able to share with you some of the cool decks I run across in my adventures. When Monday Night Gamer and Armada Games regular Shea Rutenber and I ended up locked in an epic game last week, it seemed like a good time to feature his Halfdane deck, which was involved in that titanic tilt. Sharing this particular deck gives me the opportunity to also share with you the kind of deck (and relative power level) I see locally. Shea has had the deck for some months now; it's frequently lots of laughs and creates exactly the kinds of boardstates that we love, namely the absurd ones.
In the game in question, I was playing Trostani, Selesnya's Voice, Anthony was playing something, and Chris was playing Llawan, Cephalid Empress. Chris' commander didn't bother me at all, but Shea and Anthony were less amused, so he was already out. A few board wipes and some back-and-forth happened (which included me getting hit at some point by an eleven-power Halfdane), and I was on my third casting of Trostani. She survived quite a bit longer the third time, and I managed to resolve and protect Ajani Goldmane until I could activate the ultimate ability. A few turns and a few populates later, Shea then did the only sensible thing: He set Halfdane's power to 360-something and smashed Anthony with it-after having copied an Angelic Skirmisher. Anthony had a few turns of chump blocking, but he eventually ran out of steam. It was down to just the two of us. Then this happened: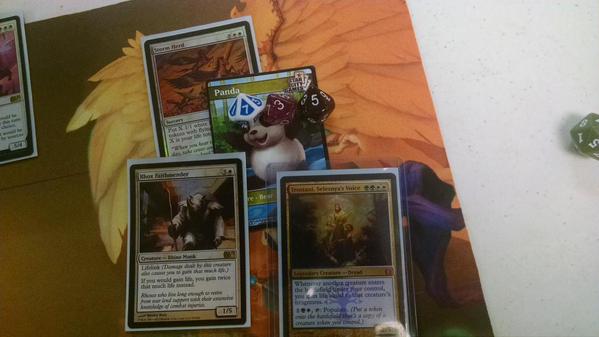 That's Trostani, Rhox Faithmender, and Storm Herd. In short order, my life total was 2,205. Shea cast Rout the next turn, but by then his life total was somewhere near 1,000. It was going to get grindy-although I was staring in the face the real possibility of just dying to commander damage. Over the next few turns, I chump blocked Halfdane quite a few times. After I cast Terminus just to get rid of Halfdane (he put him in the command zone and the world surprisingly didn't end right then and there), Shea built back a little faster than I did, including getting Mirror Entity out. I survived a number of turns by making Avacyn, Guardian Angel tokens with Mimic Vat (which is a pretty huge investment). I almost punted by playing Linvala, Keeper of Silence, which he then Cloned. Fortunately, I had sacrificial lambs that turn, and after he blew up my Mimic Vat, my Planar Cleansing got us restarted. He once again rebuilt faster than I did. He started doing 170 or so damage a turn, eventually getting me back down below 1,500. I had staved off Halfdane enough times (to include once simply fogging with Winds of Qal Sisma) that he was just going for the raw damage kill. The problem was that he had exhausted all his ways of shuffling his graveyard into his library. When he got down to about five cards left, he cast Praetor's Grasp on me, hoping to find something in my library. I had nothing to help him out, and we were done (since I had more than six turns worth of Halfdane blockers). He later lamented putting Sphinx's Revelation into the deck instead of Blue Sun's Zenith since he could have stroked me out instead.
One of things that I love about this deck is its use of cards that we have to read or look up. You'll see when we get there. Here's the list:
Creatures (24)
Lands (38) Let's look at the card-by-card breakdown.
Creatures
Burnished Hart: When Shea sent me the list, he put this under "sorceries." He said he's never attacked with it, maybe blocked once or twice, and mostly just used it as a ramp spell.
Phyrexian Metamorph: At one point in the game, Shea used this to copy my Mimic Vat and get a Clone under it. It kept me from playing Acidic Slime for a long time since my Mimic Vat was the only thing keeping me alive.
Aetherling: It's rare that Aetherling is a non-factor in games. Those games don't involve thousand-point life totals.
Amoeboid Changeling: It's obviously a Shapeshifter deck, so you have to go with bunch of them. This one is protection against Tsabo's Decree. Or not, since all his creatures are something else instead.
Body Double: I honestly prefer the Duel Decks art. As a card, it's simply awesome in a format that loves Wrath of God.
Cairn Wanderer: Whenever we ask what Cairn Wanderer currently is (we should more correctly ask what it has), the answer is always "it could be a boat."
Cemetery Puca: Criminally underplayed in the format. I have it in my Shapeshifter deck, and it's almost always serious value.
Clever Impersonator: Every time I see this played, I feel the strong urge to pick up a copy for every blue deck I have. I resist the urge because that'd be kind of boring.
Clone: The original.
Cryptoplasm: In the top ten list of cards which I've missed upkeep triggers on.
Dimir Doppelganger: Being able to do double duty of getting rid of a great creature from someone else's graveyard and having the game great creature on your side of the battlefield is super-saucy.
Escaped Shapeshifter: A gem from Tempest, it's one of those cards that people are always asking "what's that do again?"
Evil Twin: Even though I think the clone/copy archetype is slightly overrepresented, I don't think we see too much of Evil Twin.
Lazav, Dimir Mastermind: The idea of playing Lazav as 1 of 99 just seems weird to me. Guess that means I have loads of fun with my Lazav deck.
Mercurial Pretender: In a deck that already clones enough, this can get pretty silly.
Mirror Entity: I've always respected what Mirror Entity can do. After eating nearly 800 damage from it, I have that much more respect.
Morphling: See Aetherling, above.
Quicksliver Gargantuan: Yep.
Renegade Doppelganger: This was in my Intet deck for a long time, but it came out because of too many legendary creatures. In here, it's as right as rain.
Shapesharer: For those who don't like to commit their clones to any single creature, I present Shapesharer.
Shape Stealer: This one goes into the "kind of like Halfdane" file. It's also an onboard trick that people sometimes forget.
Unstable Shapeshifter: Another cool card from Tempest, Shea uses a target die (from Warhammer iirc) to mark which creature has been cloned by the Unstable Shapeshifter.
Vesuvan Doppelganger: I'm pretty sure Shea's version is from Revised, and it's still in great shape.
Vesuvan Shapeshifter: It took me the longest time to get my hands on a foil one of these. I suppose that the people who have them just don't want to part with them.
Artifacts
Spear of Heliod: I'm pretty sure Shea just slipped this into the deck because it's a good rattlesnake.
Enchantments
Blind Obedience: In the game described above, Shea simply stopped extorting because it wasn't worth taking the time to record the life total change.
Phyrexian Arena: If I were to hazard a guess as to Shea's favorite card, it would be Phyrexian Arena. I'm reasonably sure he's not alone.
Instants
Azorius Charm: Charms are in generally intentionally flexible; this one provides a broad swath of potential effects. It was pretty good in the game mentioned above at giving Halfdane double strike.
Blue Elemental Blast: Red Elemental Blast has always been a great surprise card in Commander. With red getting better, Blue Elemental Blast's stock is on the rise as well.
Cackling Counterpart: Getting a clone as an instant changes lots of combat math. Being able to flash it back further complicates matters in your favor.
Cryptic Command: Speaking of flexible, this should be called Cryptic Command Super Charm.
Cyclonic Rift: The major criticism I've heard of Cyclonic Rift is that it's a game-ender. My local experience-which, by the way, isn't the only thing I draw on when offering my opinion to the rest of the RC-is that it's sometimes aggressive (although not always a game-ender) and sometimes defensive. The idea that every time Cyclonic Rift gets cast the game is over is might be a little overblown.
Crypt Incursion: Love this card as a way to keep a difficult graveyard in check, which is what Shea did to me in this particular game after I got Emeria, the Sky Ruin and seven Plains. It's a common, so you can pick up your foil copies pretty cheaply.
Debt of Loyalty: Here's an old school card and hidden gem to boot! It doesn't work with Wrath of God or Damnation, but there are plenty of other board sweepers quite common in the format that don't have the "can't regenerate" clause. Worst case, you can use it to regenerate one of your own creatures.
Dimir Charm: I haven't seen this used too much besides the first mode of countering a sorcery.
Dream Salvage: This card is intriguing in that Shea isn't running any discard. I suppose that he noticed locally other players doing lots of discarding from other effects, like setting up graveyards for a big Living Death or something.
Energy Arc: From Alliances, Energy Arc offers choices. At its most basic, it's just Fog. More deeply, it's a Fog that will also give you defenses during a subsequent player's turn. Might also be interesting in concert with Opposition.
Esper Charm: In our environment, this is basically enchantment removal with two other choices you aren't making that often.
Fact or Fiction: Perhaps it's simply that Fact or Fiction has been played since the ancient days that we don't see it all that much, that new draw spells are shinier. The multiplayer element makes this a way more interesting card since it might be in your own best interest as the chosen opponent to give the FoF player a favorable split.
Fate Transfer: Kulrath Knight. Spike Cannibal. Aether Snap. Fate Transfer. These are all cards which can be complete blowouts in this format, and we rarely see them played. As an instant, this is the one capable of having the most jarring consequences, like tearing 30 +1/+1 counters off of Kresh or Hamletback Goliath. Very cool choice by Shea.
Fated Infatuation: Sure, you have to copy one of your own things, but that's pretty neat when you have loads of choices. Again, doing it as an instant changes everything.
Jace's Ingenuity: Simple, solid card draw. Not every card in a deck needs to be a blowout or game-changer. There's plenty of room for the support stuff as well.
Memory Plunder: Another underplayed card, perhaps because of the difficulty of finding room due to the Dimir color identity. There are loads of powerful spells in the format; having your pick of the ones which have already been cast is strong.
Opportunity: It's clear that Shea likes his card draw.
Shadow of Doubt: A few players locally run this card, and everyone waits until it will be truly significant-like in response to Tooth and Nail or Boundless Realms. Unlike you might do in 1v1, I haven't seen anyone do it in response to a simple ramp spell like Cultivate.
Sphinx's Revelation: As noted above, you can't stroke out someone with this. I'm pretty sure that's not enough of a downside to cut it.
Stifle: So many choices. If Shea had this in hand when I was barely staying alive with Mimic Vat, I would have been toast. He could have even trolled me by letting me make the token and then counter the activated ability.
Sudden Spoiling: Sudden Spoiling might be the first card I'd call a local favorite. Armada Games owner Aaron Fortino started playing it a long time ago, and nearly every one of the regulars has since picked it up for their black decks.
To Arms!: The mini-theme of untapping creatures is one of the parts I like about the deck. I'm pretty fond of the idea of being aggressive on offense and then being able to present an even more aggressive defense on demand, as opposed to simply running Fog effects. Plus it's a cantrip. Another hidden gem.
Twincast: Let someone else spend all the mana for Genesis Wave. My favorite personal moment playing Twincast was gunslinging at GenCon several years ago (playing Phelddagrif). In front of a large crowd, a player ran out an early Tooth and Nail. I cast Twincast, and the first creature I pulled out was Draining Whelk. The crowd went wild.
Urborg Justice: The Weatherlight addition to the deck, this card always pays dividends, especially when someone does something one-sided like having Avacyn, Angel of Hope on the battlefield and playing Wrath of God.
Visions of Beyond: I think the primary fun Shea has with this is getting to Ancestral Recall with a $3 card. Note that it's any graveyard having twenty cards in it, not just the caster's.
Sorceries
Austere Command: It's an Esper deck, so you know it's going to have control elements. With a limited number of slots, Shea had to choose very carefully, so picking the flexible card makes the most sense.
Praetor's Grasp: The possibilities abound with this card. It can be the answer you need right away, or it can be the thing that you spend some time setting up. Alternately, it can just be something to take away a win-con.
Plague Wind: The best possible response to Plague Wind would be Reins of Power. That would go immediately into the most epic plays ever file.
Rout: I've used the word flexible multiple times regarding this deck. It's one of the things that makes it interesting to play (and play against). I love that Conspiracy made a foil version of this possible.
See Beyond: Early turns, might as well ship something you know you won't cast for a while.
Stolen Identity: I've never seen this get out of hand because the other players scramble to kill the ciphered creature. Especially if it's on something that tramples, it could get quite insane.
Telemin Performance: Sure, sometimes you get blown out with Telemin Performance by getting a Sakura-Tribe Elder. Given that this is the format of big creatures, your odds are pretty good of getting something large. Unless somebody is playing Phage, the Untouchable just for laughs.
Terminus: After all the ruckus with the tuck ruling, I specifically asked Shea if he was taking out Terminus. His simple answer was "why would I?"
Time Reversal: Since he draws a fair number of cards and doesn't make much use of his graveyard, Time Reversal seems like a decent choice. As we noted, he might also want an Elixir of Immortality or something to do it all over again in the long game.
Lands
There's not much to say about the land suite other than it's a land suite, a good mix of basics and nonbasics with nothing too tricky. It has the requisite Reliquary Tower and Bojuka Bog and a bunch of stuff that makes different colors of mana. Shea did mention that he wanted to get a Homeward Path just in case but has yet to get around to picking up one.
Getting a sense of this deck, my decks, other decks from local folks which I've featured, and the play-by-plays will hopefully give you a good snapshot of what our slice of the local environment looks like. I hope it can be an effective guide to sculpting your own environment-not in copying ours, but taking our approach in making your own into exactly what you'd like it to be.
In honor of Shea's deck which clones, this Week's Deck Without Comment is my own, Lazav, Shapeshifting Mastermind.
Creatures (27)
Planeswalkers (4)
Lands (37) ADUN'S TOOLBOX ; ANIMAR'S SWARM;AURELIA GOES TO WAR;CHILDREN of a LESSER GOD;DEMONS OF KAALIA;EREBOS and the HALLS OF THE DEAD;GLISSA, GLISSA;HELIOD, GOD OF ENCHANTMENTS;DREAMING OF INTET;FORGE OF PURPHOROS;KARN, BEATDOWN GOLEM;HALLOWEEN WITH KARADOR;KARRTHUS, WHO RAINS FIRE FROM THE SKY;KRESH INTO THE RED ZONE;LAVINIA BLINKS;LAZAV, SHAPESHIFTING MASTERMIND;ZOMBIES OF TRESSERHORN;MELEK'S MOLTEN MIND GRIND;MERIEKE'S ESPER CONTROL;THE MILL-MEOPLASM;NATH of the VALUE LEAF;NYLEA OF THE WOODLAND REALM,OBZEDAT, GHOST KILLER;PURPLE HIPPOS and MARO SORCERERS;ZEGANA and a DICE BAG;RAKDOS: LIFE IS SHORT;RITH'S TOKENS;YOU DID THIS TO YOURSELF;RURIC THAR AND HIS BEASTLY FIGHT CLUB;THASSA, GOD OF MERFOLK;THE ALTAR of THRAXIMUNDAR;TROSTANI and HER ANGELS; THE THREAT OF YASOVA
If you'd like to follow the adventures of my Monday Night RPG group (in a campaign that's been alive since 1987 and is just now getting started with a new saga called "The Lost Cities of Nevinor"), ask for an invitation to the Facebook group " Sheldon Menery's Monday Night Gamers."