Tiny Leaders has evolved into a major offshoot of Commander for some players. How about with you and your playgroup? Did you like the idea of Tiny Leaders? Maybe it's a bit too Spike for you? Sad to miss your big stuff?
Well, let me introduce you to Behemoth, as coined by a comment by a user (Yog Sothoth) in an article I wrote a few weeks ago.
Behemoth is a Commander variant using all of the rules of Commander, but you can't have any cards that cost fewer than four mana. That's right folks, nothing is allowed under four mana. Now, let's look at a few questions:
1) The only banned cards are those already banned by the Commander folks, so things like Primeval Titan and Worldpurge are still banned. Sorry!
2) You can use cards with an alternate mana cost, but which have higher numbers. The only thing this format cares about is the number in the corner. Like Tiny Leaders, X is 0. If you want to play something like an expensive morph (or megamorph) creature, then you can. That's fine and dandy! Run that Vine Dryad or Submerge.
3) Due to the expected mana issues it would involve, for right now, we'll just run the base 100 cards. I was considering making you play with 150 cards in your deck, like Tiny Leaders has 50, but for now, we'll just run the base 100. If you want to have more, then by all means, do so!
4) Optional - Because this format is prone to mana issues (not getting enough lands by turn 4), there is an optional land fetching rule. Once during the game, on any turn before or on turn 4, if you do not have any lands to play, you may reveal your hand. Search your library for a basic land that only taps for a color of mana you already have access to and place it in your hand. Shuffle.
The purpose of this optional rule is to fix your mana issues, but not to enable cheating to get the right colors of mana. Suppose I control a Forest and Havenwood Battleground. I can't search for a Mountain with this ability to get the right colors. (This is intentional, I don't want players to run like fifteen lands and then use this ability to get perfect mana - you can only get a basic of a color you can already produce.)
Behemoth baby! Yes, that means no Sol Ring and no early mana acceleration or anything else. No Counterspell, no Swords to Plowshares, no Skullclamp or Swords of X and Y (such as Sword of Fire and Ice). Just think about how many highly played cards aren't making the cut!
There's still lots of things to run, from Explosive Vegetation to Dismiss, and from Annihilate to Cryptic Command.
What would a Behemoth deck even look like?
Creatures (31)
Planeswalkers (3)
Lands (43) And there you have it!
I think one of the subtle ways to use Behemoth is to run lands that can be activated or come into play tapped prior to turn 4. Lands are likely to be key in a gargantuan format like this!
So let's take a gander at this lil' deck.
I wanted to build a deck that was quick and flexible. Brago Blink seemed oddly appropriate. I didn't want to build something blatant or obvious as a sample of what the format has to offer - so we don't have anything like Simic Ramp or Dimir Control that's just taking the best-of and making a simple deck. We know any format will have those archetypes. Can you make a guy like Brago work? That's the question this format demands, and it looks like all signs point to yes!
Like many decks, Brago, King Eternal wants to abuse cards with enters-the-battlefield triggers by getting them to leave and then return to play over and over again. That's the Brago Blink mission.
There are a lot of awesome creatures that you can still run, like Mulldrifter, Solumn Simulacrum, Kor Cartographer, and Cloudgoat Ranger. You can unearth plenty of solid cards and tricks for the deck. Sure, you can't rely on the smaller stuff, but we can get things started.
For example, I like to run stuff like Man-o'-War and Aether Adept in my blink decks. We can't do that here. But we can run four-mana-bounce bodies like Mist Raven or Venser, Shaper Savant. And you'll uncover more if you look, like Aven Surveyor or Sun Ce, Young Conqueror.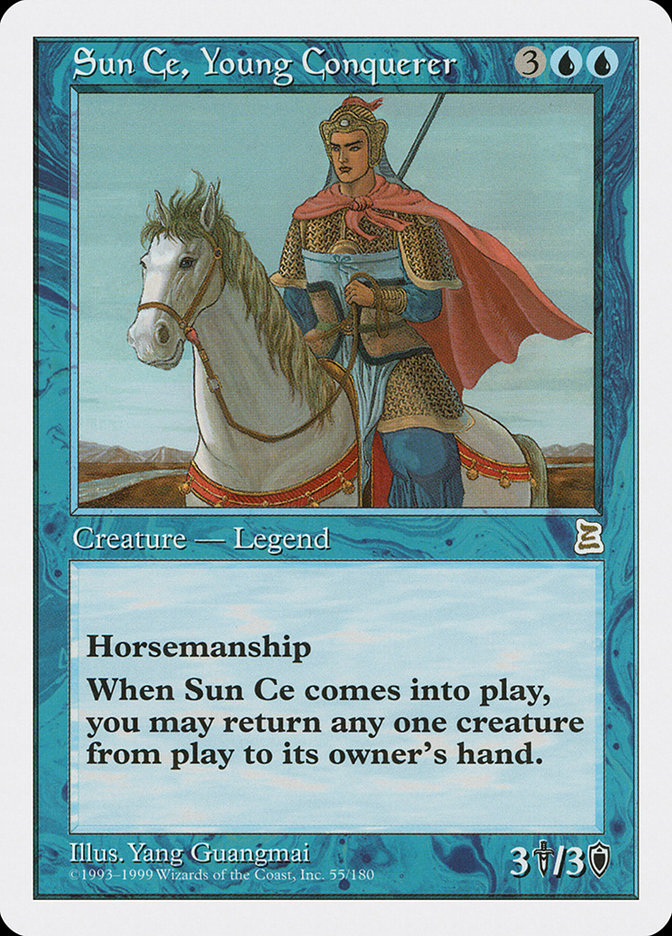 And sure, you can't add in a spell like Momentary Blink or Ghostly Flicker. But you can add in some additional support cards from other angles. So Behemoth gives you an opportunity to flex your deck building muscles. For example, we have Galepowder Mage, a 3/3 flyer that will blink something out when it attacks. Sure, you can use it to blink a creature with a great enters-the-battlefield trigger, but you can also use it to blink out a blocker so you can nip in for some damage - and in that vein, it works particularly well with Brago since you can open a path for it to hit a player and thereby force a few of your cards to blink on out of here.
Cards like Glimmerpoint Stag, Deadeye Navigator, and Venser, the Sojourner can serve roles as adjunct blinking cards to get additional triggers from your stuff just like Brago does.
And that's not all either. Now that we have explored some solid supporters for the role that Brago does, what else fits?
I wanted to include some creatures with built-in ETB removal triggers. Sure, we don't have the awesomeness of cards like Acidic Slime, Murderous Redcap, Avalanche Riders, or Nekrataal in Azorius colors. But that doesn't mean that we can't kill anything. For example, we can run the classics, like Cloudchaser Eagle, to destroy an enchantment on arrival. And we've seen loads of this ability all throughout white's history in Magic as well. And that's not all! We can toss in Duplicant and Phyrexian Ingester to exile a creature when they hit the battlefield, and both look good when being reset to do it all over again!
While it's not a creature with a traditional ETB trigger, Triskelion can be played, the counters can get pulled off to kill something, and then flickered off the battlefield and then back again to reload its counters. And if that's a trick that you want to push, you can find loads of cards from Rasputin Dreamweaver and Workhorse to Mindless Automaton and Novijen Sages.
Don't forget to run Icefall Regent or Frost Titan as either a beater or an ETB creature, whichever makes more sense for the battlefield at the time. The Behemoth format tends to offer interesting choices like these two, and you can add some flexibility to your deck as a result.
And of course there will always be other ETB creatures to abuse. I like ones that give the deck some card advantage when they have been summoned. A creature like Karmic Guide brings your best dead friend back to play, giving you a nice two-for-one, and a Sphinx of Uthuun draws you 2-3 cards when it hits the table and joins the Titan and Regent as a strong red-zone threat. These sorts of creatures are great inclusions to work alongside your King Eternal.
Do you love that Sphinx of Uthuun and want to draw even more cards? Throw out Ephara, God of the Polis. As long as you either cast or blink back a creature on your main phase, you will draw a card on the next turn. But if you manage to blink out creatures on opposing turns as well, then you'll draw even more stuff, so there's a nice correlation between doing something you already want to do (blink, play creatures) with a nice reward (drawing cards).
In addition to Ephara and the Sphinx, we have Staff of Nin to draw cards for free over time, as well as tap to shoot something down when needed. We can easily find some more ways to draw cards in blue. Let's add in Tidings and Recurring Insight to the deck. Actually, since we have a lot of creatures that want to attack, how about Bident of Thassa as well?
We have a few engines for when your creatures arrive from the aether. Take a look at a simple Angelic Chorus. You can gain life again and again simply by dropping creatures (or blinking them). You don't have to spend any mana or use any resource, it's just always on. Want to make your creatures bigger? Why not run Cathars' Crusade? Now as you play creatures small or large, the whole team swells and becomes a major threat to life totals.
And don't shy away from other red-zone creatures, like Iridescent Angel or Windreaver. A creature doesn't have to blink or blink others in order to fit the deck. These guys will help hold the line against attacks both on the ground and in the air. And don't forget that they can also bring some heat as well if you are feeling the need. You still see Iridescent Angel from time to time in decks, but I think most people have forgotten about (or never knew about) Windreaver, which is a very flexible card in an Azorius shell (like this one). In this deck, you can pump its butt to block something big, flip it on the attack to bring a large creature to play, and you can en-vigilance it as well if you want both. Don't forget that you can bounce it back to your hand to protect it, or to trigger something like Angelic Chorus or the Crusade all over again.
We are in the Azorius colors, so let's embrace that and run tempo and control-oriented cards. There's no reason not to run some counter magic. We can bounce and blink Draining Whelk, so it's the obvious choice. Why not combine some tempo with our countermagic? Casting Cryptic Command can combine a bounce with a counter to clear a path for a Brago beat (or bounce one of our own creatures to replay its ability). See also - Lost in the Mist. Meanwhile we can counter + steal with Desertion, or counter + draw with Dismiss. All of those counters slide neatly into Brago's shell.
Of course, the tempo doesn't have to end there either. Consider stuff like Sleep or Capsize.
Meanwhile, we have a few spells to handle problematic permanents. With the weakening of tuck spells generally, I wanted to push into more exiling instead as a way to handle problematic permanents. A card like Altar's Light or Return to Dust is great because they have the potential to handle problematic artifacts/enchantments that interfere with our plans, have the potential to provide card advantage, and can be played as instants if needed.
In the Behemoth format, I want to embrace alternate play costs for various cards, and a creature with a cheaper evoke cost is a nice way to do things with it before you might normally be able to run it. A card like Aethersnipe (as well as the aforementioned Mulldrifter) can give you some useful plays early on.
Just because we can't run Sol Ring or Darksteel Ingot is no excuse not to have any mana rocks at all. Thran Dynamo is the Sol Ring of Behemoth, a mana accelerant you can play on the first-ish turn. Meteorite works here because you can Brago-blink it back into play multiple times in order to hit stuff for some serious damage.
And this deck is just about done! I wrapped it up with some useful strategies such as extra bounce (Erratic Portal; Jace, the Living Guildpact) and card drawing (Face or Fiction; Jace, Memory Adept).
Throw in the right lands, and we have a deck, ladies and gentlemen!
So what would you add to the Brago deck? What direction would you take your Behemoth deck? Any thoughts on the big-time format?
Oh, and by the way, next week is my 500th weekly article, so we'll be doing some fun flashbacks in the time machine of yore. Get ready!