"This set isn't called "Big Dumb Green Creatures That Don't Fly." It's called "Dragons of ******* Dragonville." -Brad Nelson
Those were the words out of his mouth when I wanted to play Roast in large numbers over Valorous Stance, and I suppose he was right to an extent. There were a ton of Dragons at Grand Prix Krakow last weekend, but Valorous Stance wasn't exactly getting the job done against Esper.
Long story short, hexproof is stupid.
But in all seriousness, Dragons are back in a big way thanks to Dragons of Tarkir, and it is starting to look like Esper Dragons is the deck to beat in the current Standard format. While the new Dragonlords are great, one is seeing a bit more play than the others. Of course, I'm talking about Dragonlord Ojutai.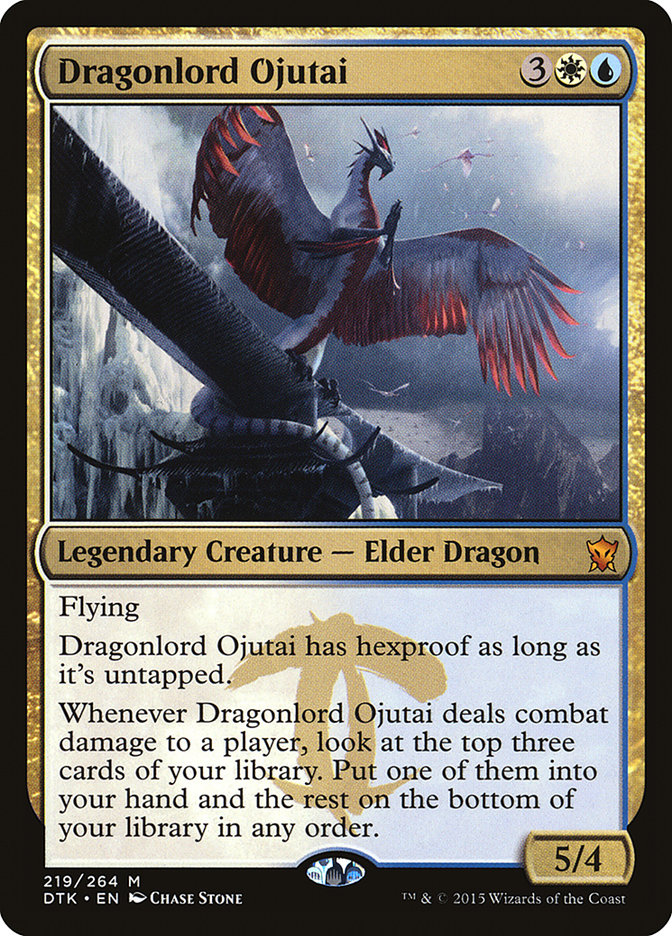 There is a good reason this card went from $6 to $20+ over the last few weeks. The card is ridiculously powerful, and it heavily rewards you for playing cards that can protect it from removal.
There are quite a few ways to keep it alive and attacking, and that should be your priority if you're playing a deck with it. Dragonlord Ojutai is likely your best win condition, so keeping it around makes sense. Flying and hexproof while untapped is pretty absurd by itself, but when you tack on its enormous body and freeroll Anticipate when it deals damage to the opponent, you have yourself a recipe for the best card in Dragons of Tarkir.
But wait a minute. What about the Standard Open in Providence this past weekend? Where were all the Esper Dragon decks? That is a very good question, and one I don't really have an answer for. It seems like the results from Grand Prix Krakow and SCG Providence could not be more different. Abzan, in all its forms, were in high numbers at Providence, with Abzan Reaninator taking down the whole thing. Across the pond, Esper Dragons was everywhere.
In the end, I think that the format will settle somewhere in between the two. For now, Esper Dragons is probably the best deck in the format, but it is beatable. People are just going about it entirely the wrong way. Esper Dragons isn't the same deck as the U/B Control we're used to. Some of the cards that were particularly good against U/B Control are no longer viable thanks to the pressure put on us by Dragonlord Ojutai. Planeswalkers aren't exactly great against Dragonlord Silumgar either, so where do we draw the line?
Red Deck Wins (Sometimes)
Hyper aggressive strategies are inherently strong against these clunky (but powerful) control strategies, as we saw when Atarka Red won Pro Tour Dragons of Tarkir in the hands of Martin Dang. Applying early pressure to get around Silumgar's Scorn while having a reasonable amount of burn to finish the job once they start casting Dragons is a solid place to be. But unfortunately, hyper aggressive strategies aren't exactly strong against the other side of the field. Courser of Kruphix and Siege Rhino can cause some major headaches, so long as they come down in a timely fashion. Roast is a premium sideboard card for these red decks against all the midrange strategies floating around, and I really wish I could play eight.
If you expect there to be a ton of Esper Dragons and you feel moderately confident with a Mono-Red deck, then this one is probably right for you.
Creatures (17)
Lands (21) Peter Nguyen did a lot of things right with this list. I love Goblin Heelcutter as both a dash threat and as a way to remove your opponent's best blocker. A split between Rabblemaster and Heelcutter is probably right, as it gives you a bit of variation in your threats. It is more difficult for your opponent to tap out if you have access to Heelcutter because you can punish them immediately.
The one thing I dislike about this particular version is only 21 lands with so many three-drops. Hordeling Outburst, Goblin Heelcutter, and Goblin Rabblemaster are all great cards, but you'll lose in virtually any game that you stumble on lands. Having a high density of burn spells, dash creatures, and Lightning Berserker will give you stuff to do with all your excess mana. I'd be much more afraid of this deck if I knew they were going to hit three lands every time, as curving out is exactly what this deck wants to do. Missing the third land drop will cause you to miss out on a lot of damage.
I also dislike only one copy of Zurgo Bellstriker. In my experience playing against red decks, Zurgo is the second best one-drop behind Monastery Swiftspear. I am not the biggest fan of Lightning Berserker, as it is significantly worse than Zurgo against any other token-based deck. You also don't have to invest that much mana into Zurgo to deal a lot of damage, where Lightning Berserker is pretty mediocre when you're tapping out every turn. Lightning Berserker is also pretty awful in multiples.
I also love the Hall of Triumph, as that gives your tokens the ability to overrun any tokens of your opponent while also keeping some number of your creatures alive against Drown in Sorrow after sideboard. It can also equate to a lot of damage if your opponent has an empty board, and it doesn't force you to overextend into Crux of Fate or the like.
The Boss Does it Again
Bant Heroic, a deck spotlighted by Tom Ross over the last few weeks, is also a solid choice against Esper Dragons. Putting an early creature into play, pumping it, and protecting it from removal over the course of the game is a recipe for success. If the Esper Dragons deck doesn't draw a good combination of Thoughtseize, Ultimate Price/Bile Blight, or Foul-Tongue Invocation, they will get run over.
Bant Heroic is also a pretty powerful option for those of you looking to beat up on all the red and green decks running around, and it is probably the best Dromoka's Command deck in the format. Having the ability to put counters on multiple creatures or just take care of an opposing Whip of Erebos while fighting their Sidisi is a very powerful effect. Dromoka's Command is an insane card against non-Esper decks, acting as a Swiss Army Knife for a deck that normally doesn't interact with the opponent all that much. Now we get to interact with them a lot on a level that we're comfortable with.
So what does Bant Heroic lose to exactly? That is another good question that I don't have an answer for. Honestly, I think Tom Ross knocked it out of the park with Bant Heroic, though his initial build was off by a decent margin. After spending a few weeks with Tom living in my guest bedroom while making the transition to Roanoke, it wasn't hard for him to convince me that Bant Heroic is just absurd. I've been working with him on the list quite a bit, and here's what I've come to.
Creatures (17)
Lands (22)
Spells (21) For starters, Ordeal of Heliod just isn't great in the maindeck. You don't need to gain a ton of life against most strategies, but Seeker of the Way can do that all by itself if you do. The pump effect is nice, but it just isn't needed since you have Dromoka's Command to fill that role.
Speaking of Dromoka's Command, that card is just bonkers, and this is likely the best shell for it. Being able to target multiple creatures of your own while getting all the effects is like a super spell for a Heroic strategy. Fighting their creatures is also pretty sweet with Favored Hoplite, as it never takes damage after you target it. This is important for getting through Deathmist Raptor, or any other creature with deathtouch, but you also get to attack that turn where it might not normally be possible without losing your creature.
Increasing the number of one-drop creatures is something I've wanted to do for a while, but drawing multiple Lagonna-Band Trailblazers can be pretty awkward. You want to draw a one-drop often, and I think playing three copies is the right number.
Monastery Mentor is also a bit awkward in the deck on occasion, but it can lead to winning some games that you would otherwise lose. It is absurd with Treasure Cruise, and it gives you an alternate angle of attack. Cards like Valorous Stance and Abzan Charm can be played around where they would normally punish a draw featuring a heroic creature that you boost with Ordeal of Thassa and such.
Increasing the number of Ajani's Presence has also been phenomenal with the rise of Esper Dragons. Crux of Fate and End Hostilities are problematic for the deck, as Gods Willing doesn't protect you from it. Ajani's Presence is also surprisingly potent as a combat trick since it will turn a Seeker of the Way or Hero of Iroas into a four-power creature, killing annoying threats like Surrak, the Hunt Caller or Courser of Kruphix.
Gainsay is also another sweet addition to the sideboard, giving you a counterspell that interacts with Dragonlord Ojutai, Dissolve, Silumgar's Scorn, and Dig Through Time. It isn't great at helping out against Crux of Fate, so the Disdainful Strokes get a nod there, but having another way to win a counter war is solid. Stubborn Denial has been getting worse and worse for me, as Jeskai Tokens seems to have fallen off the map, which makes me want fewer copies. I'd like to cut them completely, but they're sometimes good enough as a Force Spike.
This version of Bant Heroic is pretty similar to what Tom Ross wrote about two weeks ago. His updated list is pretty solid, but we've worked together to push it even further. Tweaking even a single card in this deck can be the difference between a win and a loss. I am likely playing this deck at the Regional PTQ this weekend, but there are a few possible changes depending on how testing out some new stuff goes.
The Death of Midrange
With Esper Dragons on everyone's radar, is it really viable to play a midrange deck? Esper Dragons feeds on those strategies, punishing people who want to tap out every turn (and play a ton of lands that enter the battlefield tapped). Silumgar's Scorn is just bonkers, and I would rather do anything else than play a deck that gets absolutely eaten away by it.
All these Whip of Erebos decks that did well at the Standard Open in Providence are going to have a rude awakening when they sit down across from an Esper Dragon deck. Sure, you can win some games, probably even a match or two given enough chances. But their gameplan is more powerful than yours, and they have the tools at their disposal to dismantle you.
Midrange decks had a hard enough time beating Dig Through Time as it was, but how are they going to keep up when they're staring down a Dragonlord Ojutai? Your best bet will be to throw threats at them while forcing them to discard their Dig Through Times with stuff like Duress or Thoughtseize. Disdainful Stroke with a clock is also nice, but the Sultai Reanimator decks don't have a cheap threat that they can get under Silumgar's Scorn other than Satyr Wayfinder (but that doesn't really count).
Abzan Reanimator has access to Fleecemane Lion, which is a solid body against them. It also survives Ultimate Price, which is great. But you'll need more than that to get under their skin. That's one of the reasons why I think Abzan Aggro is another great choice in a field full of Esper Dragons. With the removal package leaning more towards Ultimate Price rather than Bile Blight since it is easier on the mana, cards like Anafenza, the Foremost, Rakshasa Deathdealer, and Fleecemane Lion are all superb earlygame threats.
In actuality, Abzan Aggro has some awkward draws that can be exploited a number of ways. Too many lands entering the battlefield tapped leads to Silumgar's Scorn being actual Counterspell regardless of whether or not they have a Dragon. Too many removal spells in the opening game can mean your threat density is too soft, and that lets their removal spells kill all your creatures on curve, followed up by a Dig Through Time or Dragonlord Ojutai.
But the good draws from Abzan Aggro are tough for any deck to beat. Fleecemane Lion into Anafenza, the Foremost is a great start, and that puts a lot of pressure on the opponent to interact with you. If they don't, they're just dead. Anafenza is also phenomenal against all the Whip of Erebos decks that have been popping up lately, though they do have a number of ways to kill it before milling themselves.
But there is another glimmer of hope among all these midrange strategies.
Creatures (28)
Lands (24)
Spells (8) After playing just a few games with this original Wescoe concoction, I can safely say that it is a great deck. It can play the aggressive role well and go deep in games with Mastery of the Unseen, Deathmist Raptor, and Den Protector. And, once again, Dragonlord Ojutai is one hell of a card. While I don't think this list is perfect by any means, and it did lose to Esper Dragons in the quarterfinals of Grand Prix Krakow, I do think it has a lot of positive stuff going for it.
For one, Dromoka's Command is a great card against every non-Esper deck in Standard, and this version of Bant can also put it to good use. Deathmist Raptor doesn't mind fighting another creature even if it dies. You have enough morph and manifest cards to keep bringing it back for more beatings later. Den Protector bringing back Dromoka's Command to keep fighting creatures, pumping your creatures, or killing their enchantments is also sweet.
While this deck plays out similarly to G/W Devotion in a lot of ways, the blue splash for Dragonlord Ojutai is fairly easy, but it's also pretty solid. You aren't adept at keeping it alive against a ton of spot removal, but that isn't always necessary. Their removal spells will be taxed against your Fleecemane Lions and the like, and an Ojutai drawn in the later turns will generally be good enough.
I'm not sold that this deck is one of the best in the format just yet, but it has a ton of potential. I'd like to play with it more before making any concrete conclusions, but it has promise.
A Brave New World (Full of Dragons)
This Standard format feels pretty balanced. There are some powerful cards from Dragons of Tarkir influencing Standard, but I actually appreciate that out of a newer set. The cards all feel powerful, but they have a few trumps. Dragonlord Ojutai is really friggin good, but it isn't unbeatable by any stretch. And at least it doesn't have constant hexproof.
There are a lot of different avenues of attack, a lot of decks with high amounts of synergy, and a ton of viable archetypes. While midrange might be poorly positioned thanks to Esper Dragons, that didn't stop it from dominating the Open Series in Providence last weekend. Time will tell if Esper Dragons is going to be the end-all be-all of Standard, but I have my doubts. The deck has too many clunky draws that are beatable with early aggression, and I find it hard to believe that the best threat for a control deck involves it tapping out on one of the most crucial turns of the game.
There are a lot of great cards surrounding Ojutai in the Esper Dragon deck, though. Silumgar's Scorn is one of the best counterspells in recent memory, and all of the creatures work nicely with Crux of Fate.
This weekend, I'll be battling in the first round of Regional PTQs. I'm still torn between my love of Jeskai Tokens and Bant Heroic. Both are fine choices for any tournament at the moment, but something about Jeskai just keeps on hooking me back in. It could be that I mulligan to five with Bant Heroic in approximately 25% of my games, but it could also be that I like casting removal spells a lot more than Gods Willing. Either way, I have a lot of hours played with both archetypes, so I'm confident and mostly prepared. Let's see if it holds up.