When I got an email from Cedric asking me if I'd be interested in writing a preview for the upcoming Modern Masters 2 release, I replied with just a single line.
"Yes, I'd be happy to write the preview for Noble Hierarch."
Our illustrious editor had a snippy reply waiting for me as well…
"So close! It's a different green card that you won a Pro Tour with…"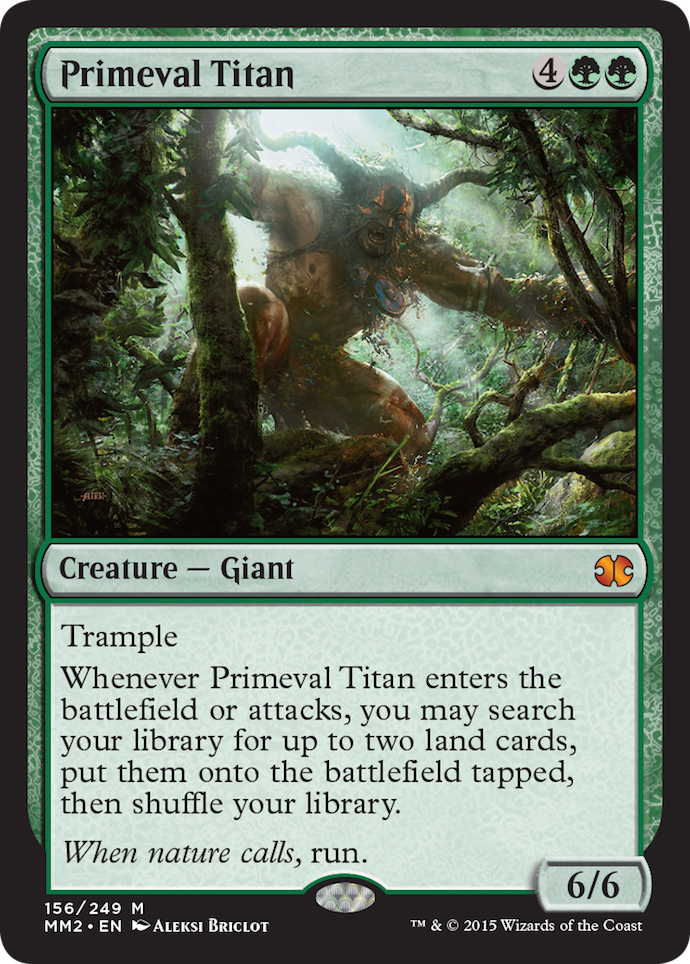 While I still firmly believe we'll be seeing Noble Hierarch in Modern Masters 2, the return of Primeval Titan is a big deal for Modern fans. My own experiences playing with Primeval Titan were contained in Standard, where it was the central feature of the Wolf Run Ramp deck I used to win my second PT championship at Pro Tour Dark Ascension. But since then, Prime Time (as the jolly green giant is affectionately known by his fans) has made a huge impact on Modern as well. In comparison to the kind of things Primeval Titan enables in Modern, fetching Inkmoth Nexus and Kessig Wolf Run seems downright fair.
Prime Time made its presence felt in Modern as early as the very first premier event in the format: Pro Tour Philadelphia in 2011. There, the most popular deck in the field was built around abusing the mana production of Cloudpost to play huge Eldrazi monsters like Emrakul, the Aeons Torn. That deck could play Primeval Titan off mana acceleration like Wall of Roots and Cloudpost itself to fetch more Cloudposts, or Glimmerposts and Vesuvas if its life total was under pressure, allowing it to play the fifteen mana annhilating time walking spaghetti monster vastly ahead of schedule. Green Sun's Zenith doubled as mana acceleration by fetching Dryad Arbor or additional effective copies of Primeval Titan. Both Cloudpost and Green Sun's Zenith found themselves on the Modern Ban List at the end of the event, but that hasn't stopped Primeval Titan from continuing to rear its ugly head.
Most recently, Justin Cohen's finals appearance at Pro Tour Fate Reforged was the latest in a long line of top finishes by Primeval Titan in Modern, but his deck may be the most explosive yet. Amulet Bloom is capable of playing a Primeval Titan as early as the first turn and winning in short order thereafter. But the deck is not just a one trick pony. It's also capable of playing a long grindy value game thanks to its carefully chosen toolbox of utility lands, all fetchable with Primeval Titan. The deck has everything from Slayers' Stronghold and Sunhome, Fortress of the Legion to power up titans, Khalni Garden and Radiant Fountain to buy time against aggressive decks, and Tolaria West and Vesuva to fetch or copy whatever it might need. The Transmute ability on Tolaria West can not only dig for whatever land might come in handy, but it can also search for any of the deck's three different Pacts--one of which can even turn into yet another copy of Primeval Titan!
I pride myself on being an honest man who plays with honest creatures in Modern, and Primeval Titan certainly does not qualify as one of those. Nevertheless, I have to respect the power of Prime Time, especially since any deck playing with it is almost certainly a bad matchup for anyone looking to play fair. From Cloudpost to Scapeshift to Amulet Bloom, Primeval Titan has been a centerpiece in some of the least fair Modern decks around. With its reprinting in Modern Masters 2, Prime Time is certain to continue to do so for years to come.