This week's been all about looking to the past!
Modern Masters is the talk of the town this week, and this weekend's GP Las Vegas features a pedigree for record-breaking. This past weekend, everyone and their sister was out to play in Modern Masters draft; one shop even hosted a daunting Sealed PPTQ, where over 60 people lined up to fork over nearly $100 bucks for their shot at glory.
While firsthand accounts feature words like "value," and "got/didn't get my money's worth," and "it was this or the mortgage" peppering the conversation, it's clear that Modern Masters as a Draft format is a real winner. As the owner and loving caretaker of an ever-evolving Modern Peasant Cube, I'm glad that people are enjoying cross-set drafting to find all the neat interactions possible in the decks they come up with at the drafting table. While I didn't fork over $30+ for a table spot this weekend, I observed and studied, just like I would when preparing for any Draft format.
Modern Masters has implications for Modern as a format of players and as a metagame. Both players and the format itself win with releases like Modern Masters; people get more access to staples (but not lands, apparently), and awareness goes up on forgotten, near-bulk rares, and people get to draft and play them, seeing them in action and considering all the possibilities for their newly acquired cards. Access to cards has never been a problem for the pros, but for the average joe, we need this. Moreover, people will be anxious to move their trades.
Standouts
As a set, I think Modern Masters 2015 has five particular standouts that I'm glad to see reprinted for whatever reason. The format is always changing, but I think these cards, with increased quantity and exposure, have a chance to positively impact the format. Here they are in no particular order!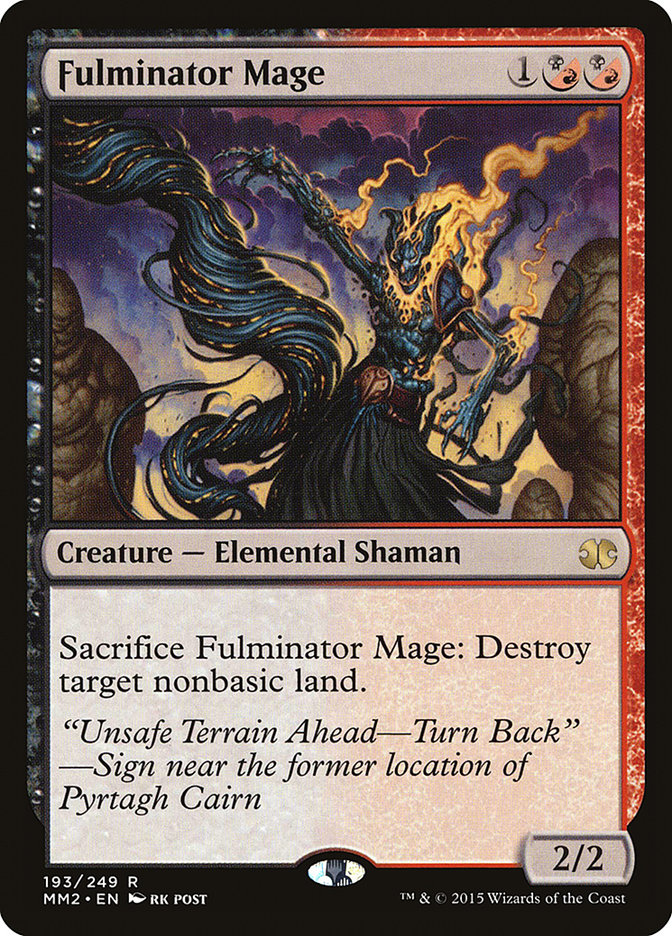 This is one of my favorite free-sacrifice creatures in the format. With a hefty pre-MMII price floating around $40-$50, it was time for a reprint. Being at rare will keep the supply high, and the potential for both combo and mainstream land destruction is there. I've wanted to brew with the Mage but have prohibited by cost. In play, being a creature increases its potential, namely as a recursion target or as a copy target. Necrotic Ooze, anyone?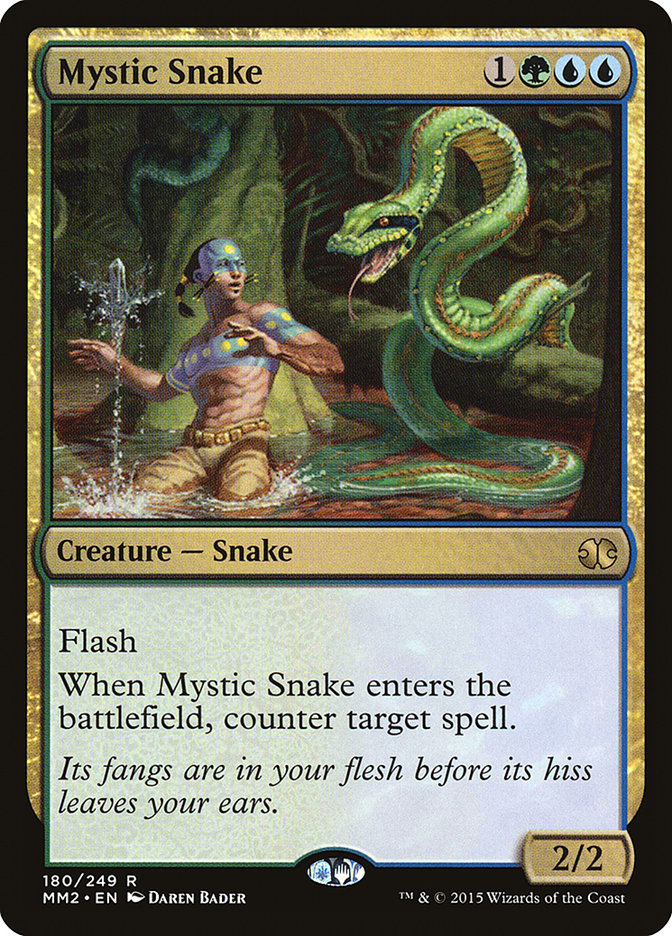 Man, this card looks awesome in the new card frame! This is its first printing outside of the pre-Eighth Edition card frame, and it looks slick. Even the art doesn't look outdated now; besides all that, though, Mystic Snake has the same thing going for it as Fulminator Mage: It's a creature with a neat alternate mode (as opposed to attacking and blocking), and the Snake is almost always a two-for-one.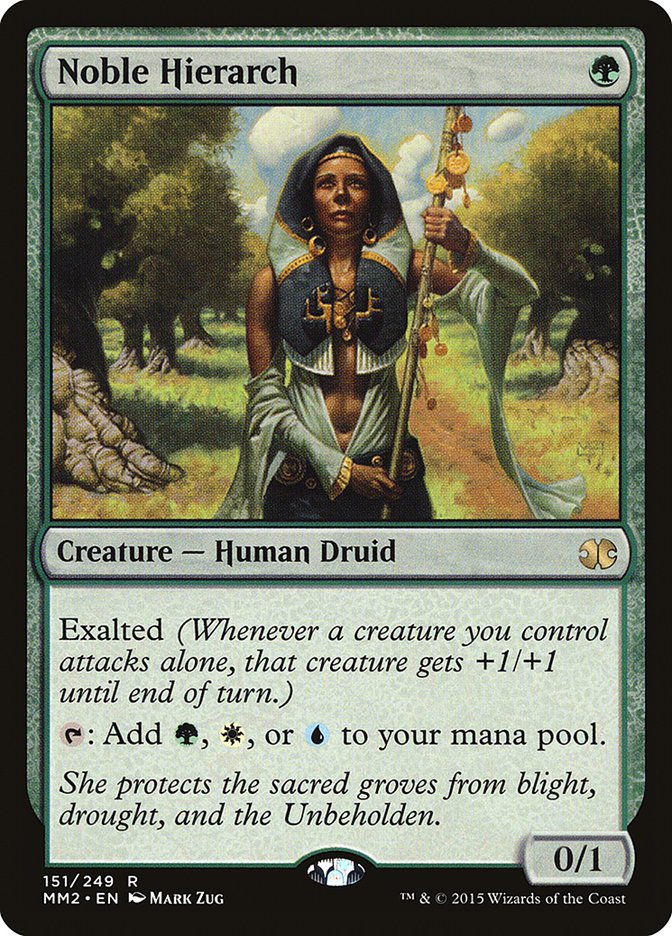 This card needs no introduction for regular Modern grinders, but it did need a reprint. As the Hierarch drifted north of $70, it put all of the archetypes that used it, including Infect and multicolored green decks, out of the budget-friendly zone. Bringing it down to $40 is a great step.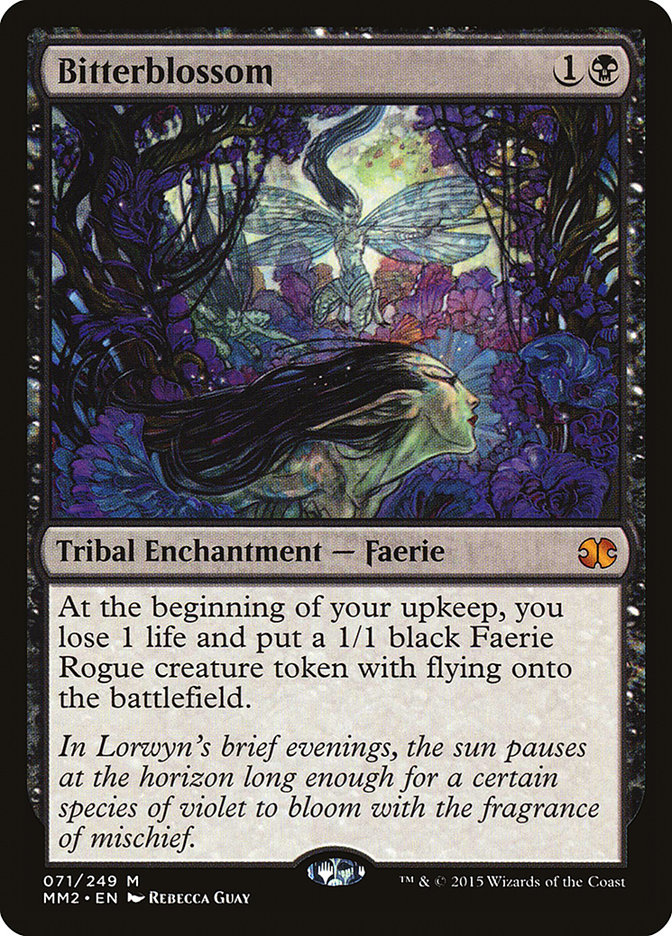 Bitterblossom is a little spiky for my general line of play, but it has a power that demands to be respected. Now that it's disappeared from the banlist, this reprint solidifies the card's place as a definitive card in Standard. A "free" and evasive creature every turn is sure to make some people nervous, so now the question is: Who will make the next great Bitterblossom deck and what will it look like?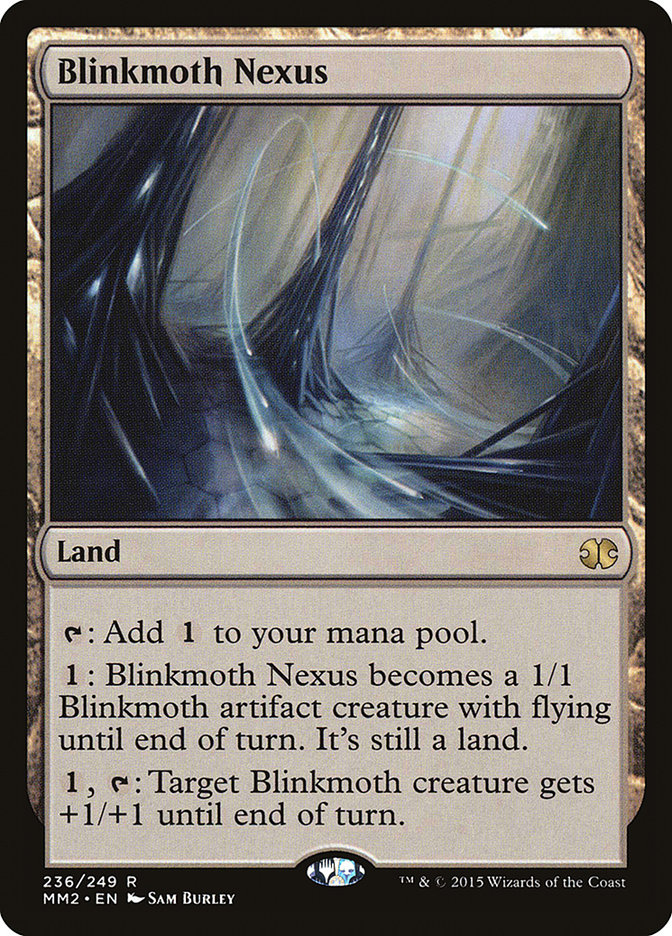 If Mutavault is my favorite land, a pint-sized version that makes a flier and has a tiny tribal theme will be up there, too. Blinkmoth Nexus, generally relegated to Affinity decks, has a place to play in any deck that might consider having a "man-land," but it may not be in a color that would otherwise support it. If you are on the artifact plan, the Nexus is a solid, on-or-off artifact land, offering a pressure-building response before and after sweepers. I always like lands that do more than just produce mana, and I even like some that don't produce mana at all, but the Nexus is a wing above the rest.
Disappointments
As cool as the standouts are, there are some cards I'm disappointed are returning, either for their impact on the draft or value of the previously printed versions, or because they remind everyone how powerful they can be from a combo perspective. This is my "Coulda not" pile, those cards which I "coulda not seen" and been happy.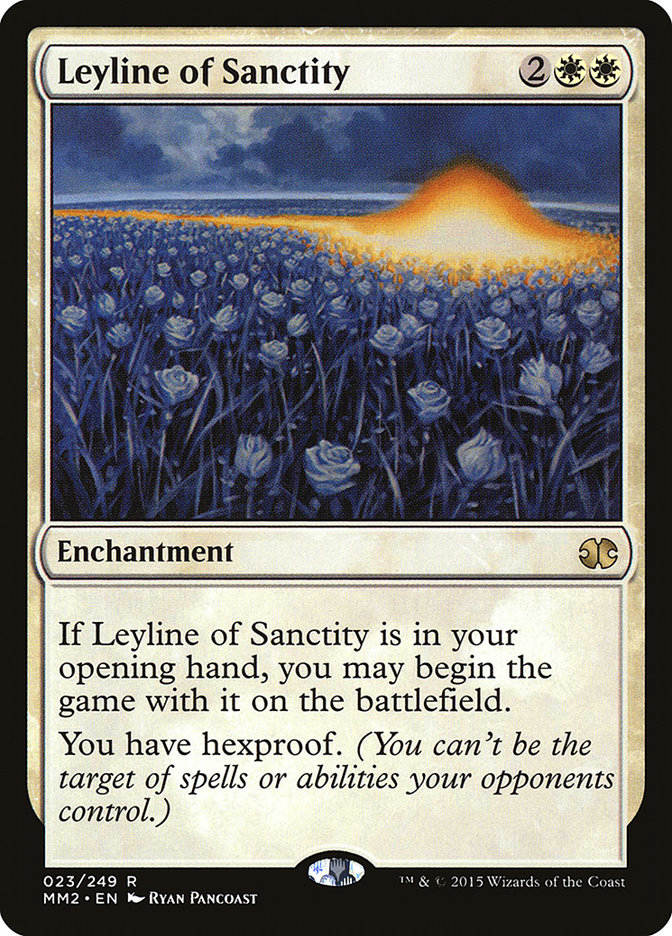 I readily admit my prejudice against this card comes from personal experience.
Leyline of Sanctity is an enchantment that non-enchantment-destroying colors like red and black have trouble getting around, and often their colors need access to the opponent's face the most with cards like Thoughtseize, Lightning Bolt, and Liliana of the Veil's -2 and ultimate. As I play a regularly modified version of 8-Rack, not being able to target your opponent with spells like Raven's Crime and Inquisition of Kozilek puts me in an awkward position on turn 0. I couldn't interact with it if I tried.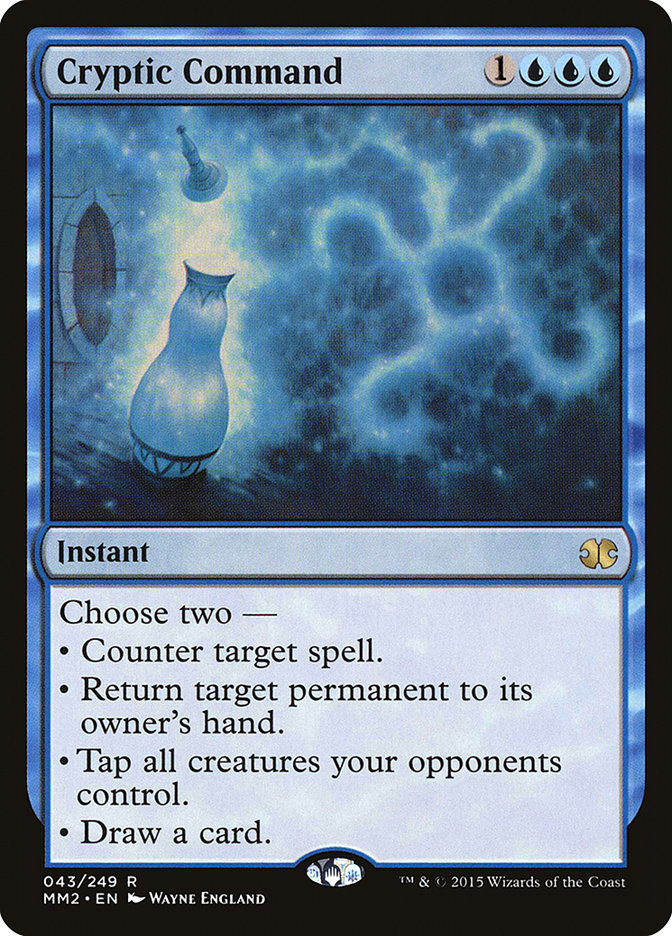 Cryptic Command is one those cards that never feels good to play against. It will always, always, always get a two-for-one, and while it can be played in some capacity in almost every situation, and I've even cast it myself, it feels far superior to the others in the Command cycle. In my mind, Primal Command or Austere Command are both the most interesting, powerful, and fair versions, but they all got snuffed for the silly, everyone-plays-it blue one.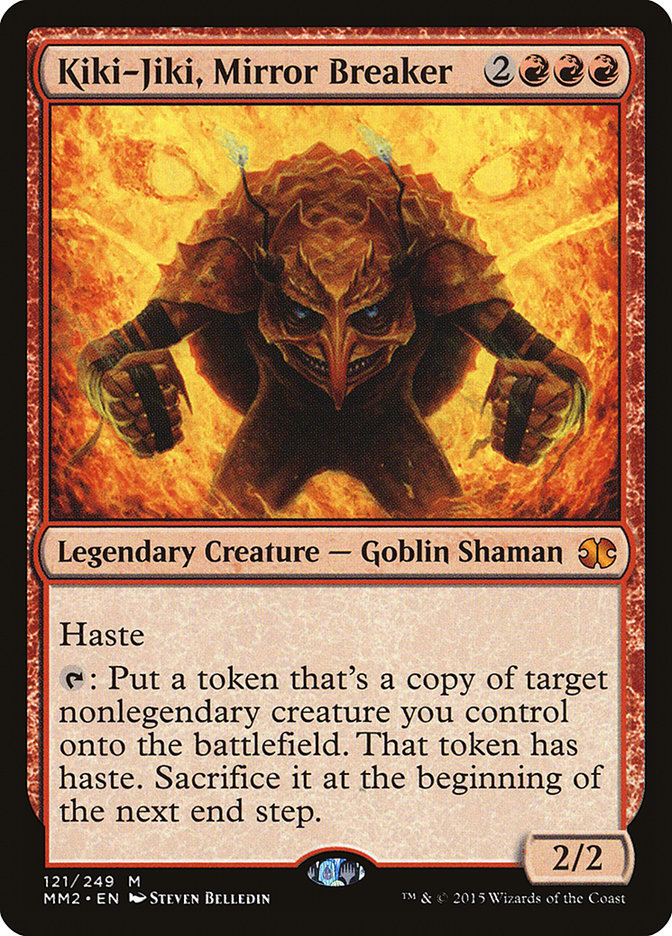 Kiki and his trusty companion Splinter Twin are both on my blacklist. In my personal and humble opinion, Splinter Twin decks and their variants aren't particularly fun to play against or play with. Even when they stick a Twin or Kiki-Jiki to infinitely copy their Restoration Angel or Deceiver Exarch, it just never seems to be satisfying for either player. Kiki-Jiki's return means more people will be able to grab it, which may mean a more fun version is right around the corner.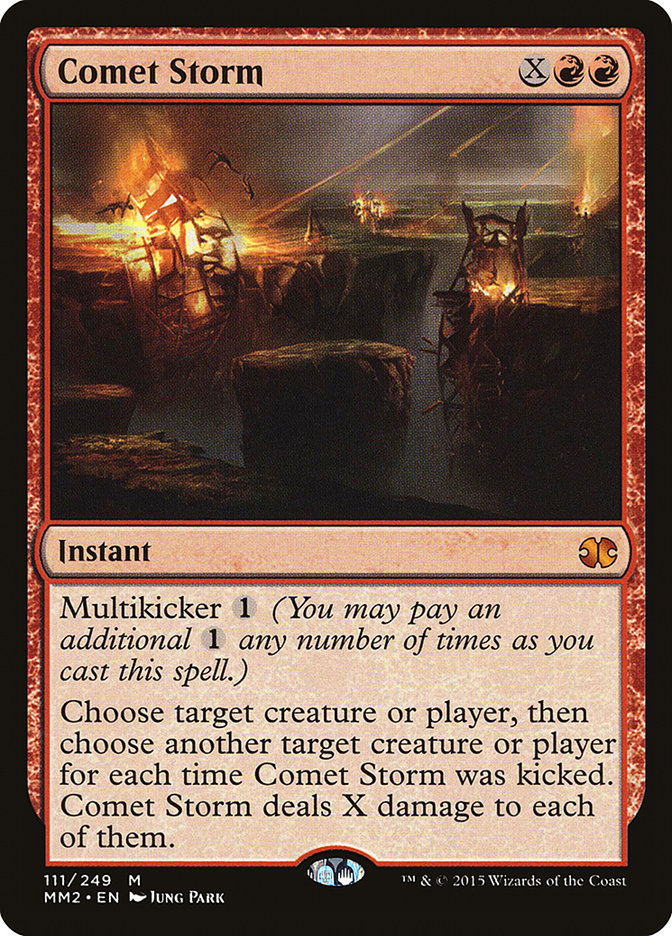 Raise your hand if you played in a MMII draft this weekend.
Okay, now raise your hand if you pulled a Comet Storm as your mythic this weekend, maybe even in a prize pack.
Yeah, no one who's raising their hands was smiling when they cracked that pack.
I know not every card can be good in a typical expert-level expansion, but I feel like Modern Masters is a best-of, and if you're dropping between $9 and $12 for a booster pack, you don't want to see a $2 mythic in the back of the pack. Literally every other mythic rare in the set gives you at least pack parity in terms of cost, but Comet Storm is a big disappointment. It's fine in Draft, but at what cost?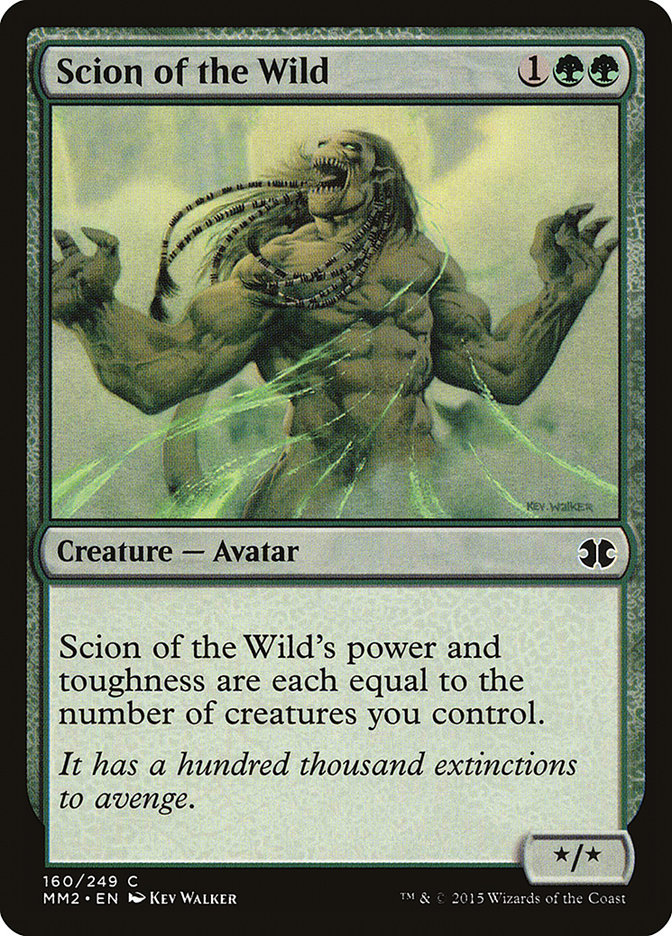 Consider the fact that this used to be a card in Ravnica and that, when it was out, it cost a few dollars due to the uniqueness and straightforward, efficient nature of the card. Now, this rare has become highly dependent, inefficient, and outdated. It's just a common now; a common! Lots of cards made the jump from rare to uncommon in the first Modern Masters, including some now qualified cards in my Cube like Reach of Branches and Feudkiller's Verdict. But to dip to common is quite rare and potentially unprecedented. I'm sure there's someone out there who has a binder full of Scion of the Wild that just had a very bad day.
This set is about drafting, too; two of my favorite mechanics in Magic are featured in the format. First, Spirit and Arcane interaction takes me back to my formative years of Magic, when Kamigawa was still legal. While Wizards has all but stated they'll never return to Kamigawa, I'm glad that the flagship theme from the block survives even in a supplemental product.
Metalcraft is the other one; because it only cares there are three artifacts, you must make careful and calculated decisions, including how likely you are to get blown out if you rely on the mechanic to resolve your turn or combat. Now that it's back, we all get to take another crack at it and return to the Mirrodin of the last few years.
Speaking of metalcraft, one particular card has been absent from every single metalcraft card I ever saw during its tenure in Standard. No, it's not Rusted Relic, though I'm glad to see its shift to common, and it isn't the inherently powerful Indomitable Archangel.
It's this creature.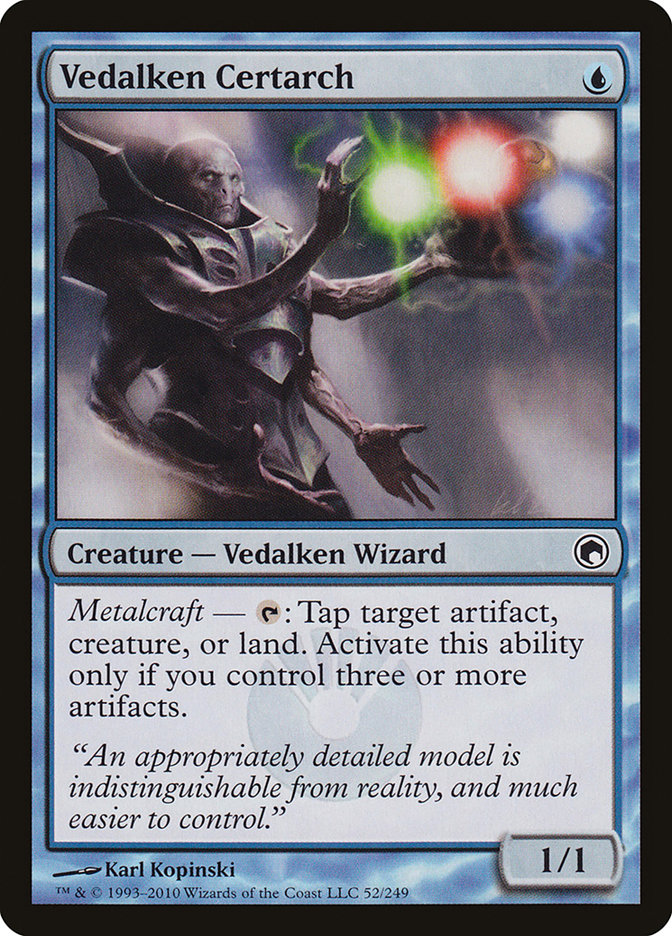 Vedalken Certarch has all the makings of a great Magic card: low mana cost; common creature type (Wizard, in this case); a powerful, manaless activated ability; and a simple but easily attainable deckbuilding goal.
Icy Manipulator, which requires a large initial investment and constant upkeep, hasn't got anything on a one-drop that can actually get aggresive if it needs to.
The ability to do any of these things, especially tapping a land, can help you stabilize, force damage through, or make your opponent's reactive spells inoperable. Again, it's just one mana.
If you want the plan to work, you gotta hit them with their pants around the ankles, and the more copies of Rishadan Port you've got the better.
Although we can keep much of the current Affinity shell intact, we'll need to innovate a bit.
Creatures (24)
Lands (16) Not a bad start; pretty stock-looking with its playsets and Affinity staples like Galvanic Blast and Cranial Plating. Court Homunculus seemed to be a good early drop that didn't break with the artifact theme. I fiddled with it for a little while, and I took an iteration online and ran the gauntlet against experienced Modern decks. The ability to have access to a free Icy Manipulator every turn was great, but I found it was most effective when I was trying to lock my opponent out of the game, which required multiple copies. To do that, I tweaked it to be more explosive and consistent at the same time, slimming efficient but ultimately underwhelming cards like Springleaf Drum and Myr Enforcer.
Creatures (26)
Lands (16) For those of you counting at home, that is a 61-card deck, but I can't figure out where the 61st card is. Ranger of Eos, in practice, was exceptional, getting out on two frequently enough with a Drum and Mox Opal powering it out. Often I'd get two copies of the Certarch, but I sometimes got a pair of Memnite for easy blockers.
Regardless, this is a fun list, and while I'm not convinced this is the Certarch's best application, I know that the card itself, and potentially some of the other untapped metalcraft cards resurrected in Modern Masters II may spark some innovation in some of the format's most prominent archetypes.
You all are really smart, not just because you read my column, but because you offer invaluable insight into the world of Magic that slips by most of the player base's radar. Thus, I need your help. Where do you find the 61st card in this list? Is Certarch too cute, or does it have real applications? Is there a better, more control-oriented strategy that could better leverage the Certarch's undercosted ability?