I hadn't planned to play in the Star City Games Preliminary Pro Tour Qualifier (PPTQ) this past Saturday. I'm more casual than competitive these days, and while I've been known to drop in for a sanctioned draft, the last Constructed matches credited to my DCI number are from the 2014 Season Four Invitational back in December 2014, which I attended as part of my "Invacational."
The hunger for competitive Magic just isn't there for me right now.
Monday rolled around, though, and I got the itch, so the PPTQ it was. What to play, though? My Constructed collection was still stuck in the Khans Ages, and the prices of most new staples were not exactly to my liking. If I played Standard every week, I wouldn't mind picking up playsets of Deathmist Raptor and Den Protector and the like, but who knows how much use I'd get out of them?
But there was a deck I liked that didn't require too many new cards: Atarka Red.
Creatures (15)
Lands (20)
Spells (25) Good enough for my editor? Good enough for me!
I was all set to run Atarka Red--I already owned playsets of Mana Confluence, Goblin Rabblemaster, and Stoke the Flames--but I ran into a bit of a problem. I couldn't find Atarka's Commands! As that is rather the point of playing Atarka Red, I looked around some more and found Drew Iafrate's Mono-Red list from #SCGDFW. Fast, cheap, made the Top 8 of an Open? That'll do. I shamelessly copied Drew's list, so he gets the glory.
Creatures (18)
Lands (21) " I'm shameless... "
You can see the card-for-card Roanoke remake here if you're interested.
Naturally I had trouble finding even the three necessary copies of Zurgo Bellstriker, but a timely restock let me get my mitts on them. On Friday night I settled all the details: which sleeves to run (Kittens!), which book to take with me for between-round reading (cosmic irony was involved here), which necktie to wear (a gold silk-and-wool number), and so on. You know, everything except how to play my deck.
On Saturday I arrived at the Star City Game Center fashionably not-late, $30 and pre-printed decklist in hand, and the tournament was on. A near-full five-rounder, 31 players, all looking for that spot in a Regional PTQ and an Invitational.
I'll put the first three rounds on fast-forward:
Round 1: Naya Dragons. Win first game, lose second, win third. 1-0.
Round 2: Mardu Dragons. Win first game, lose second, win third. 2-0.
Round 3: Mardu Dragons. Win first game, lose second, win third. 3-0.
Three winnable matchups, three wins. I can't give myself much credit; any decent player would've been able to do the same, and probably more easily than I did. Nonetheless, I had a perfect record with two Swiss rounds to go. Time for a nice, easy double-draw in, right?
Eh-heh-heh, nope.
The other 3-0 table drew, but my Round 4 opponent wanted to play for seed, which was his prerogative. We shuffled up and presented our decks, whereupon a judge swooped in for the deck-check. After a bit of small talk, I pulled out my book, Vladimir Nabokov's Invitation to a Beheading, but the judge returned before I'd cleared a page and told me, "You presented a 59-card deck and a sixteen-card sideboard."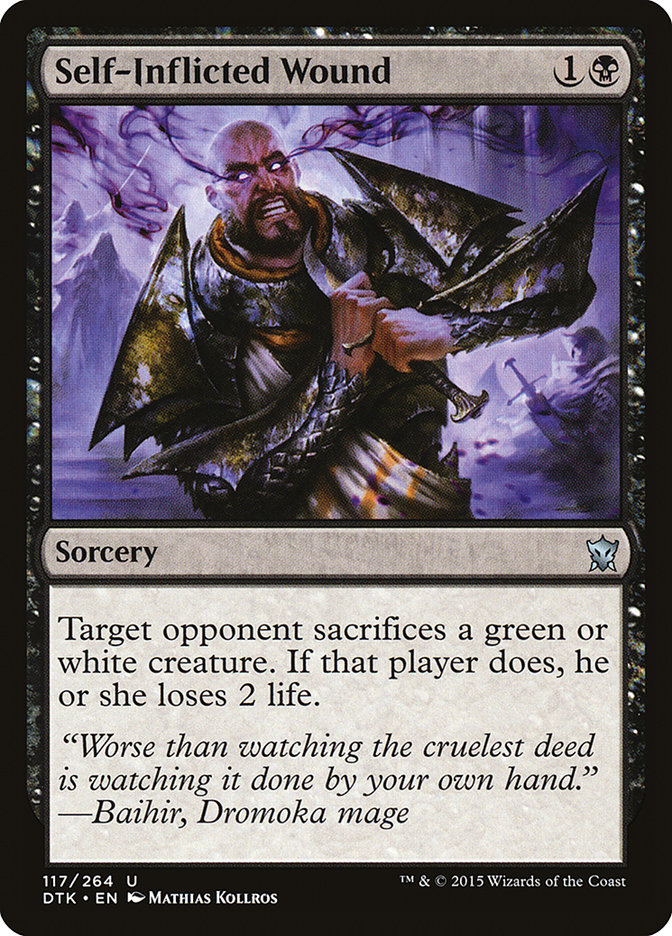 Even when you think you're going to intentionally draw, deck-check yourself before you wreck yourself!
After taking my game loss and moving my Hall of Triumph back into the maindeck, I promptly dropped a game to Abzan Megamorph Control after a few too many lands on each side, his Courser of Kruphix making the difference. 3-1. Potential for ick. But I'd done it to myself and there wasn't any reason to take it out on anyone else, and besides, were I to lose the next round and miss Top 8, I wouldn't have deserved it anyway, not with my lack of preparation.
With a good chunk of time left in the round, my opponent was off to grab food and he let me ride along. We went to Cook Out, a regional chain that's an SCG lunch-break favorite. I ordered my usual, a plain grilled chicken sandwich with six chicken nuggets for the side. I was waiting for my food, looking out the window, when I noticed the woman at the trash can outside. I'd seen her on the way in and hadn't paid much attention, but she was still there after I ordered and I figured it out.
And then I got sad and more than a little pissed off, because nobody should have to dig through the trash to eat.
My food came. I slipped the sandwich in a hoodie pocket and took the six chicken nuggets in their Styrofoam container outside. "This is for you," I told her. She took it, thanked me, blessed me.
On the ride back to SCG I had a lot of thoughts in my head, few of them related to Magic.
But back I went, where I found myself in first place among the 3-1 players due to my tiebreakers. After a safe intentional draw, I played a fun match with a gentleman who'd been disappointed by his last-round opponent's no-show. After that enjoyable practice, I saw the final Swiss standings and my name in sixth.
Me in any Top 8 feels totally wrong unless it's a draft, but I'll take it.
I prepped for my quarterfinals by admiring my new Invitational Qualifier playmat, affixing my IQ Top 8 pin to a hoodie string and singing to myself -- or so I thought -- my favorite Australian folk tune, " And the Band Played Waltzing Matilda." I'm not sure why it was in my head then; perhaps because it was Memorial Day weekend in the United States and Australia's rough equivalent is Anzac Day.
Turns out my opponent, and likely everyone around me, could hear my out-of-tune warbling. Whoops. I finished the verse I was on to try to play it off, and then it was business time.
And by business time, I mean "get mauled" time.
Looking over the Top 8 , I was the only nongreen deck pilot, and even I would've splashed it had I been able to find the cards. Most of the decks had Courser of Kruphix maindeck for a lifegaining speed bump or Arashin Clerics in the sideboard for some anti-Lightning Strike nastiness.
My opponent had both.
Creatures (25)
Lands (24)
Spells (11) This could get ugly.
Game 1 wasn't as close as my score sheet might suggest. I got him down to seven life, but at the cost of all my resources, and his creatures snowballed to kill me.
Game 2 was closer, but I still fell short. I got him down to five life with my on-the-play beatdown, but again, I had exhausted most of my resources to do so...and embarrassed myself badly when I tried to Roast an Insect token. (It helps to know what one's cards do!) At any rate, I went to attack with two 1/1 Goblin tokens on his empty board when he went for Standard's favorite gamble, Collected Company. "I've whiffed this tournament," he offered helpfully.
This time, he did not whiff.
Meet the Twins: Well and Played.
I burst out laughing and even high-fived him as he went to eleven life and wrecked my battlefield. Two perfect sideboard cards, both in the top six. The odds weren't great, but he hit, so what can you do but laugh?
Let him think he has all the time in the world, that's what. Beneath the bubbly joviality I was calculating how I possibly could win with no cards in hand. The only chance: get some burn spells in-hand, stat. While he added creatures to his board and began his rather conservative march to victory, I drew a Stoke the Flames and a Lightning Strike to go with my five Mountains. A seemingly inconsequential fetchland activation put him down to ten life, but it also got him within a turn of attacking for lethal.
Nunc aut nunquam. Now or never.
I fired off the Stoke the Flames, dropping him to six life, and revealed the Lightning Strike in my hand. The sweat was on. I needed exactly another Lightning Strike to pull off the win.
Off the top...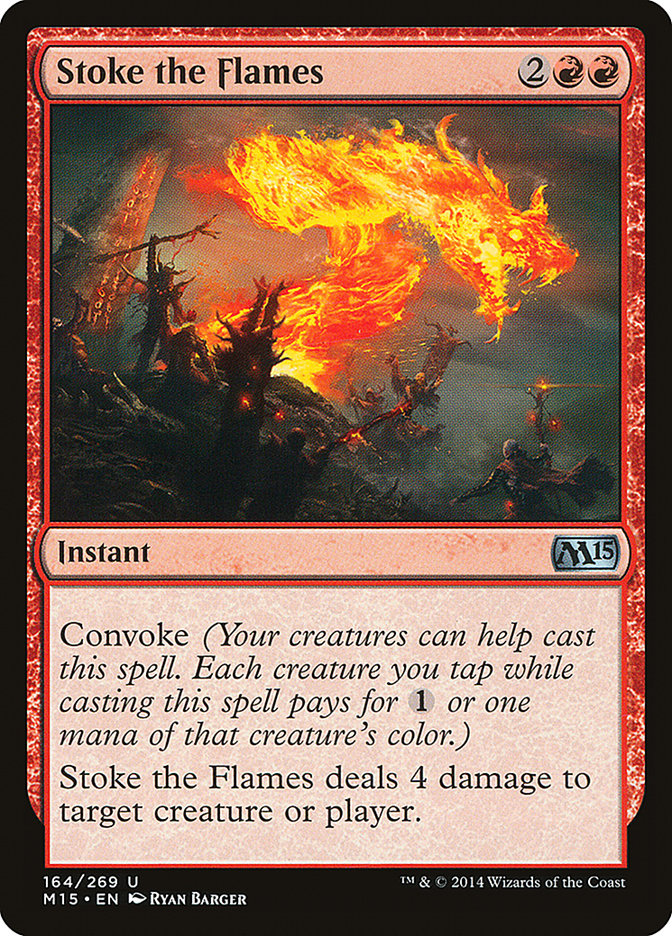 However many people have topdecked Stoke the Flames and immediately said "Noooooo," it can't be too many.
One mana short. Nothing to do but extend the hand.
I left the Star City Game Center with two more Open Points than I had before, a bit of IQ swag, and the promise of a check for $50. But when I got home I wasn't thinking much about any of that.
I was thinking about a woman and a trash can and her hunger.
I had a long weekend to do some research and thinking. On Memorial Day I sent an e-mail to Pete Hoefling, SCG President, asking to donate my prize money to Feeding America Southwest Virginia, one of the charities supported by SCG's Project Shining Star.
If SCG can't cut the check directly, I'll do it myself.
No, $50 isn't world-changing money. It won't make or break my budget. On the other hand, small donations add up, and even $50 translates into hundreds of meals.
Hundreds of people not going hungry for a night because I did well in a Magic tournament?
That'll satisfy me.