The past year-and-a-half or so since I've come back to playing Magic regularly and attending the StarCityGames Invitationals, I've focused nearly exclusively on my Standard and Legacy game. After all, the Open Series weekends were Standard on Saturday and Legacy on Sunday, and each of the Invitationals were equal parts Standard and Legacy. For me lately there hasn't been any need to keep a pulse on the Modern format.
Next weekend at the Season Two Invitational will mark the first time that Modern will play a big role in one of SCG's flagship tournaments. The weekend after that, of course, is Grand Prix Charlotte. The importance of Modern is at its yearly peak right now, and I'm been burying myself in decklists and testing, cramming to prepare for the upcoming big events.
Without any recent Modern Grand Prix to draw metagame analysis from, we're left with SCG Premier IQ results and Magic Online Daily Event results to keep track of the trends in the format. I'll mainly be using the top finishing decks from the Premier IQ to examine as a basis for what we can reasonably expect to face during the upcoming weekends of #SCGINVI and #GPCharlotte.
Insects, Apes, and Lhurgoyfs
Creatures (14)
Lands (17)
Spells (29) Hooting Mandrills is great. I had a suspicion that Big Hoots was a playable Constructed Magic card. When compared side-by-side to Tasigur, the Golden Fang, it may look like Hooting Mandrills is just plain weaker, but I disagree. Green is a great color to be in as you get Tarmogoyf too, and the trample on Hooting Mandrills really matters when you're playing a deck like Temur Delver that tends to win games by inches in close races.
Curiosity is an interesting choice, and isn't good enough with just Delver of Secrets, Tarmogoyf, and high hopes of connecting. What pushes Curiosity barely into the realm of playability are two small things: Hooting Mandrills' trample and Disrupting Shoal pitching it when unneeded. I can see Curiosity landing on a Hoots and getting in for one uncontested hit, then it being very hard to muster a defense for the trampler afterwards.
SImilar to how Force of Will excuses the addition of some loose blue cards in Legacy, Disrupting Shoal allows Curiosity to be more relevant at more stages of the game, and not just "win more." Even on a Tarmogoyf, it will force an early chump block when your opponent otherwise wouldn't want to. I can see many players immediately dumping Curiosity from the list in favor of a staple of some sort (like Vendilion Clique perhaps), but I recommend playing the decklist as is for a while before making changes.
The New Face Of Combo
Creatures (7)
Lands (27)
Spells (26) Creatures (11)
Lands (22)
Spells (27) Amulet Bloom is an abomination. It's a deck that has no right existing. It's not even like playing Magic at all. It's one person figuring out a puzzle with a bunch of pieces that have no business fitting, but somehow do.
That said, Amulet Bloom is very good. It's tough to play against and has very explosive draws that begin as early as turn 2. It's a deck that rewards the pilot knowing all of its intricacies. It's a deck I fear because I know that whatever I bring, I won't be able to beat their best draws.
It's a deck that is beatable, however. Fulminator Mage and Ghost Quarter are picking up in sideboard numbers and rip apart the bounceland manabase of Amulet Bloom. Its opening hands look strange, and piecing together everything sometimes just doesn't happen. Amulet of Vigor is the best thing ever as the first copy, is borderline overkill at the second, and the third is a stone blank.
Some people love Amulet Bloom for its eclectic nature. When the deck is laid out this is what I see: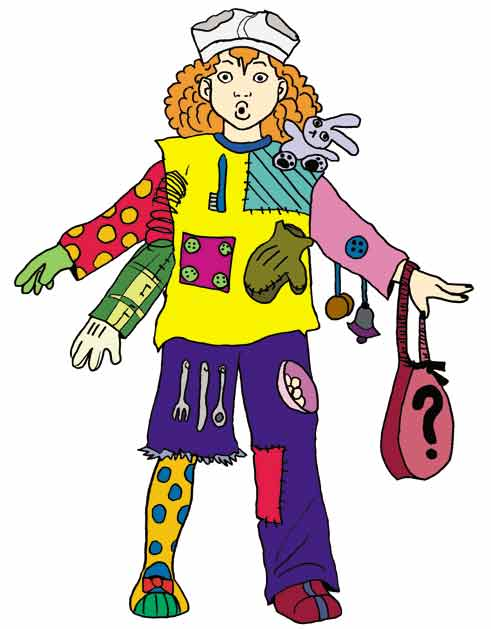 As for Splinter Twin, it continues to exist as the premier combo deck to play/beat and continuously adapts to keep people guessing. The latest flavor is Grixis, playing black for Tasigur, Terminate, and Kolaghan's Command. Kolaghan's Command is showing up in a variety of decks, and while it isn't great at any particular one thing, it does enough things decently to see Modern play.
I like Grixis Twin more than its splashing predecessor Temur Twin. Tasigur does the work that Tarmogoyf does, and black's support cards of Terminate and Kolaghan's Command are better than the other gains from green like Huntmaster of the Fells, in addition to better artifact removal in Ancient Grudge. The fact that Kolaghan's Command just so happens to destroy artifacts like Spellskite or Vedalken Shackles as a maindeck card is just absurd to me.
Love For The CoCo
Creatures (25)
Lands (23) Creatures (28)
Lands (23)
Spells (10) To me, Collected Company has three attributes going for it:
It's an instant that gives creature decks things to do during the opponent's turn.
It's a card that gets better over time and is better when the card pool is deep.
It has a fun, slot machine-esque feel to it.
Decks are popping up using Collected Company for value or as a means to better piece together a creature-based combo like with Viscera Seer, Kitchen Finks, Murderous Redcap, Melira, Sylvok Outcast, and Anafenza, the Kin-Tree Spirit.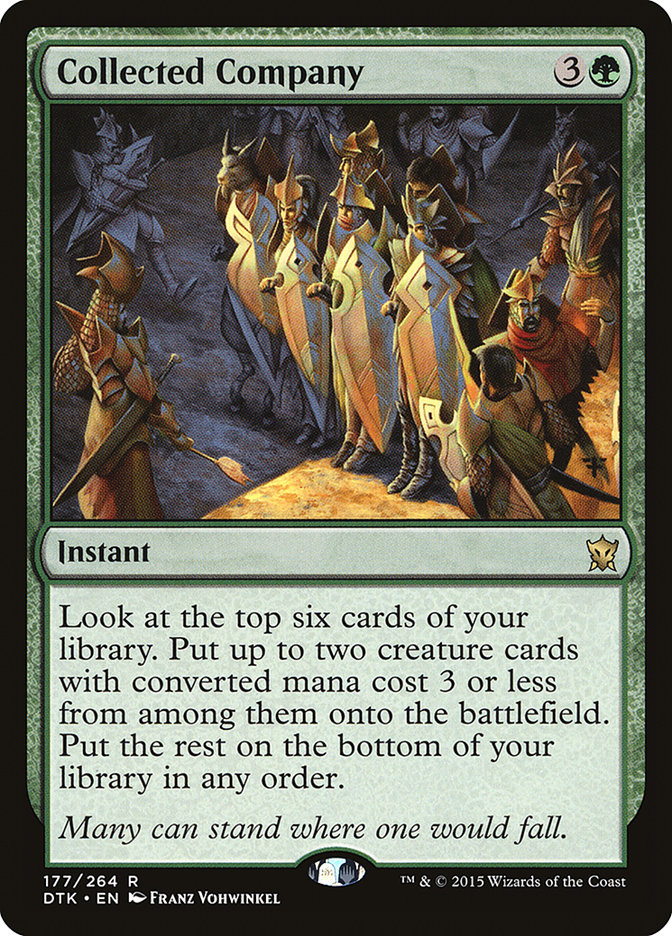 Collected Company pushes both the power level, and gives resiliency to the creature decks in Modern. The design restrictions are needing a critical mass of creatures to ensure that you often hit two creatures from Collected Company, and a deck that wants to get up to four mana, meaning that creature-heavy archetypes like Zoo might have trouble successfully incorporating CoCo.
I personally am having trouble getting on board with Collected Company. The results are wild. The ceiling is high with immense blowout potential, while the floor is a miserable rock bottom of whiffing entirely. Another thing that I found is that I didn't know when the appropriate time to cast Collected Company was, whether main phase or during the opponent's turn. Sometimes you want to get some exalted creatures into play before an attack or to get under a counterspell. Other times you want to leave up the most options until the last moment. The tough times were when there wasn't a clear cut choice, and it came down to remembering the cards in my deck that I could hit. The process of trying to weigh the advantages of this entering the battlefield versus that entering the battlefield later felt like too much effort to try to make a marginally better play.
Overall, too random for me, but I understand the appeal of pulling that one-armed bandit.
The Fair Good Stuff
Creatures (14)
Planeswalkers (3)
Lands (25)
Spells (18) Creatures (13)
Planeswalkers (3)
Lands (24)
Spells (20) Both Jund and Abzan are iterations of B/G "Rock"-style decks that plan on disrupting the opponent enough to where their generically good cards like Tarmogoyf and Liliana of the Veil do the work that their huge price tags suggest they ought to do. These decks tend to have reasonable matchups across the board and are often the preferred archetypes for seasoned players given that there aren't many uncontrollable matchups and the games tend to have a lot of interaction in them.
I've never liked these kinds of decks. Sure, they're good at letting you play Magic, but there is rarely an edge to press with them, other than leveraging player skill. 6-4 or 7-3 in a ten-round tournament isn't my goal. My goal is to have a deck capable of winning a top 8. This may mean I also have a deck that will sometimes not make it through the early rounds. Sometimes there's a fine line between 0-4 and winning the tournament.
Hey, no gamble, no future.
Seriously though, Jund and Abzan are good at fighting most things, namely the Delver decks popping up. The Splinter Twin decks are looking more and more "normal" these days, either playing blue creatures like Snapcaster Mage and Vendilion Clique, or another color for Tasigur, the Golden Fang or Tarmogoyf. What these B/G Rock decks do is be a creature deck that is slightly over-the-top of the opposing deck, which is the sweet spot to be.
Over The Top Metagaming
Creatures (5)
Planeswalkers (6)
Lands (20) This is my pick for the most well-positioned deck that is due for a comeback. What's ironic is how I once laughed at Tron because of how it'd roll over to Modern Infect.
G/R Tron is a sledgehammer that will never barely squeak out a game. Your cards are way more powerful than theirs, and you win most games with the opponent having zero permanents, or very close to it. I find it therapeutic to play Tron from time-to-time. You feel so powerful and your games are rarely decided by amassing a bunch of razor-thin value plays, the ones that can give you headaches trying to figure out.
Why is G/R Tron good now?
Tron historically has been poor against combo decks like Splinter Twin, Scapeshift, and Infect. Scapeshift is all but nonexistent, and Splinter Twin and Infect are having a tough time fighting against the Delver decks and the B/G Rock variants.
G/R Tron is very good against the fair decks. It looks like fairness is the name of the game for Modern nowadays with popularity for Delver, Jund, Abzan, and Collected Company decks. I expect there to pop up some control decks that aim to prey on combo and small creature decks as well, like Grixis and Jeskai Control, but also decks that have a hard time dealing with the inevitability of Eye of Ugin for Emrakul, the Aeons Torn.
Ugin, the Spirit Dragon is a reaaaal nice one. I originally didn't like Ugin very much, thinking that it was significantly worse than Karn Liberated. Needing another land in addition to one of each of the Urza Lands was very off-putting, and the fact that it clashed with Oblivion Stone as sweeper and an eight-drop (you often want to cast O-Stone for three, then immediately pop it for five) made the deck very top-heavy.
The truth is that the turn-3 Tron is a dream draw, and more often than not you'll need to jump through at least one hoop to assemble the team, making turn 4 a more common reality. Karn Liberated can sometimes be too slow on turn 4, especially against decks that flood the board with creatures. Ugin, on the other hand, completely turns the corner in your favor with a -X for usually three, leaving Ugin at four loyalty, just enough to survive a Lightning Bolt.
G/R Tron is what I'll be working on for the upcoming weeks. The archetype hasn't been tier one in years, and it was never ever really considered so. With Ugin now, it's more powerful than ever before, and while it does have its faults and folds to decks that want to beat it, those decks are at an all-time low in terms of positioning and numbers.
Everything is a nail, and Ugin is the hammer. If there's ever a time to play Tron, it's now. And I'm not just saying this to get people to play it so I can beat them with Infect. I promise!