Fact Or Fiction: You'd Have Taken The Foil Goyf, Too



CEDitors Note: Hello everyone and welcome to another edition of Fact or Fiction! In this column, two Select writers will answer five questions provided by yours truly on Magic-related topics. At the end, you have the opportunity to vote on who won the head to head battle. This week, we have SCG Syracuse Champion and Stormbreath Dragon enthusiast, Chris VanMeter, doing battle against Season One Open Series Points Champion and disappointed New York Rangers fan, Jim Davis!
1.) Splinter Twin and its many variants is the deck to beat for the Modern portion of the Season Two Invitational.
Chris VanMeter - Fiction: While I think there are many decks that need consideration in Modern, I don't think that Splinter Twin is the deck to beat. There has been a resurgence in B/G/x decks recently, which has put quite a damper on the Splinter Twin decks. Abrupt Decay and the plethora of hand disruption available has slowly started to edge the Splinter Twin decks into a more Grixis Control-style deck needing to have their own discard and value cards like Kolaghan's Command to compete.
Bottom line: B/G/x, and particularly Jund, will be the deck to beat for the Modern portion of the Season Two Invitational.
Jim Davis - Fiction: The key word here is "the." Splinter Twin, in its many forms, is definitely one of the major decks to beat in Modern, but the format is far too wide open to dub any one deck or strategy the "deck to beat."
Modern decks seem to fall into three big camps: Snapcaster Mage decks, Abrupt Decay decks, and hokey single-minded synergy decks. The biggest thing holding Splinter Twin back from being a dominant deck in Modern is that the Abrupt Decay/Tarmogoyf/Thoughtseize decks present a difficult obstacle. The card Abrupt Decay is very frustrating to play against as a Splinter Twin player, and that's before you even get to the rest of their deck.
The only good thing for a Splinter Twin player is knowing that the only decks that can play Abrupt Decay are green and black decks…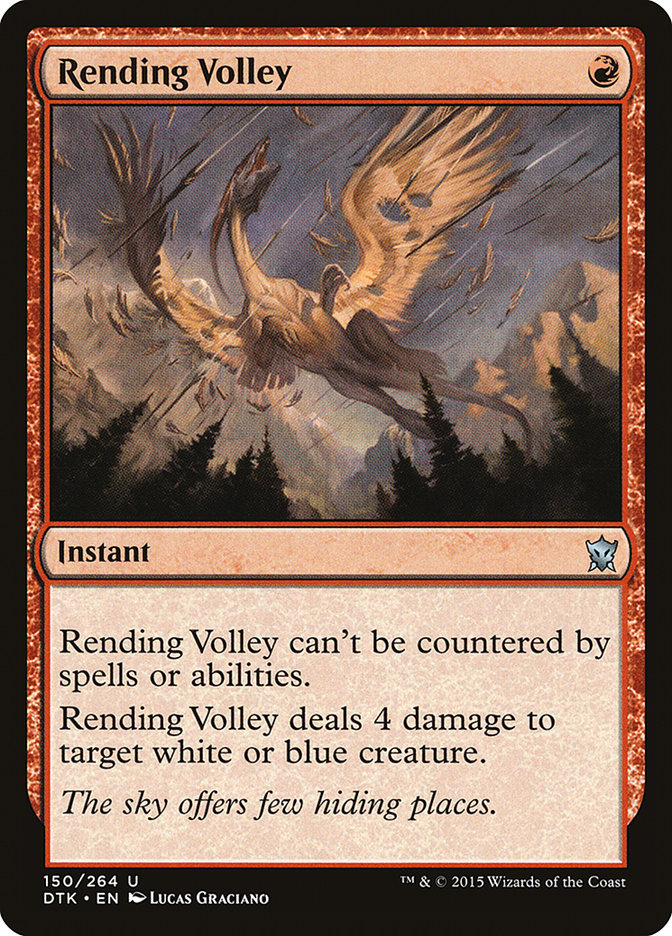 Oh… that's awkward.
Make no mistake, Splinter Twin is very good, but the format has all the tools it needs to keep it from being a dominant force.
2.) Between Abzan, Jund, and B/G, Jund is the best Thoughtseize/Dark Confidant/Abrupt Decay deck in Modern.
Chris VanMeter - Fact: Jund is the best Thoughtseize/Dark Confidant/Abrupt Decay deck in Modern for three reasons: Olivia Voldaren, Kolaghan's Command, and Blood Moon.
In the B/G/X mirrors, Olivia Voldaren will run away with the game, always and forever, and Kolaghan's Command helps with that. Having four relevant modes has helped Kolaghan's Command quickly become one of the best cards in Modern, and Jund gets to take great advantage of that.
Jund is also the only version that gets to play Blood Moon out of its sideboard. It's not so much for the mirror anymore since they can just fetch basics to play around it (although Blood Moon is great against the other B/G/X decks), but it gives you real game against Tron and Amulet Bloom.
Jim Davis - Fact: Jund being the best of the Abrupt Decay decks falls in line with the same reasoning as Splinter Twin not being the deck to beat. The Modern format is extremely wide open at the moment, and the Jund deck is better at just getting people dead than Abzan is. This is extremely important when it's very hard to know exactly what your opponent is going to want to be doing, and you want to give them the least amount of time possible to do it. There's a reason that there are so few control decks in Modern; it's often better to just be proactive.
Abzan is a Jund deck that is very good at beating Jund decks and other fair decks at the expense of its other matchups. Cards like Siege Rhino and Lingering Souls are great at grinding people out but embarrassing against decks that are trying to do broken things.
While Jund is better against the field, if everyone shows up with Jund, you do want to be playing Abzan. However, just because Abzan beats Jund heads up does not mean it is a better deck.
3.) Due to how complicated it is to play, you expect Amulet Bloom to have very little representation at the Season Two Invitational.
Chris VanMeter - Fact: After playing a lot with the Amulet Bloom, I can say that it isn't nearly as complicated as it seems on the surface. Justin Cohen coined it very well in his Pro Tour Fate Reforged recap when he said that the deck isn't hard, it's just weird. To me, the deck is like a giant Rubix Cube, with a finite list of winning lines where finding the correct line is the challenge.
Getting in the reps to be proficient with the deck is important, and with it only recently picking up steam in MTG media, I don't think there is enough time for enough people to be proficient with the deck to make that big of an impact in representation.
Jim Davis - Fact: I started my Modern testing for the Season Two Invitational a few days ago, and the first thing I did was load a stock Amulet Bloom list and give it a spin. Amulet Bloom is a very awkward and very bizarre deck that is not only difficult to play, but also difficult to wrap one's head around because of how odd it is.
These sorts of enigma decks always see much less play that their power level might dictate, especially in formats that people don't get to play all the time. Decks like Amulet Bloom, Eggs, Dredge, Lands in Legacy, and so on require a ton of good practice against the field to truly understand their nuances and quirks. Most people don't have this sort of time or dedication to devote to a deck they aren't even sure is good.
It's not that hard to hand a Standard player Modern Abzan and let them just do their thing. Good creatures are good creatures, and good removal is good removal. But decks like Amulet Bloom don't really play Magic the way most players are familiar with. Unless decks like that are outlandishly good, they are usually underrepresented.
4.) Given its performance over the first half of this 2015, Lands is a tier one deck in Legacy.
Chris VanMeter - Fact: I think that Lands has always been a tier one deck in Legacy, but just under represented. This is mainly due to The Tabernacle at Pendrell Vale being an $800.00 card. As the deck continues to put up good numbers and people continue to invest in getting the expensive cards for it, we continue to see it perform well in events.
Would I ever play it? Nope. Decks like Lands and Miracles are prone to unintentional draws, and I like to try and avoid that. You may be proficient with the deck, but not everyone is proficient at playing against it. I'll stick to my Show and Tell monstrosities.
Jim Davis - Fiction: Speaking of bizarre decks that don't really play normal Magic, Lands is a perfect example. Lands is a powerful but bizarre deck with some excellent matchups against some of the best decks in Legacy, but it's got a bad combo matchup.
Legacy is the format that rewards specialization more than any other, and there are a small number of "Lands players" that often do well with the deck. Deck experience goes a very long way towards shoring up bad matchups, to the point where they can often be overcome. Despite Storm being one of Goblins' worst matchups, in all my years playing in Opens and Invitationals with the deck, I was probably winning about 60% or more of my matches against it.
The issue, however, is not whether or not Lands should be a tier one Legacy deck, but rather if it is. While I think the power level is mostly there, it is not really played often enough to really make enough of a mark to be considered as such. The lack of play is formed from the double trouble of the "Amulet Bloom effect" discussed in the previous question and the fact that a single Tabernacle at Pendrell Vale will set you back almost a grand.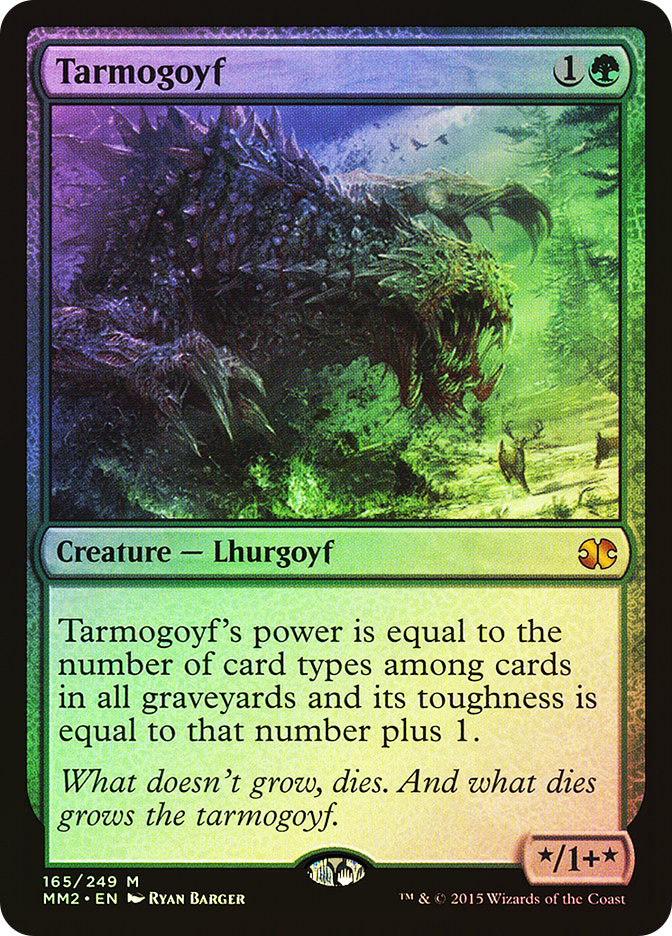 5.) Like Pascal Maynard during the top 8 of GP Las Vegas, you would have selected the foil Tarmogoyf over Burst Lightning.
Chris VanMeter - Fiction-ish: If I am in that exact same situation with time to think about it? No way. To me, winning the GP is worth infinite more than a Foil MM2015 Tarmogoyf. Plus, the art is hideous. Even without the additional stress of the whole Pro Point and Worlds qualification thing, I would still value winning the GP above everything else.
This answer, however, is after stewing on it all day and doing some soul searching, which is something that Pascal Maynard didn't have the luxury of doing. If you were to put me in Pascal's shoes at that exact moment. After playing for that long, through that many players. With the camera over my shoulder and all the lights and people around and only 90 seconds (or however long they had for the pick) to make my decision, I would have asked myself the same question that Pascal posted in his FB response.
"Would I trade $500.00 for a Burst Lightning in my deck?"
Based solely off that perspective? Fact. I would have taken that damn foil Tarmogoyf.
Jim Davis - Fact: Everyone has a price.
Usual procedure for pro-level drafts is to removal the foils and replace them with a random, unduplicated common. This is to make sure things are more normal for the draft itself and likely to prevent issues like this; pro-level drafts are for playing, not for collecting cards. Modern Masters, of course, is a different animal, and probably the only place where something like this could occur. Nobody is rare-drafting a foil Dragonlord Ojutai in a Grand Prix Top 8, as winning is just far more valuable and important, but the extreme value of Modern Masters has allowed this to happen.
I completely understand the other side of the coin here; Magic is not about the money, it's about playing in a competition and trying as hard as you can to win. Grand Prix top 8s are not to be taken lightly, and a Grand Prix victory is a prize that is almost priceless; it can never be taken away from you, and it will persist long after the prize money has been spent.
But I will say it again: Everyone, even the most noble and self-righteous Magic player in the world, who values winning and their own integrity on the Pro Tour above all else, has a price.
What if that foil Tarmogoyf was not a foil Tarmogoyf at all, but rather a NM Tabernacle at Pendrell Vale? Is an $800 card enough? What about a MP Alpha Timetwister? A NM Beta Black Lotus? Is $2000 enough? $10,000? How much is one Burst Lightning really worth to you?
Let's face it: The devil wears Prada.
It's very difficult to quantify the exact value of one pick in a draft. What if Pascal cruised through the top 8 and won the trophy, and then showed everyone the foil Tarmogoyf he drafted. He would be a legend! How much more is that worth than just a normal Grand Prix victory?
Luis Scott-Vargas had no real reason to play his last few rounds of Pro Tour San Diego 2010 other than to dream crush some people on his way to the first 16-0 in Pro Tour history. Was there a real purpose to that? Was being 16-0 any different than 14-0-2 or 14-1-1? Of course not, but it's an awesome story and one of the finer points on his impressive resume'.
It's nice to think Magic is a gentleman's game where we all compete for the love of the sport and nothing more- but it's much more than that. Many of the people upset about Pascal's pick disrupting the integrity of the game would also be more than happy to concede to a friend in the last round of an event (which is, of course, fine) despite the fact that it might knock a more deserving player out of contention. Where's your gentlemanly righteousness now?
Everyone has price, and 10% of the first place prize (almost 50% of the 5th-8th place prize) is enough for me to sacrifice one pick.