I decided to skip Grand Prix Charlotte to prepare for Grand Prix Providence, and while it sucks that I didn't participate in the massive Grand Prix in my favorite format by far, I did have a lot of Standard to focus on. I would begin with Old Faithful: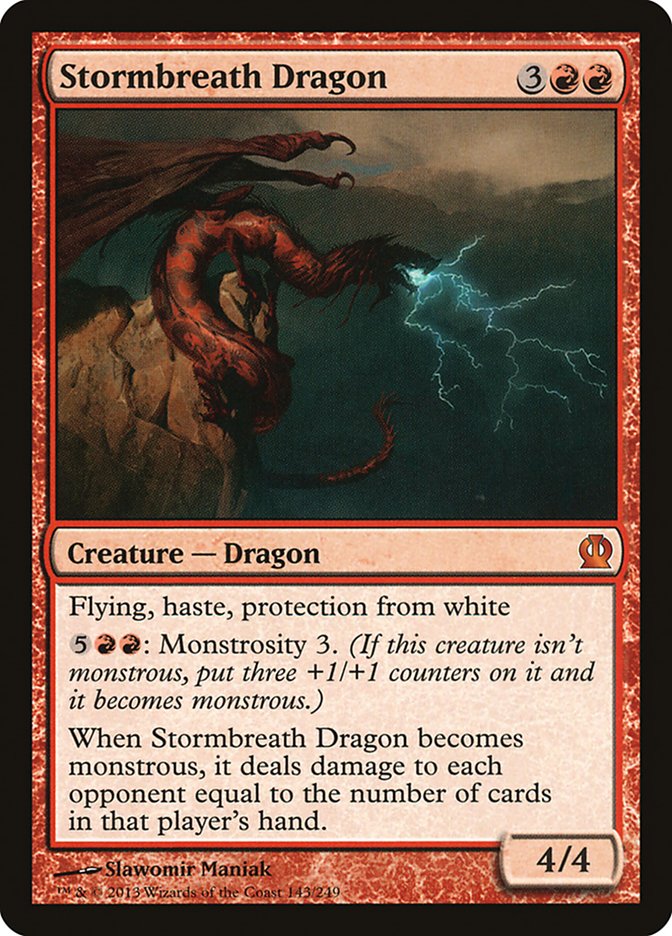 Even though a ninth-place finish at the Standard Premier IQ in Columbus sounds tilting, I wasn't too worried about it since the more important focus was on making this deck better. Tom Ross piloted my 75 in last week's Standard Super League and won it, and having watched as much as possible, there were definitely things to learn from Tom and from how the deck was behaving.
I knew that the sideboard wasn't terribly cooperative. Cards like Seismic Rupture and Barrage of Boulders are very nice against aggressive red decks, but I often found myself forced to take out way too many cards in order to get the things I'd put in my sideboard. It sucks to get your mana accelerants hit with Searing Blood, but sideboarding them out – especially on the draw – can get you killed, especially in the face of an Atarka's Command. Does this mean we should go back to Sylvan Caryatid? Not necessarily, since you lose damage against Esper Dragons, which is another rough matchup. It depends on the weekend, and there is no definitive answer.
It also possible that we should just play fewer Seismic Ruptures, play more Barrage of Boulders, and lean more on our four copies of Roast against Monastery Swiftspears and its like. This makes our accelerants more subject to becoming roadkill, but I'm okay with that if the situation allows for it. This also gives us more sideboard space for Esper Dragons, providing room for things that get under Disdainful Stroke, like Boon Satyr, or even ignore countermagic as a whole a la Mistcutter Hydra. Maybe just more Nissas, Chandras and Sarkhans, or perhaps Whisperwood Elemental to help leverage creature-based resources. All of these are worth considering, but are also for specific spots within a given game against Esper Dragons. I don't know where exactly I'd want to be yet, but this week will tell me.
There's a sort of rock-paper-scissors game going on between the G/R decks. The smaller deck can trump Devotion, Devotion can trump the big version, and the big version can trump the small version. Trying to figure out where you want to be is tough, but who's to say you're limited to just those three architectures?
Den Protector is essentially what Snapcaster Mage was when he was in Standard. It adds a form of redundancy to your entire deck without taking up many spots and helps make you incredibly resilient to Thoughtseize, a card that has plagued Stormbreath Dragon decks since the days of Jund Monsters. Now, instead of having cards that have to be just those cards, you get to play a real engine that can re-buy a spent resource and fight for you as well.
Then there's Deathmist Raptor. While Deathmist Raptor isn't at its best in this deck, it certainly adds more longevity in the games where you don't have Dragons at the ready. It lets you play a real game of Magic in places you couldn't before while also being a great way to use up excess mana in non-Haven of the Spirit Dragon plays. Best of all, you don't need to be playing that many morph cards to make it good. Just being a curve-filler that trades up most of the time is a perfectly fine role for it to take, as is making it the second centerpiece to your strategy. Your flexibility is truly expanded now that this element is introduced, and I really don't see myself playing a green deck that doesn't utilize at least one or the other, if not both, in some fashion.
But is it essential to jam the maximum amount of each in your deck? Absolutely not. In fact, I think it's often a mistake to just proverbially slap duct tape on the numbers and call it a day. Take the time to figure out your numbers. All of them. Not just these two cards. Put your numbers to practice. Not with the TV on, not with millions of people talking to you about how they topdecked their game-winning card, not with distractions. Buckle down and get the job done.
I'm looking to take the deck in a slightly different direction... something more aggressive. More greedy.
Creatures (30)
Lands (23) You aren't going to look at this deck and notice any sort of elegance, but that isn't what we're here for. The goal with this deck is to maximize our ability to push through board stalls while also having a lot of flexibility when picking your spots. You're much more of a falter deck that features your eight Dragons rather than a Dragons deck that features everything else. Blocking against this deck is going to be so difficult for G/R Devotion decks that you'll have a much easier time pushing through damage where you need it.
The problem with the Devotion matchup is that you'll often get brick-walled by a ton of threats that outclass you. In the face of this seeming inevitability, you want to keep tripping up your opponent as much as possible, punishing them for investing large amounts of mana into one single threat. With Become Immense as a Crater's Claws cross-grade, your Den Protector becomes easily unblockable, as well as more flexible when on your Goblin Rabblemaster draws. Hooting Mandrils isn't the best delve creature, but it's the best option available to us. Yes, there is some clashing with your graveyard via Haven of the Spirit Dragon and Den Protector, but the chances of that popping up aren't very high if you're just hitting your land drops.
I wouldn't be surprised if this deck had pretty good matchups against not only Devotion but against various Abzan decks as well, which is what I expect to be in out there in droves this weekend. The effectiveness of this deck will be solely dependent on how many people are tapping out for something big. You're going to have a hard time against red decks and similar low-to-the-ground Dragons decks, but trying to beat everything is not where you want to be in Standard.
There's still a bunch of work to be done, but there's no way I was going to let this new addition to the Dragonkin sneak by!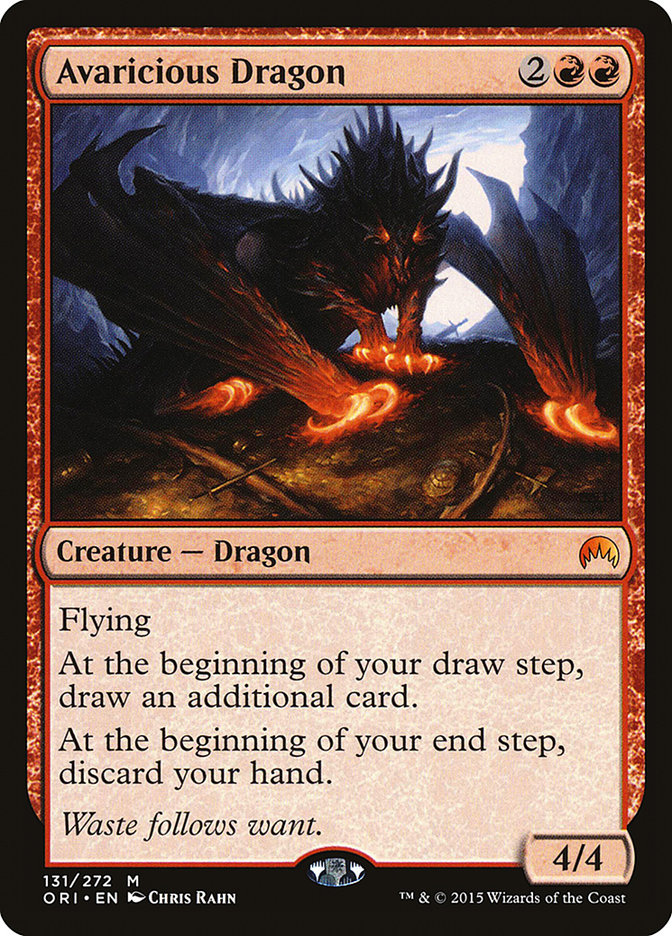 I'm not one to normally get all worked up on a spoiled card, especially when we barely have any context on what the rest of the set is offering us, but this whole curve-topping nonsense is just that. This card not only allows you to (fittingly) get more greedy with your G/R deck, but I think that it's actually the best place for it.
But Lowry, discarding your hand is bad! That's not card advantage!
Since when has card advantage been the name of the game in a major way in Standard? There are plenty of decks that would gladly lose cards if it meant their board presence was way better, and this is the kind of card that G/R Dragons is able to leverage into that sort of position. Your Den Protectors are way more aggressive now, as you can very easily drop them on turn three, potentially softening your opponent's removal for this. Your Haven of the Spirit Dragon will work double time, as it'll either get back a Dragon you discarded, or Avaricious Dragon if they kill it. The worst-case scenario is obviously a thing, but what else are you doing in that spot anyway? If you're going to build your Dragons deck to be more aggressive, then get in there and be aggressive! There will be games where you'll lose everything, and there will be games where you get to untap and push a huge advantage. This is not the kind of card for those trying to cover all of their bases, and I don't think that's a good way of building red Dragon decks anyway.
Building your deck in a way that mitigates the downside of Avaricious Dragon is priority number one, and we've already had the tools. Haven of the Spirit Dragon and Den Protector are obvious, but maybe delve spells like Hooting Mandrils are worth considering as well. Maybe Whisperwood Elemental's stock goes up because you can manifest it, then turn it face up in your upkeep to draw additional cards. Flamewake Phoenix works well with it, and pushing your Dragons deck more toward red, or just being more aggressive with your manabase, is worth considering. All of these were options that were readily available for our decks to try, but we didn't have any real incentive to do it over what we were already doing. Avaricious Dragon is going to put a lot of builders to the test, as there's a lot more going on with this card than what's seen on the surface.