Cryptic Command is a really fun Magic card...
Grand Prix Charlotte was the world's first Modern Grand Prix with Dragons of Tarkir legal.
Dragons of Tarkir has tons of Modern playables, but the Modern format is still evolving in the wake of Treasure Cruise, Dig Through Time, and Birthing Pod being banned at the same time Fate Reforged became legal. Besides, while PT Fate Reforged was technically the first Pro Tour where Tasigur, the Golden Fang and Gurmag Angler were legal, an awful lot of people did not yet understand how powerful these cards are in Modern.
Going into this past weekend's Grand Prix, Grixis was always my most likely candidate. I love a Grixis deck more than a little, but lately haven't had as many opportunities to play the color combination as I used to. This time, though, this time Grixis was actually the deck to beat!
While Grixis Delver was actually the most widely-played archetype, I, like a number of people including Gerard Fabiano and Matt Costa, was down on Delver of Secrets itself. It's not even the Lightning Bolts that seemed to be everywhere. It seemed like Electrolyze, Kolaghan's Command, and Snapcaster Mage made it easy to two-for-one a Delver, and Terminates, Abrupt Decays, and Go for the Throats were everywhere too.
I also didn't want to play Gitaxian Probe. I expected Burn to be one of the most-played decks, but I also expected quite a number of other decks to be popular where I'd want to sideboard out the Probes because of the life loss, such as Affinity, Zoo, and even many Grixis Delver decks.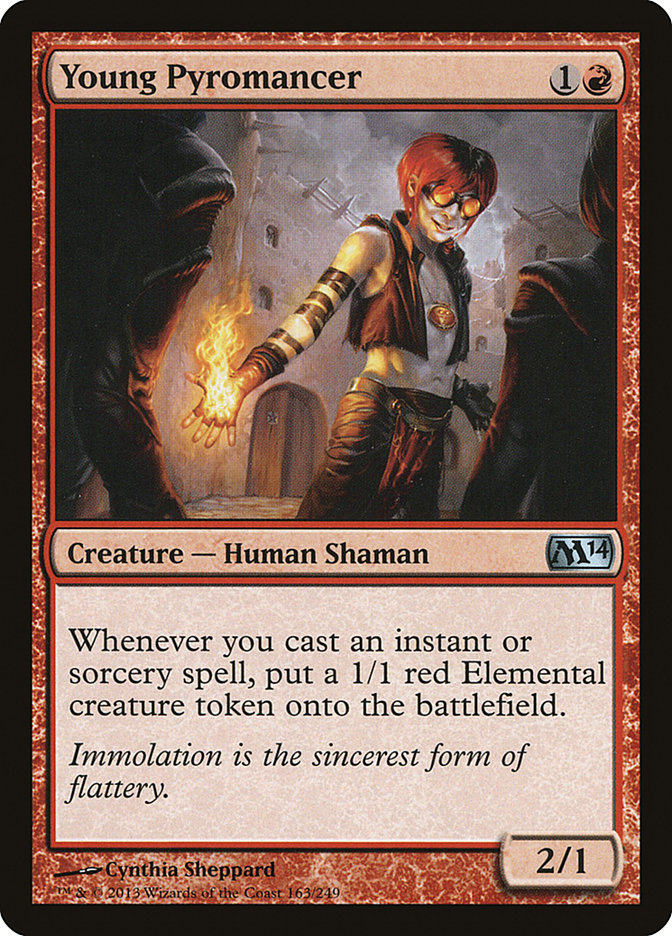 Young Pyromancer is an excellent card, but I'm less of a fan of it at the moment than previously. It's vulnerable to many of the same removal spells as Delver of Secrets, sure, but it's also just that the format features a lot of decks that go over the top of Young Pyromancer. It's not that it's "bad." It's just that Tasigur and Angler are so good that the bar is higher. Besides, if you cut Gitaxian Probe, Pyromancer loses some power.
A lot of my time thinking about this format, for this weekend, was spent thinking about G/R Tron and Amulet Bloom. They operate on such a profoundly different axis than most other decks, and finding enough of the right ways to interact with them can be challenging. I was excited at the prospect of Kolaghan's Command providing meaningful disruption, as well as sideboarding Fulminator Mages - I expected most people to be very prepared for Blood Moon, given the last few weeks.
Another card that really stood out to me as a way to gain some percentage in those match-ups was Cryptic Command.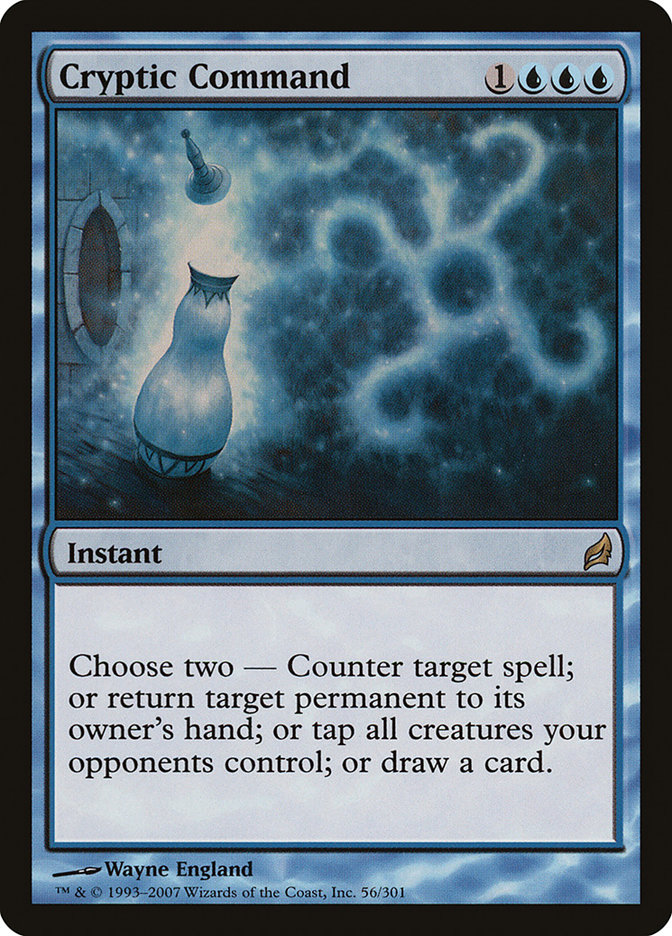 Cryptic Command is a generally strong Magic card in its own right, but the recent overwhelming popularity of combo decks have made me more interested in it as the perfect way to top off a control deck that already has a lot of other disruption for combo decks. It also can be an excellent tempo play alongside Tasigur or Gurmag Angler, tapping creatures or bouncing a permanent. I wasn't sure what deck I was going to play in Charlotte, but I knew I wanted to play Cryptic Command.
Last week, I talked about a variety of Sultai and Grixis decks, ending my article with the following list:
Creatures (10)
Lands (22) The list I played in Charlotte closely resembled this list, with just a few tweaks. To begin with, I removed the last two Young Pyromancers, as discussed above, replacing them with another Angler and a third Cryptic Command. I also decided to go with just two Kolaghan's Commands, picking up a fourth Cryptic instead (although with even more testing, it's possible that three is the right number, it just depends on what you expect to face).
A little testing led to some tweaks to the interaction. I found that most of the good counterspells were all about the same power, but drawing a second one was usually much less good than the first. As a result, I decided to go with a very diverse mix, replacing a Mana Leak with a Dispel and a Shadow of Doubt with a Remand.
It's funny to a lot of people that I replaced a Shadow of Doubt with a Remand, as most other people have two Remands and zero Shadow of Doubt. From their perspective, the replacement goes the other way.
I like Shadow of Doubt when you are on the Fulminator Mage plan against land-based decks. I also like Shadow of Doubt in the world where people play Chord of Calling. I also have always just loved the card and put one in a lot of decks. I tried two here, but the first one adds more than the second. Once you're just Shadow of Doubt Guy people can play around it more readily. However, if you have just one?
It's not that people know you have one. It's that when you hit them with the first one, they are usually surprised, but then try to play around it. Some decks, like G/R Tron and Amulet Bloom, can't really do much about it. However, a lot of people will change the way they search up dual lands, sometimes costing themselves points in other places.
For instance, in round 15, Patrick Dickmann did not want to get hit with
Shadow of Doubt
again so on turn one he fetched up a
Breeding Pool
out of his Temur Twin deck rather than hold up
Dispel
. If I Shadow of Doubted him, it would be devastating. However, I had already used a fetchland to
Serum Visions
, so on my next turn I was able to play another fetchland and a
Thought Scour
, powering out a turn-two
Gurmag Angler
.
"That's why Shadow of Doubt is good. Tilt equity."
This brought me to the following list, which I piloted in the GP:
Creatures (9)
Lands (21) You'll notice this list also features a fourth Terminate and just 21 lands. 21 lands would have been enough, too, except that having multiple Creeping Tar Pits makes it worse when you have to keep one-land hands with it and multiple cantrips. Throughout the tournament, I found myself short on mana enough times to have me convinced to go back to 22.
Bloodstained Mire was originally in the list to find basic Swamp, a crucial basic when Blood Moon is in play. However, talking with Wafo-Tapa, he argued that Scalding Tarn being able to find Island is just more important because of how often you need to find a basic Island to avoid taking damage.
Blood Crypt wasn't a great fit, as it doesn't really do what you want for Terminate or Kolaghan's Command. Instead, you typically want games to begin with Watery Grave and Steam Vents, though typically you can also just fetch a basic on turns two and three as long as you drew or fetched at least one dual.
Now, that said, Blood Crypt is an option as a 22nd land, depending on what changes we make to the sideboard. I think 21 lands would have been enough if not for the Creeping Tar Pits and Sulfur Falls, but keeping a one-lander that enters the battlefield tapped and includes two cantrips is a lot dicier than it looks. I was very happy with the Tar Pits and the Sulfur Falls as powerful pain-free duals, but it's also nice that they dodge Choke.
Other options for the 22nd land include Ghost Quarter, Darkslick Shores, and Bloodstained Mire. The main reason to use Blood Crypt after all, if we decided to, is if we wanted to sideboard Anger of the Gods and Damnation. Without it, it's too hard to reliably fetch up lands that let us cast both.
The one Damnation I played was great, even winning me a game in which I discarded down to seven twice on the play against Elves. My only two losses in the tournament were against Collected Company decks and I was 0-11 in testing against various CoCo decks. I think Damnation, alongside cheap removal and Dispels, might actually be a realistic plan to try to catch up against such decks.
Anger of the Gods is a bit more of a question mark. I would much rather draw one Anger and one Damnation than two Damnations, and it would be very nice against Voice of Resurgence and Kitchen Finks. I want to try cutting the Izzet Staticaster, Batterskull, and Keranos, God of Storms for a Damnation and two Anger of the Gods. If that doesn't prove worth it, there are tons of other ways to spend those sideboard slots, and we can upgrade our Blood Crypt into something sweet instead.
Playing at least one resilient threat in control deck sideboards isn't unusual, but after twelve rounds in Charlotte, I don't think this build of Grixis needs or wants it. Keranos was pretty close to a blank, as I sideboarded it in just once and I was never remotely close to running out of victory conditions. Four Snapcaster Mages, five delve creatures, two Tar Pits, plus plenty of burn and Commands ensured that closing was never much of a problem. We've even got a playset of Fulminator Mages in the sideboard!
I was cool on playing Batterskull before the tournament, but rationalized it as another weapon against Burn, which I expected to be one of the most popular decks. Amusingly, during game two of my second Burn match, I realized that Batterskull wasn't playable in my deck against Burn. Without Inquisition of Kozilek, it was hard to tap five mana and not die immediately. Besides, every burn opponent sideboarded in Destructive Revelry, anticipating Dragon's Claws and Spellskite.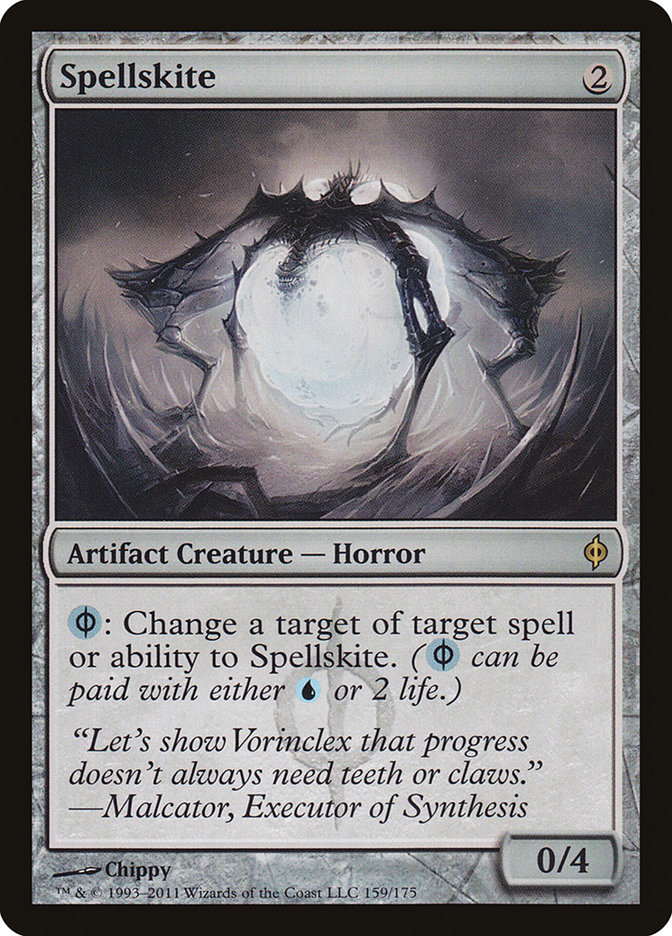 It's not that I didn't face "good" Spellskite matchups. I actually played against three Burn decks and three Twin decks. However, every single one of them had artifact kill against me. A fourth Dispel would have been much better in all those matches (though admittedly, less impressive against G/W Hexproof).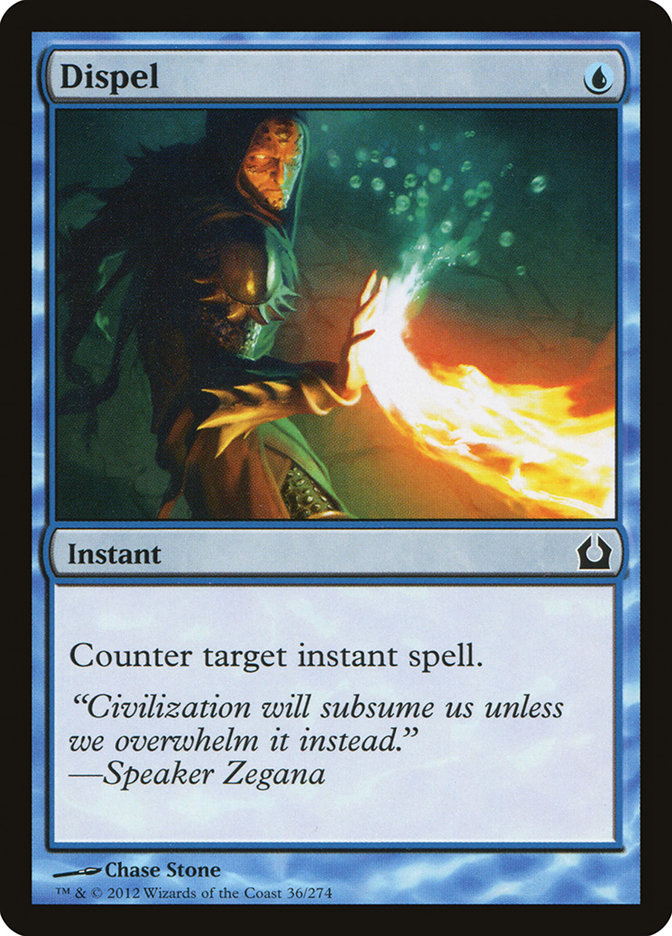 Dispel was A+ and should be maxed out in the 75, whether 1+3 or 2+2. Michael Flores had been playing a lot of Grixis Delver recently, and he said the Dispel plan was better than Dragon's Claws against Burn now that all the Burn decks assume you have Claws (and he was right).
I was very happy with the five fatties. I know a lot of people prefer less to make room for stuff like Vendillion Clique, Keranos, or Batterskull, but I just found the black delve creatures to be so much better. Vendilion Clique is just so vulnerable, and the five-drops are so expensive. We're not always casting Tasigur on turn two, but it's really nice to be able to play Tasigur on turn four and still hold up two Counterspells.
Why the mixture? Tasigur being cheaper is nice at times, and we do use the card draw ability from time to time. However, Angler isn't a legend (which is super important, as we often need two creatures in play) and 5/5s win fights against Tarmogoyf more often, not to mention clocking people a turn earlier.
As good as they are, there is nothing wrong with sideboarding some out, particularly against decks where I wanted to sideboard in the Fulminator Mages. In fact, against Jund I actually sideboarded all five out, combating a plethora of Terminates, Maelstrom Pulses, Murderous Cuts, and Lilianas. I wasn't worried about running out of kill cards due to the Fulminators and five-drops, but even if we cut the Batterskull and Keranos from the sideboard, we can just keep the Tasigurs (to draw extra cards with).
What to delve away to Tasigur is not as simple as it may look in this deck. On the one hand, any creatures we leave can be Kolaghan's Commanded. Any sorceries and instants can be Snapcaster Maged. Any land make Tasigur's ability potentially better, granting fewer options for your opponent to choose.
In general, my first priority was to cripple opposing Tarmogoyfs. Beyond that, I would generally bias towards leaving one of as many possible desirable Kolaghan's Command or Snapcaster Mage targets, delving away lands first, unless I was already imagining activating Tasigur.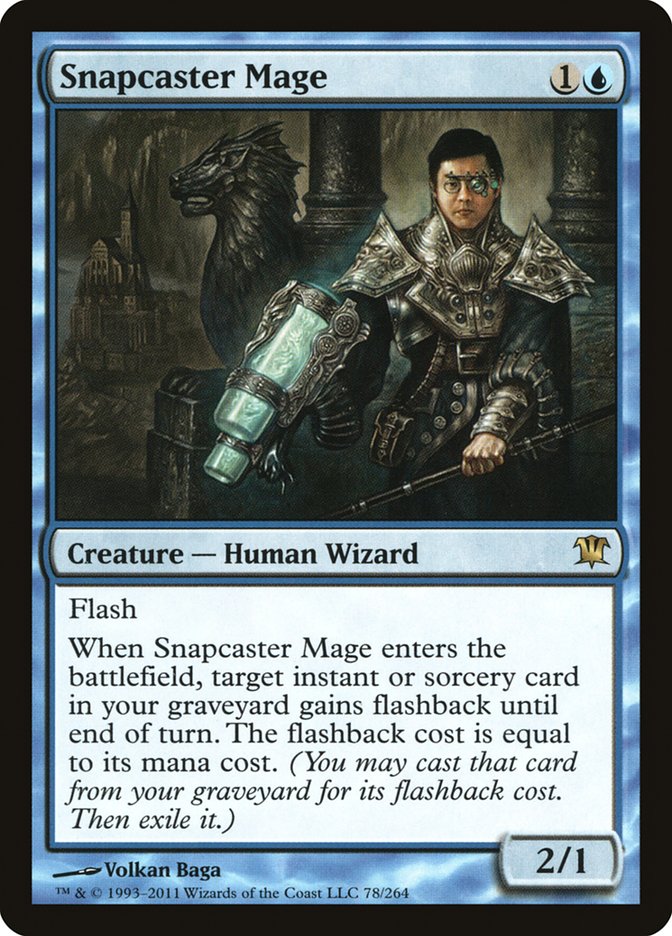 The best card. I would have gladly played ten.
While I started with two Deathmarks, something didn't feel quite right. Without Tribal Zoo putting terrible pressure on us, we can afford to get a little greedier. To this end, Slay was excellent. Most of the matchups with green creatures were very grindy after sideboarding. The extra card really came in handy, plus being an instant was great for killing Raging Ravine. All of my opponents with white creatures also had green creatures, and with so many Terminates, I'm not short on ways to kill creatures.
Shriekmaw looked cute with Kolaghan's Command, but it never really came up that way. That said, I'd still want this slot to be a removal spell, I think.
Go for the Throat and Dismember are both fine options, but I kind of just want a Magma Spray as more one-cost removal against Noble Hierarchs and Goblin Guides plus extra help against Voice of Resurgence and Kitchen Finks. That said, I would have loved to Shriekmaw my opponent's Emrakul that sat in play for eight turns, but it's hard to justify Shriekmaw when they are so Wurmcoil Engine-centric.
Putting a card in your deck to try to kill an Emrakul is a dubious plan, though Cryptic Command is pretty respectable against Emrakul compared to other counterspells. In my match against G/R Tron, I actually Cryptic Commanded something like eight turns in a row, holding off an Emrakul while Snapcaster Mage put in work.
My opponent had a good laugh about the whole thing and said it wasn't the first time. So, I switched it on him and Fulminator Maged him on 3,4,5,7, and 8 as well as used a Kolaghan's Command to destroy his sideboard Crucible of Worlds in addition to retrieving a Fulminator. Remember to be disciplined in what you destroy. Against the G/R Tron player, I was only attacking the two G/R Tron lands besides the one he played naturally on turn one.
Not surprisingly, Fulminator Mage was also quite good against Amulet Bloom. A lot of people try to just snap it off as a Stone Rain, but if it sits in play, it not only pressures them, it threatens to set them back if they try to play a bounceland with an Amulet in play since it can destroy the land before it untaps.
Shadow of Doubt is related in spirit to Fulminator Mage and has many of the same ideas, and I am really unsure of whether it deserves the slot or not. I was initially thinking it should have been another maindeck Dispel, but looking back, I never came close to losing a match where I drew Shadow of Doubt that would have been won by Dispel.
I sideboarded Shadow of Doubt out most of the time (facing Grixis Delver, Jund, 3 Burn, and 3 Twin), keeping it only against G/R Tron, Amulet Bloom, and the two Chord of Calling decks. It was part of a game-one win against G/R Tron where Dispel would have 100% lost. It was also a backbreaking play against Amulet Bloom in a game that would probably have been 65/35 for me if it was Dispel. It didn't really matter much against the CoCo Chord decks, however, it actually helped me in more matchups than just the "real" ones.
As for the Countersquall and Flashfreeze in the sideboard, both were great and one copy seems like the right number for each. I actually won a game against Burn a turn earlier because of the two life from Countersquall when I had nothing left at one life!
I ended up going 13-2 in the GP, finishing ninth on tiebreakers. Both losses were against Collected Company decks, although I think I might have been a favorite against Elves. The Abzan Company deck, however, was a nightmare. I hope Anger of the Gods and more Damnations help, but we've got a ways to go. So far, I am 0-13 between testing and the GP against decks in this vein, and I haven't felt like I was running noticeably below expectation in games.
This puts me at 32 Pro Points (with three empty GP slots), which currently means I need a Top 8 in Vancouver to be a big favorite to get invited to Worlds, a vital step to accomplish my goal of winning a World Championship. I will be in Providence this weekend and Dallas next month. If I can put together five points between the two of them, I'd probably get in with a Top Sixteen, but even a single point would ensure a Top Eight is a near lock.
I had an absolute blast at the Grand Prix, and it wasn't just getting to play with Cryptic Commands again. I met so many awesome people, and so many more I had only met online. The amount of positive energy people brought this weekend was overwhelming and incredible.
In addition to Grixis, I also spent some time working on a 4c Blue deck, that was basically Grixis with green for Tarmogoyf, Abrupt Decay, Feed the Clan, and Ancient Grudge. Here is that list:
Creatures (11)
Lands (22)
Spells (27) The list seemed promising, but it still needs more tuning. There were some big unresolved issues that suggested to me that I really needed to be safer than sorry on this one and stick to Grixis (a decision that I am glad I made, in retrospect).
The biggest issue with this list is the manabase, of course. Wanting to cast Terminate and Abrupt Decay on two means we're going to want to lead with Watery Grave into Stomping Ground. The thing is, we really need all the blue duals so that we can build towards Cryptic Command while casting whatever colored spell is in our hand. We can't possibly get away with three non-blue duals and three non-blue basics, though. This list shaves the Mountain (the only "optional" basic, because of Blood Moon) and Overgrown Tomb, but that, it turn, makes the Steam Vents worse.
The other thing I was finding about this list was how much I preferred Gurmag Angler to Tarmogoyf. Once I realized I wanted to play at least two Anglers in this deck, and not four Tarmogoyfs, it started getting hard to justify the green. Abrupt Decay is sweet, no question, but Kolaghan's Command takes some of the pressure off. Feed the Clan is a stone-cold killer against Burn, of course, but I was beating Burn thanks to a bazillion one- and two-mana counterspells, anyway.
Here's a quick look at the Day Two metagame from GP Charlotte: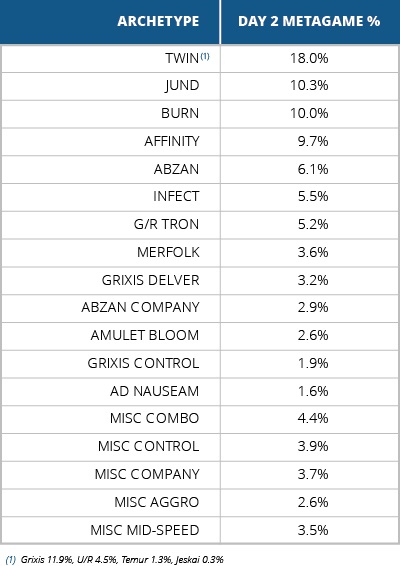 The biggest shake-up in the format was the steep decline in popularity of Grixis this week. With everyone aiming at it, Grixis Delver was much less of a monster. I doubt Grixis Control is every going to be as popular as Delver is at times; however, I expect its popularity to grow, as it appears well-positioned in this format so long as we can assume that Collected Company doesn't surge again.
Additionally, the land combo decks (G/R Tron and Amulet Bloom) fell off once the number of Blood Moons and Fulminator Mages got high enough. Meanwhile, Twin, Burn, B/G/x (Jund these days), and Affinity are basically locked to stay on as some of the biggest archetypes.
Moving forward, this is the list I want to try next for Grixis Control:
Creatures (9)
Lands (22) Although... in my heart of hearts, I doubt I would really register a 75 without sneaking the fourth Cryptic Command back in there...