Pro Tour Magic Origins and Grand Prix San Diego are behind us and we've found Magic Origins to be one of the most impactful sets in recent times, especially considering that it's coming in as the eighth set in current Standard. While M15 only really brought Stoke the Flames and Goblin Rabblemaster, we see a huge list of cards that have impacted Standard, creating brand new archetypes while updating others:
And the biggest hit, one that can (and often should) be put into any and every deck: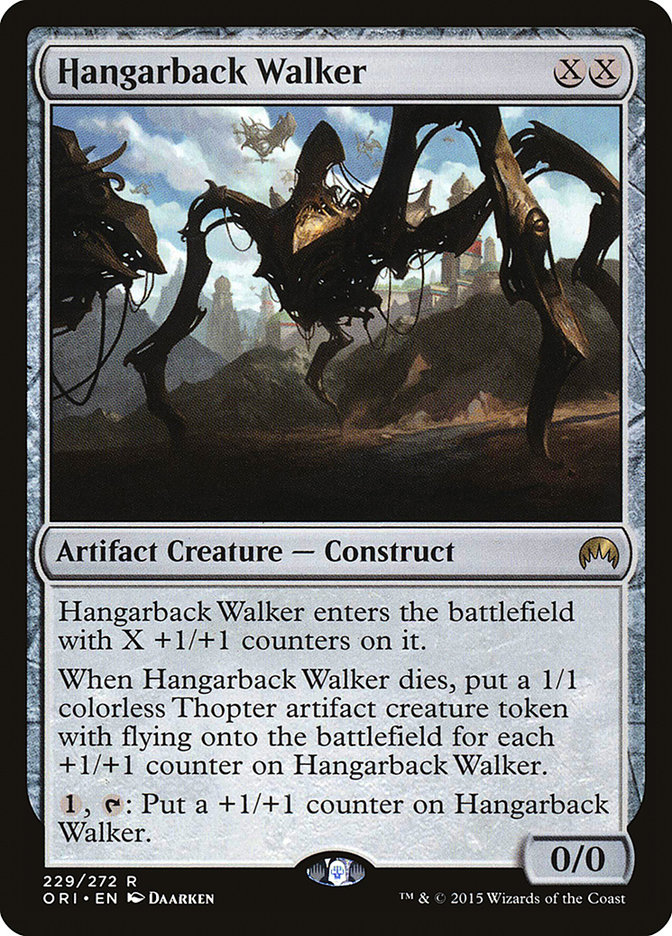 Grand Prix London is this weekend and the name of the game seems to be value, value, value. The Mono-Red decks we saw at Pro Tour Magic Origins have been answered by Hangarback Walker and similar cards that have dual functionality to stop early creatures and give value after a removal spell. That versatility and power across multiple stages in the game make for one of the two best cards in Standard.
The two best cards in Standard right now in my opinion?
Why is Dromoka's Command so good?
Both the number of enchantments and punk creatures to fight are on the rise. Jace, Vryn's Prodigy and Hangarback Walker are the main ones showing up as early drops that are nearly incapable of winning a fight against anything. Also, when used with Hangarback Walker, Dromoka's Command is a means to convert your stored-up +1/+1 counters into flying Thopter tokens for purposes of blocking fliers or evading blocking ground creatures.
Here's a short list of the popular enchantments you might face in Standard which easily makes Dromoka's Command into a maindeck card if it wasn't already.
As far as value goes, these are the main cards to play when you want to win a grindy game and give attrition-based strategies fits. Often a game will come down to who can out value the other. In today's world, you need to bring the value or have the right answers to stop them in their tracks.
Hangarback Walker basically does everything. The value gained when Hangarback Walker dies is just too much. It can come down on turn two and threaten to become larger on every turn thereafter. In later turns, it's a mana sink that will often be stronger than any other "two drop" would be. It's colorless, which makes it easy to cast and reaps other benefits like dodging the minus of Ugin, the Spirit Dragon and making cards like Gods Willing and Mogis Marauder weaker. Currently our testing group has three different archetypes, all of which are pre-Magic Origins decks jamming a bunch of Hangarback Walkers.
I don't see it as being quite as oppressive, but it is equally as format-defining as other colorless cards that slid into any deck like Umezawa's Jitte and Rishadan Port.
Cards That Got Better After Pro Tour Magic Origins And Grand Prix San Diego
On the surface, Den Protector does two things. It rebuys a spell and presents a threat that is sometimes very difficult to block. A third use for Den Protector is to continuously loop them as a means to circumvent any removal spells that doesn't exile. Effects that exile cards work two-fold against Den Protector, both preventing this loop and limiting the range of targets to bring back.
It took awhile for the inherent value of Deathmist Raptor to catch on, but it's certainly at its peak right now, often pushing out staples like Courser of Kruphix or Goblin Rabblemaster from the three-drop slot.
Delve cards aren't as popular in Standard as they are in Modern or Legacy, but there are enough to take note of. Tasigur, the Golden Fang is probably the one that is the strongest in Standard and the most prone to being affected by hate cards since it's a creature and continues to use the graveyard after it hits play.
Ashcloud Phoenix was popular in some G/R Dragons builds and some R/W Midrange decks for a while. Flamewake Phoenix shows up now and again as well in conjunction with Butcher of the Horde or simply as a hasty, recurring threat.
Cards That Got Worse After Pro Tour Origins And Grand Prix San Diego
It's just too hard to play edict effects now that Hangarback Walker, other Thopter makers, cheap Mono-Red Aggro creatures and Deathmist Raptor exist. There are hardly any Dragonlord Ojutais to be found as the sole creature on the battlefield anymore, making the choice to sacrifice unimportant.
It turns out that Mono-Red Aggro is very good and is likely to be a big percent of the metagame moving forward, making its drawback a real pain. In a metagame where there aren't blockers, or people are commonly trying to block with Sylvan Caryatid, Firedrinker Satyr makes a lot of sense... but not right now. Hangarback Walker once again is suppressing the effectiveness of one-toughness threats like this one. The same goes for other one-toughness creatures like Lightning Berserker and Foundry Street Denizen.
Trading one-for-one for three-mana just isn't a good deal nowadays. You rarely trade up with anything anymore. The removal pool is deep and there are enough two-drop spells like Bile Blight, Ultimate Price, and Dromoka's Command to serve most removal needs. Languish is within castable distance from Hero's Downfall whereas Crux of Fate wasn't also reducing the need for a three-drop removal spell.
The way to attack this format full of value-creatures is to exile them, ensuring that you're the one getting the value in the exchange.
Removal Spells That Exile
Magma Spray has been very close to being a maindeck card several times now, and this could be the weekend for it. It competes with Wild Slash and Fiery Impulse in that slot and right now I can definitely see the advantages of cheaply exiling a creature beating the ability to hit players or three toughness creatures. It trades up mana-wise on a two-drop Hangarback Walker and hits all the morph creatures when the opponent is tapped down, and those cards are typically the ones you want gone for good.
Strictly a sideboard card, this slot was previously taken by Erase and sometimes Back to Nature. Since Theros was an enchantment-oriented block and the good artifacts like Whip of Erebos were also enchantments, there was no need to hit artifacts specifically. Now with Hangarback Walker and U/R Thopters running a bunch of juicy artifacts, the stock on Revoke Existence has risen. Hitting a Darksteel Citadel with Ensoul Artifact on it is the best.
A four-of in Michael Majors' Grand Prix-winning U/R Sphinx's Tutelage control deck, I see Anger of the Gods currently being the premiere mass removal spell in Standard. Crux of Fate has fallen off the map, and while End Hostilities is good at also nabbing things like a Bestowed Boon Satyr or an Ensoul Artifact on a Darksteel Citadel, costing three mana is a much stronger superpower. It was great as a response to G/R Devotion, Abzan Rally, and Mono-Red Aggro, and it just so happens to be great against Hangarback Walker as well.
A highly-played card in Standard already to be sure, Abzan Charm is a removal spell that improves as the number of creatures that really need to be exiled rises, and it also likes the very low number of Stormbreath Dragons flying around. It's getting to the point where Hero's Downfall just isn't efficient enough to run anymore when Abzan Charm does the job so much better.
The presence of Languish has suppressed Abzan Aggro these past few weeks. There isn't another good home for Anafenza, so her numbers have been low even though she's currently one of the best creatures in Standard right now in terms of interaction while presenting a huge threat. She works well against Hangarback Walker and with it, as she can ramp up additional +1/+1 counters, threatening a ton of Thopters.
Enchantments That Exile
Chained to the Rocks was once the most efficient removal spell in Standard. That era passed when Stormbreath Dragon and various Esper Dragons were ruling the skies and were untargetable through Protection from White and Hexproof respectively. Now could be a great time for Chained to the Rocks and other enchantment-based removal spells because of the two aforementioned cards: Hangarback Walker and Dromoka's Command. Now there are more creatures that are outright killed when they exit the battlefield, like returning a 0/0 Hangarback Walker.
The same as for Chained to the Rocks applies to Banishing Light as the more universal answer to permanents that need to be removed which you prefer to see exiled. If this exiles a Magic Origins planeswalker like Jace, Vryn's Prodigy after it's been flipped, when Banishing Light leaves the battlefield Jace will return to the battlefield in its original unflipped form.
Silkwrap now has enough targets in Standard to break into Constructed play in Abzan Constellation. I wouldn't be surprised if it's deemed as a reasonable spell in general for any white deck to play, be it maindeck or sideboard. The same goes for Suspension Field to a lesser degree, as it does hit Deathmist Raptor and big Hangarback Walkers.
An Aside On U/R Tutelage
I honestly don't think that hoping to remove their win condition, Sphinx's Tutelage, when they land is a good strategy for beating the deck. They can simply wait to cast Sphinx's Tutelage until they can also fire off a Treasure Cruise or possibly more one in the same turn. I think that may be a misconception of how to beat the deck that led to so many match wins for Michael Majors last weekend. Removing them is good, but you simply must muster up a fast and consistent clock against them. I recommend little red creatures, particularly ones with haste.
I expect this weekend to be dominated by value cards and cards that exile value cards. The best is a deck that has both, which is why I like both Abzan Aggro for Anafenza, the Foremost and Bant Heroic. Both decks put Hangarback Walker and Dromoka's Command to good use. Brian Kibler's G/W Megamorph deck is great because it runs both to great effect too.
I'll be in Grand Prix London this weekend. Good luck to those attending and if you're there be sure to visit me and the rest of the VS Video squad. See you across the pond!