"You must be crazy to play Abzan without Siege Rhino."
Yeah, they were probably right. But you know what? I don't care. Managorger Hydra is a highly underrated card that belongs in a very different type of deck than Siege Rhino. Perhaps Siege Rhino is the best fit for Abzan Aggro, but I was pretty sick of getting stuck on three lands with multiple Siege Rhinos in hand. And it isn't like Siege Rhino saves you from Stormbreath Dragon or Mantis Rider anyway. It just buys you another turn or two, so why not just play something cheaper that hits just as hard if not harder?
If you watch the deck tech, you'll get a decent feeling of why I played the deck. In all honesty, I played the deck over Bant Heroic at the Season Three Invitational because I just couldn't lose a match with it. Perhaps that's a flaw in doing your primary testing on Magic Online, but there are a lot of things you can learn from having the majority of your testing be done against strangers. Sure, the average player on Magic Online is likely worse than Tom Ross or Brian Braun-Duin, but you get to play more matches and makes changes more quickly.
What I found out about Abzan Hydra was that no one was expecting Gather Courage. The first would obliterate them. The second would still be good. The real test was "how good is this card when they know about it?" Well, if you're playing a matchup where they have no choice but to play into it, the tempo advantage from saving your creature for free is absolutely busted. People also regularly tap out for threats that are the same size as yours, or just slightly bigger, meaning that combat tricks probably aren't all that bad in the format. If Dromoka's Command is great, then Gather Courage should also be great.
While your deck is soft to the likes of Abzan Control and even U/B or Esper Dragons, Gather Courage still has small spots where it does the trick. It helps most of your creatures beat Languish or Bile Blight, and can even get your creatures big enough to beat or trade with the likes of Ojutai or Silumgar. For anything bigger, just burning your Abzan Charm or Valorous Stance is acceptable.
As I played with the deck more and more, the one thing I kept seeing was how good Gather Courage was. It made me want to try it in a number of green-based strategies, but Abzan felt the best thanks to Anafenza, the Foremost and Abzan Charm, two cards that are inherently powerful on their own. I really wanted another two-drop creature in the form of Heir of the Wilds, but figured that Hangarback Walker would be fine. I was wrong. I wanted to be more aggressive, and should have trusted my gut. Hangarback Walker was the worst card in the deck by a wide margin, but that could have been due to the fact that I never played against Mono-Red Aggro in the tournament. If I had, I might be singing a different tune.
Managorger Hydra was hit or miss at times, and suffered greatly at the hands of Roast, since it can't be saved by just a Gather Courage. A package featuring Deathmist Raptor and/or Den Protector could end up being great, but unfortunately there aren't too many major Standard events left before Battle for Zendikar is released so I don't know if we'll ever see the true potential of Gather Courage alongside Managorger Hydra. Perhaps Battle for Zendikar will feature some sweet free spells to pump the Hydra, but that's asking a lot. I'd probably trade my kidney for the ability to play Mutagenic Growth.
In testing the Abzan Hydra deck, I knew that the core was strong. The first iteration of the deck was strictly G/W and looked a bit more like a Heroic deck than I wanted. It had Seeker of the Way to help out against faster decks and because of its exceptional synergy with Dromoka's Command, but I ultimately went with more green creatures and the black splash. It is possible that I should have been playing Seeker of the Way over Hangarback Walker, since it hits harder, but it is much harder to protect with Gather Courage without the ability to Convoke. The lack of Mono-Red running around right now also makes me think that Seeker isn't worth the investment.
With the spoilers coming out from Battle for Zendikar, the new dual lands interest me greatly. Being able to play eight fetchlands and 1-2 of each new dual in your deck seems awesome, and greatly benefits the original Shards from Alara. Bant (or Naya, etc) seems like they are getting a huge boost from these lands because you're able to play more on-color fetchlands to fix your colors and aren't reduced to playing always-tapped lands such as Sandsteppe Citadel and the like. I think it will become normal to see Grixis, Jund, and the rest pretty early on in the format, so long as there is a good reason to splash.
Treasure Cruise seems like a good reason to splash blue in a G/W deck, and especially so with Managorger Hydra.
The current Standard as we know it is about to have a giant overhaul, and I don't really have a good idea on where it is going to go. But looking at what lands you have access to is a great place to start in any new format, and figuring out what to do with that mana is much easier than you might think. I'm just ready for some new spoilers so I can really get to work on building decks for the new Standard format. Theros was great and all, but it's time for a big change.
I don't know if you've played much Legacy lately, but it isn't exactly healthy. Sure, on the surface, it looks like the same old format. Brainstorms, combo decks, Stoneforge Mystic, and a wide range of playable archetypes. But one thing I've noticed as a direct correlation is that when Young Pyromancer is seeing more play than usual, then blue is probably too good.
Casting a Dig Through Time feels about the same as casting a Treasure Cruise. The raw card advantage of Treasure Cruise was new-ish to Legacy, where most people focus more on card quality. After all, many of the games are decided in the early turns one way or another, so having a long-game plan that involved drawing a lot of extra cards isn't exactly appealing. But the kicker is that Treasure Cruise was so efficient that you could turn those cards into real resources quite easily with something like Brainstorm.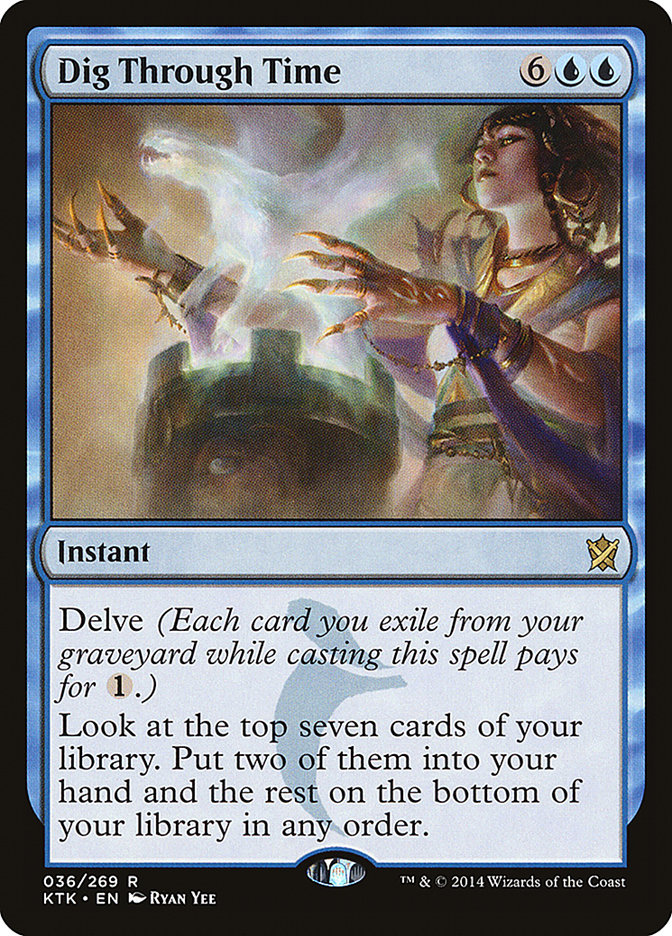 Dig Through Time is like casting Brainstorm and Treasure Cruise at the same time. Sure, you get one less card out of the deal, but that fifth land probably wasn't winning you the game anyway. While Dig Through Time is seeing a lot of play in Legacy, it is also defining nearly every mirror where both players have access to the card. If one player casts Dig Through Time, they are going to be up on resources and likely have exactly the right tools to finish the job, including keeping their opponent from resolving one of their own Digs.
And if a fair deck isn't trying to cast Dig Through Time, then they're probably going to lose the resource battle, assuming that the Dig Through Time deck is built in such a way to make sure they can leverage those extra cards. The ban list in Legacy is already long and only gets longer from year to year, but I think it is important to know when a card is oppressive in-game, even if it isn't winning every single tournament. I cast Dig Through Time a lot this past weekend at the Season Three Invitational, and I think it is far too good to keep around.
For combo decks like Show and Tell (Omni-Tell), Dig Through Time is also a powerful tutor effect. We've seen many of these banned in the past for making decks too consistent. Mystical Tutor is probably the best example, but Dig Through Time is even built to make sure these decks can cast Force of Will and have enough resources to combo-kill you the next turn. While Dig Through Time isn't as degenerate as Mystical Tutor for many reasons, it does give me the same sense of dread whenever my opponent resolves it. They will almost always find what they're looking for, and they will even be up a resource in the process.
I don't often advocate for banning cards in any format, but when I do it is mostly based on my personal experience playing both with and against certain cards. After playing with Dig Through Time in Legacy, it feels a lot like casting Jace, the Mind Sculptor and Stoneforge Mystic in Standard. None of these cards win the game on the spot when you cast them. They all take work to seal the deal, but they also take a long time to actually kill the opponent when the game became locked up multiple turns prior. And playing against Dig Through Time feels an awful lot like playing against Treasure Cruise.
While I'm not confident Dig Through Time is going to get the axe anytime soon, I very much wish it would. Some may say "ban Brainstorm," or "ban Show and Tell," but those people aren't seeing the bigger picture. Brainstorm is a powerful card because it helps lead to interactive, interesting games of Magic. Brainstorm is a way for people to smooth out their draws, find pieces of their combo, and make their deck function on a basic level. Brainstorm is the reason why Legacy is so much fun.
There are more powerful cards than Brainstorm in Legacy. There are even cards more inherently powerful than Dig Through Time. But the way that Dig Through Time bottlenecks the format is unhealthy for Legacy, and it should be considered for removal.
Beating A Dying Horse
Let me start by saying something that will never happen: Magic Online should be taken offline until a new, better version is released. The current state of Magic Online is pushing away customers in droves. People that could become life-long customers if only they were given a reason to be. If you killed the current product where it stood and put literally all of your resources into designing a new, sleek, functional, fun version of Magic Online that actually took the wants and needs of the customers to heart, you would end up making out like a bandit in the long run. As it stands, only a dwindling consumer base will see your new product when it is released, and they will be very wary of investing time or money into it based on recent history.
I've played Magic Online for fourteen years. I've been a constant, dedicated customer to a program built for those who love Magic so that they can play it from their home at virtually any time of the day or night. I played the original Beta and I bought into the real thing when it was first released because it promised so much for the future of the game. And here I sit, fourteen years later, wondering why I invested so much time and money into a program that has gotten significantly worse since its release. And I don't mean compared to other games. I mean that the current Magic Online is simply worse than the original version built by Leaping Lizard fourteen years ago.
When Magic Online was released, smartphones weren't a thing yet and they wouldn't be for another five years. In the current day and age, technology envelops us. We are surrounded by countless access to instantaneous information, living in an age where people can be millionaire stars just for playing video games. We're paying a premium to play a digital card game based on an actual card game, and this is the best they can do? Most video games require an up-front purchase or monthly subscription. Magic Online requires you to spend $6-$30 per entry per tournament, on top of roughly $350 per deck. Sure, you can win prizes worth money, and they offer a well-designed path to upper levels of professional Magic. Those are the good parts about Magic Online, and the bad outweighs the good in spades.
For the last year and change we've been subjected to a mediocre relic of times past that forces us to open new windows even when the previous version had tabs. We're forced to use a program that constantly creates new bugs for cards that have been around for over a decade. We're given paltry excuses and meaningless timelines on when these problems will be fixed. And we trust this system to give out invites to the Pro Tour and even to the World Championships. Just last weekend, someone was dropped from the semifinals of a PTQ. I wouldn't be surprised if all they gave that person was a pat on the shoulder and a free copy of Shandalar.
But I get it. They're working with the resources that they have. A new version is on the horizon and it will be much better than we could ever dream of. Just like leagues were coming soon, eight or so years ago. And now that they're (hopefully) returning in the next few weeks/months, what do we have left to complain about, really?
I am just one person who has been a loyal customer to a game, and a brand, for over half my life. I've tried other card games and other video games, but I keep coming back because Magic is just that good of a product. But the current state of Magic Online is laughably bad. I've said that I would quit Magic Online multiple times in the last two years. And at times, I stop playing for months at a time. But my work and my passion for Magic keep bringing me back.
I feel like I have Stockholm Syndrome.
The Kinda Bad, The Really Bad, And The Ugly
Play Points are now a thing on Magic Online. You can use them to enter tournaments, and you can win them from doing well in those tournaments. This addition to Magic Online has helped the economy by making packs a little harder to earn, therefore helping cards maintain their value and prize packs remain worth selling. But along with this change came the doubling of entry fees on normal, everyday events while paying out significantly less in prizes compared to the entry fee.
Just last week, during the World Championships, Modern Masters 2015 was a featured format. Do you know what format was not available to play on Magic Online? You guessed it right: Modern Masters 2015. This week features the Magic Online Championship Series where the format is Legacy Cube Sealed. An obscure format, to be sure, but one that was only recently reinstated to give people the ability to test for it – and then only after a number of high-profile pros expressed their views about it on Twitter.
I can't build a new deck on Magic Online right now. I'm currently entered into five tournaments because there was lag between joining and dropping from events, and I never actually saw my name registered in the tournament. They continue to release cards from new sets even though they know they're bugged. Making cards tradable, and the entire trading experience, is significantly worse than it was in any previous version. And instead of focusing on the issues that actually matter, they're so out of touch with reality that they continue to "improve" aspects of Magic Online without logic or rationality.
And above all else, I think they're actually sick of it too. The complaints, the jokes, the constant attacks on social media, the reimbursements, and the lack of funding to make a good product. I suppose that, in a way, I'm playing much more Magic now than I used to, but nearly all of it is being done in real life. Perhaps that's the way it should be. Perhaps that is their intention with making Magic Online worse. If so, great job guys!
At the moment, Magic Online is pushing me away. With so many new bugs each week, increased costs for redemption and dwindling prize payouts, I have been playing less and less. It just isn't as much fun as it used to be, and that isn't because Magic has become a less-fun game. More people are playing Magic now than ever before because the game is amazing. It just seems like everything surrounding the digital version of the game is giving it a bad reputation, and that makes me truly sad.