The past two weeks have seen a great deal of Magic action: the announcement of "Oath of the Gatewatch" as the name of the small set inBattle for Zendikar block, a PAX Prime chock-full of panels, and a whole week of Vorthos content on the mothership.
Also, something something SCG Invitational something something World Championship. But who cares about that in Vorthosville? Let's get to the flavor! There's lots to talk about, but what matters most to me is...
The Nissa Retcon: The Voice for Vorthos Panel
Longtime Vorthoses immediately picked up on the Magic Origins short story " Home," describing how Nissa Revane's spark ignited and what she did immediately after -- in a way that's far removed from previous depictions.
She still was cast out of the Joraga as a young girl. She still sparked and went to Lorwyn. What she did on Lorwyn, though? A bit different. You see, in the short story "Home," Nissa Revane meets Lorwyn's elves but isn't so keen on them, especially when they go boggart-hunting and poor Nissa can't believe they'd be so cruel.
As she was created initially, Nissa would've been joining in the hunt. In the immortal words of The Lonely Island, "I think she might have been a racist."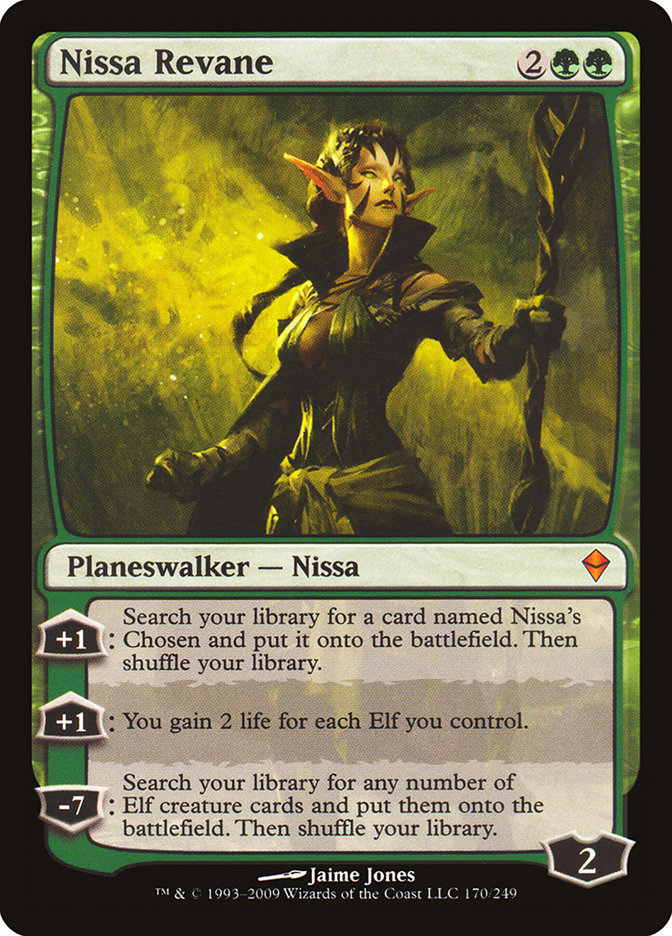 Nissa Revane's connections with elf supremacists! The story at 11!
Snark aside, check out Nissa's official biography. No, not the one that's on the current Wizards page that talks about her "compassion and fierce determination." I'm talking the one from the archived site that never got changed and says, among other things:
"She seeks to prove that her people, the elves, are the true heirs and stewards of the planes of the Multiverse."
"Nissa despises weakness in others."
"This encounter led Nissa to experiment with black mana on her own terms..."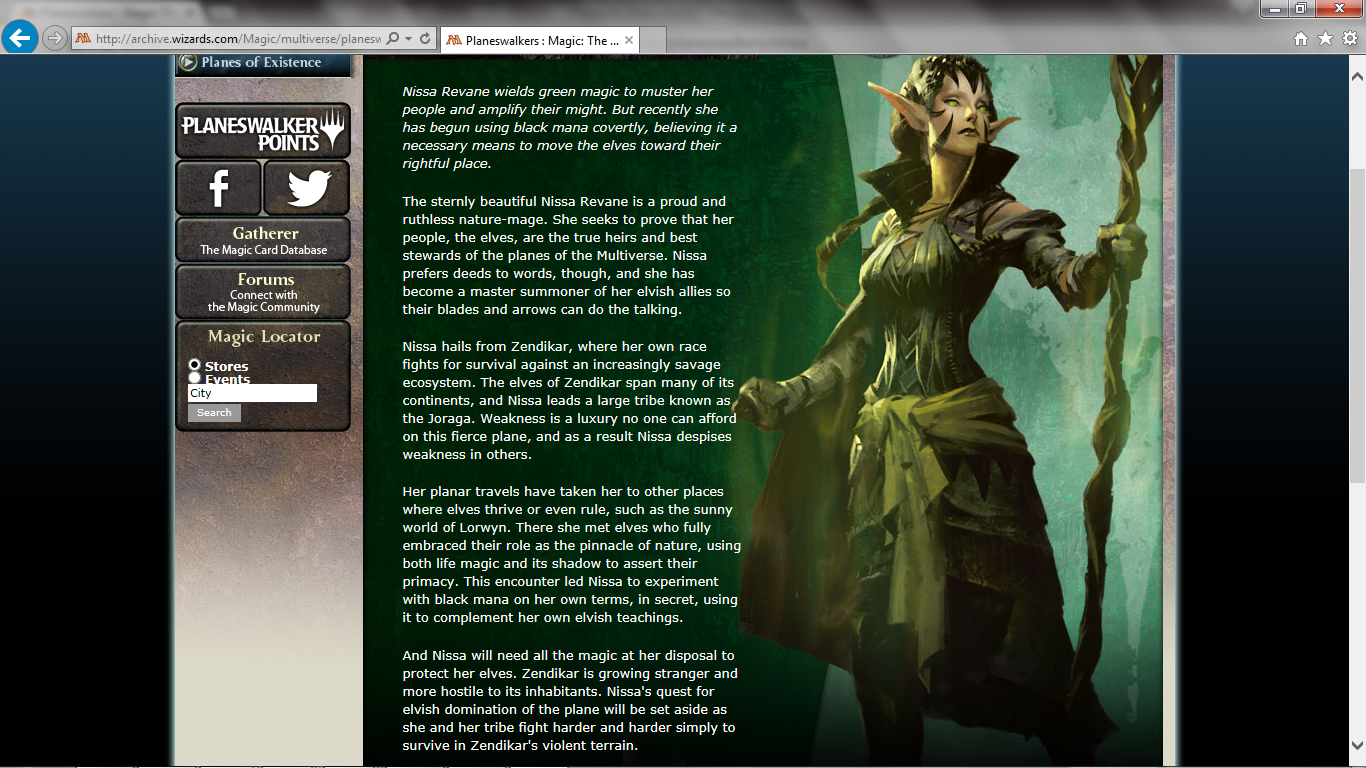 The original Nissa Revane biography, screenshotted.
At the "Voice for Vorthos" panel at PAX Prime, an attendee asked specifically about the changes to Nissa's backstory, personality, and so on. The answers were telling, and worth repeating in text.
Doug Beyer noted that Wizards was "making sure she's the right character to enter into the plans we have for her going forward."
Kimberly Kreines added: "We want her values to reflect the way we as a company are evolving as well and we want to set ourselves up for the best success with this character moving forward, and so the parts of her personality we chose to preserve, we carefully thought about that, and where we see her evolution going next is, you know, we're happy with where we are with her right now, and excited, really excited, for the potential of all of these characters."
Then Jeremy Jarvis: "You remember where Nissa came from, right? ... She was specifically created as an avatar in ... D12?[JDB's note: It was actually the original Duels of the Planeswalkers from 2009. Source.] For Duels, like, we needed a character, it was like, uh, there's a green deck that runs a bunch of elves, is that Garruk? Ugh, it's worse than that, it's actually green-black, eh, that sounds terrible for Garruk... (laughter on panel and in audience) At the time it was insane! And so we're like, 'Let's design kind of a villainous, you know, hardcore, staunch xenophobic person that would run this elf deck.'
"That was the need for her. That's how she was created. She was visually meant to be slightly off-putting. It's why she doesn't have eyebrows and her eyes are just those solid green orbs. And now we get to the point in Origins where it's like, 'You know what? We like her, we like her in this way, we're gonna position her this way. How do we make her relatable?'
"And it's like, well, time travel, and we're like, no no no, that was Khans of Tarkir (laughter on panel), Nissa wasn't in that. ... And so you're seeing what falls out of those changes of, you know, some of it too, like there's been a couple characters that Duels itself, through allowing us to introduce a character that the product didn't yet need...Ral Zarek is the other example, like, Ral was created from a need for Duels, and then we saw how well people related to him, and it's like, 'Okay, time to find a home for this guy.'
"So, yeah, you have accurately picked up on reality."
The Nissa Retcon: JDB's Commentary
Step one: I have new respect for court stenographers and all speech-to-text transcribers. Just doing those couple of minutes of speech was exhausting and I know I missed a few small things!
Step two: There's a lot to take in from those couple of minutes.
Doug Beyer's answer is easy to take at face value and elaborated upon by the others, so I'll move on to Kimberly Kreines. Her mention of "values" is particularly interesting; while I've mentioned before that it's not a requirement for authors to believe everything their characters do, clearly somebody somewhere got uncomfortable with Nissa Revane and her elf-supremacy shtick. Thoroughly uncomfortable, that is: Wizards didn't even want an "overcoming prejudice" storyline for Nissa. She just went from xenophobe to inoffensive elvish granola girl in a hard swerve.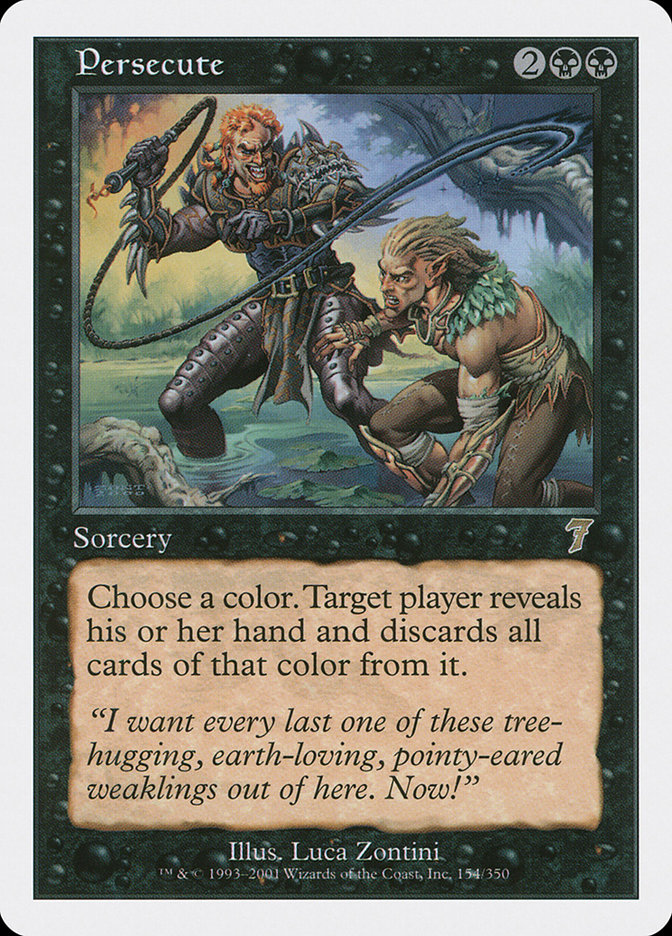 Try as I might, I can't help but think "movie deal" with the Nissa change. What summer blockbuster would want a main character with the baggage of being a racist, either current or reformed? Also consider the key art from Oath of the Gatewatch with four Planeswalkers posing with symbols near their fingers. Suppose Gideon, Jace, Chandra, and Nissa* succeed in trapping Ulamog once more. That's the perfect setting for a popcorn film. Show the sealing in the past, and then in the present, boom! Something goes wrong and Ulamog breaks loose. That's the cue to send the call out and summon the peeps back to Zendikar for two hours of big dumb summer movie fun.
* First note: does anyone else find it weird that among those four, the dudes are in the colors of reason and order while the women are in the colors of chaos and "being in tune"? Second note: as for why this couldn't be done on film with the original Eldrazi-sealing trio of Ugin, Sorin, and Nahiri: look at your special effects budget. Now look at Ugin. Good luck with that.
Is "Nissa, Elf Supremacist" a more interesting character than the druidic action naif we've seen so far? Sure. But on the other hand, I actually believe this version of Nissa mistakenly releasing the Eldrazi* over the previous version.
* Short version, from the Magic novel In the Teeth of Akoum: Nissa went with Sorin Markov to the key point in the Eldrazi prison system. She then deliberately broke the seal, releasing the three Eldrazi titans, on the theory that they'd immediately flee Zendikar. Nope. Sorin Markov promptly pronounced her too dumb to live and peaced out.
Further, until Wizards gives out the new details of how Nissa contributed to the release of the Eldrazi, it isn't safe to assume anything about those circumstances. That's one of the dangers of the retcon: it can leave the story state too uncertain.
On the other hand, turning Nissa from a straight-up villain (as she was meant to be in the video game where she debuted, per Jeremy Jarvis) to one of the heroes of the Oath of the Gatewatch allows her far more leeway to appear in future sets.
After hearing the panel's explanation of the Nissa retcon, I'm more okay with it than I thought I'd be. While I find the "reflects our values" argument a trifle odd -- apparently the Ob Nixilis plan of ending all life in a world and then brutally conquering others is just fine by the values of Wizards, not to mention Tibalt's torture tour -- there are also very few recent American media examples of non-comedic racists who also are marketable protagonists. Changing a character so it sells? Welcome to capitalism. It's their character, their call.
I've seen questions about why Wizards didn't create a different, "nice" green Planeswalker that could fulfill Nissa's role in Battle for Zendikar 's story. The thing is, a "nice" Nissa clone actually creates more Vorthos problems than it solves. For starters, Zendikar doesn't have a large population; it doesn't even have cities proper, with Sea Gate being the closest thing to one. There already are three Planeswalkers from Zendikar, itself an unlikely figure when compared to the "one-in-a-million" chance of a sapient being holding a spark: the ancient kor Nahiri, young elf Nissa, and young (?) merfolk Kiora. A fourth, specifically another Green Planeswalker, would threaten the suspension of disbelief.
And let's be honest...it's not as if Nissa's old lore is the best ever, as anyone who's read In the Teeth of Akoum can attest. If Wizards wanted to jettison everything that happened in that novel, I'd be weirdly fine with it.
At any rate, Nissa's change is only one small part of the excitement surrounding Battle for Zendikar. I'm looking forward to the next two weeks of spoilers, and I hope you are too!