Battle for Zendikar is shaping up to be an exciting set. While the fetchable Battle lands are catching a lot of buzz, we now have confirmation that an enemy cycle of creature-lands are here just in time to replace the beloved Temples of Theros. As a general rule, we should be playing a lot of lands in our three-color decks now, as it will be difficult to flood when 4-7 of your lands are now functional spells.
That isn't what we're going to spending the bulk of our time discussing today, however. Rather, I want to put the three currently spoiled planeswalkers in the spotlight. It is rare that every planeswalker in an expansion looks to be a Constructed all-star, but Gideon, Ally of Zendikar, Kiora, Master of the Depths, and Ob Nixilis Reignited look to fit the bill. Wizards knows that planeswalkers are the most iconic card type in the game, and they've made an effort to push every single one of them in Battle for Zendikar.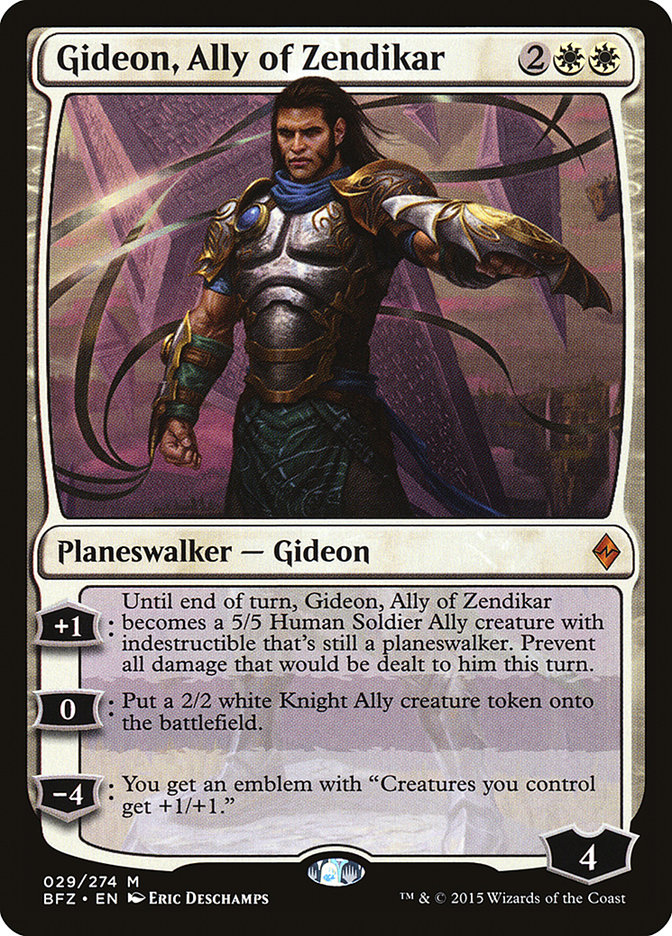 Gideon is incredibly versatile and has nearly all of the best traits of historically successful planeswalkers. Gideon threatens to win the game by himself incredibly quickly through his +1 ability, can protect himself the turn he enters the battlefield or go wide with his 0 ability, and his "ultimate" not only naturally synergizes with his 0 ability, but it makes Gideon a great top end for an aggressive curve due to being useable the turn he enters the battlefield. You will never be able to "flood" on Gideons because you always have the choice of making him into a four-mana Glorious Anthem.
A major mechanic in Battle for Zendikar are the Eldrazi Scion tokens and the many incidental ways to create them. Having a variety of creatures in your deck that create an army of 2/2s is no joke.
There also happens to be this card you may be acquainted with named Hangarback Walker. For better or worse, the Construct-that-could is going to be showing up a lot over the course of the next year, and Gideon will be super-charging him.
One of the best places to start putting Gideon into is likely Sam Black's Mono-White Devotion deck from Worlds, now with a little less devotion.
Creatures (21)
Planeswalkers (4)
Lands (25)
Spells (10) Without Nykthos, Shrine to Nyx, it is far more difficult to go crazy with Mastery of the Unseen, which may ultimately relegate it to a two- or three-of role player in these types of decks. The Ally of Zendikar does a lot to encourage token producing or constant sources of creatures, hence the nod towards Secure the Wastes. While this deck looks perfectly serviceable, it's not particularly exciting. What can we do in the new world of Standard with Jeskai Ascendancy and a pushed tokens theme?
Creatures (10)
Planeswalkers (4)
Lands (25)
Spells (20) This list is sitting at 59 cards, and I think this is probably my current pick for the final slot: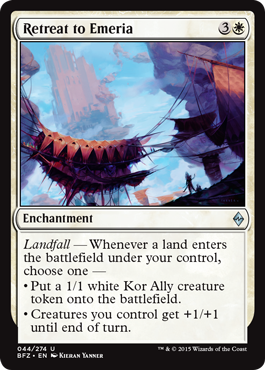 Retreat to Emeria looks to be an interesting supplemental token enhancing effect. Between Ascendancy, Gideon, and Retreat, I expect our creatures to be potent at basically every stage of the game, which could go a long way towards putting Jeskai Tokens back on the map. In the past, despite Jeskai Ascendancy's power level as a deck, a great deal of that was predicated on drawing and keeping its namesake on the battlefield for several turns. Gideon should prove to be a powerful addition to the archetype.
Enough of Gideon's emblem, what can he do slotted into a more controlling shell?
Creatures (12)
Planeswalkers (5)
Lands (26)
Spells (17) Despite being a control deck, this take on U/W is actually subtly quite aggressive. If you were around for the first printing of Gideon Jura way back in Rise of Eldrazi, you may be familiar with the ever looming threat of getting smacked for ten by Celestial Colonnade and Gideon if you ever let your shields down. While a little more work, I think Dragonlord Ojutai and Gideon, Ally of Zendikar are going to do a fine impression. It's incredibly scary to ever tap out against this deck, as the threats are so potent, but at the same time we are capable of playing a slower game with sweeper effects and a slowly charging Hangarback Walker. Jace, Vryn's Prodigy alongside a pile of Ojutai's Commands have started to make a bit of a splash in this tail end of Standard, and despite not being a great Jace deck in the abstract, the combination is so powerful that it warrants an answer from the opponent immediately.
Needless to say, the fact is this four casting-cost Gideon is going to be a monster.
As if Den Protector and Deathmist Raptor needed any more help. In my mind Kiora's +1 encourages two sequences - accelerate into her on turn 3 and use that mana accelerator to play a two-drop. Or, use a robust three-drop like Deathmist Raptor to protect her. Kiora's -2 feels a lot like Jace, Architect of Thought. If given just a little bit of reprieve, the Master of the Depths is going to grant its controller a lot of cards and pull them very far ahead. Of course, the fact that it puts cards into its owner's graveyard rather than on the bottom of their library is incredible for fueling delve, Den Protector, and Jace, Vryn's Prodigy. It should come as no surprise we're going to start off with a Sultai brew:
Creatures (20)
Planeswalkers (4)
Lands (25)
Spells (11) While it's clear that we miss Satyr Wayfinder badly, there are a lot of awesome things going on in this deck. Jace, despite not having many targets, gets turned on quickly by Kiora who will then in turn power up Gather the Pack to make sure you never run out of gas. Sidisi, although having fallen out of favor near the tail end of Standard, has a lot of powerful enablers and should be a potent weapon against any non-Languish decks. Further, our mana is rock solid and even contains a creature-land. While a little on the slow (and of course, untuned) side, these Sultai decks are doing just about everything I want in Magic, and I wouldn't be surprised if I ended up working on them first for the Pro Tour.
Maybe, just maybe, Kiora, Master of the Depths will finally give the Temur shard some love:
Creatures (22)
Planeswalkers (7)
Lands (25)
Spells (6) It may not be readily apparent just how essential Rattleclaw Mystic is going to be to Standard over the next year, but without Sylvan Caryatid or Elvish Mystic, green's power level has dwindled significantly. As a result, that may finally allow Temur to get some time in the spotlight. This is far more of a value-oriented midrange deck than the G/R Dragon-esque decks that we've seen over the course of the last Standard, but with Stormbreath Dragon gone, there is a lot more appeal to pick up the two largely-forgotten Sarkhans. Kiora's ability to ramp out a quick Dragonlord Atarka should also not be understated, it's going to be a lot harder to do that now without Nykthos, Shrine to Nyx or Xenagos, the Reveler around anymore.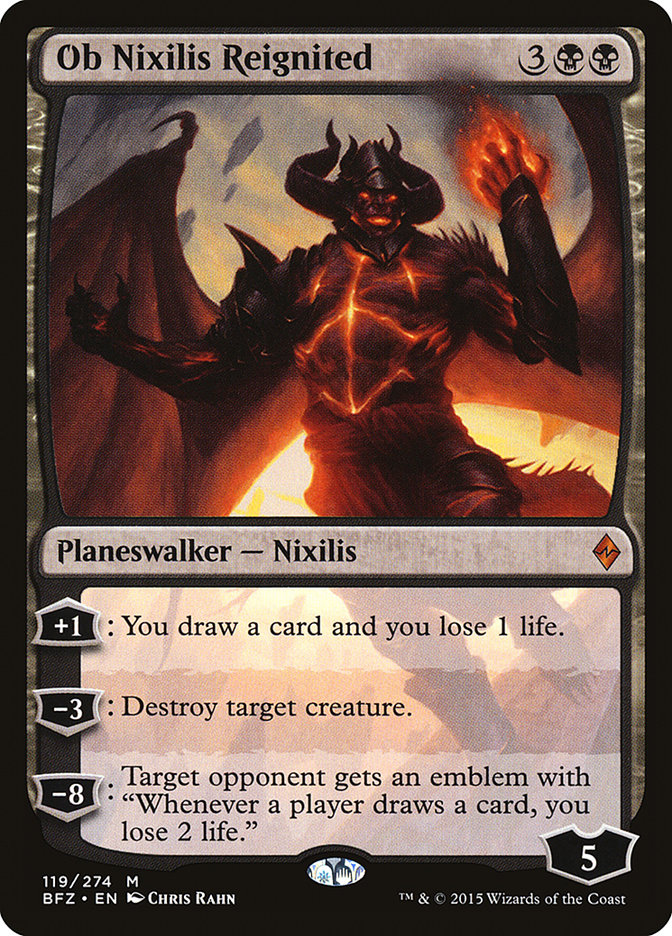 This card compares fairly favorably to Liliana Vess to me. When you're ahead, he will start to close the door on your opponent by generating at least 2-3 cards of value. He is also excellent at handling a single threat and then taking over the game. However, just like Liliana, when you are far behind, he is likely to have little impact on the board. Awkwardly, there are even scenarios where you may be locked out of using his + ability. That being said, any piece of board presence that has the text "destroy target creature" is definitely worth taking a look at.
Why not start with the grindiest deck - Abzan Control?
Creatures (15)
Planeswalkers (4)
Lands (26)
Spells (15) Now, granted, I have no real idea of how to build Abzan yet--with the loss of Thoughtseize and some of your early removal it is difficult to predict exactly how the deck should look without all the information of the spoiled set--but I've taken a few liberties. The Inclusion of Hangarback Walker is certainly nothing crazy and encourages the use of Dromoka's Command. Hangarback, as we discussed previously, synergizes well with Gideon, Ally of Zendikar, who also naturally curves into Ob Nixilis. It's hard to imagine your opponent beating your board of two Knights, Gideon, and Ob Nixilis after losing their best creature! The manabase is likely a trainwreck, but that's for smarter people to figure out. One of Abzan's best weapons for entering the lategame was undoubtedly Courser of Kruphix, and I've tried to address that to some degree by playing another Nissa, Vastwood Seer. In reality, however, we probably need to add another land or go back to an old favorite like Read the Bones. Sorin, Solemn Visitor is another card that could be included, especially since it synergizes well with keeping you in the game long enough to bury your opponent with Ob Nixilis' cards.
Needless to say there are a ton of different ways to build these three color midrange decks, and we're nowhere near the right configuration.
U/B Control also seems like a natural home for Ob Nixilis:
Creatures (6)
Planeswalkers (2)
Lands (26)
Spells (26) Of course, it's no surprise that I'm a fan of Demonic Pact. Just as with Gideon, the idea of curving Pact into Ob Nixilis sounds incredibly effective at clearing your opponent's board and allowing the pair to pull the game away. The Demonic Pact's incidental lifegain is also put to great effect here. Fathom Feeder is interesting to me. With the reduction in early removal spells available to us at this juncture, it actually sounds great to me. Azure Mage back in the day was an effective tool in control mirrors, and I think Fathom Feeder may be able to serve a similar effect. We will have no problem at all trading it off as early as possible, but in the very late stages of the game, it actually has the potential to run away with things. Without Perilous Vault, I'm a little concerned about our ability to remove our Pacts on time, and it's possible that we may have to include some Disperses to make sure we can get the job done.
This is just the beginning of spoiler season, but from a flavor and playability stance, Battle of Zendikar already looks to be a home run. While I expect figuring out the new manabases will prove to be a major challenge in the first few months of the new Standard, once we do all get it right and have the ability to cast these new planeswalkers, we should be in store for an exciting new Standard format.