With Battle for Zendikar coming out soon, the Standard format is going to be rocked and changed forever. While I like it when formats are in a state of flux, I am truly sad that Mana Confluence is rotating out. It never had widespread appeal, but I think it was secretly one of the most powerful cards in the Standard format. Since the card was originally released I have consistently played four copies in 99% of my Standard decks through all the seasons it was legal.
With Mana Confluence, I have one Open Series win with four additional Open Series Top 8s, one Grand Prix Top 8, one States win with an additional States Top 8, and second place at a World Magic Cup Qualifier. Without Mana Confluence, I only have three Open Series Top 8s and a single GP Top 8. I think you can see the difference: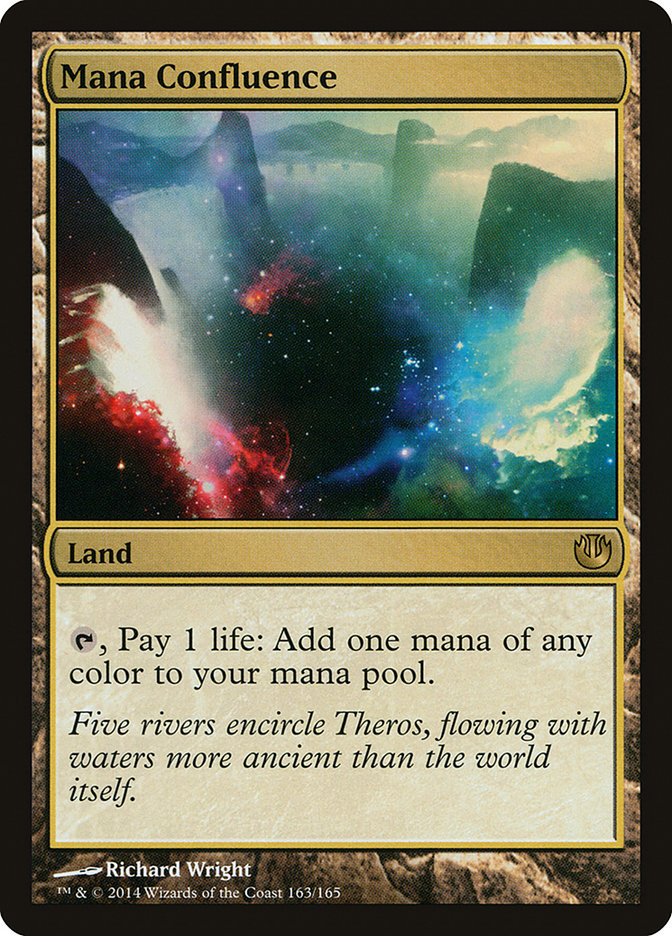 The secret to my success.
Standard is a format full of cards that are similar in power level, only varying in color and flavor. Do you want to be the Siege Rhino deck or the Mantis Rider deck? Honestly they are all more similar than you think. In such an environment where everything trades, it can be really difficult to find an edge. Inevitably, if you want to do one thing better than your opponent, you have to accept that you are going to be worse at some other facet of gameplay. You can't have a perfect deck that is good at everything, so sacrifices must be made. Throughout Magic's history, if you can pay life for some sort of advantage, it is likely correct to do so. Mana Confluence is not Channel, Necropotence, or Dark Confidant, but it is similar in the sense that if you can stomach some life loss, you can get way ahead. Like Bob Maher said, "Greatness, at any cost."
I'm not here to tell you that I have never died because of the damage I took off my lands. If you ever talk to someone who has frequently played Channel, Necropotence, or Dark Confidant, they will have stories of how their cards backfired, but I promise you they will have more stories of success.
Playing with Mana Confluence is truly playing with fire, and if you aren't careful, you will get burned. I'm an expert on the matter, and I'm here to list the ins and outs of playing this powerful but dangerous card.
First off, in the most fundamental sense, Mana Confluence lets you pay life for tempo. If you are going to make this deal, you need to be playing a very aggressive deck. You need to make sure that you are winning the game in a direct and efficient manner. The combination of Channel and Fireball were iconic and a dominant combo during Magic's early history, but Channel and Braingeyser was not. The reason for this is clear: If you spend all your mana to drop yourself to one life and put your opponent to zero life, you win the game. But, if you spend all your mana to drop yourself to one life and draw a ton of cards, you probably won't live long enough to cast them all. You need a direct and efficient way to win the game with Mana Confluence, so you have to play an aggro deck.
If you are always the beatdown player, your life total will never be relevant. An aggro deck loses because the opponent had a superior board and better card advantage. Getting to zero life simply signifies the end of the game. Zero life is a symptom of losing a game, not the cause, and this is an extremely important distinction to make when analyzing these cards. If you are truly an aggro deck, your life total is generally irrelevant and the damage from Mana Confluence is close to free.
This issue of tempo is particularly relevant in Standard because people play so many lands that enter the battlefield tapped. People have gotten used to this, and it is now the status quo. In most games, neither player will make an impactful play to the board until turn 3. G/R Devotion decks aren't playing their best threats until at least turn 3, Abzan Control can't play a creature or removal spell until turn 3, and while the Jeskai decks can sneak a two-drop onto the board, they are fragile and low impact. Jeskai's cheap removal is very hit or miss. This world where Magic starts getting played with the third land drop is because people are expecting their first two lands to enter the battlefield tapped. Even if they do have access to untapped mana on turn 2, most decks don't play enough two mana removal to consistently have it. In the current format, the odds that your opponent will have access to both untapped lands and a turn 2 removal spell is extremely low. It does happen, but it happens infrequently.
If you want to slide underneath your opponent's defenses and come out swinging, you need untapped mana, you can't stumble, and Mana Confluence gives you every color you need. If you are on the play and have a Fleecemane Lion, you are way ahead if your opponent has no response. I can't tell you how frequently I play a Fleecemane Lion on turn 2, my opponent answers every other card I play, but because that Lion came out early, it gets in a ridiculous 12-15 damage. I pay one life per turn casting spells, and that Lion clocks my opponent for three life per turn while everything else trades.
Let me simplify that last statement: I pay one life per turn and my opponent takes three per turn. That is a great deal!
To make the most of Mana Confluence, you need to understand that its power level goes up exponentially with the power level of your other cards. If you have very powerful things to do with your mana, then having an extra untapped land is also very powerful. Similar to the combos available with Channel, you want the life you pay from Mana Confluence to be a game winning advantage, so you need to play with cards that are fierce. You cannot mess around, and you don't want to grind. You just want raw overpowering strength and you want it fast, so there is no room for a card like Elvish Visionary in a Mana Confluence deck. You also want to play as few removal spells as possible as a steady stream of efficient threats can overpower your opponent, but if you are casting a steady stream of answers, then your own Confluence will bleed you dry.
An important component to unbridled power and ferocity is a snowball effect. If your boardstate grows on a completely linear trajectory, your opponent might be able to catch up. You want to come out swinging and make sure things get completely out of hand so your opponent can never catch up. In G/W Aggro, the cards that helped snowball were Experiment One, Ajani, Caller of the Pride and Brimaz, King of Oreskos. Each of these would generate extra value for each turn they sat on the board. In Abzan Aggro, I still have Brimaz but he is joined by Anafenza, the Foremost. If these cards are not answered as I cast them, they will get out of hand. Cards that are not as obvious and let you capitalize on being ahead are Dromoka's Command and Boon Satyr. Each of these allow you to gobble up blockers and push extra damage, building your board while suppressing theirs. All the cards I listed truly shine when you are ahead. If you build your deck properly with Mana Confluence, you will come out ahead an extremely large portion of games and give yourself a great chance to run away with a win.
All of these factors combined help you win games quickly, and if you are able to do so, then the life you pay from Mana Confluence is unlikely to even add up to much. Haters are always gonna hate and ask about Mono-Red (I am slightly favored in the matchup by the way), but I am here to outline the formula for success with Mana Confluence, not go through every matchup. Pay life for tempo and make sure that you are fast and powerful enough to abuse a little extra tempo and turn it into a game-winning advantage. That is your guiding principle.
To go along with my dear Mana Confluence, here is the best supporting cast of characters. My latest decklist, which is very similar to the one I used to win the Open Series in Baltimore, is a great option for the Open Series for Milwaukee this coming weekend. If you're looking for vicious efficiency, you found it my friend:
Creatures (26)
Lands (24)
Spells (10) Now that you have seen the decklist, I would like to highlight one of the other strengths that is held by Mana Confluence. As great as the land is, the fact that it enters the battlefield untapped and taps for any color of mana is a very big deal. When my deck is full of efficient cards and four copies of Mana Confluence, I get mana screwed way less than my opponents do. I may have a Warden of the First Tree, Fleecemane Lion, and Bile Blight with only two lands, but if one is a Mana Confluence, I can actually cast them all without additional land drops. Not only does Mana Confluence help when I am short on lands, but it also lets me lower my land count so I get flooded less. The reason for this is because where other lists have dual lands, I have extra tri-lands and I can produce more colors with less lands. If you look at Fabrizio Anteri's Abzan Aggro decklist that won GP London, his manabase has 19 lands that tap for green, 17 for black, and 15 for white. If you look at mine, I have 18 for green, 17 for black, and 17 for white. My manabase has one less source of green, but two more for white. The two manabases are pretty similar, but Anteri is playing 26 lands and I am only playing 24. With four copies of Mana Confluence, I can condense my manabase so that I have fewer lands, but just as many colors available. I get color screwed and flooded less frequently than other decks in the format. That level of consistency cannot be understated.
Condensed basically sums up my deckbuilding philosophy. Many months ago I started with a list that had more expensive spells and more lands. Over time I learned how to constantly condense it so that I was executing the same strategy but with fewer resources and greater speed. Mana Confluence has been pivotal in condensing this strategy.
Another unique factor is that condensing has also created three subtle sources of card advantage.
-The first source of card advantage is the 24 lands. If all our cards trade, but I draw one fewer land, that means I am up a spell. That is basically card advantage and I did not have to cast Divination to get it. Want to know why I run straight into a Languish and let myself get two-for-oned? It is because they play 27 lands, I play 24, and that first Languish is likely just keeping them even (and they just aren't always going to have the Languish anyway).
-The second source of card advantage is on a timer. When I play this deck, I am basically making a statement, or a bet, that the game will be decided in the first five turns. Either I get in a ton of damage and create a dominating board position or my opponent has the answers. If we only look at the opening turns of the game and I cast more spells than them, then I effectively have more card advantage during that time frame. I can't tell you how frequently I win with zero cards in hand, having cast all my spells and my opponent loses with an un-cast Elspeth in hand. I condensed the game into a shorter time frame. I was able to cast everything I drew, while my opponent's expensive spells were left in hand and essentially didn't exist.
-The final source of card advantage that this deck has access to is my personal favorite: making the opponent chump block. A Fleecemane Lion and Anafenza on curve are a turn 5 kill by themselves. Those draws get out of hand very quickly, and even if I draw a million lands, I can just keep swinging and effectively have an Abyss out. This is because I only need a few creatures to threaten lethal damage in a very short amount of time, and my creatures are almost always bigger than my opponent's. I can threaten more with fewer resources and trump their defense.
This build of Abzan Aggro is paying life to get a mana advantage and accelerate the game into a condensed form. The deck is built for this, while most others are not. Other decks need a slow game for their cards to shine and that is what people expect when they are playing cards that cost five, six, or even eight mana and 10-11 lands that enter the battlefield tapped. Mana Confluence is a small piece to a larger puzzle of increased tempo, and tempo really can win games for you. There is not much time left for this Standard season, but you can still sleeve up four copies of Mana Confluence and go out swinging.
Ain't no brakes on this crazy train!