This time of year for me is always bittersweet. The full spoiler is out for the fall set, there are big Standard rotations happening, and all the little boys and girls are brewing up their awesome new decks with the new cards that will be available.
I've always loved brewing, but to be honest, I've never really felt like I was the best at it. I am generally pretty good at identifying a strategy that can be leveraged, or tweaking and making changes to a deck to make it better for an expected metagame, but coming up with things out of the blue on my own - I could use some work.
This doesn't mean that I don't try every set. Sometimes I get it right (or at least close to right), and sometimes I get it wrong, but the journey is always the best. I had Young Pyromancer and Stoke the Flames in my aggressive red and Burn decks in my M15 brewing lists, which looked wrong at first, but once the format started to take shape they turned out to be awesome cards.
Even a broken clock is right twice a day!
The first card that piques my interest as far as building a deck around is Forerunner of Slaughter. It has been mentioned before that this card is reminiscent of Flinthoof Boar, and that's one of the reasons I am drawn to it. I love me some Boar bashing.
Being a three-power two-drop is quite nice, especially considering that a lot of the cheap removal is gone--Lightning Strike, Searing Blood, and Bile Blight--but having the ability to give itself and even other creatures haste in the mid/lategame is very appealing. The biggest constraint is that it can only target colorless creatures. Thankfully we already have a stellar colorless creature that we want to give haste to in Hangarback Walker, but there are also some other sweet creatures with devoid in Battle for Zendikar.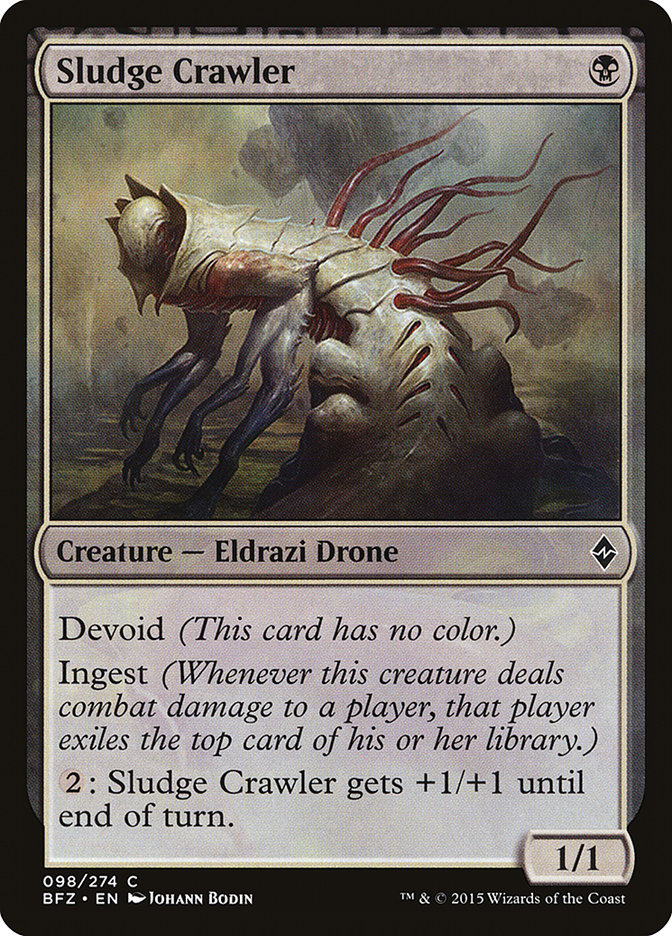 I think that Sludge Crawler has the potential to be a pretty good aggressive one-drop. It is colorless so it plays on some synergies that we will be implementing in the deck, like Ghostfire Blade and Dust Stalker, and even though its pump ability costs two, the fact that it gives +1/+1 instead of +1/+0 is going to make it much easier to get in for damage. It also has ingest, which means we can potentially play something like Wasteland Strangler.
I think that we want to play one of these creatures, so that we have eight two-drops that we can curve out with. I think that there are some benefits to both creatures. Culling Drone having ingest means that we could potentially take advantage of some of the colorless cards that deal with moving cards from our opponents' exile zone into their graveyard for effects. Kozilek's Sentinel having four toughness is pretty huge, and by playing one colorless spell each turn, we can freely attack with a 2/4 into just about anything.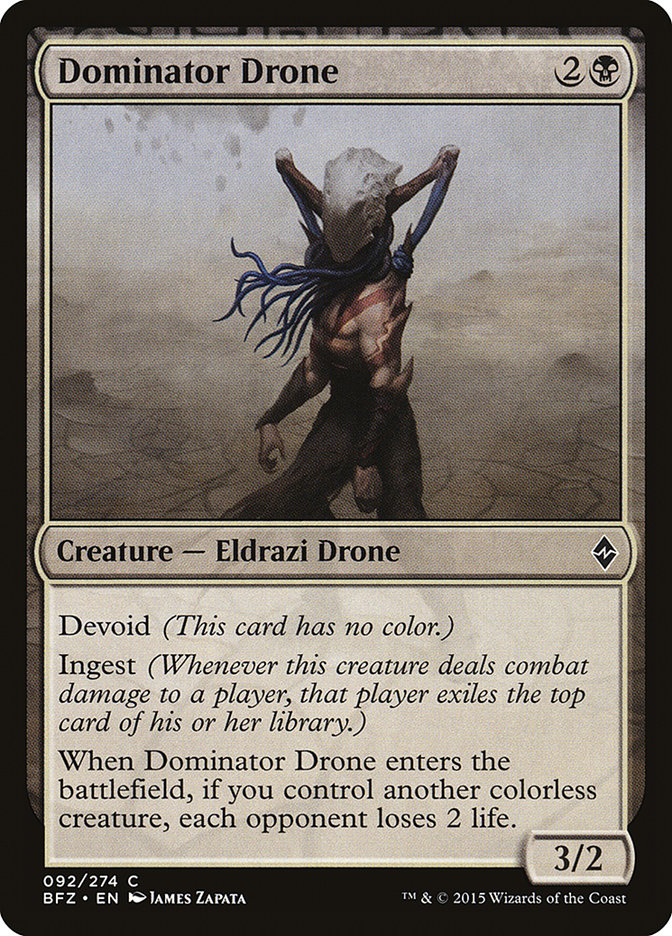 I want to point out that I feel like Dominator Drone is just on the cusp of playable in this deck. To be honest, if it made them lose three life instead of two, or maybe drained for two rather than just a flat loss of two then it might be worthwhile.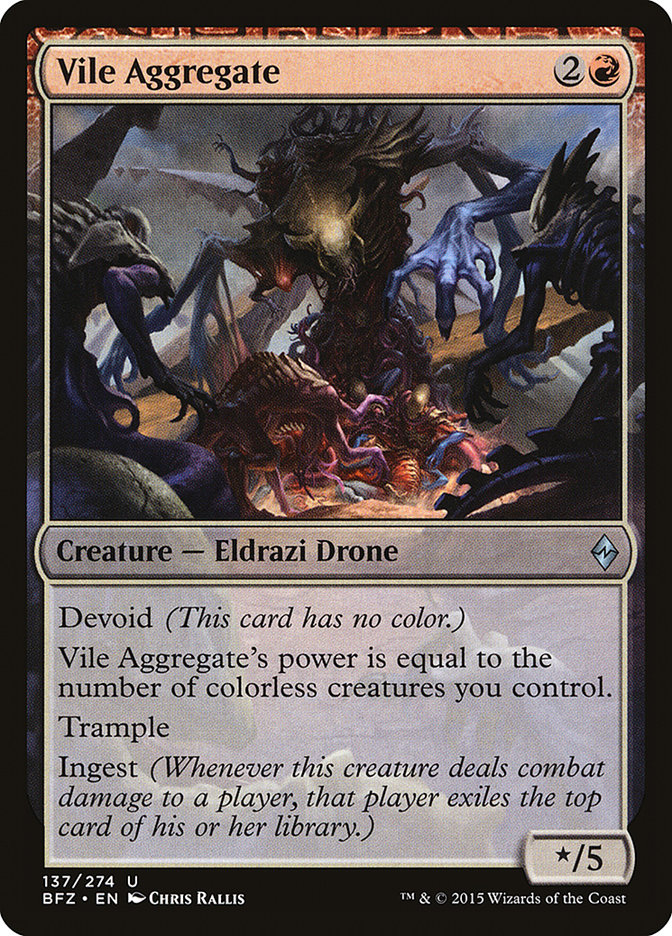 I think that Vile Aggregate might be better suited in a more Jund Eldrazi Aggro type deck that you can use Catacomb Sifter to go wide in, similar to Sam Black's article here, but even still, it might be worthwhile to try out in straight B/R Colorless Aggro.
With all this in mind, let's take a crack at the deck.
Creatures (25)
Lands (24)
Spells (11) Looking at my first draft of this type of deck, a few things come to mind.
First off, how exactly to build the manabase? I feel like sticking to two colors gives us the freedom to run some of the new utility lands. I really like Spawning Bed in a deck with Ghostfire Blade since it gives us some lategame power that can't be countered. I also think that we can afford to play at least one in our deck. We have 24 land, and even though we have Forerunner of Slaughter with its B/R color requirement, the rest of the deck is pretty easy on the manabase.
Both Mortuary Mire and Looming Spires seem like they can do some good here. Getting back a Dust Stalker or Pia and Kiran Nalaar seems real sweet, but just simply getting back a Hangarback Walker might be good enough to warrant having at least one in the deck. On the other side, Looming Spires is great at letting us punch through some damage. Any creature with a Ghostfire Blade on it that gets pumped by a Looming Spires is going to be a huge game.
The removal suite is kind of all over the place, and I really just want to play with it a bit. I don't think that Ultimate Price is playable right now, but I think that we do want some interaction. Ruinous Path on the surface is a much worse Hero's Downfall, but the first time that we get to awaken it, I think we will be pleasantly surprised. Awaken feels like the sleeper mechanic of the set to me.
I do like Sam's idea of using the Retreats along with a bunch of fetchlands. In particular, the Retreat to Valakut seems great for an aggressive deck, and the green one seems real sweet against any aggressive decks. Being able to make your blockers big or gain life are both great abilities against any deck that is trying to kill you quickly.
Staying on the same aggressive theme, I want to look at a more red-based aggro deck.
I've been playing Mono-Red Aggro on my stream a lot lately. And by a lot, I mean basically non-stop, crushing all of the 8-mans that I have been playing in. I'm kinda sad that I didn't pick up the deck sooner in the season, as I think that it's always been a decent choice, and I just continue to feel myself getting better with the deck as I play it. People keep asking me what I think the Mono-Red deck is going to look like in a post- Battle for Zendikar Standard, and I actually think that it has to morph back into an Atarka Red style of deck.
Bile Blight and Courser of Kruphix leaving definitely help a bit, but we are just losing so much of the Pro Tour Magic Origins Mono-Red deck for it to try and rebuild:
These cards all played such an important role in the decks success that I just don't think that we can be Mono-Red, and Atarka's Command is just what we're looking for. I'm sure that it comes to no surprise that this deck is going to be a contender right out of the gates, so let's look at where I would start.
Creatures (16)
Lands (22)
Spells (22) Looking over my initial ideas for the deck and comparing them to Tom's list from the VS Video last week, it honestly looks like there really isn't that much wiggle room. We really have like 35 of the 38 that we want to be running in the maindeck, and with the three extra slots I went with a Chandra, Fire of Kaladesh, a Goblin Heelcutter, and a Titan's Strength. I do think that Pia and Kiran Nalaar have the potential to be in the deck as well.
As for sideboarding, I think that most red-based decks are going to want access to a bunch of Roasts. Being able to kill things like Siege Rhino and Anafenza, the Foremost is going to be very important. In addition to that, the new Ghostfire, Touch of the Void, might be worthwhile as a way to answer Deathmist Raptor and Hangarback Walker. Losing Magma Spray is pretty rough, and although there is still Abzan Charm holding down Ashcloud Phoenix from being resurrected, not having a cheap way to interact favorably with Hangarback Walker is something we're all going to notice until we see what's in Oath of the Gatewatch.
Now, this wouldn't be a CVM decklist article if I didn't have something in it with a bunch of Dragons!
My beloved Stormbreath Dragon is gone, but we still have Thunderbreak Regent, which is certainly no slouch, along with Kolaghan, the Storm's Fury. I think that the B/R Dragons deck from the end of last Standard is a pretty good place to start since Draconic Roar is the best Lightning Strike that we have right now. Gerry had a Jund Dragons list in his gauntlet article last week, which might have some merit to it, but I'm just not sure that Den Protector is exactly where we want to be. Mardu has always been the go-to color combination for these type of decks since Crackling Doom has always been so good, but I really want another couple Dragons to go with Thunderbreak Regent and Kolaghan, the Storm's Fury.
Creatures (17)
Planeswalkers (1)
Lands (26)
Spells (16) Now looking over this list, especially while trying to build the manabase, it really feels to me like there is almost no drawback from trying to stretch your deck to four or five colors while maintaining one or two primary colors - especially if you are a Dragons deck.
Gaining access to Dragonlord Ojutai and Dragonlord Dromoka for very little investment (more fetchlands and some off-color Battle lands) seems like it might just be worth it. Now, with that being said, it really makes me wonder just how good the aggressive decks are going to be if we are in a world where everyone can push their mana to the limit with the fetchlands. Doing three or four damage to ourselves in the first handful of turns with our lands does come with a price.
I have noticed a few things while going through my first cracks and brewing some decks with Battle for Zendikar. Firstly, I really am struggling to see the optimal builds on mana with all of the options between the fetchlands and the Battle lands - and that's not even taking into account decks that can play Lumbering Falls and Shambling Vent (which I think any deck that can play them should probably just be on a full four of each).
Secondly, Hangarback Walker seems like a card that's literally going to be a four-of in basically every single deck, so finding a card that's a clean answer to Hangarback Walker that can't be exploited is going to be pretty important. I really like cards like Silkwrap and Stasis Snare, but they are pretty weak answers to other creatures if we're seeing a bunch of Dromoka's Command like I think we will.
Den Protector doesn't really care about Hangarback Walker all that much, which I really like, and Anafenza, the Foremost is also very good against ole' Hangardad. I expect BBD among others to be working on Abzan Aggro right at the start of the new format.
I never thought that I would miss Magma Spray as much as I do now!
Battle for Zendikar makes deckbuilding incredibly difficult now. And even though I'm not great at it, I'm going to keep brewing because it's just what you do when a new set comes out. So let me know what you want to see me build around in the coming weeks via the poll below and I'll get to work!