For Pro Tour Magic Origins, some of our still-unnamed-team flew to the Open Series in Chicago, flew to Dallas to set up shop for a couple weeks, played in the Grand Prix, then finally flew to Vancouver for the Pro Tour. This time, we're doing something similar with the Open Series in Indianapolis.
Last time , I wrote about the deck I was going to play in the Open, and this time I'm going to do the same.
Behold!
Creatures (15)
Lands (27) Before we get started, I'd like to note that this deck is infinitely customizable and will likely not be the same 75 I register for the tournament. There is even the slim possibility I may audible entirely. However, as I'm writing this, I truly believe this is the deck I'll be playing. I did consider just running back Jeskai in some form though.
What's The Purpose of This Deck?
This deck mostly came to prominence due to a Reddit post. I filed it away mentally as something to try if I had time, but didn't think much of it. After running into it a few times online, it was pretty clear that it was the real deal. Soon after, I was testing the deck myself.
This deck occupies the same space that Abzan Control did last season. It uses cheap card advantage and card filtering to make its land drops (Abzan Charm, Nissa, Vastwood Seer, Jace, Vryn's Prodigy) and not-so-cheap removal (Ruinous Path, Abzan Charm, Languish, Crux of Fate) to control the board. Unless the opposing deck gets underneath it, the Bring to Light deck will deal with its opponent's threats or invalidate them by playing bigger stuff, all the while slowing pulling ahead with card advantage.
Siege Rhino and Hangarback Walker are the brick walls of the deck, used to hold off your opponent's offense or provide pressure once the time to shift gears has arrived. Bring to Light is the glue of the deck, providing an answer to any one threat or even being a threat on its own. Since you can effectively flash it back with Jace, Vryn's Prodigy, it gives Jace more utility than it has ever had.
Bring to Light is key because it allows this deck to play functionally more copies of cards than it would otherwise want to. Assuming you can converge the full amount, Bring to Light gives you six sweepers, five Dragonlord Ojutais, numerous ways to remove artifacts, enchantments, or planeswalkers, plus you get to play with a crash of Siege Rhinos.
We wouldn't necessarily splash for things like Radiant Flames, but we get to. How far you want to take your mana is basically up to you. The mana is certainly not perfect, but it is very, very good. Sequencing your land drops is easily the most difficult part of playing this deck.
What is the Deck Weak To?
As I stated earlier, anything that gets underneath it could potentially run it over unless you find a sweeper in time. This deck is very good at trading one-for-one and picking up additional value elsewhere, but isn't particularly good at stemming the early bleeding or coming back from behind because it can typically only play one spell per turn.
If the real life metagame contains more Scythe Leopards and Atarka's Commands than I expect, this is likely not a great choice. Similarly, decks that top out at Ulamog, the Ceaseless Hunger are very difficult because you lack ways to meaningfully interact with them. Aggressive decks that are more on the midrange spectrum can even cause you issues, especially if you stumble. Things with haste tend to be a pretty big beating against a mostly sorcery speed control deck, so Mantis Rider can definitely steal some games.
On the other end of the spectrum, there are Eldrazi ramp decks that are also pretty bad matchups. You can't really stop them from getting to Ulamog, the Ceaseless Hunger, and once they're there, they will probably stabilize by taking out your relevant threats. By the time you assemble another clock, Ulamog will probably show up again, and that's assuming you managed to kill it the first time.
On top of all that, the manabase is good, but not perfect. Sometimes you open up with hands containing too few lands, or not enough fetchlands, so you'll be missing a color and/or won't be able to sequence perfectly. With your good draws, you'll have all five colors on Turn 5 and never have a land that enters the battlefield tapped past Turn 1.
Be careful, as most of my matchups online have been against slower decks and have each taken up a decent chunk of time. I imagine having to play fast in real life in order to avoid picking up some unwanted draws.
Are the Problems Solvable?
Absolutely. While Jace, Vryn's Prodigy, Siege Rhino, Bring to Light, and Abzan Charm are the core of this particular version, you could certainly opt for a version with heavier red and play cards like Wild Slash and Radiant Flames maindeck. The rub is that you probably can't solve all the problems at once. I've chosen to mostly ignore aggro decks, and hopefully that doesn't cost me this weekend.
The Format
In order to know what we need to be doing, we need to understand the format first. Given that the format has yet to have any big tournaments, that's a tall order. The best you can do is make a series of educated guesses.
From what I've seen, this Standard format is going to be a bunch of slow-ish decks that don't come out of the gates quickly, but turn the corner very fast. The threats are so good and hit so hard that it doesn't take much of a stumble for them to roll over you. Cards like Siege Rhino, Kolaghan, the Storm's Fury, Dragonlord Ojutai, and Gideon, Ally of Zendikar put games away quickly.
I've built this deck with that in mind and am basically hoping that people don't show up with aggro decks. It's not that this deck doesn't have a chance against those sorts of decks, it's just that I'd prefer to try and slog it out against midrange or control decks with my five-color clunker. You still have a fighting chance against aggro due to the amount of Siege Rhinos you're packing.
One weird thing to note about the format is that Self-Inflicted Wound does seem maindeckable. While I would like access to a nice two-drop removal spell, I'm worried about aggro decks, so Self-Inflicted Wound isn't necessarily the removal spell I'd want to add to my maindeck. It doesn't kill tiny red creatures, but I expect Scythe Leopard to be the aggro weapon of choice. If that's truly the case, perhaps Self-Inflicted Wound is worth playing after all. For now, I'm going with the Brad Nelson approved Reave Soul.
The Specifics
I'll be honest -- Hangarback Walker isn't particularly good here. This deck has a high mana curve and occasionally some lands that enter the battlefield tapped, so there's not a bunch of spare mana lying around. However, there is also a noticeable lack of two-drops in this deck, so we desperately need something. Hangarback Walker can pressure planeswalkers, is good against sweepers, and, even as a Doomed Traveler, is perfectly serviceable against aggressive decks.
Fathom Feeder was another card I tried in the Hangarback Walker slot, but I rarely had five mana to spare, even in slow matchups. Odds were, if I spent my turn drawing a card while they spent it progressing their board, I would fall very far behind. Attempting to use Fathom Feeder to hold off Atarka Red was a dubious strategy at best.
Nissa, Vastwood Seer is phenomenal! Initially, I was somewhat skeptical of playing two copies with only two Forests, but there are few cards I wanted to naturally draw or search for later than Nissa. You could play more Forests to offset the chance of not having one to search for, but you don't want to naturally draw basic lands -- you should only fetch for them when completely necessary.
Ugin's Insight isn't a great card, but I found myself wanting to find something that could put me far ahead. Sometimes, you'll be mostly stabilized but your opponent will have a handful of removal, so finding any creature, even Dragonlord Ojutai, wasn't preferable. That slot was previously held by Ojutai's Command, as bringing back a Jace, Vryn's Prodigy and drawing a card was a solid two-for-one, but I felt like the hard draw three would be better, even if we're not scrying.
Honestly though, the best card for that job is probably Demonic Pact, which is what I'm currently using. Obviously it's a little risky, but with Bring to Light, Utter End, and Silumgar's Command, I think we can manage to not get killed by our own card. I hope.
The mana is, as I said, not perfect. My current manabase has seventeen green and black sources, sixteen blue, fifteen white, and twelve red, which is pretty damn good. You mainly want green and black early with either blue or white mana, but you don't necessarily need both right away. Unless you're in a sideboard game where you have Radiant Flames, you shouldn't need red mana until much later. Aside from kicking Bring to Light for the full amount, you don't actually need red mana in Game 1 at all.
The Matchups
Midrange
These matchups are all about extracting value. I try not to overextend into sweepers unless I sense weakness. Abzan Charm is meant as a Divination unless I absolutely have to use it on an opposing threat. Try to make your land drops, remove planeswalkers as soon as possible, and eventually you'll bury your opponents.
Resolving Treasure Cruise, flipping Nissa, Vastwood Seer, and Bring to Light for Demonic Pact are the plays that will put you over the top. Most of the time, you're only going to be trying to do that stuff once you're already stable.
Sideboarding
The sweepers can come out if you're playing against a mirror match, although you might want Crux of Fate to kill Dragonlord Ojutai or to help clean up a Hangarback Walker. Which removal spells you keep in and how many all depend on their deck composition. Siege Rhino is mostly a big, dumb idiot that dies, but sometimes it just kills them too.
What we're looking for are ways to break the one-for-one paradigm. Ideally, Abzan Charm is spent as a draw two and not as a removal spell, but you do what you have to. Cards like Ob Nixilis Reignited are the real heroes, since they enter the battlefield and provide an effect before they die. If Ob Nixilis remains unchecked for two or more turns, the game is probably over.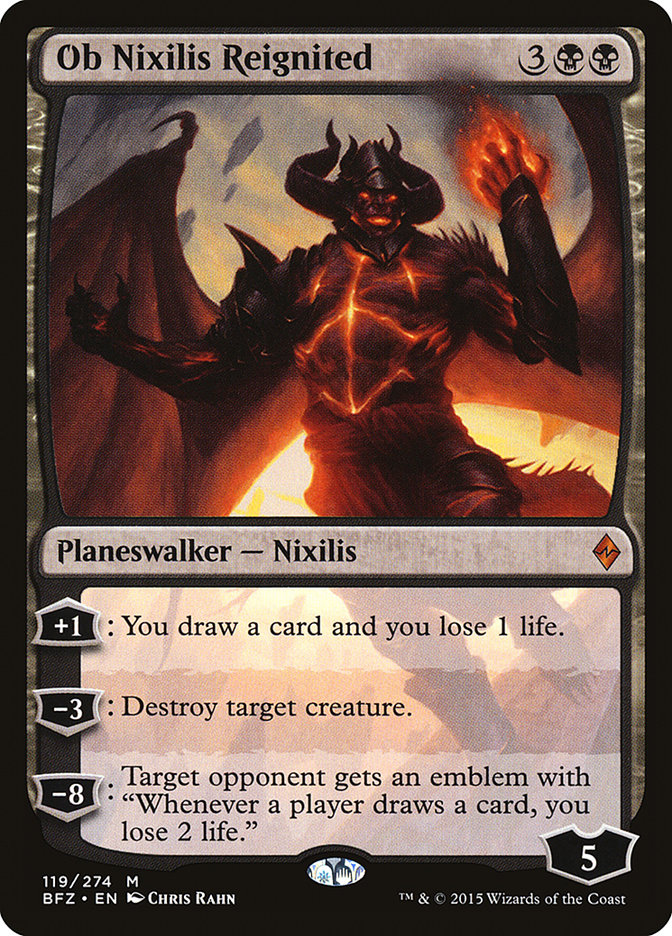 As I mentioned, you're going to struggle if you fall behind, so having some way to come back from behind is going to be key. Ob Nixilis Reignited is the perfect card for that, as it will destroy a Jace or Siege Rhino while demanding an answer from them on their turn. It's basically the perfect card for these matchups.
I would expect either Duress, Disdainful Stroke, or both to be powerful depending on what their deck looks like.
Control
If they are playing Dragons, you can't afford to mess around too much. You might think you have inevitability and can win by slowing accumulating card advantage, but that isn't exactly true. Given enough time, they will sculpt the perfect hand to protect Dragonlord Ojutai and ride him to victory.
Fortunately, if they're U/W or Sultai Control, all you have to do is outpace their Dig Through Times and not lose to their big plays, such as Ugin, the Spirit Dragon. You'll be under no pressure and basically have all the time in the world. Against decks like these, Lumbering Falls might beat them straight up.
Sideboarding
Use Duress to punch a hole and Disdainful Stroke to counter their big plays. Get rid of the dead removal.
Aggro
You better hope you win the die roll, have a two-drop, don't have an awkward mana draw, or draw multiple Siege Rhinos.
Sideboarding
I'm playing 27 land, mostly to ensure I curve out properly. Against aggressive decks, you don't necessarily have that luxury, so sideboarding out a land, especially on the draw, could make sense. Siding out the clunkers, like Silumgar's Command, is probably a wise choice here. You want to be able to keep a wider range of hands, and by lowering your curve, you're allowing yourself to do that.
The Other Options
Some of these cards are situationally better than other cards in my deck, but rather than have a possible card for every scenario, I've tried to trim down the list of tutor targets to the bare essentials.
Dig Through Time, despite doing what the deck wants to do, is a tad on the slow side for what it is. Treasure Cruise is much stronger in this deck due to you only really caring about raw cards and not specific things. Additionally, the UU mana cost is prohibitive at times. Wingmate Roc could be useful for times when you want multiple threats out of one card, but it requires some set up. With Hangarback Walker, that's not really an issue, but is Wingmate Roc better or worse at putting you more ahead than Gilt-Leaf Winnower, Demonic Pact, or even Whisperwood Elemental?
While not being able to search it up with Bring to Light, Alhammeret's Archive could be very sweet in this deck. Necromatic Summons is also a card that could end up being awesome. If people don't end up playing Atarka Red, Arashin Cleric is going to be a blank. I'd rather have Retreat to Kazandu or any other sort of anti-aggro sideboard card instead of something that is basically only good against 1/1s.
Despise is a viable maindeck option if you want some cheap interaction. Dispel and Negate are solid counterspells, but Disdainful Stroke tags more of the cards you're worried about. Using cards with enters the battlefield effects help you come back from behind, so I thought Dragonlord Atarka would be good, but it was often too slow. Still, I could see a miser's copy to play for in the long game.
As you can see, there are so many viable options that it's unlikely someone actually has the best list for any given tournament. It's nearly impossible to test and tweak and figure out the right sideboard cards for the metagame. Even if you're wrong, you won't be off by much.
Just do what I'm going to do -- play whatever seems sweet!