I've learned a lot about the new Battle for Zendikar Standard format in the last two weeks. Playing thirty or so matches in two different tournaments will usually do that for you. As many of you longtime readers know, I'm a huge advocate of trial by fire. There is no better testing ground than a tournament, and nowhere better to know whether a card or deck is good than by playing for real stakes.
This past weekend at #SCGATL, I put an untested version of Jeskai Black through the wringer. Instead of the usual suspects, I played all the cards that I thought would be great, using knowledge gained from the week prior at #SCGINDY. Murderous Cut and Dispel were both impressive in that tournament, having a major effect on the game for a single mana. Removal like Silkwrap was also solid, exiling Hangarback Walker so that it didn't create any future Thopter problems.
I also figured that Seeker of the Way would be stellar in a Siege Rhino format, giving you a cheap way to regain lost life while killing your opponent's creatures. With so many of the manabases in the format dealing you upwards of five damage per game, having a way to gain life back while maintaining aggression is huge. So after putting all of these pieces together, I decided to build my deck for this past weekend around them.
Creatures (16)
Planeswalkers (1)
Lands (26)
Spells (17) First of all, let me start by saying a few things about cards versus decks. Some cards need no real explanation as to why they're good. Others require a bit more context, but the level of their utility can change depending on how the context changes. For example, Murderous Cut is a great removal spell... but only if you're able to consistently Delve and it doesn't interfere with other Delve cards. In this deck, Murderous Cut was unnecessary and drew upon the same resources as the card advantage spells that this type of deck absolutely needs to play, making Treasure Cruise and Dig Through Time worse. In Abzan Aggro, Murderous Cut was an all-star. Cuts that may be great in one archetype can turn out to be pretty mediocre in another.
Cards like Dragonlord Ojutai are also pretty miserable in a deck with so many creatures. I found myself hitting my opponent with Ojutai and losing games, which just shouldn't happen. Decks like Esper Dragons uses Dragonlord Ojutai to its fullest since they can protect it quite easily with Silumgar's Scorn, but it also digs harder in that deck for removal and card draw. This Jeskai Black deck had too many threats and not enough answers to use Ojutai effectively, which was a pretty big flaw in how I built the deck. It isn't easy to see on paper, but it is evident once you actually start to play some games with the deck.
I think that was my major problem with this Jeskai Black deck. I didn't have the time this week to play many games, but I knew what cards I wanted to try out. I put together a great-looking shell, but the cards just didn't mesh together like I thought they would. Monastery Mentor alongside some Dispels and Murderous Cuts seems great in theory, but the execution was awkward. The Cuts don't play nicely with Treasure Cruise, and you need to max out on those to have the best chance of making Mentor great. I also overestimated the number of Siege Rhinos and other big, dumb creatures I would need to kill.
I chose to only play two copies of Treasure Cruise because I didn't want to put too much strain on my graveyard. Instead, I should have played four copies of Treasure Cruise and changed the removal spells to line up with that... it would have gone a long way towards making both Monastery Mentor and Seeker of the Way better. Treasure Cruise and Dig Through Time are the heart and soul of any blue deck with a lot of removal spells, and having a removal spell like Murderous Cut (or creature like Tasigur) will push the limits of your graveyard. Even if they don't exactly kill what you need them to, Wild Slash and Fiery Impulse are great tools for Jeskai to work with. Most decks will have juicy targets, so you might as well play them.
Monastery Mentor was a decent body in the old Bant Heroic shell because the opponent was forced to interact with your early creatures. Jeskai Black doesn't do that quite as well since Jace isn't exactly threatening, and here Monastery Mentor sits on the curve at the same place as Mantis Rider. Ordeal of Thassa isn't exactly Treasure Cruise, but it did refuel your hand early, leaving you enough resources to play and protect Mentor after your opponent had exhausted most of their resources. We don't have Gods Willing anymore... we don't even have Ajani's Presence. All we have is Dispel and Feat of Resistance, but I don't know if either are quite worth building your deck around. I do think that Dispel is absurdly good across a wide variety of matchups, and there will likely be a Monastery Mentor plus Dispel deck making waves at some point. The combination is just too strong.
But this version of the deck had a very tough time supporting Monastery Mentor, both with having enough non-creature spells and ways to protect it. As Tom Ross pointed out, here Monastery Mentor was a "strictly worse Catacomb Sifter." I would have liked the scry actually. But in all seriousness, Monastery Mentor did die quite frequently, and there wasn't a lot I could do about it. And when it didn't die, I felt like I was getting flooded with lands and creatures, unable to make it into the dominating card I knew it could be.
When you get to untap with a Monastery Mentor on the battlefield, you have to punish your opponent. If you're unable to do that, then you've likely built your deck incorrectly (or drawn poorly). This is certainly a case where I built the deck incorrectly, because I felt like Monastery Mentor was unbearably bad. I don't blame the card. In all respects, Monastery Mentor is a phenomenal creature. I blame how I built the deck.
Seeker of the Way was also much worse than I thought it would be. It is virtually impossible to "go under" a Jeskai deck since they can play a ton of one-mana removal spells like Wild Slash and Fiery Impulse. You also have a tough time getting Seeker of the Way through on the ground against G/W Megamorph since they have both Hangarback Walker and Deathmist Raptor as sizeable blockers, and neither minds getting hit with a removal spell. I expected a lot more Siege Rhinos and Atarka Red, which I think Seeker of the Way is great against. I ended up playing against a lot of G/WMegamorph and Jeskai Black, which Seeker is pretty bad against.
In hindsight, I'm not upset I played either of these cards but I don't think I built the deck to complement either creature effectively. Seeker of the Way is a strong threat against Atarka Red, though likely unnecessary if your plan is to kill all of their creatures. Seeker is also a card built to abuse Dromoka's Command. Much like Heroic decks from last season, I want to play cheap threats and punish my opponent for tapping out. Without Dromoka's Command in your deck, I don't think Seeker is a good enough creature for the current Standard metagame.
The Future Of Jeskai Black
Aaron Barich did it right. Well, he did it mostly right. Aside from his manabase and a few other small tweaks, I think that Barich might have built the best maindeck for the tournament. Fiery Impulse is absurd alongside Soulfire Grand Master, and going deep into the game with Ojutai's Command and Dragonmaster Outcast is exactly where I want to be. If you have those two cards in your deck and an Utter End or some way to "unlock" it from Silkwrap or Stasis Snare, Dragonmaster Outcast is likely the only real threat you need to win the game.
I should have lost to Barich in the Top Eight. His deck was constructed better than mine, and was built to go much later into the game. The big flaw in Barich's deck was that he lacked enough ways to deal with enchantments and I managed to bury him in card advantage with Mastery of the Unseen. It didn't matter how many times he cast Dig Through Time, I could play a Mastery of the Unseen with one or two ways to protect it and he was just toast. If I hadn't drawn my Mastery of the Unseen in both sideboard games, I know I would have lost.
As we move forward into the new Standard season, I think it is safe to say that most Jeskai Black decks will end up looking a lot more like Barich's version than my own. Dig Through Time is a powerful card, and much better when a deck doesn't really need to draw more than five or six lands. Treasure Cruise is a powerful spell, but you need to be able to use any of those extra mana sources you'll draw with it. If you can't, then Cruise is likely worse than Dig.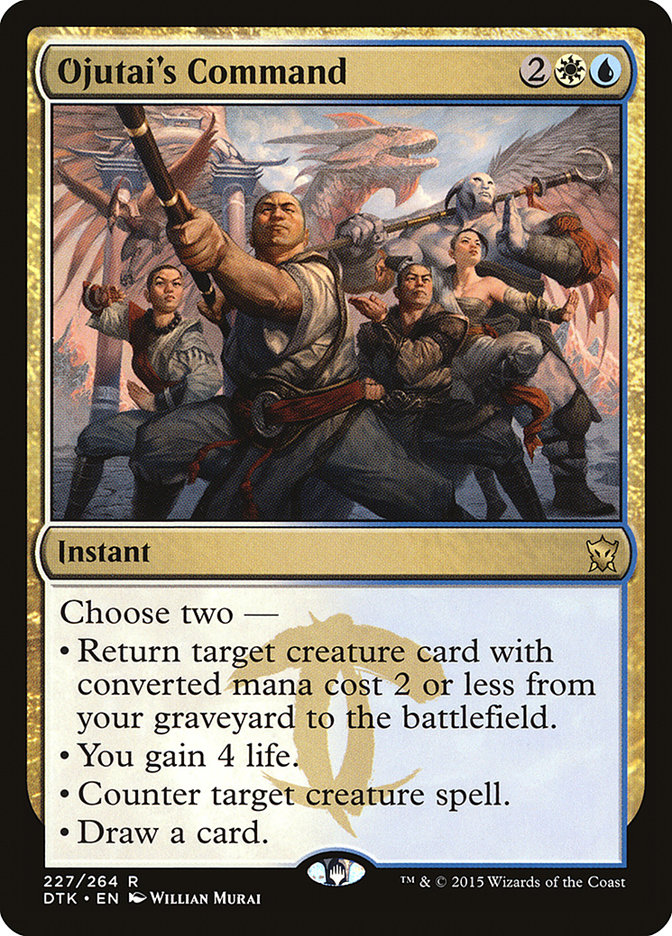 If you'll also take notice at my list, I didn't include Ojutai's Command. This was intentional, because I felt like the format would be too fast for it to be of good use. But boy was I wrong! Ojutai's Command is absolutely bonkers right now, and I would be foolish to recommend any sort of Jeskai Black deck without it. While it doesn't seem stellar in a vacuum, combining it with powerful, cheap creatures like Dragonmaster Outcast and Soulfire Grand Master (and Jace obviously) means it will almost always act like a Cryptic Command. The fact that it has four different, very powerful modes gives it a lot of play. Games involving Ojutai's Command are rarely the same, and you can pick and choose which modes are better at which times for you.
But the best part about Ojutai's Command is how it lets you build your deck. With so few win conditions, it seems like Barich's version of Jeskai Black would have a tough time closing games. Well, that just isn't the case. Once he has taken control of the board, Dig Through Time can find him just about anything he needs to close it out. Dragonmaster Outcast and Ojutai's Command are just one of the ways that the deck can attack. I've also won multiple games with the archetype just by milling them out with a Jace emblem. How you win the game isn't the issue. Finding the best cards to surround this powerful shell in order to stabilize the game has been the greatest test.
So how do we build the deck now? What changes should we make to Aaron's deck, now that we've established that it is likely the best version of Jeskai Black?
This version of Jeskai Black is a bit different than Aaron's, but the heart of the deck remains intact. The sideboard is significantly different, giving us a few more ways to answer opposing enchantments as well as a few poignant singletons to pose problems for the opponent. The manabase is reworked, getting rid of the tri-lands in favor of a full fetchland manabase. But even now the manabase still seems a bit off. I can't quite put my finger on it, but I'm assuming that this is going to be the major problem with any four-color manabase we try to build. Something's gotta give somewhere.
Evolving Wilds has been particularly sweet, giving us access to a "tri-land" of sorts, fueling Delve, and letting our Battle lands enter the battlefield untapped a bit earlier than normal. It gives us more virtual colored sources while playing nicely with the rest of the lands and even some of the spells in our deck. Flipping Jace on turn three isn't exactly difficult, which means he'll usually only be vulnerable to removal for a single turn.
I'm under the impression that the deck should have one more copy of Sunken Hollow, likely in place of the second Island. This could alleviate some of the issues I've been having, but I don't really want to play too many Battle lands. As it stands, I've been able to cast most of my spells on time, with Crackling Doom being the one exception. I've conceded the fact that I'll likely be casting it on turn four most of the time, but it is still a great spell to have access to. The incremental damage from Crackling Doom, haste damage from Mantis Rider, and large chunks taken out by Jeskai Charm means that closing out the game shouldn't be all that difficult. Jace being able to replay the Jeskai Charm is also pretty sweet, letting the deck kill people seemingly out of nowhere.
I would like to find room in this deck for a powerful planeswalker. Gideon, Ally of Zendikar seems like the obvious choice, but I don't know if this switch would be worth it. The deck doesn't have trouble actually winning games, but Gideon could be a card that helps us stabilize. Another one I was thinking about was Narset Transcendent. Since we have so few creatures in the deck and her loyalty is so high to start, Narset could be a way for us to reuse removal spells or even just dig for more cards in the late-game. I'm not sure if Narset would be overkill, and I certainly hate tapping out in a deck that plays Ojutai's Command, but I think we might want one or two more big threats to present against other control decks. Either of these would be fine.
With the Pro Tour upon us, it is difficult to speculate about just how we should build Jeskai Black. This version, if piloted proficiently, will win you a lot of matches. The manabase, as always, will need some work, but I'm very happy with the rest of the deck and how it has been performing.
Beating The Big Two
At the moment, it feels like there are only two Tier One decks in Standard. Both G/W Megamorph and Jeskai Black are great starting points for the format, but I doubt that is where we will end up after the Pro Tour. Both decks have significant holes that can be exploited, and I'm very much looking forward to finding them. From what I've noticed, the easiest way to exploit both G/W Megamproh and Jeskai Black is to present them with threats that don't die easily to Dromoka's Command or generic spot removal like Fiery Impulse. Sticky creatures like Hangarback Walker or even Blisterpod can cause problems, but the secondary attack is difficult to implement. Jeskai Black has a tough time beating enchantments like Mastery of the Unseen and Evolutionary Leap while G/W Megampotph is soft to large flying creatures. What is great against one of these decks is not very good against the other.
The other way to attack these two decks is exactly what won #SCGINDY...
Brian DeMars and his Atarka Red build took the tournament by storm, knocking off opponents left and right. The first half of the deck could go under the opponent with Monastery Swiftspear and Zurgo Bellstriker, but it could also go over the top of almost anyone and end the game on the spot with the one-two punch of Become Immense and Temur Battle Rage.
It wasn't just this combo that vaulted DeMars to the top of the standings, but it certainly helped him get by a slew of midrange creature decks. Siege Rhino and friends look rather paltry when you're trampling over them for huge chunks of damage. The fact that Temur Battle Rage grants double strike also makes it tough for Deathmist Raptor and company to actually kill the Atarka Red deck's creatures in combat. I think that most people thought Michael Majors was a heavy favorite going into the finals, but one combo later and Majors has no board and was sitting at a lowly three life.
A lot of writers this week have talked about "The Big Two" since those were the only archetypes represented at #SCGATL this past weekend. I have to agree that these two decks are the best that we've come up with so far, but I think this format is much deeper than we're seeing right now. Atarka Red is still looming, and there are so many avenues yet to be explored. With access to such a versatile manabase in any archetype, adding a fourth or even fifth color isn't exactly difficult. There are costs, but I think the format is slow enough at the moment to allow for some exciting things to happen.
I think that someone will build a very powerful ramp deck that will take many players by surprise. The fact that no one is really talking about Dragonlord Atarka is surprising, but it makes a little sense because Jeskai Black is playing three copies of Ojutai's Command. At this point, I'm sticking to my guns and playing the updated Jeskai Black deck based on Aaron Barich's version in my attempt to become State Champion. He's a great mind in the game that gets so little credit, but mostly because he's so young. In the next few years, I think Aaron Barich is going to be a name you hear much more often.