" Will I be playing Infect? I might be, but not because I feel like I have a huge advantage with it like I did last year. People have learned how to play against it properly and honestly I don't have enough recent innovation in the archetype to keep people on their toes with surprises. I think Infect will leave me with a respectable finish but not the trophy, which is something I haven't earned in over a year. In any case, this article has made me think about the format as a whole enough that it took my brewing mind in different directions trying to solve it."
That's an excerpt from the end of last week's article. I don't believe I've ever call-shotted not winning something before, but for once I'm happy that I was wrong. I didn't really have anything new to bring to the table. I wracked my brain trying to figure out something new and sweet, After having Todd Anderson and Brad Nelson shoot down my thoughts of playing Pox, Zoo, "Get 'em" Infect, Mono-Red Sneak Attack, and various other brews. I settled to just do what I know and settle in for a reasonable finish without high expectations.
I got there with Infect, but it wasn't from a lack of trying to find another deck.
Last week, I spent a lot of time thinking about Legacy and how to break it. I worked my hardest to get Pox into areasonable looking deck. Sadly, it's matchup against Shardless Sultai is as unwinnable as they come. I thought Dig Through Time was bad, but that card has nothing on the aggravating card advantage of Baleful Strix, Shardless Agent, and Ancestral Visions.
I worked on Zoo a bit as well; Zoo was the deck that I used to claim my first and only Open Series title nearly six years ago in January 2010. I wanted to Become Immense and Berserk this time around, possibly with some Ghor-Clan Rampagers and Invigorates as a "better" version of Mutagenic Growth. It seemed good against the fair creature decks of the field like Shardless Sultai, Elves, Infect, and Delver. It had the same combo nature as Infect does while being more linear and getting to play good removal in Path to Exile and Lightning Bolt. I still think that Zoo is due for a comeback, especially if Infect starts to hold a high percentage of the metagame.
The "Get 'Em" version of Infect adopted concepts from Temur Delver lists that run four of Stifle, Daze, and Wasteland to keep the opponent low on resources and win a few games every so often by them being unable to cast any spells. It had to cut some copies of Inkmoth Nexus to make room for Wastelands, but that was fine with me. Perhaps it was decent, albeit untested and gimmicky.
Mono-Red Sneak Attack is a deck that I convinced Brad Nelson to play in the Season Three Invitational last year. I swear up and down (and he doesn't believe me) that the reason that I didn't play it myself was a lack of Sandstone Needles at the site… so I just played Infect again. A copy finished 16th, which is great, as I'm sure that there were little to no other pilots. I think that strategies that cheat a big creature onto the battlefield are both good and underrepresented, which is one reason why I think the deck is well-positioned. The bigger reason why I like it is how off the radar prison-style decks are. Imperial Painter nearly made the top 8 of St. Louis by shutting people out before they had a chance to even compete.
After reluctantly moving away from Mono-Red Sneak Attack, my thoughts moved towards playing Eureka-Tell at #SCGSTL, but I didn't have the deck together nor a list I felt was tuned enough. I feel like Eureka-Tell is the best Show and Tell deck right now and edges out Sneak and Show based on one small oversight. Since the release of Khans of Tarkir, giving us Treasure Cruise and Dig Through Time, a key card for the deck was printed.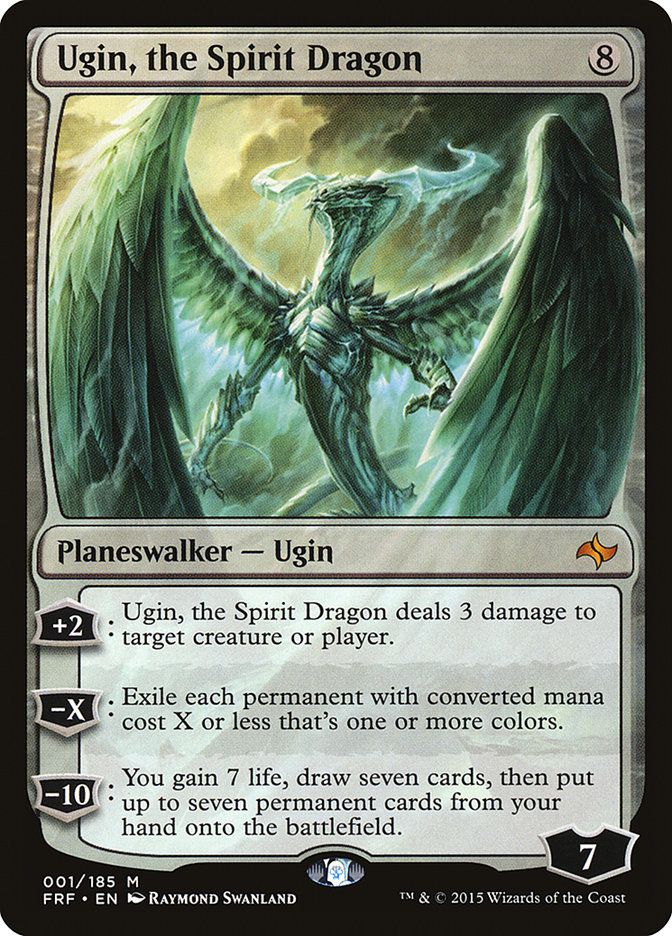 Unsurprisingly, Legacy decks are fairly soft to the eight-mana planeswalker. While Show and Tell is specifically worded to put an artifact, creature, enchantment, or land into play… everything but planeswalker… Eureka simply and more elegantly says permanent, meaning planeswalkers are good to go. Hypergenesis also suffers from purposely excluding planeswalkers from its list.
Creatures (5)
Planeswalkers (5)
Lands (19)
Spells (31) The deck can win with planeswalkers, which is nice when Containment Priest is popular. Boseiju, Who Shelters All is pretty nice, as it forces through both Eureka and Show and Tell where previously it didn't help push through Sneak Attack. Jace, the Mind Sculptor has shown up in Sneak and Show lists as another angle of attack and provides the same effect while being a card that you can plop onto the battlefield with Eureka. So far I'm the only one locally working on the deck, as my roommate Brad Nelson and other Roanoke buddies are laser-focused on Standard at the moment. For Grand Prix Seattle, this is a deck I'd love to play and just might have perfected when the Open Series in New Jersey rolls around later this year.
But enough of what I didn't play, this is what I did play.
Creatures (13)
Lands (19)
Spells (28) I felt very lucky in the tournament. My Swiss pairings were mostly favorable matchups, and I mulliganed less overall than my opponents. I received a very gracious concession from Eric Hawkins in round 13 when he was 11-1 and I was 10-2. He said he wouldn't even consider such a thing for anyone except myself and Matthew Tickal. He saw a Twitter post of mine which hit home with him and thus he gained a lot of respect for me as a player. Here's the story of it:
Called a judge on myself game 1 with lethal in play when I saw a sideboard card in deck while fetching. I wonder what % of players do that.

— Tom Ross (@Boss_MTG) October 18, 2015
It was Round 6 of SCG Modern States. I was 4-1 in the seven round tournament and this was a win-and-in for top 8. I was against Abzan with Infect and used a Verdant Catacombs to find a land so I could cast everything in my hand to win that turn. While searching my library, I saw a Nature's Claim in there so I called a judge and got the expected result: a game loss. I went on to lose the match and not top 8, finishing top 16. Before the match I had double checked my sideboard, and indeed it had 15 sideboard cards in it. The problem was there were two copies of Spellskite in there, which is a common sideboard card that I only ran one of that day. A foolish mistake.
Karma has a way of working itself back around. An honest mistake being resolved upfront earned the respect of my peers. While the Players' Championship is a huge deal to myself and States is not unlike a qualifier for it, it's not worth losing sleep over. Eric Hawkins put his chances of making top 8 of #SCGSTL at risk as well as increasing the chances of his direct competition making it out of mutual respect. Dear readers: When you're in a match, act as though you are playing against yourself. Treat your opponents well, follow the rules, and play respectfully and you'll be treated in kind.
But back to what you're really here for. Why did I play those funky one-ofs? How do you sideboard?
The New-ish Cards
I've played these cards before, but they aren't in the maindeck recent stock lists. So here's the reasoning. Piracy Charm? I like it. It's my pet card that does nothing particularly well but does enough different things in enough situations to get the job done. A poor man's pump spell, removal spell, evasion spell, and discard spell all rolled into one. Seriously though, its value goes up most on how much its most effective mode, +2/-1, is expected to be used. For #SCGSTL, I expected there to be a decent amount of Infect and Shardless Sultai with Baleful Strix that I wanted to deal with. Also Elves seemed positioned for a comeback, and picking off one of their mana creatures seemed really sweet.
Dryad Arbor is a card that feels utterly terrible to draw in an opening hand, but past that it is a great resource to have with fetchlands and Green Sun's Zenith. I expected Liliana of the Veil to show up in high numbers given that discard got better after the loss of Dig Though Time and that it's a mainstay in the most popular deck: Shardless Sultai. Green Sun's Zenith is a natural fit with Dryad Arbor while also acting as additional copies of Noble Hierarch and Glistener Elf. The one Viridian Corrupter also gets extra mileage here out of the sideboard.
The Matchups and Sideboarding
VS Storm
Storm is a coin flip. Eric Hawkins said he was lifetime 1-0 against Infect, albeit that came from his round 15 match only a couple hours before meeting me in the finals. I personally am something like 10-10 against Storm. Here's the thing: one deck is going to make the other deck look embarrassing. The games very rarely go past turn 3, and the deck that gets going first looks unstoppable. Don't take the finals result as Infect having a good matchup. I don't want to face Storm and Storm doesn't want to face Infect. Neither party believes their matchup to be positive. My hope in this matchup is for them to dilute their deck with reactive spells like Abrupt Decay and Xanthid Swarm, thus reducing their chances of killing me in the early turns. My plan remains the same: to try to jam my kill as soon as possible and hope I can kill them before they kill me.
Out:
In:
VS Shardless Sultai
I figured that Shardless Sultai would be the number one deck. Luckily for myself, my plan against it worked out: to dodge it as much as possible. They have all the tools to beat you and enough card advantage to ensure that you can't catch back up after they've dismantled your means of winning. The matchup is very interactive and you really need to get into a spot where their answers mismatch against your threats. The most important card here is Inkmoth Nexus, which is tough to block and can't be killed by Abrupt Decay or Liliana of the Veil. Baleful Strix stops it so it's not all smooth sailing, but things are rough when they don't have one. Hymn to Tourach is painful in the early turns, as is any discard. I suggest playing your pump spells to get in the infect damage you can when you can.
Out:
In:
VS Temur Delver
Out:
In:
VS Miracles
Miracles is one of the biggest reasons to play Infect, as it's historically been a very good matchup. I won something like my first sixteen games against the deck across eight matches due to my opponent's inexperience in the matchup. Since then, they've both learned to how to sequence spells as well as adapted with certain hateful cards like Izzet Staticaster or the occasional Peacekeeper. I don't have the overwhelming results against Miracles like I once did, but still win a large majority of the matches against it. The games usually involve a bare Counterbalance on turn 2 that has to blind flip against an Invigorate. They're at a low percentage to hit, and with the information of the top of their deck, you're good to go from there. Hydroblast is important, as it's the only way to deal with Izzet Staticaster if they have it, as well as hitting Pyroblast and Blood Moon.
Out:
In:
VS Elves
Elves is a deck that was great before the Treasure Cruise and Dig Through Time era and had a few decent showings at #SCGSTL. It has a pretty consistent turn 3 win and can combo off sometimes on turn 2. Infect tends to have a good matchup against them, as you're roughly a half-turn faster than them and have more interaction in the form of countermagic game 1 and about the same amount of interaction after sideboard with Submerge and Spellskite. Note that Spellskite can be used to redirect their Wirewood Symbiote and Quirion Ranger untaps as well as being a lightning rod for Abrupt Decay.
Out:
In:
VS Sneak and Show
Sneak and Show is the default deck for Show and Tell now that Dig Through Time isn't powering Omni-Tell anymore. Sneak and Show has trouble with Delver-like strategies that involve soft counterspells backed up with a quick clock. Infect plays that role here and tends to take a control role in the matchup that involves keeping their combo out of reach while chipping away with 1-2 point poison hits at a time.
Out:
In:
VS Infect
The mirror mostly goes to the player that gets an uncontested Blighted Agent. Outside of that, Glistener Elf and Inkmoth Nexus trade with eachother without possibility of being saved with pump spells due to -1/-1 counters. Remember that Vines of Vastwood can target their creatures to interrupt their combo. Sylvan Library is usually a game winner if it resolves, so focus pushing that through if possible.
Out:
In:
VS Burn
Burn is a good matchup even though it's a bad matchup in Modern. The differences are huge though, as Infect gains a ton, while Burn gains much less. Tropical Island is the first because you're not losing the two life from Breeding Pool. Invigorate acts as a zero-mana counterspell in addition to what you already have in Daze and sometimes Force of Will. A very common occurrence with the deck is for them to Fireblast your creature in response to a pump spell, either leaving themselves wide open for any response from you or to simply accept the two-for-three in your favor and continue with the game with them down resources. I used to have more Hydroblasts in the sideboard, as they feel downright unfair in the matchup, but have shaved on them due to Burn's (and to some extent Imperial Painter's) low popularity. Counter their Eidolon of the Great Revel and watch your non-basic land count for Price of Progress and you should be good. This might involve leaving up a Wasteland to hit one of your own lands.
Out:
In:
VS Death & Taxes
You want to take out all of your counterspells, as they have Aether Vial. Their plan is to keep you low on mana sources and limit what you can play with Thalia, Guardian of Thraben, so extra lands come in to mitigate that. They do have Swords to Plowshares, but you have enough time and a fast enough clock often that they have to expose themselves to the combo eventually. Umezawa's Jitte is their main gameplan to beat you, so do your best to find a piece of artifact removal if the game gets to that point. Karakas does good work to bounce Thalia or simply act as an additional colorless mana source.
Out:
In:
A Different Look at Legacy Infect
If you haven't read Danny West's article this week, I suggest checking it out. It's a theory that Magic would be improved by throwing out the 20+ year old rule of the four-card maximum for each individual card that's not a basic land in favor of dialing it back to a three-card maximum. The theory goes on to state several positives that include opening up breathing room for more playable cards in decks across all formats. I think the change would be great, even more so than my personal large-scale change of getting rid of the rule of discarding down to seven cards in the cleanup step. Discarding to hand size only benefits degenerate effects that don't make any real sense, like reanimation, and leads to salt in the wound for players that are unable to cast their spells for one reason or another and get further punished for already unlikely being able to play the game. In any case, I think the three-card change would shake up formats for the better. This is the Legacy Infect deck I'd play under that rule.
Creatures (11)
Lands (19) A fully functional deck. Less turn 2 kills, which is cool with me, as that means the format as a whole will be doing degenerate and non-interactive things less often. Just food for thought.
I won't be attending #SCGDFW this weekend. I'm staying close to home, possibly playing some IQs and, sigh, buying a cat. I told my girlfriend Hillary that I would if I won #SCGSTL, and now I find myself stuck to my word. The short-haired and expensive Devon Rex breed is the choice. Ah well, who else can say that they can win cats playing Magic?