Everything has changed.
If you've been in space or something, this Monday was the latest Banned and Restricted announcement. While we more-or-less all assumed that Eldrazi would be knocked from its throne in some manner, Wizards of the Coast threw a few curveballs our way as well.
Banned: Eye of Ugin
Unbanned: Ancestral Vision, Sword of the Meek
Let's start with the boogeyman.

The Implications of the Eldrazi Nerf
The obvious: Eldrazi is no longer the consensus best deck by a mile. As a result, this will have a general impact on the Modern metagame as a whole. In the simplest terms possible, I'd assume that things will begin by looking similar to the Day 1 metagame of Pro Tour Oath of the Gatewatch.
In other words, decks like Affinity, Infect, and Zoo will be popular and powerful choices. Wizards never really got their shot at observing Modern in a state without Splinter Twin but also not being outclassed by eldritch horrors, and they still want to give that vision of the format a shot.
The decks will be proactive and the format will be fast, just like we "thought" the Pro Tour would turn out. Interaction is going to be key.
Critically, however, I don't believe that the Eldrazi will simply keel over and die. Rather, they will occupy a space in the format but will not be dominant.
It's also important to note how much of an impact the Eye of Ugin ban will have on Tron. Eye of Ugin is responsible for the Eldrazi deck's most unfair starts, which include double- or even triple-spelling on the first several turns of the game. These top-quality draws are basically impossible for other decks to catch up with. Even with Eldrazi Temple gone, it would be possible for Eldrazi decks to be constructed in a manner that could abuse this land to potentially dangerous levels.
That being said, with the removal of Eye of Ugin from the format, Tron no longer has its outrageous inevitability. It was basically impossible to overcome an assembled Tron and Eye of Ugin in the late-game, as it was capable of producing an immensely powerful threat every other turn that also caught Tron up on the battlefield.
Tron still has the potential to produce powerful draws, but now decks have a chance to go late against the strategy.
So how might Eldrazi, and Tron by proxy, start to look with the removal of Eye of Ugin from Modern? Well, our own Cedric Philips has already produced some excellent ground work for that. Previously I made fun of him for essentially building an offense/defense deck. In other words, sometimes he would be extremely aggressive, given the nature of his draw, but then have to start turtling up to Tron so that he could go over the top. The inverse could also occur.
Given the lack of Eyes, these aggressive draws are likely to be less pronounced, so we can likely go about focusing the deck a bit more. Here's a first take:
Creatures (21)
Lands (24)
Spells (15) This blends elements from the traditional R/G Eldrazi deck from pre-bannings as well as Cedric's deck. We've removed Eldrazi Mimic, as it is more likely we will play slightly longer games than before, and instead worked our curve up a little higher with World Breakers and the Talisman of Impulse / Ancient Stirrings package for redundancy. It's worth noting that Sanctum of Ugin is a reasonable attempt for this deck to resolve the threat-density problem now that Eye of Ugin is gone. Sometimes it won't function in a similar manner, since you've only got one shot and may not be able to acquire your Ulamog, the Ceaseless Hunger on that turn, but it's still a nice package to build in that has relatively low opportunity cost.
Undoubtedly this is a husk of a deck in comparison to its previously broken brethren, but I believe there's a lot of potential here. This deck looks functional.
In terms of a more traditional Tron deck, I think I would start here:
Creatures (8)
Planeswalkers (6)
Lands (20) There's nothing too crazy here that we haven't seen before, but again, Sanctum of Ugin is an attempt to replicate the effect of Eye of Ugin. The truth is Sanctum might even play a lot better than Eye did in many games, as curving Karn Liberated or Ugin, the Spirit Dragon into a cheaper threat like Wurmcoil Engine or World Breaker on the following turn without taking a turn off to tutor is oftentimes plenty for beating the majority of fair Modern decks.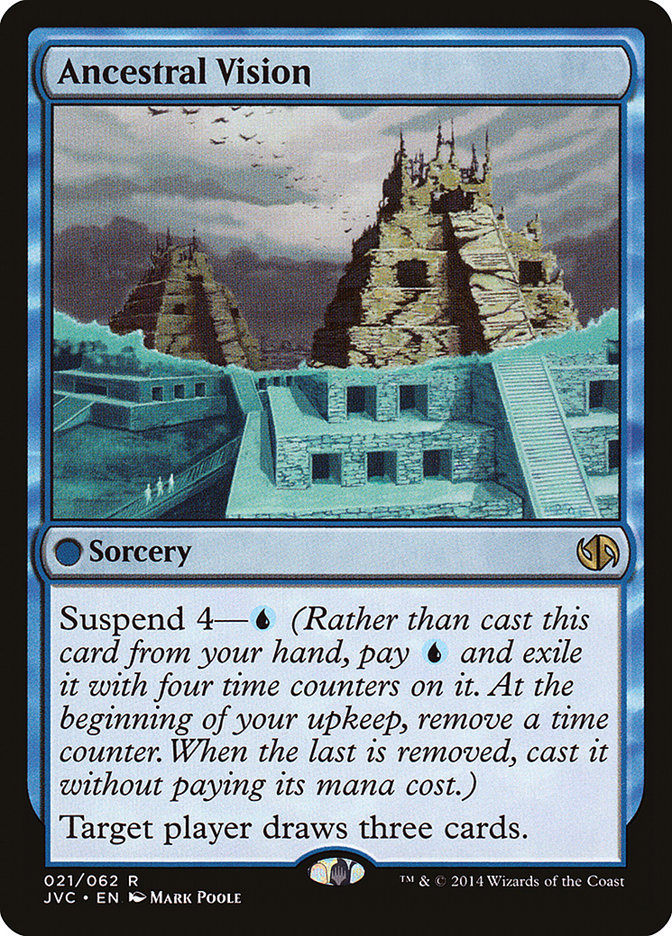 Ancestral Vision never really got a fair shot in Modern. It was banned preemptively at the start of the format for some of the damage it had caused in Standard and Extended. Wizards was concerned with simply re-creating the same set of decks that had existed just a year or two previously.
Several years later, however, Modern has largely failed to have true control decks. Sure, there are scattered successful decks from time to time, including Grixis and U/W, the latter of which rose up to fight the Eldrazi, but the options have been meager recently. Instead, "control" decks have largely been combo decks in disguise that are able to interact before assembling their combination.
Ancestral Vision should change that, as it is the perfect card for blue decks to suspend early and then interact at their leisure over the next few turns before gassing back up and trying to close the door on the game.
I have a few decks in mind that always had a problem with running out of resources, so let's take a look at how they might be constructed now:
Creatures (4)
Lands (26)
Spells (30) This classic take on Jeskai has fallen out of favor over the last few years of the format and a large part of that is its struggle with being disjointed and running out of gas. Some lists play cards like Think Twice or even go to the lengths of splashing Painful Truths in an attempt to address these problems, but Ancestral Vision should alleviate these issues nicely.
Jeskai Control is essentially a Burn deck in disguise; an Ancestral Vision should be more than enough to contain the game long enough for Jeskai to end the match in a flurry of burn spells or Colonnade hits.
Our next deck is something that I've struggled to make work for a long time but it has always felt fundamentally underpowered: Blue Moon.
Creatures (6)
Lands (23)
Spells (31) Blue Moon quite often finds itself ahead having assembled their namesake but then struggles to close out the game. Typically it must trade more of its own resources than its opponent due to a disparity in power level. Once Blue Moon has no clock, it gives an opponent plenty of time to draw into basic lands or more relevant action.
Ancestral Vision helps a lot here for putting Blue Moon ahead on every metric in the short term, which should be enough to start working toward closing or locking up the game. This deck is great at interacting early and has a variety of scaling threats like Vedalken Shackles and Batterskull that work nicely when flooding.
You might remember my final Vision deck If you played Standard during that time: Faeries. More specifically, you might remember the dreaded curve of Ancestral Vision – Bitterblossom – Interaction – Mistbind Clique.
Well, we have access to that now:
Creatures (12)
Lands (25) Faeries has always been traditionally effective against slower-slanted midrange and combo decks. The inclusion of Ancestral Vision should finally start to catch this deck up to the power level that it needs to become a contender. I haven't had to build this archetype in a long time, so it wouldn't surprise me if I was way off, but I actually went back to the old Standard decks for inspiration rather than more Modern entries.
This deck just wants to interact up the curve and use its mana every single turn. Typically, Spell Snare is likely to be included in a deck like this, but with Ancestral Vision I never want to have to make that decision, instead I'm just opting for the necessary discard and focusing on more removal.
The tension with Faeries is that it has always been difficult to try to "play around everything." In other words, attacking into Mistbind Clique or casting a spell into Cryptic Command can make for extremely problematic decisions for an opponent. Before Ancestral Vision, though, Faeries was, as with these other entries, forced to manage the game in a very specific manner and have its resources line up well before inevitably switching roles and racing.
Ancestral Vision puts more pressure on an opponent to act and lets these decks actually control the game rather than leveraging short-term advantages on tempo. Undoubtedly, there will be a variety of other viable entries emerge with the unbanning of Ancestral Vision.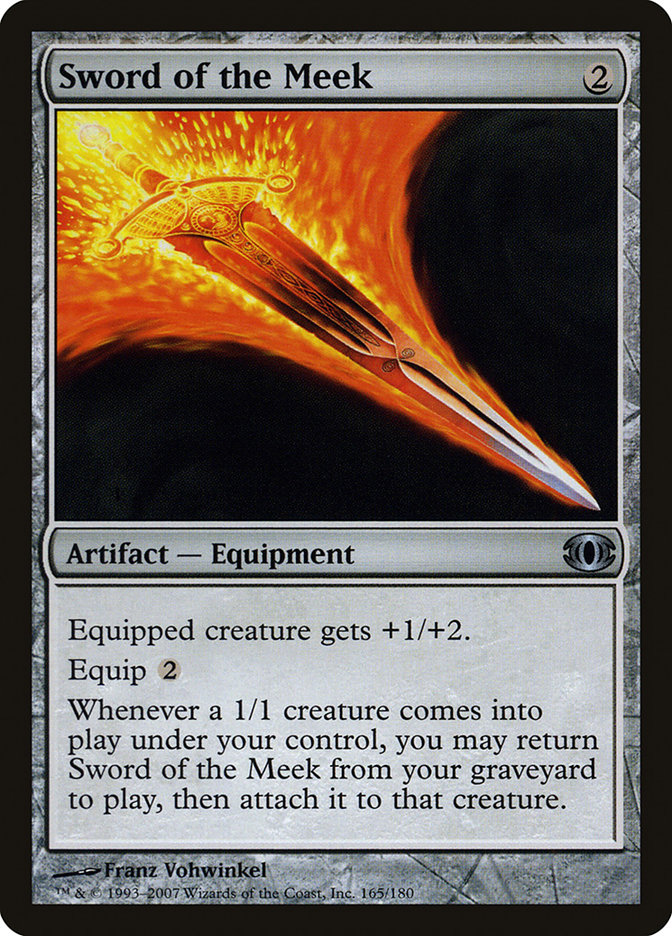 This is the fun one. If you're a little newer to Magic, it's certainly not intuitive as to why this card would be banned, but the combo in question with Sword of the Meek is Thopter Foundry. With a Sword of the Meek either on the battlefield or in the graveyard, one can sacrifice an artifact to Thopter Foundry (including the Sword) and have it immediately returned equipped to a Thopter token.
In essence, Thopter Foundry then reads:
"1: Make a Thopter token. Gain 1 life."
This combination has inevitability and can keep an opponent from attacking you properly, but it is also fairly slow in terms of kill speed and extremely mana-intensive. Further, it is also somewhat vulnerable to both graveyard hate and artifact hate.
I believe that the combo's speed is what makes the unbanning justified, as it is entirely possible to get run over by larger creatures even with Thopter-Sword on the battlefield, as your opponent can tie up your mana every turn while continuing to deploy threats. Of course, that doesn't mean it isn't going to be slotted into archetypes in addition to potentially developing new ones.
It would not be surprising for Jeskai Control or any other Ancestral Vision-fueled deck to use Thopter/Sword as a win condition, as it also puts these decks conveniently out of reach of red decks, but I won't be focusing on such strategies today. Instead, let's take a look at some of the more abstract options available to leverage our cool new (old?) toy.
Creatures (3)
Planeswalkers (6)
Lands (22) This list is not particularly focused, but a Tezzerator shell can make for a great home for the Thopter/Sword combo. In addition to having the tools to find and use the combo, there's also just a ton of potential to salvage away a bunch of your incidental artifacts lying around and get offensive with just Thopter Foundry.
One major implication of this list is the ability to use Ensnaring Bridge and Ghirapur Aether Grid. Thopter Foundry works incredibly well with both of these cards and would lead me to believe that it can be fit into Lantern Control as well. Unfortunately, I don't have anywhere near the level of expertise with that strategy to begin speculating what one should cut or how many combo pieces they should even play, but It wouldn't surprise me if that deck continued to be viable even in a post-Eldrazi metagame.
I featured my last deck in a Daily Digest and it looks like a great home for Thopter/Sword:
Creatures (11)
Planeswalkers (2)
Lands (23)
Spells (25) The Thopter combo has an outrageous amount of synergy with this deck naturally. The highlight: every time you loop Sword of the Meek back onto the battlefield, Puresteel Paladin triggers a draw. It's even possible that we may want to go towards the "all-in combo" version again that uses Grapeshot. All of the incidental zero-mana artifacts lying around can make for a decent Plan B when they can be recycled into Thopters.
The #SCGINVI in Columbus just got a whole lot more interesting. While I think in general the format will remain quite fast with the removal of Eldrazi, cards like Ancestral Vision and Sword of the Meek are going to do a lot to shake up the texture of the Modern metagame. It's only been a few days, but I'm sure everyone is hard at work. It's time for a fresh chapter of Modern. What will you play?