Like many of you, I often find myself bored on some weekday evenings, mindlessly browsing through social media in an often fruitless attempt at diversion. But on one night, I was saved by Todd Stevens tweeting that he was about to stream with quite the Modern brew. It was a four-color planeswalker deck that used Doubling Season to set up some ultimates on many of the walkers.
Intrigued, I joined the stream as Todd was starting a League on Magic Online. The deck was absolutely hilarious, with most of our opponents conceding from comically lopsided positions. The key takeaway there is that our opponents were conceding. A lot. Todd ended up finishing 5-0 in the League, even managing to defeat Ad Nauseum, a matchup which I thought would be hopeless.
I've given Todd some flak in the past, but after seeing this thing of beauty, all is forgiven. Just look at a screenshot from a game he played earlier in the week: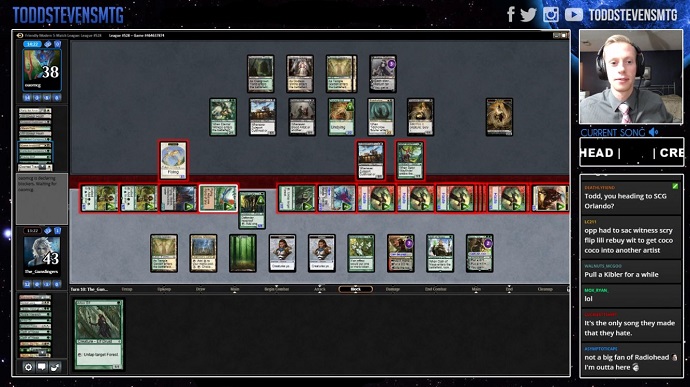 I don't know how the game progressed to that point, but I don't really care. That is awesome. I never knew until just now that I wanted to attack with Emrakul, the Aeons Torn and Ormendahl, Profane Prince at the same time, but I do. I want it so much.
The impetus for the list is the interaction between Doubling Season and Nahiri, the Harbinger. Since Doubling Season doubles all counters, Nahiri will enter with eight loyalty instead of the normal four, at which point you can immediately use her ultimate. It's instant gratification at its finest. No more waiting two turns for that sweet taste of victory. No more worrying that your opponent may have some sort of counter play. Just a quick, brutal, efficient means of bringing death and destruction upon your enemies.
In order to execute this combo quickly, Todd has supplemented it with an incredible number of mana creatures, as well as four Oath of Nissa to find your planeswalkers. Once Oath is in the deck, playing more planeswalkers creates a great backup plan, and Oath gives you the mana fixing necessary to cast any planeswalker you want. Regardless of your specific choices, they all have incredible synergy with Doubling Season. It's like Hardened Scales on steroids:
Nissa, Voice of Zendikar makes two Plants at a time or puts two +1/+1 counters on your creatures. It also ultimates a turn after entering the battlefield.
Xenagos, the Reveler ultimates immediately or makes two Satyr tokens.
Jace, Architect of Thought immediately ultimates, allowing you to cast the Emrakul, the Aeons Torn from your deck.
Elspeth, Sun's Champion makes six tokens, setting up for an Emblem and an attack for eighteen on the following turn.
And the list goes on like this. Once you get Doubling Season and planeswalkers online, the game quickly spirals out of control for your opponent, and you're left relishing in the overwhelming of your inner Timmy.
Since many of the planeswalkers in the deck make tokens, even if your opponents are able to answer your biggest threats, you have Gavony Township as a final angle of attack, turning your mana creatures and incidental tokens into a formidable army. This third angle gives the deck a high level of resilience against the fair decks of Modern, although it is admittedly weak to the fast combo decks. Fortunately, the deck has access to all of the best hate cards in the format, from Blood Moon to Stony Silence. Your plan against degenerate decks is to land an early hate piece and quickly set up a combo, which you can do by turn 6 fairly easily.
I think the one upgrade available to the deck is to replace some of the mana creatures with Utopia Sprawl, which combos nicely with Arbor Elf. A hand with two lands, Arbor Elf, and Utopia Sprawl allows you to generate four mana on turn 2, which can cast Nahiri, the Harbinger or Xenagos, the Reveler, leading to an explosive turn 3. It may weaken the backup plan of going wide with Anthems but it strengthens the primary plan of being a resilient ramp deck.
It's also likely that the list as it is proves too indulgent on planeswalkers, a weakness for which it's hard to fault Todd. Some amount of interaction would be welcome at the expense of some of the weaker walkers, but having a toolbox of them for Oath of Nissa to dig for means that the list is highly customizable and tough to nail down.
Once tuned, this should be a deck primed to exploit Modern metagames that are centered around fair decks like Jund or Grixis, but with the ability to steal enough matches from the unfair decks to remain competitive. You'll also have a constant grin on your face from the utterly absurd plays you get to make. Timmys of the world, rejoice!
Creatures (16)
Planeswalkers (15)
Lands (21)