Spoiler season has finally come as we now have almost every mythic rare from Eldritch Moon. Within this pile of mythical goodness stands two walkers of the planes. One, originally from Dominaria, utilizes black magic to reanimate the bodies of her fallen to further her reign. The other, from Kamigawa, seeks knowledge first and is fascinated with how things work. They might be from different places and serve different purposes, but both are now here on Innistrad to witness Emrakul's attempt at intergalactic domination. #SCGCOL is coming and bringing Eldritch Moon with it, so today we take a deeper look at both of these Planeswalkers as we try to figure out their place in Standard.
We'll kick things off with one of the most powerful and conniving planeswalkers in the Multiverse. Ever since The Mending, planeswalkers have been left without their godlike attributes. Unable to accept her loss of power, Liliana has been on a never-ending quest to regain what she once had. Now, she's not about that finite life, and she chose to make a pact with four demons who gifted her with everlasting life and mountainous amounts of necromancy magic that would leave even the White Walkers jealous.
Instead of paying up on her Demonic Pacts, Liliana has been on a quest to burn each and every one of her Demons to the ground and isn't afraid of who knows her intentions. She alone would not be strong enough to dispatch such powerful beings, but luckily an ancient relic left from the days of old will help grant her exactly what she wants. The Chain Veil might be her tool for destruction, but her recklessness in the pursuit of power is what makes her such a big threat. These are the main reasons why The Gatewatch wants her to join in their cause: not just to help in defeating Emrakul, but also to keep a closer eye on her. Luckily for her, she's the best at playing the Game of Planes.
Her induction into The Gatewatch is going to be crucial for her own survival, even though she might not realize it yet. Nicol Bolas is out there somewhere, slowly gaining more and more power. Pretty soon the Dragon of all Dragons is going to be crossing through the narrow planes and Liliana better have as many friends as she can get before he gets there.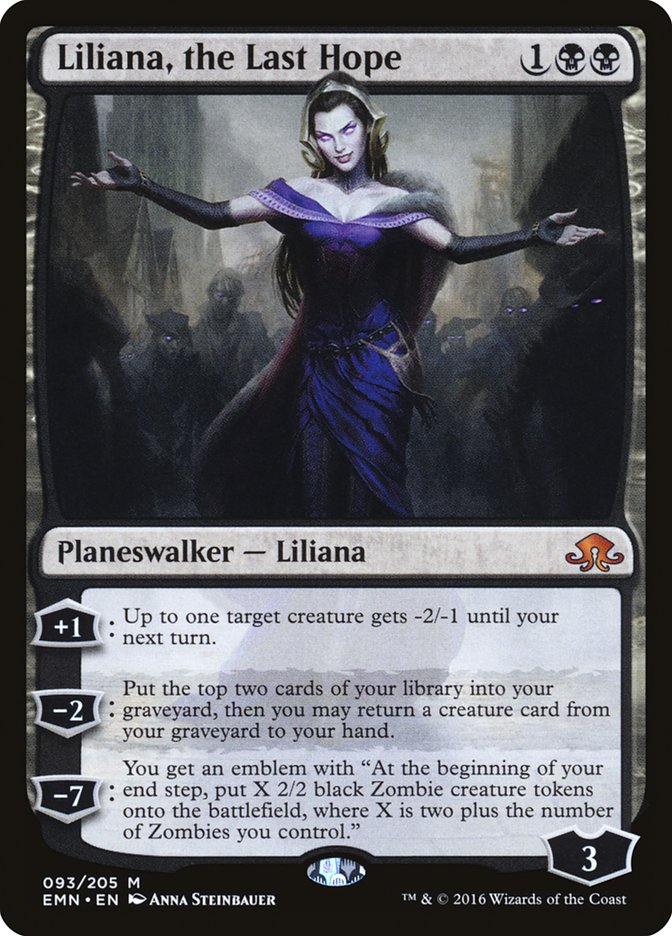 "What good is power if you can't protect the ones you love?"
My first impression of Liliana, the Last Hope did not reflect that of which I saw from others. Hell, I first read her as costing 2BB and still thought she would be playable. At three mana, however, I find this card exceptionally powerful and believe she will see far more play than Liliana of the Veil did during that card's time in Standard. To truly understand the power of our last hope, you must forget everything you previously remember about previous versions of her.
We are so used to utilizing Liliana as a resource restrictor. For years now we have seen Liliana of the Veil kill creatures, rip apart hands, and eventually take over games by completely attritioning out an opponent. That Liliana has done great work, but we don't need those abilities from her right now. What we need is a very aggressive Liliana if we expect to defeat Emrakul, and that is exactly what Liliana, the Last Hope is. She is all about proactivity and the gaining of resources. No longer does she belong in attrition-based decks, but rather those trying to prey on them. Just take a look at her first ability for proof!

Liliana, the Last Hope kicks off with a deceptively powerful ability. Most people viewed this similarly to Jace, Telepath Unbound's ability as a form of self-preservation, which it most certainly is, but extremely misevaluated the impact giving a creature -2/-1 can have in combat. For the longest time the format's early-game has been ruled by creatures with two power and a higher toughness. Courser of Kruphix, Reflector Mage, Sylvan Advocate, and even now Lambholt Pacifist have been keeping the little creatures down!
Streams of 2/1's have been printed over the years, yet the only time they have been playable was thanks to Anthem effects in the form of Thalia's Lieutenant and Always Watching. Without ways to build them up, these creatures had no way to break through and inevitably became unplayable. Those times are about to change.
Now, thanks to Liliana, the Last Hope, aggressive black decks don't have to kill each and every creature to get damage through. Not only that, but she keeps that creature from firing back at her, thanks to this ability lasting until your next turn. She comes down early in the game and immediately invalidates a creature while also progressing your battlefield position. This is something black hasn't had in a while. Wasteland Strangler recently had claim to this throne, but it's almost as if the card sailed away to never been seen or heard from again.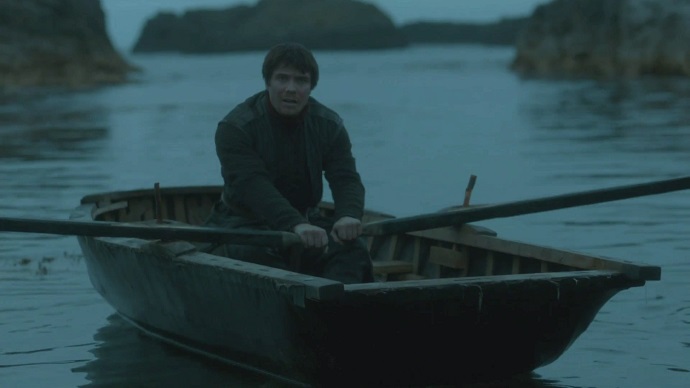 "What is dead may never die."
Her second ability further cements Liliana, the Last Hope as a proactive planeswalker. This ability will commonly be used in the later turns to either return the higher-impact creatures that have previously fallen in battle or help fight against attrition-based decks by making sure enough creatures stay on the battlefield, ready to finish off a game in an aggressive fashion.
This ability in combination with the first makes me believe green will be a perfect secondary color for Liliana, the Last Hope, thanks to how well Den Protector works with both of them. Not only can Liliana, the Last hope help shrink a potential blocker for Den Protector, but she creates a loop by returning Den Protector, who in turn Regrowths Liliana, the Last Hope.
Her ability to mill over cards doesn't excite me that much. Now, I understand delirium is a thing, and she will most certainly be enabling cards like Traverse the Ulvenwald and Ishkanah, Grafwidow, but only in the later turns. It's an added bonus that she does have this additional ability tacked onto her Disentomb, but that's all it is. I predict her to cause players to attempt delirium-based decks because of her existence, but time after time they will fail to breach the tall walls of Standard.

Liliana used an endless horde of Zombies to defeat Emrakul, and that is exactly what we will be doing against our foes. Now this is an awesome ultimate! A sea of reanimated corpses relentlessly coming back over and over again. Even if our enemies can stave off some of the stragglers, they will never be able to weather the storm that's coming. If only they respected the art of necromancy.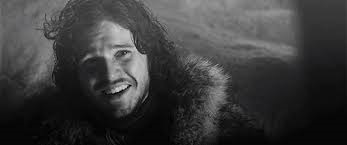 "I don't not know nothing after all!"
I predict Liliana, the Last Hope to create an archetype built around her, as well as become a staple in decks like Sultai and Abzan Midrange. I would pick up four copies if you are interested in playing with black cards in the foreseeable future.
Next up we have the unique Tamiyo. She isn't regarded as a very powerful planeswalker, but what she lacks in physical attributes is made up in her vast knowledge and keen intuition. Tamiyo seeks truth and the understanding of all things through time and space. As a respected member of the Moonfolk her addiction to Innistrad stems from the plane's silver moon and the power it wields over the plane.
Tamiyo seeks information with very little interest in meddling in others' affairs unless it's absolutely necessary. She kinda just does what she wants to do. One day Tamiyo got wind of a white-haired Angel on Innistrad who used her power to protect the unfortunate from the overpowered. Tamiyo became very interested in this person and sought to learn as much about her as possible.
Time went on and days got dark. So many horrific things began to happen on the plane that Tamiyo could no longer live in the shadows and fill scrolls. She had to take action. With the help of Jace, Varys Prodigy, she went on a journey to investigate what exactly the white-haired Angel has been up to.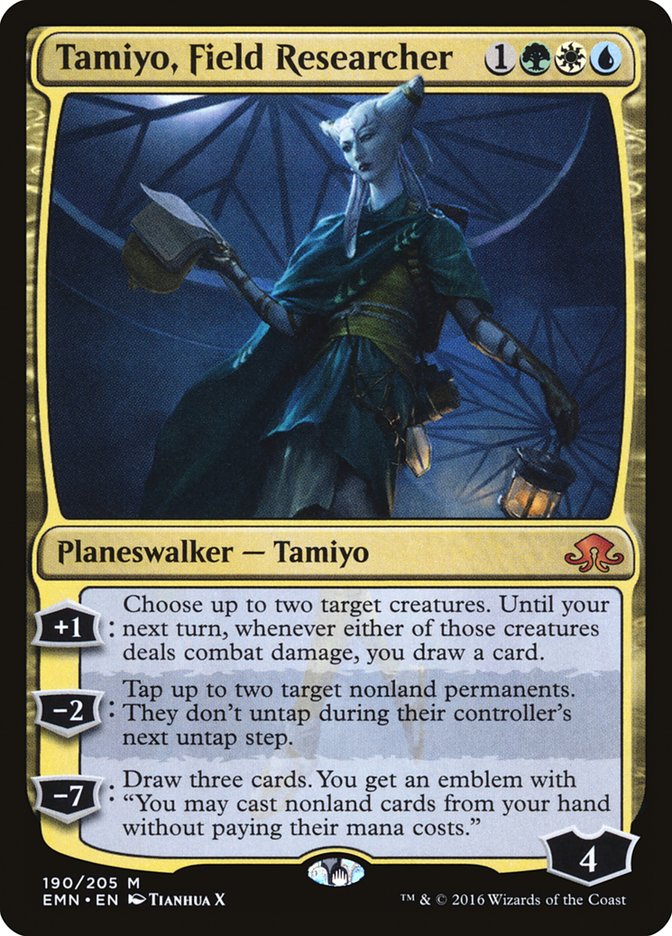 "That's what I do, I tap permanents and I know things."
Seeing Tamiyo jump on the Bant bandwagon was shocking to me. After all, three-color planeswalkers are extremely rare in this game. That doesn't mean I was unhappy to see it, since for whatever reason I can't stop loving this color combination. I'm in love with the Coco, and the Coco loves Reflector Mage.
Now, Tamiyo, Field Researcher isn't an aggressive planeswalker. She is more into using her higher intellect to manipulate those around her into doing what she wants from them. This subtle level of coercion is how she furthers her understandings and gifts her with additional knowledge.

We are going to kick things off on this card by breaking down her secondary ability first, since I deem it to be the most important one and why this card will see Standard play. Again, this ability reads like it's intended for self-preservation, but I see that as a poor evaluation of its true purpose.
Right now Standard revolves around the continuing value created by its creature-base, and simply tapping down a couple creatures will often not be enough to turn the tides. This ability will be used to help create strategic attacks and press advantages. Her ability to tap down two creatures upon entering the battlefield will most likely be the best way for Bant to beat Gideon, Ally of Zendikar.
Getting a turn 4 Gideon, Ally of Zendikar off the battlefield when on the draw is a nightmare for a Bant deck. They play a creature, you play a creature, they play a creature, you play a Reflector Mage, they play a Gideon, you lose the game. I don't know about you, but that's how it's gone for me these past few months from the Bant Company side. When on the play, Gideon, Ally of Zendikar isn't that big of an issue, but nothing really saved you from the G/W Tokens nut draw when they were going first.
This ability helps set up her first one by stealing initiative from the opponent. Right now this format revolves around small battlefield developments in the early turns. I don't care what others may say; the only successful decks are those getting onto the battlefield as quickly as possible.
Why these decks haven't been easily answered by more controlling strategies is due to the fact that they also are equipped with enough card advantage to continue their assault deep into the later stages of the game. This has caused many of the early turns of the game to consist of playing creatures, which can make it difficult for the player on the draw to ever find a spot to use their cards in a proactive way.
Tamiyo, Field Researcher fixes this for those on the draw by tapping down a couple of creatures and potentially allowing for some early damage. Upon untapping, her first ability is set up to allow for cards like Dromoka's Command and Reflector Mage to be used offensively while threatening card advantage along the way.

After two creatures have been tapped, the uptick on this planeswalker can be used to draw some cards to further the tempo advantage created by her minus, but it also can put the opponent on the defensive. After all, they don't want to take damage while also allowing you to draw cards. This could mean they used their next turn killing your creatures instead of dispatching additional reinforcements, which is all upside since they were killing early-game threats instead of saving removal spells for the more potent creatures you may have still in hand. If they just cast one or more creatures, you can use this ability to draw cards while creatures trade as well as use additional resources to make sure Tamiyo, Field Researcher stays on the battlefield for additional activations.
Now, this card isn't all upside. For all of this to work, you'll have to have curved out while also having all three colors by turn 4. It's not like this doesn't happen that often, but Bant does have a fail rate when it comes to developing a manabase and usually doesn't have the cards necessary for catching back up after a stumble.
One of the strengths of the color combination is Collected Company and how powerful it can be at catching back up if turn 2 or 3 was used to play a land tapped. Tamiyo, Field Researcher can potentially stem the bleeding of an opponent's early battlefield position, but that doesn't go as far as you would like to as the game goes on.

"Knowledge is my trade, my lady."
Ancestral Recall and Omniscience are two of the most powerful blue spells in the game, but together they encapsulate the fruits of Tamiyo's labor. You see, Tamiyo's main mission in life is to learn everything she can that's past, present, and future. She's a student of knowledge itself and is continuously fascinated by everything. Instead of creating her own storyline, she loves being a scribe and documenting what she has learned to further the knowledge of those around her.
Ancestral Omniscience!
Mind. Blown.
Whoever thought up this ultimate ability completely understands Magic and can tie the lore of the game to the cards beautifully. Bravo!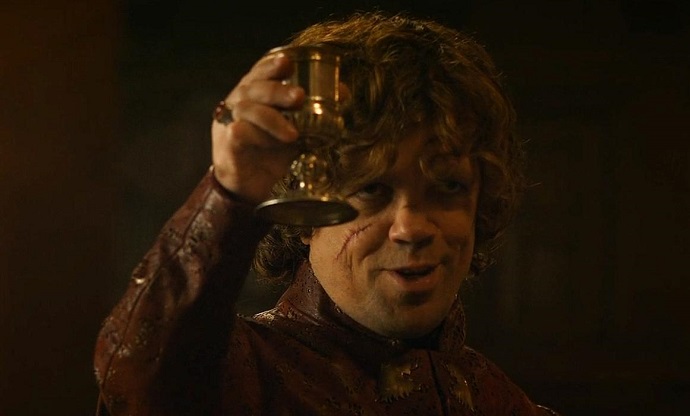 Now, as for an ability pertaining to the game we play, it's pretty much just a win-more. If you keep ticking this planeswalker up, potentially drawing additional cards along the way, you most likely don't need this ability to win the game. Maybe it will come up a few times here or there, but for the most part I am skeptical of this ability's relevancy. It doesn't really matter, since the other two abilities are why we would be playing with her in the first place and are good enough at what they are trying to accomplish to do all the dirty work themselves.
I predict Tamiyo, Field Researcher to find a couple of slots either in the maindeck or sideboard of Bant Company and Bant Humans, but not much past that. Without knowing what mana will look like once we go to Kaladesh, I cannot predict this card's place in Standard after Dromoka's Command and Collected Company leave us. Until then, if you are looking to continue to cast these cards, I would suggest picking up a couple of copies of this card. It will see play in those decks.
My watch today has ended. Soon we will see the picture in its entirety, which is when I will begin working on the decks we may see going into #SCGCOL and #SCGBAL. Until then, I hope you enjoyed today's installment of "Fire and Islands."